Lifelong Friendships Fuel The Sports Junkies Success
You can't possibly talk about Washington, D.C. sports media without mentioning 106.7 The Fan's morning drive radio show, The Sports Junkies. Hosted by lifelong friends, John Auville, Eric Bickel, Jason Bishop and John-Paul Flaim, The Junkies have been gracing the airwaves since 1995, where the four began their broadcasting career as nothing more than a hobby mixing it up with a 30-minute public-access television cable TV show, before moving to radio the following year.
At the time, the show featured a wide variety of sports banter with sarcastic humor which has served as their foundation all these years later. If it weren't for a Washington Times reporter stumbling upon four wannabe on-air personalities and choosing to write an article on them, The Junkies may never have taken off the way they did.
"They've taken every opportunity they've ever had and run with it," said 106.7 The Fan program director Chris Kinard, who has been with the company since his 1998 intern days.
Three years removed from being freshly out of college and youngsters in the business, The Junkies were named Sports Illustrated's "Next Big Thing on Radio" in 1999. Fast forward to August 10, 2016. CSN Mid-Atlantic (named NBC Sports Washington in October 2017) announced it would present a live simulcast of The Sports Junkies weekdays from 6am to 10am. This marked the first time the radio show could be seen on television.
The partnership has allowed NBC to feature show content across its TV, online, mobile and social media platforms, including daily highlight and recap videos revolving around the show. Additionally, it's presented throughout the District of Columbia, Maryland and Virginia on NBC Sports Washington, NBCSportsWashington.com, and the NBC Sports app.
Kinard maintains the belief that his on-air hosts have adjusted to TV just fine. In fact, the change may not have impacted their approach to the show at all.
"They haven't changed their ways from radio to TV. They barely remember they're on TV and it seems to be working. They're hitting the highest ratings they've ever hit in the last year and a half or so," Kinard shared.
John-Paul Flaim, a native of Bowie, Md. and University of Maryland graduate, considers the change nothing more than a shift back to where it all began for the four radio hosts.
"The format requires shorter takes but it is how we started in 1995 with a cable access tv show in Bowie so it really is a return to our roots. Oh, and I guess you're supposed to look at the right cameras but I've never quite figured that out so I just chat with the hosts of the show and look them in the eye as if we were joking around at a sports bar. That truly has been the theme of the Sports Junkies for more than two decades," said Flaim.
One aspect that has notably remained the same during this transition is the group's unique camaraderie.
"Our chemistry and interaction as a unit reminds many of our listeners of their friend groups in high school, college, and beyond. To me, that's the inherent advantage our show has over every other show on radio…we've grown up together, gone to school together, for 40+ years, and that's something that can't be faked or replicated," Auville told me.
It shouldn't be discounted that the four radio hosts have found a way to be successful year after year in a top-10 market such as the nation's capital. A market that suffered a major championship drought for over 25 years, until 2018. When the Washington Capitals claimed their first-ever Stanley Cup in June, the D.C. sports "curse" was lifted sending the city into a complete frenzy. For many longtime D.C. sports media professionals, the championship served as a career-defining moment. For Flaim, it was all that and much more.
"It was a moment of elation and satisfaction. We hadn't seen a major championship since we started the radio show other than the Terps but that wasn't nearly as big. Oh, and I made sure my wife would go out and get some Stanley Cup gear that night as I watched all the post game interviews. It was an awesome night," Flaim shared.
Eric Bickel, who attended DeMatha Catholic High School in Hyattsville before earning a psychology degree from Maryland, weighed in on his own euphoria following the victory for D.C.
"My initial reaction was just one of relief. There was probably a little disbelief, too. But it was just amazing. Reminded me of what it used to be like around here in the 80's with the Redskins," Bickel said.
Auville, who goes by "Cakes" on the air, attended Eleanor Roosevelt High School (with Flaim) before furthering his education at Towson University where he studied communications. As soon as the Caps were crowned Stanley Cup champions, Auville simply couldn't sit still.
"I drove to Dick's in Gaithersburg with my daughter and bought about $400 worth of Stanley Cup Champions gear at midnight with a bunch of other Caps fans," Auville admitted.
The fourth and final Junkie is the 6'6" former University of Richmond basketball player Jason Bishop, who goes by "Lurch" on the airwaves. Growing up in Lanham, Md., he also attended DeMatha (with Bickel) and played basketball for the legendary Morgan Wootten, who won 1,274 games for the powerhouse program.
When asked about the Stanley Cup, Bishop put it plain and simply as he so often does on the air.
"Tears of joy!"
The Capitals' historic victory was obviously huge for long-suffering D.C. sports fans, but you certainly shouldn't discount what it meant for longtime sports media professionals in the District. This is their livelihood. This is what their careers and lives revolve around. This is what gets them up out of bed in the morning. The win meant and still means everything to them. It was pure jubilation for The Junkies.
But what about the magicians who help make this all happen behind the curtain?
Matt Cahill and Matt Myers serve as executive producer and producer, respectively. Cahill, a graduate of Arizona State University, joined the show in 2012 after a stint with the Big O and Dukes Show. Myers, a University of Maryland graduate, was named show producer in 2009 and is as local as it gets for the market growing up in Pasadena, Md.
Their jobs revolve around booking guests (Cal Ripken and Gary Williams are fans of the show), getting their hosts in and out of commercial breaks, communicating ad reads and most of all, facilitating the show behind the scenes. They are your true quarterbacks who hand 'it' off to their four running backs.
I'd like to finish this piece by sharing one recent personal exchange that I feel best illustrates The Junkies and their presence in the D.C., Maryland and Virginia area.
As a 24-year-old freshly out of college and chipping away at student loans, I caddy for extra money at a local country club in Bethesda. During an early August round of golf, I was asked by a member what I do when I'm not caddying.
"I work in NBC Sports Washington's digital content department right down the road," I said.
The member stopped in his tracks in the middle of the fairway. "No way. Do you work with The Junkies? Most mornings I just sit in my car listening to the show. They make me late for work," he told me.
That is the type of impact the show has on its followers. When you provide authentic conversation and chemistry, and a consistent strategy, and combine it with loyal, hungry listeners you're left with a product that's been working for over two decades: The Sports Junkies.
Bob Trosset is a freelance writer for BSM. He can be found on Twitter @BobTrossetNBCS. To reach him by email click here.
What Can Programmers Learn From A Social Media Following?
"A large number of followers may be the result of using social media well, but if you think the size of someone's following is proof they'll be a good part of your lineup, that's a set-up for failure."
I first began using Twitter in 2009 when I was a reporter at The Seattle Times. Jim Mora was the Seattle Seahawks coach and I had a smart phone made by Palm. The Twitter app was so wonky I posted live updates from Seahawks press conferences via TwitPic, sending a picture of the person speaking with the news item included as a caption. We've all come a long way since then.
I like Twitter. Over the past 12-plus years, I've found that my sarcasm and sense of humor (if you can call it that) translated better on Twitter than it ever did in print or later as a radio host at 710 ESPN Seattle. I've made friends on Twitter, picked fights with other reporters and generally found it a good place to test out ideas and arguments and an increasingly terrible place to discuss anything important. I have more than 40,000 followers, which is not insignificant nor is it at all exceptional given the market I worked in. None of this gives you any idea about how well I've done my job in sports media, though.
Yet an individual's Twitter following has become part of our industry scoreboard. It's certainly not the final score and it definitely doesn't decide the outcome, but it is the best way I know to gain a quick assessment of someone's reach and/or significance. It's a data point that is readily accessible. It's the thing I check first when I encounter someone who's part of the sports-media industry.
But what does it really tell us? More specifically, how much does it tell us about that person's ability to do their actual job whether it is reporting news, writing stories or being part of a show? Because as important as Twitter has become in sports-media, no one is making money from Twitter and social media specialists are the only people who are really being paid to Tweet.
For most of us, Twitter is not a job, it is a tool. For a radio host, it's a way to interact with listeners outside the footprint and time slot of the show. It also is a powerful opportunity to deepen audience engagement through two-way, real-time communication. These things may help a host's job performance, but they should not be mistaken for the actual job itself. A radio host is not valuable because he or she was right on Twitter or because they were first on Twitter or because they had a viral Tweet. A radio host is valuable because of the ability to attract, entertain and retain an audience during a specific slot of time. Twitter may help you prepare to do that, but it does not actually accomplish the task.
Programmers need to understand this, too. A large number of followers may be the result of using social media well, but if you think the size of someone's following is proof they'll be a good part of your lineup, that's a set-up for failure. Just look at what book publishers have found.
An article last month in the New York Times showed how publishers have used social media followings as a weathervane of sorts for books sales. The number of followers an author has is influencing everything from what authors are paid to which books get published. This is especially true when it comes to non-fiction books. The rationale is pretty straightforward when you look under hood of that particular industry.
A publisher is the business that buys a certain book from the author, essentially making a bet that the sales of this book the author is writing or has written will more than cover the money paid to the author as well as the cost of publication and promotion of the book. A publisher wants as much assurance as possible that this book will sell sufficient copies to not just make its money back, but insure a profit. This is where the author's social media audience comes in. The follower count is being looked to as an indicator of just how many people can be expected to buy this book. After all, someone following the author is certainly a sign they're interested in what that author has to say. Some percentage of those followers can reasonably be expected to buy a book by this person. Except social media followings turn out to be a fairly terrible tool of forecasting book sales.
Billie Eilish has 99 million Instagram followers. Her book — released last year — sold 64,000 copies. If I was being catty, I would point out that is one book sold for every 1,546 Instagram followers.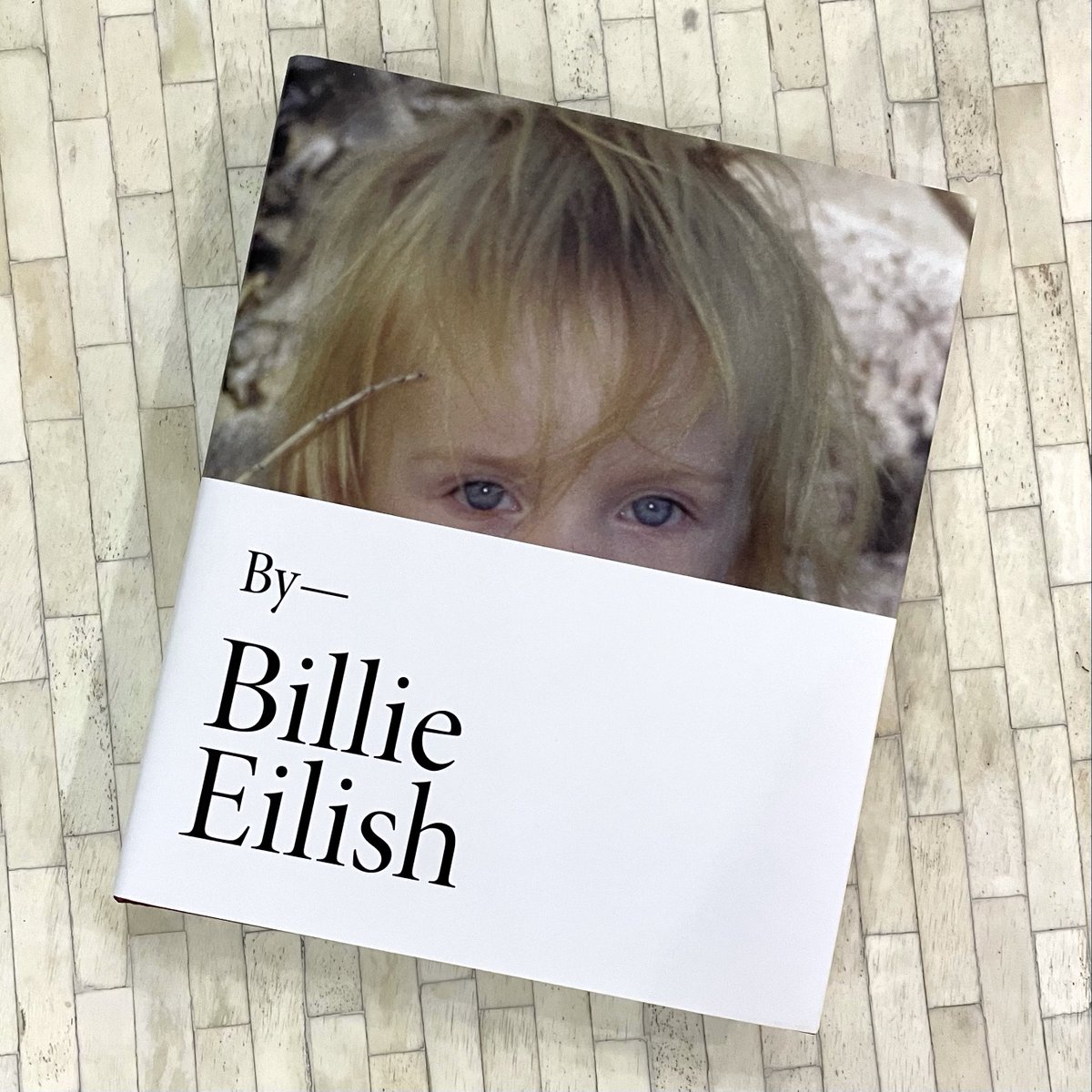 "Even having one of the biggest social media followings in the world is not a guarantee," wrote Elizabeth A. Harris.
So we should all just stop paying attention to Twitter followings, right? Hardly. First of all, it is a data point, and anyone waiting for social media followings to become LESS important probably thinks the Internet is just a fad. More importantly, having a following is certainly better than not having one as it does indicate the ability to attract an audience.
The issue isn't whether it's good to have a large following. Of course it is. The issue is how reliable that is in predicting an individual's interest or appeal outside of that specific social platform.
What programmers need to do is get smarter about how they evaluate social media followings by answering two questions:
Why are people following this particular talent? Content is the catch-all answer here. Go beyond that. What sort of content is this person providing that none of his or her peers are? Will that type of content be valuable as part of my lineup whether it's terrestrial radio, a podcast or other format? Someone who's funny on Twitter may be funny in other formats. They may also just be funny on Twitter. Are there examples of how this kind of content has worked in the past or reasons to think it will work in the future?
How likely is this talent's social media following to migrate to my medium? This is one of the trickier ones. One of the reasons for acquiring a talent with a large social media following is the hope that some of their followers will become your customers. While this is always possible, the more important question is whether it's likely.
Remember, that example of Eilish, who had 99 million Instagram followers and sold 64,000 books? Well, that number of books is actually not a bad result. In fact, it's absolutely solid for book sales. The problem was the publishing house didn't expect a solid sales performance. It expected incredibly strong sales because it paid a significant amount of money to Eilish in the form of an advance.
It's clear the publishing house made a bad bet, but the principal mistake was not about Eilish's ability — or lack thereof — to produce a book. She did produce one that was 336 pages long, loaded with family photos never seen before and while there wasn't as much text as you might expect, the sales were solid. The mistake the publishing house made was overestimating how many of Eilish's fans would become customers in an entirely different medium, and I think that's a lesson worth noting in this industry.
Unless you're hiring someone to do social media for your company, Twitter is not going to be their job. It's just a tool. An important tool, a useful one, but just a tool.
How Good Can iHeart's AdBuilder Solution Be?
"It was slick, I admit."
Do it yourself radio has come to a new client you will never meet. These clients are ready to do it themselves. All they want is to buy a radio campaign. And iHeart AdBuilder is all they need.
Let's figure this out.
In 2019, iHeart started beta testing a do-it-yourself online platform for small businesses to battle Facebook and Google.
I went to the website to see how it worked. It was slick, I admit. It would be a great topic to add to the BSM Summit.
The first piece of info. the site wants to establish is your campaign goal. The four choices were "Get website traffic", "Have listeners know my address", "Get phone calls", and "Announce an event". 
That's it.
When was the last time you wrote a new business order with any of those four goals as the single reason for the campaign? Wouldn't that be easier for the copywriter and the client to track results? TRY IT!
I inputted that I wanted to announce an event and proceeded to the following prompt. My business name, address, website, and industry were the following choices. So far, so good. The only tricky part were the industry choices.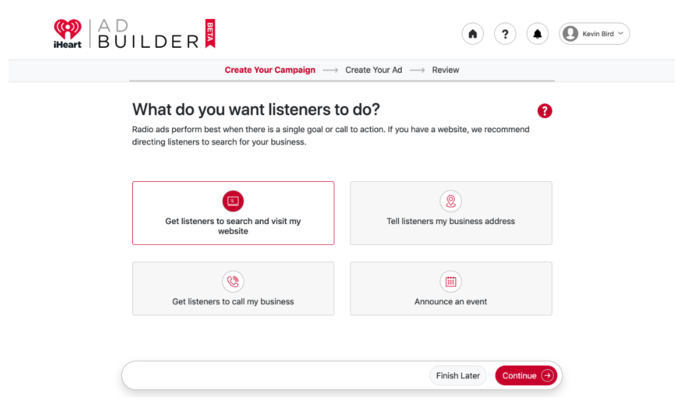 I can see how specific business categories are not precisely represented, like counter service restaurants. They are not fast food because there is no drive-through, but they aren't a full-service restaurant either due to no waiters being used and many other factors. It isn't confusing for me, but you know how clients can be!
Selecting the market I wanted my customers to come from was easy, and it allowed iHeart to choose the closest radio stations. Identifying the ONE type of customer I wanted was fantastic. I can see how it focuses the client on a primary target. Parents with young kids or teens, foodies, married couples, single adults, or an option to select my demo all seemed easy enough.
The demos offered weren't Men 18-34, but men, women or adults, young adults, seniors, adults, or the dreaded all ages. Next was selecting when I wanted to run and how much I wanted to spend. It wasn't a challenge because you choose your dates, and then you're given three choices for a weekly budget. In my case, it was $500, $750, or $1,000 per week. iHeart AdBuilder bills you less if the whole week isn't used.
Impressions, frequency, and reach were highlighted, and they showed the logos of the two stations my $500 was going to be spent on. I noticed there was no information on when the ads would air, how many times per day, or any of that! "You give us $500, and we will spend it over the week on these two stations when and where we want! And it will work!" 
The pages dedicated to creating copy are straight forward and, as salespeople, we have filled those types of forms out plenty of times. iHeart is highlighting that they are waiving the $100 production fee. Maybe, that will change in the future. After going to the checkout, your credit card is given a temporary authorization (which will be reversed), and you are told your ad will be emailed to you in a few days. You won't be billed until your ads air.
What are the odds this $500 campaign over two stations in a few days will work? Who knows, but I bet the automated emails and follow-up calls will be relentless. I think it's a great platform and can see a decent percentage of smaller new business deals go this direction. Some clients may even prefer to never "deal" with a salesperson again, kind of like most of our agency buyers. That leaves us with a whole lotta middle ground. For now.
Demetri welcomes Brandon Kravitz and Derek Futterman to the show this week. They talk about Hub Arkush, Aaron Rodgers, Michelle Tafoya, and Pete Thamel.
Podcast: Play in new window | Download
Subscribe: RSS