David Glenn Is Watching Duke Make History
Every sports radio host dreams of the opportunity to cover an historic team. One that becomes the biggest national headline en-route to a championship. It's great for ratings, it's great for a hosts own personal profile, plus it's absolutely thrilling to be right in the middle of all the hype and excitement. Whether it was Jordan and the Bulls in the 90's, the triplets in Dallas winning three Super Bowls, the Red Sox' historic run in 2004 or even the Golden State Warriors teams of today, the desire to cover teams that will always be remembered is a dream that few hosts get the opportunity to do. 
David Glenn knew Duke would be good again this year, but he wasn't sure just how dominate they would be. That was to be expected, as the entire nucleus of the team is built around four freshman starters and little help from any returning upperclassmen. But even though the hype was strong, seeing as Coach K was bringing in four 5-star talents, few expected what was to come in the season opener. 
It was almost exactly one month ago on November 6th in Indianapolis inside Bankers Life Fieldhouse. It was Duke vs. Kentucky with the entire country watching. Sure, No. 1 Kansas had just looked impressive in the previous game beating Michigan State, but that story would be buried by the end of the night.
The first few minutes was close between the Blue Devils and Wildcats, but soon after, the lead kept growing and growing and growing for Coach K's team. The heralded group of four freshmen, Zion Williamson, RJ Barrett, Cam Reddish and Tre Jones, made a statement that the entire world of college basketball both heard and felt with a 118-84 win. Not only had Duke asserted itself as the best team in the country, but fans instantly realized this could be a team unlike anything Mike Krzyzewski had ever fielded before. 
For sports radio hosts in North Carolina such as Glenn, an opportunity to cover an historic team had just presented itself. Sure, it was just one game, but Duke caught the entire nation by storm that night and became one of the biggest, if not the biggest, story in all of sports. Since then, the hype around the Blue Devils has only grown. 
For sports radio hosts, you always want to cover a team that moves the dial. That can mean covering a team that wins a championship or even covering a team that's historically bad and has fans up in arms and upset. Regardless, it's all about fielding a reaction. Obviously, covering an historic team is more enjoyable for a multitude of reasons, but the thing you always hope to avoid is a team that's mediocre and garners no strong reactions.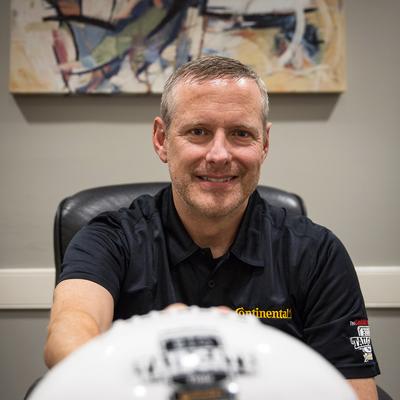 Heard across the entire state of North Carolina, including over 250 towns and cities, the David Glenn Show is humming along nicely this time of the year with Duke basketball often as the lede story. But what's it like when you're covering a potential historic team in the middle of the year? Glenn shared some thoughts on the whirlwind of the past month as well as what's to come.  
TM: At what point did you realize this was wasn't just any ordinary Duke team?
DG: One of my first contributions to The Athletic was exactly on this topic. Basically, the word unique is often misused, but it means one of a kind. I believe, and I think history backs it up, nobody has tried to follow four freshman in an attempt to win championships. Coach K had the three in 2015, Kentucky head coach John Calipari had the three one-and-done players in 2012. It's not the first of its kind, in terms of utilizing superstar one-and-done freshman, but it is one of a kind when your four best players are freshman. 
But as a writer and a radio host, I realize you better follow recruiting even if you don't love it. I'm not that old, but there are people in my age bracket that roll their eyes at the idea of following recruiting. I'll never forget when the famous Billy Packer used to say that he didn't pay attention to that stuff and that he'd wait until they were in college to make his own judgment. Well, he had a fantastic career and more power to him, but in today's day and age, if you don't follow recruiting, you're about a 1,000 miles behind the story. If you don't pay attention to it, most of your readers and listeners will know more than you do, by the time they take the floor for the first time.
My background involves following recruiting, so I saw Zion Williamson in all-star games. I saw RJ Barrett in international play. I saw Cam Reddish as a star high school player. I think part of doing your job, especially nowadays, is following the recruiting trail so you're up to speed when these guys get to their college campuses. 
TM: I agree with that and have always thought it with college football recruiting, but is it even more so with college hoops, considering the turnover is much higher for teams?
DG: Yes, I've always said you can be a college football fan without be a recruiting freak. Now, there's going to be the occasional player where you better have your eyes wide open or you're going to be behind the curve, but with so many freshman redshirting and even so many of the stars needed a year or two, college football remains a different animal.
In modern college basketball, we expect to see freshman on the first team All-America team, right? We expect to see freshman competing for ACC Player of the Year. The ACC was around for 60-plus years and had never had a freshman as its player of the year. Well, guess what, those days are over because Jahlil Okafor was the first in 2015, so there's your symbolic proof. You go from 60-plus years where no freshman won it, to Okafor in '15 and Marvin Bagley in '18. Plus, you have Zion Williamson and RJ Barrett as the favorites to win this year. That says a lot about college basketball and how freshman can impact it so quickly. 
TM: When you're talking about Duke on your daily show, do you feel you're judging them on a different scale than past teams, considering how historic they may be? Are listeners doing the same?
DG: Yes, there was a little momentum for that even before they played a game. But when they not only played Top 5 Kentucky, but ran the Wildcats out of the building in the season opener, that really ramped up the expectations. That changed the conversation. It went from a curiosity about how high the team's ceiling was going to be, to some people suggesting that Duke was a favorite to go undefeated. The first since the 1976 Indiana team.
Just as someone who's been around for 31 years, I told them they weren't crazy to see the high level talent, but to please pump the brakes. Every other college basketball team of all sorts of fantastic vintages has fallen short of running the table and winning a national title without a single blemish since 1976. Yes, this team is viewed differently by many Duke fans. You probably saw Coach K call out his own fan base last week, asking them to not contribute to the hype machine, unnecessarily. In Coach K's eyes the media does enough of that.
I share his view and think he was right on point, just like he usually is. He could sense that his own fan base had such extraordinary expectations that they were becoming unrealistic. 
TM: Whether it's talking about them more, leading off with them more, guests, have you conducted your show any differently since Duke could be historically good?
DG: I would say that I've tweaked my show, but I have not turned it upside down. Our show is syndicated state-wide, so I can't cater just to The Triangle. I'm not talking to the entire nation either, but I am talking to the entire state of North Carolina. I have to blend national headlines with in-state headlines. Whenever anything is happening in North Carolina that reaches national or international headlines, it's my sweet spot as I'm coming to almost 300 different cities and towns in the state.
Like when the Panthers went 15-1 in the NFL and made that run to the Super Bowl. That's not just a North Carolina story, that's a national story if not international. We were pounding that drum all the time. Similarly, the hype surrounding these Duke freshman, combined with the hype that Coach K teams usually get, combined with Zion Williamson as the YouTube sensation, combined with NBA scouts and the possibility of these guys going 1, 2 and 3 in next year's draft. Every one of those facts just contributes to a perfect storm, where I'd be crazy not to tweak my show with that in mind.
When I'm talking college basketball in November and December, which are, for the most part, football months on the calendar, I'm not forcing college basketball down people's throats when I'm grabbing national and international headlines and huge names like Coach K, Zion Williamson and RJ Barrett. If it was just another Duke team, there'd be some college basketball talk in November and December, but because it's this Duke team it's a no-brainer regular topic.
TM: Are you to the point where you're having off-the-wall topics and conversations, such as how many of these freshman would start on an all-time Duke starting 5, or where this team ranks against the greatest ever? Are you there yet?
DG: Yeah, we had the conversation on if they'd go undefeated. We've had the discussion on if this is the best team I've seen in my 31 years of covering the ACC. We've had people asking me to do the research on if any team has ever had three Top 10 picks in the same draft. The answer is yes and it's only happened one time. Florida's national title team in 2007 did it. So I did that research and that's another example of my audience asking me to treat this differently and do that research. I've even been portrayed as the bad guy for suggesting, at this point in the season, Virginia is just as good as Duke if not better. I feel like I'm wearing a villain's black hat by not jumping on the superlative bandwagon, if you will. I'm just being candid, that's my style.
I don't play to a fan base and if I'm hyping something, it's because I believe what I'm saying. There's some radio hosts out there that do play to a fan base, but that's just never been my style. I think we even saw against Gonzaga that these freshman have a lot to learn as college basketball players. At their worst, they're a Top 10 team, but if they want to truly be the best come March Madness, they need to keep learning from Coach K. 
TM: With that being said, you're not outwardly rooting for Duke on press row or cheering for them at home in a blue sweatshirt, but at the same time I'm sure you see an opportunity if they keep winning games. Is there any part of you that is rooting for them because it would help ratings?
DG: I tell fans all the time, and as anybody in our industry knows, many fans believe media members are rooting for this or against that in all sorts of context. I try to tell them all the time, what we root for are compelling stories.
Duke, with these freshman and that legendary coach, is already a compelling story. If they continue to blossom it only gets that more compelling. They are, in at least one category, nobody has ever followed four star freshman, without any accomplished veterans providing the supporting cast. It's never been done before. It's good for our show when there are fun, interesting, compelling, success stories to follow. Many fans will think that you're rooting for or against a certain school. Whatever. I wasn't born or raised in North Carolina. I didn't get here until I was 20. I don't have a rooting interest when it comes to college sports.
Unapologetically, I root for good stories because it's good for the show and our audience. That means it's also good for our sponsors and affiliates. 
TM: When you're covering a team of this magnitude, does your national presence get a bump, considering you're probably being asked to be on more radio and TV shows than normal?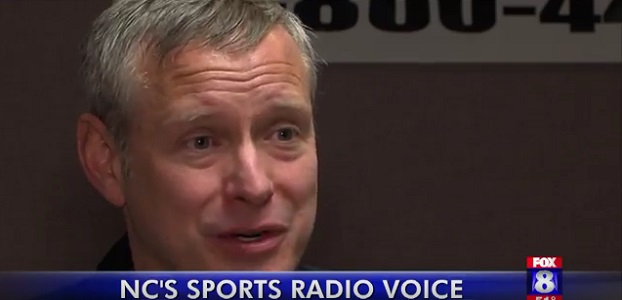 DG: There's no doubt that the phone rings more often and you get more radio and TV appearances. There's no doubt about it. When I was in my 20's, a story like this would take a small set of invitations and maybe make it grow exponentially. Now, it's just sort of a tweaking of my normal schedule.
I've always done more shows as a guest than I do as a host. In other words, I have a noon to 3 p.m. show here. Five shows times 52 shows a week, let's just say roughly 250 shows a year as a host. I've always done more than that as a phone guest. When Duke plays like this or when Carolina had three different national title teams under Roy Williams, or when the Panthers are chasing a Super Bowl, it all matters.
The bigger the platform, the bigger the story, and the bigger the name, the more the phone rings. There is absolutely no doubt that this Duke team is good for my career and my profile. Even more importantly, it's great for the radio show because it offers so much compelling content on a regular basis. 
Asking The Right Questions Helps Create Interesting Content
Asking questions that can get a subject to talk about their feelings is a much better way to get an interesting answer.
When ESPN's Mike Greenberg interviewed Paolo Banchero in the lead-up to the NBA lottery on Tuesday, he asked what I've concluded is the single most maddening question that can be asked of any athlete preparing for any draft.
"Why do you believe you should be No. 1 pick in the NBA Draft?" Greenberg said.
Before I point out exactly why I have such a visceral reaction to such a harmless question, I want to point out the positives because Greenberg's question avoids some of the most common pitfalls:
1) It is an actual question. That's not as automatic as you think given the number of poor souls who are handed a microphone and say to their subject, "Talk about (whatever issue they want a quote or a sound bite on)." This is the mark of an amateur, creating the opening for an uncooperative subject to slam the door by saying, "What do you want me to say?"
2) Greenberg's question can not be answered with a yes or a no. Questions that start with the word "Can you …" or "Did you …" may sound like they're tough questions for the subject, but they're actually fairly easy if the subject wants to offer an answer. Now, most interview subjects won't take that one-word exit, but some will in a touchy situation.
The problem with Greenberg's question has to do with the result. Why do we ask questions of the athletes we cover? Seriously. That's not rhetorical. What's the goal? It's to get interesting answers. At least that's the hope whether it's for a quote that will be included in a story, a sound bite to be replayed later or — like in this situation — during an interview that is airing live. The question should be engineered to elicit interesting content, and there was very little chance that the question Greenberg asked Banchero was going to produce anything close to that.
I know that because I have heard some version of this question asked hundreds of times. That's not an exaggeration. I attended the NFL scouting combine annually for a number of years, and if a player wasn't asked why he should be the first overall pick, he'd get asked why he should be a first-round pick or why he should be one of the first players chosen at his position. Never — in all that time — have I ever heard what would be considered an interesting or informative answer. In my experience, players tend to talk in incredibly general terms about their own abilities and then seek to compliment their peers in an effort to avoid coming off as cocky.
Here's how Banchero answered Greenberg's question: "Yeah, thank you all for having me, first off., I feel like I'm the number one pick in the draft because I'm the best overall player. I feel like I check all the boxes whether it's being a great teammate, being the star player or doing whatever the coach needs. I've been a winner my whole life. Won everywhere I've went, and when I get to the NBA, that's going to be the same goal for me. So just combining all those things, and knowing what I have to work on to be better is a formula for me."
There's nothing wrong with answer just as there was nothing wrong with the question. It's just that both are really, really forgettable. ESPN did put a clip on YouTube with the headline "Paolo Banchero: I'm the best overall player in the NBA Draft | NBA Countdown" but I think I'm the only who will remember it and that's only because I'm flapping my arms and squawking not because there was anything bad per se, but because there was nothing really good, either.
First of all, I'm not sure why it matters if Banchero thinks he should be the number one overall pick. He's not going to be making that decision. The team that holds the top draft pick — in this case Orlando — is. Here's a much better question: "How important is it for you to be the number one overall pick?" This would actually give an idea of the stakes for Banchero. What does this actually mean to him? Asking him why he should go number one is asking Banchero to tell us how others should see him. Asking Banchero how important it would be go number one is asking him to tell us about his feelings, something that's much more likely to produce an interesting answer.
The point here isn't to question Greenberg's overall competence because I don't. He's as versatile a host as there is in the game, and anyone else in the industry has something to learn from the way he teases ahead to content. What I want to point out not just how we fail to maximize opportunities to generate interesting content, but why. Interviews are a staple of the sports-media industry. We rely on these interviews as both primary content that will be consumed directly, and as the genesis for our own opinions and reaction yet for all that importance we spend very little time thinking about the kind of answer this question is likely to produce.
The Client Just Said YES, Now What?
We should spend as much time on what we will do after the client says YES.
One of the most significant moments in radio sales is when the client agrees to your proposal and says YES. But, when they do say YES, do you know what's next? We better have an answer!
We spend a lot of time getting ready for clients with research, spec spots (thank you, radio sales trainer Chris Lytle-go to 22:30), proposals, and meetings. All of our focus is on getting the client to say YES. We should spend as much time on what we will do after the client says YES. For example, getting newer sales reps to sell annual advertising contracts would be ideal for building a list. They would have less pressure, more job security, and could spend more time making the advertising work for their clients. But, since most newer reps don't know the business yet, they don't bite off more than they can chew and sell a package of the month.
When a client says yes to the weight loss promotion, it's pretty clear how to write the ads, what the promos will say, etc. BUT, if a newer sales rep starts selling annual contracts to a direct local client who needs a resource, how will that work? Let's make sure we paint the picture right upfront. More experienced reps know that they need to assume the client will say YES to the weight loss promo and have a plan accordingly.
They have the next steps to building copy and promos, a credit app or credit card payment form, and any other detail the client must provide. But, when we ask a direct local client for an annual advertising contract, watch out! You have just made a partnership. Why not lay out, upfront, what that will look like. And I understand not every local client needs the same level of service.
A car dealer has the factories pushing quarterly promotions, agencies producing ads, and in-house marketing directors pulling it all together sometimes. Other clients need your help in promotions, copywriting, or idea generation. Make a plan upfront with your client about when you will meet to discuss the next quarter's ad program. Include your station's promotions or inventory for football and basketball season, a summer NTR event, digital testimonials with on-air talent, etc., in your annual proposal. Go out as far as you can and show what you have to offer to the client and how you can execute it. This exercise is good for you and, once mastered, guides the client on how you will take care of them after the sale. It also opens your eyes to what it takes to have a successful client partnership inside and outside the station.
This week, Demetri is joined by Ian Casselberry and Ryan Brown. Demetri talks about the NBA Draft getting an ABC simulcast, Ian talks about Patrick Beverley's breakout week on TV, and Ryan reminds us that Tom Brady may be the star, but Kevin Burkhardt is the story we shouldn't forget.
Podcast: Play in new window | Download
Subscribe: RSS