Grant Napear Has Done Everything He Wants To
"Learn the business. Learn the craft. Get as much experience as you can and work your way up the ladder."
One of the easiest things in life is to detect whether somebody has passion for what they do or not. The passion that Grant Napear has for sports broadcasting and sports in general is more than obvious. One of the greatest compliments I can pay Grant is that he has the unique ability to get the audience to care more. I truly believe that the passion he always displays has a direct effect on the audience being more passionate about sports themselves.
Grant has enjoyed a great deal of success throughout his career. He became the TV announcer for Sacramento Kings basketball games back in 1988. The story he shares about breaking the good news to his dad is second to none. The greatest moment in Grant's life is a special tale that reveals how his love for sports is intertwined with the deep love he still has for his late father.
As the host of The Grant Napear Show on KHTK Sports 1140 in Sacramento, it might come as a surprise that Grant's favorite moment in sports radio doesn't actually involve anything that has to do with sports. Grant also unveils whether he would give up sports radio or play-by-play if necessary, and he details his unique approach to delicate topics that is definitely worth your time reading below. Enjoy.
Brian Noe: Start from the beginning. What was your first break in sports broadcasting?
Grant Napier: My first break was my dad — we grew up on Long Island about 30 miles from New York City right on the Nassau/Suffolk community border. I was very fortunate to have a radio station in my high school. I had a little bit of broadcast work before I even went to college, but my first real, true break was my dad's mixed doubles tennis partner — her husband owned what back then was the Mizlou Sports Network. The Mizlou Sports Network was basically ESPN before ESPN.
They did a lot of bowl games. The guy that owned that network — his name is Vic Piano. He had always told my dad, "Hey, if there's anything we can ever do for Grant, let me know." I went to college at Bowling Green and was doing Bowling Green football. After I graduated, I was working at a radio station in Bowling Green and Bowling Green made it to the California Bowl. They were playing Fresno State. Mizlou Sports Network was doing the game.
I called Vic Piano. He gave me the name and the number of the executive producer — his name was Bill Schwing. I went out on a Friday night before the game to their production meeting. I'm sitting in this room with the staff that's doing the game and the producer and the director. At the end of the meeting, Bill Schwing goes, "Now, I'm sorry. What are you here for again?" I said, "Well, I'm Grant Napear." He goes, "Oh yeah, that's right. Okay, now what is it that you want to do?" I said, "Well, I don't know. I'm just here to see if there is anything at all that is available." He said, "Well, you know, this is national TV. I can't let you just go on TV. We do need someone to do the halftime show. I can't just let you on."
He said, "I'll tell you what, show up at the stadium tomorrow three hours before the game and I'll give you an audition." They had a lot of technical problems that late afternoon and they never gave me an audition. So, I'm sitting in the broadcast booth. It is about seven minutes before the half. I asked the stage manager, "Can you please find out if I'm doing the halftime or not?" I really need to prepare something.
With four minutes left to go in the first half, she gets back to me and she goes, "Yes, you're going to be doing the halftime. You're going to interview the commissioner of the conference and then you're just going to do some stats and some highlights." Now, I had never been on television before. Okay? I have never been on TV, but I had been practicing my whole life to be on TV. Even beginning at age 10 and 11, practicing and making believe I was on TV.
I did the halftime segment. At the end of the game, I'm walking out of the stadium and Bill Schwing comes out of the TV truck and he sees me. He goes, "Grant! Oh my God, you have no idea how nervous we were all in the truck when you came on. But you did a great job and good luck in your career." I got back to Bowling Green, which is 20 minutes south of Toledo. The ABC station up there is Channel 24 in Toledo. The sports director's name is Jim Tichy.
I had known Jim because I had done Bowling Green hockey, Bowling Green basketball, and I used to see Jim around. We knew each other. Not well, but we knew each other. He comes up to me and he says, "Grant, I didn't know you did TV." I said, "I didn't know I did TV either." He said, "Listen, I have six weeks vacation this summer and a weekend sports anchor is filling in for me. We need someone to fill in on weekends. Would you be interested in coming up and doing an audition?"
I went up on June 18th of 1982. The reason why I remember the date is it was my birthday. I did an audition. They hired me to fill in on the weekends at $5 an hour. During that time my radio station in Bowling Green had been sold and it was turning in to a Spanish format, so I moved back home to New York.
Mike Reghi, who ended up doing the Cleveland Cavaliers for many, many years — he's done a lot of work for ESPN — he was the weekend sports director. I'm not kidding you, Brian, he would call me on a Thursday night and go, "Grant, I'm not working this weekend. Can you work?" I'd go, "Absolutely." I would get in my car and I would drive 10 hours, over 500 miles, and I would do a five-minute sportscast on Saturday. I would do a five-minute sportscast on Sunday. And I would drive back home. I did that for about eight or nine months until I could get a good tape. Then, I just sent it out everywhere and that's how I really got the TV portion of my career started.

Noe: What's something that you remember most while doing that fill-in work early on?
GN: You know what was interesting? I had never been in a TV studio before. I'll never forget this. The news director comes up to me and he goes, "Just write a couple of scripts out." I wrote a couple of scripts and I go into the studio and the teleprompter was run by the anchors at this particular ABC station. It was like a sewing machine. There was a foot pedal under the desk and you had to tap your foot to move the teleprompter.
I did the sportscast and the news director goes, "Okay, do you want to do it again, or are you okay with that?" My response was, "Well, you only get a chance to do it once when you're doing it for real, right?" He says, "That's correct." I said, "No, I'm good with it." They ended up, right after that, hiring me to fill in at the ABC affiliate in Toledo. That's how I really got my start.
I learned how to shoot a camera. I would go out and shoot highlights of the Toledo Mud Hens. I would go up to the Tiger games. There were all kinds of things in that area. I would edit my own stuff and I would put together my sportscast. I did that until I could get a resume tape. That's how I really ended up getting my first full-time job was by getting the experience on the air to get a resume tape together.

Noe: I just thought of Howie Long, who won a Super Bowl right away with the Raiders, and some other players who had immediate success at the beginning of their careers. It's not as if you took early success for granted, but did you appreciate it more down the road when you got a few breaks early on when it just doesn't work out the same way for some other people?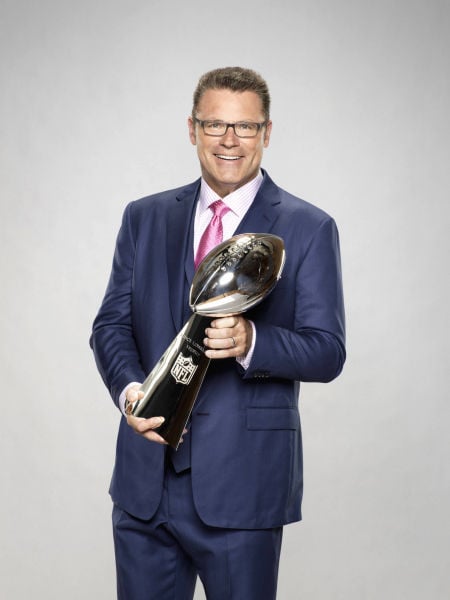 GN: Yeah, you know, it's interesting you say that. Was that a break? Yes, but I was very fortunate. I knew what I wanted to do when I was in third and fourth grade. I started doing play-by-play when I was in grade school. I was blessed to grow up listening to Marv Albert doing the Rangers and the Knicks games. In junior high school, whenever we had a class assembly that would run short, they would start chanting my name out. I would have to go on the stage and do a mock play-by-play of a Knicks or a Rangers game. I put commercials in and everything. I was doing play-by-play for many, many years before I even had a chance to do it on the air.
That evolved in to doing Bowling Green hockey and some basketball and football on the campus station before I got an internship where I was doing everything. I was driving literally 10 hours for $5 an hour. Then when I finally got a job in Decatur, Illinois as a "full-time" job, I made $12,300. I was the weekend sports anchor and during the week I was a news photographer because they didn't have the budget to go full sports. 
I worked my way up to being a sports reporter. I really, truly feel like I paid my dues. Did I get a break? Yes, but here's the other part of that. I always tell students this; did I get a break? Yeah, I did get a break, but I was ready for it. I took advantage of it.
I always tell students when I speak at high schools and colleges — I really believe that people in this industry, if you look hard enough, you will get that one opportunity. But when you get that opportunity, you have to make sure that you are ready for it and that you hit a home run. Because if you don't, you may never get that opportunity again.
In one sense, I got a break. But in another sense, I had been working my whole life for it. I worked for very little wages. I really feel like I paid my dues so that when I really got into the position that I'm in now at a relatively early age — I started doing the Kings when I was 28 — I felt at that point like wow, I really earned my way to that spot. I didn't feel like I was ever given anything. I don't feel like I was ever handed anything. I felt like I was ready for it, prepared, and I feel like I've paid my dues.

Noe: Absolutely. Oh, I don't want to make it sound like you were born with a silver sports broadcasting spoon or anything like that. (laughs)
GN: I wanted to paint a picture for you because I know you talk to people in this industry all the time. If you talk to 50 different people, you'll get 50 different stories of how people got into this business. With the exception of maybe a Jim Lampley and a Bob Costas — and even Bob started doing minor league hockey — but very, very, very, very few people go from college into the "big time" in this business.
You have to start off in a small town. Warner Wolf, who was a long-time sports anchor in Washington D.C. and New York City for CBS — he also did Monday Night Baseball for a while. He was a phenomenally popular figure in New York. He wrote a book. I'll never forget this part of the book because I always used to read this when I used to talk to schools. In this book he said, "You know how some people say start at the top? I say don't even think about starting at the top. You need to get a job in a small town on the radio at six in the morning when nobody's listening." He went on and on.
You know what? I did that. My first full-time job right out of college, I was working at a commercial station in Bowling Green, Ohio. I was the morning DJ. I was the account executive. I was also the sports director. During the morning — this is no exaggeration — three times a week I used to have to read the funeral report brought to you by Klotz Flowers on East Wooster Street. Like I still remember the name of the flower company and the street it was on. That was part of my job in the mornings.
Warner Wolf was so right about that. You have to learn this business by doing it. You have to be able to work in a market where if you make a mistake, nobody's going to kill you for it. It takes a while to hone your skill and get experience. If you work in a small market they understand that you're going to make mistakes. They understand that you're up and coming. You can't go from college to let's say a network or a big time and make a mistake and hold on to your job. It doesn't work like that. I've always believed that you start small in this business. Learn the business. Learn the craft. Get as much experience as you can and work your way up the ladder.
Noe: It's been well chronicled how Patrick Mahomes attributes some of his play-making ability to playing baseball. When you've done hockey play-by-play and other things in sports broadcasting, how much has that helped your NBA play-by-play?
GN: It's helped it out a lot. I played lacrosse all my life. I played lacrosse in college. I had to mix in working at the campus radio station with playing a Division I sport. I had to learn how to budget my time and everything, but I've always felt this — if you can do hockey, you can do anything.
The only sport I've never tried is baseball. I honestly don't think it fits in with my personality. Do I think I could do baseball? Yeah, I think I probably could, but baseball is more about telling stories. It's more about what happens in between pitches. That would be more challenging for me because I'm more of a New York Type A persoality with rapid-fire. Hockey is perfect for me.
My dream was always to announce in the NHL and I got my dream in 1995. I filled in doing some Sharks games on TV. I've crossed that off my bucket list, but I've always felt that if you can do hockey you can do anything. That type of experience of doing a fast-paced game and having to be on top of it has helped me out immensely throughout my career.
Noe: What was that moment like for you when you initially got the nod to call Sacramento Kings games on TV?
GN: Well, the greatest moment ever in my life, and I'm 59, was calling my father and telling him that, "Dad, I am the new TV announcer for the Sacramento Kings." My dad started taking me to New York Giant football games when I was three years old. We went to games every Sunday. We had season tickets for the Giants and the Jets. I was at an NFL game every single Sunday of my entire childhood.
I loved the Giants and I hated the Jets. The season ticket holders at Shea Stadium didn't like me because one week I'd be rooting for the Bills, two weeks later I'd be rooting for the Patriots, then I'd be rooting for the Colts. They couldn't stand me because I hated the Jets.
My sports background is 100 percent from my father. We'd be at college games. We'd be at Ranger games. It was just part of my upbringing. The moment that I found out I was going to be doing the Kings on television in 1988, the thing that I will always remember until I'm no longer breathing was the phone call that I had with my dad. That was probably the most special moment I've ever had in my life.
Noe: Do you remember what he said to you?
GN: He broke down on the phone. We both did. It was like a dream. For us to share that moment and to experience that together with all of the games that we had been at and our love for sports and everything else — I lost my dad 10 years ago at age 82. He had a full life.
I'll tell you a quick story. My dad passed away three hours before I did a Kings-Spurs game on November 2nd in 2007. My brother called me at 4 o'clock and the game was at 7 o'clock. He says, "Dad died." My dad was in good health. He was still driving. He was still active in his church. But anyway, to make a long story short, they found my father on the couch with ESPN on. We were playing the Spurs that night and my dad had always told me, "Hey listen, if anything ever happens to me, don't worry about it. Go do the games. Don't worry about missing a game."
I did the game as hard as that was. We only scored 29 points in the first half. At my dad's memorial service a month later I told the story. I said I'm just really happy that they found my dad before the game because if they had found my dad after that game, I would have always had the guilt over the fact that the Sacramento Kings killed my father.
He watched every game that I did. He watched every single game. I was like, okay gosh, that would have been the worst thing in the world to have my brother call me and say, "They found dad sitting with the Kings game on and the Kings poor performance in the first half killed him." (laughs) But that relationship, I'm sure everyone has their own stories, but that was something that was [special] – and with League Pass it was great because my dad could watch every game that I did.
Noe: I appreciate that story. If you look at sports TV, sports radio, and play-by-play — what are the similarities that aren't obvious, and the differences that don't stand out either?

GN: The similarities, to me, are knowledge. I would think this is true in any walk of life. When I'm doing my radio show, I have to know everything. I'm blessed to fill in for Jim Rome a lot. That's a whole different animal because you get calls from all over North America and you have to really know everything.
My love may not be let's say college basketball. I like college basketball, but I don't really get a chance to follow it as closely as I want for obvious reasons. If I'm going to do a national radio show, you have to have the knowledge. When I'm doing an NBA game at night, I've got to know not only my team, which I know because I'm watching them every night, but you really have to know everything about the other team.
To me knowledge, homework, and preparation — that's the one constant between everything. I don't know if people understand. A Joe Buck who was doing the World Series and doing an NFL game on a Thursday, or a Jim Nantz who goes from doing the Final Four to the Masters to whatever — you just always have to be reading. You can't take any days off in this business. You don't want to go on vacation. I'm still monitoring everything that's going on in the sports world. You don't really get away from it.

They are completely separate jobs and I don't know if there are a lot of fans that understand that. What I do on the radio every day is 100 percent different than what I do when I'm doing a Kings game two hours later. I'm opinionated on the radio. I have to present that medium completely different than when I'm doing a basketball game. When I'm doing a basketball game, my job is not to be opinionated. My job is to describe the action and to guide my analyst in and out of certain areas that I think are important.
People think it's kind of the same job. It's not the same job and there is a very, very fine line that I do have to walk and I'm sure the other broadcasters in the country like a Michael Kay — who I have the unbelievably utmost respect for — as the TV voice of the Yankees and having a high profile radio job in New York. He can't duck questions. He can't, on his radio show, not be opinionated even if it's critical of the Yankees. But there is a fine line that you have to walk. That is probably the most difficult part of doing a radio talk show in a market and being the professional team's play-by-play announcer.
Noe: The NBA game moves fast. Hockey especially moves so fast as a play-by-play guy. Does it ever feel like sports radio moves slower for you because of your play-by-play background?

GN: Yeah, sports radio to me is like molasses compared to doing play-by-play. I've done NBA play-by-play on radio and I've done it on TV. Play-by-play on TV is not really that quick. Marv Albert told me this a long, long time ago — a good TV announcer is judged more by what he doesn't say than by what he does say. You have to be really in tune, particularly when you're doing games at home, with what the crowd is doing. On big moments you really need to lay out, but when you're on the road and your team has a big moment you don't lay out because the crowd is bad. Then you can talk over it.
There is a fine art. It's very, very challenging at times. In radio play-by-play you are the eyes and ears of the listener. Everything has to be super descriptive. I love play-by-play because it's all spontaneous. You really don't know what's going to happen from second to second. Whereas on the radio show it's a little bit more formatted.
For instance, if I'm on the radio and we're talking about the Chiefs and the Chargers, well there's really not a lot of spontaneity there because I already know. I watched the game and there's nothing I'm going to be asked that I don't know the answer to. Not to sound egotistical, but people that watched the game know. They watched the game. But when I do the Kings and Warriors game, I have no idea what's going to happen.
I did the Kings-Warriors game a couple of years ago when Klay Thompson scored 37 points in the third quarter. That was probably in my 31 years of doing basketball the most amazing thing I've ever seen. I didn't walk into the building that night thinking I was going to see the greatest individual accomplishment in the history of the game. That's what I love about play-by-play — the spontaneity of it. It's totally different. It's completely separate than doing the radio show.

Noe: I think the Warriors dominance is a mixture of good and bad for the NBA and sports broadcasting in general.  Do you think the Warriors are more on the good side or more on the bad side for what you do as the Kings TV announcer and also as a sports radio host?
GN: I'll tell you what I think is bad about it. I think it's bad when a league begins their season, it's game one of 82, and just about every single person in the country knows who's going to win the championship barring injury. I don't think that's good for the NBA and yet their TV ratings are through the roof. Their money is through the roof. The attendance keeps on going up, but I don't think that's good.
Whereas in the NFL in Week 1, look at Philadelphia last year. Nobody had them winning the Super Bowl and they won the Super Bowl. That doesn't happen in the NBA. Look at baseball. Who had the Oakland A's winning 97 games and going to the playoffs? It happens in baseball. In hockey, who had the Vegas Golden Knights going and playing in the Stanley Cup Final as an expansion team? That could never ever, ever, ever happen in the NBA. That part of it I think is bad.
I don't think it's good for a league when you have legitimately two, maybe three teams that can win a championship out of 30. What do you say to the other markets like Sacramento? Well, we're different because it's the only show in town and the team has been so bad for so long and now they look good. The fans here aren't expecting a championship this year. The excitement is as good as it's been in over a decade. In this particular market it's not a big deal.
To me, it's different when you work in a Portland or a Sacramento where it's the only show in town. Let me take you to a market that has three other sports.
If you're in Denver, the Nuggets are relevant this year. When the Nuggets in the past few years weren't relevant and you have the Avs, people talk about the Denver Broncos 365 days a year — what's it like for them when they know that their team has no chance of competing because they already know who's going to win the championship? I think a lot depends on which market you work in.
Noe: What would you say is your very favorite moment broadcasting the Kings and your very favorite moment broadcasting a sports radio show?
GN: My favorite moment broadcasting the Kings was Game 3 of the '95-'96 season when the Kings had their first playoff game at Arco Arena. I've been blessed to go to the Super Bowl, the World Series, and the Stanley Cup Final. I've been everywhere and I've never, ever experienced a crowd response when the Kings ran out onto the court for their warm-ups against the Sonics in Game 3 with the series tied 1-1. That was truly a moment — not moment, moments — that I'll never forget. I've never experienced a crowd response like that ever.
I've had a lot of other tremendous moments — some good, some not bad. I was doing the radio call on Robert Horry's Game 4 shot, which tied the series at 2-2. That was probably the most difficult, hardest thing to digest because the Kings would have gone up three games to one and in all likelihood would have won the series.
As far as my favorite sports moment on the radio — you may find this to be kind of an odd answer, but it doesn't have anything to do with sports. We were broadcasting on remote after 9/11. I'll never forget being on the air after 9/11 where you didn't even think about talking about sports, nor did you even contemplate talking about sports. I'll never forget every day being out in a parking lot of a shopping center with fireman and literally having people just stop and put money in boots.
Just kind of getting together with people and strangers that you didn't even know. Just getting through the horrific scene of Washington and New York and Pennsylvania — the bond that our country showed during that time. That week to two weeks on the radio was — when I say it's my favorite time — I say it's my most memorable time because our country came together and we were going to do anything that we could for our fellow neighbor, and our neighbors in New York and Washington.
We just went through it here with the Camp Fire and the tragedy in Paradise. This is our neck of the woods. Again, we didn't even talk about sports for a couple of days. We were talking with victims that had nothing. They had lost their houses. They had lost their jobs. They lost everything and we were all trying to help. What do you need? Can we get up there and give you a blanket? Do you need a tent? Do you need boots?
I had someone call my show who wore a size 17 and they were walking around with nothing. I called the Kings to see if anyone wore a size 17. Kosta Koufos did and so I got some sneakers and I gave them to this individual because they didn't have anything. Those are the moments. I always say the power of radio. When there's tragedy and you have a microphone in front of your face, you don't really realize how many people that you can help. Those are my favorite most memorable moments in all my years of doing radio. It has nothing to do with sports. It has to do with helping out your neighbor and making someone feel good. Giving someone hope. Those are my favorite moments on the radio.
Noe: Building off of that, the times when sports radio gets pretty contentious — if there is a topic about anthem protests or something like that — that's the other side of the spectrum based on what you were just talking about. Do you think that more times than not sports radio unifies people or divides them?
GN: I think it divides them. I have a really simple philosophy. It's a very sad philosophy, but I deal in reality. I'm a straight shooter. I don't talk about that on my radio show. I don't talk about sex on my show. I don't talk about race on my show. And I don't talk about political / social issues on my show. The reason for that is if I do, no matter what I say, it's going to be misconstrued. I'm going to be labeled either a racist. I'm going to be labeled a bigot. I'm going to be labeled this. I'm going to be labeled that.
I honestly believe in my heart that there are certain issues that you have a no-win situation. I unfortunately cannot talk about those things. You talk about the anthem protest in the NFL. It's very simple. This is a sports show. I'm doing a sports show. If you want to talk about Colin Kaepernick and you want to talk about kneeling, there are many other stations on the dial. Turn the dial. I'm not talking about that.
It's sad that we live in a society where you can't give an opinion without being labeled a derogatory term. So, I stay away from that. I wish I didn't have to stay away from that because I'm like anyone else — I have an opinion on it, but if my opinion is not popular or my opinion is deemed to have a certain bias, then all of a sudden I'm Grant Napear that has a label attached to him. I don't want a label attached to me unfairly.
I do a lot of things in our community for at-need students. I spent a lot of my free time on my foundation. I am very proud of that. I don't even like to go on the radio and have to back up when someone calls me this or calls me that. I'll give you an example. I made a comment about a year-and-a-half ago about this issue. Someone was calling up and criticizing me and I said, "Okay, I heard what you had to say. Let me ask you a question. What have you done to help out the situation? You have a very strong opinion about this. What are you doing to make your community better?"
There was a pause. They go, "Well, what are you doing?" I said, "Well, I have a foundation. I've sent over 60 at-need high school students to college. I mentor the students and we pay for a five-year state funded education." I said, "So, what have you done? I told you what I've done in the community that I live in. What have you done?"
The thing that bothers me more than anything in the world is when people call up and criticize a talk show host's opinion about delicate issues that I try to stay away from, and I do stay away from, and I ask a very simple question, "You have a very strong opinion Joe, John, Debbie. What have you done?" And they don't have an answer. I hate people that call up and complain about the issues that are facing our country today and yet they don't do anything about it other than just call up and bitch on the phone. I don't want to have a conversation with a person like that. If you feel that strongly, go out and do something about it.
Noe: I hear you. What about Grant's Rant when you rant about everyday things that irritate you. When it's way less serious, do you enjoy ranting about obscure things that get under your skin?
GN: Yeah, you know what, at the end of the day what I do on the radio is entertainment. If you're a talk show host, you really are there to entertain. You're there to get people to listen through the commercial break and come back and listen again. I've enjoyed doing the rants because I think it's tongue-in-cheek. A lot of it is me trying to identify with the person listening.
I did a rant about an airplane. I had an obese individual sitting next to me on a red-eye to New York. I went off for about 10 minutes. It got the most amazing response. Of course you're always going to get the obese person who calls up and says that I'm prejudiced against fat people. Again, you can't win. No matter what you do. No matter what you say. You're always going to offend a certain group of people.
Unfortunately, our entire society has changed that way. What I could say five years ago or 10 years ago, I can't say now. Everyone is so damn sensitive that when you're on the radio, I really believe this; I have a responsibility to gauge where our society is at. Right now our society is ultra, ultra sensitive. If you're a Democrat, they are going to have an opinion of you. If you're a Republican, they're going to have an opinion of you. I don't tell people which way I vote. I don't talk about the president. I don't talk about that because you know what? People are going to form biases about you and I am not a news talk show host. I'm not Rush Limbaugh. I'm Grant Napear — a sports talk show host
My mantra is really simple. I talk about sports and if you want something else, you have the freedom to turn the dial. I'll give you another example. The protests in Sacramento, are you familiar with those last year?
Noe: Yes, actually I am. Yeah.
GN: They didn't let the fans into the arena and they still played the game. I'm the TV announcer for the Kings now, right? I started off my show the next day and I said, "You know what? I know that everybody wants to hear my opinion on the protest." I said, "This is what I experienced. I was getting ready to do the game and at 20 'till 7, I was told that the game was going to be delayed. So, I sat there and I waited until I was told to go on and do the game. I then found out that they weren't going to be letting any more fans into the building and there were about 2,000 fans in the building. If you want to hear my opinion on the protest, if you want to hear my opinion on the purpose of the protest, if you want to hear my opinion about the police department with the management of the Kings not letting people in, I'm sorry, you're listening to the wrong guy. I'm not going to give you my opinion on that."
I said, "This is a situation that is unfortunate. It is a situation that everyone is going to have an opinion. If you're calling up expecting me to give you my opinion on the protest and this Stephon Clark shooting, you're listening to the wrong guy. I'm not going there. Feel free to turn the dial right now, but this is not what this show is about."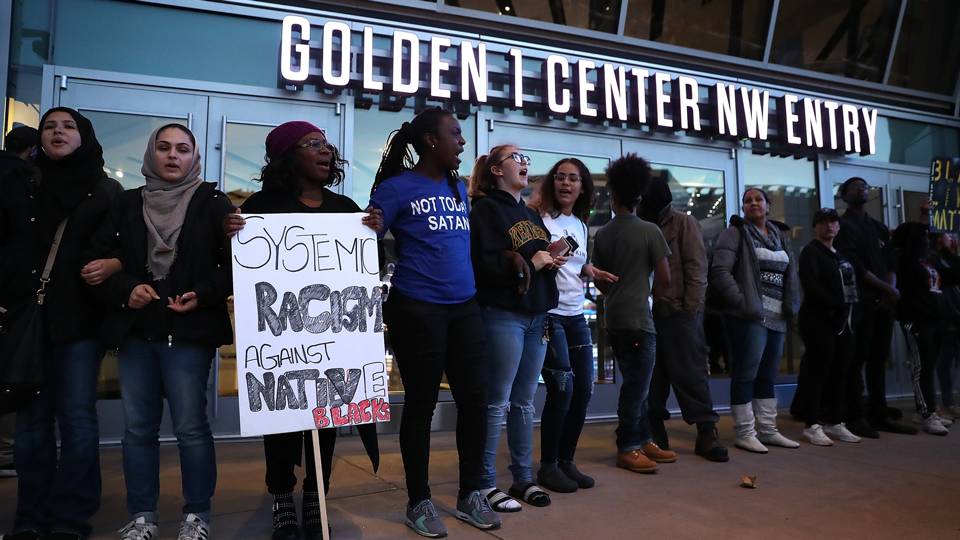 Noe: When you start thinking about some of the greatest athletes in sports that have retired — Brett Favre has talked about trying to replace that high of being an NFL player. When you've been broadcasting the Kings since you were 28 years old, what do you think life would be like without that rush of play-by-play or sports radio?
GN: It would be really, really, really hard for me. I hope, knock on wood, health and the fact that I still am wanted by my employer — that I can do this job until I can't do it anymore. If you told me, "Hey Grant, you know what? I have a crystal ball and you're going to be doing the Kings when you're 75," I'd be jumping up and down right now. You're asking me to answer a question that I don't really think about that often.
I don't take what I do for granted, but it would be really hard for me not to be around the people that I've been around for such a long time around the league. Whether I'm talking to Ralph Lawler or Al McCoy two weeks ago. Al's been doing the Suns for 45 years. I can't imagine what it would be like to go to Phoenix and not see Al McCoy. It would be very difficult for me not to go to New York and spend time with Mike Breen. Those are the things I cherish the most about my job.
The high of doing a game — I don't think I need to get into that — it's incredible to announce a live sporting event. There's nothing like it in the world, but the relationships that I've built up in over 30 years of this league — my conversations that I have with the referees before the game. I can go on and on. I would miss that so much. That would be a really big void in my life because it is my life. I've spent more time with my Kings family than I spend with my own family. I really haven't thought about it that much. I hope that I don't really have to experience that. I hope I can do this job forever.
Noe: Based on what you said about the negative feedback that is often associated with being a talk show host, I can't imagine there's nearly as much as the Kings TV announcer. With that being said, do you think that you would miss the play-by-play more than you would miss sports radio?
GN: There's no question. If you said, "Grant you absolutely, positively have to make a choice. You can't do both." I would do play-by-play because there's nothing like doing a live sporting event. I love doing radio so don't get me wrong, but if you absolutely told me I had to make a choice, there's nothing like announcing a live sporting event. I would always lean towards that if I had to choose one over the other.
Listen, you are 100 percent correct. There are — and I say this because I live in a relatively small town — there are a lot of people that don't like me because of how I am on the radio. I'm very opinionated. I'm brash. I'm very in your face and that's not for everybody, but yet I've been doing the show for almost 25 years. I'm obviously pleasing somebody because I keep on getting a new contract.
I also don't know any other way to do it. That's how I am. I always tell students when I talk to them you have to be yourself. Don't try to be anybody else. You'll never make it in this business. You need to be yourself. When I'm on the radio, that's me being a sports fan. Play-by-play is completely different. It's really an art form. You have to develop your own style.
People view me differently in this community as a NBA announcer compared to a talk show host. Not that everybody loves me as a play-by-play announcer, but the point is when you are giving opinions on a talk show every day, you're going to have much more of a reaction than just doing play-by-play. Does that make sense?
Noe: Oh yeah, absolutely. It makes 100 percent sense. Last one for you, is there anything that you haven't accomplished that you would still like to?
GN: That's a great question. I have accomplished the three main goals that I dreamed as a kid was to announce the NFL, the NBA, and the NHL. I've done all three. I did the Raiders on TV in the preseason for five years when they had Jerry Rice, Tim Brown, and Rich Gannon. I announced a live hockey game with the Sharks and the L.A. Kings that had Wayne Gretzky playing in it on TV. I have done the NBA for 31 years. I think I've crossed off all of my dreams. So no, there's nothing else in this business that I absolutely am dying to do that I haven't already done. I'm really, really happy with where I'm at and what I've done.

Now Is The Time To Build Your Bench
"There's a good chance you have a producer, production person, or even a salesperson who has a big enough personality that they can hold your attention."
As we crawl towards the Thanksgiving holiday week, many content managers are likely in the middle of figuring out what they're going to put on the air.
Since most marquee talent take the entire week off, this can present scheduling headaches.
Some stations (who can) will pick up more syndicated programming. Hey, why not? It's a cheap, easy solution that's justified by the fact that business is slow in Q4, and your GM doesn't want you spending any more money than what you have to.
Other stations will hand the microphones over to whoever happens to be available. This usually ends up being the same array of C and D listers who aren't that great, but they can cover when needed and usually tend to be affordable.
Both of these decisions, while usually made out of convenience, are terrible mistakes. Quite frankly, it's one of the many frustrations I have with spoken word media.
Content Directors should be using the holidays as an excellent opportunity for them to answer a particularly important question: DO I HAVE A BENCH???
One of the most common refrains I hear from other content managers is that they have no talent depth. Everyone constantly is searching for the "next great thing," yet I find that very few people in management that take the time or the effort to seriously explore that question.
My response to them is always, "Well, how do you know? Have you given anyone in your building a chance yet?"
Often, the answer is sitting in their own backyard, and they don't even know it.
Years ago, Gregg Giannotti was a producer at WFAN. Then Head of Programming Mark Chernoff gave him a chance to host a show because of how Giannotti sparred off-air with other hosts and producers in the building. Chernoff liked what he heard and gave his producer a shot. Now, he's hosting mornings on WFAN with Boomer Esiason in what is considered one of the best local sports-talk shows in the country. 
Carrington Harrison was an intern for us at 610 Sports Radio in Kansas City. He worked behind the scenes on Nick Wright's afternoon show and had a fairly quiet demeanor. It was rare that we ever spoke to each other. On one of his off-days, Nick was talking about Kansas State Football and Carrington called in to talk to him about it. I couldn't believe what I heard. Not only was his take on the Wildcats enlightening, but he was funny as hell. Soon after, we started working Carrington's voice into Nick's show more and eventually made C-Dot a full-time host. He's been doing afternoons on the station for several years now with different co-hosts and (in my opinion) is one of the best young voices in the format. 
There's a good chance you have a producer, production person, or even a salesperson who has a big enough personality that they can hold your attention. Why not give them the opportunity to see what they can do? Honestly, what's the risk of giving someone you think might have potential, a few at-bats to show you what they can do? If your instincts are proven wrong and they aren't as good as you thought they'd be, all you did is put a bad show on the air during a time when radio listening tends to be down, anyways.
If you go this route, make sure you set them up for success. Take the time to be involved in planning their shows. Don't leave them out on an island. Give them a producer/sidekick that can keep them from drowning. Be sure to listen and give constructive feedback. Make sure that these people know that you're not just doing them a favor. Show them that you are just as invested in this opportunity as they are.
I understand that most Content Directors are overseeing multiple brands (and in some cases, multiple brands in multiple markets). Honestly though, using the holidays to make a potential investment in your brand's future is worth the extra time and effort.
Treat holidays for what they are; a chance to explore your brand's future. Don't waste it.
Digital Platforms Should Signal The End Of Niche Linear Networks
"Whether it is niche sports or exclusive shows, the streaming platforms have proven to be valuable catch-alls. They haved turned hard-to-sell programming into part of what you get when you are motivated to subscribe by Premier League Soccer or UFC."
CBS Sports Network just isn't built to last. It seems obvious, but it was really hammered home for me on Friday when Jim Rome went off on the network for preempting the simulcast of his radio show for coverage of swimming.
"You idiots are going to preempt this show for swimming?" Rome said. "Stupid."
You don't even have to watch the video, right? You can just read the quote and his voice is immediately what you hear in your head.
John Skipper went off on a number of topics during Sports Business Journal's Media Innovators Conference last week. Some dismissed it as sour grapes. Others said his comments were those of a man that is completely unencumbered by rights deals and corporate interests.
One thing the Meadowlark Media leader said that was dead on was that there are only a few properties in sports television that truly matter.
"Until you can get the NFL, or the SEC, or the NBA on a streaming service, it's going to be marginal in this country," Skipper said in a conversation with John Ourand.
He was answering a question about the relevance of streaming services, but the fact is, he could have been talking about any outlet in the world of sports television.
With that being said, it isn't just CBS Sports Network that isn't built to last. Comcast got this message last year. That is why NBCSN is about to go dark. Sure, every niche sport has its fan base, but can you build a profitable and powerful brand on swimming, lacrosse and 3-on-3 basketball? You probably can't.
BSM's Jeremy Evans recently wrote about life in the metaverse and what it means to sports media. So much happens digitally now. Think about the last time you felt like you HAD to have a physical copy of a movie or album. It always made sense that television networks would get to this place.
Peacock, ESPN+, CBS Sports HQ and Paramount+ all have plenty to offer. Whether it is niche sports or exclusive shows, the streaming platforms have proven to be valuable catch-alls. They haved turned hard-to-sell programming into part of what you get when you are motivated to subscribe by Premier League Soccer or UFC.
CBS Sports Network isn't the only cable sports network whose existence may be on borrowed time. You know about FS1. Did you know there is an FS2? Did you know beIN Sports still exists? Don't worry. It seems most major cable operators don't know it either. The same can be said for networks with names like Eleven Sports, Maverick, and Pursuit.
In fact, when you look at that group of channels, CBS Sports Network is probably in the best shape. It may carry the low end of college football and basketball, but it at least has sports with large, national followings.
Radio simulcasts have always been cheap programming. Once the production costs are recouped, there is a straight-line path to profit. Sports networks on this level will always be interested in carrying radio simulcasts, and that is a good thing. It means better studios and more exposure for the hosts involved. When the suits can have a legitimate debate whether the live sports their network carries will draw as many viewers as the simulcast of a radio show, it may be time to rethink the path forward.
Streaming platforms weren't built exclusively for niche sports. ESPN+ launched with college football and college basketball at its core. Now that streaming platforms are here to stay though, it should start a conversation and migration.
The cable sports network was never anything more than a prestige play. It was a way to show that a broadcast network was so serious about sports that the few hours it could devote to games would never do. The problem is that ESPN got that memo decades earlier and established a juggernaut.
Even FS1, which has major talent and rights to major college football and basketball and Major League Baseball, is behind the eight ball compared to ESPN. They got a 34 year head start in Bristol! CBS Sports Network is behind FS1 and it has college football, basketball and hockey. It also has the WNBA and the NWSL. Still, it seems like it is on borrowed time. What does that mean for networks that can't get a league comissioners to take their call?
I like some of the programming on CBS Sports HQ. I think Paramount+ has been a valuable tool this college football season. There would be nothing wrong with CBS shuttering CBS Sports Network. It is just the reality of where we are headed.
CBS is run by smart people. I have faith they will see the forest thru the trees in sports media and find the right solution before they start losing money. Streaming means consolidation and unfortunately, that means there may not be room for the FS2s, Mavericks, Pursuits, and Eleven Sports of the world. That doesn't mean the sports those networks carry cannot find a new home. They may even find a home that makes more sense for them and their fans.
Can Your Station Create Its Own Holiday?
"Did you see social media on Friday? Did you see any media at all leading up to Friday? Disney created a 24-hour commercial you could not escape."
A belated happy Disney+ Day to us all!
Did you see social media on Friday? Did you see any media at all leading up to Friday? Disney created a 24-hour commercial you could not escape. The best part, from a marketing standpoint, is fans were captivated by it. They either didn't realize it was a commercial or they just didn't care.
The execution was masterful. Granted, we Star Wars fans were left wanting a bit, but Disney dropped teasers for series and movies we didn't know were coming and showed the first footage from one we have been anticipating for more than a year now.
I started thinking how a radio station could do this. How could it go out and create its own holiday? How for one day, can we make our fanbase excited and glued to social media eagerly anticipating announcements about what is coming next?
This is going to take some creativity. Disney+ is a platform full of multiple brands with multiple fanbases buying in. A sports talk station is one brand. It has varying levels of fanbases, but largely, your dedicated audience are the people that not only love sports, but also like your programming enough to be called P1s. Is that enough people to build an event like this around?
Who cares if it is or not! Go for it.
One thing that Disney did masterfully on November 12 is it brought partners into the fold and made them a key part of Disney+ Day. Fortnite announced that Boba Fett was coming to its game. TikTok announced Disney character voice changers would be available on the platform. Disney found the kind of partnerships that could spread its holiday to even the Disney+ Day equivalent of Ebenezer Scrooge.
You can do the same. Surely you have a local brewery as a partner. Can they brew a one day only beer for you? Partner with a restaurant. Can they put your station's name on the day's special? Would other partners offer discounts and promotions for celebrating the day? There are a lot of options here.
Now, what are YOU doing on your holiday? Disney has a deep well of franchises. It could squeeze Star Wars, Marvel, Pixar, its own studio and more for content and announcements. Again, you are just one brand, but there is still a lot you can do.
Build the day around announcing your special contributors for the football season. Drop new podcasts and play an extended clip on air. Announce new podcasts, the kind of things that will only be available digitally.
Look at 99.9 The Fan in Raleigh. Joe Ovies and Joe Giglio have created great, multi-episode series that are events for their audience. Like any narrative podcasts, those don't come together overnight. As long as you have enough audio to build a solid 90 second to 2 minute long preview, you have something worth bringing to the air as part of the celebration.
Do you have a contract you are waiting to expire to make a change in a prime day part? Make your station's holiday the day that the new talent or show hits the air for the first time. You can do the same for new weekend programs. Whether it is someone new coming to the station or just a new pairing, put them on air for your prime time audience to meet and have your weekday hosts help create some buzz for them.
As for the shows that are on every weekday, you have to make them special that day. Give away a big cash prize. Make the guest list epic – I mean everyone that is on air that day has to be a home run.
The other thing that Disney did so well was work to get all of its divisions involved. Check out this tweet from the Disney Parks account. Every single park around the world lit their iconic building up blue in celebration of the streaming platform's holiday.
Can you work with other stations in your building? Maybe they won't give you full on promotion, but between songs, if a DJ brings up a sports topic, would the PD be willing to have them mention that their sister station is celebrating all day? Would a news/talk PD let your talent pop on air to talk sports with their hosts and promote what is happening on your airwaves today?
The answer to these questions could be no. You don't know if you don't ask though. Also, if the answer is no, there is nothing wrong with asking for a little backup from your market manager. A station holiday is a major sales initiative after all.
The final piece of this puzzle to take away from Disney is you have to be everywhere. Any local show you air from 6 am until midnight needs to be on location. Fans should have easy access to them. How can they celebrate you if they are not allowed to be where you are?
Use the broadcasts however the sales department sees fit. Take them first to long-established clients to celebrate their loyalty on the station's holiday. Use them to draw in new clients. Show off what your station can create with its fanbase.
Money has a way of motivating everyone. So, even if your hosts don't like leaving the studio, these would be remote broadcasts priced at a premium and should have larger-than-usual talent fees attached.
Finally, let's do something Disney didn't. I was shocked that a company with this many iconic characters at its disposal and with a CEO that came from the consumer products division, didn't have a line of merchandise ready to go. Don't make that same mistake.
Create cool station shirts (not the cheap giveaway crap). Throw the logo on unexpected things like water bottles, bottle openers, facemasks, whatever! Have a merch tent wherever you go. Maybe set up a site to sell it for the day. Make the people come to you to get this stuff.
Twitter is a huge part of promoting what you do. Constantly show off what you are offering and what you have created. That is how Disney sold their event to its most dedicated fans as something not to be missed.
What were we celebrating with Disney+ Day? Nothing. Disney wasn't even really celebrating anything. It was just a series of commercials wrapped up in fun packaging. Actually, there are a lot of holidays that are just a series of commercials wrapped up in fun packaging.
Not every holiday has to celebrate something once in a lifetime. Not every holiday has to even be real. Building your own will take a long lead time, but it is doable. Get sales, promotions and programming in a room and build a plan together. If Disney+ Day taught us anything, it is a valuable way to motivate your fans to spread your message too.