Maggie Gray Didn't Know She'd Be Here
"The biggest challenge is the limited amount of time, because there is so much to cover and so much that we want say."
13 months ago, sports radio in New York underwent its biggest change in 30 years as Mike Francesa departed WFAN's afternoon drive.  Three voices were tabbed to take over, Chris Carlin, Bart Scott and Maggie Gray.
From WFAN's new trio, Gray was considered by many to be the most surprising selection.  While her credentials were strong, Gray's resume didn't contain Carlin's WFAN history or Bart's signature New York sports moment.  In an industry where not enough women have prominent weekday hosting positions, Gray is doing it at the top station in the biggest market.
It wasn't long before Francesa canceled his retirement and returned to WFAN, chopping CMB's show in half and squeezing them into the midday. After dealing with plenty of criticism and turmoil early, CMB is starting to hit its stride and the two-hour show leaves listeners wanting more.
As she continues to grow in the country's toughest media market, Maggie Gray's unfinished story is already an interesting one.
Brandon Contes: Sports Illustrated was your first full-time sports media job?
Maggie Gray: Yeah, it was, which is both funny and telling about the business that I basically got my very first sports internship when I was a senior in high school, but it took going through college and basically the next five years after college before I got a full-time job.
That's the nitty-gritty nature of the business, because if you start off as freelance – you're never sure what's going to happen, season-to-season you're just trying to make connections, get better and keep moving. I call them lily pads, you're trying to get across, navigate this lake and you're going from one lily pad to the next trying to get across. Now that I'm a little bit older and wiser, I realize you actually never make it across, the lily pads just hopefully keep getting bigger.
But getting SI was a huge deal for me because it was the first time I had a full-time gig and it was the first time where I thought, this is something that is a possibility to really grow, because they hired me for a position that I had never heard of, that a lot of people had never heard of, to be a digital anchor – What does that even mean?
It's not a job that was around when I was in college, I didn't even know I could aspire to a job like that, but to get it in a place that had the name recognition and prestige of SI, while also doing something that's cutting edge and totally new, and have the feeling like you created it from scratch, was one of the most unbelievable opportunities, and the people there were so incredible.
BC: That was a digital show and you were on camera, was it daily?
MG: It didn't start as a daily show, it started as just one-off videos. We would call SI writers and they would say, "Who are you, who is this, why are you calling, what is SI video?" [Laughs]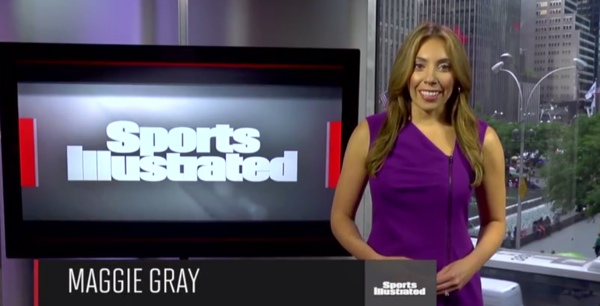 It was establishing relationships and we would do these one-off things that started to grow. It would become a live March Madness Selection Show and we had a relationship at CNN for the first couple of years where we would use their studios to shoot these sort of roundtable discussions. It started to grow and then finally I had some really smart people around me and they said, 'We think we can sell a daily variety show, that's digital.' The show was built as a half hour show that streamed and it was some news of the day, interviews, crazy stuff, serious stuff. It was just a fun show and it was sponsored from the first day to the very last day, and it's actually still going on now.
BC: Were you there with Robin Lundberg?
MG: That's an interesting story because the show started five years ago, I was the host and we had nobody to fill in for me. Even when I got married and went on my honeymoon it was a big deal. One time we were out in L.A. doing the show from Angel Stadium and I got horribly sick on the red-eye home, I went in and did the show the next day and then went home and died. For the next four days it was a mad scramble because there were no backup hosts. They didn't have a lot of video people at SI because it's a magazine company.
Years later, after ESPN had their big layoffs, I had been listening to Robin for a while and I sent him an email to see if he wanted to come help with the show and he's still there now. I'm grateful to him because it made us not so reliant on needing a guest for everything, Robin and I could just talk about it, have that banter and be a little more sports radio-like.
BC: Was radio the goal at that point or was it just to work in any sports media platform?
MG: My first ever sports internship, where I realized I was bit by the sports broadcasting bug, was my senior year in high school.  I grew up in Binghamton, there was a minor league hockey team and I asked if I could be an intern even though they only gave internships to college kids, but they said the radio broadcaster needs someone to help out with stats on home games.  I sat next to the radio play-by-play guy for an entire season helping him with whatever he needed. The last game of the season, he let me come on-air and read the out-of-town scoreboard, which was probably only a minute, but I got a huge adrenaline rush from it.  I don't know how many people were listening, it didn't matter, I loved that rush. So when I went to George Washington University, I walked into the radio station my first day on campus and said, 'Can I be a part of what you guys are doing?', so I was always interested in radio.
BC: When was the first time you were on WFAN? You did updates early on?
MG: I did do updates which is a small part of having a connection with FAN that goes back really far. I was still putting together a freelance life. I was working at MSG – Ironically – MSG was actually the first to put me on air in New York and I'm forever grateful for my opportunity to work for them. I was at MSG and MLB.com, but I wanted the FAN.
In Binghamton we didn't get FAN, so I didn't grow up with it, but when I got an internship at Westwood One in DC, I got to realize what a huge deal WFAN is. The other funny connection is one of my jobs as an intern in DC was to cut and edit this thing called Sports Time with Mike Francesa. It was almost like what the CBS Sports Minute is now and it went out to all the Westwood One radio stations throughout the country.
After college, I decided to come to New York and work behind the scenes for the NBA, but when I realized I wanted to be on camera and I wasn't going to let the dream die, I knew I had to get the Fan. How do you say you want to be a sports broadcaster in New York and not take a turn at WFAN?
I did an update audition when WFAN was still in Astoria. Actually, I did about five auditions. It wasn't an easy job to get, I didn't walk through the door and get a job, it took a while, but I finally got midnight – 6am working Thanksgiving, Christmas and New Year's eve, the trifecta.
BC: How was the transition of doing a half hour daily show with SI and jumping to four hours a day on radio?
MG: Well I had done radio shows before getting this job. CBS Sports Radio launched in 2013 and I auditioned for Dana Jacobson's role with Tiki and Tierney when they did the morning show. Dana got it, which she's amazing so I totally understood that, but then they had a Saturday morning spot open and the Moose and Maggie Show was born, me and Marc Malusis.
I didn't know Moose very well, we met maybe once or twice, but we had instant chemistry. I was still working at SI during the week where I was asking other people for their opinions and just facilitating conversations about sports with all these really smart people. But then on Saturday morning, it was people asking me what I thought about topics and that was the biggest thrill.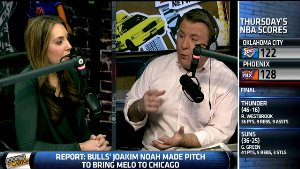 There's no way I could have this job if I didn't do that show with Moose for five years. He's so great at radio and he taught me that you need to bring strong opinions, formulate an argument and back it up. In the beginning, we would argue and I would sometimes back down, but I started to find my voice and realize as long as I'm prepared, have facts and can defend my argument, it's valid. I was so grateful to him for that. I also started to learn to get thick skin.
At SI, you wouldn't get huge amounts of criticism, it wasn't that kind of job. Radio is the intimate medium with callers, listeners and people on social media, so it helped me get thicker skin and realize there are some things you should ignore.
BC: This is obviously a very white male dominated industry, Suzyn Waldman was here hosting middays in the early 2000's, so there was precedent, but you look around the country and go from sports radio station to sports radio station – there are female reporters and update anchors, but there are very, very few women that are part of a daily radio show. Did you find those opportunities hard to come by?
MG: I don't know if I can say. I wasn't looking for the opportunity, the Moose and Maggie Show came to me and this opportunity came to me. I got an email from Mark Chernoff that said I need to talk to you today. My entire life changed within a couple of weeks and it's been unreal. I think there is a part of you when you're trying to break into a portion of the industry that you don't see a lot of people who look like you, there is one part about getting the job and then the other part about keeping the job.
Everyone says you got the dream job, but now what's the reality of that dream job, what's the work like and what does it really look like to have your dream job? And for me, it's better than I could have ever imagined.
Now, I just hope that, not just here, but all around the country the people who are doing the hiring are willing to step out and take the risk, take the risk of hiring someone who is bringing a different point of view because ultimately, there are great women out there doing this, they just need to get a chance, just like Mark Chernoff gave me a chance.
BC: Not only a chance, but you grew up in Binghamton, you didn't look at sports radio as a viable career option. I'm sure there are other women growing up that see the industry as male dominated and the thought of hosting a sports radio show never even crossed their mind. But now they see you with this prominent job in sports radio and maybe it will inspire others and they can now look at the industry as one that could have job opportunities for them.
MG: I know that seeing other women do it before me, inspired me and I do think it's really important because as soon as you see someone doing it, you can start to envision the path for yourself.
What I would say for anyone who is a young woman or even a young man and anyone trying to get into the business, this landscape is changing so much. Sports talk radio is this solid rock, it's going to be here through thick and thin, but think of how the industry is changing. There are just so many more outlets to break into sports broadcasting now, it's fantastic.
When I was coming out of college in 2005 – and this is 2005, I'm not talking about the 80s and 90s – the 6 o'clock SportsCenter and the 11 o'clock SportsCenter was still the ultimate goal for a lot of people. Now look at all of the outlets and other ways you can be around the sports industry, it's incredible.
You can start your own YouTube channel and have your own brand by the time you get out of college. It's really freeing and I think that will help get a lot more women, hopefully people of color and get more diversity into this industry.
BC: It's similar to the NFL right now where there are so few people of color with head coaching positions. It's white male dominated and a lot of that is because for the last 30 or 40 years, it was white males that had opportunities to make connections.
That's not to say Sean McVay was not qualified to be a head coach at the age of 30, but when for 30, 40 years, it was the same demographic working in the industry, he had more built-in connections to move through the ranks quickly. So even though those opportunities that are now available for anyone to break into sports media exist, you still need to create pipelines to help non-white males move up and climb within the industry at an equal pace.
MG: And that's why I'll go back to – It shouldn't be looked at as taking this massive risk to hire a woman, or to hire a person of color, it should be looked at as can the person do the job and especially in this particular industry is the person going to bring a different point of view, that maybe listeners haven't heard in a while. Is it going to be thought-provoking, is it going to stir conversation? And I'm not saying it has to be controversial, just saying it has to be a different point of view and I think it actually opens up the scope of listeners.
With the NFL, everyone is a fan. From an eight year old to an eighty year old, everyone has a fantasy team. Men, women, every race, and what are they always trying to do? Find new markets. This is why they play in Mexico City and London. You're always trying to find new audiences, I don't think you can ever be complacent, even if you're number one.
You're always trying to broaden your horizons and that's something, especially for our show that we have really tried to do. Be loyal and serve the listener of the FAN who has been there for 30 years, but also open up the door for someone who never thought FAN could be for them and welcome them into the conversation as well.
BC: You said early on with Moose, you would back down with your opinions at times, did you ever find yourself needing to have a stronger opinion about something to fit in and seem more credible, especially at WFAN with the local audience?
MG: No…

If it's not genuine, it's going to come through as not genuine. I can't fake that.

One of the big things I learned when I came over from SI, going from a national outlet to a local one is, with national, it's about the issues because you need someone who's in Baltimore, Arkansas, Las Vegas, L.A. to all be connected and have an opinion. Here, it's about the X's and O's, it's about the minutia. It's about the Adam Gase press conference. You can't get too specific or granular here and I found that I love that more than I ever thought I would.
But if I don't think that something is a big deal, or if I think that it's getting taken to a place that is absurd, I'll say that too. You have to be honest. Radio is the most honest of the mediums. One piece of advice that I got early on and something I've been really grateful for, was Mike Quick who was my boss at MSG and he said, 'We need more Maggie.' I thought, really? Are you sure you don't want more Andrea Kremer? But that was really freeing. You can bring your personality and this is such a subjective business, you're either someone's taste, or you're not. I think the more you let people in on who you actually are, the deeper the connection becomes, and I'm okay sharing a lot with our listeners because I like that having that connection with them.
BC: And that's how you end up on the floor eating an entire pizza…
MG: [Laughs] On the floor…puking in the Mike Francesa studios…
BC: [Laughs] I was locked into that show because I thought there was no chance you were finishing that pizza.
MG: So many people doubted me that day. I'll be honest, the doubters did put a big chip on my shoulder. There was a moment where Bart was showing me inspirational videos on his laptop and it was working – we actually crossed that threshold where he's showing me old Nike commercials, and it was helping me get the pizza down.
BC: Did you know Chris or Bart before getting paired up with them?
MG: Chris and I did a couple episodes of LoudMouths together on SNY, but we didn't know each other that well. I knew of him and what a great reputation he had, I didn't know Bart at all. I didn't really have a relationship with either of them, but now I feel like they're my best friends.
We just had the one year anniversary of the show this month. It doesn't feel like a long amount of time, but I feel closer to Bart and Chris than anybody. We've really developed a great bond over this last year.
BC: How was the pressure of stepping in for Mike? Obviously it's an incredible opportunity that couldn't be passed up, but was there ever that moment of, I'd rather replace the replacement of the icon than replace the icon himself?
MG: You'd be surprised how many people, unsolicited, said, 'Boy, you don't wanna be the person to follow the guy.' That was encouraging! [Laughs] The pressure is what you make of it. If you want to feel that pressure, that insane amount of pressure of following up someone, then it will destroy you.
It's almost like being mentally tough. You have to take it for what it is, but then realize what the main goal is – to build a new show from scratch and to find your audience. There's nothing I can do about who I'm following, or when I'm getting the opportunity. The opportunity is presenting itself and there was no way that I was going to pass it up just because of that. The fear of that, like many things, the fear and anticipation is much worse than the reality.
BC: It was interesting from the start because you have three very different personalities getting paired up and thrown into the fire and you guys didn't really do many practice shows.
MG: No, they didn't want to do a lot of practice shows and I agreed with that, there's something different about when it's for real and when it's taped so I understood why they wanted to do that.
BC: It almost would have been easier with the transition to just focus on being a call-oriented show, a similar sound to what listeners are used to, but you guys added a lot of creative segments as well.
MG: Yeah, we do still take a lot of calls. The calls are part of the FAN. The interaction with the listeners is one of the backbones of what makes this place go and there was never a thought that we didn't want to include them in the conversation. They're always welcome and we always want to know what they have to say because they're part of the radio station.
The creative segments are more of a natural thing. We thought, what kind of show do we want to do, what makes us, us? We were just figuring that out with trial and error and now I think we're maybe starting to find our grove a little bit in terms of how much of that creative style to do, the silly stuff, the BS translator and those things. It's about sensing what the audience really wants and balancing that with what we want to do.
BC: Is it hard now that the show is compressed to two hours that you have the three different personalities, three different opinions and you have those radio bits that you want to try, but you need to squeeze it into two hours and make it a cohesive sounding show?
MG: The biggest challenge is the limited amount of time, because there is so much to cover and so much that we want say. The show now is just a sprint from beginning to end, it's really fast moving and also the news cycle is so fast moving that if we don't get to something on Monday or Tuesday, by the time it's Wednesday, forget it because it might not make sense with what people are actually talking about anymore. It's been a challenge, but it's not insurmountable. I hate when athletes say this phrase – but it is what it is, so we just make the best of it.
BC: Cross talk segments are becoming very popular on radio stations around the country, you can do 12:30 to 1:00 with Benigno and Roberts and then 3:00 to 3:30 with Mike and now you have three hours.
MG: [Laughs] That would be something, pitch it to Chernoff.
BC: Do you ever go back and listen to old shows?
MG: Oh yeah, definitely, it's hard because self-evaluation is one of the toughest things to do.
It can be brutal especially when you make mistakes, or things don't come out the way that you want to, but it's also necessary. You have to go back and listen because you could be making the same small mistake over and over and over again when there's no reason to because things can get nipped in the bud so easily. But you have to go back and listen.
BC: I'm sure if you go back and listen to a year ago and then you hear what you're putting on the radio now –
MG: Oh I don't go back that far. [Laughs]
BC: But that comfort level between the three of you has increased significantly?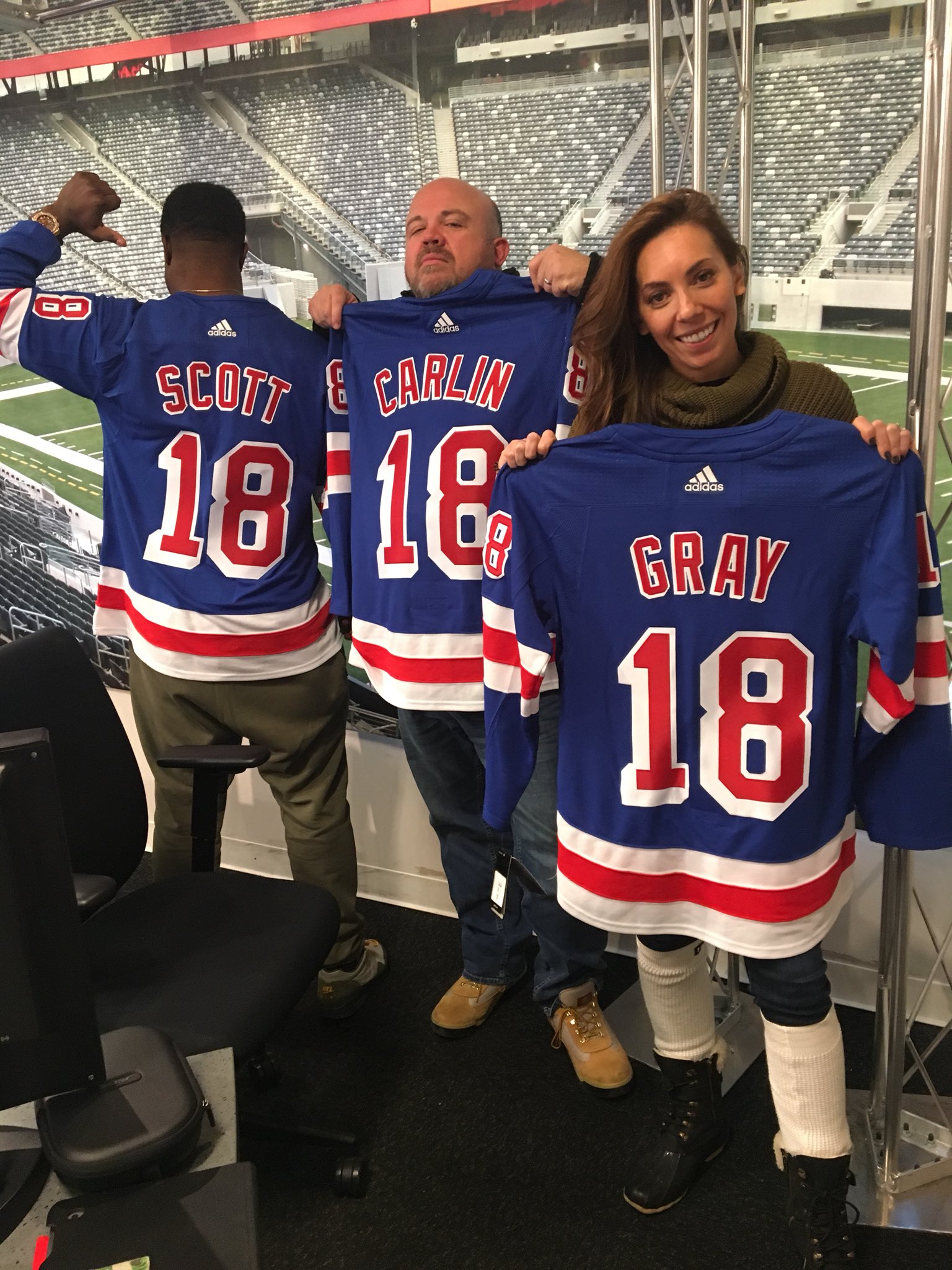 MG: Without a doubt. We didn't know each other very well and a few months into getting the job, we got thrown a pretty big curveball and you can learn more about people when you go through a little bit of adversity and you get to find out what people's true colors are. With Carlin, Bart and I, we seem like we have all these very different opinions or that we wouldn't be three friends who would meet up at a bar and watch a game together, but once we went through that adversity, we realized that we gained strength from each other, we can lean on each other and we saw each other's true colors. That was incredible because when people get peeled away you see their true self and we all really liked what we saw in each other during that time. It made us trust each other a lot and it brought us really close.
BC: I don't know if you felt this at all, but I'm sure with three people trying to get to know each other, it can be harder than when it's just two people. The show went through Mike coming back and then the summer was right around the corner, so now you're filling in for Mike, but you're also taking vacations yourselves. So it's two at a time; it's Maggie and Bart for four hours, Bart and Chris for four hours, Maggie and Chris for four hours.
As a listener, I felt that when the three of you would come back together over the summer as a full show, each time it was noticeably improved, so you were able to build chemistry by each getting that one on one time together.
MG: That's a really good point that I hadn't thought about, but it's true, the three of us have a relationship, and then I feel like I have a friendship with Bart and I have a friendship with Carlin and they are both different relationships. Even when Carlin is out, I'm kind of driving the bus versus when I'm not so that changes your role a little bit, but you're right, I didn't really think about that, but we did have a chance to build relationships, one-on-one, but I do think that our show is at its best, no matter what, hands down, when it's the three of us.
I think that that might be surprising to a lot of people, inside and outside the building, that the show sounds better with the three of us because that was one of the big question marks about the show when we first got it – Does three people work? And I think our show has proven that it can.
BC: There were also times early on that any kind of debate segments would sound like a roundtable discussion. It's Carlin setting up the topic and saying, 'Maggie what do you think' and 'Bart what do you think', followed by 'here's what I think', next topic.
MG: We don't take turns as much anymore
BC: Right. Last Wednesday, I was listening to the open when Carlin was going all in on Mike McCarthy as the Jets head coach while you and Bart were pushing back, but I thought that was the best segment of radio I heard all week on any show or station.
So how about the ability to improve so much with debate where it doesn't sound like you're each trying to avoid stepping on anyone? You're able to have a more genuine conversation and sometimes know when to step back if two of the hosts are hotter on a topic than the other is.
MG: Thank you, that's something also that goes on in the pre-production. Because we're in New York, there are some days where the show writes itself. The topic is exactly what the topic is, it's what everyone's talking about and the obvious thing that needs to be addressed because people are tuning into the radio station for that discussion.
But then there are times when there are multiple options and you're not sure what your lead is going to be. That's why we sit here for an hour and we talk it out. The things that we naturally seem to have different opinions on or sparks the most conversation in this room, with our producer, board-op and the three of us, that's what we go with and that's what should break the tie every single time. Don't outthink yourself. If we all have different opinions on something, let's start with that because it's going be genuine.
BC: What about the producer change, going from Brian Monzo the first couple of months to now Shaun Morash.
MG: Yeah, those kinds of things happen and you just have to roll with the punches. We're so happy that it worked out the way that it did and I think Mike is happy and Monzo is happy it worked out the way it did. It's like a good trade in baseball or football, where both sides actually won here. That was seamless and very easy to navigate.
BC: Morash seems to fit the show so well with his contributions.
MG: One thing that we really appreciate with Morash is that he is our listener. It's like we have a focus group in the room. I mean, he's got a giant tattoo, he's on the message boards, he's a die-hard Yankee fan. We needed that person who not only is professional in this business, but someone who could make himself a little bit removed from that and say I'm the FAN listener in the car today, what do I want? And we needed that, because I'm coming from a journalism background, Bart's coming in as the athlete and Carlin's coming from doing this for a long time, being a host and everything that he's done, it's great to have that person who is just like you know what, all things being equal, I want to talk Yankees today and we take that into consideration heavily.
BC: What radio shows did you listen to growing up?
MG: I didn't grow up with a lot of radio being in Binghamton the days before Satellite, but when I got to New York, I actually listened to a lot of Jim Rome. He used to be on in New York and I still listen to Rome. We're on at the same time, which is crazy, the fact that I've gotten to meet Jim Rome a couple of times is a thrill for me. I listened to a lot of FAN, I started listening to Shmooze because that's when I happened to be in the car the most and NO ONE can do what he's doing, it's unbelievable. And I would listen to a lot of Boomer and Carton.
I also listened to Mike and Mike. It helped me with doing the national show at SI to understand what the national conversation is. Dan Le Batard, I think everyone can agree he is probably doing it as best as it can be done right now, and then podcasts.
I listen to a lot of podcasts; SI's podcasts, Peter King's podcast, I listen to the Lowe Post Podcast and Bill Simmons. Also a lot of NPR, Fresh Air, Wait…Wait Don't Tell Me! I listen to all of those shows because it's as important to me to understand the front pages, as the back pages. You have to be a well-rounded person and aware of what goes on in the world because you never know when it's going to intersect and it can happen in any moment.
I was reading the quote from Adam Gase where he said, 'I'm not on Twitter, I'm not on Instagram, I don't use the internet.' [Laughs]
That's impressive! You don't even use the internet, how did you find out what the weather was going to be today? A football coach mentality is not a good mentality for someone in the media business. You have to understand the world around you.
BC: How did you end up working with Artie Lange? Were you a Stern fan?
MG: Oh my gosh – Artie – I loved doing that.
I wasn't a big Stern fan, we didn't really get him on the radio up in Binghamton, but I would actually watch him when he was on the E! Network, while I was probably in middle school, so I knew his show, but I didn't grow up a huge fan.
I met Artie because he was doing a book tour and he came in to SI. Peter King happened to be there that day and I asked Peter to sit in on SI Now. So it was the three of us and we had this fun conversation and a good rapport, so Artie started to invite me on his show. It was amazing that no matter what state Artie was in, because obviously he's had his battles and I hope he's well, I follow him on Twitter and send him notes to wish him well, but he was always the funniest guy in the room no matter what. Literally – at one point we were on air, he fell asleep, woke up and said the funniest thing of the entire three hour show. He's absolutely hilarious and everyone on that show was great to work with. Just getting to know him was great and I appreciated Artie because he said to me, 'I see what you are, you don't feel like you have to be this macho person who's in the frat house to do this.'
BC: I'm a big Stern fan, I go back and listen to older shows of his and content from the cast. I stumbled on you with Artie and I did think it brought a lot of great balance and was really entertaining.
MG: Thank you, they decided to end the show, otherwise I would've kept doing it because he is hilarious and a really kind-hearted person, but it was a lot of fun and now I do LoudMouths with Jon Hein on SNY. Jon is a great guy and it's fun to do the show with him. SNY has been a nice little side thing to do.
BC: Do you expect CMB to be a long-lasting show and relationship or do you take it day by day and not even look towards the future right now, especially with the curveballs that you guys have already been thrown.
MG: I hope it's a long lasting show. This is the best job I've ever had, I love this job, and Carlin and Bart have been the best part about it.
I think there's even so much more that we have to do. Our end goal of what we want the show to sound like, we're still trying to get there. I love it and I hope I can do it forever. I understand why this is a dream job, because it is that good.
Brandon Contes is a freelance writer for BSM. He can be found on Twitter @BrandonContes. To reach him by email click here.
Being Wrong On-Air Isn't A Bad Thing
…if you feel yourself getting uncomfortable over the fact that you were wrong, stop to realize that's your pride talking. Your ego. And if people call you out for being wrong, it's actually a good sign.
In the press conference after the Warriors won their fourth NBA title in eight years, Steph Curry referenced a very specific gesture from a very specific episode of Get Up that aired in August 2021.
"Clearly remember some experts and talking heads putting up the big zero," Curry said, then holding up a hollowed fist to one eye, looking through it as if it were a telescope.
"How many championships we would have going forward because of everything we went through."
Yep, Kendrick Perkins and Domonique Foxworth each predicted the Warriors wouldn't win a single title over the course of the four-year extension Curry had just signed. The Warriors won the NBA title and guess what? Curry gets to gloat.
The funny part to me was the people who felt Perkins or Foxworth should be mad or embarrassed. Why? Because they were wrong?
That's part of the game. If you're a host or analyst who is never wrong in a prediction, it's more likely that you're excruciatingly boring than exceedingly smart. Being wrong is not necessarily fun, but it's not a bad thing in this business.
You shouldn't try to be wrong, but you shouldn't be afraid of it, either. And if you are wrong, own it. Hold your L as I've heard the kids say. Don't try to minimize it or explain it or try to point out how many other people are wrong, too. Do what Kendrick Perkins did on Get Up the day after the Warriors won the title.
"When they go on to win it, guess what?" He said, sitting next to Mike Greenberg. "You have to eat that."
Do not do what Perkins did later that morning on First Take.
Perkins: "I come on here and it's cool, right? Y'all can pull up Perk receipts and things to that nature. And then you give other people a pass like J-Will."
Jason Williams: "I don't get passes on this show."
Perkins: "You had to, you had a receipt, too, because me and you both picked the Memphis Grizzlies to beat the Golden State Warriors, but I'm OK with that. I'm OK with that. Go ahead Stephen A. I know you're about to have fun and do your thing. Go ahead."
Stephen A. Smith: "First of all, I'm going to get serious for a second with the both of you, especially you, Perk, and I want to tell you something right now. Let me throw myself on Front Street, we can sit up there and make fun of me. You know how many damn Finals predictions I got wrong? I don't give a damn. I mean, I got a whole bunch of them wrong. Ain't no reason to come on the air and defend yourself. Perk, listen man. You were wrong. And we making fun, and Steph Curry making fun of you. You laugh at that my brother. He got you today. That's all. He got you today."
It's absolutely great advice, and if you feel yourself getting uncomfortable over the fact that you were wrong, stop to realize that's your pride talking. Your ego. And if people call you out for being wrong, it's actually a good sign. It means they're not just listening, but holding on to what you say. You matter. Don't ruin that by getting defensive and testy.
WORTH EVERY PENNY
I did a double-take when I saw Chris Russo's list of the greatest QB-TE combinations ever on Wednesday and this was before I ever got to Tom Brady-to-Rob Gronkowski listed at No. 5. It was actually No. 4 that stopped me cold: Starr-Kramer.
My first thought: Jerry Kramer didn't play tight end.
My second thought: I must be unaware of this really good tight end from the Lombardi-era Packers.
After further review, I don't think that's necessarily true, either. Ron Kramer did play for the Lombardi-era Packers, and he was a good player. He caught 14 scoring passes in a three-year stretch where he really mattered, but he failed to catch a single touchdown pass in six of the 10 NFL seasons he played. He was named first-team All-Pro once and finished his career with 229 receptions.
Now this is not the only reason that this is an absolutely terrible list. It is the most egregious, however. Bart Starr and Kramer are not among the 25 top QB-TE combinations in NFL history let alone the top five. And if you're to believe Russo's list, eighty percent of the top tandems played in the NFL in the 30-year window from 1958 to 1987 with only one tandem from the past 30 years meriting inclusion when this is the era in which tight end production has steadily climbed.
Then I found out that Russo is making $10,000 per appearance on "First Take."
My first thought: You don't have to pay that much to get a 60-something white guy to grossly exaggerate how great stuff used to be.
My second thought: That might be the best $10,000 ESPN has ever spent.
Once a week, Russo comes on and draws a reaction out of a younger demographic by playing a good-natured version of Dana Carvey's Grumpy Old Man. Russo groans to JJ Redick about the lack of fundamental basketball skills in today's game or he proclaims the majesty of a tight end-quarterback pairing that was among the top five in its decade, but doesn't sniff the top five of all-time.
And guess what? It works. Redick rolls his eyes, asks Russo which game he's watching, and on Wednesday he got me to spend a good 25 minutes looking up statistics for some Packers tight end I'd never heard of. Not satisfied with that, I then moved on to determine Russo's biggest omission from the list, which I've concluded is Philip Rivers and Antonio Gates, who connected for 89 touchdowns over 15 seasons, which is only 73 more touchdowns than Kramer scored in his career. John Elway and Shannon Sharpe should be on there, too.
Money Isn't The Key Reason Why Sellers Sell Sports Radio
I started selling sports radio because I enjoyed working with clients who loved sports, our station, and wanted to reach fans with our commercials and promotions.
A radio salesperson's value being purely tied to money is overrated to me. Our managers all believe that our main motivation for selling radio is to make more money. They see no problem in asking us to sell more in various ways because it increases our paycheck. We are offered more money to sell digital, NTR, to sell another station in the cluster, weekend remotes, new direct business, or via the phone in 8 hours.
But is that why you sell sports radio?
In 2022, the Top 10 highest paying sales jobs are all in technology. Not a media company among them. You could argue that if it were all about making money, we should quit and work in tech. Famous bank robber Willie Sutton was asked why he robbed twenty banks over twenty years. He reportedly said," that's where the money is". Sutton is the classic example of a person who wanted what money could provide and was willing to do whatever it took to get it, BUT he also admitted he liked robbing banks and felt alive. So, Sutton didn't do it just for the money.
A salesperson's relationship with money and prestige is also at the center of the play Death of a Salesman. Willy Loman is an aging and failing salesman who decides he is worth more dead than alive and kills himself in an auto accident giving his family the death benefit from his life insurance policy. Loman wasn't working for the money. He wanted the prestige of what money could buy for himself and his family. 
Recently, I met a woman who spent twelve years selling radio from 1999-2011. I asked her why she left her senior sales job. She said she didn't like the changes in the industry. Consolidation was at its peak, and most salespeople were asked to do more with less help. She described her radio sales job as one with "golden handcuffs". The station paid her too much money to quit even though she hated the job. She finally quit. The job wasn't worth the money to her.
I started selling sports radio because I enjoyed working with clients who loved sports, our station, and wanted to reach fans with our commercials and promotions. I never wanted to sell anything else and specifically enjoyed selling programming centered around reaching fans of Boise State University football. That's it. Very similar to what Mark Glynn and his KJR staff experience when selling Kraken hockey and Huskies football.
I never thought selling sports radio was the best way to make money. I just enjoyed the way I could make money. I focused on the process and what I enjoyed about the position—the freedom to come and go and set my schedule for the most part. I concentrated on annual contracts and clients who wanted to run radio commercials over the air to get more traffic and build their brand.
Most of my clients were local direct and listened to the station. Some other sales initiatives had steep learning curves, were one-day events or contracted out shaky support staff. In other words, the money didn't motivate me enough. How I spent my time was more important.
So, if you are in management, maybe consider why your sales staff is working at the station. Because to me, they'd be robbing banks if it were all about making lots of money.
Media Noise: BSM Podcast Network Round Table
Demetri Ravanos welcomes the two newest members of the BSM Podcast Network to the show. Brady Farkas and Stephen Strom join for a roundtable discussion that includes the new media, Sage Steele and Roger Goodell telling Congress that Dave Portnoy isn't banned from NFL events.
Podcast: Play in new window | Download
Subscribe: RSS