The Spun Unveils Latest Most Annoying Bracket
"Last year's winner Jemele Hill is out of the running since she departed ESPN and is a contributor for The Atlantic, no longer focusing on sports."
It's March Madness and you know what that means: Brackets. No, not that one. I'm talking about the one that means you made it in the sports media world: The Spun's annual Most Annoying People In Sports Media bracket.

The number one seeds are about as predictable as your Duke bracket this year, as Stephen A. Smith, Skip Bayless, Colin Cowherd and Jim Rome are the juggernauts this season. Meanwhile, last year's winner Jemele Hill is out of the running since she departed ESPN and is a contributor for The Atlantic, no longer focusing on sports. She beat Stephen A. Smith for the title of most annoying.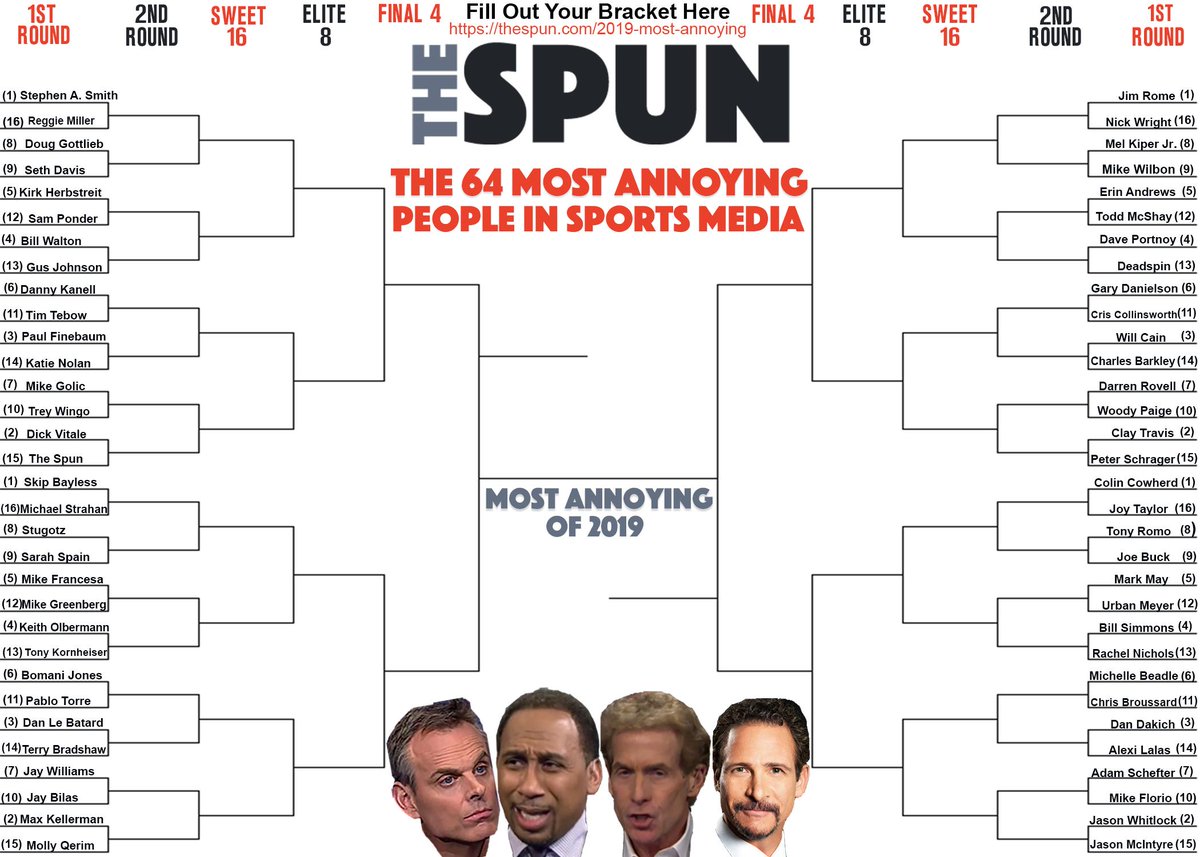 The 2019 bracket features a few interesting matchups to get the field of 64 going.

4. Bill Walton vs. 13. Gus Johnson

This rematch is likely the most energetic face-off in the opening round, Walton made it to the final four in 2018 after beginning his run with a 63 percent win over Johnson. Gus may have cooled the jets over the years, but this battle of college sports commentators could be a close one yet again.

2. Dick Vitale vs. 15. The Spun

The Spun may be putting themselves in Cinderella's slipper with this one. Last year The Spun was bounced by Paul Finebaum in the field of 64. This year they'll look for redemption against the mighty Dickie V.

4. Dave Portnoy vs. 13. Deadspin

This one is going to be ugly. This match would be high on an old Attitude Era WWF Raw card for the Hardcore Championship with steel chairs and metal trash cans thrown about. Portnoy may walk out with this one, but not without Deadspin getting in as many licks as they can.

8. Stugotz vs. 9. Sarah Spain

The true definition of a 50/50 game between eight and nine seeds. Both have their own No. 1 podcasts on the Le Batard and Friends Network, but who will advance in the battle of annoyance?

3. Dan Le Batard vs. 14. Terry Bradshaw

Speaking of Le Batard, he gets a high seed but could be in for an upset with resident Mike Tomlin hater Terry Bradshaw looking to make a run at the title. Le Batard didn't make it out of round two in 2018 while Bradshaw had an uphill battle against Clay Travis that wasn't close. With both men looking for redemption, this could be the bracketbuster where the winner could make a deep run.

8. Tony Romo vs. 9. Joe Buck

Finally we have a battle of commentators from Fox and CBS's number one teams. Romo was a 14 seed last year and was eliminated by Vitale with ease. Meanwhile Buck drops from a four seed to nine after losing a close one to Phil Simms in 2018. Meanwhile, Simms is somehwere laughing maniacally as he repeatedly votes for Romo.
Stephen A. Smith is arguably the front runner, he's had quite the season at being emphatically wrong on a number of topics such as how an injured Hunter Henry was a big success for the Los Angeles Chargers, or Dwayne Haskins' scrambling ability, and goodness knows what else. But you never know, 2018 saw Chris Broussard (10), Bill Walton (12) and Keith Olbermann (11) make it to the Elite Eight.
4 Kicked Tires On The Athletic Before New York Times Deal
"Amazon reportedly had eyes on pairing The Athletic with its Thursday Night Football coverage."
Before The New York Times agreed to pay $550 million to acquire The Athletic, other companies showed interest in the subscription sports site. Alex Sherman of CNBC says throughout 2021, multiple companies discussed buying The Athletic.
In March of 2021, The Athletic and Axios began talks to merge. When that fell through, Sherman writes that other suitors stepped up. Amazon, Conde Nast, and DraftKings were amongst the media suitors. Private equity firm TPG Capital showed interest as well.
Amazon reportedly had eyes on pairing The Athletic with its Thursday Night Football coverage. "Spokespeople at Amazon, Conde Nast and DraftKings didn't respond to requests for comment," Sherman writes.
TPG Capital was the most serious competitor to The Times. TPG also declined to comment, but Sherman reports that writers for The Athletic were worried about their jobs should a private equity firm buy the site.
Details of The New York Time's take over have not been revealed, although it is expected that The Athletic will continue to function as an independent entity under the new ownership.
BetMGM Launches In New York On Monday
"Mobile wagering officially became legal in the Empire State over the weekend."
BetMGM is the next man up in the New York Gaming Commision's "rolling" plan to introduce new mobile sportsbooks in the state. The company announced via Twitter that it would begin taking bets on January 17.
Mobile wagering officially became legal in the Empire State over the weekend. Four books launched their New York operations on Saturday and saw massive returns. The state generating more tax revenue off one day of mobile wagering than it has in more than 30 months of retail betting.
Will BetMGM experience the same boom on day 1 that BetRivers, Caesars, DraftKings, and FanDuel all did upon their launch?
Probably not. Those four were the first mobile players in the market. Also, by launching on Monday, BetMGM will miss all but one game on the NFL Playoffs' Super Wild Card Weekend.
But this is a long play. The population of New York State is large enough and BetMGM is well-enough-established to generate profit quickly. Besides, with the Knicks, Nets, Rangers, Islanders, and Sabers all in season, there will be no shortage of opportunities in the coming months for New Yorkers to fire up the BetMGM app and lay their money down.
FOX Sports Launches Podcast Network
"The Fox Sports Podcast Network will be the new home to premium podcasts from Fox Sports' prominent voices and storytellers."
Fox Sports officially launched its podcast network on Thursday, led by FS1 host Skip Bayless, and the network announced additional shows set to debut in the coming months.
The Fox Sports Podcast Network will be the new home to premium podcasts from Fox Sports' prominent voices and storytellers.
"Fox Sports is the leading destination for top quality original digital content from the biggest personalities in sports," said Fox Sports EVP and Head of Content Charlie Dixon said in a press release. "The creation of this new podcast network allows us to deliver fans exclusive commentary and enthralling stories providing hours of entertainment through this important medium."
The Skip Bayless Show debuted Thursday and features Bayless breaking down the top sports stories combined with his own stories surrounding the biggest moments in athletics history. The weekly podcast, which will also feature interviews and unscripted responses to fan questions, rolled out alongside a number of pods that have already brought in millions of listeners.
Club Shay Shay is a podcast featuring Bayless's Undisputed co-host Shannon Sharpe that has joined the network. Flippin' Bats, hosted by Ben Verlander, and The No. 1 Ranked Show, presented by college football analyst RJ Young, are also among the offerings on the network.
Fox also announced debut dates for two highly-anticipated podcasts. What's Wright with Nick Wright will feature a video series alongside the podcast offering and will premiere on March 1. Wright will be doing a lot of ranking on a variety of topics each week. The show will have new episodes every Tuesday.
Then in April, Tom Rinaldi will begin presenting what the network calls a serialized audio documentary about former Major League Baseball player Lyman Wesley Bostock Jr. The podcast is entitled Wesley. Bostock was one of baseball's top players in the late 1970s before he was murdered in 1978. The podcast will be a deep dive into the events surrounding and including Bostock's killing.
You can listen to Fox Sports Podcast Network shows on Apple and Spotify and on Fox digital platforms.