Dan McNeil Q&A Part 1: A Friend On The Ride Home
"I have felt for many years that if a radio station is doing it right that station is as integral a part of the city's sports culture as the teams they follow."
For parts of four decades, Dan McNeil has been stirring up Chicago sports radio. In this three-part Q&A, McNeil (aka Danny Mac, Mac, Dan or Danny) discusses the shows he has hosted and career decisions he has made along the way. For me, Dan has been a radio mentor since the mid 90's when I produced The Heavy Fuel Crew show which Dan hosted with Terry Boers.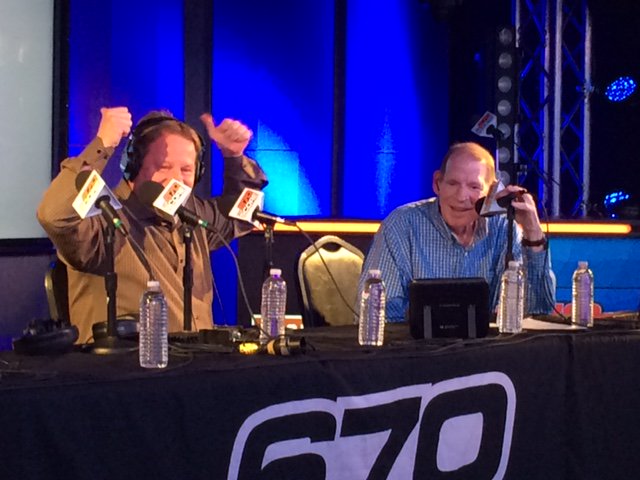 In part one, we cover his current show McNeil and Parkins, his Dan McNeil: Unsupervised podcast, and his time co-hosting an FM morning show on Chicago classic rocker, The Drive.
McNeil and Parkins (March 2018-Present)
Matt Fishman: What was your reaction to getting the call to return to The Score Full-Time in afternoons?
Dan McNeil: I was delighted by the opportunity because it was with Parkins, because I thought it was an approach that really had never been attempted with that much disparity in age between two partners. As I think about it it's like-how did it take so long for somebody to get that idea. Let's cover a lot of demos. Have a guy who was born in 1986 with a guy who was born when JFK was in office.
He (Parkins) checks a lot of boxes for me on things that I'm interested in and things that I'm not interested in. I don't have to do a whole lot of college and pro basketball. Number one, it's not a college town unless there's a good local team. I don't mind following the Bulls but NBA stuff when we get to the Finals, he'll watch all that shit. So if there's a percentage of our audience that wants it, he'll cover it and I'll take care of hockey that he doesn't want to watch. That's a good counterbalance for the show.
We like a ton of the same movies that have been made in the last 20 years. He's a devout sports wagerer and pot smoker which reminds me a lot of me at his age. A lot of his attitudes reflect how I looked at things when I was in my late 20s and early 30s. He's very driven!
Fish: As a real inside radio question–you've always been the A-host or Driver of the show? What went into the decision to let Parkins "drive" the show?
Mac: It's a little bit different being the 2-guard. It's not as much work. Sometimes I have to work harder at staying dialed-in because he'll stay with something longer than I probably would have. That doesn't happen a lot but it does happen. I actually tried to play 2-guard in the short-lived FM thing I did with Pete McMurray so I got a little taste of it there.
I've done enough perfect, eloquent teases and given the telephone number with my gorgeous pipes (said sarcastically) so many times that I don't mind. Let him do some of the f***ing heavy lifting. He's going to be doing this for 25 years and I'm on the 16th tee box. I'm almost done with this. That's fine to spend more time in the 2-guard role. I expend less energy and I go hard to the f***ing basket when I decide to take the ball.
Fish: What's your favorite thing about this show?
Mac: I love afternoons. I always have felt most comfortable in afternoons. I've always favored having the morning and the midday to work my way up to that. I think my personality is probably best absorbed at the end of the day.
I used to joke–Adam Delevitt(PD at ESPN 1000) asked us "what do you think your calling is in life?" Mine is I take people home from work. I'm not gonna be the smartest guy on sports talk radio. I'm not necessarily going to be the most informed or well read but they're gonna have fun and they're gonna feel like they had a friend on the ride home with them.
Fish: I feel like that's a key to your long standing appeal, is being a listener's friend for the ride home.
Mac: It's a very intimate medium. It's the most personal. That's something that makes my stomach turn about the evolution of our business when our images are shot out there on Facebook, the station's video stream and podcasting. "Oh I'll get to it later!" is the thought. No, I'm doing this for you now. We're having drinks now!! You don't get to my podcast later. I'm doing this now. This is our time together.
Dan McNeil Unsupervised (Podcast: September 2017-March 2018)
Fish: Great way to transition to your podcast– Dan McNeil: Unsupervised What was it like doing a podcast as opposed to a daily radio show?
Mac: I had to sharpen my tools. I hadn't been on the air in a little while. I had thought for a while that I was done with radio and radio was also done with me. But I wasn't sure what I wanted to do and I was starting to look into how I could monetize (the podcast) and it's a very difficult proposition.
I went into it with the idea that when I get to half a million downloads I'll start knocking on advertisers doors. About three months into it, the Score thing started and that quelled my interest. But I had to have some sort of digital presence for a lot of newbies to sports radio. If they didn't listen to me at The Drive and weren't Score listeners back in June of 2014 when I last was there, they didn't know who the fuck I was. So anything was good. That was to get the tools sharp more than anything. I didn't make a dime on it.
Fish: In 1992 you're competing with all the other Chicago radio stations. In 2019 you are also competing with satellite radio, streaming services, podcasts, with anything anyone can get on their phone. How does traditional radio beat that back and stay as relevant as it has always been?
Mac: There's always gonna be a need for live and local. There's no doubt that there are far more places where you can get content. But in big cities where sports are a huge part of a city's culture there's always going to be a place for live/local radio. You augment it by podcasting your own stuff and joining all the other technology opportunities.
I have felt for many years that if a radio station is doing it right that station is as integral a part of the city's sports culture as the teams they follow. I felt that the "Mac, Jurko, and Harry" show had that sort of a feel. That we were almost a team in town. I felt that way at the Score in the 90s with the Monsters and Terry and me. Technology never will have the opportunity to abolish it completely. It has watered it down enormously but (radio) will always be there.
The Drive Morning Show (March 2015-June 2016)
Fish: Can you recall your excitement going into the start of that show–getting to be part of a rock station and a co-host on a truly "guy" morning show?
Mac: In 2014 when I did my last year at The Score with (Matt) Spiegel the sports landscape, other than the Hawks, was really shitty. Already for several years I had been wanting to do something different just to see if I could do it. The sports were so negative I started having that itch. At the end of my deal with no offer out there I said I'm going to look for something different. The Score made me a more than generous offer and I said no.
Then the opportunity with The Drive and Greg Solk came up. I think Greg is one of the best programmers I have ever worked for. I thought The Drive had a sparkling reputation. I thought it was a much classier presentation of that genre of music (Classic Rock/Classic Hits) than The Loop had been doing. So I jumped at it.
It wound up being a financial disaster. The money I didn't make between the end of my run at The Score, the disparity in income, because The Score offered me an opportunity to come back again before The Drive actually hired me. The decision cost me more than seven figures of income and in 17 months (the show) was blown up.
What I didn't know about FM life is that it's not very organic and a lot of people who do it choose to do it in a very canned and contrived manner and that's not how I've ever worked. It was the right idea but the execution of it was not good and it failed conclusively!
Fish: Despite the seven figure financial difference, do you have any regret about trying it? It seems like something you would have regretted not trying.
Mac: Not at all. I reconnected with some amazing people like Greg Solk, Bob Stroud, Kathy Voltmer, I enjoyed Pete's company (co-host McMurray). The first programmer I had there, Curtiss Johnson, is one of my favorite programmers I've ever had. We became fast friends. I loved working for Curtiss.
Then after a year he got fired and the guy who replaced him is the biggest c**s***er I've ever worked for. (Dan then spelled out the word for me). His name is Rob Cressman as in penis. He's just a pariah. He's an interloper.
He had no knowledge of Chicago. He came in here not having any regard for the backgrounds of the personalities or what skins we had on the wall. Barking out cookie-cutter Program Director thoughts. He wanted us to stay around (at the station) until one in the afternoon. I said, "You know what? I don't have tomorrow's news. There's no reason to be here. We can correspond via email or text if we need to."
In part two of my Q&A with Dan McNeil we discuss his second tour of duty at The Score, going across to ESPN 1000 and his struggles with mental health issues. 
Matt Fishman is a former columnist for BSM. The current PD of ESPN Cleveland has a lengthy resume in sports radio programming. His career stops include SiriusXM, 670 The Score in Chicago, and 610 Sports in Kansas City. You can follow him on Twitter @FatMishman20 or you can email him at FishmanSolutions@gmail.com.
The Future Is Now, Embrace Amazon Prime Video, AppleTV+
As annoying as streaming sports is and as much as I haven't fully adapted to the habit yet, Amazon and Apple have done a magnificent job of trying to make the process as easy and simplified as possible.
This week has been a reckoning for sports and its streaming future on Amazon Prime Video, AppleTV+, ESPN+, and more.
Amazon announced that Thursday Night Football, which averaged 13 million viewers, generated the highest number of U.S. sign ups over a three hour period in the app's history. More people in the United States subscribed to Prime during the September 15th broadcast than they did during Black Friday, Prime Day, and Cyber Monday. It was also "the most watched night of primetime in Prime Video's history," according to Amazon executive Jay Marine. The NFL and sports in general have the power to move mountains even for some of the nation's biggest and most successful brands.
This leads us to the conversation happening surrounding Aaron Judge's chase for history. Judge has been in pursuit of former major leaguer Roger Maris' record for the most home runs hit during one season in American League history.
The sports world has turned its attention to the Yankees causing national rights holders such as ESPN, Fox, and TBS to pick up extra games in hopes that they capture the moment history is made. Apple TV+ also happened to have a Yankees game scheduled for Friday night against the Red Sox right in the middle of this chase for glory.
Baseball fans have been wildin' out at the prospects of missing the grand moment when Judge passes Maris or even the moments afterwards as Judge chases home run number 70 and tries to truly create monumental history of his own. The New York Post's Andrew Marchand has even reported there were talks between YES, MLB, and Apple to bring Michael Kay into Apple's broadcast to call the game, allow YES Network to air its own production of the game, or allow YES Network to simulcast Apple TV+'s broadcast. In my opinion, all of this hysteria is extremely bogus.
As annoying as streaming sports is and as much as I haven't fully adapted to the habit yet, Amazon and Apple have done a magnificent job of trying to make the process as easy and simplified as possible. Amazon brought in NBC to help with production of TNF and if you watch the flow of the broadcast, the graphics of the broadcast, NBC personalities like Michael Smith, Al Michaels, and Terry McAuliffe make appearances on the telecast – it is very clear that the network's imprint is all over the show.
NBC's experience in conducting the broadcast has made the viewing experience much more seamless. Apple has also used MLB Network and its personalities for assistance in ensuring there's no major difference between what you see on air vs. what you're streaming.
Amazon and Apple have also decided to not hide their games behind a paywall. Since the beginning of the season, all of Apple's games have been available free of charge. No subscription has ever been required. As long as you have an Apple device and can download Apple TV+, you can watch their MLB package this season.
Guess what? Friday's game against the Red Sox is also available for free on your iPhone, your laptop, or your TV simply by downloading the AppleTV app. Amazon will also simulcast all Thursday Night Football games on Twitch for free. It may be a little harder or confusing to find the free options, but they are out there and they are legal and, once again, they are free.
Apple has invested $85 million into baseball, money that will go towards your team becoming better hypothetically. They've invested money towards creating a new kind of streaming experience. Why in the hell would they offer YES Network this game for free? There's no better way for them to drive subscriptions to their product than by offering fans a chance at watching history on their platform.
A moment like this are the main reason Apple paid for rights in the first place. When Apple sees what the NFL has done for Amazon in just one week and coincidentally has the ability to broadcast one of the biggest moments in baseball history – it would be a terrible business decision to let viewers watch it outside of the Apple ecosystem and lose the ability to gain new fans.
It's time for sports fans to grow up and face reality. Streaming is here to stay.
MLB Network is another option
If you don't feel like going through the hassle of watching the Yankees take on the Red Sox for free on Apple TV+, MLB Network will also air all of Judge's at bats live as they are happening. In case the moment doesn't happen on Apple TV+ on Friday night, Judge's next games will air in full on MLB Network (Saturday), ESPN (Sunday), MLB Network again (Monday), TBS (Tuesday) and MLB Network for a third time on Wednesday. All of MLB Network's games will be simulcast of YES Network's local New York broadcast. It wouldn't shock me to see Fox pick up another game next Thursday if the pursuit still maintains national interest.
Quick bites
One of the weirdest things about the experience of streaming sports is that you lose the desire to channel surf. Is that a good thing or bad thing? Brandon Ross of LightShed Ventures wonders if the difficulty that comes with going from app to app will help Amazon keep viewers on TNF the entire time no matter what the score of the game is. If it does, Amazon needs to work on developing programming to surround the games or start replaying the games, pre and post shows so that when you fall asleep and wake up you're still on the same stream on Prime Video or so that coming to Prime Video for sports becomes just as much of a habit for fans as tuning in to ESPN is.
CNN has announced the launch of a new morning show with Don Lemon, Poppy Harlow and Kaitlin Collins. Variety reports, "Two people familiar with plans for the show say it is likely to use big Warner Bros. properties — a visit from the cast of HBO's Succession or sports analysis from TNT's NBA crew — to lure eyeballs." It'll be interesting to see if Turner Sports becomes a cornerstone of this broadcast. Will the NBA start doing schedule releases during the show? Will a big Taylor Rooks interview debut on this show before it appears on B/R? Will the Stanley Cup or Final Four MVP do an interview on CNN's show the morning after winning the title? Does the show do remote broadcasts from Turner's biggest sports events throughout the year?
The Clippers are back on over the air television. They announced a deal with Nexstar to broadcast games on KTLA and other Nexstar owned affiliates in California. The team hasn't reached a deal to air games on Bally Sports SoCal or Bally Sports Plus for the upcoming season. Could the Clippers pursue a solo route and start their own OTT service in time for the season? Are they talking to Apple, Amazon, or ESPN about a local streaming deal? Is Spectrum a possible destination? I think these are all possibilities but its likely that the Clippers end up back on Bally Sports since its the status quo. I just find it interesting that it has taken so long to solidify an agreement and that it wasn't announced in conjunction with the KTLA deal. The Clippers are finally healthy this season, moving into a new arena soon, have the technology via Second Spectrum to produce immersive game casts. Maybe something is brewing?
ESPN's Monday Night Football double box was a great concept. The execution sucked. Kudos to ESPN for adjusting on the fly once complaints began to lodge across social media. I think the double box works as a separate feed. ESPN2 should've been the home to the double box. SVP and Stanford Steve could've held a watch party from ESPN's DC studio with special guests. The double box watch party on ESPN2 could've been interrupted whenever SVP was giving an update on games for ESPN and ABC. It would give ESPN2 a bit of a behind the scenes look at how the magic happens similarly to what MLB Tonight did last week. Credit to ESPN and the NFL for experimenting and continuing to try and give fans unique experiences.
Jessie Karangu is a columnist for BSM and graduate of the University of Maryland with a bachelor's degree in journalism. He was born and raised in Baltimore, Maryland but comes from Kenyan roots. Jessie has had a passion for sports media and the world of television since he was a child. His career has included stints with USA Today, Tegna, Sinclair Broadcast Group and Sightline Media. He can be found on Twitter @JMKTVShow.
ESPN Shows Foresight With Monday Night Football Doubleheader Timing
ESPN is obviously testing something, and it's worth poking around at why the network wouldn't follow the schedule it has used for the last 16 years, scheduling kickoffs at 7 and then 10 on their primary channel.
The Monday Night Football doubleheader was a little bit different this time around for ESPN.
First, it came in Week 2 instead of Week 1. And then, the games were staggered 75 minutes apart on two different channels, the Titans and Bills beginning on ESPN at 7:15 PM ET and the Vikings at the Eagles starting at 8:30 PM on ABC and ESPN+. This was a departure from the usual schedule in which the games kicked off at 7:00 PM ET and then 10:00 PM ET with the latter game on the West Coast.
ESPN is obviously testing something, and it's worth poking around at why the network wouldn't follow the schedule it has used for the last 16 years, scheduling kickoffs at 7:00 PM and then 10:00 PM ET on their primary channel. That's the typical approach, right? The NFL is the most valuable offering in all of sports and ESPN would have at least six consecutive hours of live programming without any other game to switch to.
Instead, they staggered the starts so the second game kicked off just before the first game reached halftime. They placed the games on two different channels, which risked cannibalizing their audience. Why? Well, it's the same reason that ESPN was so excited about the last year's Manningcast that it's bringing it back for 10 weeks this season. ESPN is not just recognizing the reality of how their customers behave, but they're embracing it.
Instead of hoping with everything they have that the customer stays in one place for the duration of the game, they're recognizing the reality that they will leave and providing another product within their portfolio to be a destination when they do.
It's the kind of experiment everyone in broadcasting should be investigating because, for all the talk about meeting the customer where they are, we still tend to be a little bit stubborn about adapting to what they do. 
Customers have more choices than ever when it comes to media consumption. First, cable networks softened the distribution advantages of broadcast networks, and now digital offerings have eroded the distribution advantages of cable networks. It's not quite a free-for-all, but the battle for viewership is more intense, more wide open than ever because that viewer has so many options of not just when and where but how they will consume media.
Programmers have a choice in how to react to this. On the one hand, they can hold on tighter to the existing model and try to squeeze as much out of it as they can. If ESPN was thinking this way it would stack those two Monday night games one after the other just like it always has and hope like hell for a couple of close games to juice the ratings. Why would you make it impossible for your customer to watch both of these products you've paid so much to televise?
I've heard radio programmers and hosts recite take this same approach for more than 10 years now when it comes to making shows available on-demand. Why would you give your customers the option of consuming the product in a way that's not as remunerative or in a way that is not measured?
That thinking is outdated and it is dangerous from an economic perspective because it means you're trying to make the customer behave in your best interest by restricting their choices. And maybe that will work. Maybe they like that program enough that they'll consume it in the way you'd prefer or maybe they decide that's inconvenient or annoying or they decide to try something else and now this customer who would have listened to your product in an on-demand format is choosing to listen to someone else's product entirely.
After all, you're the only one that is restricting that customer's choices because you're the only one with a desire to keep your customer where he is. Everyone else is more than happy to give your customer something else. 
There's a danger in holding on too tightly to the existing model because the tighter you squeeze, the more customers will slip through your fingers, and if you need a physical demonstration to complete this metaphor go grab a handful of sand and squeeze it hard.
Your business model is only as good as its ability to predict the behavior of your customers, and as soon as it stops doing that, you need to adjust that business model. Don't just recognize the reality that customers today will exercise the freedom that all these media choices provide, embrace it.
Offer more products. Experiment with more ways to deliver those products. The more you attempt to dictate the terms of your customer's engagement with your product, the more customers you'll lose, and by accepting this you'll open yourself to the reality that if your customer is going to leave your main offering, it's better to have them hopping to another one of your products as opposed to leaving your network entirely.
Think in terms of depth of engagement, and breadth of experience. That's clearly what ESPN is doing because conventional thinking would see the Manningcast as a program that competes with the main Monday Night Football broadcast, that cannibalizes it. ESPN sees it as a complimentary experience. An addition to the main broadcast, but it also has the benefit that if the customer feels compelled to jump away from the main broadcast – for whatever reason – it has another ESPN offering that they may land on.
I'll be watching to see what ESPN decides going forward. The network will have three Monday Night Football doubleheaders beginning next year, and the game times have not been set. Will they line them up back-to-back as they had up until this year? If they do it will be a vote of confidence that its traditional programming approach that evening is still viable. But if they overlap those games going forward, it's another sign that less is not more when it comes to giving your customers a choice in products.
Danny O'Neil is a sports media columnist for BSM. He has previously hosted morning and afternoon drive for 710 ESPN Seattle, and served as a reporter for the Seattle Times. He can be reached on Twitter @DannyOneil or by email at Danny@DannyOneil.com.
Media Noise: Sunday Ticket Has Problems, Marcellus Wiley Does Not
Podcast: Play in new window | Download
Subscribe: RSS
Demetri Ravanos is the Assistant Content Director for Barrett Sports Media. He hosts the Chewing Clock and Media Noise podcasts. He occasionally fills in on stations across the Carolinas. Previous stops include WAVH and WZEW in Mobile, AL, WBPT in Birmingham, AL and WBBB, WPTK and WDNC in Raleigh, NC. You can find him on Twitter @DemetriRavanos and reach him by email at DemetriTheGreek@gmail.com.