Dan McNeil Q&A Part 2: It Was Going To Be Uncomfortable
"I didn't want to be around people. I was not feeling anything. There was a joylessness in almost everything."
In part two of my Q&A with Chicago Sports Radio veteran Dan McNeil, Dan talks about his second stint at The Score, dealing with mental health issues and his eight year run at ESPN 1000. You'll read about the intriguing maneuvering it took to get his show at ESPN. Plus, you'll hear inside details of the building of "Mac, Jurko, and Harry" and the show's early growing pains. It's all here in Part 2 of my three-part Q&A with Dan McNeil.
The Danny Mac Show on the Score (June 2009-June 2014)
Fishman: You return to the Score after more than eight years away at ESPN 1000…how did it feel?
McNeil: It was a very awkward return. I had decent relationships with some of the guys there, still, but I think they were very casual relationships. I think there was a mutual feeling with a few people that if we didn't work together again that would be ok with everybody. There was a lot of tension already at the station.
Before Matt (Spiegel) and I jumped back in, there was a long period of dissention among the ranks. I can't give an opinion on it because I wasn't there to absorb all the toxicity, but the combination of North, Murphy, Mulligan and Boers made for a very volatile cocktail. As there always is, there's some petty jealousies and we're all insecure to varying degrees, but based on the descriptions of those who experienced it, I came back at a time when the morale was probably as low as it ever had been in station history.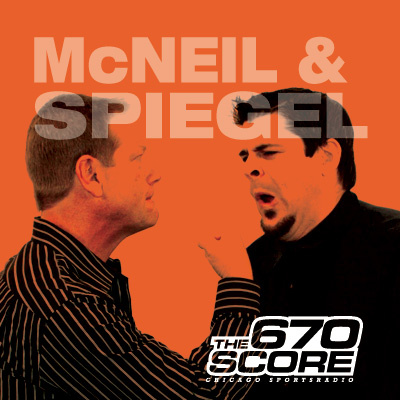 Matt (Spiegel) was not warmly received. The fact that Mitch (Score Ops Manager/PD Mitch Rosen) gave me a voice in Spiegel's hiring didn't help the situation. Mitch also gave me a voice in one of the producers. That didn't agree with several people. I get that. People who are in-house have every reason to expect that they will be examined, but I also had a track record of making some pretty good recommendations both for co-hosts and producers. I'd submit Jurko as one of those, and god damn, look at the guys who have produced my shows over the years who I've hand picked–there's some pretty talented mother f**kers on that list. If the fact that I was given that freedom was disruptive for some people, I really don't give a shit, Colonel Jessup. I earned that. I f**king earned that!
They just didn't give me that. Had Terry Boers flopped in '92 and John Jurkovic flopped I wouldn't have been given a voice, but I did get a voice. I was proven right with Matt (Spiegel) but he was not well received. So it was an awkward return.
Leaving the house at 7 o'clock in the morning to go to work didn't agree with me. I felt we had a pretty good vibe on the show. Matt and I pretty much right out of the shoot I felt pretty comfortable with and after awhile as a unit we gelled. I told Matt at the beginning I typically look at these things as "let's do five years together!" I think after five years is a lot of times a good time to reinvent yourself. And that's what I decided to do. 
The first two and half years were very good. The last (with Spiegel) was a struggle. I made it more of a struggle than I needed it to be, because I was not taking very good care of myself. I was not participating in a mental health program that somebody with as many issues as I have needs to.
Fish: I think you have to include the talent on the major decisions of co-host and producer when you're putting that team together. Otherwise I think you're asking for failure.
Mac: When I took some time off, Fish, I thought a lot about this– and I had a lot of time off in the last five or six years. I enjoyed civilian life way more than most of us would. It's incredible how among any form of entertainment that you can imagine–the movies, music, whatever–radio people and sports talk radio performers have less control of their product than any motherf**ker trying to sell a f**kin' act. I had shows blown up that none of us wanted blown up. Many others have had shows blown up. 
Howard (Stern) is a hero to me because he's the only motherf**ker who went out there and won. A lot of us have been paid well and it's a rush and you do a lot of cool things. If you're lucky you see a lot of the country and someone else pays for it–and that's all great, but when you examine the absence of power for people who have achieved a high level of competency in their craft it's remarkable how we're all just f**king pawns on a chess board. Howard has been able to go out there and pick his own crew and say "f**k you!" to management for 25 years. 
Fish: At what point did you realize that you weren't taking care of your mental health? Was it while you were working with Spiegel? Was there a seminal moment?
Mac: It was very specific. It was in the summer of 2011. The two years of foolishly letting the behaviors and attitudes of others affect my disposition–which is absolutely hideous to let others rent that space for free. I went off my psych med, Lamictal, without consulting my doctor. I had a lot of success with that product. It's not an antidepressant it's kind of a mood stabilizer. It's prescribed to people who are depressive, some people with anxiety–and I'm both of those.
I went off of it and within a month my world got black and white. I was playing free golf with three lifelong friends and I birdied the first hole. While walking back to the cart on a gorgeous summer day I remember saying to myself, "Thank God there are only 17 more of these f**king holes so I can go home, be alone, and watch Goodfellas." I withdrew from even the things I enjoyed the most. Except for my sons and a few very close friends and my wife, I didn't want to be around people. I was not feeling anything. There was a joylessness in almost everything. 
The climate at the station I let get to me more than I should have. I should have focused on what was good and what was good was the vibe on the show–with Spiegs and Jay and Shep and Miska. Then Ben Finfer rejoined me which has always been some of the best radio I have done.
So that was a rough time. I grinded it out without going back on my med and continuing to eat pain meds which dulled me. I like to stay active and I have a lot of pain and I used those things as an excuse to keep eating Narco. It was a pretty dark last couple of years. I didn't want to be there (at The Score). I wanted to try something different anyway but the climate there and how little I was respecting my conditions wasn't a good time.
But we did some killer stuff. I remember a lot of it with fondness. I mean the stuff we did with the Blackhawks–Spiegs and I went to Philly and Boston.
In '13 when the Hawks were getting to the final against Boston I felt we were being a little too "hockey-ish" on the show. I learned from my mistakes in the 90s that hockey is not as center stage as other things in Chicago, but I said to myself I'm probably walking very soon. This is my way to thank the Hawks fans who loved me all the years. F**k the ratings. If I want to talk to Mike Emrick for an hour, I will and we did. We ended up out of the money (ratings bonuses) that book and I didn't give a shit. 
I ended up leaving in the summer of '14 after the Hawks got popped by the Kings in the Western Conference Finals. If they had made it to the Final, I was going to work without a contract and finish the Hawks run but I wasn't gonna come back. I was pretty specific with Mitch (Rosen) about that. People remember it as my summer of discontent. Spiegel calls it "The Summer of Uncertainty." I corrected him on that and said "remember when I walked in that June and gave anyone parting gifts?"
Mitch called me right before I crossed the border (into Canada) and lost cell service. He said, "We gotta work this out." I said, "Mitch, it has been a month and I want to try something different. What's there to work out?"
So when I got back from Canada in mid August I met with him and Rod (Zimmermann, CBS Radio Market Manager for Chicago at the time) as a courtesy. They offered me a lot of money–more than they had offered me in the middle of June. It was a fair-enough deal. There was no indecisiveness that summer. Without another job offer I said thank you, politely, but I'm going to try something different.
Mac, Jurko and Harry (May 2001-Jan 2009)
Fish: It seemed to me like an interesting mix–you, Jurko and Harry. Can you talk about the grouping, how it all came together, and the early days of the show?
Mac: Mitch and I started talking about it right before I resigned from The Score. Bob Snyder was the GM of ESPN 1000 at the time. He was pretty committed to Bill Simonson and Lou Canellis, but Mitch told me he would work him (Snyder) and I decided I would roll dice in October of '00. I resigned from The Score with a "maybe" that Mitch would have a spot for me once Simonson and Canellis continued to struggle against The Score.
So I leave The Score and finally Bob Snyder warms up. I had to use (Mike) Greenberg to get to Len Weiner (ESPN Network PD at the time) in Bristol to backdoor my way into Chicago. I needed an ally in Bristol. Greenberg set up a meeting with Len Weiner and me at Super Bowl 35 in Tampa. (Dan remembers the game like it was yesterday saying, "SB 35 Ravens over the Giants, Ray Lewis the Super Bowl MVP. Only Super Bowl with back to back kick returns for touchdowns–Dixon and Lewis. You can look it up!")
I go down there on a recruiting trip and Len Weiner and I chew the fat for three hours talking radio after the "Mike and Mike Show" and fell in love. I started doing weekends out there to prove to the network that I'm not a crazy man for walking away from 200k at The Score with a rep for being a rabble rouser and that I'm worth hiring.
Eventually when (Ron) Gleason got fired by The Score I used that to pry my way in at ESPN. I said, "The guy who is taking over wants to hire me back." I told Len that. There was some grains of truth of that because (Jeff) Schwartz was taking over. Schwartz might have taken me back. I saw it as an opportunity to play a card that I may not have had, and I played it and immediately Bristol put the pressure on Snyder to hire me.
So "Mac, Jurko, and Harry" is born and Snyder wants to keep some of the station's DNA intact. He puts Harry (Teinowitz) on the show with me and Jurko and I had never considered a 3-man weave for a show in my life. Immediately I curled up and thought it was going to be uncomfortable, in particular because I knew Harry was going to be more of a shooting guard than he was hired to be. He was described to me by the suits as a "tip-in" guy. The funny guy. The occasional guy.
Well we know Harry. Harry grew into a role more like that, but initially, especially when Jurko started slow, Harry pounced on an opportunity to be more or a presence than I was comfortable with. So in those first few years we really suffered a LOT of growing pains as a show.
Fish: So when did it turn the corner from "growing pains" to when the show was really cooking?
Mac: It took Teinowitz several years to let this more of a desire to have a playground than a classroom sink in for me. I think Harry taught me after a number of months to lighten it up a little bit and I agreed that the easiest way to make people feel like they are welcomed warmly is to create a saloon atmosphere–so that's what we started to call it. And while we had a lot of tension and fights, it was a place where people felt compelled to hang out.
They weren't going to be lectured to. It wasn't going to be "The Sermon on the Mount." We weren't going to tackle issues that were polarizing for half of a show like steroids or anything that got us too far away from an opportunity to laugh. We've decided to plant the flag in the ground that we were going to be the goofball show. 
Fish: So you weren't going to get into Race issues and you're not getting into the Steroid issues..
Mac: (Jumping in) No, No, we're not getting into politics and we're also going to get into other forms of entertainment and make casual sports fans feel welcomed. And eventually, women even came around to that show.
Fish: So you get cooking on that show and you're a few months away from the end of a contract and you get pulled off the air? Were you surprised by that move?
Mac: I wasn't surprised. When we were told in December that we weren't going to the Super Bowl I sort of sniffed it out. Advertising dollars were drying up because of the market. Everybody was taking hits. I mean it was a f**king depression in '08.
They decide they're not sending us to the Super Bowl. I was not our literal union steward, that was Bruce (Levine), but when programming  had issues, the one who took those issues to management, Jim Pastor(GM) and Justin Craig(PD), was me. That meant being a dick to Justin. None of it was personal because I truly like him as a guy but he came in replacing (Jeff) Schwartz, shoving ESPN programming down our throats. Mandating things. In essence telling us, "Forget everything you've been doing. This is how we're gonna do it. I'm gonna mold you into another "Mike and Mike."
Now Justin did a lot of good things, too. He had an interview coach come in and do a seminar with us. My jaw dropped at how much we needed that. I've told Mitch how much we need that at the Score. He came in and did a three hour presentation on interviewing and I wish I would have had that seminar in 1992.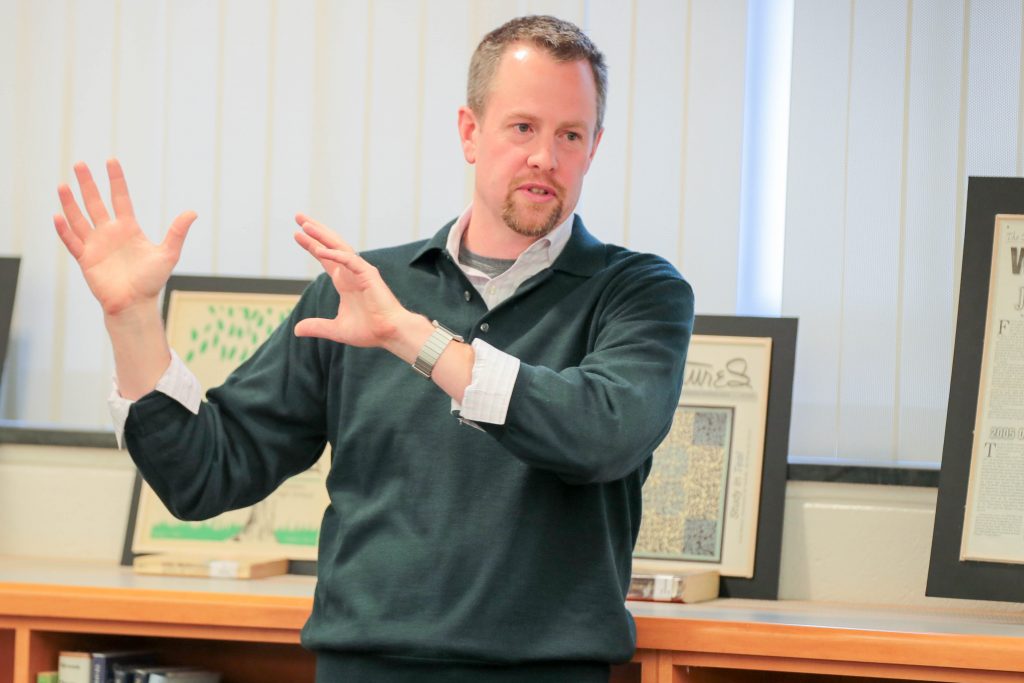 Fish: What were the biggest things you took away from that interviewing seminar?
Mac: In key interviews, not regular contributors you talk to every week, but when you get a guy on you'll only talk to 1-2 times a year, a key interview–ask short direct questions! People want to hear from him. I got the rest of the f**king show where I can give my opinion. I don't need to give him my opinion. Get his opinion. Get him talking! It's what he's going to say. It's not going to be some brilliant way I shape a question. It's what I'm going to get him to talk about. So ask a short, direct question. The biggest offense that most of us make are the double barrel and triple barrel questions-where you give your guest complete control of the interview. He picks one of the questions to answer and talks for three minutes and you've lost the time for a good follow up question.
In part three of my Q&A with Dan McNeil, Mac talks about the start of The Score in 1992, his partnership with Terry Boers and his longtime friendship with the late Doug Buffone.
Adam The Bull Is Giving Cleveland Something It's Never Had Before
"It was only more recently that I was like why do I have to only be a radio guy?"
After spending 22 years on the radio, Adam "The Bull" Gerstenhaber was ready for a new adventure. In fact, the former co-host of Bull and Fox on 92.3 The Fan in Cleveland did not have a new job lined up when he signed off from his 11-year radio home last month.
"I was already leaving without having a new project," admitted Gerstenhaber during a recent phone interview with BSM. "I left before I knew for sure I had a 'next project'."
Gerstenhaber was preparing for his final show with co-host Dustin Fox on April 1st when he was contacted by an executive producer for TEGNA, a company that was developing a Cleveland sports television show on YouTube. The executive producer, who had just found out that Bull was a free agent, made it clear that he wanted Bull to be a part of the new project.
It all came together very quickly.
"Let's talk on Monday," Gerstenhaber told the executive producer. "And within a week they signed me up."
The Ultimate Cleveland Sports Show on YouTube featuring Gerstenhaber, former ESPN personality Jay Crawford, 92.3 The Fan's Garrett Bush, and rotating hosts to make up a four-person round-table show, made its debut last Monday.  The show, which airs weekdays from 11am to 1pm, features passionate Cleveland sports talk, live guests, either in-studio or via Zoom, as well as interaction from the audience through social media.
"I'm very excited," said Gerstenhaber. "It's a definite adjustment for me after 22 years on radio doing television. For the last 11 years, I've been doing a radio show with just one other host and I was the lead guy doing most of the talking and now I'm on a show with three other people and it's such an adjustment. So far, I'm having a ball."
And so far, the reaction to the show has been very positive.
A big reason why is that it's something that Cleveland didn't have and really never had, unlike a city like New York, where there are local radio shows that are simulcast on regional sports channels.
"There's nothing like that in Cleveland," said Gerstenhaber. "And there was certainly nothing like this with a panel. Cleveland is such a massive sports town and now people that don't live in Cleveland that are maybe retired in Florida or Arizona, now they actually have a TV show that they can watch that's Cleveland-centric."
The new venture certainly represents a big change in what Bull has been used to in his radio career. He's enjoying the freedom of not having to follow a hard clock for this show. In fact, there have already been some occasions where the show has been able to go a little longer than scheduled because they have the flexibility to do that on YouTube.
Doing a show on YouTube gives the panel a great opportunity to go deep into topics and spend some quality time with guests. And while there is no cursing on the show at the moment, there could be the potential for that down the road.
Don't expect the show is going to become X-rated or anything like that, but the objective is to be able to capture the spirit and emotion of being a sports fan and host.
"It's something we may do in the future," said Gerstenhaber. "Not curse just to curse but it gives us the option if we get fired up. It is allowed because there's no restrictions there. The company doesn't want us to do it at the moment."
There's also been the shift for Gerstenhaber from being the "point guard" on his old radio show, driving the conversation and doing most of the talking, to now taking a step back and having Crawford distributing the ball on the television show.
For a guy called "The Bull", that will take some getting used to.
"Jay is a pro's pro," said Gerstenhaber. "He's the point guard for this but he's also part of the conversation. I'm not used to not being the point guard so I have to adjust to that. I think it's gone pretty well and the chemistry is pretty good and with time we'll get used to the flow of it."
Gerstenhaber's move from sports radio to an internet television show is a perfect example of how the industry is changing. A good portion of the listening and viewing audience these days, especially those in the younger demographic, are not necessarily watching traditional television or listening to terrestrial radio. For a lot of sports fans, watching and listening on a mobile device or a computer has become a very important way of life.
The desire to adapt, along with a shorter workday, was very enticing to him.
"It was only more recently that I was like why do I have to only be a radio guy?" wondered Gerstenhaber. "There were things about my job that I was unhappy about. I was doing a five-hour radio show. It's too long. That's crazy. Nobody should be doing a five-hour radio show at this point."
Broadcasting on the internet has arrived and it's not just a couple of sports fans doing a show from their garage anymore. The business has evolved to the point where the technology has provided more opportunities for those who have already enjoyed success in the industry and are looking for new challenges.
Kind of like Adam The Bull!
"I think years ago, probably like many people in the radio business, we looked at internet and podcasts as like whatever…those guys aren't professionals…they're amateurs," said Gerstenhaber. "But the game has changed."
Gerstenhaber, Crawford and everyone associated with the "Ultimate Cleveland Sports Show" should not have much of a problem attracting the younger audience. That demographic is already accustomed to watching shows on YouTube and other streaming platforms. The challenge now is to get the more mature audience on board. There are certainly some obstacles there.
I know this from experience with trying to explain to my mother in Florida how she can hear me on the radio and watch me on television simply by using her tablet.
Bull can certainly relate to that.
"My mother is still trying to figure out how to watch the show live," said Gerstenhaber with a chuckle. "The older fans struggle with that. A lot of my older fans here in Cleveland are like how do I watch it? For people that are under 40 and certainly people that under 30, watching a YouTube show is like okay I watch everything on my phone or device. It's such a divide and obviously as the years go by, that group will increase."
With the television show off and running, Gerstenhaber still has a passion for his roots and that's the radio side of the business. In the next couple of weeks, "The Bull" is set to announce the launch of two podcasts, one daily and one weekly, that will begin next month. But he also hasn't ruled out the possibility of returning to terrestrial radio at some point.
"I have not closed the door to radio," said Gerstenhaber. "I still love radio. I would still, in the right set of circumstances, consider going back to radio but it would have to really be the perfect situation. I'm excited about (the television show) and right now I don't want to do anything else but I'm certainly going to remain open-minded to radio if a really excellent opportunity came up."
The landscape of the broadcasting industry, particularly when it comes to sports, has certainly changed over the years and continues to evolve. Adam Gerstenhaber certainly enjoyed a tremendous amount of success on the radio side, both in New York and in Cleveland, but now he has made the transition to something new with the YouTube television show and he's committed to making it a success.
I Heard A Lot of Boring, Uncreative Sports Radio On Friday
"Sometimes your first idea is your best one. You don't know that though if you stop thinking after one idea. That is what it feels like happens a lot the day after NFL schedules are released"
Maybe this one is on me for expecting better. Maybe I need to take my own advice and accept that there are times the sports radio audience just wants a little comfort food. Still, this is my column and I am going to complain because I listened to probably six different stations on Friday and all of them were doing the exact same thing.
The NFL schedule was released on Thursday night, so on Friday, regardless of daypart, every show seemingly felt obligated to have the same three conversations.
How many games will the home team win?
What does the number of primetime games we got mean for how much respect we have nationally?
Why do the Lions still get to play on Thanksgiving?
Football is king. I get that. Concrete NFL news is always going to take priority. That is understandable. But where was even an ounce of creativity? Where was the desire to do better – not just better than the competition, but better than the other shows in your own building?
I listened to shows in markets from across the league. The conversations were the same regardless of size or history of success. Everyone that picked in the top 5 in last month's draft is going to go 10-7. Every team that got less than 5 primetime games feels disrespected. It was all so boring.
Those of us in the industry don't consume content the way listeners do. We all know that. Perhaps I am harping on something that is only a problem to me because I listen to sports talk radio for a living. If you don't ever want to put more than the bare minimum of effort into your show, decide that is the reason for my reaction and go click on another article here.
Consider this though, maybe the fact that I listen to so much sports radio means I know how much quality there is in this industry. Maybe it means that I can spot someone talented that is phoning it in.
I want to be clear in my point. There is value in giving your record prediction for the home team. Listeners look at the people on the radio as experts. I will bet some futures bets in a lot of markets were made on Friday based on what the gambler heard coming through their speakers. All I want to get across is there is a way to have that conversation that isn't taking two segments to go through each week one by one. I heard no less than three stations do that on Friday.
Sometimes your first idea is your best one. You don't know that though if you stop thinking after one idea. That is what it feels like happens a lot the day after NFL schedules are released. It's a very familiar rhythm: pick the wins, get a guest on to preview the week 1 opponent, take calls, texts and tweets with the listeners' predictions.
I didn't hear anyone ask their listeners to sell them on the over for wins. I didn't hear anyone give me weeks that you could skip Red Zone because one matchup is just too damn good. I didn't hear anyone go through the Sunday Night Football schedule and pick out the weeks to schedule dates because the matchup isn't worth it.
Maybe none of those ideas are winners, and that is fine. They are literally three dumb ideas I pulled out of the air. But they are all ways to review the schedule that could potentially leave a smile on your listener's face.
Show prep is so important, especially in a group setting. It is your chance to tell your partner, producer, or host that you know you can do better than the idea that has just been thrown out. Quit nodding in agreement and challenge each other! It may mean a little more work for you, but it means more reward for the listeners. And if the listeners know they can rely on you for quality, creative content, that leads to more reward for you.
And lay off the Lions. It's Thanksgiving. You're stuck at home. The NFL could give you Lions vs Jaguars and you'd watch.
Why You Should Be Making Great TikTok Content
"We're specially trained in the world of TSL (time spent listening), and the longer people view your content on TikTok, the more the app rewards you by shoving your content into more and more feeds."
It feels like there's a new social media platform to pay attention to every other week. That makes it easy to overlook when one of them actually presents value to your brand. It wasn't long ago that TikTok was primarily used by teenagers with the focus being silly dance trends filmed for video consumption with their friends and followers alike. Now, as the general public has become in tune with how this complicated app works, it's grown far beyond that.
TikTok is now an app used by all types of demographics and unlike TikTok's closely related cousins Instagram and Facebook, this app provides a certain type of nuance that I think people in our line of work can really excel in.
Before I get into the nuts and bolts of how you can use TikTok to your advantage and how to make your videos catch on, I think it's important to first mention why this matters for you. Now, if I'm being realistic, I'm sure there are some that have already stopped reading this or those that could scroll away fast enough when they saw the words TikTok. You might be thinking that this doesn't fit your demo, or maybe that it's a waste of time because productivity here won't directly lead to an uptick in Nielsen ratings. But I'm not sure any social network directly leads to what we ultimately get judged on, and we aren't always pumping out content directly to our core audience.
TikTok, like any other app you may use, is marketing. This is another free tool to let people out there know who you are and what you offer in this endless sea of content. And the beauty of TikTok is that it directly caters its algorithm to content creators just like us. Bottom line, if you are a personality in sports talk, there's no reason you can't be crushing it on TikTok right now. All it takes is a little direction, focus, consistency, and a plan.
Unlike Instagram, Facebook, and Twitter where you can throw a photo up with a caption and be done for the day, TikTok's whole model is built on creative videos that keep users engaged for longer periods of time. This approach works. According to Oberlo, a social media stat tracking site, people spend more time per day on TikTok than any other popular social media application. 38 minutes per day!
This is where this is good news for us in talk radio. We're specially trained in the world of TSL (time spent listening), and the longer people view your content on TikTok, the more the app rewards you by shoving your content into more and more feeds. TikTok's algorithm doesn't care how many followers you have, your level of credibility, or the production on your video. All ir cares about is 1) Is your content good. and 2) Are people watching it. 3) How long are they watching it. The more people watch and the longer they watch creates a snowball effect. Your videos views will skyrocket, sometimes within hours.
So, how do you create content that will catch on? It's really not all that different than what you do every day. Create thought-provoking commentary that makes people think, argue, or stay till the end to get the info you teased up for them. I've found through my own trial and error that it's best if you stay away from time-sensitive material, I've had more success the more evergreen my content is. That way, the shelf life expands beyond just that day or week. This is different for everyone and there's no one-size-fits-all, but this is where I've seen the most success.
Also, put yourself out there, don't be afraid to say something that people are going to vehemently disagree with. Again, it's not unlike what we do every day. It's one thing to get someone to listen, it's another to get them to engage. Once they hit you in the comment section, you've got them hooked. Comments breed more views and on and on. But don't just let those sit there, even the smallest interaction back like a shoulder shrug emoji can go a long way in creating more play for your video.
If you want to grow quickly, create a niche for yourself. The best content creators that I follow on TikTok all put out very similar content for most of their videos. This means, unlike Instagram where it's great to show what a wildly interesting and eclectic person you are, TikTok users want to know what they're getting the second your face pops up on that screen. So if you are the sports history guy, be the sports history guy all the time. If you are the top 5 list guy, be the top 5 list guy all the time, and on and on, you get the point.
Other simple tricks:
Splice small videos together. Don't shoot one long video.
90 seconds to 2 minutes is a sweet spot amount of time.
Add a soft layer of background instrumental music (this feature is found in the app when you are putting the finishing touches on your video)
Label your video across the screen at the start and time it out so that it disappears seconds later. This way a user gets an idea of what the content is immediately and then can focus on you delivering your message thereafter.
Research trending hashtags, they are far more important than whatever you caption your video.
Use closed captions so that people can follow your video without sound.
Finally, don't be intimidated by it or snub your nose at it. Anything that helps your brand is worth doing and anything worth doing is worth doing well.