Deneroff Still Gets A Rush When The Red Light Goes On
"I still love being there. There's nothing like going to the ballpark, stadium or arena for a big game. I'll never take that for granted."
Unless you work in the sports broadcast industry or consistently listen to radio credits, you might not be aware of the name Howard Deneroff.
As the Executive Producer of Westwood One Sports, Deneroff has been on hand for three decades worth of the world's greatest sporting events, playing a vital role in how they sound to the listening audience. Not only has he hired some of the most recognizable voices in sports, but he's in the booth himself, contributing to Super Bowls, the Olympics, Final Fours and other prestigious events.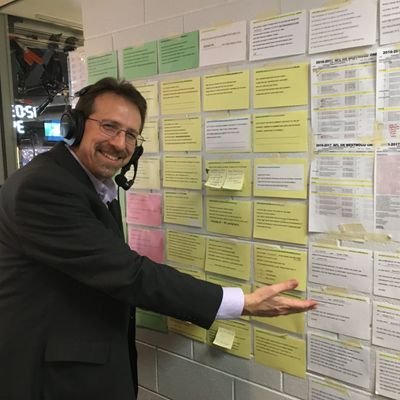 Howard's rarely in the spotlight, but he's been near it for the last 30 years and that's how he wants it to stay. He might not enjoy talking about himself, but Howard Deneroff loves discussing his job. Filled with great stories and insight from the inner workings of a sports broadcast, Deneroff exudes the passion that all diehard sports fans and audiences share.
Brandon Contes: Westwood One for 30 years, you're the Executive Producer – give a quick scope of work because you're well known within the industry, but when I tell my wife I'm interviewing Howard Deneroff today, she says who's that?
Howard Deneroff: [Laughs] She doesn't listen to the credits enough. It's technically nine years with CBS Radio Sports (different from today's CBS Sports Radio) and 21 years with Westwood One, but it's the same entity. My role is in charge of the play-by-play division of Westwood One, all of our broadcasts for the NFL, NCAA, NHL. We also broadcast the Masters, the Triple Crown of Horse Racing, the Olympics – it's a full schedule. I'm in charge of the overall sound, talent and production. I'm also part of the negotiation team for broadcast rights of all our events.
It's my job to make sure all of our broadcasts sound up to network standards. We want people to hear a broadcast and know this is Westwood One. If you hear something wrong, it's my fault, if you hear something right, everyone else gets the credit [Laughs], which is the way it should be, but hopefully you never hear anything wrong.
BC: Are you surprised about radio's longevity as someone who's been in the business for over 30 years? It's outlasted CDs and iPods, it's going to outlast newspapers, maybe even cable.
HD: We use the term audio more than radio now, because you can hear us online, on your phone and a lot of devices. We're radio primarily, but people consume audio in a lot of ways, which is part of why the demise of radio has not occurred, despite many people predicting it. I entered into this business because I love sports and broadcasting and the combination of the two was my way to get into sporting events for free [Laughs]. There are plenty of people that still can't watch games, for whatever reason, whether they're at work, in the car or visually impaired.
There's still an audience out there and we're going to produce the best broadcast possible for them, even though we recognize the younger generation isn't as glued to the radio as I was at their age.
BC: Did you ever have an interest in doing local radio?
HD: When I first started, my goal was to do live sports. I would have taken a job with any team or local broadcast, it just so happened that I got this network job out of college. Literally – graduated Sunday, drove Monday, started Tuesday. Not at the level I'm at now, but it was as a production assistant with CBS Radio Sports. They had broadcast rights to Major League Baseball and the NFL. At the time they just started the Spanish language division to broadcast the World Series and Super Bowl in Spanish. Spanish was my best subject in school and my grandmother lived in Cuba before coming to the United States, so I learned the language growing up. I don't speak it fluently, but I'm conversant enough to produce a broadcast in Spanish.
BC: During those early years, were you trying to get on-air or did you quickly realize you liked being behind the scenes?
HD: I did some on-air work in college at Syracuse, but to be fair, I was in college at the same time as Mike Tirico, Ian Eagle and a bunch of talented broadcasters. Probably 12 to 15 people doing on-air work and I was 15th out of the 15. We had a great group of broadcasters and I recognized that I was the worst guy there. We didn't know Mike Tirico and Ian Eagle were going to be two of the greatest broadcasters of all time. While I was the 15th best there, I may have been the 16th best in the country, [Laughs] we'll never know.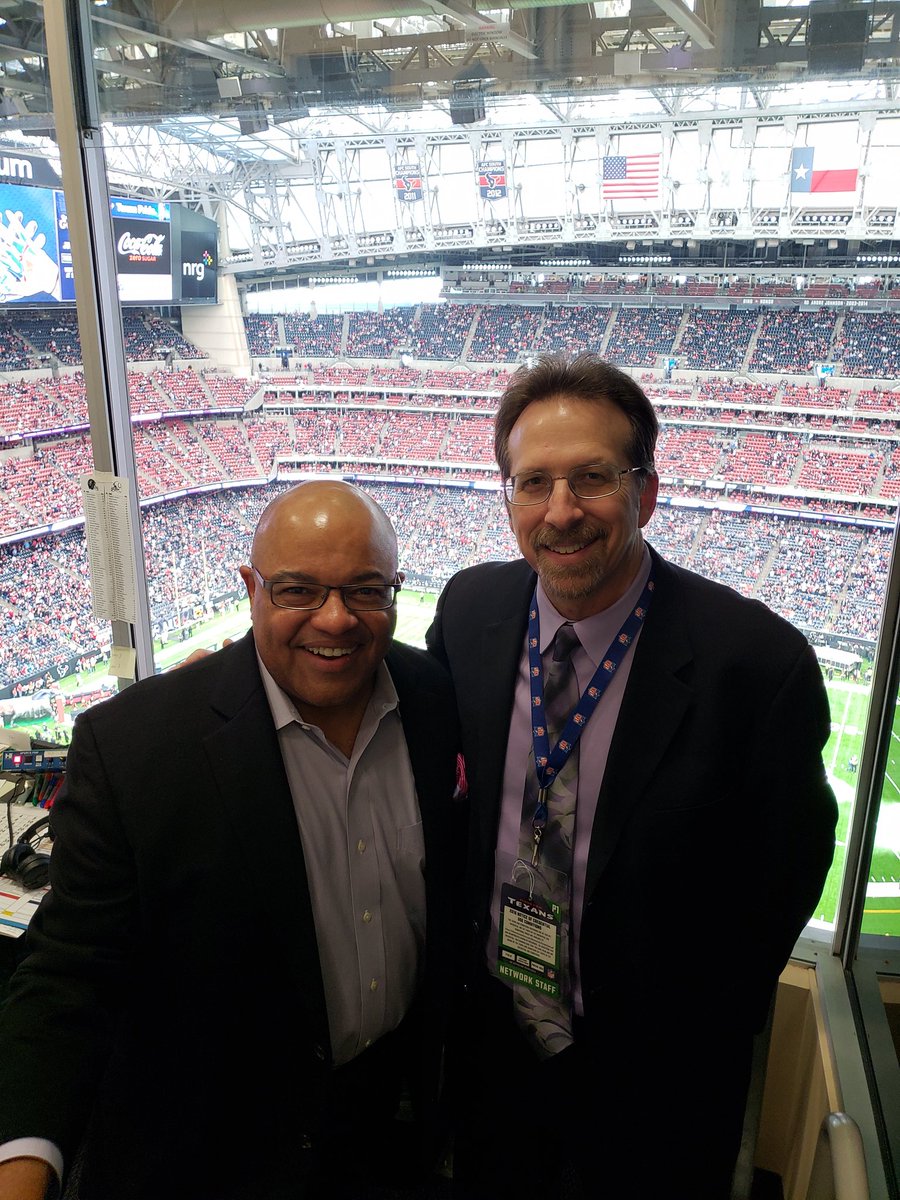 Nobody wanted to lug equipment and produce. No one really knew what producing was. But I started to think I might not make it as an announcer, so I went behind the scenes more and from the first time I did a game as a producer – a women's basketball game, I never wanted to go back on-air. I did on-air work throughout college, but it was never a priority anymore. Production was perfect for me. I'm organized, I know how it should sound and I can help people get there.
People like Ian didn't need a ton of help, but I enjoyed the planning of, 'let's do this for four minutes, then take a break and we'll place this interview here'. I could still help by knowing it was the first time something happened in a game since 1982 or who holds this statistical record, but producing just felt right for me from the start. I like making decisions, but I never needed to be the front-man. I never need credit, I just want a good broadcast and that's my reward.
BC: How many announcers, analysts, reporters, on-air personalities do you hire in a given year?
HD: It's about 12 broadcast teams for men's and women's NCAA basketball, six for the NFL, college football is two or three, and between everything we do with the NHL and all other sports, it's about 50. Then in an Olympic year it's another dozen. I get a lot of requests and audio demos sent to me that are good, but I can't hire everybody. I love the NCAA tournament because I get to hire a lot of people, but I still might only be hiring 12 people in the entire country! I hate having to tell people no, that's the bad part of the job. I love being able to hire people, to tell them yes and find new talent. Out of 365 days of the year, there is probably no more than 15 days in the year that I don't get tape or an email sent to me inquiring about a position or asking me to listen.
BC: Do you enjoy critiquing audio?
HD: I love it, I wish I had more time for it. I remember when I was graduating college, there were no smartphones, email or links, so you would send out cassette or videotapes and it was very hard to get a response. When I was sending tapes, I didn't like not getting responses, so I always try to respond, even if it's just saying I might not get to this for six months or apologize because I don't have an opening right now. But it's important to me to at least send a note.
BC: How much of a tape do you like to listen to?
HD: People say you know quickly if someone is good and sometimes you will within a few minutes, but I listen to a full game or at least a half of a game. Somebody could be good for three or four minutes and then just go off the rails. If I'm considering hiring someone, I definitely listen to the full game, but even if a student sends me a tape, I'll listen for at least a half. Too many things happen in a game where I like to listen to more than just a few minutes.
BC: Is it fun to find younger broadcasters and watch them grow? Just like a general manager of a team drafting and developing their own talent or even as a listener, I remember hearing Kevin Burkhardt on the FAN and then seeing him on SNY. Now he's a top broadcaster in the country and I get excited when I see him because it was fun to hear and watch that progression.
HD: Yeah and there's no question you never want to swing and miss.  Have I done that? Yes, nobody's perfect, but you recognize it quickly.  You want to hit a homerun, you want broadcasters that will never have the listener thinking 'how did this guy get on-air?'  I'd like to think our track record is pretty good and we've had very minimal complaints from affiliates regarding talent. Talent is still only one part of it.  I'm a producer at heart and producers are very important, engineers are hugely important. Without the right equipment, it doesn't matter who's on-air. You can have Mike Tirico and the best analyst, but if the mic isn't on, it won't matter.  A good broadcast encompasses everything. Having good talent helps to navigate through tough times. Look at the end of this year's Kentucky Derby when they're waiting to see the decision on the winner. There's no road map for that delay, there's no plan for a blackout in the Super Bowl.
BC: You were in the booth for that Super Bowl, Ravens and 49ers?
HD: Oh yeah.
BC: Did you think you hit the wrong button?
HD: [Laughs] The front row of the booth is Kevin Harlan, Boomer Esiason, a spotter, a statistician and me. The second row is our pregame and halftime show hosts, Jim Gray, Larry Fitzgerald and our producer for that and the third row is engineering and equipment.
I go to grab a cue card for Kevin, so I turn away from the field and my headphones go out which happens occasionally if I turn too far and the headphones get pulled out of the socket. That's what I assumed happened. I turn back to plug them in and look at my box that has all my buttons to talk with everyone, it's like a mini intercom system and it's dark. "Oh Crap."
Kevin starts hitting me and banging his headphones to signal he has nothing, I look down and see he's dark and now it's "oh s***"
Keep in mind this is all within three seconds! I turn around to yell for an engineer to see what's going on and I see complete darkness and we have racks of equipment that should be lit up! Now the expletives get worse. Within those first few seconds, I'm thinking it's us. Once I look out and see the whole stadium is out we realize, okay this is everyone.
My first year at CBS Radio was 1989, my first World Series was in the Bay Area, which of course had an earthquake during our pregame show. I was a rookie and let everyone tell me what to do, but I never thought 20, 25 years later I would go back to that experience. You're not a sports broadcaster anymore, you're now a news reporter, because at this point we don't know if it's the stadium, the whole city of New Orleans, terrorists or what. Thank God the stadium had one bank of lights on so everyone inside wasn't in a panic.
We have an emergency phone that we actually call the "oh s*** phone." I call the studio and they tell me we're in a commercial break which is what we're supposed to do. After the break, I hand the phone to Kevin Harlan so he can explain to our listeners what's going on. Kevin then hands the phone to Boomer and they go back and forth on-air.
BC: So you're now doing a broadcast during the Super Bowl through a landline telephone?
HD: Right, which is exactly what they did in 1989 (during the earthquake). First, they try to explain what happened, what they heard, what it looks like. One of our engineers worked at our radio affiliate in New Orleans, WWL. He called them to find out if the outage is the entire city. Once we find out its isolated to the stadium, we report that. We keep trying to find out information and report, because even the PA system was out and the 70,000 people in the stadium have a radio at their seat, so they're learning what happened by listening to us. But those unusual things are the beauty of live broadcasting. That was probably a bigger adrenaline rush than anything I've ever done.
We probably received more positive feedback about those 36 minutes than all of the Super Bowls I've worked combined.
BC: There's certainly a different rush with anything that's live.
HD: I love it and that's when I'll know it's time to stop doing this, unless they tell me first because you don't control your own fate. But when that red light goes on, I still get an adrenaline rush and until I no longer get that rush, why would I want to stop doing this job?
BC: Were there other things from earlier in your career that you didn't foresee being helpful, but later on you were able to look back on. Similarly to how the earthquake broadcast helped you know how to handle a Super Bowl power outage?
HD: When I first started at CBS, I used to walk upstairs to the television studios and watch how they would do the NFL Today because halftimes for games start at different times and they only have one studio show. How does one show do all of the different games when each halftime overlaps? I was fascinated to watch because it's a jigsaw puzzle, but I never thought it would be relevant for me.
In 2003, we take over the NCAA Tournament and we have individual basketball games that start and break at different times and they all overlap. So 14 years later, I knew how to jump back and forth and arrange it. It's the crux of how we do the tournament because we're doing every game, and while fans of a specific team can hear the game in its entirety online, we have a RedZone style broadcast for terrestrial radio. You always need to watch and learn around you because you never know when something will come in handy.
BC: Who's in charge of the RedZone style broadcast that you hear on WFAN and terrestrially around the country? Who decides what game to play and when to switch to a different game?
HD: That's me and (WFAN afternoon host Mike) Francesa kills me every year on-air [Laughs].
I'm watching every game simultaneously and making those judgements and there's a lot that goes into it. There could be a three point game where a 12 seed is beating the 5 seed and it's at the 4 minute, 28 second mark. Fans might see the score and want me to switch to that broadcast, but I'm not going to that game when they have an automatic TV timeout at 4 minutes. You'll hear 20 seconds of action and then a break. Why not stay with action (of the first game) and wait until after they have a timeout? If you're just looking at the score, you want us to go to that game because it's a 12 beating a 5 with less than 5 minutes to go. Trust me, I'm getting there, but there are a lot of factors with timeouts, commercials and live reads. You want to join cleanly. My goal is to give fans the most action possible, with the least amount of interruption.
There are times you pick wrong. We can have two close games and need to choose which one is going to have the better ending. There's no question I've made mistakes in switching off a game. It's an impossible task, but we joke every year – and guess what time we'll start getting criticized for not switching to a different game.
BC: Where are you doing that from?
HD: Our New York studios, which is the CBS Broadcast Center.  It's in the same building, so we can have our eyes on everything TV does, which is great.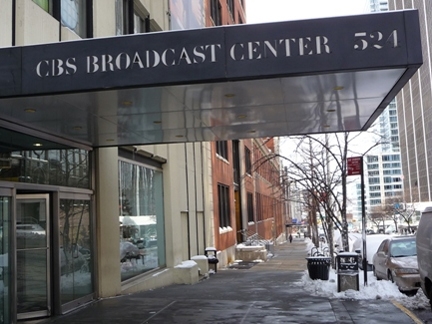 BC: How often are you at games and in the broadcast booth?
HD: I'm on the road 200 to 250 days a year, depending on if we have the Olympics or something like that. It's less than I used to be, but it varies depending on what rights we have. I used to do more events, but we have very qualified people to do the job without me in the booth. I still love being there. There's nothing like going to the ballpark, stadium or arena for a big game. I'll never take that for granted.
BC: When you are in the booth, are you ever critiquing the announcers? Or is it mostly making sure everything sounds smooth and you're hitting commercial breaks on time?
HD: Let's be honest, the most important thing on any broadcast is that the commercials play properly, whether I want to admit it or not. Without commercials, none of us have jobs and I get that, but there's more to it. What are you going to talk about, for how long and in what order during a broadcast.
BC: So you're also developing topics for pregame and in-game conversations?
HD: Yes, and when you hire top talent we usually know what they're going to talk about, but there are times you'll have a great sound bite or highlight to incorporate that's relevant to the game. Once the puck is dropped or kickoff happens, most of the time it's left up to the announcer because we have the luxury of hiring the best of the best. There are times I'll prompt the announcer or analyst. It could be as basic as saying in their ear 'hey coach, would you go for it on 4th down or not?'
It could also be like Super Bowl XL – Marv Albert's doing the game with Boomer Esiason and it was the second or third play from scrimmage in the second half. The Steelers have the ball and Willie Parker breaks through for what ends up being a touchdown run. It was clear from about 10 yards past the line of scrimmage he's going to score, so I tell Boomer in his ear to 'layout' – don't say a word, don't jump on Marv. I rarely say that to an announcer, so if I do, they know it's for a good reason.
I then yell out to my statistician 'how long will this run be?'  He tells me 75 yards, and I ask if he's sure, 100% sure? He said 'yeah, why?'  Because the record is 74 yards, Marcus Allen. So right after Marv says touchdown Willie Parker, I'm in his ear saying 'longest run in Super Bowl history.'
Marv then regurgitates, "The longest run from scrimmage in Super Bowl history." (Howard said this doing a decent Marv Albert impression)
I tell the studio to cue up the Marcus Allen highlight from Super Bowl XVIII, which we have ready to go just in case and I want that coming out of the commercial break. Next, I tell Jim Gray, Marcus Allen is in the MVP suite because he was honored at the game as a previous Super Bowl MVP, go ask him about his record being broken.
Sometimes you need the stars to align, but there's also the preparation of having that Super Bowl XVIII highlight ready to go. You want the broadcast to be entertaining. If you don't have it, is anybody listening saying, 'why don't they have that highlight?' No, but I think people like hearing those old highlights that pertain to and enhance the broadcast.
BC: Have you ever gotten a tape that someone sends and you don't think they're ready yet and then years later you hear them with another company and now they are ready for network?
HD: I can give you a specific example. We like to have different calls from NCAA Conference Tournaments for potential Cinderella teams. We already have a lot of the larger schools because some of those tournaments are on our network, but we don't do all of the smaller conference tournaments. In 2008, we wanted a play-by-play highlight from the University of Evansville and with smaller schools, they don't have a producer or anything, we have to contact the announcer directly. We get a copy of a game winning call from their play-by-play voice, Brandon Gaudin.
It was a nice call, nothing earth-shattering. After the tournament he sends a thank you note and asks if I would listen to and critique some of his tape. I gave him a list of probably 10 notes, comments such as you didn't give me the shot clock here, I'd like to know the free-throw percentage or this was too much information with the starting lineups, simple concrete items like that.
A couple years later Brandon gets the Butler job. He reaches out again and asks for another critique. Then Butler gets to the Final Four and now he introduces himself in person and asks, 'Can you listen again? I think I've really improved.' I give him a few more pointers and he asks if I'm closer to working for Westwood? I said 'you're getting closer, but still need a couple more things.'
Then he gets the Georgia Tech job. After a year, he asks me to listen again and now he's really close, he needed one more year. He worked on a couple of things that year and then I hired him. It was a progression of around six years. I liked his persistence, he never just said, 'I'm good I should work for you.' He just wanted to get better. I'm happy to listen, I like listening. I find it funny that people trust me on it, but I think I hear things differently than people. I can't call games the way others can, but I know how it should sound.
BC: You mentioned things like not giving the shot clock or free throw percentage, but when you listen to a broadcaster from a small school, how much do you factor in that they might not have a producer, statistician or someone in the booth helping them give the right statistic at the right time?
HD: In 2003, I was in Omaha for the College World Series and Kevin Kugler, who worked there locally at the time, asked me to listen to a tape. I forget the exact game in the tape, but it was a football game between two teams you never heard of, Division II or III. The quality of the tape was HORRIBLE. It was distorted, it was windy, it was terrible and my first question was 'who's your engineer?' He said, 'I'm the engineer' – so I told him, 'well I'm never hiring you for that.' [Laughs]
But in the tape, he says, 'That's a 17-yard gain. He now has 4 catches for 78 yards. They're 3 for 7 on third down.' He gave instant numbers like that throughout the entire game, so I asked 'who's your stat guy?' He said, 'I don't have a stat guy,' so I asked 'well who's your spotter?' Again, 'spotter? I don't have a spotter.' I was so impressed that he could handle all of that. We hired him for the network within a year after that and he's been a great addition ever since.
The answer is yes, I recognize the resources are different. I tell people NFL games are easy compared to Division II games, because you have a statistician, spotter, all the press notes you want, all the information and video you want. If you can do a high school football game well, you can do an NFL game. That doesn't mean I'm giving someone from high school an NFL gig, but I don't want anyone to ever be discouraged in saying 'I know I'm only doing high school or Division III games,' because it's not that far of a leap.
BC: I compare sports talk radio in the way it's changed to Major League Baseball because it used to be, put the mic on and take calls; baseball used to be throw the ball, hit the ball. Baseball has gotten so specialized with analytics and everything in radio is now analyzed and debated – should we take calls, should we use guests or radio bits, how much audio and music beds should there be. Both have modernized. Similarly, how have play-by-play broadcasts changed?
HD: Great question. I don't know that it's changed as much, but if you listen back to old broadcasts; World Series, NBA, Super Bowls – the game ends, they give the final score and throw it right to a break. The Super Bowl ends and they would just go right to a commercial! What I would say changed the most is the pre and post-game shows being longer. We get everybody we can to talk about the game. If you're a fan, you want to hear from the players to know what happened, what did it feel like? And you want that from the losing side too, which never would have been done in the old days.
Part of the reason for longer pre and post-game shows is bigger rights fees. In order to pay for those, you need a certain number of commercials. But when I first started, we would go on-air for the Super Bowl at six o'clock for a 6:18 kickoff – we had an 18 minute pregame show. Then we expanded it to start at 5:45 – a half hour pregame show!
Super Bowl XXXII in San Diego – the story is John Elway's last chance at winning. We talked to him at the hotel and he gave us 14 minutes. To this day, I think it was the best interview we've ever done, but I couldn't air more than six minutes of it! We had to air the parts talking about how can they beat the Packers and the road to the Super Bowl. I will tell you, the half of the interview that did not air was better than the half that did, but we needed to prioritize specific quotes. I was so frustrated by that, so I went to our bosses and told them they need to give us more time. They have to be able to sell the Super Bowl and let us do a longer show. So for Super Bowl XXXIII, we added a one-hour optional pregame show called Super Sunday to see if affiliates would take it and it was awesome, but we still didn't have enough time! Super Bowl XL, we added another hour and then XLV, we added another hour, XLVIII we added another. Now we have six hours of pregame, but as little as 21 years ago, we had less than 20 minutes, which is crazy.
The fans are also smarter because of the access to information they have. They know the game better, so you can be more technical on the broadcast. When we do a broadcast, we're blacked out in the cities of the game, so if we're doing a Jacksonville-Tennessee game Thursday night in December and you're listening in Seattle, you're a diehard fan. You're not a casual fan. We can be more in depth and technical. We can say "Cover 2" or the "A-gap." It's still important to teach, but the audience is smarter than they used to be with the information they have.
There are also many more former players and coaches on the broadcast than there used to be. They give a different perspective and take the audience into the huddle. Also, audio technology has changed – you can hear the puck hit the post, a thunderous dunk or the swoosh of the net at the buzzer, and we incorporate that into our broadcast. It's all part of today's audio experience.
BC: You mentioned that Seattle fan listening to the Titans and Jaguars game in December, they might be a diehard fan, but they also might have money on the game. What's the thought on bringing sports wagering into a broadcast?
HD: For the first 29 years that I've done this, gambling was completely off limits for every sport.  It was never a discussion. Now the NHL has a team in Vegas and the NFL is going to Vegas. The NFL just sent us revised guidelines for advertising because for years, we weren't able to take advertising dollars from casinos and now all of a sudden we're allowed to.  I don't think we're at the point where on the broadcast we're going to talk about the line or the over/under. At some point, it looks like there will be in-stadium betting and once the NFL opens it up, we'll open it up. There's an audience that cares about it, but they're not tuning into us to hear the spread.  They tune in to hear what's happening. They want to know the score, but they don't need us to tell them the betting line is 4.5. At some point? Maybe, but not yet. We might eventually decide we could sell a show specifically to gambling, but in terms of within the play-by-play, I don't think we're there yet.
BC: Do you do mock broadcasts when trying to pair an announcer and analyst?
HD: Very rarely. It's difficult budget wise, but generally because we're the network and we can be more selective, everyone who I will consider hiring already has a tape. It's very rare that we hire someone who hasn't already done the job somewhere. Occasionally, television will do a mock broadcast and let me see it, but to see how two people will work together, I'll put them on a less important game to start. I won't put a pair on the NCAA Tournament together if they haven't worked in the regular season together. We'll take a Tuesday night regular season game in February to see how a pair will mesh, but I have the advantage of choosing from the cream of the crop.
BC: Can you tell after one game? Do you need to hear a full season to see how broadcasters will develop together?
HD: If I don't think they mesh together after one game, it's unlikely they'll have a second game together. Chemistry can develop, but if it's bad, I don't think it's going to get fixed and there's no need to try when I know they're each good enough to work with someone else. There's really not a lot of that because we have the luxury of hiring from some of the best in the country. They don't need a lot of coaching. Some guidance, but the critiques I give to the people I'm hiring is different from the critiques I give the people I'm not hiring.
BC: How important is it to have a play-by-play announcer with personality? Ian Eagle, Kevin Harlan – they're funny, they have personality, is that something generally you look for?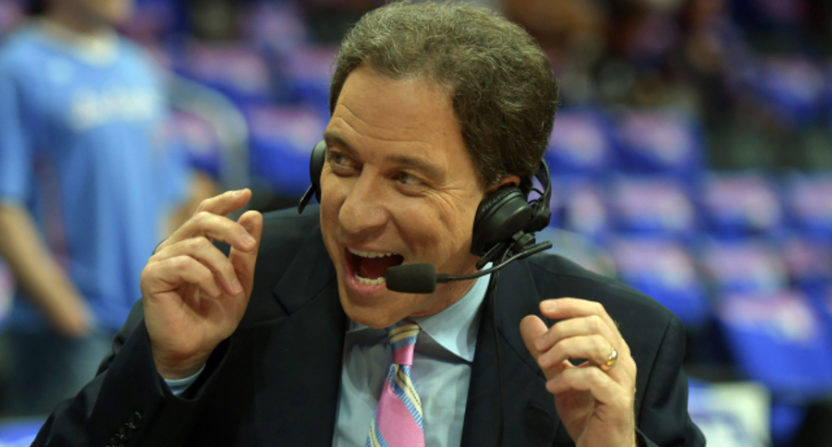 HD: Personality is more important on TV than radio. Description is more important for radio than personality. Relay the information, describe what's happening, get excited about what's happening. Passion is more important than personality. Personality can help and can make you better, but we don't need a comedian. The analyst needs to have personality more so than the play-by-play voice because the play-by-play announcer is there to describe what's happening, while the analyst needs to relay the information with an entertaining delivery. A play-by-play announcer can have all the personality in the world, but if I don't know where the ball is, it's irrelevant for radio.
It needs to sound fun because at the end of the day, it's sports. If we're not having fun, the listener knows. We're at a football game, basketball, hockey game. We take this seriously and dead air is terrible. A commercial doesn't play, that's terrible [Laughs]. But big picture, sports is a release and putting it into perspective, the worst day at our job is better than the best day for a lot of people at their job. It's an awesome job. I like talking about the job, I don't like talking about me [Laughs]. I think I have a very good ear, but it's not a skill like a heart surgeon, so I get uncomfortable talking about myself because someone else can do this job well.
BC: But you do influence what millions of people hear on the radio in a given year, so there is an interest in how you go about the job.
HD: I never thought about it that way. That's interesting, but I consider myself part of that target audience. I'm a diehard sports fan, so when I'm working on a broadcast, I just try to think about what is it that I would like to know.
Brandon Contes is a freelance writer for BSM. He can be found on Twitter @BrandonContes. To reach him by email click here.
Brandon Contes is a former reporter for BSM, now working for Awful Announcing. You can find him on Twitter @BrandonContes or reach him by email at Brandon.Contes@gmail.com.
Who Handled the Tua Concussion Discussion Best?
Rex Ryan, Rodney Harrison, and Boomer Esiason stood out with their commentary on the Tagovailoa story.
The major story going into the bulk of Week 4's NFL action on Sunday was the concussion suffered by Miami Dolphins quarterback Tua Tagovailoa in Thursday's game versus the Cincinnati Bengals.
Amazon's Thursday Night Football telecast, particularly its halftime show, faced heavy criticism for neglecting to mention that Tagovailoa had been tested for a concussion in his previous game just four days earlier. Additionally, the NFL Players Association called for an investigation into whether or not the league's concussion protocols were followed properly in evaluating Tagovailoa.
In light of that, how would the Sunday NFL pregame shows address the Tagovailoa concussion situation? Would they better inform viewers by covering the full story, including the Week 3 controversy over whether or not proper protocols were followed?
We watched each of the four prominent pregame shows — ESPN's Sunday NFL Countdown, Fox NFL Sunday, CBS's The NFL Today, and NBC's Football Night in America — to compare how the Tagovailoa story was covered. With the benefit of two extra days to research and report, did the Sunday shows do a better job of informing and engaging viewers?
Here's how the pregame studio crews performed with what could be the most important NFL story of the year:
Sunday NFL Countdown – ESPN
ESPN's pregame show is the first to hit the air each Sunday, broadcasting at 10 a.m. ET. So the Sunday NFL Countdown crew had the opportunity to lead the conversation for the day. With a longer, three-hour show and more resources to utilize in covering a story like this, ESPN took full advantage of its position.
The show did not lead off with the Tagovailoa story, opting to lay out Sunday's schedule, which included an early game in London between the Minnesota Vikings and New Orleans Saints. But the Countdown crew eventually got to issue on everyone's minds approximately 28 minutes into the program.
Insider Adam Schefter provided the latest on the NFL and NFLPA's investigation into the matter, particularly the "gross motor instability" Tagovailoa displayed in stumbling on the field and how the Dolphins initially announced that the quarterback had suffered a head injury, but later changed his condition to a back injury.
Schefter added that the NFL and NFLPA were expected to interview Tagovailoa and pass new guidelines for concussion protocols, including that no player displaying "gross motor instability" will be allowed to play. Those new rules could go into effect as early as Week 5.
"This is an epic fail by the NFL," said Matt Hasselbeck to begin the commentary. "This is an epic fail by the medical staff, epic fail by everybody! Let's learn from it!"
Perhaps the strongest remarks came from Rex Ryan, who said coaches sometimes need to protect players from themselves.
"I had a simple philosophy as a coach: I treated every player like my son," Ryan said. "Would you put your son back in that game after you saw that?
"Forget this 'back and ankle' BS that we heard about! This is clearly from head trauma! That's it. I know what it looks like. We all know what it looks like."
Where Sunday NFL Countdown's coverage may have stood out the most was by bringing injury analyst Stephania Bell into the discussion. Bell took a wider view of the story, explaining that concussions had to be treated in the long-term and short-term. Science needs to advance; a definitive diagnostic tool for brain injury doesn't currently exist. Until then, a more conservative approach has to be taken, holding players out of action more often.
Grade: A. Countdown covered the story thoroughly. But to be fair, it had the most time.
The NFL Today – CBS
CBS's pregame show led off with the Tagovailoa story, going right to insider Jonathan Jones to report. He cited the key phrase "gross motor instability" as a significant indication of a concussion.
Jones also clarified that the unaffiliated neurotrauma consultant who helped evaluate Tagovailoa made "several mistakes" in consulting with the Dolphins' team doctor, leading to his dismissal by the NFL and NFLPA.
The most pointed remarks came from Boomer Esiason, who said any insinuation that the Dolphins, head coach Mike McDaniel, or the team medical staff put Tagovailoa back in the game in order to win was "off-base." Phil Simms added that the concussion experts he spoke with indicated that Tagovailoa could miss four to six weeks with this injury.
Grade: B-. The opinions from the analysts were largely bland. Jones's reporting stood out.
Fox NFL Sunday
The Fox NFL pregame show also led off with the Tagovailoa story, reviewing the questions surrounding how the quarterback was treated in Week 3 before recapping his injury during Week 4's game.
Jay Glazer reported on the NFL's investigation, focusing on whether or not Tagovailoa suffered a concussion in Week 3. And if he did, why was he allowed to play in Week 4? Glazer noted that Tagovailoa could seek a second, maybe a third medical opinion on his injury.
Jimmy Johnson provided the most compelling commentary, sharing his perspective from the coaching side of the situation. He pointed out that when an injured player comes off the field, the coach has no contact with him. The medical team provides an update on whether or not the player can return. In Johnson's view, Mike McDaniel did nothing wrong in his handling of the matter. He has to trust his medical staff.
Grade: B. Each of the analysts shared stronger opinions, particularly in saying a player failing "the eyeball test" with concussion symptoms should be treated seriously.
Football Night in America – NBC
Sunday Night Football was in a different setting than the other pregame shows, with Maria Taylor, Tony Dungy, and Rodney Harrison broadcasting on-site from Tampa Bay. With that, the show led off by covering the aftermath of Hurricane Ian, its effects on the Tampa area, and how the Buccaneers dealt with the situation during the week.
But after 20 minutes, the show got into the Tagovailoa story with Mike Florio reporting what his peers told viewers earlier in the day regarding pending changes to the NFL's concussion protocol and "gross motor instability" being used as a major indicator.
Florio emphasized that the NFLPA would ask how Tagovailoa was examined and treated. Was he actually examined for a back injury in Week 3? And if he indeed suffered a back injury, why was he still allowed to play?
When the conversation went back to the on-site crew, Dungy admitted that playing Thursday night games always concerned him when he was a coach. He disclosed that teams playing a Thursday game needed to have a bye the previous week so they didn't have to deal with a quick, four-day turnaround. That scheduling needs to be addressed for player safety.
But Harrison had the most engaging reaction to the story, coming from his experience as a player. He admitted telling doctors that he was fine when suffering concussion symptoms because he wanted to get back in the game. Knowing that was wrong, Harrison pleaded with current players to stay on the sidelines when hurt because "CTE takes you to a dark place."
"It's not worth it. Please take care of yourself," said Harrison. "Don't depend on the NFL. Don't depend on anybody. If something's wrong with your head, report it."
Grade: B+. Dungy and Harrison's views of the matter from their perspective as a coach and player were very compelling.
Ian Casselberry is a sports media columnist for BSM. He has previously written and edited for Awful Announcing, The Comeback, Sports Illustrated, Yahoo Sports, MLive, Bleacher Report, and SB Nation. You can find him on Twitter @iancass or reach him by email at iancass@gmail.com.
Jason Barrett Podcast – Terry Dugan & Adam Delevitt, BetRivers
Jason Barrett is the owner and operator of Barrett Sports Media. Prior to launching BSM he served as a sports radio programmer, launching brands such as 95.7 The Game in San Francisco and 101 ESPN in St. Louis. He has also produced national shows for ESPN Radio including GameNight and the Dan Patrick Show. You can find him on Twitter @SportsRadioPD or reach him by email at JBarrett@sportsradiopd.com.
Joe Rogan Betting Admission Reveals Gray Area
Rogan's admission raises a question as to just how ethical it is to place bets with insider information, and whether it should be legal or not.
For nearly a decade, I've been fortunate enough to cover the football and basketball programs for the University of Kentucky in some form or fashion. Whether writing for blogs or working with ESPN Louisville as co-host of the post-game show, I've gotten to know people around the program I grew up supporting, and other individuals in the media doing the same. I've made some terrific friendships and cultivated quite a few relationships that provide me with "inside information" about the teams.
As an avid sports bettor, that information has sometimes put me into some difficult personal situations. There have been times when I've been alerted to player news that wasn't public, such as a player dealing with an injury or suspension. It's often been told to me off-the-record, and I've never put that information out publicly or given it to others.
I wish I could also say I've never placed a wager based on that information, but that would be a lie. While it's been a long time since I've done so, I've ventured into that ethical gray area of betting on a team that I'm covering. I've long felt uncomfortable doing so, and I'd say it's been a few years since I last did it.
At least I know I'm not alone. On his latest episode of The Joe Rogan Experience, Rogan told guest Bert Kreischer that earlier in his UFC broadcasting career he regularly bet on fights. He claims to have won nearly 85% of the time (which I highly doubt but that's another discussion for another time), either via bets he made or ones he gave to a business partner to place on his behalf.
From his comments, Rogan doesn't seem to have been using sensitive information to gain an edge with the books, but he also didn't state that he didn't. He indicates that much of his success stemmed from knowing quite a bit more about fighters coming from overseas, and he said he "knew who they were and I would gamble on them."
But Rogan undoubtedly has long been in a position where he knows which fighters might be dealing with a slight injury, or who are struggling in camp with a specific fighting style. It's unavoidable for someone whose job puts him into contact with individuals who tell him things off-the-record and divulge details without perhaps even realizing it.
But let's say Rogan did get that information, and did use it, and was still doing so today. The fact is…there's nothing illegal about it, not in the United States at least. While it's against the rules of some entities — the NFL, for example, has stated they could suspend or ban for life individuals who use inside information or provide it to others — it's not against any established legal doctrine. Unlike playing the stock market, insider betting is not regulated by any central body or by the government.
However, Rogan's admission raises a question as to just how ethical it is to place bets with insider information, and whether it should be legal or not. Many of the after-the-fact actions that have been taken in the realm of legalized sports betting in this country, or those being discussed currently (such as advertising limitations), fall in line with changes made in Great Britain following their legalization.
One of their big changes was making it illegal to utilize insider information, with very specific definitions about the "misuse of information" and what steps the Gambling Commission may take. It lays out what information can be used, the punishments that may be levied, and at what point it might venture into criminality.
Sportsbooks do have recourse in some instances to recoup money on insider betting, but not many. If they can prove that a wage was influenced, they can cancel the bet or sue for the money. The most well-known instance is the individual who bet $50,000 at +750 odds that someone would streak on the field during Super Bowl LV –which he did– and then was denied the payout when he bragged about his exploits. But unless someone foolishly tells the books that they've taken them with information that the public wasn't privy to, they have little to no chance of doing anything about it.
There are ramifications to insider betting that raise truly ethical dilemmas. Just like stock trading, information can be immeasurably valuable to those with stakes large enough to change prices. If I'm placing a $20 prop bet with the knowledge that a team's starting running back might be out for a game, or dealing with an ankle injury, I'm not going to harm anybody else playing that line. But if I give that information to a shark, who places a $20,000 wager on that same line, I've now enabled someone to move a line and impact other bettors.
Online sports betting in this country continues to grow, and every day we are reminded that there are still aspects of the space that can feel like the wild west. As individuals in the media, we have to decide personally what our ethical stances are in situations like this. We also have to keep in mind the impact that betting can have on our biases–especially if we've bet using inside information. A prime example is Kirk Herbstreit, who won't even make a pick on College Gameday for games he is going to be doing color commentary for lest he possibly appears biased on the call.
At one end of the spectrum, you have someone like Herbstreit, and on the other end, you have folks like Rogan who, while he no longer does so, was more than happy to not only wager on fights himself but gave the information to others. And in the middle, you have hundreds of people in similar situations, who might lean one way or another or who, like me, may have found themselves on either side of that ethical line.
There is no black or white answer here, nor am I saying there's necessarily a right or wrong stance for anybody in the sports media industry to take. I would say that each person has to take stock of what they're comfortable doing, and how they feel about insider information being used. Rogan didn't break any rules or laws by gambling on the UFC, but his admission to doing so might be the catalyst towards it no longer being accepted.
Jason Ence resides in Louisville, KY and is fully invested in the sports betting space. Additionally, he covers Premier League and Serie A soccer, college football, and college basketball for ESPN Louisville 680 including serving as the station's University of Kentucky correspondent, and co-host of the UK football and basketball post-game shows. He can be found on Twitter @JasonUK17 and reached by email at jason.ence17@gmail.com.