Sports Media Vs. The Social Media Mob
"If I agree with the consensus on social media, I check my sanity. Social media is a stage where people perform."
Social media is a blessing and a curse for the sports media world. So many of us check out what is trending on Twitter as we're putting together our rundowns. We use comments from Twitter and Facebook in place of phone calls. ESPN and FS1 routinely use Instagram and Snapchat videos to spur discussions on their various debate shows. It has become every bit as important to our professional lives as it is in some people's social lives.
That is the blessing side. The curse is that with social media comes constant access. People that don't like you always have a way of reaching you. There are block and mute buttons, and I think anyone in this industry would highly recommend making use of them.
What about when the barrage is constant though? This column isn't about the art of a good hot take. That is a different discussion for a different day.
Over the last couple of weeks, I have been talking to people that have found themselves on the wrong side of the social media mob. Some of the names might surprise you. Others probably won't. Your opinions of them (hell, mine too really) don't matter. What I want to know is what it's like to live on the wrong side of the hive mind.
There are a lot of ways to earn yourself a public shaming on social media. Sometimes it's as simple as being downright offensive and ignorant. Remember when Mike Bell referred to ESPN's Jessica Mendoza as Tits McGee? That was ignorant and inexcusable. Any public shaming he received was warranted.
The people I wanted to talk to have found themselves in the same position as bell for far more minor offenses. Sometimes, it has just been the result of being who they are. Take Dan Dakich for example. The ESPN college basketball analyst and midday host on 1070/107.5 the Fan in Indianapolis is very aware that anything he Tweets will be met with at least some scorn.
"Look, I totally understand who I am to people on social media," he told me. "There are some of us that are like a cancer on social media and people are going to say what a jackass I am, and that's probably self-inflicted I would think."
Recently a Tweet about Andrew Luck's sudden retirement was met with more than just some scorn. Dakich didn't hold back. Whether or not he intended to imply Luck was soft, it certainly read that way.
According to Dakich, this wasn't a hot take. He was at a wedding with his wife, who is a former coach, and one of his best friends from childhood, who is a longtime Colts season ticket holder, and this is what he was hearing them say. Dan agreed and wanted to use his platform to express that sentiment from people in Indianapolis.
"What I say on social media I do believe," Dakich says. "Like, I've always said this and I have been very consistent. I never thought Andrew Luck was the guy that was all encompassed in football like Peyton Manning or Drew Brees, and good for him that he has other interests. Any scout that has scouted him will tell you the same thing. All I've ever said is he is not the guy that everyone is saying he is, because in his offseason Luck is going to head to Prague instead of Zionsville High School's practice field."
Dakich wasn't afraid to double down on his point as countless people fired back at him on social media. Whether you agreed or not, Dakich thought he was right. He also swears his intention wasn't to imply Andrew Luck was soft.
"I've always said he plays football as a tough guy. I was stunned at how so many people took that [Tweet] and said I was saying Andrew Luck was soft. That wasn't what I was saying. I literally sent another Tweet out that said 'Look, if you don't love football anymore and you've got enough money and you wanna walk away, just tell us that. That's cool.' I put that in a Tweet after, but no one paid attention to that."
There was only one comment Dan Dakich was taken aback by. ESPN Radio morning man Trey Wingo referenced Dakich's abrupt exit as West Virginia University's men's basketball coach and said that Dakich should "clean up his own backyard" before commenting on anyone else.
Dakich Tweeted his objections.
He told me that it actually lead to phone calls with Trey Wingo and ESPN's Executive Senior Vice President of Studio and Event Production, Norby Williamson.
"Trey was great. ESPN was fantastic with it. I made my opinion known to the higher-ups. Trey and I had a long conversation, then Trey apologized on air…He was great. He was really, really good with it. Norby Williamson was great with it. We got it resolved once we were able to get on the phone, Trey and I, and it was very nice of him to apologize."
Sometimes hosts can find themselves the focus of a social media mob because the local fanbase isn't ready to hear anything negative about the home team.
Lauren Rew of 1010XL in Jacksonville had just come to town from Tulsa in July of last year. The Jaguars were just coming off of a trip to the AFC Championship Game, and fans and fellow hosts were confident the team would go further in 2018. Rew didn't buy it.
"I said on-air the Jaguars wouldn't go to the Super Bowl and probably wouldn't make the playoffs, my main reason: Blake Bortles," Rew told me in an email.
The Jags finished 5-11, traded for Nick Foles and let Bortles go to LA where he is now backing up Jared Goff. Rew says that didn't change the way listeners in her new home town reacted to her.
"Let's just say, I didn't make a whole lot of 'friends' early on and I 100% felt the mob mentality of social media throughout the season. But! I want to make this very clear, I didn't (and still don't) come up with 'hot takes' or go against the grain to be controversial or a contrarian. If I'm passionate or strongly agree/disagree with something, you'll know it and I will say it because I genuinely feel that way."
Rew adds, "Thank the Twitter Gods for the mute and block options."
Josh Parcell co-hosts Wilson & Parcell on WFNZ in Charlotte. While he also insists that he never goes out of his way to spout a hot take (a common theme in all these conversations you'll notice) he makes no qualms about being one of the few hosts on his station to point out the failings and flaws of the Carolina Panthers, namely the team's franchise quarterback Cam Newton.
That has drawn some fire from co-workers and listeners alike. I had lunch with Josh a few months ago and he told me that he had been called "Little Cowherd" and "Danny Kannel Jr" with regularity.
In an email this week, he told me that he doesn't shrink from any criticism of the Panthers or their biggest star. He also isn't surprised that Panthers fans don't want to hear any of it.
"For the first 15 years of the franchise, they watched Kerry Collins, Chris Weinke, Steve Buerlein, Jake Delhomme and Jimmy Clausen lead the team through a ton of ups and downs," Josh says. "Cam is the biggest star and brightest personality the franchise has ever had. He's made them relevant outside of the Carolinas.
"Because he came into the league after one of the greatest single seasons we've ever seen in college football and claimed to want to be an "icon" before ever playing a down in the NFL, Cam set the bar incredibly high for himself when he joined the Panthers. And let's face it, Cam isn't perfect — as a player or as a person. His ceiling as a player is as high as anyone we've ever seen. No one in the league is as athletically gifted as Cam. Whenever he fails to live up to that lofty standard, he's easy to criticize.
"Panthers fans can't stand the thought of going back to the Clausen era, or even a guy like Delhomme, so they'll do everything they can to defend Cam against the negative criticism that comes his way."
I live in North Carolina, and really there is no reason I should like Cam Newton. He plays for the Panthers and I grew up a fan of the division rival Buccaneers. I went to the University of Alabama and he played college football at Auburn, the team that I would openly root against even if they were playing Taliban A&M.
Still, I can't help but be charmed by Cam and his unflinching devotion to being himself. I mean the guy once wore a fox tail to a press conference just because he wanted to. How can the thought of an NFL quarterback dressing like Raccoon Mario not make you smile?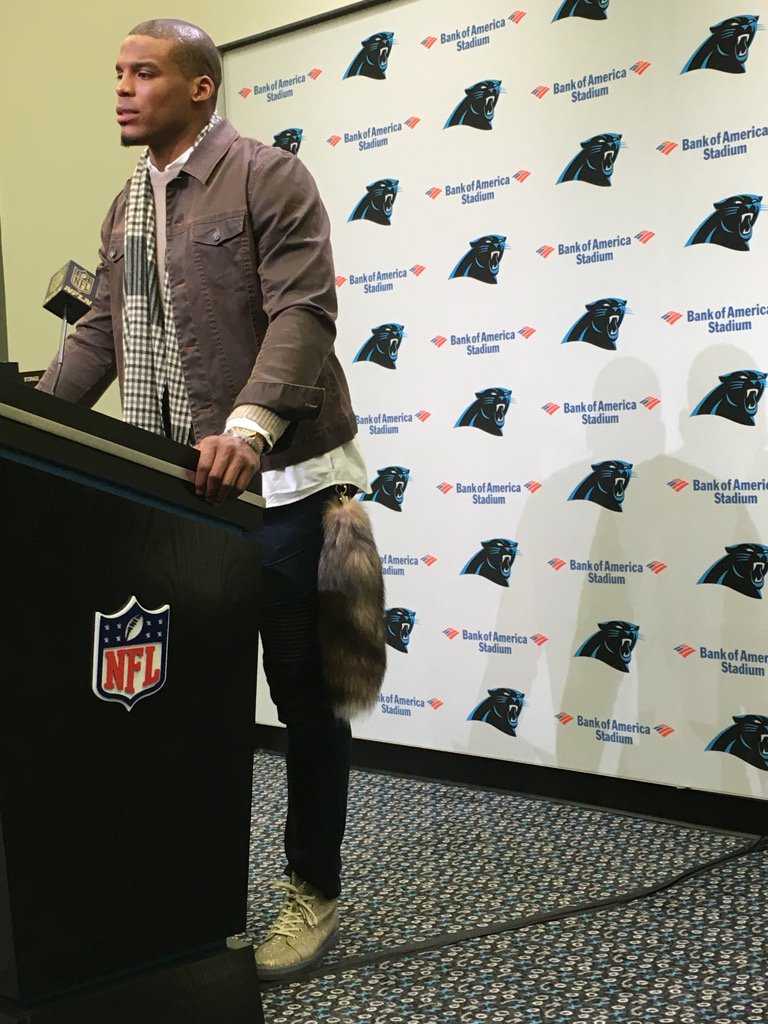 That devotion to self-expression has drawn plenty of criticism of Newton, some of it fair, some of it insane, and some of it clearly racially motivated. I asked Josh if he thought that some of the coded critiques of Cam have made his fans even more dogged in their defense of him. He didn't disagree exactly, but Josh doesn't think Cam Newton's detractors have been as motivated by his race as his fans think they are.
"I think we judge quarterbacks based on their behavior much more than their skin color. Deshaun Watson is a quiet guy, doesn't wear flashy outfits, doesn't generally draw attention to himself on the field like Cam does. and no one seems to have a problem with him, right? In fact, the only time anyone had a problem was when he was celebrating first downs in a blowout loss in the Playoffs. That's a behavioral criticism, not a racial one.
"Baker Mayfield, on the other hand, was arrested for a fairly trivial crime in college, won a Heisman Trophy, was the #1 pick, is very outspoken and doesn't lack for confidence. Baker's been criticized (and lauded) for a lot of what he says and does. Sound familiar? Most people expect quarterbacks to be boring. When they're not, it's interesting. Cam is interesting. Baker Mayfield is interesting. Some people love it, others hate it. I'm not altogether dismissing the idea that there are people out there who have a racial bias towards Cam Newton, but I think the racial element of the Cam Newton criticism is wildly overstated."
A guy that is more than comfortable with detractors coming after him on social media is FS1's Jason Whitlock. The Speak For Yourself co-host doesn't mind people disagreeing with him. He just hopes that when they do, they are speaking for themselves (pardon the pun) and not trying to score points by regurgitating a popular opinion.
"There's good information and insight on social media as long as you dig beneath the surface and ignore the trolls and Artificial Intelligence," Whitlock told me in an email. "It's a good way to engage with authentic fans and critics. I like engaging with my critics. Keeps my perspective sharp. Helps me avoid complacency. You just have to dig beneath the pile of shit Twitter and its algorithms try to stuff down your throat."
Sometimes, what people that are ready to pile on Whitlock at a moment's notice see as controversial, he sees as merely pointing out logical fallacies. Recently, he tweeted about an ESPN segment about USWNT star Carli Lloyd's plans to work toward an NFL tryout after kicking a 55-yard field goal at a training camp practice with the Philadelphia Eagles.
Now, to be honest, I tend to think Carli Lloyd showed the ability to kick in the NFL and the idea of "What is she going to do if a kick is blocked and she has to play defense?" is kinda bullshit. No NFL team has ever taken that into consideration when evaluating any other kicker.
That being said, I don't think Whitlock's point is wrong here. Four guys all agreeing on any point, let alone one that some people very passionately disagree on, is boring television done in the name of playing it safe. I asked him if his Tweet was a comment on Carli Lloyd or on the ESPN panel.
"They all said the same thing, which I just don't think is reflective of reality," Whitlock responded. "Four guys, two of them being high-level former football players, won't all agree that Carli Lloyd or any woman could kick in the NFL. It makes no sense. One person should've expressed some skepticism. Hell, all four should've expressed some skepticism. But it's not worth it because they're smart enough to realize the blowback they would receive via social media."
How does a guy like Jason Whitlock view social media? I wondered if he looked at it as something of a sparring partner. Does he digest the popular opinion and try to see how he can challenge it, and are there ever times where he finds himself arguing that the popular talking points on social media are the right ones?
"If I agree with the consensus on social media, I check my sanity. Social media is a stage where people perform. That's what you do on a stage. You act. You perform. Social media is a platform for inauthentic thought."
So how do the people that find themselves in the crosshairs of the social media mob view social media? Well, all four of the people I talked to gave different answers. Most of them wanted to make it clear that they don't ever form an opinion just to be controversial.
And then there's Dakich, who when I ask if knowing his reputation, is there a part of him that enjoys needling people on social media responds with an enthusiastic "OH GOD, YEAH!".
He tells me a story about driving home with his wife after calling a game. She is in the driver's seat. He is checking Twitter and seeing people ripping the job he just did. Dan says it is the element of him that is still a fan that makes him want to interact with even the people calling him names.
"I'll respond to them. I would have thought it would have been cool when I was in high school or when I was in grade school to watch Al Maguire and then have him respond to me immediately after a game."
There is a great line from the original Men in Black where Agents J (Will Smith) and K (Tommy Lee Jones) are discussing what would happen if people ever found out aliens not only existed but were here on Earth. J asks why not just put the truth out there. "People are smart. They can handle it," he says.
"A person is smart," K responds. "People are dumb, panicky, dangerous animals, and you know it."
I tell Rew about this line and ask her if that sentiment could be applied to social media as well.
"I honestly think that's the first time I've seen/heard anyone reference a line from Men In Black, but damn it's a good one. And yes, I completely agree that part of the mob mentality on social media stems from people not being able to think for themselves. All it takes is a 'leader' from ANY group (sports, politics, music, etc.) to make a claim about what someone said/did and usually his/her followers will jump at the opportunity to pile on; usually doing so without doing any research themselves or in the case of something a radio host has said, having heard it themselves."
I'm going to close with a quote from Whitlock here. I asked him how he viewed being branded as "controversial." What even is controversy when small pockets of people get loud voices because of the reach of social media?
His response was unfiltered and very…is Whitlockian a word? If not, I am making it one right now.
"Twitter has made common sense 'controversial.' If I say LeBron James shouldn't celebrate on the court during his son's AAU game, that's basic common sense. The overreaction to my common-sense statement is controversial. My opinion wasn't. People like the NFL Network's Nate Burleson went to Twitter and performed like my LeBron comment was controversial. Think about it. I said a parent shouldn't be on the court during a game and people acted like I said LeBron James is the worst parent on the planet.
"Twitter is a platform operating as a marketing/public relations tool for elite celebrities and athletes, particularly the celebrities and athletes who promote far left ideology. Much of the Twitter lynch mob is Artificial Intelligence bots/algorithms that agencies and PR firms buy for their top clients. We act like only the Russians manipulate social media. People with money and an interest in controlling public perception or protecting a brand manipulate social media.
"Painting me as 'controversial' and spamming me with Twitter criticism are ways to tell other people in the sports media to avoid criticizing LeBron. If you're black, you'll be labeled a sellout. If you're white, you'll be labeled racist. Don't criticize LeBron!!! Celebrate Taco Tuesday! Criticize Carli Lloyd's NFL publicity stunt and Twitter will paint you as sexist. If Joseph McCarthy and Joseph Stalin had a baby, they'd name it Twitter."
Being Wrong On-Air Isn't A Bad Thing
…if you feel yourself getting uncomfortable over the fact that you were wrong, stop to realize that's your pride talking. Your ego. And if people call you out for being wrong, it's actually a good sign.
In the press conference after the Warriors won their fourth NBA title in eight years, Steph Curry referenced a very specific gesture from a very specific episode of Get Up that aired in August 2021.
"Clearly remember some experts and talking heads putting up the big zero," Curry said, then holding up a hollowed fist to one eye, looking through it as if it were a telescope.
"How many championships we would have going forward because of everything we went through."
Yep, Kendrick Perkins and Domonique Foxworth each predicted the Warriors wouldn't win a single title over the course of the four-year extension Curry had just signed. The Warriors won the NBA title and guess what? Curry gets to gloat.
The funny part to me was the people who felt Perkins or Foxworth should be mad or embarrassed. Why? Because they were wrong?
That's part of the game. If you're a host or analyst who is never wrong in a prediction, it's more likely that you're excruciatingly boring than exceedingly smart. Being wrong is not necessarily fun, but it's not a bad thing in this business.
You shouldn't try to be wrong, but you shouldn't be afraid of it, either. And if you are wrong, own it. Hold your L as I've heard the kids say. Don't try to minimize it or explain it or try to point out how many other people are wrong, too. Do what Kendrick Perkins did on Get Up the day after the Warriors won the title.
"When they go on to win it, guess what?" He said, sitting next to Mike Greenberg. "You have to eat that."
Do not do what Perkins did later that morning on First Take.
Perkins: "I come on here and it's cool, right? Y'all can pull up Perk receipts and things to that nature. And then you give other people a pass like J-Will."
Jason Williams: "I don't get passes on this show."
Perkins: "You had to, you had a receipt, too, because me and you both picked the Memphis Grizzlies to beat the Golden State Warriors, but I'm OK with that. I'm OK with that. Go ahead Stephen A. I know you're about to have fun and do your thing. Go ahead."
Stephen A. Smith: "First of all, I'm going to get serious for a second with the both of you, especially you, Perk, and I want to tell you something right now. Let me throw myself on Front Street, we can sit up there and make fun of me. You know how many damn Finals predictions I got wrong? I don't give a damn. I mean, I got a whole bunch of them wrong. Ain't no reason to come on the air and defend yourself. Perk, listen man. You were wrong. And we making fun, and Steph Curry making fun of you. You laugh at that my brother. He got you today. That's all. He got you today."
It's absolutely great advice, and if you feel yourself getting uncomfortable over the fact that you were wrong, stop to realize that's your pride talking. Your ego. And if people call you out for being wrong, it's actually a good sign. It means they're not just listening, but holding on to what you say. You matter. Don't ruin that by getting defensive and testy.
WORTH EVERY PENNY
I did a double-take when I saw Chris Russo's list of the greatest QB-TE combinations ever on Wednesday and this was before I ever got to Tom Brady-to-Rob Gronkowski listed at No. 5. It was actually No. 4 that stopped me cold: Starr-Kramer.
My first thought: Jerry Kramer didn't play tight end.
My second thought: I must be unaware of this really good tight end from the Lombardi-era Packers.
After further review, I don't think that's necessarily true, either. Ron Kramer did play for the Lombardi-era Packers, and he was a good player. He caught 14 scoring passes in a three-year stretch where he really mattered, but he failed to catch a single touchdown pass in six of the 10 NFL seasons he played. He was named first-team All-Pro once and finished his career with 229 receptions.
Now this is not the only reason that this is an absolutely terrible list. It is the most egregious, however. Bart Starr and Kramer are not among the 25 top QB-TE combinations in NFL history let alone the top five. And if you're to believe Russo's list, eighty percent of the top tandems played in the NFL in the 30-year window from 1958 to 1987 with only one tandem from the past 30 years meriting inclusion when this is the era in which tight end production has steadily climbed.
Then I found out that Russo is making $10,000 per appearance on "First Take."
My first thought: You don't have to pay that much to get a 60-something white guy to grossly exaggerate how great stuff used to be.
My second thought: That might be the best $10,000 ESPN has ever spent.
Once a week, Russo comes on and draws a reaction out of a younger demographic by playing a good-natured version of Dana Carvey's Grumpy Old Man. Russo groans to JJ Redick about the lack of fundamental basketball skills in today's game or he proclaims the majesty of a tight end-quarterback pairing that was among the top five in its decade, but doesn't sniff the top five of all-time.
And guess what? It works. Redick rolls his eyes, asks Russo which game he's watching, and on Wednesday he got me to spend a good 25 minutes looking up statistics for some Packers tight end I'd never heard of. Not satisfied with that, I then moved on to determine Russo's biggest omission from the list, which I've concluded is Philip Rivers and Antonio Gates, who connected for 89 touchdowns over 15 seasons, which is only 73 more touchdowns than Kramer scored in his career. John Elway and Shannon Sharpe should be on there, too.
Money Isn't The Key Reason Why Sellers Sell Sports Radio
I started selling sports radio because I enjoyed working with clients who loved sports, our station, and wanted to reach fans with our commercials and promotions.
A radio salesperson's value being purely tied to money is overrated to me. Our managers all believe that our main motivation for selling radio is to make more money. They see no problem in asking us to sell more in various ways because it increases our paycheck. We are offered more money to sell digital, NTR, to sell another station in the cluster, weekend remotes, new direct business, or via the phone in 8 hours.
But is that why you sell sports radio?
In 2022, the Top 10 highest paying sales jobs are all in technology. Not a media company among them. You could argue that if it were all about making money, we should quit and work in tech. Famous bank robber Willie Sutton was asked why he robbed twenty banks over twenty years. He reportedly said," that's where the money is". Sutton is the classic example of a person who wanted what money could provide and was willing to do whatever it took to get it, BUT he also admitted he liked robbing banks and felt alive. So, Sutton didn't do it just for the money.
A salesperson's relationship with money and prestige is also at the center of the play Death of a Salesman. Willy Loman is an aging and failing salesman who decides he is worth more dead than alive and kills himself in an auto accident giving his family the death benefit from his life insurance policy. Loman wasn't working for the money. He wanted the prestige of what money could buy for himself and his family. 
Recently, I met a woman who spent twelve years selling radio from 1999-2011. I asked her why she left her senior sales job. She said she didn't like the changes in the industry. Consolidation was at its peak, and most salespeople were asked to do more with less help. She described her radio sales job as one with "golden handcuffs". The station paid her too much money to quit even though she hated the job. She finally quit. The job wasn't worth the money to her.
I started selling sports radio because I enjoyed working with clients who loved sports, our station, and wanted to reach fans with our commercials and promotions. I never wanted to sell anything else and specifically enjoyed selling programming centered around reaching fans of Boise State University football. That's it. Very similar to what Mark Glynn and his KJR staff experience when selling Kraken hockey and Huskies football.
I never thought selling sports radio was the best way to make money. I just enjoyed the way I could make money. I focused on the process and what I enjoyed about the position—the freedom to come and go and set my schedule for the most part. I concentrated on annual contracts and clients who wanted to run radio commercials over the air to get more traffic and build their brand.
Most of my clients were local direct and listened to the station. Some other sales initiatives had steep learning curves, were one-day events or contracted out shaky support staff. In other words, the money didn't motivate me enough. How I spent my time was more important.
So, if you are in management, maybe consider why your sales staff is working at the station. Because to me, they'd be robbing banks if it were all about making lots of money.
Media Noise: BSM Podcast Network Round Table
Demetri Ravanos welcomes the two newest members of the BSM Podcast Network to the show. Brady Farkas and Stephen Strom join for a roundtable discussion that includes the new media, Sage Steele and Roger Goodell telling Congress that Dave Portnoy isn't banned from NFL events.
Podcast: Play in new window | Download
Subscribe: RSS