Every Week Is Shark Week For Dan Rusanowsky
"You can't be that guy always looking for the next job. You have to focus on being the best you can be wherever you are."
Memory is funny. It can be difficult to recall small events in our lives that occurred last week, yesterday or even a few hours ago. Our memories can shift without our permission, painting a picture of an experience that might be different than what other people remember. Memories shape who we are, how we think, and even what we value. The cruel universal reality is that it's our darkest moments we tend to remember the clearest.
One can argue memory's greatest ally is time – not the enemy it appears to be. Like a Zamboni to ice, time has a way of healing certain scars from our past, and in the process can turn pain into wisdom. It also has a way of preserving our happiest moments through the decades.
58-year-old Dan Rusanowsky is a man not short on happy memories – and many are tied his 40 year career calling hockey games.  He can tell you in great detail about the time the Sharks snapped a 17-game losing streak in Winnipeg on Valentine's Day 1993.
"After the game," he smiles "they raised a garbage can in the visitor's locker room like it was the Stanley Cup."
His memory is well organized and cataloged. Ask him for a San Jose Sharks story and the Connecticut native would respond with "What season?"
Just about every high point in his professional career is tied to a hockey game on some level. Unfortunately, the same can be said for a very low point in his personal life.
Ask him where his love for hockey began, and Rusanowsky doesn't hesitate.
Herman Solomon, the brother of Rusanowsky's mother, sparked Dan's passion for the sport at a very young age. The two were regulars at New Haven Nighthawk home games and spent plenty of time watching the nearby Yale Bulldogs on the ice. To this day, Rusanowsky continues to honor his uncle's influence.
"I still mention him every game," beams the proud nephew. "I would always refer to him as the unofficial statistician of the broadcast, so much so that people have asked me if he's actually on the payroll."
Long before young Rusanowsky found himself in front of a microphone, he found himself on the stage. He was never far away from the opening of a new play – portraying Captain Hook in Peter Pan and the title role in a Charlie Brown Christmas production. His enthusiasm for acting faded a bit as he entered high school – but Rusanowsky still values his experience as a thespian.
"What I do professionally is, and always has been, performance art. I'm presenting my audience with the images only I can see. Every game is a performance of sorts."
Rusanowsky's reverence for his profession is clear, and it started with what he calls the "romantic" crackle of the radio dial. From his home in Milford, he recalls hearing Penguins broadcasts, Buffalo Sabres, Toronto Maple Leafs via Hamilton, and even the Montreal Canadians.
"The whole thing was in French so I couldn't understand a word," chuckles Rusanowsky.  "Every once in a while they would mention a name though, so I recognized the names!"
Understanding he wanted to pursue a career in his two passions – hockey and radio – Rusanowsky set off for college at St. Lawrence University, roughly 5 hours north of Milford.
St. Lawrence was attractive to Rusanowsky on a couple of levels. For one, it was a small school, a size that would afford him personal relationships with his professors, and two, the Saints played D1 hockey.
"My freshman year I went in there, not really with any clue what I was doing, and I introduced myself to their play by play man, Bob Vilas, and pretty much said I was interested in pursuing this as a career."
To Rusanowsky's shock, it just so happened they were in need of a fill in play by play announcer later that season. Vilas told the 18-year-old to watch some games from the booth and record some practice tapes. In time, Rusanowsky could feel Vilas' confidence growing in him, but even he couldn't have predicted what happened next.
With the Saints games being delivered on the local NPR station, Vilas didn't have the luxury of commercial breaks during intermissions.
"One game in that first season he came up to me and said 'Dan, here's your interview subject, I'll be back in 5 minutes, you're on in 30 seconds,' just like that I was on the air for the first time ever."
Rusanowsky still remembers the man he interviewed – Tom Burke, a hockey writer – but he wouldn't give himself high marks for the conversation.
"I don't have that tape. I wish I did! I'm sure it was just about the worst interview in the history of radio!"
While the thought of the tape might be cringe-worthy, he looks at that experience as a seminal moment. Not only was it his on air debut, but he was given a challenge he wasn't prepared for and didn't back down.
"In this job," Rusanowsky explains, "what you expect is often not what happens. You have to be prepared for the unexpected and find a way to make it work."
Rusanowsky made it work, and a Hall of Fame broadcast career was born.  By his Junior year, he became the voice of the Saints, a title he didn't want to lose on account of graduation after his senior year, so he enrolled in grad school at nearby Clarkson University.  He knew the next logical step towards his ultimate dream of landing in the NHL was a position in the American Hockey League.  He would check religiously, and finally – one day after his graduation from Clarkson – he got an offer from the New Haven Nighthawks.  His hometown AHL club.
He was thrilled for the opportunity, but his paycheck left a lot to be desired.
"When I got the job in June I weighed 175 lbs. The next time I stepped on the scale was when I was home for Christmas in December – I was 148 lbs."
The radio veteran laughs today when talking about his early days in the industry, as he grinded his teeth through so much uncertainty. He recalls looking forward to road trips because he could pocket a little extra per diem cash. One thing he never did was look too far ahead, and he believes that made all the difference in his career ascension.
"You can't be that guy always looking for the next job. You have to focus on being the best you can be wherever you are."
In his five years with the Nighthawks, Rusanowsky was responsible for promoting the club and selling season tickets – a side of the business that interested him greatly. For the first time in his life, Rusanowsky was learning about the business side of his craft. Understanding the intersection of art and commerce. It's that layered knowledge of the radio business that would serve him greatly in his next position.
By the late 1980s Dan was approaching 30. He knew in the next couple years, if he wanted a to buy a house or settle down with a family, he'd have to consider a career shift. He couldn't accomplish his personal goals on an AHL salary. Before he walked out of the booth entirely, he knew the NHL was expanding with a franchise in the Bay Area – a region of the world as foreign to the Connecticut kid as another country entirely. Always a realist, Rusanowsky understood his chances of becoming the radio voice of the San Jose Sharks was slim, but he submitted his tape to the powers that be regardless.
"I mailed in my tape and they asked for another one, that was a good sign. I sent another tape and they asked to fly me out for an in-person interview, that was a very good sign. I fly out to meet everyone and they tell me I'm one of a couple different people they're considering, that's a great sign."
Dan is not lost for words when you ask him about his uncle Solomon, Bob Vilas, and about a dozen other individuals who he credits with the rise of his career. However, when you ask him about the moment he was offered an NHL radio announcing job, he's efficient and humble.
"They offered me the job and I said yes almost before they could finish asking."
The San Jose Sharks played their first two seasons roughly an hour north of San Jose in the Cow Palace just south of San Francisco.  The venue was a bit of relic, even 30 years ago, but that certainly didn't bother their 30-year-old radio play by play man.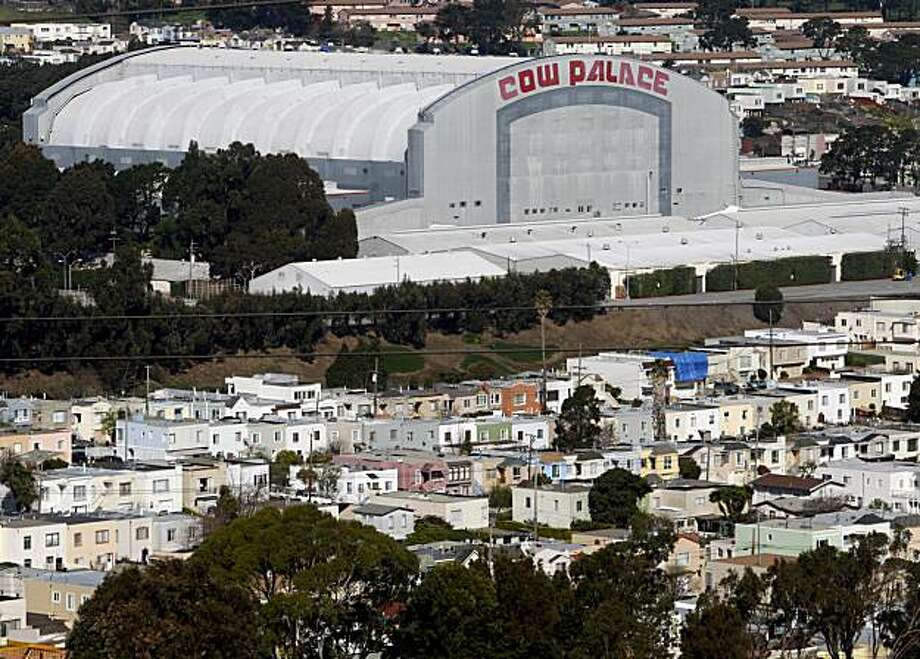 "I look back at the Cow Palace years and remember a lot of fun times," he offers with a grin, as if to say he can't begin to tell me half the stories he has locked away.
"We definitely did our fair share of losing though."
During their second season, the Sharks lost a staggering 17 consecutive games and earned just 24 points in the standings.  It was clear after two seasons, the shine of the new NHL franchise was wearing off in the Bay Area.
"A new team is like a new baby," Rusanowsky explains. "The first year, everyone wants to come and see the baby, then the 2nd year you get less visitors. Well, our circumstances were such that in year 3, despite losing so much in year 2, we had a renewed energy around the team when we finally moved to San Jose. San Jose is interesting in that it's bigger than San Francisco, but it's very much in the shadow of San Francisco. This was the first team of the major four leagues who said 'we want to be in San Jose, we want San Jose in our name,' and the community around here really embraced us for that."
In their first season in San Jose and third in existence, the Sharks made their first postseason appearance. Soon thereafter, the new franchise was much more than a novelty in the league – they were regularly playing meaningful hockey in late spring and the entire Bay Area was taking notice.
Personally, Dan couldn't have been happier. He had met his wife in his new adapted city and not only was he an NHL play by play man – he had called every game in franchise history. That streak, unfortunately, came to an unexpected end on November 25, 2000.
Like they so often are, Dan finds the details leading up to this particular bad memory very easy to recall.
"It was the Saturday after Thanksgiving. The New Jersey Devils were in town and I had just spent the morning at practice getting some interviews done for that night. My routine for home games was generally always mornings with the team, then I'd go home to work in my office before coming back for the game. That day, I was invited to a new restaurant my friends had just opened up, so I thought I'd stop by for a quick lunch, that's the only reason I was at that particular intersection on that particular day."
Rusanowsky pauses slightly, as if to apologize for the upcoming hole in his story.
"I don't remember the impact, of course, but a driver ran a red light – hit my driver's side door and I woke up in the hospital."
The then-39-year-old suffered a number of injuries, most notably a fractured femur and a ruptured diaphragm, the second of which would've been life threatening if not quickly identified by a specialist that day.  That night, the San Jose Sharks played their first game in franchise history without Dan Rusanowsky in attendance.  He would spend the next week in the hospital and would not return to the booth for 27 games.  It was a dark time for Silicon Valley's adopted son and his wife, but it's an experience in which he realized he belonged in San Jose.  
"The reception I got from the team, from the fans and from the community was overwhelming.  It truly was.  When I was healthy enough to return to work, I was presented with four long panels covered in get well messages from fans.  Those are still in my house, and they're not going anywhere."
Like his panels, Rusanowsky doesn't seem to be going anywhere either.  Last season he called his 2,000th regular season game for the Sharks.  He also has the incredibly rare distinction of calling every playoff game in franchise history – including the 2016 run to the Stanley Cup Finals.
Six years ago the East Coaster was immortalized in the Bay Area Radio Hall of Fame.  Ask him about it and he's quick to share the honor with his fellow inductees.  He points to his nearly 20 year working relationship with KFOX, the terrestrial station that has carried Rusanowsky's Shark network since 2000.  On paper, Dan has done just about all one can hope to do in the world of sports broadcasting, but he's still as enthusiastic as ever to go to work every day.
"It's a unique lifestyle, doing what I do.  It's also an honor and a privilege to be broadcasting in the National Hockey League.  Working in sports and sports broadcasting is as rewarding now as it's ever been I believe. 
"You look at a market like the Bay Area – there's people from all walks of life, from all different backgrounds.  There's different groups of people who may disagree on any number of topics – but the one thing we can all see eye to eye on is sports.  If our local teams win, we all win, and we can share that together.  If we can share that together, I think that opens up a lot of other things we can do together."

Jack Ferris writes feature stories for BSM and serves as an update anchor for iHeart Radio in San Francisco and as a freelance contributor for the PAC-12 Network. Previously he has worked as a sports anchor for KXLY-TV in Spokane and as the co-host of the Don West Show on KPQ in Central Washington. You can find him on Twitter @JFerris714 or reach him by email at FerrisJack54@gmail.com.
AM Radio Advocates Aren't Fighting the Right Fight
"Remember what we are fighting here. No one wants to outlaw AM radio."
There is still value in AM radio. That has been made tremendously clear over the last few months as Congress has rallied to fight against automakers eliminating the band from the dashboard in 2024 models. 
The arguments were effective for at least one company, as Ford has decided to reverse course and preserve AM radio in their cars. The same cannot be said though for the other seven car manufacturers. They aren't interested in being in the amplitude modulation business anymore.
Our industry is taking up a worthwhile cause, but the arguments being made on Capitol Hill and in open letters ring hollow. Even though I am not rooting for cars to be manufactured in a way that makes it harder for any listener to hear their favorite station, I can see the carmakers' point of view. I get why they wouldn't be swayed by these arguments.
Remember what we are fighting here. No one wants to outlaw AM radio. No one is trying to pass a bill to make it illegal to carry legal advice and gardening shows.
Carmakers are making a business decision. Electric vehicles' engines interfere with AM signals. Making the necessary changes in order to keep that from happening costs money that they don't see as a necessary expense. How do we combat that?
Instead, we are talking about EAS systems. That has nothing to do with the fight we are fighting. I have worked at AM stations. I have worked at FM stations. We carry those alerts on both bands. In the event of severe weather or national emergency, both bands go to wall-to-wall coverage.
If we aren't trying to fight a bill that makes AM radio illegal, then this argument is irrelevant. Even if stations go out of business, if AM is imperative for distributing emergency information, the government has a responsibility to find ways to keep that distribution system operational.
We talk about how important the band is for sports fans. We romanticize listening to a game on the radio. Nostalgia is great if your audience has the nostalgia, but what if they don't?
I grew up having to listen to Alabama games on AM radio. Guess what? It sounded like shit. I'm not eager to experience it again.
Some of right-wing talk radio's biggest stars have made the argument that this is another step in silencing conservative voices. That can easily be disproven by the fact that Elon Musk's Tesla was the first automaker to announce the removal of the AM band. You can also simply pointing to the number of FM talk stations that carry those very same programs.
"No one is loyal to amplitude modulation or frequency modulation," Larry Rosin told me before this year's BSM Summit. Our audience chooses content 100% of the time. They are not loyal to AM or FM. They aren't even loyal to a particular station. They are loyal to themselves, and that is perfectly understandable.
The one time I tried to watch an episode of Yellowstone, I was positive the people that call it the best thing on TV were playing a prank on me. I didn't give it a second chance because it didn't entertain me in the least. It had nothing to do with preferring streaming to cable or a vendetta against Paramount Network.
Seriously, there's a joke I'm not in on, right? Yellowstone is bad.
Again, I am not advocating for the end of AM radio. I am advocating for making smarter arguments and fighting the right fight.
If AM radio is harder to access, stations will lose money and that means that they will likely cut staff. Job losses are not good for people being able to make ends meet, let alone buy new cars. That is an argument to make to elected officials who want to win future elections and to carmakers that want to sell new cars.
Yes, people can find the information they need on an FM station in the event of an emergency. Doesn't it make sense to preserve all choices in a car though? If an AM radio listener switches to streaming music or podcasts because the content they want isn't readily available, they could miss that emergency information.
Now, it sucks, but there is one more thing to consider here.
Maybe this is a war AM radio cannot win. Maybe the best we can do is win some individual battles and buy ourselves a little time.
Technology is ever-evolving and that isn't going to change. We have already seen it. Newspapers struggle in the age of the internet. Tape decks are replaced in cars by CD players. Even when you go to the movies, it is rare that you are watching film being projected onto the screen. Now it is digital video.
Better ways of delivering information and entertainment come along all the time and slowly replace what we have always relied on. NAB and radio groups are fighting to preserve AM radio. They should also be making sure that their listeners and advertisers are well-acquainted with all of the ways to access their content. 
Fighting to keep AM radio on the car dashboard is worthwhile, but when you're fighting technical innovation, any victory is temporary. Let's not be so narrowly focused that we forget that the ultimate goal for the stations on AM is that the content survives.
Demetri Ravanos is the Assistant Content Director for Barrett Sports Media. He hosts the Chewing Clock and Media Noise podcasts. He occasionally fills in on stations across the Carolinas. Previous stops include WAVH and WZEW in Mobile, AL, WBPT in Birmingham, AL and WBBB, WPTK and WDNC in Raleigh, NC. You can find him on Twitter @DemetriRavanos and reach him by email at DemetriTheGreek@gmail.com.
Eddie Olczyk is Jacked Up For the Stanley Cup
"Pucks and ponies are a big part of my life, and I'm very passionate about it."
Entering the broadcast booth before a game, Eddie Olczyk can be doing any number of things. Whether it is watching warmups, interacting with his colleagues or simply taking in the environment, he recognizes how fortunate he is to still call his workplace. Another recurring setting, albeit outdoors, are horse racing tracks, the venues from which Olczyk has not only broadcast, but also competed as an owner in marquee events.
"Pucks and ponies are a big part of my life, and I'm very passionate about it and handicapping and I have always been a horse player and horse owner," said Olczyk, who just returned from working for NBC as part of the network's Kentucky Derby coverage. "I think it's really helped my ability to communicate a little bit more for hockey because a lot of that is more the one-on-one and the verbalization and has to do with storytelling."
Olczyk played hockey for 16 seasons with the Stanley Cup at the forefront of his mind. He eventually achieved his goal during the 1993-94 season, helping the New York Rangers capture their first championship in 54 years. A few months after the ticker tape parade, the world of hockey came to a standstill.
The league was in a lockout, meaning Olczyk, at least for the short term, was out of a job. One of the locations he had brought the Stanley Cup was the Meadowlands Racetrack in East Rutherford, NJ. He became friendly with some of its regular spectators and owners.
"The people at the Meadowlands said, 'Hey, you love horse racing [and] you love to handicap,'" Olczyk recalled. "'You're not working. Would you like to come and handicap the races at the racetrack and do our wrap up show? Kind of just dabble in the media?'
Stunned to receive an offer to be paid to show up to the racetrack, Olczyk did not hesitate. He quickly began working with commentator Barbara Foster and absorbed a profusion of information about being a professional in sports media. Olczyk served as her sidekick during the proceedings over the ensuing three months and returned to professional hockey once the dispute between the league and its players was resolved. He was dealt to the Winnipeg Jets later that season, and then played with the Los Angeles Kings, Pittsburgh Penguins and hometown Chicago Blackhawks before hanging up the skates.
Growing up in Chicago, the voices of sports media were firmly ingrained into Eddie Olczyk's subconscious. He eventually had the privilege to meet some of them and call them his colleagues. They served as inspiration for him to refine his craft and work to become a viable broadcast partner for play-by-play announcers, producers, directors and other personnel.
"I don't think anyone could ever shoreside me for not aligning myself or getting a chance to work with some of the greatest voices in NHL history," Olczyk said. "I'm very lucky and I'm sure their shoulders are probably a little sore from carrying me for all those years, but it was very educational. They were obviously very instrumental."
Once he exited the game though, Olczyk signed on with Fox Sports Net Pittsburgh to become the color commentator for Penguins games. He was paired with play-by-play announcer Mike Lange, his first bonafide partner when it came to working in sports media.
That job did not last very long, because he became the head coach of the Penguins for the next two seasons. After a slow start to the 2005-06 season, Olczyk was relieved of his head coaching duties, but still wanted to remain around the game of hockey.
The very next season, he joined the local television broadcasting team for the Chicago Blackhawks, the team he grew up watching and played for during two separate stints. He worked with an announcer he listened to in his youth: Pat Foley.
Foley wasn't his only partner for very long. Eddie Olczyk quickly jumped into the national spotlight. His previous experience on NHL Radio taught him the subtle, yet essential differences in those broadcasts, and he ultimately earned a chance to work with Mike "Doc" Emrick on Versus/NBC Sports.
At the end of the 2006-07 season, Olczyk called his first Stanley Cup Finals with Emrick. He would do that for the next 13 seasons, watching the greatest players of a generation such as Penguins forward Sidney Crosby and Washington Capitals forward Alexander Ovechkin get their names etched on the trophy. As he balanced the national job with his role calling Blackhawks games locally, Olczyk felt like he had made it to the highest level sports media had to offer – but only after earnest recognition from his esteemed colleague.
"Doc was doing an article of some sort and they asked him about our relationship," Olczyk remembered. "I'm paraphrasing, but Doc said, 'I hope that when Edzo is 65, he has somebody that takes care of him as he has taken care of me.' I just thought that was obviously very humbling, but when you can get the stamp of approval from Doc Emrick, you've done something right, and that I will take with me the rest of my life."
Whether it was calling the Cup Finals, featured regular season matchups or the Olympic Games, Olczyk's time working with Emrick was special both while at the game and on the road. He misses going out to dinner, attending meetings before each broadcast and the camaraderie between him and the rest of the NBC Sports crew.
Emrick called it a career in 2021, after broadcasting hockey for more than four decades. Kenny Albert slotted in as the new lead voice of hockey for NBC Sports. While Albert is a skilled and versatile commentator having called baseball, basketball, football and hockey both locally and nationally, Emrick and his direct association with this magnificent game on ice is indisputable.
"When you heard his voice, you knew it was an important game, and he just had that incredible ability in the fastest game in the world to be able to stickhandle and weave a story while play is going on and never break stride," Olczyk said of Emrick. "That, to me, was something that was just really incredible."
The National Hockey League inked a seven-year media rights agreement with The Walt Disney Company and Warner Bros. Discovery to begin the 2021-22 season. When Olczyk signed with the latter outlet, he knew he would not be on the broadcast for the Stanley Cup Final. Instead, he would have that duty every other year.
"Obviously it was an incredible relationship there with TNT and ESPN on the NBA side, so this isn't two major entities just all of a sudden coming together," Olczyk stated. "The more eyes that we can have on our sport, the better it is short term and long term."
On the local front, Eddie Olczyk departed Chicago Blackhawks broadcasts after 15 seasons. He quickly found a new home with familiar faces and a young NHL team with a bright future – the Seattle Kraken. The move was very much a family affair since Olczyk's brother, Ricky, is the team's assistant general manager. In addition to that, Olczyk's oldest son of the same name is an amateur scout, and his other son, Nick, is a studio host on the television broadcasts.
"New is always scary. Without a doubt, there's always trepidation," Olczyk said. "It was an incredible opportunity to be there and work with so many talented people and see the improvement for the team…It was an incredible first year."
The Stanley Cup Finals will be on TNT for the first time in the network's history this season. It is a seminal occasion for Warner Bros. Discovery, highlighted by the presence of the Stanley Cup at its Upfront event at Madison Square Garden: the arena in which Olczyk hoisted the trophy in jubilation on a summer night 29 years ago.
"I'm excited for everybody because coming together two hockey seasons ago, [there were] a lot of unknowns but a lot of us obviously knew each other," Olczyk said. "The leadership at the top has just been incredible and reminds me a lot of my journey at NBC. Everything is first class; every day is first class. It's awesome."
Albert last called the Finals with Olczyk on NBC Sports, but they were not paired together for the entire series. This time around, they will be the primary booth for the NHL on TNT, and Liam McHugh will anchor studio coverage with a cast of analysts including Paul Bissonnette and Wayne Gretzky.
"We're here to entertain [and] we're here to talk about the greatest game in the world and showcase the greatest athletes and sell the game," Olczyk said. "I don't think any of that will stop, but I think knowing the room and having a feel and letting everything else take care of itself [is important]."
It will be Albert who will announce to the world that a team has just claimed the sport's ultimate prize and Olczyk is excited to listen to how he will punctuate the call. Yet he knows the craft is very much a team effort. Now, he is ready to demonstrate his shrewd ability to break down the game on its biggest stage.
"It's not hard to be jacked up for a Stanley Cup Final, but I think it's, again, knowing the room, having a feel and knowing when to go ahead and be elongated – and at other times, know when you've just got to get in and get out and let Kenny do his thing. At some point in the Cup Finals, it's going to be Kenny's time, and he's going to have to take it. When the time presents itself, we'll jump in."
During the hockey season, Olczyk is constantly traveling, following teams and fully immersed in the sport. When he made the move from Chicago to Seattle, there was a time when he thought it may just be better to do one game per week, but he determined that he was not ready to step back just yet. He remains motivated by the competitive aspect of the work and trying to be the very best analyst in the business, and does everything in his power to put himself in the best position to succeed.
Derek Futterman is a contributing editor and sports media reporter for Barrett Sports Media. Additionally, he has worked in a broad array of roles in multimedia production – including on live game broadcasts and audiovisual platforms – and in digital content development and management. He previously interned for Paramount within Showtime Networks, wrote for the Long Island Herald and served as lead sports producer at NY2C. To get in touch, find him on Twitter @derekfutterman.
There's Never Been a Better Time To Take AM Radio To Market
"Nobody can argue that mobile phones aren't more convenient and can stream or provide pods, but your AM radio station stands out in a digital crowd."
Your AM radio station really is better than your mobile phone. Now is the time to make that case. Thanks to Ford's decision to NOT drop AM radio from its 2024 lineup of vehicles, many of your clients have an awareness of AM that they have not had for a while. Streaming and mobile dominate the conversation, so this is a chance to make critical points about your AM station.
The fight over the Emergency Broadcast System being partly delivered by AM radio and not replaced by mobile phone streaming was made in Congress, and Ford listened. The NAB rallied.
Nobody can argue that mobile phones aren't more convenient and can stream or provide pods, but your AM radio station stands out in a digital crowd. Be proud. Here is why we should let the AM force be with us and why it's an invaluable tool for businesses to reach a target market. 
WIDE AND LOCAL
AM radio can carry a powerful signal that allows for wide geographic coverage. Local businesses looking to connect with their entire community can benefit from such a wide net. By buying a local ad schedule on AM radio, businesses will promote trust and loyalty and increase brand awareness. This is especially true of legacy local businesses that have been in service for 25 years or more.
RELIABILITY AND ACCESSIBILITY
AM radio is reliable and easy to get to. Just turn on your car radio. Mobile phones need a good connection, and that can be tricky. Big AM radio stations have multiple towers to transmit over the air, even during power outages or when cell phone towers are knocked over. Dependability is vital when the chips are down, and an emergency or natural disaster has hit your area. Mobile phone networks can get too much traffic and jam up. The ability of AM radio to provide critical information and updates is huge!
NICHE AND TARGETED AUDIENCES
There is no arguing that streaming off a mobile phone opens a world of choices. But AM radio hits sports fans, political nerds, religious folks, or news hounds. Los Angeles has prominent sports radio stations on AM. AM advertisers can tap into these audiences, so the right people hear their message. It is much easier to navigate buying radio from you than streaming from a website.
PERSONAL AND DOWN THE STREET
AM radio stations often have deep roots within their communities and provide a real personal connection with their listeners. Local play-by-play programming, talk shows, and news updates are often fodder for locals to debate and share their opinions. How does a mobile phone stream do that? It would be hard to call into your favorite show off a delayed stream with your device to listen to it. Businesses can enhance their credibility and build strong customer relationships when swimming in AM radio waters.
For sure mobile phone streams are convenient and accessible. But AM radio has reach, loyalty, local connection, reliability, and target audiences. And AM radios will be available in Fords for the foreseeable future.
Jeff Caves is a sales columnist for BSM working in radio, digital, hyper-local magazine, and sports sponsorship sales in DFW. He is credited with helping launch, build, and develop SPORTS RADIO The Ticket in Boise, Idaho, into the market's top sports radio station. During his 26 year stay at KTIK, Caves hosted drive time, programmed the station, and excelled as a top seller. You can reach him by email at jeffcaves54@gmail.com or find him on Twitter @jeffcaves.