Every Week Is Shark Week For Dan Rusanowsky
"You can't be that guy always looking for the next job. You have to focus on being the best you can be wherever you are."
Memory is funny. It can be difficult to recall small events in our lives that occurred last week, yesterday or even a few hours ago. Our memories can shift without our permission, painting a picture of an experience that might be different than what other people remember. Memories shape who we are, how we think, and even what we value. The cruel universal reality is that it's our darkest moments we tend to remember the clearest.
One can argue memory's greatest ally is time – not the enemy it appears to be. Like a Zamboni to ice, time has a way of healing certain scars from our past, and in the process can turn pain into wisdom. It also has a way of preserving our happiest moments through the decades.
58-year-old Dan Rusanowsky is a man not short on happy memories – and many are tied his 40 year career calling hockey games.  He can tell you in great detail about the time the Sharks snapped a 17-game losing streak in Winnipeg on Valentine's Day 1993.
"After the game," he smiles "they raised a garbage can in the visitor's locker room like it was the Stanley Cup."
His memory is well organized and cataloged. Ask him for a San Jose Sharks story and the Connecticut native would respond with "What season?"
Just about every high point in his professional career is tied to a hockey game on some level. Unfortunately, the same can be said for a very low point in his personal life.
Ask him where his love for hockey began, and Rusanowsky doesn't hesitate.
Herman Solomon, the brother of Rusanowsky's mother, sparked Dan's passion for the sport at a very young age. The two were regulars at New Haven Nighthawk home games and spent plenty of time watching the nearby Yale Bulldogs on the ice. To this day, Rusanowsky continues to honor his uncle's influence.
"I still mention him every game," beams the proud nephew. "I would always refer to him as the unofficial statistician of the broadcast, so much so that people have asked me if he's actually on the payroll."
Long before young Rusanowsky found himself in front of a microphone, he found himself on the stage. He was never far away from the opening of a new play – portraying Captain Hook in Peter Pan and the title role in a Charlie Brown Christmas production. His enthusiasm for acting faded a bit as he entered high school – but Rusanowsky still values his experience as a thespian.
"What I do professionally is, and always has been, performance art. I'm presenting my audience with the images only I can see. Every game is a performance of sorts."
Rusanowsky's reverence for his profession is clear, and it started with what he calls the "romantic" crackle of the radio dial. From his home in Milford, he recalls hearing Penguins broadcasts, Buffalo Sabres, Toronto Maple Leafs via Hamilton, and even the Montreal Canadians.
"The whole thing was in French so I couldn't understand a word," chuckles Rusanowsky.  "Every once in a while they would mention a name though, so I recognized the names!"
Understanding he wanted to pursue a career in his two passions – hockey and radio – Rusanowsky set off for college at St. Lawrence University, roughly 5 hours north of Milford.
St. Lawrence was attractive to Rusanowsky on a couple of levels. For one, it was a small school, a size that would afford him personal relationships with his professors, and two, the Saints played D1 hockey.
"My freshman year I went in there, not really with any clue what I was doing, and I introduced myself to their play by play man, Bob Vilas, and pretty much said I was interested in pursuing this as a career."
To Rusanowsky's shock, it just so happened they were in need of a fill in play by play announcer later that season. Vilas told the 18-year-old to watch some games from the booth and record some practice tapes. In time, Rusanowsky could feel Vilas' confidence growing in him, but even he couldn't have predicted what happened next.
With the Saints games being delivered on the local NPR station, Vilas didn't have the luxury of commercial breaks during intermissions.
"One game in that first season he came up to me and said 'Dan, here's your interview subject, I'll be back in 5 minutes, you're on in 30 seconds,' just like that I was on the air for the first time ever."
Rusanowsky still remembers the man he interviewed – Tom Burke, a hockey writer – but he wouldn't give himself high marks for the conversation.
"I don't have that tape. I wish I did! I'm sure it was just about the worst interview in the history of radio!"
While the thought of the tape might be cringe-worthy, he looks at that experience as a seminal moment. Not only was it his on air debut, but he was given a challenge he wasn't prepared for and didn't back down.
"In this job," Rusanowsky explains, "what you expect is often not what happens. You have to be prepared for the unexpected and find a way to make it work."
Rusanowsky made it work, and a Hall of Fame broadcast career was born.  By his Junior year, he became the voice of the Saints, a title he didn't want to lose on account of graduation after his senior year, so he enrolled in grad school at nearby Clarkson University.  He knew the next logical step towards his ultimate dream of landing in the NHL was a position in the American Hockey League.  He would check religiously, and finally – one day after his graduation from Clarkson – he got an offer from the New Haven Nighthawks.  His hometown AHL club.
He was thrilled for the opportunity, but his paycheck left a lot to be desired.
"When I got the job in June I weighed 175 lbs. The next time I stepped on the scale was when I was home for Christmas in December – I was 148 lbs."
The radio veteran laughs today when talking about his early days in the industry, as he grinded his teeth through so much uncertainty. He recalls looking forward to road trips because he could pocket a little extra per diem cash. One thing he never did was look too far ahead, and he believes that made all the difference in his career ascension.
"You can't be that guy always looking for the next job. You have to focus on being the best you can be wherever you are."
In his five years with the Nighthawks, Rusanowsky was responsible for promoting the club and selling season tickets – a side of the business that interested him greatly. For the first time in his life, Rusanowsky was learning about the business side of his craft. Understanding the intersection of art and commerce. It's that layered knowledge of the radio business that would serve him greatly in his next position.
By the late 1980s Dan was approaching 30. He knew in the next couple years, if he wanted a to buy a house or settle down with a family, he'd have to consider a career shift. He couldn't accomplish his personal goals on an AHL salary. Before he walked out of the booth entirely, he knew the NHL was expanding with a franchise in the Bay Area – a region of the world as foreign to the Connecticut kid as another country entirely. Always a realist, Rusanowsky understood his chances of becoming the radio voice of the San Jose Sharks was slim, but he submitted his tape to the powers that be regardless.
"I mailed in my tape and they asked for another one, that was a good sign. I sent another tape and they asked to fly me out for an in-person interview, that was a very good sign. I fly out to meet everyone and they tell me I'm one of a couple different people they're considering, that's a great sign."
Dan is not lost for words when you ask him about his uncle Solomon, Bob Vilas, and about a dozen other individuals who he credits with the rise of his career. However, when you ask him about the moment he was offered an NHL radio announcing job, he's efficient and humble.
"They offered me the job and I said yes almost before they could finish asking."
The San Jose Sharks played their first two seasons roughly an hour north of San Jose in the Cow Palace just south of San Francisco.  The venue was a bit of relic, even 30 years ago, but that certainly didn't bother their 30-year-old radio play by play man.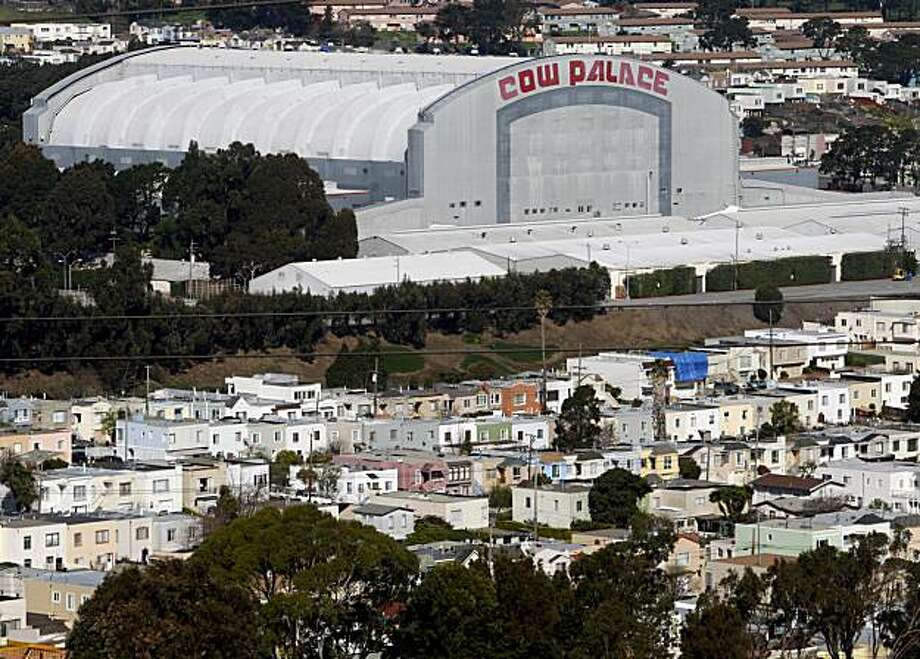 "I look back at the Cow Palace years and remember a lot of fun times," he offers with a grin, as if to say he can't begin to tell me half the stories he has locked away.
"We definitely did our fair share of losing though."
During their second season, the Sharks lost a staggering 17 consecutive games and earned just 24 points in the standings.  It was clear after two seasons, the shine of the new NHL franchise was wearing off in the Bay Area.
"A new team is like a new baby," Rusanowsky explains. "The first year, everyone wants to come and see the baby, then the 2nd year you get less visitors. Well, our circumstances were such that in year 3, despite losing so much in year 2, we had a renewed energy around the team when we finally moved to San Jose. San Jose is interesting in that it's bigger than San Francisco, but it's very much in the shadow of San Francisco. This was the first team of the major four leagues who said 'we want to be in San Jose, we want San Jose in our name,' and the community around here really embraced us for that."
In their first season in San Jose and third in existence, the Sharks made their first postseason appearance. Soon thereafter, the new franchise was much more than a novelty in the league – they were regularly playing meaningful hockey in late spring and the entire Bay Area was taking notice.
Personally, Dan couldn't have been happier. He had met his wife in his new adapted city and not only was he an NHL play by play man – he had called every game in franchise history. That streak, unfortunately, came to an unexpected end on November 25, 2000.
Like they so often are, Dan finds the details leading up to this particular bad memory very easy to recall.
"It was the Saturday after Thanksgiving. The New Jersey Devils were in town and I had just spent the morning at practice getting some interviews done for that night. My routine for home games was generally always mornings with the team, then I'd go home to work in my office before coming back for the game. That day, I was invited to a new restaurant my friends had just opened up, so I thought I'd stop by for a quick lunch, that's the only reason I was at that particular intersection on that particular day."
Rusanowsky pauses slightly, as if to apologize for the upcoming hole in his story.
"I don't remember the impact, of course, but a driver ran a red light – hit my driver's side door and I woke up in the hospital."
The then-39-year-old suffered a number of injuries, most notably a fractured femur and a ruptured diaphragm, the second of which would've been life threatening if not quickly identified by a specialist that day.  That night, the San Jose Sharks played their first game in franchise history without Dan Rusanowsky in attendance.  He would spend the next week in the hospital and would not return to the booth for 27 games.  It was a dark time for Silicon Valley's adopted son and his wife, but it's an experience in which he realized he belonged in San Jose.  
"The reception I got from the team, from the fans and from the community was overwhelming.  It truly was.  When I was healthy enough to return to work, I was presented with four long panels covered in get well messages from fans.  Those are still in my house, and they're not going anywhere."
Like his panels, Rusanowsky doesn't seem to be going anywhere either.  Last season he called his 2,000th regular season game for the Sharks.  He also has the incredibly rare distinction of calling every playoff game in franchise history – including the 2016 run to the Stanley Cup Finals.
Six years ago the East Coaster was immortalized in the Bay Area Radio Hall of Fame.  Ask him about it and he's quick to share the honor with his fellow inductees.  He points to his nearly 20 year working relationship with KFOX, the terrestrial station that has carried Rusanowsky's Shark network since 2000.  On paper, Dan has done just about all one can hope to do in the world of sports broadcasting, but he's still as enthusiastic as ever to go to work every day.
"It's a unique lifestyle, doing what I do.  It's also an honor and a privilege to be broadcasting in the National Hockey League.  Working in sports and sports broadcasting is as rewarding now as it's ever been I believe. 
"You look at a market like the Bay Area – there's people from all walks of life, from all different backgrounds.  There's different groups of people who may disagree on any number of topics – but the one thing we can all see eye to eye on is sports.  If our local teams win, we all win, and we can share that together.  If we can share that together, I think that opens up a lot of other things we can do together."

Being Wrong On-Air Isn't A Bad Thing
…if you feel yourself getting uncomfortable over the fact that you were wrong, stop to realize that's your pride talking. Your ego. And if people call you out for being wrong, it's actually a good sign.
In the press conference after the Warriors won their fourth NBA title in eight years, Steph Curry referenced a very specific gesture from a very specific episode of Get Up that aired in August 2021.
"Clearly remember some experts and talking heads putting up the big zero," Curry said, then holding up a hollowed fist to one eye, looking through it as if it were a telescope.
"How many championships we would have going forward because of everything we went through."
Yep, Kendrick Perkins and Domonique Foxworth each predicted the Warriors wouldn't win a single title over the course of the four-year extension Curry had just signed. The Warriors won the NBA title and guess what? Curry gets to gloat.
The funny part to me was the people who felt Perkins or Foxworth should be mad or embarrassed. Why? Because they were wrong?
That's part of the game. If you're a host or analyst who is never wrong in a prediction, it's more likely that you're excruciatingly boring than exceedingly smart. Being wrong is not necessarily fun, but it's not a bad thing in this business.
You shouldn't try to be wrong, but you shouldn't be afraid of it, either. And if you are wrong, own it. Hold your L as I've heard the kids say. Don't try to minimize it or explain it or try to point out how many other people are wrong, too. Do what Kendrick Perkins did on Get Up the day after the Warriors won the title.
"When they go on to win it, guess what?" He said, sitting next to Mike Greenberg. "You have to eat that."
Do not do what Perkins did later that morning on First Take.
Perkins: "I come on here and it's cool, right? Y'all can pull up Perk receipts and things to that nature. And then you give other people a pass like J-Will."
Jason Williams: "I don't get passes on this show."
Perkins: "You had to, you had a receipt, too, because me and you both picked the Memphis Grizzlies to beat the Golden State Warriors, but I'm OK with that. I'm OK with that. Go ahead Stephen A. I know you're about to have fun and do your thing. Go ahead."
Stephen A. Smith: "First of all, I'm going to get serious for a second with the both of you, especially you, Perk, and I want to tell you something right now. Let me throw myself on Front Street, we can sit up there and make fun of me. You know how many damn Finals predictions I got wrong? I don't give a damn. I mean, I got a whole bunch of them wrong. Ain't no reason to come on the air and defend yourself. Perk, listen man. You were wrong. And we making fun, and Steph Curry making fun of you. You laugh at that my brother. He got you today. That's all. He got you today."
It's absolutely great advice, and if you feel yourself getting uncomfortable over the fact that you were wrong, stop to realize that's your pride talking. Your ego. And if people call you out for being wrong, it's actually a good sign. It means they're not just listening, but holding on to what you say. You matter. Don't ruin that by getting defensive and testy.
WORTH EVERY PENNY
I did a double-take when I saw Chris Russo's list of the greatest QB-TE combinations ever on Wednesday and this was before I ever got to Tom Brady-to-Rob Gronkowski listed at No. 5. It was actually No. 4 that stopped me cold: Starr-Kramer.
My first thought: Jerry Kramer didn't play tight end.
My second thought: I must be unaware of this really good tight end from the Lombardi-era Packers.
After further review, I don't think that's necessarily true, either. Ron Kramer did play for the Lombardi-era Packers, and he was a good player. He caught 14 scoring passes in a three-year stretch where he really mattered, but he failed to catch a single touchdown pass in six of the 10 NFL seasons he played. He was named first-team All-Pro once and finished his career with 229 receptions.
Now this is not the only reason that this is an absolutely terrible list. It is the most egregious, however. Bart Starr and Kramer are not among the 25 top QB-TE combinations in NFL history let alone the top five. And if you're to believe Russo's list, eighty percent of the top tandems played in the NFL in the 30-year window from 1958 to 1987 with only one tandem from the past 30 years meriting inclusion when this is the era in which tight end production has steadily climbed.
Then I found out that Russo is making $10,000 per appearance on "First Take."
My first thought: You don't have to pay that much to get a 60-something white guy to grossly exaggerate how great stuff used to be.
My second thought: That might be the best $10,000 ESPN has ever spent.
Once a week, Russo comes on and draws a reaction out of a younger demographic by playing a good-natured version of Dana Carvey's Grumpy Old Man. Russo groans to JJ Redick about the lack of fundamental basketball skills in today's game or he proclaims the majesty of a tight end-quarterback pairing that was among the top five in its decade, but doesn't sniff the top five of all-time.
And guess what? It works. Redick rolls his eyes, asks Russo which game he's watching, and on Wednesday he got me to spend a good 25 minutes looking up statistics for some Packers tight end I'd never heard of. Not satisfied with that, I then moved on to determine Russo's biggest omission from the list, which I've concluded is Philip Rivers and Antonio Gates, who connected for 89 touchdowns over 15 seasons, which is only 73 more touchdowns than Kramer scored in his career. John Elway and Shannon Sharpe should be on there, too.
Money Isn't The Key Reason Why Sellers Sell Sports Radio
I started selling sports radio because I enjoyed working with clients who loved sports, our station, and wanted to reach fans with our commercials and promotions.
A radio salesperson's value being purely tied to money is overrated to me. Our managers all believe that our main motivation for selling radio is to make more money. They see no problem in asking us to sell more in various ways because it increases our paycheck. We are offered more money to sell digital, NTR, to sell another station in the cluster, weekend remotes, new direct business, or via the phone in 8 hours.
But is that why you sell sports radio?
In 2022, the Top 10 highest paying sales jobs are all in technology. Not a media company among them. You could argue that if it were all about making money, we should quit and work in tech. Famous bank robber Willie Sutton was asked why he robbed twenty banks over twenty years. He reportedly said," that's where the money is". Sutton is the classic example of a person who wanted what money could provide and was willing to do whatever it took to get it, BUT he also admitted he liked robbing banks and felt alive. So, Sutton didn't do it just for the money.
A salesperson's relationship with money and prestige is also at the center of the play Death of a Salesman. Willy Loman is an aging and failing salesman who decides he is worth more dead than alive and kills himself in an auto accident giving his family the death benefit from his life insurance policy. Loman wasn't working for the money. He wanted the prestige of what money could buy for himself and his family. 
Recently, I met a woman who spent twelve years selling radio from 1999-2011. I asked her why she left her senior sales job. She said she didn't like the changes in the industry. Consolidation was at its peak, and most salespeople were asked to do more with less help. She described her radio sales job as one with "golden handcuffs". The station paid her too much money to quit even though she hated the job. She finally quit. The job wasn't worth the money to her.
I started selling sports radio because I enjoyed working with clients who loved sports, our station, and wanted to reach fans with our commercials and promotions. I never wanted to sell anything else and specifically enjoyed selling programming centered around reaching fans of Boise State University football. That's it. Very similar to what Mark Glynn and his KJR staff experience when selling Kraken hockey and Huskies football.
I never thought selling sports radio was the best way to make money. I just enjoyed the way I could make money. I focused on the process and what I enjoyed about the position—the freedom to come and go and set my schedule for the most part. I concentrated on annual contracts and clients who wanted to run radio commercials over the air to get more traffic and build their brand.
Most of my clients were local direct and listened to the station. Some other sales initiatives had steep learning curves, were one-day events or contracted out shaky support staff. In other words, the money didn't motivate me enough. How I spent my time was more important.
So, if you are in management, maybe consider why your sales staff is working at the station. Because to me, they'd be robbing banks if it were all about making lots of money.
Media Noise: BSM Podcast Network Round Table
Demetri Ravanos welcomes the two newest members of the BSM Podcast Network to the show. Brady Farkas and Stephen Strom join for a roundtable discussion that includes the new media, Sage Steele and Roger Goodell telling Congress that Dave Portnoy isn't banned from NFL events.
Podcast: Play in new window | Download
Subscribe: RSS