Talent Is Futile Without Work Ethic
"By March of 2011 I had just about given up on the idea of moving to North Dakota or West Texas to start my career. Instead I settled on whatever job in the industry I could get."
Falling in love with the idea of a career in sports media was easy. Too easy. Getting paid to talk about sports? It was almost too good to be true.
As a kid I was fortunate enough to be surrounded by a great support group. Like so many others in the industry, I grew up with an addiction to sports and attention – and my family made sure I never went too long without getting my fix. Community theater, football, speech tournaments, basketball – you name the night and we were driving to and from a rehearsal or practice.
Naturally, I was attracted to my local sports radio shows and SportsCenter anchors. Here were people who understood my addiction. They shared my passion for sports and the performing arts. I had friends who grew up with the dream of becoming cops, teachers, lawyers – that was all well and good. For me – it was always sports media. How hard can it be?
No one wants to tell the bright eyed, bushy tailed high school senior that unlike doctors and lawyers – there's neither a demand or road map for aspiring sports radio hosts or television anchors. Like Los Angeles restaurants are filled with aspiring actors waiting tables, colleges are filled with aspiring SportsCenter anchors producing reels.
Unfortunately, that's a lesson you don't learn until you graduate and look around wondering why your emails and calls aren't getting returned from sports directors all over the country.
In the summer of 2010 that was my reality.  I had spent the previous four years at Gonzaga University – an experience I wouldn't trade for the world – and I couldn't understand why I wasn't fielding offers from stations left and right.  I was a natural on air.  I was among the best in the entire GU broadcast department.  Couldn't they see that?
That reality was sobering.  For the first time in my life I wasn't the irreplaceable funny guy.  I wasn't the one who could get whatever I wanted just by charming someone.  I was just a resume in a stack of resumes.  I wasn't one in a million – I was one of a million.  
What made matters worse was seeing my classmates get jobs. Years later I would learn that being envious of your friends is pointless, but as an unemployed 22-year-old with no prospects I couldn't help myself. If I couldn't get a job, I didn't want anyone getting a job.
By March of 2011 I had just about given up on the idea of moving to North Dakota or West Texas to start my career.  Instead I settled on whatever job in the industry I could get – which turned out to be a Production Assistant role with KCBS, a news radio station in my home of San Francisco.  At $11/hour in one of the most expensive cities in the world – I was pretty much living at the poverty line, but I had the proverbial foot in the door.
Once I was working, soon the dream became attainable.  I was cutting sound and re-writing AP wire stories, but I was working.  I looked around at the reporters and anchors and began to understand they were normal people.  I began to understand that maybe my dream wasn't too good to be true.  
In August of 2012, the PAC-12 Networks launched and it finally felt like I was in the right place at the right time.  A freelance position turned into a staff position, and within 3 years I was writing and producing long-form features.  I was flying across the country to interview guys like Steve Mariucci and John Robinson.  I was sitting in production meetings with Rick Neuheisel and Ronnie Lott.  More importantly, I was looking at Mike Yam and Ashley Adamson and understanding that being charismatic in front of the camera is great – but it's hard work that sets you apart in this industry.  You can be the funniest guy in the room, you can be the smartest guy in the building – but there is absolutely no substitute for hard work.  One hour on air is the result of a day's work behind the scenes and at 26, that was a concept I had never really grasped.  I realized my personality was great but useless if I didn't put in the work.
In the Fall of 2015 I received my first on-air job offer – as a news anchor for KPQ radio in the sprawling metropolis of Wenatchee, WA.  A lot of family and friends scratched their heads when I decided to give up a great job and a beautiful apartment in San Francisco to move into a duplex in rural Central Washington – but most of my colleagues understood. 
I had carved out a life at the PAC-12 and was well on my way to becoming a producer that could work just about anywhere in the country by the time I was 30 – but my desire to be on air was always right under the surface, and the "what if" game was not one I was interested in playing as I grew older.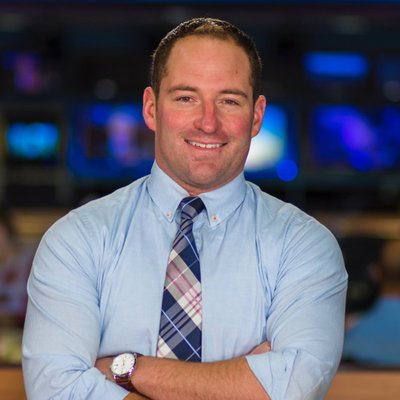 I'd be lying if I said I never second guessed my decision to work for KPQ. I went from covering USC's dismissal of Steve Sarkisian to writing about Wenatchee's city council race in a matter of weeks – but I was all in. With time, it felt like the right decision.
Within a couple months of my arrival, the station hired Don West, a man made famous in the 90s as a Shop at Home Network baseball card pitchman and TNA wrestling host.  He was loud, obnoxious and hilarious.  We got along famously.  
Together we launched the region's first sports show and within a couple months the three hour midday window become the station's most profitable portion of the clock.  It was incredible.  It was my dream.
It wasn't enough.
I loved my time with Don, and his trust in me allowed my confidence to soar on the microphone. However, in October of 2016 I was offered a position with KXLY in Spokane as a morning show reporter with the opportunity to fill in as a sports anchor. It was an offer I couldn't refuse.
By the Fall of 2017, everything had lined up for me. I was on TV everyday, I had travelled to Phoenix for the Final Four with Gonzaga 6 months prior, and I was surrounded by a network of close friends. I had another two years on my contract with KXLY, at which point I would no doubt make a market jump and end up in a bigger city with a bigger paycheck. I had played career roulette a couple years prior and it was clear I made the correct decision – until adversity knocked on the door in the form of a broken back.
I went as long as I could without surgery, understanding that back surgery for a guy in his late 20s should be a last resort. I tried physical therapy, cryotherapy, cortisone shots and even acupuncture. Nothing seemed to help. Every morning would start with pain and every evening would end in an unhealthy amount of painkillers. Between liveshots I would lay flat on the ground, no matter where I was. I once shot an Eastern Washington football game with my stomach down on the red turf. Surgery was inevitable, and by January of 2018 I caved.
The relief was instant. I was once again able to sleep through the night, ride in a car, and go through my day without violent mood swings caused by pain. Everything was back on track – until I blew it out again one month after the surgery.
By March of 2018 I was a 29 year old with two back surgeries to my name and a cloudy future.  I loved my job, I loved my coworkers, but I knew carrying a camera and performing the everyday duties of a modern local journalist was out of the question.  There's no perfect road map for a career in sports media, but my path had run into a brick wall.  It was a rough time, I couldn't help but feel every sacrifice I had made until that point, every career triumph, every accomplishment had been for nothing.  I was lost. 
Fortunately, the KXLY News Director was more of a friend and mentor than a boss.  Melissa Luck was beyond supportive through my back issues, and fully understood when I asked to be released from my contract early.  She was more than willing to make accommodations to keep me around, but I knew that was a temporary fix.  My next boss in the next market wouldn't be so understanding.  My career in local news was over.
Enter Jason Barrett.
Growing up in the Bay Area, I had been aware of JB for a long time.  He had done what so many in the market thought was impossible when he challenged the mighty KNBR with 95.7 The Game in 2011.  I had also probably sent the guy a dozen emails over the years- none of which ever earned a response.  I never took that personally – you can't afford grudges in this industry.  To be honest, it really never set Jason apart from the rest of the Program Directors I was trying to flag down.  I was funny, I had a resume, I had references – but I wasn't much more than a resume in a stack of resumes.
Imagine my surprise when Jason responded to one my emails.  Of course, this time it wasn't in response to a co-host position, it wasn't for a producer role, it wasn't even for a board op gig.  Jason reached out after I applied to write for SportsRadioPD.com.  
To JB's credit – he laid it out straight.  He wasn't looking for an anchor, he wasn't looking for a host – he was looking for a guy who wasn't too proud to rewrite stories from a number of other sources he could then post on the site.  
To be perfectly honest, I was torn. I was 30. I had filled 3 hours of radio by myself regularly. I had written, produced and edited features that still air in regularity on cable television. I had gone live for 90 seconds from an active live scene with little more than "the cops are here, Robyn," more times than I care to count.
To rewrite the words of other writers wasn't borderline insulting – it was insulting.
Fortunately – with age and wisdom comes wisdom and perspective.
The wisdom part was easy. I knew this was a relationship-driven industry. I also knew Jason Barrett was a dude who knew everybody. And I mean everybody. He wasn't just an ally I wanted, he was an ally I needed.
Perspective was a little tougher. Yes, he was asking me to do mind-numbing work. Work that I, quite honestly, thought was a waste of my time. But – who the hell was I in Jason's eyes? Sure I had been been on TV and radio for a few years. Maybe I had a writing credit or two to my name – but that didn't mean anything to Jason. Once I wrapped my mind around that, whatever insult I thought being asked to rewrite to words of other writers was became easier to swallow.
I committed.
I said I would write a couple 200-400 word stories a night for awhile – with Jason's word that he would go to bat for me once I proved myself.
I thought I would mail in a couple stories for a month or two, Jason would recognize my genius, and off I would go to my next gig somewhere.  I was wrong.  
Somewhere along the way I started to feel sorry for myself.  I started giving myself excuses, giving myself outs.  I was moving.  I was starting a fulltime job with iHeartRadio in the city.  I was going through the motions with Jason and I pretended to be shocked the day Demetri Ravanos (JB's right hand man) sent me an email essentially asking if I wanted to keep working for BSM.  
That email came in early June.  To be honest, half of me wanted to reply with a kind "Thank you for asking, I'm too busy to continue with you, good luck."
Communication is hard enough in a work environment. It's especially hard when you're working remotely and your only correspondence from the superiors is "hey, you're not doing a good job."
It was as I was writing the email I had the realization; JB and Demetri weren't out to get me – they were right. I was doing a horrific job. Sure, I had a few clever references to a number of John Hughes films in my stories – but I wasn't really sweating over the pieces I submitted. Cutting off my tie to Jason and Demetri would be nothing more than a sign of my arrogance. I knew I had the capacity to tell a story, I just needed the opportunity to show them.
Although I probably didn't deserve it, Jason gave me a bit of a leash with features. Instead of a couple stories a night, he'd give me 3,000 words on someone or something a week. I didn't take the privilege lightly.
We're a few months removed from that conversation and my role with BSM has shifted dramatically. I no longer look at Demetri as the "email guy" – he's a friend. He's even funny if you're in the right state of mind. JB is no longer a "boss," he's a mentor. He's a resource I can lean on. I can ask him honest questions and he'll get back to me with thought out, genuine answers.
This change didn't happen overnight – it happened because I went to work. I took pride in every piece I turned in, every word. Jason's rolodex opened up. Soon he was trusting me to represent him and his brand in front of leaders in the industry. It's not because I had a funny reel, it's not because I have fancy contacts – it's because I earned his respect, and that's a respect I intend on keeping.
I don't know where my career is headed, but things seem to be a bit brighter with my new contacts.
I was humbled, to be honest, when Demetri asked me to write about my experience in the industry. He seems to be of the impression young professionals might have something to learn. If I were to pass on any kind of wisdom, it's simple.
Talent is great. It futile without work ethic.

Being Wrong On-Air Isn't A Bad Thing
…if you feel yourself getting uncomfortable over the fact that you were wrong, stop to realize that's your pride talking. Your ego. And if people call you out for being wrong, it's actually a good sign.
In the press conference after the Warriors won their fourth NBA title in eight years, Steph Curry referenced a very specific gesture from a very specific episode of Get Up that aired in August 2021.
"Clearly remember some experts and talking heads putting up the big zero," Curry said, then holding up a hollowed fist to one eye, looking through it as if it were a telescope.
"How many championships we would have going forward because of everything we went through."
Yep, Kendrick Perkins and Domonique Foxworth each predicted the Warriors wouldn't win a single title over the course of the four-year extension Curry had just signed. The Warriors won the NBA title and guess what? Curry gets to gloat.
The funny part to me was the people who felt Perkins or Foxworth should be mad or embarrassed. Why? Because they were wrong?
That's part of the game. If you're a host or analyst who is never wrong in a prediction, it's more likely that you're excruciatingly boring than exceedingly smart. Being wrong is not necessarily fun, but it's not a bad thing in this business.
You shouldn't try to be wrong, but you shouldn't be afraid of it, either. And if you are wrong, own it. Hold your L as I've heard the kids say. Don't try to minimize it or explain it or try to point out how many other people are wrong, too. Do what Kendrick Perkins did on Get Up the day after the Warriors won the title.
"When they go on to win it, guess what?" He said, sitting next to Mike Greenberg. "You have to eat that."
Do not do what Perkins did later that morning on First Take.
Perkins: "I come on here and it's cool, right? Y'all can pull up Perk receipts and things to that nature. And then you give other people a pass like J-Will."
Jason Williams: "I don't get passes on this show."
Perkins: "You had to, you had a receipt, too, because me and you both picked the Memphis Grizzlies to beat the Golden State Warriors, but I'm OK with that. I'm OK with that. Go ahead Stephen A. I know you're about to have fun and do your thing. Go ahead."
Stephen A. Smith: "First of all, I'm going to get serious for a second with the both of you, especially you, Perk, and I want to tell you something right now. Let me throw myself on Front Street, we can sit up there and make fun of me. You know how many damn Finals predictions I got wrong? I don't give a damn. I mean, I got a whole bunch of them wrong. Ain't no reason to come on the air and defend yourself. Perk, listen man. You were wrong. And we making fun, and Steph Curry making fun of you. You laugh at that my brother. He got you today. That's all. He got you today."
It's absolutely great advice, and if you feel yourself getting uncomfortable over the fact that you were wrong, stop to realize that's your pride talking. Your ego. And if people call you out for being wrong, it's actually a good sign. It means they're not just listening, but holding on to what you say. You matter. Don't ruin that by getting defensive and testy.
WORTH EVERY PENNY
I did a double-take when I saw Chris Russo's list of the greatest QB-TE combinations ever on Wednesday and this was before I ever got to Tom Brady-to-Rob Gronkowski listed at No. 5. It was actually No. 4 that stopped me cold: Starr-Kramer.
My first thought: Jerry Kramer didn't play tight end.
My second thought: I must be unaware of this really good tight end from the Lombardi-era Packers.
After further review, I don't think that's necessarily true, either. Ron Kramer did play for the Lombardi-era Packers, and he was a good player. He caught 14 scoring passes in a three-year stretch where he really mattered, but he failed to catch a single touchdown pass in six of the 10 NFL seasons he played. He was named first-team All-Pro once and finished his career with 229 receptions.
Now this is not the only reason that this is an absolutely terrible list. It is the most egregious, however. Bart Starr and Kramer are not among the 25 top QB-TE combinations in NFL history let alone the top five. And if you're to believe Russo's list, eighty percent of the top tandems played in the NFL in the 30-year window from 1958 to 1987 with only one tandem from the past 30 years meriting inclusion when this is the era in which tight end production has steadily climbed.
Then I found out that Russo is making $10,000 per appearance on "First Take."
My first thought: You don't have to pay that much to get a 60-something white guy to grossly exaggerate how great stuff used to be.
My second thought: That might be the best $10,000 ESPN has ever spent.
Once a week, Russo comes on and draws a reaction out of a younger demographic by playing a good-natured version of Dana Carvey's Grumpy Old Man. Russo groans to JJ Redick about the lack of fundamental basketball skills in today's game or he proclaims the majesty of a tight end-quarterback pairing that was among the top five in its decade, but doesn't sniff the top five of all-time.
And guess what? It works. Redick rolls his eyes, asks Russo which game he's watching, and on Wednesday he got me to spend a good 25 minutes looking up statistics for some Packers tight end I'd never heard of. Not satisfied with that, I then moved on to determine Russo's biggest omission from the list, which I've concluded is Philip Rivers and Antonio Gates, who connected for 89 touchdowns over 15 seasons, which is only 73 more touchdowns than Kramer scored in his career. John Elway and Shannon Sharpe should be on there, too.
Money Isn't The Key Reason Why Sellers Sell Sports Radio
I started selling sports radio because I enjoyed working with clients who loved sports, our station, and wanted to reach fans with our commercials and promotions.
A radio salesperson's value being purely tied to money is overrated to me. Our managers all believe that our main motivation for selling radio is to make more money. They see no problem in asking us to sell more in various ways because it increases our paycheck. We are offered more money to sell digital, NTR, to sell another station in the cluster, weekend remotes, new direct business, or via the phone in 8 hours.
But is that why you sell sports radio?
In 2022, the Top 10 highest paying sales jobs are all in technology. Not a media company among them. You could argue that if it were all about making money, we should quit and work in tech. Famous bank robber Willie Sutton was asked why he robbed twenty banks over twenty years. He reportedly said," that's where the money is". Sutton is the classic example of a person who wanted what money could provide and was willing to do whatever it took to get it, BUT he also admitted he liked robbing banks and felt alive. So, Sutton didn't do it just for the money.
A salesperson's relationship with money and prestige is also at the center of the play Death of a Salesman. Willy Loman is an aging and failing salesman who decides he is worth more dead than alive and kills himself in an auto accident giving his family the death benefit from his life insurance policy. Loman wasn't working for the money. He wanted the prestige of what money could buy for himself and his family. 
Recently, I met a woman who spent twelve years selling radio from 1999-2011. I asked her why she left her senior sales job. She said she didn't like the changes in the industry. Consolidation was at its peak, and most salespeople were asked to do more with less help. She described her radio sales job as one with "golden handcuffs". The station paid her too much money to quit even though she hated the job. She finally quit. The job wasn't worth the money to her.
I started selling sports radio because I enjoyed working with clients who loved sports, our station, and wanted to reach fans with our commercials and promotions. I never wanted to sell anything else and specifically enjoyed selling programming centered around reaching fans of Boise State University football. That's it. Very similar to what Mark Glynn and his KJR staff experience when selling Kraken hockey and Huskies football.
I never thought selling sports radio was the best way to make money. I just enjoyed the way I could make money. I focused on the process and what I enjoyed about the position—the freedom to come and go and set my schedule for the most part. I concentrated on annual contracts and clients who wanted to run radio commercials over the air to get more traffic and build their brand.
Most of my clients were local direct and listened to the station. Some other sales initiatives had steep learning curves, were one-day events or contracted out shaky support staff. In other words, the money didn't motivate me enough. How I spent my time was more important.
So, if you are in management, maybe consider why your sales staff is working at the station. Because to me, they'd be robbing banks if it were all about making lots of money.
Media Noise: BSM Podcast Network Round Table
Demetri Ravanos welcomes the two newest members of the BSM Podcast Network to the show. Brady Farkas and Stephen Strom join for a roundtable discussion that includes the new media, Sage Steele and Roger Goodell telling Congress that Dave Portnoy isn't banned from NFL events.
Podcast: Play in new window | Download
Subscribe: RSS