Brandon Tierney Joins The Bears
"It would be a disservice to not keep an open mind, as a person, a broadcaster, father who's trying to show my children that anything's possible and my wife who believes more in me than I believe in myself."
Humans are competing with grizzly bears and sports radio host Brandon Tierney is at the center of it all.
No, Tierney isn't actually taking on a grizzly himself, but he's hosting a new show for Discovery Channel featuring people that will, titled Man vs Bear.
The concept – each week three human competitors will engage in challenges of strength, speed and stamina against three grizzlies. The bears receive home field advantage, using their Utah sanctuary for the show's location. Each episode includes five challenges, with the top two competitors advancing to the final round against the largest bear, Bart standing 8' 6" tall and weighing in at 1,400 pounds. Points are earned during each challenge and used to determine a champion. For the season's final episode, the top three point-getters return for one last competition against the bears.
The series premieres on Discovery Channel Wednesday, December 4th at 9pm, featuring commentary from Brandon Tierney and co-host Casey Anderson. With 25-years of experience, Anderson is a wildlife expert on animal biology and behavior, a filmmaker, having also rescued seven bears from inhumane captivity situations. Tierney, co-host of the nationally syndicated Tiki and Tierney on CBS Sports Radio, brings more than two decades of sportscasting to Man vs Bear.
If Tierney seems like an interesting selection for this greenlit show on Discovery Channel, there were times he had the same thought. Trying something new in front of 40 cameras, 20 associate producers and three grizzly bears, is not an easy task. The opportunity was challenging, but equally rewarding.
Maybe the biggest challenge was finding a way to mix his current TV and radio gigs with the time requirements it would take to host Man vs Bear on Discovery. With his daily show on CBS Sports Radio, also simulcast on CBS Sports Network, stepping away for five weeks to work for an entirely separate entity in Discovery seemed like a tall ask. But Tierney credits his employers, bosses and agency for their willingness to work symbiotically and help him get this new opportunity.
Although the platform is new for Tierney, the expectations are the same as his other media responsibilities – create, entertain and deliver content. The ability to step outside the box and prove something to himself, was an opportunity Tierney couldn't pass up as he continues to embrace the world and new challenges.
BRANDON CONTES: With all of your TV and radio work, Discovery Channel is very different from anything you've done, how did this opportunity get to you?
BRANDON TIERNEY: I'm in an Uber heading to Nashville to do Tiki and Tierney from the NFL Draft and I get an email from my agency about a new show Discovery is working on. They were looking for a host and the email said 'they know you, they like you and they'd like to gauge your interest.' But as soon as I read the stipulation of a five-week hiatus to shoot the show in Beaver City, Utah I knew there was no way I could do it. I was honored, but logistically I didn't think it could work.
They still wanted to do a Skype interview and I always think it's good to network and meet new people. It was supposed to be 15 minutes, we ended up going for over an hour. I put my best foot forward, I had fun, I was happy with it and I honestly didn't think much about the job beyond that.
Two days later, I get a call – they want to fly me to Los Angeles for a chemistry test.  I had a 6am flight out of Newark, flew to Los Angeles for a noon audition, went right back to the airport and was back at Newark 6am the next morning. The chemistry test was with the potential co-host and person they identified as a bear biologist, Casey. It went great and I remember telling him, I don't know if I'll ever see you again, but if we get a chance to do this show I can't wait to have a scotch with you because I think we'll do great work. [Laughs] It just felt natural.
BC: I remember you doing your show from Utah a couple of times over the summer, I didn't realize you were out there for five weeks though!
BT: If I didn't have the synergy between Entercom, CBS Sports Network and Tiki [Barber] as a great partner, I wouldn't be able to do this. I took all my remaining vacation and applied it to this. During dark days, which was once, sometimes twice a week, I drove 45 miles to Salt Lake City for Tiki and Tierney. CBS Sports Net got a mobile TV studio for me to do the show and everyone made concessions for this. When I first learned about the opportunity, I didn't think there was a chance it would come together as serendipitously as is it did. Herculean effort by all involved that I work with and for.
BC: It is pretty interesting that Discovery has no affiliation with CBS or Entercom, but they were willing to help make this happen for you.
BT: Absolutely and I was also juggling the BIG3 at the time so there was a lot going on. If one person didn't acquiesce, then it doesn't happen. I'm so thankful to everyone.
I'm a huge Discovery fan, but my expectations about the possibility of this working out were tempered. After I auditioned, about 4 or 5 days later, the phone rings and they think I'm a great fit. From that point it became a dance of the business aspect, which my agency works out, but now we have to tell CBS Sports and Entercom that I have this opportunity. We need to find a way to make this work logistically, which still felt unrealistic even though I was offered the role.
My agency was in constant communication with everyone involved and multiple companies, multiple people were so flexible and accommodating to make this work. It was humbling to see the work my employers put in, just so I could host this show.
BC: Were you nervous to try something so different? You're flying out there to host a show and I'm sure you didn't have lines memorized at the time and you didn't have exact details as to how everything was going to work on the show.
BT: I remember sitting in my trailer, which was extravagant and hysterical in itself, but I'm looking around, I have my script, I'm mic'd up and now my hearts pounding. But its go time, you have to sink or swim, this is different, this is going to be tough, you have to make it work. You have to dig down deep and crush it.
When you do what I do every day, you have a database of thoughts and historical occurrences that you can tap into and bridge from one thought to the next if you're ever stuck. You have an excess of verbal ammunition.
But I'm not ashamed to admit this, right before we shoot, I'm standing there with my co-host Casey. The show doesn't start until I speak and I'm looking around and there are 40 cameras, 40 lighting technicians, this monstrosity of a set, 20 AP's and it's a different world! In that second, I'm a little overwhelmed and questioning can I do this? Well you better find a way because the show is about to start.
BC: You've done plenty of TV in your career, but did you have an interest in branching away from sports? I'm sure the challenge was exciting, but have you been targeting opportunities like this?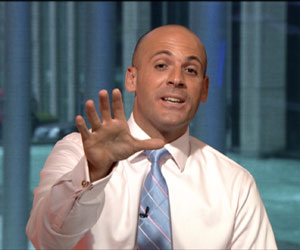 BT: I've always had an interest in being challenged and I've always had a natural curiosity and again, I've always been an ardent fan of the Discovery Channel. I do think it's important to have hobbies and places to check out of the sports world a little bit, to infuse normalcy into your life. I've attacked my career with an open mind and I'm always prepared to give different things a try.
The core of what I do is, and always will be sports, but it's a big world and I'm not afraid to embrace and explore it. I proved something to myself, that I wasn't 100% sure I could do. I left Utah with a different understanding of my skill set and a deep level of confidence in the ability to challenge myself.
BC: There were nerves and moments wondering if this was something you could do. If you look back on your career, radio/television, local/national, is there one job or even one moment you could reflect on and take something from that you feel helped you?
BT: You just tap into your broadcasting instincts and understand that conversation is paramount. You find what messages need to pop and resonate. One of the jobs that definitely helped, because there was a lot of standup work, was the Red Storm Report which I've done for a long time with MSG and St. Johns. I learned how to have a presence, because camera presence is vastly different from verbal presence.
Anytime you do something new, you tap into that vulnerability and if you channel that properly, it really goes from a possible detriment to a true asset. The first time I was ever on TV in Detroit, or on Cold Pizza with ESPN, when I auditioned for First Take, when I helped launch a national radio network, those are moments where there's not necessarily a net if you fall and we all fall because nobody does every segment and is fully enthralled in what you do. You have to be self-critical, you also have to appreciate when you do something well and find that balance.
BC: Did you interact with the grizzlies?
BT: We were close to them. They're tame, they've been out of the wildlife since birth, but they're still animals. There's a whole protocol with the wildlife team and with their trainers, but Bart – the biggest bear is almost 9-feet tall and 1400 pounds. There were times when we're shooting promos and Bart is only 11 or 12 feet away from us and my back is to him. I'm trying to deliver these lines, but I'm human! You realize, if something, God forbid happens, you'll be squashed like a gnat and ripped apart like a salmon! It puts a charge through your body that you can't replicate because we're not faced with those innate dangers day to day.
BC: Has branching out inspired you to set other TV goals? Stephen A. Smith talks about wanting a late night show. Do you now have new goals that you previously never thought were attainable?
BT: You're always looking to evolve. My personal evolution as a broadcaster has gone from local radio, moving to larger markets, incorporating TV and not being very good at first, going national. All of the different auditions and different jobs have reinforced that I'm incredibly lucky, but also that I've been talented enough, smart and blessed to take advantage of those opportunities. You don't jump at every project, you get to a point where you can turn things down, but anything is possible. I'm at the point now, in my 40s, I'm a dad, I've traveled the country, I'm in tune and curious about the world. It would be a disservice to not keep an open mind, as a person, a broadcaster, father who's trying to show my children that anything's possible and my wife who believes more in me than I believe in myself. There are no limitations. 
BC: You have this big platform with your national radio show, could it be easy to ever get complacent and say I'm just going to focus on this and not look for new opportunities?
BT: This is going to sound contrived, but I don't look passed today in terms of my profession and I can say this with 100% conviction, I don't take a segment off. There's no such thing as this show's been good, I can mail the rest of it in. There's always some young buck ready to come take your job and eventually somebody will. We all get older, but I've always viewed myself as an underdog.
I'm from a middle-class family in Brooklyn where these jobs didn't seem attainable. I didn't have one connection in this business so I've fought and scrapped for everything I've earned. There are people who have given me the chance to prove them right and if I didn't have those platforms, I absolutely wouldn't be here today, but I wake up every morning and my mission is to slay it on the radio. To put out the most thought-provoking, passionate, energetic show of anybody. I'm probably insecure in my place in the industry. There are a lot of things I'm proud of on my resume, but it doesn't feel that way. I'm not Stephen A. Smith. I'm in a good space, but there are still several rungs to climb. Complacency? Not a chance.
BC: What's next for your radio show? I get the need to slay it and the underdog mentality when you're young and you're in small markets, climbing and chasing something. But you did local, you did major market, you've done morning, midday, now you're in the afternoons on a national stage – What's the next step for your radio career? What are you chasing exactly? Would you ever go back to local?
BT: My focus is on this show. To gain more affiliates and more markets, to convince people to say 'Tiki and Tierney, that's a show that we need.' Three hours is great, I want four hours, five hours, I want more real estate, I want a larger platform, I want to connect with more people and continue to solidify the Tiki and Tierney, the CBS Sports Radio brand into the sporting realm every day.
I'm up for juggling some local, there's a part of my heart that is local. Local radio is imbedded in my soul and I'd be dishonest if I said I wouldn't be open to being able to do both. I also use Twitter for that local connection. But the Tiki and Tierney brand has grown and Tiki has really grown. He's smart, curious and passionate for being great.
We're motivated by the same things, but we're very different and I think that's why our balance is great. He knows when to let me go nuts for a few minutes and conversely, I can see when it's time to give him 30 carries and let him roll. I want this show to get bigger.
The thing about national radio that I never thought I would say when we launched and certainly wouldn't have said 10, 12 years ago when I was immersed in local, is that national has enabled me to branch into a different space. The way sports radio has changed and the way people talk about societal topics has opened up the opportunity for new conversations.
BC: Right, if something important outside of sports happens on the west coast, the conversation in New York remains Mets and Yankees, national lets you talk about happenings around the country.
BT: Sports will remain the commonality for our show, but we can morph into important, real-life, sometimes uncomfortable discussions. That is something I cherish and would never want to lose. In my mind, if you really don't carry any bias or any hatred toward any person, then you shouldn't be afraid to talk about this stuff. If you're open-minded and embrace the exchange of ideas, there are no boundaries for what you can create and that's very satisfying and appealing, especially as a dad.
BC: Is it frustrating, you are a New Yorker, Tiki has obvious ties to New York, but the show isn't available in New York terrestrially.
BT: I crave a New York affiliate, this show absolutely deserves and has earned a New York affiliate! But I have Twitter and other outlets, I'm at the Garden for St. John's games and seeing people on the street to fill that local desire.
I love baseball and can talk about it as well as anyone, but with this show, we don't need to spend three hours in the middle of the summer breaking down Mickey Callaway's use of the bullpen. At this stage of my life, I like conversations with depth and layers. With a national platform, you can create interesting and unique discussions.
BC: You mentioned sitting in your trailer and then standing in front of the 40 cameras on set. Your heart is pounding. At this point in your career, after doing this for decades, how often do you get that heart pounding feeling when you're on the radio.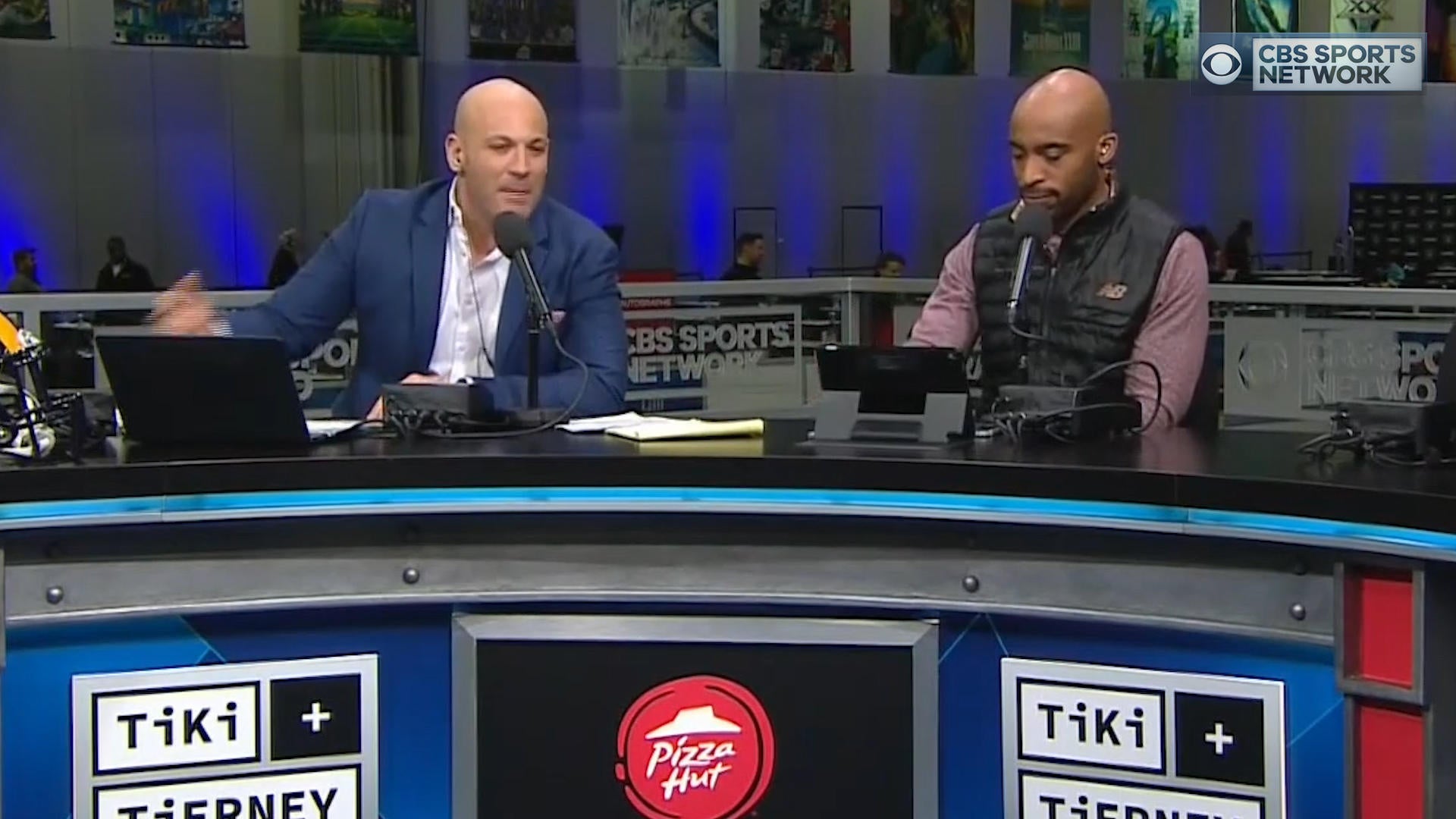 BT: Every day. My fear of underachieving and not attempting to reach greatness is my fuel. It's what keeps me sharp. You can ask Tiki, two or three minutes before we go on-air I feel like I'm going into the ring for a heavyweight fight. It's go-time. Everybody's pregame routine is different, but this is what works for me. I don't deviate from it because without that urgency, I don't feel as if I'm delivering what I want to deliver to my audience.
Brandon Contes is a freelance writer for BSM. He can be found on Twitter @BrandonContes. To reach him by email click here.
Being Wrong On-Air Isn't A Bad Thing
…if you feel yourself getting uncomfortable over the fact that you were wrong, stop to realize that's your pride talking. Your ego. And if people call you out for being wrong, it's actually a good sign.
In the press conference after the Warriors won their fourth NBA title in eight years, Steph Curry referenced a very specific gesture from a very specific episode of Get Up that aired in August 2021.
"Clearly remember some experts and talking heads putting up the big zero," Curry said, then holding up a hollowed fist to one eye, looking through it as if it were a telescope.
"How many championships we would have going forward because of everything we went through."
Yep, Kendrick Perkins and Domonique Foxworth each predicted the Warriors wouldn't win a single title over the course of the four-year extension Curry had just signed. The Warriors won the NBA title and guess what? Curry gets to gloat.
The funny part to me was the people who felt Perkins or Foxworth should be mad or embarrassed. Why? Because they were wrong?
That's part of the game. If you're a host or analyst who is never wrong in a prediction, it's more likely that you're excruciatingly boring than exceedingly smart. Being wrong is not necessarily fun, but it's not a bad thing in this business.
You shouldn't try to be wrong, but you shouldn't be afraid of it, either. And if you are wrong, own it. Hold your L as I've heard the kids say. Don't try to minimize it or explain it or try to point out how many other people are wrong, too. Do what Kendrick Perkins did on Get Up the day after the Warriors won the title.
"When they go on to win it, guess what?" He said, sitting next to Mike Greenberg. "You have to eat that."
Do not do what Perkins did later that morning on First Take.
Perkins: "I come on here and it's cool, right? Y'all can pull up Perk receipts and things to that nature. And then you give other people a pass like J-Will."
Jason Williams: "I don't get passes on this show."
Perkins: "You had to, you had a receipt, too, because me and you both picked the Memphis Grizzlies to beat the Golden State Warriors, but I'm OK with that. I'm OK with that. Go ahead Stephen A. I know you're about to have fun and do your thing. Go ahead."
Stephen A. Smith: "First of all, I'm going to get serious for a second with the both of you, especially you, Perk, and I want to tell you something right now. Let me throw myself on Front Street, we can sit up there and make fun of me. You know how many damn Finals predictions I got wrong? I don't give a damn. I mean, I got a whole bunch of them wrong. Ain't no reason to come on the air and defend yourself. Perk, listen man. You were wrong. And we making fun, and Steph Curry making fun of you. You laugh at that my brother. He got you today. That's all. He got you today."
It's absolutely great advice, and if you feel yourself getting uncomfortable over the fact that you were wrong, stop to realize that's your pride talking. Your ego. And if people call you out for being wrong, it's actually a good sign. It means they're not just listening, but holding on to what you say. You matter. Don't ruin that by getting defensive and testy.
WORTH EVERY PENNY
I did a double-take when I saw Chris Russo's list of the greatest QB-TE combinations ever on Wednesday and this was before I ever got to Tom Brady-to-Rob Gronkowski listed at No. 5. It was actually No. 4 that stopped me cold: Starr-Kramer.
My first thought: Jerry Kramer didn't play tight end.
My second thought: I must be unaware of this really good tight end from the Lombardi-era Packers.
After further review, I don't think that's necessarily true, either. Ron Kramer did play for the Lombardi-era Packers, and he was a good player. He caught 14 scoring passes in a three-year stretch where he really mattered, but he failed to catch a single touchdown pass in six of the 10 NFL seasons he played. He was named first-team All-Pro once and finished his career with 229 receptions.
Now this is not the only reason that this is an absolutely terrible list. It is the most egregious, however. Bart Starr and Kramer are not among the 25 top QB-TE combinations in NFL history let alone the top five. And if you're to believe Russo's list, eighty percent of the top tandems played in the NFL in the 30-year window from 1958 to 1987 with only one tandem from the past 30 years meriting inclusion when this is the era in which tight end production has steadily climbed.
Then I found out that Russo is making $10,000 per appearance on "First Take."
My first thought: You don't have to pay that much to get a 60-something white guy to grossly exaggerate how great stuff used to be.
My second thought: That might be the best $10,000 ESPN has ever spent.
Once a week, Russo comes on and draws a reaction out of a younger demographic by playing a good-natured version of Dana Carvey's Grumpy Old Man. Russo groans to JJ Redick about the lack of fundamental basketball skills in today's game or he proclaims the majesty of a tight end-quarterback pairing that was among the top five in its decade, but doesn't sniff the top five of all-time.
And guess what? It works. Redick rolls his eyes, asks Russo which game he's watching, and on Wednesday he got me to spend a good 25 minutes looking up statistics for some Packers tight end I'd never heard of. Not satisfied with that, I then moved on to determine Russo's biggest omission from the list, which I've concluded is Philip Rivers and Antonio Gates, who connected for 89 touchdowns over 15 seasons, which is only 73 more touchdowns than Kramer scored in his career. John Elway and Shannon Sharpe should be on there, too.
Money Isn't The Key Reason Why Sellers Sell Sports Radio
I started selling sports radio because I enjoyed working with clients who loved sports, our station, and wanted to reach fans with our commercials and promotions.
A radio salesperson's value being purely tied to money is overrated to me. Our managers all believe that our main motivation for selling radio is to make more money. They see no problem in asking us to sell more in various ways because it increases our paycheck. We are offered more money to sell digital, NTR, to sell another station in the cluster, weekend remotes, new direct business, or via the phone in 8 hours.
But is that why you sell sports radio?
In 2022, the Top 10 highest paying sales jobs are all in technology. Not a media company among them. You could argue that if it were all about making money, we should quit and work in tech. Famous bank robber Willie Sutton was asked why he robbed twenty banks over twenty years. He reportedly said," that's where the money is". Sutton is the classic example of a person who wanted what money could provide and was willing to do whatever it took to get it, BUT he also admitted he liked robbing banks and felt alive. So, Sutton didn't do it just for the money.
A salesperson's relationship with money and prestige is also at the center of the play Death of a Salesman. Willy Loman is an aging and failing salesman who decides he is worth more dead than alive and kills himself in an auto accident giving his family the death benefit from his life insurance policy. Loman wasn't working for the money. He wanted the prestige of what money could buy for himself and his family. 
Recently, I met a woman who spent twelve years selling radio from 1999-2011. I asked her why she left her senior sales job. She said she didn't like the changes in the industry. Consolidation was at its peak, and most salespeople were asked to do more with less help. She described her radio sales job as one with "golden handcuffs". The station paid her too much money to quit even though she hated the job. She finally quit. The job wasn't worth the money to her.
I started selling sports radio because I enjoyed working with clients who loved sports, our station, and wanted to reach fans with our commercials and promotions. I never wanted to sell anything else and specifically enjoyed selling programming centered around reaching fans of Boise State University football. That's it. Very similar to what Mark Glynn and his KJR staff experience when selling Kraken hockey and Huskies football.
I never thought selling sports radio was the best way to make money. I just enjoyed the way I could make money. I focused on the process and what I enjoyed about the position—the freedom to come and go and set my schedule for the most part. I concentrated on annual contracts and clients who wanted to run radio commercials over the air to get more traffic and build their brand.
Most of my clients were local direct and listened to the station. Some other sales initiatives had steep learning curves, were one-day events or contracted out shaky support staff. In other words, the money didn't motivate me enough. How I spent my time was more important.
So, if you are in management, maybe consider why your sales staff is working at the station. Because to me, they'd be robbing banks if it were all about making lots of money.
Media Noise: BSM Podcast Network Round Table
Demetri Ravanos welcomes the two newest members of the BSM Podcast Network to the show. Brady Farkas and Stephen Strom join for a roundtable discussion that includes the new media, Sage Steele and Roger Goodell telling Congress that Dave Portnoy isn't banned from NFL events.
Podcast: Play in new window | Download
Subscribe: RSS