Marques Eversoll Can Talk Packers 24/7/365
"We get a ton from all over, we even get some from overseas. There's a guy in London that calls as well. There's some regulars like John in Atlanta, Derik in upstate New York, Big Al in New Jersey they are all over, just like Packers fans are."
You could make a pretty compelling argument Green Bay is the most unique professional sports market in the United States. For starters, with a population of just 105,000, it's the smallest city with a pro team in the country. But as small it may be, it's home to one of the biggest brands in all of the NFL.
There's a small town charm to Green Bay, but inside the city and the surrounding towns, there's a passion for football that's unmatched. When it comes to sports radio in the area, 107.5 The Fan has to fill that passion that exists with the Packers on a daily basis.
Marques Eversoll is one of the hosts that's tasked with this every day challenge. No matter what's going on in sports, every show must revolve around what's going on with the Packers. Year round, that's what the listeners are coming for. Obviously, Green Bay isn't New York, Chicago or Boston, but it has a football team that creates just as much content, if not more, than the football teams in those major markets. 
So how does such a small market revolve around a franchise that extends from coast to coast?
TYLER MCCOMAS: You're in the prime spot of the calendar. Are you even thinking about talking anything but the Packers during this time? 
MARQUES EVERSOLL: Well right now, it's pretty much Packers from start to finish. There's always exceptions, of course, like last year when the Milwaukee Bucks were in the Eastern Conference Finals. It was the first time they even won a playoff series since 2001. There was tension. Now, Bucks talk doesn't play up in Green Bay like it does Milwaukee, but it was still a big story. But normally it's Green Bay Packers 24-7/365.
It can be the middle of June and the NFL Draft is in the books and we're not even to training camp yet, and still every single day I have to come up with a Packers topic idea to start the show. There may be a wide receiver in some other city that said something and I'll try to figure out a way to work that back into the Packers. Nothing in Green Bay plays like the Packers, any time of the year.
TM: How much do things change, programming wise, when football season arrives? Do you change from a small market mentality to a large market mentality?
ME: I would say so. We'll start putting our heads together and planning out the year and the thing we keep coming back to, and you see it in the ratings, more people are listening during football season, because it's football and it's a unique market where it's all about the Packers.
With the promotions and everything, we'll do way more things during football season than we do during the off-season. We always try to get together and put together a road trip or airfare depending where it is. This year it's in San Francisco for the game on November 24, so basically the entire first part of the season, we'll be qualifying people to get invited to the giveaway party. At the giveaway party, someone wins that trip. We did a road trip to Chicago for the season opener, and it was the same type of thing.
We do a Super Bowl party every year, regardless of who's in it, and we're giving away a man cave makeover of some kind. But you can just tell interest in the Packers is unlike any interest in any other sport. It is so unique in a city of roughly of 100,000 people. You can basically fit all of Green Bay into Lambeau Field. As a result of that, everything we do really does center on football season.
TM: Seeing as the Packers fan base extends all over the country, are your online numbers higher than your terrestrial numbers?
ME: To be honest I don't know. During football season we will peak, as I understand it, the mid-morning on Monday after a game or the day before a game. At least in terms of streaming numbers, the day before and the day after a game are really big for us. 
TM: Not only are you covering one of the iconic teams in America, you're also covering one of the faces of the sport. Aaron Rodgers' personal life has been documented so much that everyone seems to know about it. How much is that a talking point for you guys?
ME: That's such a unique situation. We feel like we need to address it because you turn on the TV and every talking head is discussing it. There's rumors about his personal life or behind the scenes anonymous sources on his relationship with the head coach. Well, we're a sports radio station in Green Bay and as much as we might want to move on and talk about something else, we can't do that. Honestly, most times that's probably how we feel because anonymous sources only carry so much weight.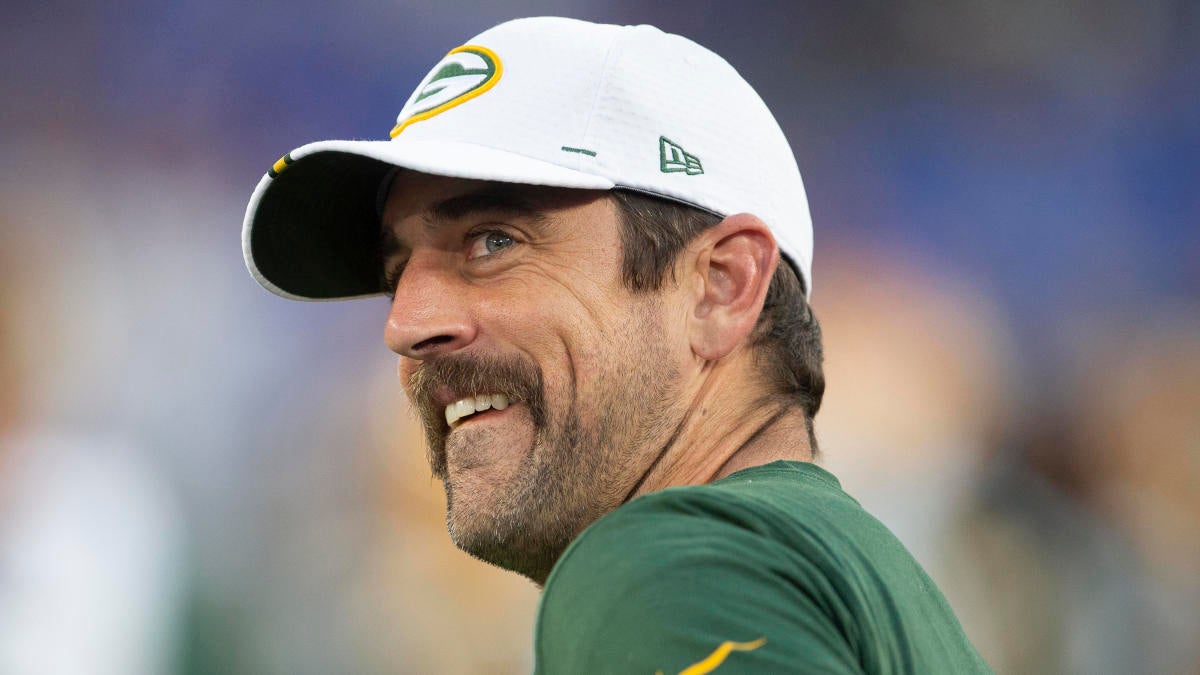 What plays nationally is always, "okay, he's a headstrong guy that's not going to get along with his head coach, because he couldn't even get along with Mike McCarthy." Well, he also worked with McCarthy for more than a decade so let's not act like it was all that bad. The proof was in the pudding, they won a Super Bowl together. Being together for a decade is an eternity in the NFL. It's something you need to address but it's been kind of funny to track the national narrative with Aaron Rodgers because it's the only coaching change of his career.
We just have to find that middle ground on the air. Sometimes he is so hard to work with because he's competitive but nationally is covered so much differently than locally. 
TM: Do you pay attention to the Wisconsin Badgers? They have a loyal and passionate fan base, so do you acknowledge them at all during football season?
ME: I actually grew up a big Badgers fan and lived 10 minutes away from Camp Randall Stadium. But I noticed in the eight years I've been in Green Bay that it depends where you're at in the state for how big the Badgers are. It's way bigger in Madison than it is in Green Bay and the same could be said in Milwaukee. It's more Badger-centric in Madison, whereas the Packers, I don't care if you're in Milwaukee, Madison, La Crosse or even Superior, the Packers are a big deal everywhere.
We are a Badgers affiliate and still pay attention to them. You have to. We do a weekly segment as well as the ins-and-outs of what's going on. You do have to devote some time to the Badgers, because there are people who care more about them than the Packers. They're few and far between, but they're out there. But if I had to gauge how many segments we spend on them, I would measure per week, rather than per day. You just have to spend the majority of your time on the Packers. 
TM: Are your phone callers more apt to be like: Mark in Chicago or Ron from Omaha who are big Packers fans, compared to Chris from Appleton who lives 10 minutes from the station, seeing as the Packers are so national?
ME: We get a ton from all over, we even get some from overseas. There's a guy in London that calls as well. There's some regulars like John in Atlanta, Derik in upstate New York, Big Al in New Jersey they are all over, just like Packers fans are.
We hear from these guys every day but I've never thought about what the breakdown would be as far as local callers versus people from around the country. But now that I think about it, it's more even than what I would have thought. We still get a lot of calls from the guys down the street in Appleton and Oshkosh, but the hard cores could be anywhere across the country. 
TM: How directly dependent is the station on what happens to the Packers? How much can one team influence sales, ratings and everything else?
ME: Really interesting question, because I'm sure there's something to that. Let me put it this way: Before I got into radio, I'm in high school and a big Packers fan, if they lost a tough game, I always tried to just tune it out. I didn't need to hear the talking heads ripping the Packers saying they're terrible and the season is over. I'm going to tune it out and by Tuesday I'll be over it. Then, maybe I'll turn into the sports programming and check back into it. I'm sure there's other people out there that feel that way, but when I got into the business that was a question of mine, like, ok, my first year was 2014 and the team was great. They went 12-4 and ended up in the NFC Championship Game. I just remember thinking, what are we going to do when they start to lose? What are we going to talk about?
Since I've been doing it it's been part of a daily routine and not a problem at all. The Packers have either been good or really disappointing, because the standards are so high. It's still content, whether you like it or not.
Everyone would love to go to the Super Bowl and radio row, but even if they're bad, sometimes that content is even better because you still have something to talk about. The worse thing would be an 8-8 team where we can't figure out if they're good or bad. 

The NFL Hopes You're Lazy Enough to Pay Them $5
"This app reportedly doesn't even have any original content of it's own. NFL Films produces content for ESPN+, HBO Max, Peacock, Tubi, Epix, Paramount Plus, and Prime Video. It has also reportedly had discussions about producing content for Netflix. Unless they plan to bring all of those shows in-house, what kind of shows could NFL Films produce for NFL Plus that you couldn't already find on all of those other apps?"
Corporate goodwill is a hard thing to ask for. It's not something that is a requirement for any entity to engage in. But it can go a long way in establishing a deeper bond for the future. According to Sports Business Journal, NFL owners are contemplating launching a streaming service for the league.
The app would feature podcasts, content created by teams and radio content. It's unknown where the podcast content will come from but one can assume it'll include the various podcasts the NFL produces with iHeartRadio. Team content that is expected to be featured could come from videos and audio that is already posted on team websites and social media platforms such as YouTube.
Various organizations across the league have expanded their YouTube efforts over the last couple of years as the Google-owned site has slowly set itself apart as a leading source for viewership. My hometown team, the Baltimore Ravens, for example promotes a talk show with cornerback Marlon Humphrey where he interviews players and other key figures from the team about their lives and careers and how they got to where they are today.
The most important part of this app will be NFL games itself. On Sunday afternoons, whatever games are airing in the specific location you're in while using the app, those are the games you have access to watch. If you're in Baltimore and a Ravens game is airing on CBS while the Commanders are on Fox, those are the games the app will offer. If you're in Boston and a Patriots game is on CBS while a Giants game is on Fox – you won't have access to the Ravens game airing on CBS in Baltimore or the Commanders game on Fox in Baltimore even if that's where you normally live. These games used to be a part of a deal with Yahoo Sports and Verizon – who distributed them on their apps for free.
JohnWallStreet of Sportico notes, "longer term, the existence of a league-owned streaming platform should help ensure broadcast rights continue to climb." But at the end of the day, how does this help the fan? The increase of broadcast rights is going to end up costing viewers in the long run through their cable bill.
ESPN costs almost $10 per cable customer. The app, as of now, isn't offering anything special and is an aggregation of podcasts, games and videos that fans can already get for free. If you want to listen to an NFL podcast – you can go to Spotify, Apple Podcasts and various other podcast hosting platforms. If you want to watch content from your favorite teams, you can go to their website or their social media platforms. And if you want to watch games, you can authenticate your cable subscriptions and watch them for free through your cable company's app or CBS' app or the Fox Sports app.
It's nothing more than a money grab. Games are already expensive to go to as it is. Gas prices have reached astronomical highs. Watching content has become extremely costly and it's debatable whether buying streaming services is cheaper or more expensive than the cable bundle. And now the NFL wants to add more stress and more expenses to their viewers who just desire an escape from the hardships of life through their love of a beautiful game? It seems wrong and a bit cruel to me.
The beauty of paying for content apps is that you're going to gain access to something that is original and unique from everything else in the ecosystem. When House of Cards first premiered on Netflix, it was marketed as a political thriller of the likes we had never seen and it lived up to its expectations for the most part. The critically-acclaimed series led viewers to explore other shows on the app that were similarly a more explicit and unique journey from what had been seen on television before.
This app reportedly doesn't even have any original content of it's own. NFL Films produces content for ESPN+, HBO Max, Peacock, Tubi, Epix, Paramount Plus, and Prime Video. It has also reportedly had discussions about producing content for Netflix. Unless they plan to bring all of those shows in-house, what kind of shows could NFL Films produce for NFL Plus that you couldn't already find on all of those other apps? Even YouTube has partnered with NFL Films to produce behind the scenes footage of games that is available for FREE.
If you're going to force viewers to pay $5 to watch games on their phone, the least you could do is give fans access to speak with players and analysts before and after the games. Take NFL Network over the top so that we can wake up with Good Morning Football. Offer a way for fans to chat while games are being watched on the app. The ability to watch an All-22 feed of live games. A raw audio options of games. The ability to screencast. Even a live look at the highly paid booths who are calling the games.
Five bucks may seem small in the grand scheme of things but it is a rip-off especially when the content is available for free with a few extra searches. Goodwill and establishing a person to person online relationship with fans could go a long way for the NFL. It's not going to work using these tactics though. And after facing such a long pandemic, offering it up for free just seems like the right thing to do.
Marc Hochman is The Lebron James of Miami Sports Radio
The Hochman and Crowder Show with Solana isn't like anything you'll hear in most major markets. But they wear that distinction with a badge of honor. They're not interested in breaking down why the offensive line can't get a push on short-yardage situations, they want to make you laugh, regardless if it's sports content or not. They're perfectly Miami sports radio. 
There's 30 minutes to go until Marc Hochman's summer vacation and he's suddenly overcome with emotion. Instead of staring at the clock, he's staring at an article from The Miami New Times, which has just named him Best Talk Radio Personality in its "Best of 2022" awards issue. It's an incredible honor in a city that has several worthy candidates, including the man sitting right next to him, Channing Crowder.
But it's not just the honor that's catching Hochman's eye, it's also the paragraph where the newspaper compares him to Lebron James. No, seriously. Compliments are nothing new for the Miami radio veteran, but being compared to one of the best basketball players of all-time is new territory. Part of the paragraph reads like this:
"His current domination of the afternoon drive simulcast on both WQAM and 790 The Ticket (WAXY) is akin to Lebron playing for the Lakers and Clippers simultaneously. Could he do it? Probably. Does Hochman do this daily? Yes. Advantage, Hochman."
Talk about incredibly high praise for a sports radio host. Especially one in Miami where there's still a lot of hard feelings towards Lebron. But the praise is accurate, because the Hochman and Crowder Show with Solana airs on two different Audacy stations every day. It's an interesting dynamic, especially for a market the size of Miami/Fort Lauderdale.
"We have a joke that if you don't like what you're hearing on 560, feel free to tune in on 790," laughed Hochman. "But it's fun and I think in some strange way it's increased our audience. As crazy as it is to say in 2022, there are people who listen to a particular radio station and don't ever change it. I do think being on both stations has expanded our audience. We have fun with it. The show is on for four hours on 560 WQAM and three hours on 790 The Ticket."
It's cool to see Hochman get this type of honor during his 10th year of being an afternoon host on 560 WQAM. Especially since he's originally from Chicago, but has carved out an incredible career in a city he's called home since the late 80s. It's funny to think Hochman had no interest in sports radio in 2004 when his college friend Dan Le Batard offered him a job as an executive producer at a startup station in Miami. Now, 18 years later, he's being voted as the best to do it in the city.
"Everybody likes to be recognized for what they do," said Hochman. "We get recognized all the time by the listeners, but when someone out of your orbits writes their opinion of what you're doing, and it's that glowing of an opinion, it's great. I've been compared to Lebron before, but it's always been my hairline. It was nice to be compared to him for another reason. That was super cool."
The best part about all of this is how Hochman will use this as a funny bit on the show, because, above anything else, he's instantly identified as someone who's incredibly gifted at making people laugh on the air. There's no doubt it will become a theme on the show, both with him and his co-hosts, Crowder and Solana.
"The award came out about 30 minutes before I was leaving for my summer vacation, so I had about 30 minutes on the air to respond to it," Hochman said. "So I'm sure it will become a bit on the show, I certainly will refer to myself as the Lebron James of sports talk radio in Miami. Although, there's still some hard feelings here towards him.
That was the one part that jumped out, obviously, to me, Crowder and to Solana. I don't think I'm Lebron James but Crowder said on the air that sometimes you have to acknowledge when you're playing with greatness, and he said "I used to play defense with Jason Taylor and Junior Seau, now I'm doing radio and I will acknowledge greatness."
With or without this honor, it's pretty evident Hochman is the happiest he's ever been in sports radio. He's surrounded with two talented co-hosts, but the sentiment is that Hochman does an incredible job of putting both Solano and Crowder in situations to be the best versions of themselves on the air. However, Hochman sees it differently.
"I think that's more on the people around you," he said. "If you have great teammates, they're great. Crowder and Solana, those dudes, if you want to make a basketball comparison, we have ourselves a Big Three.
Solana is the best at what he does, Crowder is the absolute best radio partner I've had in my career. He's so aware of what it takes to entertain but also has broadcast sensibilities at the same time. I actually think he's the one that makes us sound better than what we really are. He has a really incredible knack for entertaining but also informing."
The Hochman and Crowder Show with Solana isn't like anything you'll hear in most major markets. But they wear that distinction with a badge of honor. They're not interested in breaking down why the offensive line can't get a push on short-yardage situations, they want to make you laugh, regardless if it's sports content or not. They're perfectly Miami sports radio. 
"I would say Miami is the strangest sports radio market in the country," said Hochman. "I grew up in Chicago so I'm intimately familiar with Chicago sports talk. Miami sports talk, which is Le Batard, who redefined what works. In Miami, that's what it needed. It's more guy talk than sports talk. We certainly can't break down a third inning in a Marlins game and why a runner should have been running when he wasn't, the way that New York, Philadelphia or Boston radio could."
"That doesn't work here. When Crowder and I go on the air everyday, we've always said, our goal is we want to laugh the majority of our four hours on the air. If we're laughing, we assume the audience is laughing, as well. That's our personality. We both like to laugh and have fun. I like to do it, no matter what is going on. That translates to the radio. Luckily, Miami is a sports radio market that embraces that, because I don't think we could do a show any other way."
Please Stop With the No Announcer Broadcast Shtick
"Perhaps the biggest issue I have is there's nobody there to set the scene, or to build drama in key moments. Those big sequences in a game need a play-by-play announcer to let you know just how important this situation is to the game."
Enough already. Stop trying to make a splash. Stop trying to be so gimmicky. Just give this idea that's been done before a rest. Permanently. Peacock recently broadcast a Sunday game between the Tigers and Royals with no announcers in the booth. There were reporters conducting interviews and showing fans different views of the ballpark, but there was no commentary. No play-by-play. No analyst. Been there. Done that. Now stop. 
This sounds like a publicity stunt. As if to say, 'our baseball broadcasts on Peacock are struggling, so let's get people talking about us, right?' I guess to an extent it worked, because people were talking about it and I'm writing about it.
Instead of traditional play-by-play and color analysis, the broadcast featured something "completely different," as Sam Flood, NBC Sports executive producer puts it. There were reporters that took fans around Detroit's Comerica Park, showing the game from different angles and vantage points.
"The whole idea of this is treating a game completely different. We're going to take you out to the ballpark," said Flood. "We just want to be the ultimate fan's experience and spend it like anyone else. It's an American holiday celebration weekend. We're going to lean in and treat baseball like fans do."
Ahmed Fareed, MLB Sunday Leadoff host and in-game reporter was part of the game. He was joined by Bally Sports Detroit analyst Craig Monroe and NBC Sports' Britney Eurton.
"One of our goals for the Peacock game has been to celebrate the game and the players and everything that makes the sport special. So, for this game that kind of gives us an opportunity to celebrate everything that makes baseball special off the field," Fareed said.
Reaction to the stunt was mixed on social media. 
Those that did not enjoy the broadcast seemed to be turned off by the fact they couldn't do what they normally do when watching a game.
Other viewers weren't fans of the reporters and who they were interviewing, instead of focusing on the baseball game.
Some just didn't seem overly impressed by the production, even if they didn't realize the whole game would be without announcers.
There were those that enjoyed the broadcast and liked the way the game 'breathed' with only the natural sounds of the game shining through. 
Others that were fans of the 'experiment' pointed out that the lack of constant talking was soothing. 
There were also viewers that felt like they were being taken behind the scenes, which was enjoyable for some. 
This is not the first time a network has tried the shtick, for lack of a better word. 
TNT attempted "players only" broadcasts a few years ago, experimenting with NBA alumni on the game broadcasts instead of a traditional play-by-play and analyst set up. The idea was to let those who once played, talk about those that are currently playing. It didn't work.
Late in the 1980 NFL season, NBC was looking for something to bring in some fans for a Dolphins/Jets game in Miami, so they went the 'no announcer' route. The plan was to have the PA announcer give a little more information after each play to help viewers on the telecast. The rest was just fan reaction at the old Orange Bowl. It was successful in bringing in curious viewers, but not something NBC deemed sustainable.
It was the brain child of Don Ohlmeyer. He was the first producer of Monday Night Football, produced and directed three Olympics broadcasts, won 16 Emmy awards and is a member of the Sports Broadcasting Hall of Fame. Yet, that broadcaster-less game continues to follow him.
"All the stuff I've done in my career," Ohlmeyer told ESPN in 2010, "and that's what I'm going to be remembered for. It serves me right."
One lesser motivation for Ohlmeyer in presenting a game without announcers was reportedly to send a message that he thought announcers talked too much during telecasts, sometimes speaking less to inform than to fill space with the obvious. He felt that intruded on compelling action.
The late Dick Enberg was the top football announcer back then, and while nervous that the game would be a success, he did learn a few things. He spoke to ESPN in a 2010 interview that the experiment helped him in the long run.
"It improved me. Consciously, to this day, there are moments in every sport that I do when I kind of throw up my hands as if to say to myself and to my partner, 'Let's not talk. This moment is special, we don't need to talk. Let's let it play.'" That is a good lesson even today. Allow the game to breathe.
Look, you already know where I stand on this, but let me make a case. I'm not exactly sure how no announcers on a broadcast really serves an audience. To me it's quite the opposite. Many people have the telecast on, but aren't paying attention to every pitch and count on the announcers to let them know what's going on.
If you start watching in the bottom of the fourth inning and it's a 3-2 ballgame, how did the game get to this point? There's nobody there to recap it for you. Graphics only can say so much.
Along those lines, there's no explanation of confusing or controversial plays. How can such plays or instances be clarified?
Part of what I enjoy about doing play-by-play and hearing when I'm watching a telecast are the interesting back stories. The trials and tribulations of the 30-year-old rookie finally getting a shot at the big-league level. I want to hear about a pitcher developing a cutter in the offseason to help his cause. It feels kind of empty when an opportunity to share good information is wasted because nobody is in the booth.
Perhaps the biggest issue I have is there's nobody there to set the scene, or to build drama in key moments. Those big sequences in a game need a play-by-play announcer to let you know just how important this situation is to the game. The telecast needs the words to support the picture and stress the enormity of what is happening at that time. It falls flat without it.
In some ways, I'd like to encourage more networks to try this, because they will help to prove my point even more. These 'gimmicky' telecasts, just reinforce what some of us see as normal and necessary. We need the play-by-play and analysis to make the broadcast complete.