Get On The Air However & Wherever You Can
"While we never have a completely mistake free broadcast, you can hear effort, you can hear potential and you can certainly hear growth."
You're looking to hire a play-by-play announcer. Where are you looking? The traditional route of those already working for a team? Probably a safe way to go, but these days there is play-by-play talent across many platforms. Have you ever considered an alternative route?  
With all the different streaming services, ESPN+, internet radio and even apps, there are many people calling many game, whether it be a young broadcaster looking to earn his/her first job, or a veteran looking to stay in the game and continue to do what they love. Both are out there and readily available to hear probably without even leaving your desk. 
Opportunities abound for broadcasters in the play-by-play realm. I always tell young broadcasters to get on the air in any way possible. I started as a DJ, but it proved to an employer that I knew how to handle myself and gave them an idea of what I sounded like.
These days, does it really matter if your tape comes from an internet broadcast? Is it so bad to be heard and/or seen on a college basketball team's video stream on ESPN Plus? No! If you are able to perform the job at a high level, sound great, be descriptive and be prepared, to me you're on the right track. 
Now these "alternate" platforms can create some issues. To me there are too many of them and they seem to be popping up every day. New apps like "Hot Mic" give anyone a chance to call a game with a "home team" flavor. I'm not sure that those charged with hiring new broadcasters are looking to this sort of free form site to make their decisions. Not to disparage the newcomers but "Hot Mic" is more of a fan thing, where you don't have to watch the professional guys on TV and can join this app and watch whoever you want call the game. All good, but I don't think this is the place to get that job. It's definitely a place to hone your skills if you take it seriously. 
So, while I know that my last two paragraphs may sound like a contradiction, they really aren't. Established platforms are taken a little more seriously by those in the business than the newer ones. As we all know, this broadcasting business has a lot of grey areas. What is wrong for one executive is correct for another and vice versa. My thought would be to pursue the more "heritage" avenues until you've exhausted those. Then take to the alternatives to get your craft up to speed and try again and again.  
There are also more places and teams to call games for these days as well. This gives you an opportunity to get involved with a team in the G-League, the XFL, indoor lacrosse leagues, and even independent baseball leagues. Expand the net that you cast in these directions as well.   
The problem some will run into is the person doing the hiring may go with a known commodity as opposed to the up and coming sportscaster that's only done games on the internet. It's not fair. But you have to put yourself in their shoes. Sometimes their own job will depend on who they hire and how that person works out. On the other hand, a younger broadcaster may work a little more "inexpensively" and not price themselves out of the market like a veteran. 
I would love to see a time where minor league clubs and even those in the four major sports, take the time to develop a roster of broadcasters. How much easier would a hiring process be if you as a major sport broadcast executive already knew about several announcers on the rise? Why wouldn't they want to make the process as easy for them as possible by following someone's career path and how they've grown in the industry?
Let's not expect this to happen overnight. Also, let's not think that some of these rising stars will be ready for the 'next' hire a team makes, maybe it's one or two down the road. Maybe this is going on in some organizations already, developing a pipeline for lack of a better word to their club. To make it tougher on those in the hiring position, you as a broadcaster have to continue to grow and not look at a game on a streaming platform any differently than you would a television or radio network. To make your mark you have to be on the mark every time you crack the microphone. While we never have a completely mistake free broadcast, you can hear effort, you can hear potential and you can certainly hear growth.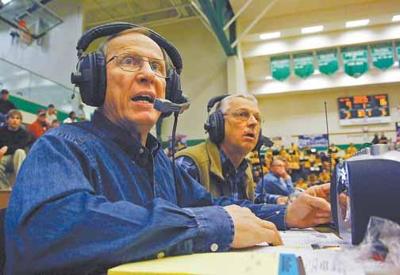 There are countless numbers of examples of announcers starting from nothing and ending up with terrific jobs. The difference between those that made it and those that didn't is constant work. Shop your wares, do your homework, put in the time and effort.
The same can be said for those doing the hiring, expand your scope, check out a game on the internet every once in a while. You might be surprised at what you hear.
Media Noise – Bob Costas (Part 1) – Episode 52
This is a real treat. It is part one of Demetri's extended chat with the great Bob Costas! The two talk about the movie BASEketball, how Bob feels about the term "seam head" and so much more. Enjoy!
Podcast: Play in new window | Download
Subscribe: RSS
You Need A Little Devil In You To Prospect Properly
"Jones thinks it is impossible to prospect more than 18 customers, and I agree with him."
Give the Devil his due. Speak of the Devil. Prospecting is the Devil's work. And, now, thanks to sales author and speaker Phil M Jones, you have devilishly productive prospecting.
I ran across Jones after a recommendation from long-time radio sales trainer Chris Lytle. Jones has a smooth delivery complete with a British accent and focuses on training salespeople on what to say, when to say it, and even how. I have found him direct, simple to understand, and implement.
Recently, he deviated from our sales language and reminded us about his prospecting philosophy. So many of us relate cold calling with prospecting when, it could be reconnecting with orphan accounts, upselling current accounts, or approaching people you know but just haven't done yet. And, yes, of course, it can involve approaching clients you don't know. 
When we first start as an AE, most of all we do is chase new prospects. Our list is anywhere from 60-100+ accounts, and our sales software can organize it a hundred different ways. As we progress, we get 20-30 accounts on the air with another 15-20 seasonal accounts, and then we have as many as 50 dead accounts. Here's another way to do it. Cut it back to 18 total accounts. Jones thinks it is impossible to prospect more than 18 customers, and I agree with him.
After working with 2 million salespeople, Jones has found that there's no way we can actively WORK more than eighteen accounts at a time. Jones says we should list 18 prospects who fit the descriptions of our perfect customer. It is easier to think about 18 prospects rather than 80. The list always stays at 18 as you drop off clients who say no or yes and replace them. The "devilish" tie-in here is that Jones organizes the prospects into three groups of six.
Get it? 6-6-6? Here they are:
Low Hanging Fruit
These six are ready to drop, and all you must do is line them up. These are prospects who can bill this month because it's an easy decision for them. The billing number may not be that big, but it makes SENSE! The florist for a Valentine's Day promo, a sporting goods store for a pro athlete remote, call-ins, referrals, or existing clients who are repeat business.
Perfect client
Gather six clients who fit the perfect description of a client. It could be one who listens to the station, sponsors a local team, or matches up with your personality well. One of the feelings that can overcome you is that YOU get to choose and are empowered when you invite them to do business with you.
BIG 6
These are dream clients. Think big budgets and big clients. Corporate clients, municipalities, or clients in high-rise office buildings, clients that it could take a year in your pipeline to even get an opportunity to present an annual budget. These accounts require you to get to know key decision-makers in that company, volunteer to be around them, whatever it takes. You can't have 18 prospects like this BIG 6, or you won't sell anything in the short term. 
Your BIG 6 can move into a Low Hanging Fruit basket. Then, you need to replace them, and the Devil is in the details.
Q Myers Is Making People Part Of Something
"Everyone isn't in the same cookie cutter and sound the same. Everyone has their own flavor and I think that's a great thing."
The goal was simple: To be the most popular hip-hop DJ in San Francisco. It was about as ambitious of a goal as there is in music radio, but for Qiant Myers, who goes by Your Boy Q, it was viewed as the top of the mountain. Anything less for the California kid would be viewed as a step down. 
To chase that dream, Q started off as an intern at Wild 94.9 in San Francisco. He handed out prizes in the street, along with other entry level responsibilities. Though his duties were in no way glamorous, he knew immediately he wanted to be on the air at the same place he was at. But to do that, legendary Bay Area DJ Victor Zaragosa told him he'd have to leave the city and work his way back. 
So he did. For the next few years, he went all over California to perfect his craft as a radio DJ. He left San Francisco for Stockton, then to Merced and Fresno for a job at Q97.1.
"That's where I really started to get cooking," said Q. "I even became the music director."
As his career was starting to pick up, he left Fresno for a job in Monterey at a sister station of Q97.1. Unfortunately, it wasn't a great situation and he left shortly after arriving. He found himself back in Fresno working at Power 106, which was a small start-up. The station soon went under and he was out of a job. Just as Q was starting to hit his stride, he was out of radio.
He was on the sidelines for close to a year with a new job at FedEx. It wasn't radio, but he was happy with the new gig and lifestyle. That's when he got a call from the same person that gave him his last job in Fresno. 
"He said, are you done with radio?" Q said. "I said if the right opportunity came along, sure, I'd take it. He told me he was starting a new station in Texas. No joke. That's what he told me. As a West Coast dude I was thinking Dallas, Houston, San Antonio or even Austin."
But the opportunity wasn't in any of the major markets in Texas. Instead, it was in Waco, a college town situated 90 miles south of Dallas.
"The only thing I knew about Waco was things got burned there," laughed Q. "I basically shut it down immediately."
But a friend urged him that Waco was a college town that he might actually like. Q did some research and came to the conclusion it was a risk worth taking. The thought process was simple: What's the worst that can happen? If things didn't work out, he would just return to California and get his job back at FedEx.
Remember, even when he was out of radio, the goal was still San Francisco.
"I took a train from Fresno to Los Angeles to San Antonio and then Waco," said Q. "It took like three days. I wouldn't recommend that to anybody,"
Q got to work at the music station but quickly realized he didn't like the set up for how things were operating. Having been at several stations already, he knew things weren't going to work for the start-up station. That's when a competing station in the market called.
"They called and said, hey, we're really interested and you're really good at what you do," said Q. "I've never been a guy that's crossed the street to the competition, my resume says that and I never want to be that guy, but what attracted me to this hip-hop station was the fact there was an ESPN radio affiliate in the building."
That's when he met David Smoak, arguably the most influential person in Q's radio career. Their paths first crossed in 2010, when Smoak arrived in Waco to be the PD of ESPN Central Texas. From what Q understands, the station had reached a certain level, but Smoak's arrival brought an instant credibility.
"People really started respecting that station," said Q. "He was always really prideful and made sure the station sounded great."
Q was at Power 108 but in 2011 he found himself inside the same building as Smoak. His life was changing and Q found more and more he wasn't as passionate about hip-hop music as he had been earlier in his career.
Instead, a real interest in doing sports radio was beginning to form. He loved his west coast teams and was always passionate about sports, now he had the idea of doing it at the same building he was already employed at. So he brought a strategy to action. He started bugging Smoak in the hallway.
"I would tell him, hey man, it would be really cool to be on ESPN," Q said. "I never really thought he was taking me seriously or that he ever heard me, but he was a really cool dude."
"You could tell he loved sports," said Smoak. "He was always talking about something going on in sports. He had an incredible passion for the NFL, but he was more than just that. He was one of those that always wanted to pick my brain."
Smoak randomly called Q into his office to chat. He wanted to know if the hip-hop radio DJ wanted to do sports. Q's pestering finally paid off. ESPN Central Texas was starting a new midday show and they wanted him to be a part of it. Obviously, Q was ecstatic but then Smoak mentioned something at the tail end of the conversation.
"Then he told me he didn't have any money for me," laughed Q.
"He always showed up and would do anything, even for just a segment, without getting a nickel," Smoak said.
But that didn't matter. In August of 2012, Q's sports radio career began with no money attached. By October 2012, he found his way on the payroll. It was a testament to how quickly the company was impressed by his abilities.
For the next 18 months, he was doubling as a music DJ and sports radio host. Two shows a day was tough, especially doing a sports show in a market he wasn't super familiar with, but he figured it out quickly and made it happen. Finally, in 2014, the parent company came to him with the option of going full-time at ESPN Central Texas. It was a no-brainer. Sure, the money still wasn't great, but he didn't care. It was done. Sports radio was now his sole professional focus.
Q never thought he would be in Waco for a decade, but that's where he spent the most important stages of his radio career. He parlayed his experiences in central Texas, along with some podcasting and co-hosting opportunities outside of the market, to a job with Lotus Broadcasting in Las Vegas. Yet again, it took accepting host roles where he wasn't getting paid, but his determination to get his voice in the market was a major reason why he's now employed in the desert.
Q manages four different radio stations, as well as hosting at Raider Nation 920 and the Locked on Raiders podcast, among other things. He's truly a do-it-all employee at Lotus Broadcasting.
"The biggest key is time management and I think that's the one thing I've been really good at in my life," Q said. "It's tough and intense but luckily I have a great support staff, like my wife, who understands and supports everything I do."
The goal is no longer San Francisco. Even though he was chasing the urge to get back to The Bay, a friend told him Vegas should be his priority. Why? His favorite team, the Raiders, are there. His mom is there and the market is exploding right now on the sports media front.
It seems Q always finds great advice from people. That's a credit to the people he surrounds himself with. But the advice to leave San Francisco behind and pursue Vegas was one of the best things someone could have told him. He's a PD and gets to cover his favorite NFL team on a daily basis. It's not the dream job he was after, but the dream job found him.
"He just always wanted to soak in information about sports talk radio," Smoak said. "He was always full throttle with his knowledge of sports and how much he wanted to talk about it. It just all came natural to him and the rest is history.
It's hard to tell if Q is more talented as a PD or a host. He's extremely gifted in both areas. His Locked on Raiders podcast is unique in the fact he takes calls and texts. Granted, they're not live and previously recorded, but it's a feature not common in the podcast space that's really helped the growth of the show.
"I think people like to be a part of something," Q said. "That's what made me think that was a good idea. I found out you could put up a voicemail line attached to your Gmail. People call in and leave messages and I put them on the show. I treat the podcast the same way I do the radio show."
You can also hear his show, Unnecessary Roughness, on Raider Nation 920 from 2-4 p.m. every weekday. Though his podcast and radio show are formatted in a similar manner, there are still a few things you'll hear differently on terrestrial radio.
"Obviously, I'll have more guests on the radio show," said Q. "Even though it's Raider Nation 920, I'll talk UNLV, boxing, UFC, A's potentially moving to Vegas, all of that."
His podcast has actually helped his radio show. The following that he's built on Locked on Raiders has started trickling over to his radio show. They'll listen to his podcast in the morning and then his radio show in the afternoon.
Gambling talk is mixed in, sure, but he doesn't hide he's still not perfect when it comes to that type of content.
"I wasn't really well-versed on sports gambling content and I'll be honest, I'm not the most well-versed now," said Q. "But I'm learning.'
Just like he did learning the landscape of Baylor athletics and high school football in central Texas, Q will undoubtedly figure out sports gambling, too. Granted his role doesn't nearly require it as much as other sports media entities in the city, but it is an important piece in how the industry will evolve in the future.
Q has turned his previous passions of being a hip-hop DJ and moving back to San Francisco, into hosting sports radio shows and podcasts. He's passionate about the city of Vegas and he's passionate about being one of the few black PD's in sports radio.
"I remember when Jason Barrett wrote an article about it and I was so all over it," said Q. "I think it's a need. What really opened my eyes was when I was in Texas and we'd go to Radio Row at the Super Bowl. There was literally a group of us that would get together and say, here are the African Americans that are on the radio that haven't played the sport professionally in the state of Texas. There were like eight or nine of us and Texas is huge!
"I love the fact Lotus gave me that opportunity and they never hesitated. The more people that look like me that get more opportunities to show what we can do, I think it's going to open the door for other people, as well. The more diverse the better, because it makes for better radio. Everyone isn't in the same cookie cutter and sound the same. Everyone has their own flavor and I think that's a great thing."