How Des Moines Stepped Up For KXNO
"We have plenty of national shows and you can get those anywhere. But there's just this connection with local sports, and those are the ones who care about it the most."
In the middle of such a dark week in sports radio, a silver lining emerged in an unlikely place. By now you know that many radio hosts across the country were laid off last week due to cutbacks from iHeartMedia. It was sudden, unfortunate and eye-opening, but also a stiff reminder of how brutal the business can be.
KXNO in Des Moines was among the stations that were affected, as six on-air employees, Heather Burnside, Travis Justice and Sean Roberts of Morning Rush as well as Chris Williams and Ross Peterson of Sports Fanatics and program director Andrew Downs all lost their job. It looked as though a small city in a 'flyover state' was going to be one of the many to lose the local content it craves. But at that moment, the people of Des Moines made a decision. They weren't going down without a fight.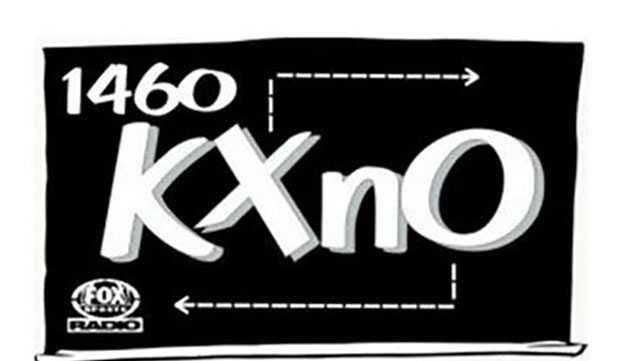 Local sports radio, especially in Iowa, is one of the most genuine you're going to find. Whereas most national radio shows would never talk Iowa, Iowa State, and certainly not the smaller colleges in the states such as Drake or Northern Iowa, KXNO is a pillar in the community that people rely on for information and entertainment on a daily basis. Iowans live and die by their local sports and crave the outlets that give it to them on a daily basis. In many ways, it's a lifeblood for the natives.
So when news spread that KXNO was among the major layoffs that were taking place, Iowans took to social media, almost in unison, and voiced their displeasure.
"I wasn't surprised at the outrage, because I know what KXNO means to Iowans," said former KXNO host Matt Perrault, currently with SB Nation Radio. "It's built its brand on talking directly to people on what's happening in their lives. That station has been so ingrained in the community for so long, that I knew there would be massive outreach. I just didn't know exactly how folks would go about voicing it. They took to social media, and if this happened 10 years ago, I don't know if the same outcry would've happened, because it's difficult to pick up the phone and do that. It's a lot easier to send text messages, emails, tweets and Facebook posts about it. Social media played a major role in the overall outreach."
Daily life for many Iowans was about to be seriously altered. That didn't sit well with the locals. Angry reactions came quickly from every direction to those in charge. Des Moines wasn't going to sit back and let a corporate company take away what meant so much to them.
The backlash became so widespread that KXNO general manager Joel McCrea knew he had to do something. With the approval of iHeartMedia, all six on-air talents were re-hired and the station was restructured to be heard on an additional 25,000 watt signal, 106.3 FM. Not only had Iowans fought and won, but the product that was so essential to their daily lives, was now even better.
"People spoke up and I think there were two reasons," said Andy Fales, co-host of the Murph and Andy Show. "First, they were mad about the idea of losing this connection and that Iowa was just going to get passed over again. But also, and this makes us feel the best of all, we hear from people that we are appointment entertainment for them. Their day, in many ways, is scheduled around our show. That feels amazing. Social media is great and it's terrible at the same time, but at a time like this it's really a useful tool that you just can't do without. There was such a reaction from our listeners that reached the higher ups at iHeartMedia and they noticed."
What program director wouldn't kill to have an audience like that? Des Moines may not be a Top 50 market but you'd be hard-pressed to find very many across the country that are as loyal as that. There's a lot of awards that are given annually in sports radio, heck, we at Barrett Sports Media, give out a couple ourselves. But if there's an award that's given out to the best audience in any market across the country, I sure know where my vote is going.
Fales and co-host Keith Murphy were the two on-air hosts the station, initially, decided to keep. But with six co-workers being laid off, the duo just didn't feel it was right to carry on a show like nothing had happened.
"I'm happy that it's over with," said Fales. "I think we all want to sound tough and cool and like we're this tough negotiator that goes in and draws a line in the sand, but when we were doing what we did last week, we didn't know what was going to happen. We really kind of figured that we would be fired.
"We've had a lot of people come up to us and congratulate us for taking this big stand. I don't think I've ever heard back from more listeners, whether they organically came up to me or just reached out. They don't understand that last week we were kind of taking a shot in the dark. It was on principle, we knew what we believed in and what we wanted to do. But we did not think we had some great upper hand that was going to ultimately work out."
On Tuesday, KXNO was back on the air after its short hiatus. What's welcomed them, has been more outpouring on social media from listeners, such as compliments on how good the new FM signal sounds. In an odd way, McCrea's decision to terminate six employees, bring them back within a week and add an FM signal might be the best thing that could have happened for the station, ratings wise, especially now that football season for the local teams is over. Regardless, the on-air staff is thankful for the change of direction by McCrea.
"I've known Joel McCrea for 25 years," said Burnside via her personal Twitter page. "He's a straight shooter who owns his mistakes, and he just turned a big one into a huge win for our company, our staff and listeners and the community we built our station on. I'm very thankful to have him as a boss, mentor and friend."
Others echoed those comments.
"Joel McCrea really did come through," said Fales. "He did what needed to be done and worked to get this turned around. He's owed a lot of the credit here. He's fallen on the grenade for iHeartMedia and he wanted to keep us all along."
Unfortunately, Burnside, Justice, Roberts and Peterson were unreachable for direct comments through email and social media. Williams declined comment via email saying, "It's been such a hectic week. I'd really just like to stay out of the news for at least a couple of weeks until things settle down."
I can't say I blame any of them for not wanting to comment. With the emotional roller coaster each has been through in the past week, I may have done the same thing.
Though McCrea and the listeners deserve a lot of credit for putting KXNO back to full strength, advertisers of the station played a major role, too. Local businesses streamed out in support of the station and even threatened to put their ad money elsewhere.
By Wednesday of last week, that's who Fales was thinking of when his show declined to go on the air. He felt he owed it to them, especially the ones who had been there since the beginning, to give the local businesses what they paid for. But after talking with Murphy, who unknowingly scheduled a vacation at an unfortunate time and was in Mexico during the whole process, the two decided to remain off the air. Instead, Fales found another way to reach out to his clients.
"Instead of doing the show, I sat down and wrote to every single client that I could think of," said Fales. "I got in the car and stopped by a number of businesses and told them everything that was going on. I apologized for not representing their business the way that we said we would when they signed on. I said that we would make it up to them and then I thanked them profusely for being with us. The reaction that I got from them was every bit as impressive as the reaction we got from the listeners. Nearly every one of them said if you go, we go. That felt great.
"They weren't sold on some greater principle, they listen to our show and wanted to buy into it. It really felt great and even empowered us. I knew if things didn't work out we could leave and take almost all of our advertisers with us immediately."
So what's the lessoned to be learned here? What should the takeaway be from a situation where an audience and advertisers willed its way to make a station change its entire course?
"To me, the lesson is mid-size markets with established brands, folks yearn for people who understand what's happening in their lives," said Perrault. "They want to know what's happening with their teams. They don't want to know what's going on Chicago, but what's going on in Des Moines. I think KXNO has always built itself on being the voice of the fan and being a place where you can go and talk. I mean, it's Iowa and we've been told for years it's just flyover country. Well, that radio station has changed everything over the course of 15 years by saying we're going to pay attention to you and we're going to give you the news that no one else is going to give you."
"If you have a show that you love listening to and you're told it's going to be replaced by some national programming, you know that national programming isn't going to cover what's in your community," said Fales. "That's going to be lost. That connection to the community is going to be separate. We have plenty of national shows and you can get those anywhere. But there's just this connection with local sports, and those are the ones who care about it the most."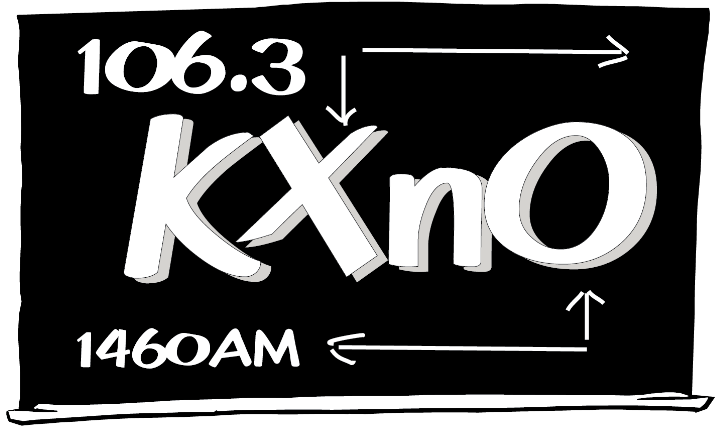 Stories such as this show why local sports radio in mid to lower size markets are special and will never die. Not enough praise can be given to the loyal listeners and adversities of KXNO, but the real winner is the station, itself. It's likely the added attention and FM signal will give the station a boost in ratings it's never seen before at this point in the calendar year.
Amidst what was a dark week of layoffs for sports radio, KXNO still found a way to emerge a winner.

What Can Programmers Learn From A Social Media Following?
"A large number of followers may be the result of using social media well, but if you think the size of someone's following is proof they'll be a good part of your lineup, that's a set-up for failure."
I first began using Twitter in 2009 when I was a reporter at The Seattle Times. Jim Mora was the Seattle Seahawks coach and I had a smart phone made by Palm. The Twitter app was so wonky I posted live updates from Seahawks press conferences via TwitPic, sending a picture of the person speaking with the news item included as a caption. We've all come a long way since then.
I like Twitter. Over the past 12-plus years, I've found that my sarcasm and sense of humor (if you can call it that) translated better on Twitter than it ever did in print or later as a radio host at 710 ESPN Seattle. I've made friends on Twitter, picked fights with other reporters and generally found it a good place to test out ideas and arguments and an increasingly terrible place to discuss anything important. I have more than 40,000 followers, which is not insignificant nor is it at all exceptional given the market I worked in. None of this gives you any idea about how well I've done my job in sports media, though.
Yet an individual's Twitter following has become part of our industry scoreboard. It's certainly not the final score and it definitely doesn't decide the outcome, but it is the best way I know to gain a quick assessment of someone's reach and/or significance. It's a data point that is readily accessible. It's the thing I check first when I encounter someone who's part of the sports-media industry.
But what does it really tell us? More specifically, how much does it tell us about that person's ability to do their actual job whether it is reporting news, writing stories or being part of a show? Because as important as Twitter has become in sports-media, no one is making money from Twitter and social media specialists are the only people who are really being paid to Tweet.
For most of us, Twitter is not a job, it is a tool. For a radio host, it's a way to interact with listeners outside the footprint and time slot of the show. It also is a powerful opportunity to deepen audience engagement through two-way, real-time communication. These things may help a host's job performance, but they should not be mistaken for the actual job itself. A radio host is not valuable because he or she was right on Twitter or because they were first on Twitter or because they had a viral Tweet. A radio host is valuable because of the ability to attract, entertain and retain an audience during a specific slot of time. Twitter may help you prepare to do that, but it does not actually accomplish the task.
Programmers need to understand this, too. A large number of followers may be the result of using social media well, but if you think the size of someone's following is proof they'll be a good part of your lineup, that's a set-up for failure. Just look at what book publishers have found.
An article last month in the New York Times showed how publishers have used social media followings as a weathervane of sorts for books sales. The number of followers an author has is influencing everything from what authors are paid to which books get published. This is especially true when it comes to non-fiction books. The rationale is pretty straightforward when you look under hood of that particular industry.
A publisher is the business that buys a certain book from the author, essentially making a bet that the sales of this book the author is writing or has written will more than cover the money paid to the author as well as the cost of publication and promotion of the book. A publisher wants as much assurance as possible that this book will sell sufficient copies to not just make its money back, but insure a profit. This is where the author's social media audience comes in. The follower count is being looked to as an indicator of just how many people can be expected to buy this book. After all, someone following the author is certainly a sign they're interested in what that author has to say. Some percentage of those followers can reasonably be expected to buy a book by this person. Except social media followings turn out to be a fairly terrible tool of forecasting book sales.
Billie Eilish has 99 million Instagram followers. Her book — released last year — sold 64,000 copies. If I was being catty, I would point out that is one book sold for every 1,546 Instagram followers.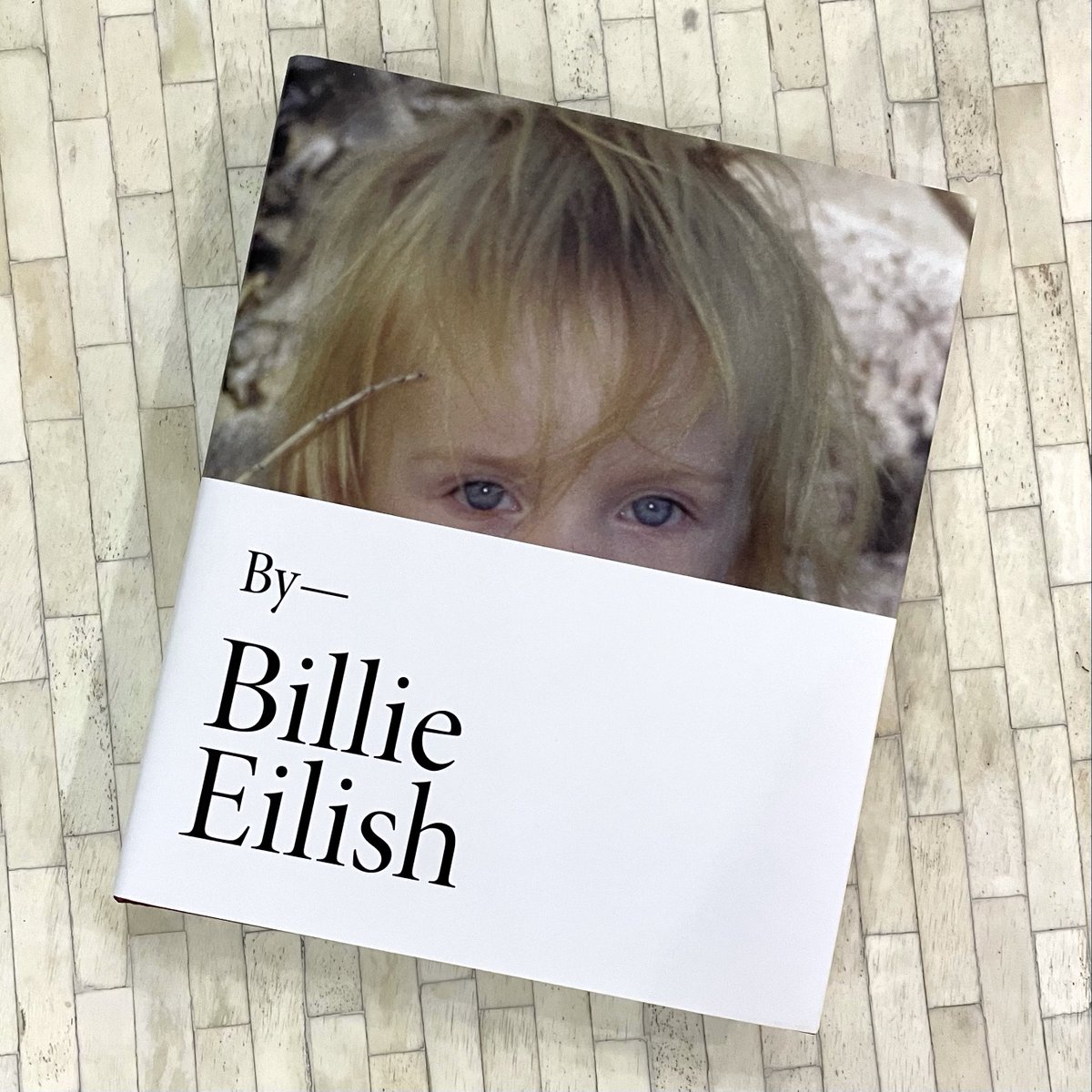 "Even having one of the biggest social media followings in the world is not a guarantee," wrote Elizabeth A. Harris.
So we should all just stop paying attention to Twitter followings, right? Hardly. First of all, it is a data point, and anyone waiting for social media followings to become LESS important probably thinks the Internet is just a fad. More importantly, having a following is certainly better than not having one as it does indicate the ability to attract an audience.
The issue isn't whether it's good to have a large following. Of course it is. The issue is how reliable that is in predicting an individual's interest or appeal outside of that specific social platform.
What programmers need to do is get smarter about how they evaluate social media followings by answering two questions:
Why are people following this particular talent? Content is the catch-all answer here. Go beyond that. What sort of content is this person providing that none of his or her peers are? Will that type of content be valuable as part of my lineup whether it's terrestrial radio, a podcast or other format? Someone who's funny on Twitter may be funny in other formats. They may also just be funny on Twitter. Are there examples of how this kind of content has worked in the past or reasons to think it will work in the future?
How likely is this talent's social media following to migrate to my medium? This is one of the trickier ones. One of the reasons for acquiring a talent with a large social media following is the hope that some of their followers will become your customers. While this is always possible, the more important question is whether it's likely.
Remember, that example of Eilish, who had 99 million Instagram followers and sold 64,000 books? Well, that number of books is actually not a bad result. In fact, it's absolutely solid for book sales. The problem was the publishing house didn't expect a solid sales performance. It expected incredibly strong sales because it paid a significant amount of money to Eilish in the form of an advance.
It's clear the publishing house made a bad bet, but the principal mistake was not about Eilish's ability — or lack thereof — to produce a book. She did produce one that was 336 pages long, loaded with family photos never seen before and while there wasn't as much text as you might expect, the sales were solid. The mistake the publishing house made was overestimating how many of Eilish's fans would become customers in an entirely different medium, and I think that's a lesson worth noting in this industry.
Unless you're hiring someone to do social media for your company, Twitter is not going to be their job. It's just a tool. An important tool, a useful one, but just a tool.
How Good Can iHeart's AdBuilder Solution Be?
"It was slick, I admit."
Do it yourself radio has come to a new client you will never meet. These clients are ready to do it themselves. All they want is to buy a radio campaign. And iHeart AdBuilder is all they need.
Let's figure this out.
In 2019, iHeart started beta testing a do-it-yourself online platform for small businesses to battle Facebook and Google.
I went to the website to see how it worked. It was slick, I admit. It would be a great topic to add to the BSM Summit.
The first piece of info. the site wants to establish is your campaign goal. The four choices were "Get website traffic", "Have listeners know my address", "Get phone calls", and "Announce an event". 
That's it.
When was the last time you wrote a new business order with any of those four goals as the single reason for the campaign? Wouldn't that be easier for the copywriter and the client to track results? TRY IT!
I inputted that I wanted to announce an event and proceeded to the following prompt. My business name, address, website, and industry were the following choices. So far, so good. The only tricky part were the industry choices.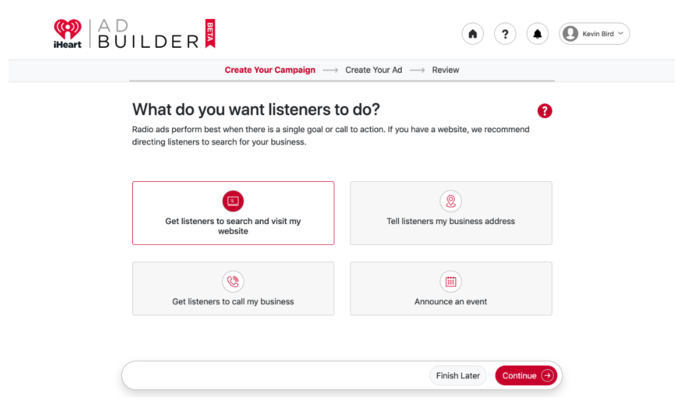 I can see how specific business categories are not precisely represented, like counter service restaurants. They are not fast food because there is no drive-through, but they aren't a full-service restaurant either due to no waiters being used and many other factors. It isn't confusing for me, but you know how clients can be!
Selecting the market I wanted my customers to come from was easy, and it allowed iHeart to choose the closest radio stations. Identifying the ONE type of customer I wanted was fantastic. I can see how it focuses the client on a primary target. Parents with young kids or teens, foodies, married couples, single adults, or an option to select my demo all seemed easy enough.
The demos offered weren't Men 18-34, but men, women or adults, young adults, seniors, adults, or the dreaded all ages. Next was selecting when I wanted to run and how much I wanted to spend. It wasn't a challenge because you choose your dates, and then you're given three choices for a weekly budget. In my case, it was $500, $750, or $1,000 per week. iHeart AdBuilder bills you less if the whole week isn't used.
Impressions, frequency, and reach were highlighted, and they showed the logos of the two stations my $500 was going to be spent on. I noticed there was no information on when the ads would air, how many times per day, or any of that! "You give us $500, and we will spend it over the week on these two stations when and where we want! And it will work!" 
The pages dedicated to creating copy are straight forward and, as salespeople, we have filled those types of forms out plenty of times. iHeart is highlighting that they are waiving the $100 production fee. Maybe, that will change in the future. After going to the checkout, your credit card is given a temporary authorization (which will be reversed), and you are told your ad will be emailed to you in a few days. You won't be billed until your ads air.
What are the odds this $500 campaign over two stations in a few days will work? Who knows, but I bet the automated emails and follow-up calls will be relentless. I think it's a great platform and can see a decent percentage of smaller new business deals go this direction. Some clients may even prefer to never "deal" with a salesperson again, kind of like most of our agency buyers. That leaves us with a whole lotta middle ground. For now.
Demetri welcomes Brandon Kravitz and Derek Futterman to the show this week. They talk about Hub Arkush, Aaron Rodgers, Michelle Tafoya, and Pete Thamel.
Podcast: Play in new window | Download
Subscribe: RSS