Independent Nation: Union Broadcasting
"If there's a big decision to be made on policy or logistics – a small group gets together to discuss and we're putting a plan in place. It takes almost no time."
It's a time zone and roughly 500 hundred miles that separate Kansas City and Louisville. That and more than a couple cultural differences.
"Kansas City has a little bit of everything," explains Sandy Cohen, Union Broadcasting Director of Sales. "NFL, MLB, MLS, roughly half a dozen BIG XII schools within 2 and a half hours, not to mention an SEC presence with Missouri."
As a result, tune into SportsRadio 810 WHB at any time and you're likely to hear anything from a Chiefs Xs and Os discussion to Royals bullpen depth to Coach Klieman's recruiting class in Manhattan.
"As far as Louisville's culture," Cohen continues, "that's a town made up of two types of sports fans – Cardinals and Wildcats."
Naturally, the types of businesses that partner up with Union and ESPN 680 in Louisville are a little bit different than those that work with WHB.
"In Louisville we work with a lot of bars and restaurants," explained Cohen before educating me on the illustrious history of pizza in Derby City. "In Kansas City there's more car dealerships, mortgage companies and investment firms working with us."
Two stations in two cities with two different kinds of clients. From a dealership in western Kansas to a pizzeria in northern Kentucky – one thing all Union Broadcasting clients have in common during these uncertain times is the unwavering support of Sandy Cohen and his team.
With just two stations to preside over, those who work in sales for Union Broadcasting view their accounts as much more than monthly revenue makers.
"There's friendships everywhere. Real friendships. We've been to weddings, they've been to our weddings. Kids birthday parties, you name it."
Cohen points to those bonds as paramount during this time.
Looking back to March 11, the evening the NBA shut down, which led to roughly 72 hours of postponements, suspensions and cancellations – Union sprung into action.
"That's really the best part of being a small company," claims the Union Vice President. "If there's a big decision to be made on policy or logistics – a small group gets together to discuss and we're putting a plan in place. It takes almost no time."
Concerned first with the health of their staff, that week the decision makers put a plan into place to make sure everyone was able to work from home.  Once that hurdle was cleared, all attention was focused on the clients.
"That following Monday, no one wanted to immediately withdraw their business, no one really knew what this was at that point," remembers Cohen. "The big word that week was 'Pause.'  So, we hit the pause button with whoever wanted to just wait until we all knew more."
Generally, the handbook of account management says when a client wants to cancel you do whatever you can to convince them to stay on. If that's the rule, COVID is, without question, the exception. If partners wanted to take a step back, Union wasn't getting in their way.
"This is unlike anything any of us have ever seen. No one was prepared for something like this, how could anyone be?"
Cohen audibly reaches for a file on his desk.
"I'll tell you what though, I've been taking detailed notes. If and when this happens again we'll be ready," he promises.
So what seems to be working? In Union's case it seems to be flexibility. Two different markets with two vastly different books calls for different accommodations.
"In Louisville, every morning we're highlighting a different local business as part of the show. We're telling people what they need to do to support that particular bar or restaurant- whatever the case may be. We seem to be getting a good response there."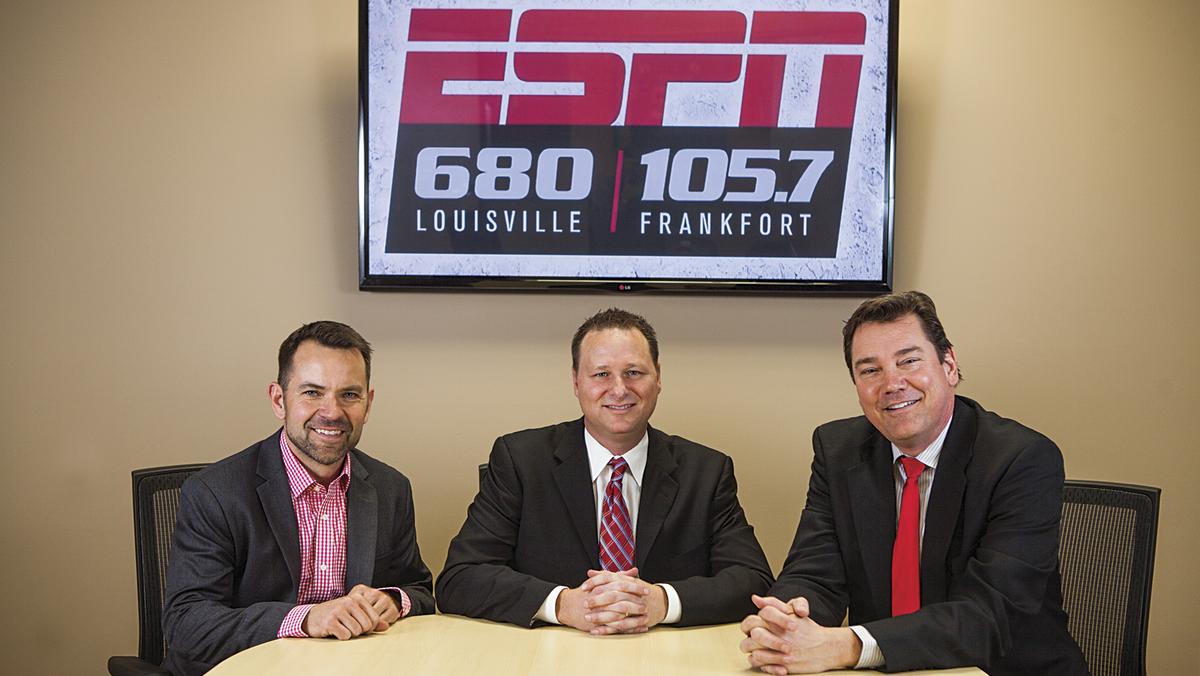 Head west for 7 and a half hours (switching from I-64 to I-70 around St Louis) and you'll find things to be working a little differently for Union in Kansas City.
"We have a strong social media presence with WHB so we're offering a lot of digital messaging for clients out here – curbside pick up information, anything they want."
With a quarter down and 3 to play, 2020 has already proven to be a brutal year – unless of course you're a Chiefs fan. If that's the case, things were looking pretty bright just two months ago, and Cohen and his production team are doing their best to call upon those happy experiences that already seem so old.
"What we're doing is encouraging business owners to record their favorite sports memories – obviously a lot revolve around the Super Bowl. We have them email it in, our guys in production clean it up, maybe add a music bed and in less than 24 hours we've turned around a personalized ad ready for air. It's actually been a pretty good time for little innovations like that."
Another bright spot Cohen points to is the implementation of facetime and zoom for client calls that would otherwise just be on the phone.
"There's something about being face to face with our partners that is comforting for us and them. Even when we have sales meetings, it's so much better seeing human faces. That's definitely been a bright spot."
Cohen wouldn't say that navigating these uncharted waters has been easy, especially without land on the horizon. There is, however, an immense comfort in knowing we're all in the ship together. Louisville, Kansas City, and beyond.
"We're gonna make it through this. I have no doubt."
Dallas Cowboys: Proof That Marketing Works
"Good marketers can convince you their products are anything they want you to believe those products are."
Why do people still hate the Dallas Cowboys? Give me a good football reason that the Cowboys are worth your time. I get that there was an era where if the NFL was Mortal Kombat, the Cowboys were Shang Tsung, but those days ended three decades ago.
It's 2022. There are adults in their late 20s that have never seen a Cowboys' championship. Since 2000, the franchise has been to the playoffs fewer times than the Falcons. They have won as many playoff games in that time as the Jaguars. At this point, hating the Cowboys is about as useless as hating Luxembourg.
So why do people still have such a deep-seated disdain for the star and the players that wear it? Why was a national celebration set of on Sunday when the Cowboys lost in the stupidest way imaginable?
The answer is pretty simple really: marketing.
Good marketers can convince you their products are anything they want you to believe those products are. Great marketers can get you to behave like those products are what they say they are even when you know that isn't true.
Jerry Jones is a great marketer.
People tune in when the Cowboys play. Maybe a good chunk of those people are hate-watching, but they're watching. That is why the team was on in primetime six times this season. Of those other eleven games, seven of them were called by either FOX's or CBS's top broadcast team.
ESPN completely rebuild and rebranded First Take around the idea that Stephen A. Smith doesn't like the Dallas Cowboys. That is it. The whole promo package for the show was just Smith wearing a cowboy hat and chomping on a cigar and laughing.
Shouldn't we be doing this to the Patriots? Afterall, in the time since the Cowboy's last Super Bowl appearance, New England has gone to the game an astounding ten times and won six titles.
It's easy to read that sentence and say "Well, Tom Brady isn't there anymore. The Patriots aren't what they used to be. It isn't as much fun to hate them."
Uh, dawg, who in Dallas has been worth hating since Troy Aikman retired? You know, like 22 years ago!
Jerry Jones isn't the man that coined the phrase "America's Team, " so he didn't set its initial meaning. What it became, by virtue of him leaning into the branding is something that forces you to react. Either you buy into the blue and the silver and the star and you're with America's team or you recoil at the branding and the goofiness of the whole aesthetic and want to watch it burn.
Notre Dame football could be doing this too. The problem is they do not have the great markerter out front pushing that slogan over and over again.
Even "how bout them Cowboys?" is a solid positioning statement. It's easily repeatable in good times or bad. The genius of Jerry Jones embracing that statement and that clip of Jimmy Johnson shouting those four now-iconic words is that it is a question that always has an answer.
Fans can celebrate with "how bout them cowboys" when the team wins. Haters can say it facetiously when they are on a losing streak. Either way, you are saying it and the Dallas Cowboys are occupying a part of your brain.
Positioning statements work. That is why so many stations tag their imaging with the same phrase or sentence every single time. That is why so many stations are called The Fan or The Game or The Ticket.
Admittedly, sometimes we need to rethink how our listeners are receiving the message. If we are all going for homogeny, nothing can stand out. Maybe that is a reason to rethink what I jokingly call "sports radio's magic hat of five acceptable station names", but the larger point is that you want every message you put out to point to the brand image you are trying to portray.
Jerry Jones's message to the NFL and the media is no matter who they root for, fans care about my team. His positioning statements reflect that. Whether you think they are great marketing or goofy corporate branding, they work. The proof is everywhere.
Three Sports Marketing Trends You Need To Know
"Sports marketing is evolving at an extremely rapid pace and you'd best know where your competition lies or where opportunity exists."
#1 OTT's RAPID EXPANSION  
Pay TV lost more than 5 million customers in 2020 and that trend is going to continue and the number is going to increase. With nearly 30% more Americans cutting the cord in 2021 and almost 87% of adults 18-24 preferring the OTT option, you'd better dive in and understand just how fast video consumption is changing; especially in sports. Platforms like ESPN+, Amazon, Peacock, Paramount+ and Facebook are diving head first into the sports rights market so that they can deliver LIVE sports where Americans are consuming video.  OTT provides that sniper riffle approach advertisers are looking for as they try to increase ROI and minimize waste. 
#2 AI … DATA-DATA-DATA
Without a doubt artificial intelligence is changing the way marketers are deciding how to go to market with their messaging and their products and/or services.  More data is available now than ever before and you'd better understand how your client is using it to help them make their buying decisions.  Most large advertisers are not only using one, but multiple vendors and are trying to obtain as much data as they possibly can so they can better recognize trends and understand their consumers behaviors and buying patterns
#3 eSports is BOOMING
Video games aren't just for fun and entertainment at home anymore.  Gamers are now creating leagues, generating 6-figure endorsements and have multiple contests where they compete for HUGE cash and prizes.  Marketers are actively looking for ways to take advantage of this meteoric rise in popularity of eSports and that includes product placement, team sponsorships, individual gamer(s) sponsorships and tournament sponsorships.  If your station isn't trying to create a sellable feature around eSports then you're missing out on a huge and very sellable feature.  There are over 234 million eSports enthusiasts world wide and that number is only going to continue to climb. 
OTT, AI and eSports are rapidly changing the sports marketing landscape and these are trends that will only continue and grow over the next 5 years.  Digitalization of just about everything is changing how, where, when and on what kind of devices sports fans are consuming content.  Sports marketing is evolving at an extremely rapid pace and you'd best know where your competition lies or where opportunity exists. 
Be the expert in the room when meeting with agencies and/or clients, it will set you apart from the pack.  Understanding these rapidly evolving trends will help you have better and deeper dialog with your advertisers. 
What Should Radio Be Thinking About On Martin Luther King Day?
"Shouldn't we be doing more than just waiting for resumes with "black-sounding names" on top of them to come across our desks?"
Monday, January 17 is Martin Luther King Jr. Day. A lot of you will get the day off of work. Some of you will attend prayer services or civic events to honor the civil rights leader and his legacy.
Dr. King, like all humans, had his flaws but is undeniably a man worth celebrating. In a world where the divide between the powerful and the rest of us seems to be growing out of control, it is good to take a day to celebrate and think about a man that made a career out of speaking up for the little guy – whether that means black and brown people during the Civil Rights Era or it means workers in times of labor unrest.
Across the media landscape, we will see stations and networks running promos touting their "commitment to Dr. King's dream!". The sentiment is great, but I do wonder what it means to the people making those promos and the stations and networks airing them.
Look at the archives of this site. Think about the BSM Summits you have attended. How often have we been willing to shine a spotlight on the amount sports radio talks about embracing diversity versus actually putting plans into action? Jason has written and talked about it a lot. Every time, the message seems to circle back to him saying "I am giving you the data. You are telling me you recognize that this is a problem. Now do something about it."
It's something I found myself starting to think about a lot last year when Juneteenth became recognized as a federal holiday. Suddenly every brand was airing ads telling me how they have known how special this day is all along. And look, I hope that is true. It seems like if it was though, I would have been seeing those ads in plenty of Junes before 2021.
I am going to put my focus on the media because that is what we do here, but this can be said about a lot of companies. So many brands have done a great job of rolling out the yellow, black, red, and green promo package to acknowledge that it is Martin Luther King Jr Day or Black History Month or Juneteenth. I worry though that for so many, especially on the local level, that is where the acknowledgment ends.
That isn't to say that those stations or brands actively do not want more minority representation inside their company. It just isn't a subject for which they can say they have taken a lot of action.
Look, I am not here to debate the merits of affirmative action. I am saying in an industry like sports radio, where we thrive on fans being able to relate to the voices coming through their speakers, shouldn't we be doing a better job of making sure minority personalities know that there is a place for them in this industry? Shouldn't we be doing more than just waiting for resumes with "black-sounding names" on top of them to come across our desks?
WFAN went out and found Keith McPherson in the podcasting world to fill its opening at night after Steve Somers's retirement. FOX Sports added RJ Young, who first made a name for himself on YouTube and writing books, to its college football coverage. 95.7 The Game found Daryle "Guru" Johnson in a contest. JR Jackson got on CBS Sports Radio's radar thanks to his YouTube videos and when it came time for the network to find a late-night host, it plucked him from Atlanta's V103, one of the best-known urban stations in America.
That's two guys in major markets, another on national radio, and a third on national television. In all four cases, the companies that hired them didn't just sit back and wait for a resume to come in.
Some of you will read this and dismiss me. After all, I am a fat, white Southern man. If I were a hacky comedian, I would say "the only four groups you are allowed to make fun of" and then yell "Gitterdone!".
In reality, I point those things out because I know there is a large chunk of you that will call this whole column "white guilt" or "woke" or whatever your talking point is now.
Whether or not we are about the be a majority minority nation is up for debate, but here is a fact. America is getting darker. I look at the radio industry, one that is constantly worried about how it will be affected by new innovations in digital audio, and wonder how anyone can think doing things like we always have is going to work forever.
I'm not damning anyone or saying anybody should be losing their jobs. I don't know most of you reading this well enough to make that judgment. What I am saying is that our industry has lived on the idea that this business is always changing and we have to be adaptable. I think it is time we do that, not just with the content we present on air, but in how we go about finding the right people to present it.