Innovative Presentations Won't Lead To A New Normal
"Hearing from the players is always great, but we can't depend on them being open to participating in broadcasts as the season gets going."
Another week of quarantine, meaning another week without any more clarity on the resumption of sports. I mean the real kind: MLB, NHL, NBA and of course the college game. You have to differentiate these days.
Networks are desperate for programming and are pulling out all the stops using high profile athletes to play video games on their airwaves. One network, ESPN, aired a H-O-R-S-E Tournament. That's what we've come to during the COVID-19 pandemic shut down. 
I get that there are tons of openings on these all-sports networks and sometimes you have to do what you have to do. Give these networks credit for thinking outside the box and trying to make these alternative programs interesting. It's not an easy task in this now-sports-starved society. Nothing can replace the genuine article but the networks and the leagues are trying in innovative ways, making their players the stars again.
As a broadcaster and sports junkie, I'm happy to see some form of sports on my tv and some "best of" games on my radio. With that said, I couldn't help but notice something that put me off a little bit. Something caused a bit of a pause in my enjoyment in viewing these "games". No real live play-by-play is being offered.
Concerning? Yes. A trend or a look to the future? Probably not.
Remember when I talked about the early stages of the COVID-19 pandemic, when teams closed the clubhouses to the media? There were many of us that hoped this wouldn't be a trend even in healthy times and it didn't seem to be heading that way. This is part of the reason I'm not overly concerned about this no play-by-play thing extending to when we finally get back into business. It's just a part of the world as we know it right now.
MLB players are competing in a charity tournament on the game MLB The Show 20. To be fair to Matt Vasgersian and Dan Plesac, their play-by-play and analysis is heard, but at a low level and it's recorded for the game. The video content is basically the players talking to each other as they play the game. It's kind of cool to hear the reaction of Bo Bichette as he hits a home run as himself in MLB The Show 20, it's not sustainable.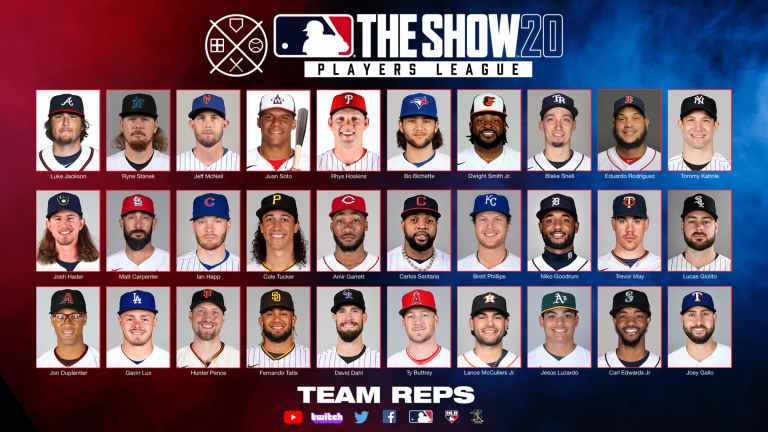 These guys are being themselves, doing something they do away from the game all the time, but this access won't translate to the big stage. Plus, these "games" are being shown on a social media platform, Twitch. They are not aired on live television. That makes a difference. Players can relax. They're very reluctant to offer to be "mic'd up" for a game or appear in the middle of a broadcast, unless it's Spring Training. I love to see their personalities displayed, but once we get going for real, it's going to be back to the real world.
The NBA/WNBA "H-O-R-S-E Tournament" was a painful watch on Sunday night. No play-by-play, but the festivities were hosted by Mark Jones, who is an NBA announcer. This event could have used some play-by-play to fill the gaps between video lag.
There was not a lot of clarity in the rules considering it was thrown together at the last moment. You know what could have helped here? A play-by-play announcer and an analyst. While we waited for things to be sorted out, the duo could have told some stories about the player's career and filled the time better than dead air. Again, interesting to hear WNBA and NBA players interacting, but the action was slow and disjointed. Flow could have been saved by some description when needed, but we didn't get it, and I can't imagine Thursday's semifinals and finals will be any better.
While there is always a chance things can change for play-by-play announcers, I don't see this as the time. Considering what would be at stake when sports finally returns, there needs to be someone behind the microphone to explain the nuances in new scheduling, new rules and to just recap what the heck has been going on in the world. It's not something that should be taken for granted.
When it comes to play-by-play and live sports, there is still a need for an announcer. Hearing from the players is always great, but we can't depend on them being open to participating in broadcasts as the season gets going.
It all comes down to that announcer. Fans learn to identify with that person. They learn to trust him/her. They learn to rely on that individual to be a distraction from their daily lives, which is something we could all really use right now.
Andy Masur is a columnist for BSM and works for WGN Radio as an anchor and play-by-play announcer. He also teaches broadcasting at the Illinois Media School. During his career he has called games for the Chicago Cubs, San Diego Padres and Chicago White Sox. He can be found on Twitter @Andy_Masur1 or you can reach him by email at Andy@Andy-Masur.com.
BSM's Black Friday SALE on BSM Summit Tickets is Underway!
Each year I'm asked if there are ways to save money on tickets to the 2023 BSM Summit. I always answer yes but not everyone takes advantage of it. For those interested in doing so, here's your shot.
For TODAY ONLY, individual tickets to the 2023 BSM Summit are reduced by $50.00. Two ticket and four ticket packages are also lowered at $50 per ticket. To secure your seat at a discounted price, just log on to BSMSummit.com. This sale ends tonight at 11:59pm ET.
If you're flying to Los Angeles for the event, be sure to reserve your hotel room. Our hotel partner this year is the USC Hotel. It's walking distance of our venue. Full details on hotel rooms can also be found via the conference website.
Jason Barrett is the owner and operator of Barrett Sports Media. Prior to launching BSM he served as a sports radio programmer, launching brands such as 95.7 The Game in San Francisco and 101 ESPN in St. Louis. He has also produced national shows for ESPN Radio including GameNight and the Dan Patrick Show. You can find him on Twitter @SportsRadioPD or reach him by email at JBarrett@sportsradiopd.com.
Media Noise: What Does The Return of Bob Iger Mean to ESPN?
Podcast: Play in new window | Download
Subscribe: RSS
Demetri Ravanos is the Assistant Content Director for Barrett Sports Media. He hosts the Chewing Clock and Media Noise podcasts. He occasionally fills in on stations across the Carolinas. Previous stops include WAVH and WZEW in Mobile, AL, WBPT in Birmingham, AL and WBBB, WPTK and WDNC in Raleigh, NC. You can find him on Twitter @DemetriRavanos and reach him by email at DemetriTheGreek@gmail.com.
Mina Kimes, Bruce Gilbert, Mitch Rosen, and Stacey Kauffman Join the 2023 BSM Summit
"By the time we get to March, we should have somewhere between 40-60 participants involved in the conference."
The 2023 BSM Summit is returning to Los Angeles on March 21-22, 2023, live from the Founders Club at the Galen Center at the campus of the University of Southern California. Information on tickets and hotel rooms can be found at BSMSummit.com.
We've previously announced sixteen participants for our upcoming show, and I'm excited today to confirm the additions of four more more smart, successful professionals to be part of the event. Before I do that, I'd like to thank The Volume for signing on as our Badge sponsor, the Motor Racing Network for securing the gift bag sponsorship, and Bonneville International for coming on board as a Session sponsor. We do have some opportunities available but things are moving fast this year, so if you're interested in being involved, email Stephanie Eads at Sales@BarrettSportsMedia.com.
Now let's talk about a few of the speaker additions for the show.
First, I am thrilled to welcome ESPN's Mina Kimes to the Summit for her first appearance. Mina and I had the pleasure recently of connecting on a podcast (go listen to it) and I've been a fan of her work for years. Her intellect, wit, football acumen, and likeability have served her well on television, podcasts, and in print. She's excelled as an analyst on NFL Live and Rams preseason football games, as a former host of the ESPN Daily podcast, and her appearances on Around The Horn and previously on Highly Questionable and the Dan Le Batard Show were always entertaining. I'm looking forward to having Mina join FS1's Joy Taylor and ESPN LA 710 PD Amanda Brown for an insightful conversation about the industry.
Next is another newcomer. I'm looking forward to having Audacy San Francisco and Sacramento Regional Vice President Stacey Kauffman in the building for our 2023 show. In addition to overseeing a number of music brands, Stacey also oversees a dominant news/talk outlet, and two sports radio brands. Among them are my former station 95.7 The Game in San Francisco, and ESPN 1320 in Sacramento. I'm looking forward to having her participate in our GM panel with Good Karma's Sam Pines, iHeart's Don Martin, and led by Bonneville's Executive Vice President Scott Sutherland.
From there, it's time to welcome back two of the sharpest sports radio minds in the business. Bruce Gilbert is the SVP of Sports for Westwood One and Cumulus Media. He's seen and done it all on the local and national level and anytime he's in the room to share his programming knowledge with attendees, everyone leaves the room smarter. I'm anticipating another great conversation on the state of sports radio, which FOX Sports Radio VP of programming Scott Shapiro will be a part of.
Another student of the game and one of the top programmers in the format today is 670 The Score in Chicago PD, Mitch Rosen. The former Mark Chernoff Award recipient and recently appointed VP of the BetQL Network juggles managing a top 3 market sports brand while being charged with moving an emerging sports betting network forward. Count on Mr. Rosen to offer his insights and opinions during another of our branding and programming discussions.
By the time we get to March, we should have somewhere between 40-60 participants involved in the conference. My focus now is on finalizing our business and digital sessions, research, tech and sports betting panels, securing our locations and sponsorships for the After Party and Kickoff Party, plus working out the details for a few high-profile executive appearances and a couple of surprises.
For those looking to attend and save a few dollars on tickets, we'll be holding a special Black Friday Sale this Friday November 25th. Just log on to BSMSummit.com that day to save $50 on individual tickets. In addition, thanks to the generosity of voice talent extraordinaire Steve Kamer, we'll be giving away 10 tickets leading up to the conference. Stay tuned for details on the giveaway in the months ahead.
Still to come is an announcement about our special ticket rate for college students looking to attend the show and learn. We also do an annual contest for college kids to attend the event for free which I'm hoping to have ready in the next few weeks. It's also likely we'll give away a few tickets to industry professionals leading up to Christmas, so keep an eye out.
If you work in the sports media industry and value making connections, celebrating those who create an impact, and learning about the business from folks who have experienced success, failure, and everything in between, the Summit is worth your time. I'm excited to have Mina, Bruce, Mitch and Stacey join us for the show, and look forward to spending a few days with the industry's best and brightest this March! Hope to see you there.
Jason Barrett is the owner and operator of Barrett Sports Media. Prior to launching BSM he served as a sports radio programmer, launching brands such as 95.7 The Game in San Francisco and 101 ESPN in St. Louis. He has also produced national shows for ESPN Radio including GameNight and the Dan Patrick Show. You can find him on Twitter @SportsRadioPD or reach him by email at JBarrett@sportsradiopd.com.