Jason La Canfora Gets Why We're Having The NFL Draft
"I kind of wanted to do this all my life and we get the chance. It's certainly been a little more tricky than we would've imagined. It's not ideal, but I'm not complaining."
I'm always interested to find out how big names in the sports media business simply come across as people. Are they full of themselves? Can you feel their ego starting to infiltrate your soul? Are they genuine? Michael Jordan's former agent, David Falk, recently said that what the public really has difficulty understanding is when a superstar puts on his uniform, he's working. It's the same concept for media members. Hearing an animated clip from a sports radio or TV show doesn't mean those people operate the same way in everyday life.
I enjoyed chatting with Jason La Canfora for a number of reasons. Despite being a heavy hitter who covers the most popular league in America, I didn't catch one iota of ego from the CBS Sports NFL Insider. He has also remains calm while being less than two months into a brand new sports radio show on 105.7 The Fan in Baltimore during a global pandemic. Being quarantined without face-to-face interaction — especially on a new show — will test the patience of anybody.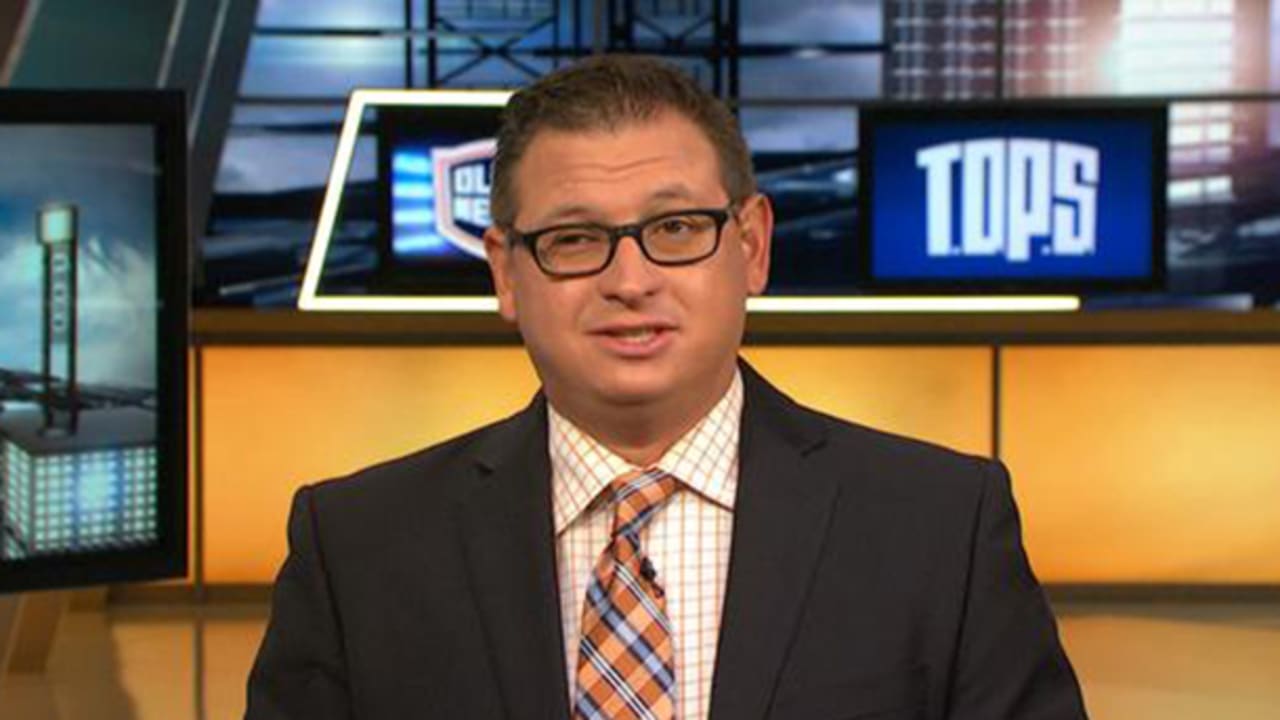 La Canfora keeps pushing forward as he always does. It's interesting to learn how an extensive writing background helps La Canfora's approach to his Inside Access radio show with Ken Weinman. Not one to shy away from opinions, the upcoming NFL draft is a topic we discuss as well. Future endeavors are unknown for La Canfora at this point, but one opportunity could include some sophisticated neckwear down the road. (I vote yes.) Enjoy!
Brian Noe: What's your biggest challenge launching a new show in this current environment?

Jason La Canfora: I don't even know where to start. It's been tricky. It certainly has been a challenge. It's been a blessing in a lot of ways to be able to try to give people some outlet for entertainment or escapism, the theater of the absurd a little bit. Also to continue to do smart sports talk and to try to stay on top of the pandemic as it affects the sports world; to try to educate our listeners as well. But this is our sixth week so literally it's been one thing after the next. By the end of our first week there were going to be no college conference tournaments. Then we found out we wouldn't be able to do any remote shows. Then also that second week, I think was our last week in studio so it was learning this new equipment while we're just starting to build chemistry.
I've known Ken for a while and Ken's an absolute pro. He makes my life a lot easier on a lot of levels, but there's no substitute for being there and having eye contact and being able to play off each other.
We had an incredibly talented producer, Alex Woodward, who was if anything underpaid. After the fourth week he was let go as part of the sweeping changes at Entercom and the restructuring that took place there. As much as the station didn't want to lose him it was out of their hands.
Tim Barbalace has to produce two shows basically now. He's been with Vinny Cerrato and Bob Haynie for a while. Now he's also running the board and helping us. I don't think there's much that could have prepared us for it. [Laughs] That's to say nothing about obviously the business climate and the situation that advertisers and potential sponsors are in with the economy being where it is and with people not able to go to bars and restaurants and all of that stuff.
I kind of wanted to do this all my life and we get the chance. It's certainly been a little more tricky than we would've imagined. It's not ideal, but I'm not complaining. There are people who've got it way worse than us. There's a lot going on in the world right now and a little sports talk show doesn't mean a thing. But it has been from a business side, from a content side, from the advertising side and just from sort of the mental health side of what we're all experiencing on a day-to-day basis and how our emotions fluctuate, it has certainly been unique.
BN: I don't know exactly how to phrase this perfectly, but in what ways does not having live games help a new show, and in what ways does it hurt a new show in terms of you playing off of your partner?
JL: Thankfully Ken and I have been hoping that this would have happened for years. He and I would be texting each other through games even though we didn't have a show together. We'd be texting each other during Oriole games. The minor leagues are really where it's at here because the Orioles are in a deep rebuild. I'd go to a ton of games with my kids. Ken probably went to five or six minor league games with me last year, maybe a few more.
Thankfully we had some of that already built up. Otherwise it really would've been much more difficult. But we kind of knew each other's thoughts on certain things and we already had a bit of chemistry. We knew how we could bust each other's chops. I think that gave us certainly a leg up. Even so, I'm not going to lie, when we got kicked out of the studio I was not happy. I understood why; it was a corporate decision. I get all of that but it was like, man, it just feels like every time we're starting to build something it goes away. Not through anything we were doing but just through circumstances. Losing Alex was a huge blow.
I feel like it's just forced us to hit the ground running, to be really creative. We communicate quite a bit already. Now with Tim, there isn't quite as much contact with him as we had with Alex because he's got two shows to produce. We don't want to throw too much at him, but Ken and I are talking all the time about "Do you think this works?" "What if we try this tomorrow?" "What if we get this guest?" It's just things like that.
BN: Were you an avid sports radio listener before you had a show?
JL: Yeah, absolutely. First of all just from being in the national media for so long, I feel like I've done many shows in the past if you just put together all my phoners. [Laughs] I was already doing hundreds of hours of radio a year anyway and had co-hosted some national and some local stuff on a fill-in basis. It's something that I was always interested in, something that I always wanted to do more with.
I love the medium. I love how creative you can be. I love how it can be like TV where you're doing things rapid fire and it's do less with more, but you can also branch out and end up doing two or three segments in a row on something that wasn't on the rundown just because you have the time and there's the trust there between you and your partner and you just feel like it's good radio. I just think it's a great medium especially in a time like this.
Everything I'm reading is that listenership is actually up. I don't know how you monetize it in something like this, but even without people going to work they're still flipping on podcasts and terrestrial radio, or taking it in off the Radio.com app. It's such a direct medium.
I like being part of a team. As a beat writer you're always a lone wolf to a certain extent. It's three of us in this together every day and I like the camaraderie aspect of it. I really like everything about it.

BN: As someone who's been interviewed so many times does that give you ideas of what to ask now, or is it more what to avoid when you've been asked stupid questions over the years?

JL: Interviewing is such a big part of reporting — knowing how to set someone up and how to go here to eventually go there, how to stagger things, how to defuse certain situations, or create a welcoming vibe. All of that stuff. I'm definitely stealing from people sometimes consciously and sometimes subconsciously. But yeah, you have a feel for what you think worked and what you think didn't work.

BN: What do you think is the trick to getting something really good out of an interview?
JL: One thing that I learned a long time ago was interview somebody when they want to be interviewed. I think part of it is in how it's presented and why you are talking to them. A lot of times it's knowing something about a subject that maybe isn't what they're known for. Doing a little research and finding out that they have a particular shared interest with you. Something that's not the typical question they'll be asked and you say, yeah I'm going to talk to you about some of the stuff that everybody talks to you about, but I really also would like to get a couple minutes with you about X, Y, or Z.

BN: What's the most useful part of your writing background that you apply to sports radio?

JL: I think it applies in a lot of ways. Certainly interviewing people and knowing how to ask questions. Knowing how to get out of your own way at times. Having been around a locker room environment for so long, I have a pretty good feel with athletes in particular; sort of some do's and don'ts and a lay of the land. You just have a nose for information.
I feel like a lot of the skill sets do dovetail. You're always looking for stories and what are people interested in or what's an interesting way to tell a story that I haven't seen done a million times before. You're reading a lot. I think there's no substitute for that. I've been reading and consuming sports media all the time as someone who is involved in it. I think it's also knowing good reporters. Knowing who to talk to. Something breaks, there's a pretty good chance that I know somebody covering that story or know somebody who could tell me somebody covering that story who's really good, or who I've worked with before. I have a natural list of contacts or resources that I can go to for different things.
Then also in this case, it has nothing to do with reporting, but I've lived here virtually my entire life. Except for when I was in Syracuse and in Detroit, one for school and one for a job, I've been here. I've lived 46 years pretty much all Baltimore sports. I worked locally at The Baltimore Sun. That's where I was first interning so I've seen a lot of things. I've covered a lot of things. I know a lot of people.
It's Smalltimore. People call it that for a reason. Everybody knows everybody. When they say what school did you go to they mean high school not college. I think that helps versus being in a parochial market like this and coming from the outside. I think it's just a lot tougher to have a feel for what people are interested in, to have a feel for the way the city ticks and who the movers and shakers are.
BN: When you go back to the beginning what did you always want to do in the sports media business and how did you initially break in?  
JL: It's something I always was interested in. I love to write. When I was a kid I'd walk down to the corner store to buy a Washington Post and a Washington Times. We subscribed to The Morning Sun and my aunt would subscribe to The Evening Sun. Sometimes I'd walk a couple blocks down to her house and see what was in that paper as well. I just was always a sports junkie. 
I knew that I was going to do something in the sports realm. I thought about broadcasting and originally went to Syracuse as a broadcast journalism major and switched over to newspaper journalism. I pretty much knew I was going to switch majors by the end of my freshman year. Then like everybody else tried to get internships, tried to get my foot in the door.
I was really lucky and blessed to have great mentors at The Baltimore Sun. It was such a great sports department — Buster Olney and Ken Rosenthal — sitting in the press box with those guys every night. You couldn't go to school and replicate that in any classroom or textbook environment. There's no substitute for that. I did some internships in college and ended up getting a job at the Detroit Free Press covering hockey there probably way before I ever should have. I thankfully knew some people, John Lowe the longtime baseball writer at the Free Press, I had sort of befriended and he helped me get in front of their sports editor Gene Myers. That ended up being huge.
It was just really right place, right time. A lot of good luck, over-blessed with tremendous mentors. I just really couldn't imagine even as a pretty young child doing something that wasn't involved in sports whether it was broadcasting, working for a team, being in PR, or ideally being a writer.

BN: Are you on board with the NFL draft beginning on the 23rd?
JL: I've gone back and forth about this. I get it. I understand it. We had Troy Vincent from the NFL head of football operations on the show and he was really convincing. We went pretty long with him and by the end of that I was like "look, I understand why they're doing this." I applaud the telethon component of this. They're going to use it in large part as a fundraiser for first responders for research to develop some sort of vaccine or some way to better detect this or to eventually be able to curtail it. That's a huge part of it, which is awesome.
From a football standpoint I understand the general managers and a lot of people have concerns. There's a lot going on in their lives and they feel like there's no reason it couldn't be moved back. I get that and I also understand the morality issue of "hey, there's other stuff going on in the world right now. Maybe we don't need to be picking football players for three days." But at some point we all hope and pray and think that we're going to be on the other side of this. I do think for a lot of people it'll be a little bit of escapism. At least that weekend will feel a little different than some other weekends.

BN: What's your strongest opinion about the draft heading into it? 
JL: I just feel that all of a sudden now I'm supposed to believe Tua is like the third or fourth best quarterback in this draft. That just doesn't pass the smell test for me. The body of work is what it is. I understand he was injured but the doctors aren't lying to NFL teams about the condition he's in. It's just not how it works. That's crazy talk.
Would you like to get your hands on him and everything else? Yeah, but there's nothing Justin Herbert has done that's increased his stock. It's not like he's meeting with owners and blowing them away and they're coming away changing their draft boards. Nobody has any contact with anybody. Everybody's going back to the film. If you look at the film there's not a comparison between these two. I just think some people are protesting a little too much about this precipitous fall that I'm supposed to believe that Tua's in store for.

BN: When you look toward the future is there anything that you haven't been able to do yet that you'd like to at some point in your career?

JL: I'm always open the new opportunities. I got a lot on my plate right now between CBS and Entercom. [Laughs] I would be lying if I said I'm actively looking for more gigs.
I think I would like to teach at some point. That's something I'd like to do. I don't know about now. It would be impossible now, but down the road if maybe I'm not doing quite as much as I am right now in the media realm and once at least a couple of my kids are in college. I wouldn't mind being a professor teaching some communications classes. That would be pretty cool.

BN: Would it specifically be communications because of the background you have?

JL: I guess. It could be, I don't know if it would be broadcasting, I don't even know. What I love to do more than anything else still is write. If I could go teach a sports writing class somewhere at some point, I think that would be pretty cool.

BN: Do you think you would wear an ascot if you ever teach a class?

JL: No. Not unless it was part of the contract and they paid me handsomely to do so. Not of my own volition, but if there's a sponsorship involved, I'll listen. I've learned that much in my six weeks of radio.
Don't Make Assumptions to Fit Your Sports Opinions
Curiosity leads to asking questions instead of making assumptions.
I also thought San Francisco 49ers offensive coordinator Mike McDaniel was white.
Maybe "assumed" is the better term, given the saying of what that does to you and me.
But I — like this guy Sean Beckwith — saw those videos from McDaniel's press conference last week on Twitter. I legit thought it was a comedy bit at first. When I realized he was, in fact, the offensive coordinator, I thought it made sense that the NFL's first flat-brimmer of a head coach would have a super-chill OC who sounded like a dude accustomed to microwaving burritos at 3 a.m.
I also learned McDaniel was childhood friends with Dan Soder, a comedian whom I enjoy on Billions. I was informed by people who know better than me that McDaniel is a well-regarded young coach in the league and that's about where my opinions on the phenomenon of Mike McDaniel stopped.
If only Sean Beckwith had done the same, he might have avoided a major embarrassment. He might still have a Twitter account. Instead, he took even less information than I had, shook vigorously, and poured it out into a story published on Deadspin that warned McDaniel was about to become the next white guy to jump the line.
Except McDaniel is not white. Yeah. This fact is painfully embarrassing for the author, the website that published it, the people who own that website, and just about everyone concerned with equity in the hiring practices of NFL coaches.
I'll include myself in that latter category, and I've cringed at how this story has been used as an example of the problems that come with including race in the discussion of sports, though. This is actually an example of the problems with including race in the discussion of sports when your head is firmly wedged in your hindparts as Beckwith's seems to have been.
That was the real issue here, and while mislabeling McDaniel as white is an inexcusable and unconscionable mistake, it wasn't the only problem with this particular story. Brandon Staley was included as one of the young white men hired to be a head coach because of his offensive pedigree. Staley is a defensive coach. Matt Rhule was cited as an example of a young white man hired to be a head coach because of his offensive pedigree. Rhule is not particularly young and as a former college head coach at Temple and Baylor, he certainly doesn't fit the hiring pattern Beckwith was describing.
The problem at the root of Beckwith's approach was that he wrote that story with a confidence both unearned and unwarranted, and while it's easy to write him off for being unbelievably careless, it should give anyone who talks or writes about sports for a living a moment's pause to consider the number of assumptions that are made in formulating content.
Here, in no particular order, is a list of things I try not to assume:
1. Whether a woman is — in fact — pregnant. A friend of mine said her rule was that she wouldn't mention pregnancy until she actually saw evidence of the baby, at which point the question of pregnancy would actually be moot.
2. Someone's mental health. But I covered that earlier this year with regard to Antonio Brown, who — by the way — said to Bryant Gumbel this week that he has "mental wealth."
Race should probably be on this list, too, but it's usually not. Most of us go off what we see, and I include myself in that category. Like I said, I thought McDaniel was white, and I initially didn't realize David Culley was Black when the Texans announced him as their next head coach. Of course, I didn't go out and formulate a story based on my assumptions, but like I said, Beckwith's error provided a reminder of the dangers in just assuming what I think is true.
Now, I'm not recommending that we go and ask each and every person we talk about to fill out a census form. I am stating that we should be very careful about taking what we see — or what we think we see — and then cramming it with both hands into a storyline that we've heard or even one we believe. Each person we talk about has their own unique story, their own personal background, and the more we assume to know about that without actually having done the research, the more liable we are to make a career-changing mistake like this one.
Be curious. The character Ted Lasso said that in one of the better scenes from the first season of that show, though I'm somewhat reluctant to mention it for fear I'll come off like one of those fans of this particular show who I've found just will not shut up about it. (For the record: I liked the show. Thoroughly enjoyed the first season. Haven't watched the second season and somehow I'm doing just fine, thanks.)
Curiosity leads to asking questions instead of making assumptions. Curiosity might lead you to look up more about the coach in particular or hiring trends in general. Curiosity is what keeps us searching for a more complete understanding of the sports figures we're writing about and the trends we're discussing instead of adopting a smarmy tone of the know-it-all, which is especially dangerous if you're not even a know-it-some.
In this case, being curious might have led Beckwith to search for more about McDaniel and find the story from Matt Maiocco — a great reporter for NBC Sports Bay Area — in which McDaniel discussed his background. Being curious would have led Beckwith to find out who Andrew Hawkins is instead of using ignorance of the former NFL wide receiver to dismiss his praise of McDaniel's coaching acumen as an example of Internet groupthink.
Now, I'm not sure if being curious would have kept Beckwith from believing he had a better handle than Hawkins on how race might impact the promotion and hiring of NFL coaches. Curiosity almost certainly wouldn't have prevented Beckwith from snidely referencing the quote regarding racial justice that is in Hawkins's Twitter profile.
But that gets back to the root of the problem in Beckwith's column, which is the confidence with which he presided over a subject of which he was regrettably ignorant.
Media Noise – Episode 59: Paul Finebaum
How much Alabama can we pack into one podcast? Demetri Ravanos talks to Paul Finebaum about Finebaum's rise in radio, how he feels about his callers being used for content by other hosts, and college football's year-round spot in the national sports conversation.
Podcast: Play in new window | Download
Subscribe: RSS
10 Ways to Make Sales Work From Home Productive
Create a home workspace that is pure business. Post quotes and keep track of your sales. Let this be your workplace and concentration zone.
Do you need the energy of others around you to work harder or smarter? Are you the type who struggles to contribute to Zoom meetings? Do you lose focus quickly? Then maybe you need a check=up from the neck up about how you work from home.
For me, the challenges of working from home mainly stem from interruptions from pets, spouses, delivery people, and home chores. I need more discipline to stay on track to hit sales goals and not get distracted.
Here are 10 ideas for radio sellers adapted from Dan Disney of LinkedIn fame.
1. To-Do List
You need a plan for your day, just as you would at work. But building in some household chores would be wise. Remember, you are trading in the morning rush out the door and afternoon drive home for a walk to your computer and then to the TV at the end of the day.
For most of us, that's at least an hour a day saved by staying home. Spend it as you wish but make sure you schedule it outside your prime selling hours.
2. Stay in Touch
This shouldn't be hard for most of us with a corporate CRM tracking our moves. But don't forget to plan social time with people from work who you enjoy.
3. Be Self-Employed
We are who we are when nobody is watching. This is your opportunity to have your own business and work independently. A promotion from work could be next if you conquer this stage.
4. Take a Break
You took them when you were AT work, so why change? Don't forget the internet surfing you did, the errands you ran, and the time you wasted hearing about your workmate's problems. Try to make those breaks more productive by cleaning, paying bills, or playing with the dog. It's good for your mental health.
5. Get Help
If you need help keeping things quiet for client calls, negotiate with anybody you have at home to help you. If you live alone and have a pet who interrupts things, consider taking your dog to daycare once a week so you can schedule your calls on that day and help guarantee you won't be distracted.
6. Create an Office
Create a home workspace that is pure business. Post quotes and keep track of your sales. Let this be your workplace and concentration zone. If you pick up a paper, book, or report, don't put it down in any other place but where it belongs! Please keep it clean each day you are done and all business.
7. Let Your Hair Down
If you have a good client who you have known for a long time but has never been to your home, here is your chance. Show 'em around! Take a Zoom call on the phone and show them your backyard, BBQ, or home theatre room. Let your dog bark at them or have your partner say hello.
8. Take Rewards
You are home and it will be easier than ever to achieve some personal goals by focusing on some self-care. Eat better. Exercise more. Be calmer. Maybe even consider the gas you are not buying as savings for a big night out.
9. Be Positive
Let positive quotes, blogging, and motivating YouTube hits be your distractions. You need positive reinforcement and will have to work at getting some.
10. Train
Study Zoom, social media, and other forms of prospecting. Dig into this new reality and see if you can make it work for you AT HOME.