Jason La Canfora Gets Why We're Having The NFL Draft
"I kind of wanted to do this all my life and we get the chance. It's certainly been a little more tricky than we would've imagined. It's not ideal, but I'm not complaining."
I'm always interested to find out how big names in the sports media business simply come across as people. Are they full of themselves? Can you feel their ego starting to infiltrate your soul? Are they genuine? Michael Jordan's former agent, David Falk, recently said that what the public really has difficulty understanding is when a superstar puts on his uniform, he's working. It's the same concept for media members. Hearing an animated clip from a sports radio or TV show doesn't mean those people operate the same way in everyday life.
I enjoyed chatting with Jason La Canfora for a number of reasons. Despite being a heavy hitter who covers the most popular league in America, I didn't catch one iota of ego from the CBS Sports NFL Insider. He has also remains calm while being less than two months into a brand new sports radio show on 105.7 The Fan in Baltimore during a global pandemic. Being quarantined without face-to-face interaction — especially on a new show — will test the patience of anybody.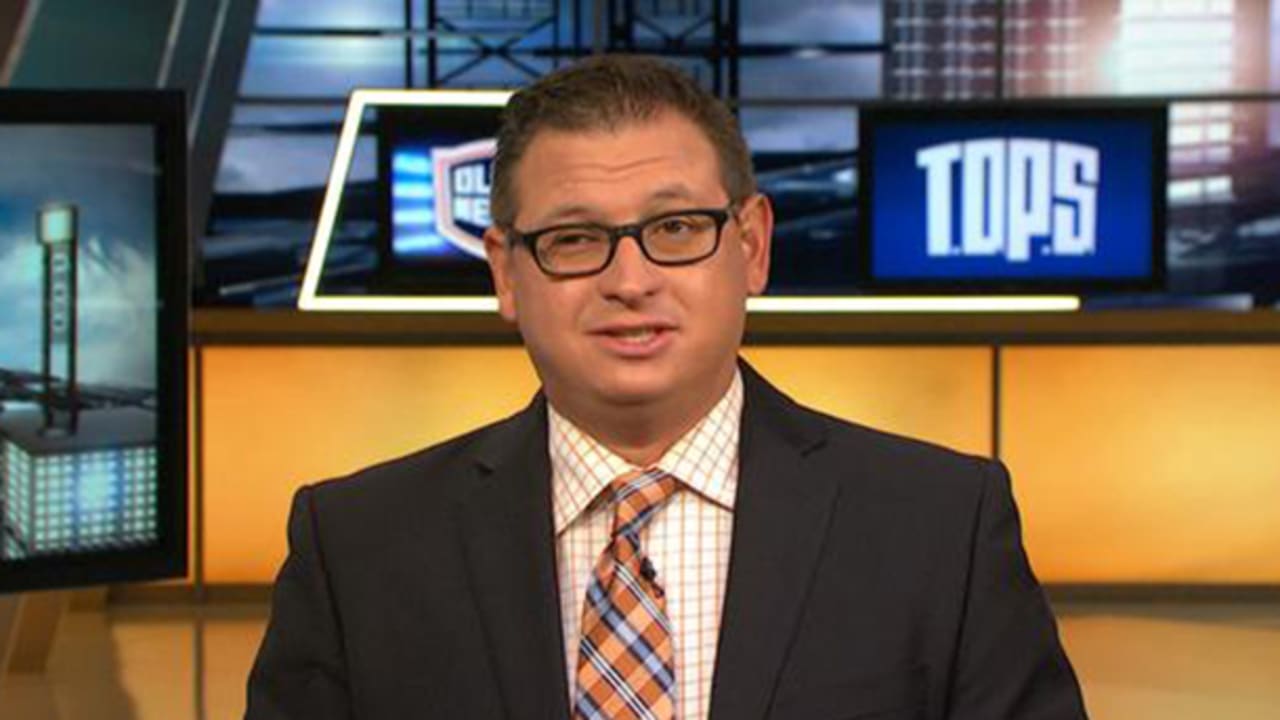 La Canfora keeps pushing forward as he always does. It's interesting to learn how an extensive writing background helps La Canfora's approach to his Inside Access radio show with Ken Weinman. Not one to shy away from opinions, the upcoming NFL draft is a topic we discuss as well. Future endeavors are unknown for La Canfora at this point, but one opportunity could include some sophisticated neckwear down the road. (I vote yes.) Enjoy!
Brian Noe: What's your biggest challenge launching a new show in this current environment?

Jason La Canfora: I don't even know where to start. It's been tricky. It certainly has been a challenge. It's been a blessing in a lot of ways to be able to try to give people some outlet for entertainment or escapism, the theater of the absurd a little bit. Also to continue to do smart sports talk and to try to stay on top of the pandemic as it affects the sports world; to try to educate our listeners as well. But this is our sixth week so literally it's been one thing after the next. By the end of our first week there were going to be no college conference tournaments. Then we found out we wouldn't be able to do any remote shows. Then also that second week, I think was our last week in studio so it was learning this new equipment while we're just starting to build chemistry.
I've known Ken for a while and Ken's an absolute pro. He makes my life a lot easier on a lot of levels, but there's no substitute for being there and having eye contact and being able to play off each other.
We had an incredibly talented producer, Alex Woodward, who was if anything underpaid. After the fourth week he was let go as part of the sweeping changes at Entercom and the restructuring that took place there. As much as the station didn't want to lose him it was out of their hands.
Tim Barbalace has to produce two shows basically now. He's been with Vinny Cerrato and Bob Haynie for a while. Now he's also running the board and helping us. I don't think there's much that could have prepared us for it. [Laughs] That's to say nothing about obviously the business climate and the situation that advertisers and potential sponsors are in with the economy being where it is and with people not able to go to bars and restaurants and all of that stuff.
I kind of wanted to do this all my life and we get the chance. It's certainly been a little more tricky than we would've imagined. It's not ideal, but I'm not complaining. There are people who've got it way worse than us. There's a lot going on in the world right now and a little sports talk show doesn't mean a thing. But it has been from a business side, from a content side, from the advertising side and just from sort of the mental health side of what we're all experiencing on a day-to-day basis and how our emotions fluctuate, it has certainly been unique.
BN: I don't know exactly how to phrase this perfectly, but in what ways does not having live games help a new show, and in what ways does it hurt a new show in terms of you playing off of your partner?
JL: Thankfully Ken and I have been hoping that this would have happened for years. He and I would be texting each other through games even though we didn't have a show together. We'd be texting each other during Oriole games. The minor leagues are really where it's at here because the Orioles are in a deep rebuild. I'd go to a ton of games with my kids. Ken probably went to five or six minor league games with me last year, maybe a few more.
Thankfully we had some of that already built up. Otherwise it really would've been much more difficult. But we kind of knew each other's thoughts on certain things and we already had a bit of chemistry. We knew how we could bust each other's chops. I think that gave us certainly a leg up. Even so, I'm not going to lie, when we got kicked out of the studio I was not happy. I understood why; it was a corporate decision. I get all of that but it was like, man, it just feels like every time we're starting to build something it goes away. Not through anything we were doing but just through circumstances. Losing Alex was a huge blow.
I feel like it's just forced us to hit the ground running, to be really creative. We communicate quite a bit already. Now with Tim, there isn't quite as much contact with him as we had with Alex because he's got two shows to produce. We don't want to throw too much at him, but Ken and I are talking all the time about "Do you think this works?" "What if we try this tomorrow?" "What if we get this guest?" It's just things like that.
BN: Were you an avid sports radio listener before you had a show?
JL: Yeah, absolutely. First of all just from being in the national media for so long, I feel like I've done many shows in the past if you just put together all my phoners. [Laughs] I was already doing hundreds of hours of radio a year anyway and had co-hosted some national and some local stuff on a fill-in basis. It's something that I was always interested in, something that I always wanted to do more with.
I love the medium. I love how creative you can be. I love how it can be like TV where you're doing things rapid fire and it's do less with more, but you can also branch out and end up doing two or three segments in a row on something that wasn't on the rundown just because you have the time and there's the trust there between you and your partner and you just feel like it's good radio. I just think it's a great medium especially in a time like this.
Everything I'm reading is that listenership is actually up. I don't know how you monetize it in something like this, but even without people going to work they're still flipping on podcasts and terrestrial radio, or taking it in off the Radio.com app. It's such a direct medium.
I like being part of a team. As a beat writer you're always a lone wolf to a certain extent. It's three of us in this together every day and I like the camaraderie aspect of it. I really like everything about it.

BN: As someone who's been interviewed so many times does that give you ideas of what to ask now, or is it more what to avoid when you've been asked stupid questions over the years?

JL: Interviewing is such a big part of reporting — knowing how to set someone up and how to go here to eventually go there, how to stagger things, how to defuse certain situations, or create a welcoming vibe. All of that stuff. I'm definitely stealing from people sometimes consciously and sometimes subconsciously. But yeah, you have a feel for what you think worked and what you think didn't work.

BN: What do you think is the trick to getting something really good out of an interview?
JL: One thing that I learned a long time ago was interview somebody when they want to be interviewed. I think part of it is in how it's presented and why you are talking to them. A lot of times it's knowing something about a subject that maybe isn't what they're known for. Doing a little research and finding out that they have a particular shared interest with you. Something that's not the typical question they'll be asked and you say, yeah I'm going to talk to you about some of the stuff that everybody talks to you about, but I really also would like to get a couple minutes with you about X, Y, or Z.

BN: What's the most useful part of your writing background that you apply to sports radio?

JL: I think it applies in a lot of ways. Certainly interviewing people and knowing how to ask questions. Knowing how to get out of your own way at times. Having been around a locker room environment for so long, I have a pretty good feel with athletes in particular; sort of some do's and don'ts and a lay of the land. You just have a nose for information.
I feel like a lot of the skill sets do dovetail. You're always looking for stories and what are people interested in or what's an interesting way to tell a story that I haven't seen done a million times before. You're reading a lot. I think there's no substitute for that. I've been reading and consuming sports media all the time as someone who is involved in it. I think it's also knowing good reporters. Knowing who to talk to. Something breaks, there's a pretty good chance that I know somebody covering that story or know somebody who could tell me somebody covering that story who's really good, or who I've worked with before. I have a natural list of contacts or resources that I can go to for different things.
Then also in this case, it has nothing to do with reporting, but I've lived here virtually my entire life. Except for when I was in Syracuse and in Detroit, one for school and one for a job, I've been here. I've lived 46 years pretty much all Baltimore sports. I worked locally at The Baltimore Sun. That's where I was first interning so I've seen a lot of things. I've covered a lot of things. I know a lot of people.
It's Smalltimore. People call it that for a reason. Everybody knows everybody. When they say what school did you go to they mean high school not college. I think that helps versus being in a parochial market like this and coming from the outside. I think it's just a lot tougher to have a feel for what people are interested in, to have a feel for the way the city ticks and who the movers and shakers are.
BN: When you go back to the beginning what did you always want to do in the sports media business and how did you initially break in?  
JL: It's something I always was interested in. I love to write. When I was a kid I'd walk down to the corner store to buy a Washington Post and a Washington Times. We subscribed to The Morning Sun and my aunt would subscribe to The Evening Sun. Sometimes I'd walk a couple blocks down to her house and see what was in that paper as well. I just was always a sports junkie. 
I knew that I was going to do something in the sports realm. I thought about broadcasting and originally went to Syracuse as a broadcast journalism major and switched over to newspaper journalism. I pretty much knew I was going to switch majors by the end of my freshman year. Then like everybody else tried to get internships, tried to get my foot in the door.
I was really lucky and blessed to have great mentors at The Baltimore Sun. It was such a great sports department — Buster Olney and Ken Rosenthal — sitting in the press box with those guys every night. You couldn't go to school and replicate that in any classroom or textbook environment. There's no substitute for that. I did some internships in college and ended up getting a job at the Detroit Free Press covering hockey there probably way before I ever should have. I thankfully knew some people, John Lowe the longtime baseball writer at the Free Press, I had sort of befriended and he helped me get in front of their sports editor Gene Myers. That ended up being huge.
It was just really right place, right time. A lot of good luck, over-blessed with tremendous mentors. I just really couldn't imagine even as a pretty young child doing something that wasn't involved in sports whether it was broadcasting, working for a team, being in PR, or ideally being a writer.

BN: Are you on board with the NFL draft beginning on the 23rd?
JL: I've gone back and forth about this. I get it. I understand it. We had Troy Vincent from the NFL head of football operations on the show and he was really convincing. We went pretty long with him and by the end of that I was like "look, I understand why they're doing this." I applaud the telethon component of this. They're going to use it in large part as a fundraiser for first responders for research to develop some sort of vaccine or some way to better detect this or to eventually be able to curtail it. That's a huge part of it, which is awesome.
From a football standpoint I understand the general managers and a lot of people have concerns. There's a lot going on in their lives and they feel like there's no reason it couldn't be moved back. I get that and I also understand the morality issue of "hey, there's other stuff going on in the world right now. Maybe we don't need to be picking football players for three days." But at some point we all hope and pray and think that we're going to be on the other side of this. I do think for a lot of people it'll be a little bit of escapism. At least that weekend will feel a little different than some other weekends.

BN: What's your strongest opinion about the draft heading into it? 
JL: I just feel that all of a sudden now I'm supposed to believe Tua is like the third or fourth best quarterback in this draft. That just doesn't pass the smell test for me. The body of work is what it is. I understand he was injured but the doctors aren't lying to NFL teams about the condition he's in. It's just not how it works. That's crazy talk.
Would you like to get your hands on him and everything else? Yeah, but there's nothing Justin Herbert has done that's increased his stock. It's not like he's meeting with owners and blowing them away and they're coming away changing their draft boards. Nobody has any contact with anybody. Everybody's going back to the film. If you look at the film there's not a comparison between these two. I just think some people are protesting a little too much about this precipitous fall that I'm supposed to believe that Tua's in store for.

BN: When you look toward the future is there anything that you haven't been able to do yet that you'd like to at some point in your career?

JL: I'm always open the new opportunities. I got a lot on my plate right now between CBS and Entercom. [Laughs] I would be lying if I said I'm actively looking for more gigs.
I think I would like to teach at some point. That's something I'd like to do. I don't know about now. It would be impossible now, but down the road if maybe I'm not doing quite as much as I am right now in the media realm and once at least a couple of my kids are in college. I wouldn't mind being a professor teaching some communications classes. That would be pretty cool.

BN: Would it specifically be communications because of the background you have?

JL: I guess. It could be, I don't know if it would be broadcasting, I don't even know. What I love to do more than anything else still is write. If I could go teach a sports writing class somewhere at some point, I think that would be pretty cool.

BN: Do you think you would wear an ascot if you ever teach a class?

JL: No. Not unless it was part of the contract and they paid me handsomely to do so. Not of my own volition, but if there's a sponsorship involved, I'll listen. I've learned that much in my six weeks of radio.
Brian Noe is a columnist for BSM and an on-air host heard nationwide each weekend on FOX Sports Radio. Previous roles include stops in Portland, OR, Albany, NY and Fresno, CA. You can follow him on Twitter @TheNoeShow or email him at bnoe@premierenetworks.com.
The Big Ten Didn't Learn ANYTHING From the NHL's Mistake
However, to not have your product ever mentioned outside of Saturdays ever again on the network that literally everyone associates with sports seems like a steep tradeoff to me.
My favorite moments in life involve watching someone/something on the verge of a great moment and after a lot of struggling, get to the moment that makes them happier than you cam imagine. You can feel your scowl shift from tepid observer to interested party and then finally transition to open fandom. I was on the verge of another one of those moments coming into this week until the Big Ten decided that they would make biggest mistake since the Legends and Leaders divisions.
The conference was closing in on a brand new set of media rights to go into effect starting with the 2023 football and basketball seasons. The discussions were near a climax when the USC and UCLA called Big Ten commish Kevin Warren. Then, the negotiations relaunched and something special was about to happen. The Big Ten was inches away from declaring themselves the richest and most forward-thinking conference in the entire country and if they could win a few football games, they'd be head ahead of the SEC.
You can argue until you are Gator Blue in the face but the fact is, the Big Ten was about to explode and pass the SEC. The conference was about to have games on FOX, ABC/ESPN, CBS and NBC. All of the networks. ALL OF THEM. They were also developing a package for a streaming service to test the waves of the web. It all sounded so damn smart.
Then, the Big Ten went dumb.
The conference got greedy and asked for too much from what would have been their most profitable partner in cachet, ESPN. Reportedly the conference asked ESPN for $380 million per year for seven years to broadcast the conference's second-rated games… at best. My jaw hit the floor.
Pure, unapologetic greed got between the Big Ten and smart business. The conference forgot a lesson that the NHL learned the hard way. ESPN dominates sports. ESPN is sports.
I don't need to go to far back in the archives to remind you that ESPN's offer to the NHL for media rights wasn't as lucrative financially as NBC's was, but the NHL took the short-term money and ignored the far-reaching consequence. ESPN essentially wiped them from the regular discussion. Yes, there were some brief highlights and Barry Melrose did strut ass into the studio on occasion, but by no means was that sport a featured product anymore.
One afternoon I had someone tell me that they were upset ESPN was airing a promo for an upcoming soccer match that ESPN was carrying. He told me, "they're only promoting it because they have the game."
That's kind of how this thing works. ESPN is in business with some sports and not others so it makes a lot of sense to promote those you are in business with, yeah? ESPN doesn't spend a lot of time promoting Big Brother, Puppy Pals or ping pong either. Why would they? There is no incentive too.
Here's the sad question. Why would ESPN bother promoting the Big Ten? Why would ESPN spend extra time on the air, on their social platforms, on their digital side, to promote something they don't have access to? The Big Ten is a big deal, but is it that big of a deal?
I am not suggesting that ESPN will ignore the Big Ten. They will still get discussed on College GameDay. But why would the network's premiere pregame show for decades go to any Big Ten games and feature the conference?
There will be highlights still shown on SportsCenter, but I'm willing to bet they get shorter.
The Big Ten chose network television and a streaming service over the behemoth that is ESPN. As far as streaming is concerned, consider that over half of all NFL frequent viewers still don't know that Thursday Night Football games are on Amazon only this year. That's a month away and that's people who call themselves frequent NFL viewers and that's the biggest, baddest league in the land. Good luck telling them Purdue/Rutgers is on Apple or Amazon. Streaming is a major part of the future, but it still isn't the now.
ESPN may seem like the safe bet, but that's because it's the smartest bet. NBC is a fine network that spends a bajillion dollars on America's Got Talent and The Voice. Fine shows, but tell me where I can watch highlights of the recent Notre Dame/Stanford game.
CBS is a wonderful network that dominated with the SEC package for a long time, but that's because the very best SEC game each week went to CBS. Will they still dominate if they have the league's #2 package? Because why wouldn't FOX, Big Ten Network co-owner FOX, get the best game each week for Big Noon Saturday?
There isn't a single one of us that has a good damn idea where college football will be in three, five or seven years but I do know that ESPN isn't going anywhere. I know ESPN has elite talent at every level of production and on-air that's been in place for a really, really long time. I also know ESPN cares way more about sports than the other networks. CBS would like the Big Ten to do well, but CSI: New Orleans is a priority, too.
The NHL went for quick money and it cost them market share. The sport is still trying to recover after being largely ignored by ESPN for 17 years. It wasn't out of spite, it was out of business. The NHL once thought it didn't need ESPN. Where's the NHL now?
The money the Big Ten will generate is amazing, I will not deny that. It seems like a boondoggle of a lifetime to grab this cash. However, to not have your product ever mentioned outside of Saturdays ever again on the network that literally everyone associates with sports seems like a steep tradeoff to me. The Big Ten is going to get paid a lot now but in the long term, they will pay the most.
Arky Shea serves as BSM's evening editor, a daily news writer, and a weekly media columnist. He has previously worked for Outkick, 97.7 The Zone, 740 Sports Radio, and 730 The Ump where he held roles as the station's program director, afternoon host, and producer. To connect, find Arky on Twitter @ArkyShea.
Will Big Ten Lose Relevance Without ESPN's Machine Behind It?
Does ESPN's grip over sports talk and the college football scene affect how a Big Ten team is perceived versus how an SEC or ACC team is looked at? We have yet to determine that but I don't believe it will.
It's a historic time for the Big Ten. The athletic organization is about to become the first college conference to pass $1 billion per year in television rights. The other big news comes straight out of Bristol, Connecticut. ESPN is stepping away from broadcasting its games for the first time in 40 years. ABC will also no longer air Big Ten games for the first time since 1966.
I became a fan of college football during the Reggie Bush/Matt Leinart era and have so many memories of watching USC on Fox Sports Net and ABC. It's so crazy to imagine that ABC won't be airing any USC home or intra-conference games for the first time since 1954. This is a move of epic proportions.
The change could be seen as questionable to some from the Big Ten's point of view. ESPN is still in 80 million homes. ABC is opening up more slots in prime time for live sports to be available in as shows like Dancing With The Stars begin to transition to streaming exclusively on Disney+. Most of all, ESPN dominates the college football conversation. College Gameday is one of the best studio shows on television and attracts the attention of everyone from the influential to the Average Joe.
SportsCenter is still the sports news show of record and literally faces no other competition besides similar news programming on league owned networks. First Take, as bloviating as it can sound on television, is still one of cable's highest rated live broadcasts on a daily basis and has a lot of relevancy on social media. Pardon The Interruption is one of the few shows on sports television (if any) that can still draw 1 million viewers on a daily basis. Paul Finebaum is an expert in the game that people trust, watch and listen to on a daily basis and is currently aligned with ESPN's SEC Network. Finally, the College Football Playoff and Championship still air on the "Worldwide Leader".
Does ESPN's grip over sports talk and the college football scene affect how a Big Ten team is perceived versus how an SEC or ACC team is looked at? We have yet to determine that but I don't believe it will. There seems to be an assumption among fans in forums and social media that all of a sudden ESPN is going to overrun its audience with debate topics and stories across its platforms that are focused solely on the SEC.
While there will be increased attention on the SEC across Disney-owned networks and sites, as there should be because that's what ESPN is paying for, it is a proven fact that what rates best is a solid product with interesting conversation from multiple angles. Audiences will be able to easily decipher rather quickly whether what they are being served is interesting versus what is being fed to them purposefully and react very quickly.
There is nothing executives love more than a highly rated, lively, and contentious broadcast that draws attention and contributes to the national conversation. Even though ESPN is more friendly with the SEC now, there is a reason why it is called show business is not called show friends. Why would ESPN want to drain out ratings from their linear programming especially given the already strenuous rope that basic cable is holding onto as a whole?
Let's just say Big Ten powerhouses like Ohio State and Michigan are both ranked in the top 10 and playing in their traditional yearly game. Despite the fact that Fox will be broadcasting the game, I just don't see how or why SportsCenter wouldn't be giving such a prolific game the same coverage it would on a normal basis. There would most likely be no reason for College Gameday to not do their show live from the game or for shows like First Take and PTI to not participate in some sort of debate about it. It's just not good business for a sports information destination to not engage in the practice of giving out information and analysis about sports even if they don't own a particular sport or league's broadcast rights.
It might be possible to reduce coverage with less popular leagues such as NASCAR and the NHL, which ESPN has been accused of doing in the past, and get away with it without affecting your bottom line. While NASCAR and the NHL each have millions of fans worldwide, their fandom alone can't compare to the influence which the alumni of major colleges and universities across the country can sway. The Big Ten alumni base is so far and wide that it would be too noticeable after being done consistently not to make some sort of dent. Disney's own CEO Bob Chapek is an alum of Indiana and Michigan State.
The assumption that Gameday prefers SEC schools has already existed for a long time and could be a determining factor of why Fox's pregame show Big Noon Kickoff, which has predominantly broadcasted its show from Big Ten schools, is already beating or coming close to Gameday's ratings week after week.
I also don't want to underestimate Fox, CBS, and NBC's impact on the sports conversation. FS1's "embrace debate" shows may not get the highest ratings but their distribution across social media and the podcast world is well established. The Herd with Colin Cowherd is the 13th most listened-to sports podcast in the country. Replays of FS1 shows are available 24 hours a day on FAST (free ad-supported television) channel apps such as Pluto TV and Tubi that reach millions of people. Fox also recently launched a channel with Fox Sports clips on Amazon's news app that can reach up to 50 million active users.
CBS Sports has a news network reminiscent of the old ESPNEWS on that same app as well as Pluto TV and is a producer and television distributor for Jim Rome, one of the most listened to sports talk show hosts on radio. It also distributes the highest-rated sports talk morning show in New York – Boomer and Gio – on national TV.
NBC's sports talk universe exists primarily through their Peacock app (which will reportedly have an exclusive package of its own) and includes Dan Patrick, number 12 on the podcast charts, and Michigan alum Rich Eisen, who has a robust presence on YouTube.
ESPN has more concurrent linear television viewers than its rivals daily. But sports talk content from Fox, CBS, and NBC can still reach a substantial audience through YouTube, FAST channels, streaming services, podcasts, and radio. Fox, CBS, and NBC's non-sports talk programming throughout the day on their broadcast networks can also serve as a venue to expose the Big Ten's athletes and schools in a non-traditional way and reach more people not exposed to college sports yet.
The biggest thing we can't forget is that as of now, for the next 10 years, there will only be one college sports conference whose games are as widely broadcast to the masses as the NFL's – the Big Ten. Unlike the cable networks, at least 100 million people (1/3 of the country) have a way to access Fox, CBS, and NBC every week. Whether ESPN is talking about the Big Ten or not, the conference will always be able to reach more people than the SEC and other counterparts week after week. Sports fans are already used to flipping between Fox, CBS, and NBC to watch their NFL games on Sundays. They know where to find all three channels and that alone makes the Big Ten the closest comparison that will ever exist to the NFL in our current media landscape. You literally can't match that.
Jessie Karangu is a columnist for BSM and graduate of the University of Maryland with a bachelor's degree in journalism. He was born and raised in Baltimore, Maryland but comes from Kenyan roots. Jessie has had a passion for sports media and the world of television since he was a child. His career has included stints with USA Today, Tegna, Sinclair Broadcast Group and Sightline Media. He can be found on Twitter @JMKTVShow.
Producers Podcast – Nuno Teixeira, ESPN Radio
Brady Farkas is a sports radio professional with 5+ years of experience as a Program Director, On-Air Personality, Assistant Program Director and Producer in Burlington, VT and Albany, NY. He's well versed in content creation, developing ideas to generate ratings and revenue, working in a team environment, and improving and growing digital content thru the use of social media, audio/video, and station websites. His primary goal is to host a daily sports talk program for a company/station that is dedicated to serving sports fans. You can find him on Twitter @WDEVRadioBrady and reach him by email at bradyfarkas@gmail.com.