The Virtual NFL Draft: Hope, Pandemic Porn, No Glitches
"Guest columnist Jay Mariotti says that after initially balking at the NFL deciding to hold its annual draft, he now cedes how the three-day affair is serving a purpose or two."
"Hope,'' Roger Goodell said.
"Hope,'' Trey Wingo said.
"Hope,'' Peyton Manning said.
If hope were dope, and the countless mentions of it during the NFL's first virtual draft could be channeled into medicine, we actually might have a cure for the coronavirus. It was immediately clear on Thursday night's broadcasts that the league, pilloried here and beyond for insensitively continuing business amid a pandemic, wouldn't begin choosing athletic talent until the real heroes were honored. As Harry Connick Jr. performed the national anthem from his home piano, a montage of images — doctors, nurses, first responders, police officers, firefighters — flashed across the ABC, ESPN and NFL Network feeds.
Well done.
A proper, necessary tone was established. The league wanted a message to resonate, firmly, that it understands its place amid our global health horror, making sure its primary motive — maintaining a 2020 continuum while hoping not to lose billions if next season is canceled — was a subdued blip in the ongoing carnage. Goodell could least afford to botch this fragile, historical moment after all the public storms that made him something of an American pariah — the concussion crisis, his handling of player conduct problems, the Colin Kaepernick protests. His league needed to do much, much better at a time when a country's people are desperate for steady leadership.
The NFL succeeded. And so did Bristol, which somehow avoided the high potential for technological folly and unwatchable TV with a presentation free of major glitches, unless we're counting a robotic Goodell bumbling a few times in a home basement out of "Wayne's World.'' A bunch of football men showed up, turned on their digital tools, showed off their kids, made their selections as draftees conveyed their appreciation, then returned to quarantine life with the rest of us. Joe Burrow is heading to Cincinnati, where even the Bengals couldn't bungle the obvious. Tua Tagovailoa, broken body and all, is off to Miami, leaving Justin Herbert for the Los Angeles Chargers. Tampa Bay, with general manager Jason Licht high-fiving his children in his home office, snagged an offensive lineman to protect Tom Brady as he throws to Rob Gronkowski. (Did I just write that sentence?). The Raiders drafted playmaker Henry Ruggs III, who showed up in a bathrobe that works perfectly in Las Vegas, which also gets the 2022 draft, though Goodell announced it as the 2020 draft. Bill Belichick did not take a quarterback in Round One, but Green Bay did in Jordan Love, which might not inspire love from Aaron Rodgers. Adam Schefter managed some appearances, and Mel Kiper's hair is still Mel Kiper's hair in a pandemic.
"We will get through this together,'' the commissioner told America, "and when we do, we will be here.''
But, honestly, when on God's Earth will that be?
With Scott Van Pelt as Mister Rogers, the bleeding American sports industry insists on trying to speak itself back into existence. Other than the NFL tribute, little mention is made inside this hermetically sealed playpen that the world is in unprecedented upheaval — the death toll continues to soar, stay-at-home protests could turn violent, states are playing Russian Roulette with a rush to reopen, and a second and more crippling coronavirus wave could arrive in, say, September, the fantasy date for the NFL and other leagues and events to resume. Or, as Mike Francesa calls it, "Sports Shangri-La.''
Our games will be back soon!
Until, of course, they aren't.
In this alternative universe, the draft carried on as an act of resilience, escapism, crisis guidance and primal-scream therapy. After initially balking at the Beavis-meets-Butthead audacity of such an exercise, I now cede how the three-day affair is serving a purpose or two. Yes, it temporarily soothes the souls of alienated humans who can't function without sports, restless folks who've turned "The Last Dance'' rehash of a 22-year-old NBA tragicomedy into some modern cinematic version of "The Godfather.'' I get it: Fans and gamblers are freaking about the potential long-term absence of sports, just as sports media professionals are petrified that a virus-paralyzed world won't need sports media. So even without the massive crowds, rowdy scene and on-stage dap bumps between Goodell and the chosen ones, the first (and hopefully last) remote draft quaiifies as pandemic porn.
But more than that, the NFL is striving to show America how to adapt and survive through unprecedented challenges. Defiantly, the league joined hands with its broadcast partners and dared to trudge through an IT jungle, blind-leaping into a hazy, frightening, post-Covid-19 future. Goodell pivoted to dabble in what will be a complex transformation of the U.S. workplace. To that end, the league and the broadcast production team — coming live from Bristol, not from the Vegas fountains of the Bellagio Hotel — risked a disastrous fallout from technical glitches and Zoom-bombing.
Bloopers! Cue the NFL Films folly music.
Admit it: We were hoping for some disarray, just to laugh a little. But other than a lengthy delayed reaction between Washington's pick of Chase Young and the celebration of Young and his family, the broadcast proceeded without any discombobulation, a miracle given the complex circumstances. Guided by ESPN veteran Seth Markman, the production pulled off memorable scenes: Jerry Jones, rubbing in his wealth while embalmed in his $250 million yacht, in happy landline conversation with new Cowboys coach Mike McCarthy before the pick of CeeDee Lamb, a receiver to help Dak Prescott; Cardinals coach Kliff Kingsbury, who has achieved little in the league, sprawled in a glass palace from the pages of Architectural Digest, while Belichick, the coaching G.O.A.T., drafts alone from an ordinary kitchen. And I hope none of the gigantic moose heads on the wall of Mike Zimmer, Minnesota Vikings coach, ever fall as he walks past. Dave Gettleman, the Giants' embattled GM, wore a mask while sitting alone at home. Goodell could be forgiven for being a bit loopy in his suburban New York home, talking to fans on a wall screen as if they were long, lost friends and starting the night with a joyful embrace of piped-in boobirds. "Wow, even the virtual boos are good,'' he said. But if that's our only gripe, damned if this wasn't a triumph of broadcasting perseverance.
The entire show depended on the functionality of 180 video feeds wired into players, general managers, coaches and TV personnel in self-quarantine. The league mailed do-it-yourself camera kits to 58 top prospects to install at home, with detailed instructions and diagrams, and asked them to maintain social-distancing. Meanwhile, the 32 teams, banned from working facilities, replaced the usual packed war rooms with elaborate video-conferencing from the homes of key decision-makers. Hey, what could go wrong?
Can you say, spotty wi-fi? Dogs barking, babies crying, wives and children misplacing magnets on the kitchen draft board? Doorbells ringing with Amazon packages and pizza deliveries? Good thing "Tagovailoa'' couldn't be confused with "Herbert'' over the cellphone … or could it? Days earlier, the league conducted a mock draft to address glitches and immediately encountered a malfunction with the first pick. Some league executives, ignoring Goodell's edict to avoid any criticism of the newfangled draft, described the practice session as "chaos.'' Think of the possibilities: Gamblers, reduced to Russian ping-pong matches to scratch their wagering itches, betting the over-under on how many test patterns ESPN posted. The Detroit Lions, concerned about a Detroit Lions kind of screwup, positioned their IT director inside a Winnebago outside general manager Bob Quinn's home. Other GMs had walls ripped out of living areas. Chicago Bears fans, forever numb that Mitch Trubisky was drafted over Patrick Mahomes and DeShaun Watson, were afraid not only about GM Ryan Pace but his wife, who unplugged one of his seven computer monitors while vacuuming earlier this week. (I know a Bears fan who thinks Mrs. Pace should make the picks).
And, hmmmm, what about the potential for hacking? Didn't every team have to keep an eye on Belichick's IT people?
But the NFL and ESPN did install a backup system, allowing an urgent audible to FaceTime if necessary. And teams invested in stronger wi-fi and cellphone connections while adding computers, video monitors and landlines. And somehow, it worked without ESPN having to flip fast to "the 46th annual Cherry Pit-Spitting Competition,'' ABC switching to "Kids Say The Darndest Things'' and the NFL Network auto-changing to "A Football Life.'' Add the element of charity, with the draft serving as a virtual fundraiser for several causes, and, inexplicably, it came together. No snafus.
Hope.
The adrenaline rush of sports was back, sure to be reflected by the same massive ratings spikes generated last weekend by ESPN's Michael Jordan-approved documentary series. And it will lead the industry's wishful thinkers to assume the rest of the parade is around the corner, NBA and MLB and all the rest, ready to kickstart a sports revenue machine that annually produces more than $75 billion in the U.S. They don't realize, sadly, that the streets will be as barren as before.
This is what happens when league owners and network executives who've lived kingpin lives for so long, accustomed to getting their way, suddenly are losing fortunes and seeing empires teeter. They join lost fans in pretending all will be fine when, surely by now, they realize they're helpless and at the cruel mercy of a ghost until — all together now — herd immunity is achieved and/or a legitimate vaccine is developed, approved and mass-distributed, perhaps in 2021. Jones can't power-play Covid-19. Mark Cuban can't shout it down. Bob Kraft can't massage it. Jerry Reinsdorf can't dismantle it the way he wrecking-balled the Jordan dynasty. And President Trump, whose minimizing of the pandemic expands to pushing the sports envelope prematurely, can't do a thing about his nighttime hardship: "… watching baseball games that are 14 years old.'' As a New York Times headline thumped this week, "The Coronavirus Doesn't Care When Sports Come Back.'' They can brainstorm all they want about salvaging schedules within a Bio-dome culture, or empty stadiums. As long as the lives of athletes and their loved ones are at risk, and an entire season would end with one positive test among hundreds inside such a bubble, sports should be shut down. And why would anyone devote scarce resources and supplies to sports initiatives when they are desperately needed by hospitals and front liners?
"There's going to be a myriad of factors you have to evaluate, and facts you have to know, even before you could contemplate something like a sequester or a quarantined group," warned DeMaurice Smith, executive director of the NFL Players Association. "We all want to be in a position to make sure we're not doing anything for the sake of football that would unnecessarily endanger our greater community."
With time on his hands, Smith found a book that is recommended reading for all: "The Great Influenza,'' about the 1918-19 flu pandemic. "There was a lull in the outbreak and people thought it meant that it had somehow miraculously disappeared,'' he said. "They only later found out that the virus mutated, that it came back in much stronger form.''
It should surprise no one that sports, built on fairy tales, continues to float above the pandemic like a pipe dream. Gronk abandons retirement, wrestling, partying and hemp to join Brady in Tampa, another gut blow to the Patriot Way and another reason to miss the NFL if/when it doesn't return until 2021. The Boston Red Sox are merely wrist-slapped for their role in baseball's electronic sign-stealing scandal, more a byproduct of cronyism — owners John Henry and Tom Werner are protected in the sport's inner sanctum, unlike Houston owner Jim Crane — than any assurance the Red Sox weren't as crooked as the Astros. MLB continues to advance the delusion of squeezing in the 2020 season for "America's sake,'' though most of America no longer watches baseball on TV and an Orioles-Royals game sounds worse than actually contracting the virus. While NBA commissioner Adam Silver begins to express pessimism about resuming a season, the NHL skates on with July possibilities. Golf will resume in June without galleries — until a player tests positive because, uh, flights, hotels and rental cars provide virus obstacles. Will Tiger Woods and Phil Mickelson be able to maintain social distance from Brady and Manning in their celebrity golf match? If so, such a TV event works, especially when charitable. I'm not so sure about dirt-track racing in South Dakota, a state without large-gatherings restrictions, where ticket sales are capped at 700 for an event this weekend. Aren't we doing well with virtual NASCAR, where no one dies in the wrecks?
As a whole, sports continues to prioritize lost billions over common sense without asking athletes what they think; they're the ones expected to assume health risks and abandon families. Without stadium revenues, leagues will ask players to accept lower salaries when, in fairness, the players deserve raises if they agree to such a fraught undertaking. Thus, aren't we looking at labor standoffs, particularly in baseball, a troubled and scandal-ridden sport before the pandemic? And how greedy and petty do MLB owners look in refusing to issue refunds for "postponed'' March and April dates, ignoring that almost 30 million Americans are unemployed?
But at least the NFL delivered an actual sports event in real time, floating optimism that includes the May release of the 2020 schedule … for a season unlikely to be played. "It's hope for our fans, hope for our teams,'' Goodell said. "It's hope for our players, for these young men who are about to start their careers as prospects and players in the NFL. That's what this is all about, and I think we need those diversions. I think we'll be able to do that for three days, and then we'll focus on the future immediately after.''
There is no foreseeable future for sports. All you need to know is that ESPN analyst Todd McShay, set to appear as a draft-night panelist, couldn't make the gig because he's recovering from coronavirus. It isn't overstating matters that the pandemic could lead to World War III. But for one night, a septuagenarian bro who moonlights as U.S. president could think life is returning to normal, when, as most know, normal is at the morgue with 200,000 bodies.
Jay Mariotti, called "the most impacting Chicago sportswriter of the past quarter-century,'' is the host of "Unmuted,'' a frequent podcast about sports and life (Apple, Podbean, etc.). He is an accomplished columnist, TV panelist and radio host. As a Los Angeles resident, he gravitated by osmosis to movie projects. He appears Wednesday nights on The Dino Costa Show, a segment billed as "The Rawest Hour in Sports Broadcasting.''
Keeping Premier League Games Shouldn't Be A Hard Call For NBC
"Beyond its massive global fanbase, the Premier League offers NBC/Peacock a unique modern 21st-century sport for the short attention span of fans."
NBC Sports is facing some tough, costly decisions that will define its sports brand for the rest of this decade.  A chance to connect with viewers in a changing climate and grow Peacock's audience as well.  However, making the right choice is paramount to not losing to apps like Paramount+ (pun intended).
NBC is currently in the business of negotiating to continue airing the Premier League as their current deal ends after this 2021-2022 season. NASCAR is contracted to NBC (and FOX) through the 2024 season.
NBC's tentpole sports are the NFL and the Olympics.
Negotiations for the EPL are expected to go down to the wire. Rather than re-up with NBC, the league is meeting with other networks to drive up the price. NBC has to then make a decision if the rights go north of $2 billion.
Should NBC spend that much on a sport that is not played in the United States? It's not my money, but that sport continues to grow in the US.
If NBC re-ups with the Premier League, will that leave any coins in the cupboard to re-up with NASCAR? Comcast CEO Brian Roberts hinted that there might be some penny pinching as the prices continue to soar. This may have been one of the reasons that NBC did not fight to keep the National Hockey League, whose rights will be with Disney and WarnerMedia through ESPN and TNT, respectively.
"These are really hard calls," Roberts said. "You don't always want to prevail, and sometimes you're right and sometimes you're wrong, but I think the sustainability of sports is a critical part of what our company does well."
Roberts was speaking virtually at the recent Goldman Sachs 30th Annual Communacopia Conference. He told the audience that between NBC and European network Sky, that Comcast has allocated approximately $20 billion towards these sports properties.
Comcast CFO Michael Cavanagh spoke virtually at the Bank of America Securities 2021 Media, Communications and Entertainment Conference and echoed that the company is in a good position to make some strong choices in the sports realm.
"The bar is really high for us to pursue outright acquisitions of any material size," Cavanagh added. "We got a great hand to play with what we have."
While the European investments involve a partnership with American rival Viacom, the US market seems to have apparent limits.
Last Saturday's NASCAR Cup Series at Bristol Motor Speedway was seen by around 2.19 million people. It was the most-watched motorsports event of the weekend. That same week eight different Premier League matches saw over 1 million viewers. More than half of those matches were on subscription-based Peacock. 
Beyond its massive global fanbase, the Premier League offers NBC/Peacock a unique modern 21st-century sport for the short attention span of fans. A game of typical soccer fan is used to a sport that is less than two hours long. The investment in a team is one or two games a week. 
My connection to the Premier League began before the pandemic. When I cut the cord in late 2017, I purchase Apple TV. Setting it up, it asks you to name your favorite teams. After clicking on the Syracuse Orange and the New Jersey Devils, I recalled that my wife has family based in London, England. They are season ticket holders for Arsenal, and that family redefined the word "die-hard" fans.
I've long been a believer that sports allegiances are best when handed down by family. I love hearing stories of people loving the New York Giants because their parents liked them, and they pass it down to their children.
I've successfully given my allegiance to the Devils to my young daughters.
By telling Apple TV that I liked Arsenal, I get alerts from three different apps when the "Gunners" are playing. The $4.99 is totally worth it to see Arsenal.
Whenever I told this story, I was amazed to see how many other American sports fans had a Premier League team. Students of mine at Seton Hall University rooted for Tottenham Hotspurs, while an old colleague cheers on Chelsea.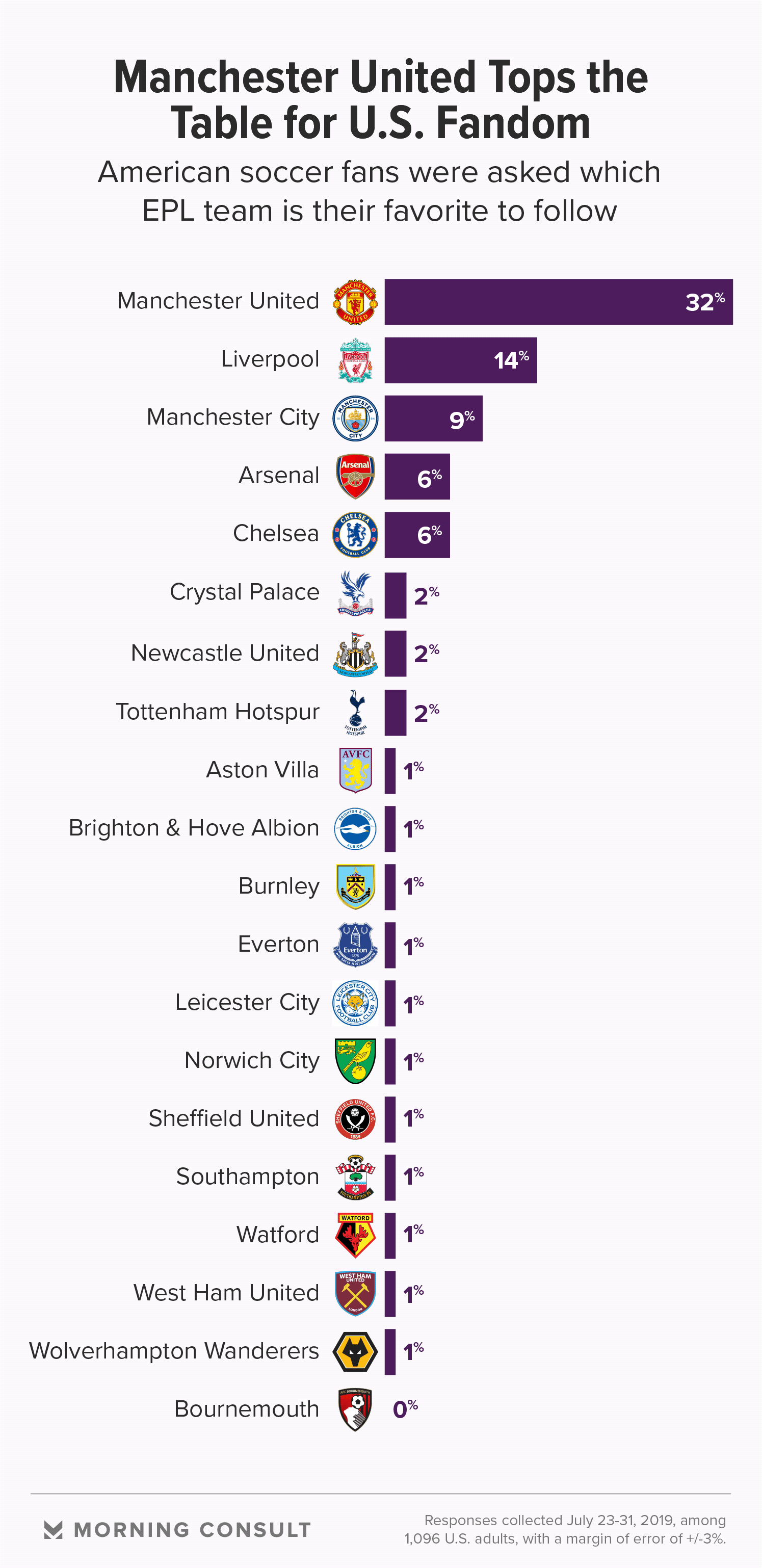 This is not meant to say that NBC should sign the EPL on my account. The key for any US-based soccer fan is that between Bundesliga, Serie A, and other leagues, there will be no shortage of soccer available on both linear television and streaming services.
Besides, Dani Rojas did say that "Football is life." NBC, originator of the Ted Lasso character, should make keeping its Premier League US connection a priority.
Today, Demetri is joined by Tyler McComas and Russ Heltman. Tyler pops on to talk about the big start to the college football season on TV. Russ talks about Barstool's upfront presentation and how the business community may not see any problems in working with the brand. Plus, Demetri is optimistic about FOX Sports Radio's new morning show.
Podcast: Play in new window | Download
Subscribe: RSS
6 Ad Categories Hotter Than Gambling For Sports Radio
"Using sports radio as a back page service for gambling will have a limited shelf life."
For years sports radio stations pushed sports gambling advertisers to early Saturday and Sunday morning. The 1-800 ads, shouting, and false claims were seedy, and some stations wouldn't even accept the business at 5 am on Sunday.
Now, with all but ten states ready to go all in on sports gambling, sports radio stations can't get enough of that green. Demetri Ravanos wrote about the money cannon that sports gambling has become for stations. Well, what if you are in one of those ten states where it isn't likely to ever be legal like California or Texas? Where is your pot of gold?
Or, let's face it, the more gambling ads you run, the more risk you take on that the ads will not all work as you cannibalize the audience and chase other listeners away who ARE NOT online gambling service users and never will be. So, what about you? Where is your pot of gold?
Well, let's go Digging for Gold. 
The RAB produces the MRI-Simmons Gold Digger PROSPECTING REPORT for several radio formats. In it, they index sports radio listeners' habits against an average of 18+ Adult. The Gold Digger report looks at areas where the index is higher than the norm – meaning the sports radio audience is more likely to use the product or service than an average 18+ Adult who doesn't listen to sports radio. The report, generated in 2020, indicates that sports radio listeners are 106% more likely to have used an online gambling site in the last thirty days. That's impressive because the report only lists 32 activities or purchases a sports radio listener indexes higher than an average adult. I looked at those 32 higher indexes, and I think we can start looking for some gold.
Using sports radio as a back page service for gambling will have a limited shelf life. The gambling companies who commit significant money to get results will continue advertising and chase the others away. So, the future of sports radio needs to include other cash cows.
If it is evident to online sports gambling services that sports radio stations are a must-buy, who else should feel that way?  I looked at the Top 32 and eliminated the media companies. ESPN, MLB/NHL/NFL networks, and others aren't spending cash on sports radio stations they don't own in general. But Joseph A Bank clothing, Fidelity, and Hotwire should! Here's your PICK-6 list I pulled together that's hotter than sports gambling:
Sportscard collectors, Dapper Labs, Open Sea- read about Sports NFT $.
Online brokerage firms-Fidelity, Charles Schwab, Robinhood, Webull, TD Ameritrade
Golf courses, resorts, equipment, etc.- we play golf at home and vacation
Hotwire.com, Booking.com, TripAdvisor, Airbnb, Carnival Corporation, and Priceline.com- we've used Hotwire in the last year.
FedEx, UPS, U.S. Postal Service, Venmo, PayPal, Zelle-we wired or overnighted $
Jos. A. Bank, shein.com, macys.com, nordstroms.com- we went to Jos. A. Bank in last three months
The sports card/NFT market is 32% hotter than the sports betting market for sports radio listeners. Everything on the PICK-6 is at least 100% more likely to purchase than an average 18+ Adult who doesn't listen to sports radio. All listed are at or above indexing strength compared to sports betting. The individual companies I added are industry leaders. Bet on it! Email me for details.