So, You Want To Be In Sports Media
"Jay Mariotti says journalism has been replaced by cooperative public relations and those looking to work in sports media shouldn't allow it to completely hijack their lives."
Ten, 12, 15 — I've lost count. Day after day the last several weeks, I've appeared on talk shows with hosts who've asked the same questions: "Was Michael Jordan really that (magnificent, sublime, G.O.A.T.-like)?'' … "Was he really that big of a (tyrant, S.O.B., jerk)?'' … "Why were Jerry Krause and Jerry Reinsdorf so (jealous, vindictive, joyless) in breaking up the Bulls?''
But near the end of a show last week, a host snuck in a different query: "What would you tell a young person who wants to get into sports media?''
I paused. Did he really want to go there? Now? Sports media is a wilted flower, a pot-holed wheeze down a one-way back road in a rusted jalopy, a relic exposed as the antithesis of essential during the COVID-19 catastrophe. It has been left naked and cold by dried-up advertising revenue, radical downsizing, crumbling journalistic bedrock, corporate raiders who buy and kill news shops, an over-reliance on sports leagues and franchises to stay afloat, athletes and teams that have their own methods to reach fans and — if major sports leagues do shut down in 2020 — zero employment prospects as pay cuts and furloughs turn into permanent layoffs. Even if Major League Baseball, the NBA, the NFL and college football return without spectators, one might have a more secure future as a drive-thru cashier at Taco Bell. Oh, and I should note that regular access to athletes and coaches, so vital to the storytelling separating good sports sites from charlatans, might not happen in a post-pandemic world of social distancing and no press boxes, thus requiring skilled writers to cover games off TV like the basement bloggers of yore.
Or, perhaps, do something else for a living.
For some reason, I then thought of the late Albert Dickens. Fortunate to spend much of my column-writing and broadcasting career amid the vigorous, thriving heyday of media, I viewed Albert not as an editorial assistant but as a daily symbol of the good times, a wise and pleasant soul who sat at his desk in the Chicago Sun-Times sports office and reminded us how we literally had life by the balls. Forget about the pathetic, mind-blowing farces evident even in those prosperous days: CEOs/publishers who skimmed profits and went to prison, editors who protected sports owners, fans who threatened your life because you didn't always worship Da Coach, the newspaper guild that stood firm when the editor-in-chief forearm-shivered you into his office wall, the radio boss who canned you with great ratings because you didn't agree in writing to stop criticizing his rights-holder teams, the baseball writer who gave an MVP vote to A.J. Pierzynski because he was a trusted source, the drunken colleague who wanted to fight in a Washington arena until Al Gore came walking by, the newspaper executive who asked the college football beat writer to pick up his free season tickets, the media rivals who couldn't outwork or outperform people but certainly could outsleaze them.
"You're alive and well,'' Albert would assure me in his dapper sweater and tie, "and you're making a nice living doing what you love.'' He would deliver such a speech on a day when I'd take for granted the ESPN debate show I was taping that morning, the one that reached nearly a million viewers a day back in the best years of "Around The Horn;'' and the column I was preparing for the next day's newspaper, which might take me to Wrigley Field, Soldier Field or the Slaughterhouse That Jordan Built; and the expense account that allowed me to hop on planes and cover almost any event I wanted around Planet Sport. I welcomed his verbal nudges, those cues to smell the roses.
To me, Dickens was Media Yoda. And now, just days after his passing at 82, in a sports media landscape gutted by coronavirus fallout and facing a future unrecognizable when compared to the glorious past, somebody wanted to know what I'd tell a young person about a collapsing business. I would love to have replied thusly: Go read an entertaining Washington Post guest column by Rick Reilly, who doesn't write enough, and realize that sportswriting can't possibly be dying as long as he's living.
If only the answer could be that simple. This was a young person's life, and I could save it or ruin it. Years earlier, an agent asked me to have lunch at a Manhattan deli with a recent college graduate named Jordan Schultz, who said he wanted to be a sportswriter. Emerging amid the digital content boom of the 2010s, he thankfully has done well for himself as a basketball writer and Huffington Post columnist. Yet I wonder, in retrospect, if Jordan might have preferred the path of his father, Howard, the King of Starbucks. So my response to the radio host could not afford to be nuanced. I wanted to tout a sports media career as a blessing, as it has been for me for decades, but I also don't want to add another dark statistic to the staggering U.S. jobless total. This is how I clapped back at our imaginary aspirant:
"Sure, pursue sports media as a sidelight gig. But you might think about writing code, not sports, until you have some money in the bank.''
From this point forward, I'm afraid, a volatile industry has only limited options, none as appealing as when I began at 19 as a fiercely independent rabble-rouser with a singular journalistic mission: No one ever would order me what to write or say. First of all, the very idea of pugnacious, nonaligned sports journalism is all but extinct, swallowed by media companies that prefer to secure business partnerships with leagues, franchises and programs and eagerly promote those entities rather than also covering and scrutinizing them — a frightening thought about a $200-billion industry rife with scandal.
There are people who follow leagues and teams as beat reporters, people who excel in long- and short-form storytelling, people who host talk shows as couriers for teams on the station and people on TV who shriek about whether the Packers insulted Aaron Rodgers by drafting Jordan Love. But the hard-hitting columnists who keep the sports owners and power brokers honest are dwindling to dust, either too pricey for the payroll or too hot to handle for sites such as The Athletic, which lacks edge and somehow is trying to cover AND appease the Big Sports mechanism. And the days of ESPN hammering the NFL over concussions and player conduct cases are long past, replaced by a corporate need to butter up commissioner Roger Goodell and the owners and help the network land a spot in the Super Bowl broadcast rotation. As for local media operations, which once exposed Barry Bonds' steroids sham and some of sport's biggest scandals, most gave up on investigative reporting long ago, realizing the professional and college machines have enough financial and political clout to flick them aside, probably with one call from a team executive or coach to a stadium-suite-leasing media boss.
The 2020 survivalist mantra: Become a sports sycophant or die. I'd rather die, keeping in mind that no one should allow an industry capable of being so thankless and cutthroat — lowbrow, too — to define one's self. If sports media were a shinier craft, yes. And it once was, with the Post calling it "a storied profession'' in its own piece last week about the demise of the industry. But the world is very big, folks — travel, art, wineries, parties, sunsets, movie scripts and 22-mile ocean bicycle trails, assuming we're allowed to resume those activities — and you'd be foolish to allow the sports media trade to completely hijack your life when inevitably, for reasons that have nothing to do with talent or production or work ethic, you'll be blindfolded and tossed aside by someone working for someone who works for someone.
And whatever happened to the spirit of beatdown competition, whipping the rivals with a big story or a mightier column and making content better for readers, viewers and listeners? Does anyone compete anymore? Back when I arrived in Chicago, I made a point of calling the publicist of author Sam Smith and requesting an advanced copy of "The Jordan Rules,'' the hot new book that revealed the dictatorial side of MJ. She not only sent excerpts, she sent some of the most controversial, which was great for the Sun-Times because we didn't pay a penny for material that the rival Tribune — which employed Smith as a Bulls beat writer and compensated him with a salary and expense money — paid thousands of bucks to publish. Of course, I published a column about it first, embarrassing the Tribune and prompting Smith to call my editor, moping that I was trying to get him fired. To this day, Sam is cranky about it when, you know, he should have put the clamps on his publicist.
Maybe young people today clamor to be Mike Greenberg, an amiable TV and radio host. But if they want to emulate Bryant Gumbel and his reporting titans on HBO's "Real Sports,'' they're out of luck because the show has only a few correspondents, and there's no other program like it. And if they want to be Reilly — hey, he gets it, choosing scuba-diving each morning in Hermosa Beach over a regular writing regimen. He can afford to, you see. Such were the perks of sports media in the '80s, '90s, '00s and part of the '10s.
But not the '20s.
A reader of this column knows I've been alarmed, if not disgusted, by networks and sites that carry an amateurish, sappy tone of wishful thinking when "reporting'' about the possible resumption of live events. I wrote about it last month, and because it doesn't stop, I'll run it back — as it pertains to the future of media. ESPN cannot speak sports into existence, but it certainly tries every night, with "SportsCenter'' host Scott Van Pelt continuing as a mushy Disney character when, more than ever, we need journalistic clarity about the medical crisis of our lives. A series of critical issues should be addressed on each show: How will sports keep athletes and support staffs safe during an ongoing pandemic? … Are health risks worth taking just so leagues and athletes can recoup pieces of lost fortunes? … Does the whole thing go to hell if there's a second wave of coronavirus? … Despite marked improvements in available testing, would enough kits be available over the months ahead — MLB alone needs 10,000 per week — for numerous pro and college inventories? … How can this be accomplished without depleting the national test supply and making sports leagues look uncaring and greedy? … What happens when athletes test positive? … Is MLB seriously going to quarantine a player who tests positive but NOT quarantine his exposed teammates, allowing the games to go on? … And will leagues be transparent publicly about every positive test or cover it up to protect their seasons and incoming revenues?
I rarely hear a mention of such protocol roll calls on ESPN. But I do get Stanford Steve, who joins Van Pelt on a frat-bro segment about past wagers gone awry. And I get a deceiving headline in the show tease — "PLAYERS TALK RETURN'' — when there's no certainty the NBA will resume play this year. So, kids, you're basically stumping for sports leagues if you want to work in the biggest media shops. Even Van Pelt openly debated his purpose when he told CNN Business, "I have asked that question aloud and in my brain driving home some nights, where I think, `What are we doing?' '' The pandemic is one of those moments in time, like 9/11 and world wars, when sports media should want to be on the front lines. Instead, they've retreated into minimal-audience irrelevance. Why? Because the leagues expect media to be loyal partners in a time of crisis, to dutifully report what the leagues want the public to think, even if it's tantamount to brainwashing that serves the bottom line.
That isn't journalism. It's cooperative public relations. And in the future, a bleak trend that started years ago will continue in full force: If you want to work in sports media, you'll likely be working directly for the leagues and teams themselves, or for a company that remains obedient in covering them. And if you want to report a story they don't want reported, you'll be bounced out of town, if not out of the business. You may remember when wives of Houston Astros players were harassed by White Sox fans during a World Series game in Chicago, forcing the Sox to apologize; well, my column about the apology never saw the light of day, killed by editors intimidated by Sox management. On a higher level, this is how President Trump tries to bully the White House press corps, but enough media shops have remained strong and protected the backs of political reporters. Sports? I can count on one hand how many boardrooms would protect their people in a firestorm.
The New York Times is one. Bleeding from financial woes, ESPN was too busy making money off the UFC 249 pay-per-view presentation to investigate business partner Dana White, who made a debacle of testing protocols in Jacksonville and didn't seem to care if COVID-19 was spread or lives were lost. A Times sports reporter wrote a critical and fair story, accusing the UFC president of flouting Florida safety and health guidelines — headline: "U.F.C.'s Coronavirus Plan Is Careful. Its Enforcement Has Been Spotty'' — with White responding in his usual level-headed, mature tone.
"F–k that guy. F–k that guy,'' he said. "You know what happened with that guy? That guy, who has never covered the sport ever before, was writing a story about (UFC parent company) Endeavor … What do you think happened when this guy and this paper covered the UFC when they had never covered it before? What do you think happened? The f—–g story was huge. They did killer traffic. Now they're writing stories, three a week, and they're posting live results I don't give a s–t what that guy thinks, what he has to say or what he writes. Good for him."
Was White concerned about fallout from the piece?
"I don't give a f–k," he said. "Don't give a f–k."
The Trump effect, call it.
I suppose a sports media aspirant could work for White and serve as his publicity flack, assuming he or she wants to risk contracting the virus. Or, worse, you can work for one of these goof-bubba sites where you make weed money for a few years but ultimately embarrass friends, family and even rats in the attic. You know: the joints run by creeps who see sports and sports media as toilets, take massive dumps and turn the profession into a sewage clog, aiming content at burnouts while declaring war on smart, well-adjusted humans. Like most panelists who've logged thousands of airtime hours on ESPN, I was targeted by one such loser who wrote about me so often — pathologically lying to the end — that there had to be something seriously wrong with him. There was: He was a hard-core drug addict who wound up in rehab and wrote about it, which may have explained why he had me followed and offered money to any colleague with "dirt'' when I began a San Francisco gig. Later, Hulk Hogan sued the guy and his affiliated website for an original award of $115 million, putting both out of their misery forever.
If you think I'm overly cynical, I could suggest The Athletic. The founders, propped up by venture capitalists, are fighting the good fight for the future of sportswriting albeit with a glaring obstacle — they're relying entirely on subscriptions that likely have peaked after four years of existence and won't be selling during a sports-crippling pandemic, meaning hundreds of talented writers could be out of work if sports don't return or a second virus wave buries an attempt to return. Actually, Sports Illustrated, despite internal flareups and various dents on a once-sterling reputation, might have a better chance to survive as a smaller operation. There are even smaller sports sites, zillions of them, but you'll have a better life drawing unemployment.
TV? You either become a full-blown company man and get bonuses every time you utter, "This is why we love sports,'' or you twist and shout like Stephen A. Smith. Otherwise, the networks will keep hiring those who played, coached or generally managed the game, often preferring been-in-the-trenches faux cred to compelling, thoughtful discourse and going so far to pardon criminals in sports and real life, from Alex Rodriguez to Ray Lewis.
Documentaries? This would be my recommendation, having contributed to the Hollywood content churn myself, with "The Last Dance'' docu-series inspiring a new batch of sports films available in coming days — the Donald Sterling racism affair; Mark McGwire, Sammy Sosa and the bogus home-run derby of 1998; the Lance Armstrong doping scandal; even a piece on Bruce Lee. But this isn't sports media work, remember. It's filmmaking, which means Jason Hehir, director of the 10-part Jordan series, is considered a far greater creative force today than Wright Thompson, thought to be the best of the current sportswriters and a guy ESPN actually has used — burp! — to chow down at college football tailgates.
The takeaway: Unless you really like brisket, please avoid journalism school and enroll in film school. But even then, as Hehir knows, you're at the mercy these days of iconic athletes — some with their own production companies — who want their legacies crafted their way, maximizing the triumphs and minimizing the gambling mischief and political limpness. See, you're still working for The Man.
Talk radio? All you need to know is that Bernie Miklasz, the biggest sports media personality in St. Louis the last three decades, was fired from his talk show because he made too much money. And the story floated in the New York Post about the teetering fate of ESPN host Dan Le Batard? Much as Le Batard denies the story, he pulls down more than $3 million a year — and the Post media writer has strong Bristol sources. Anyone who makes real money in talk radio soon might be replaced by … wait, a kid out of college! There's the answer for our sports media aspirant: Work cheap when the big-money guys are ziggied!
Dismiss me if you'd like. But one sunny morning in 2009, on a Wrigley Field rooftop, I told the legendary writer Frank Deford, a former boss of mine who passed in 2017, why newspapers would fade away if they didn't adjust to technology and create a revenue balance between newsprint and an eventual digital takeover. A year before, I had opted out of a lucrative, long-term deal because the Sun-Times reneged on a promise to improve its website — a flaw that led to the paper's quick free-fall. Deford, then hosting a "Real Sports''' segment about the troubles of print media, pointed to a copy of that day's paper and asked, incredulously, if the newsprint product would cease to exist. I told him the entire operation, someday, would cease to exist. For now, the Sun-Times remains on life support, kept alive by the periodic financial largesse of Chicago Blackhawks owner Rocky Wirtz, which means a staffer can't criticize the Hawks anymore without being Bullwinkled by Rocky. But truly, whatever was left of a once-dominant sports department died when Albert Dickens passed.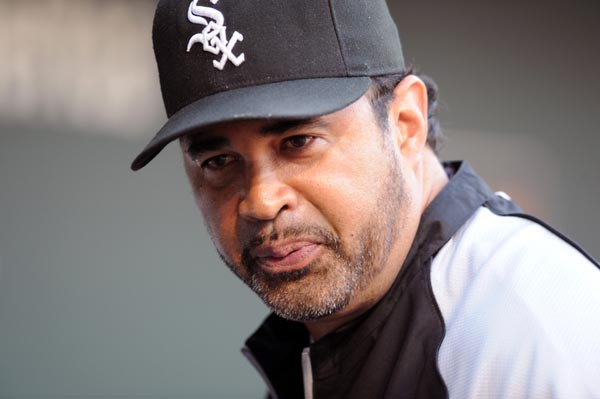 I remember the day when Ozzie Guillen, a crude baseball loon worthy of my nickname for him ("The Blizzard Of Oz''), called me a "(bleeping) fag.'' He was incensed because I'd criticized him, while on a road trip covering the NBA Finals and U.S. Open golf, for rebuking a kid pitcher who didn't bean a Texas Rangers batter as ordered. This led to a national media storm that included requests for me to appear with Tucker Carlson and Bill O'Reilly, half-assed punishment from the commissioner's office and interest-conflicted Sun-Times editors who cheaply exploited coverage of the flareup, including a sports boss who asked me to issue a statement for other media outlets. Um, wasn't my "statement'' contained in the column I was writing on Guillen? WTF?
Sometime later, I saw Albert at his desk. "You sure know how to keep the lights on around here,'' he said.
It's a lost art, kids.
Jay Mariotti, called "the most impacting Chicago sportswriter of the past quarter-century,'' is the host of "Unmuted,'' a frequent podcast about sports and life (Apple, Podbean, etc.). He is an accomplished columnist, TV panelist and radio host. As a Los Angeles resident, he gravitated by osmosis to movie projects. He appears Wednesday nights on The Dino Costa Show, a segment billed as "The Rawest Hour in Sports Broadcasting.''
Would Local Radio Benefit From Hosting An Annual Upfront?
How many times have you heard this sentence uttered at conferences or in one of the trades; radio has to do a better job of telling its story. Sounds reasonable enough right? After all, your brands and companies stand a better chance of being more consumed and invested in the more that others know about them.
But what specifically about your brand's story matters to those listening or spending money on it? Which outlets are you supposed to share that news with to grow your listenership and advertising? And who is telling the story? Is it someone who works for your company and has a motive to advance a professional agenda, or someone who's independent and may point out a few holes in your strategy, execution, and results?
As professionals working in the media business, we're supposed to be experts in the field of communications. But are we? We're good at relaying news when it makes us look good or highlights a competitor coming up short. How do we respond though when the story isn't told the we want it to? Better yet, how many times do sports/news talk brands relay information that isn't tied to quarterly ratings, revenue or a new contract being signed? We like to celebrate the numbers that matter to us and our teams, but we don't spend much time thinking about if those numbers matter to the right groups – the audience and the advertisers.
Having covered the sports and news media business for the past seven years, and published nearly eighteen thousand pieces of content, you'd be stunned if you saw how many nuggets of information get sent to us from industry folks looking for publicity vs. having to chase people down for details or read things on social media or listen to or watch shows to promote relevant material. Spoiler alert, most of what we produce comes from digging. There are a handful of outlets and PR folks who are great, and five or six PD's who do an excellent job consistently promoting news or cool things associated with their brands and people. Some talent are good too at sharing content or tips that our website may have an interest in.
Whether I give the green light to publish the material or not, I appreciate that folks look for ways to keep their brands and shows on everyone's radar. Brand leaders and marketing directors should be battling daily in my opinion for recognition anywhere and everywhere it's available. If nobody is talking about your brand then you have to give them a reason to.
I'm writing this column today because I just spent a day in New York City at the Disney Upfront, which was attended by a few thousand advertising professionals. Though I'd have preferred a greater focus on ESPN than what was offered, I understand that a company the size of Disney with so many rich content offerings is going to have to condense things or they'd literally need a full week of Upfronts to cover it all. They're also trying to reach buyers and advertising professionals who have interests in more than just sports.
What stood out to me while I was in attendance was how much detail went into putting on a show to inform, entertain, and engage advertising professionals. Disney understands the value of telling its story to the right crowd, and they rolled out the heavy hitters for it. There was a strong mix of stars, executives, promotion of upcoming shows, breaking news about network deals, access to the people responsible for bringing advertising to life, and of course, free drinks. It was easy for everyone in the room to gain an understanding of the company's culture, vision, success, and plans to capture more market share.
As I sat in my seat, I wondered 'why doesn't radio do this on a local level'? I'm not talking about entertaining clients in a suite, having a business dinner for a small group of clients or inviting business owners and agency reps to the office for a rollout of forthcoming plans. I'm talking about creating an annual event that showcases the power of a cluster, the stars who are connected to the company's various brands, unveiling new shows, promotions and deals, and using the event as a driver to attract more business.
Too often I see our industry rely on things that have worked in the past. We assume that if it worked before there's no need to reinvent the wheel for the client. Sometimes that's even true. Maybe the advertiser likes to keep things simple and communicate by phone, email or in-person lunch meetings. Maybe a creative powerpoint presentation is all you need to get them to say yes. If it's working and you feel that's the best way forward to close business, continue with that approach. There's more than one way to reach the finish line.
But I believe that most people like being exposed to fresh ideas, and given a peak behind the curtain. The word 'new' excites people. Why do you think Apple introduces a new iPhone each year or two. We lose sight sometimes of how important our brands and people are to those not inside the walls of our offices. We forget that whether a client spends ten thousand or ten million dollars per year with our company, they still like to be entertained. When you allow business people to feel the excitement associated with your brand's upcoming events, see the presentations on a screen, and hear from and interact with the stars involved in it, you make them feel more special. I think you stand a better chance of closing deals and building stronger relationships that way.
Given that many local clusters have relationships with hotels, theaters, teams, restaurants, etc. there's no reason you can't find a central location, and put together an advertiser appreciation day that makes partners feel valued. You don't have to rent out Pier 36 like Disney or secure the field at a baseball stadium to make a strong impression. We show listeners they're valued regularly by giving away tickets, cash, fan appreciation parties, etc. and guess what, it works! Yes there are expenses involved putting on events, and no manager wants to hear about spending money without feeling confident they'll generate a return on investment. That said, taking calculated risks is essential to growing a business. Every day that goes by where you operate with a 'relying on the past' mindset, and refuse to invest in growth opportunities, is one that leaves open the door for others to make sure your future is less promising.
There are likely a few examples of groups doing a smaller scaled version of what I'm suggesting. If you're doing this already, I'd love to hear about it. Hit me up through email at JBarrett@sportsradiopd.com. By and large though, I don't see a lot of must-see, must-discuss events like this created that lead to a surplus of press, increased relationships, and most importantly, increased sales. Yet it can be done. Judging from some of the feedback I received yesterday talking to people in the room, it makes an impression, and it matters.
I don't claim to know how many ad agency executives and buyers returned to the office from the Disney Upfront and reached out to sign new advertising deals with the company. What I am confident in is that Disney wouldn't invest resources in creating this event nor would other national groups like NBC, FOX, CBS, WarnerMedia, etc. if they didn't feel it was beneficial to their business. Rather than relying on ratings and revenue stories that serve our own interests, maybe we'd help ourselves more by allowing our partners and potential clients to experience what makes our brands special. It works with our listeners, and can work with advertisers too.
Brandon Kiley Doesn't Pretend To Be Someone He's Not
"There was a time where the audience probably said, this guy isn't a St Louisan. But this is home for me now and I've adopted it."
There must have been something about Brandon Kiley that everyone saw as a young aspiring sports radio host. Nick Wright saw enough to bring him to Houston at SportsRadio 610 as an intern for a summer. Will Palaszczuk saw enough to urge him to apply for his old job in Columbia, MO at KTGR. Ben Heisler saw enough to know he'd fit perfectly with Carrington Harrison in afternoon drive at 610 Sports in Kansas City.
Maybe you can chalk it up to Kiley being able to make such great contacts. Or maybe it's just that he was supremely talented at a young age. Odds are it's a combination of both. But he was destined to be a sports talk host somewhere, it just turns out he's having success over the air in a city he never imagined he'd work in.
A Kansas City kid, Kiley knew at 16 years old he wanted to be a sports radio host. He was even more sure of it when he started doing college radio at Mizzou. But it was in Houston where he got his real taste of what sports radio was like.
"I went to 610 in Houston for the morning show with Nick Wright," Kiley said. "He basically just assigned me as an extra producer. We had known about each other through Twitter and I had a little bit of a relationship with him beforehand. I think he knew I was willing and able to take on more tasks than a typical intern would usually do. Essentially, I became an extra guest booker, cut audio for them, and came up with topics at night. It was like he had an extra producer for the summer and it was my first real experience doing something like that."
Imagine the confidence he left Houston with as he traveled back to Columbia for another year of college at Mizzou. Few, if any, on campus could have claimed the kind of summer Kiley just had. He parlayed that experience into a once-a-week show at KCOU, the student radio station. The following semester, he pitched the idea of doing a daily show
"I told them I'd take any time slot available," Kiley said. "The one that I got was the very glamorous 6-7 am time slot. There weren't a whole lot of college kids that wanted to wake up that early every morning. I ended up having a rotating cast of co-hosts and it ended up being super valuable because I learned how to work with a lot of types of personalities."
He excelled as a host and found his style behind the mic, and soon after, he got his first big break. In March of 2014, Will Palaszczuk contacted Kiley and told him he was taking another radio job outside the market. The two knew of each other, seeing as both were in Columbia and covering the same games in town. Palacsuk told Kiley he needed to apply for the spot he was leaving at KTGR.
"There was literally one sports station and one sports show in town and it was that one," Kiley said. "I applied to him the previous semester and said, hey man, if you guys have anything available I would love to come work there. It just so happened he got a job elsewhere and he called me up and said, 'Hey man, I don't know what your plans are, I'm about to take another job and they're going to post my job available. I don't know if they're going to make it a producer or co-host gig, but I think you should apply because I think you'd be good at it'. Will's good work helped a ton in terms of me landing the gig. I graduated and told them I wanted to make it full-time.I was essentially a producer and co-host for the afternoon show. I never even applied anywhere outside of Columbia"
For two years, Kiley stayed at KTGR and covered the Missouri Tigers. He was fresh out of college and living in a college town doing what he loved in his early 20's. It wasn't a bad life. But one night in Columbia changed his entire professional career. It just so happened it occurred on the rooftop at Harpo's, one of the most well-known establishments in town.
"My roommate at the time, we both worked at the radio station in Columbia," said Kiley. "He worked at the hit music station and I worked at the sports station. We all went out one night at Harpo's and he said, 'Hey, I just want to let you guys know I'm getting out of radio and moving to Kansas City.' I was like, oh shit, what am I going to do? Our lease was up in two months, so the timing worked out well and I was looking at Barrett Sports Media looking where I could go next."
"My girlfriend at the time, now my wife, was from St. Louis and there was a job available there. I had always thought, that's not a place I want to live, why would I ever want to live in St. Louis? They didn't have a football team, it just didn't seem like a great fit for me. But my buddy tells me he's moving and I'm like, St, Louis it is! That night I ended up applying for the job and got a call back from Chris "Hoss" Neupert, who at the time was the PD here, and asked if I would be interviewed with him and Kevin Wheeler, whose show I would be producing."
So off to St. Louis he goes. For three and a half years, Kiley embraces his new city and tries to work his way up at 101 ESPN.
But the Kansas City kid felt a pull back to his hometown. Oddly enough, Ben Heisler even reached out to tell him he was leaving the station to pursue another opportunity in sports. It felt like the perfect time to pursue his dream of doing sports radio at the station he grew up listening to.
"I'm from Kansas City and grew up listening to 610 Sports Radio," Kiley said. "A guy I listened to growing up was Nick Wright. I also listened to a bunch of Carrington Harrison, Danny Parkins and Ben Heisler. Those guys had what I consider one of the best shows in Kansas City sports radio history. I got to know them through Twitter and Heisler sent me a text. He knows I've always been interested in moving to KC. He tells me he's about to get out of radio and into more fantasy football stuff and his job is going to come open.
"I had applied for multiple other jobs in KC over the years and had never gotten any real consideration. When Heisler left, I knew Carrington and thought this might work out. I ended up getting in contact with their PD Steven Spector and it felt like a real opportunity. I got what I considered to be my dream job, producing in the afternoons and hosting a Saturday show at 610 Sports. I thought, what could there be more in life than this? This is the best."
But life happened and he had to make a decision around three months after moving to Kansas City.
"2-3 months later it became clear, it was going to be difficult for my girlfriend, now wife, to move to Kansas City with all of the family ties she had in St. Louis," said Kiley. "It was the decision of, do you stay in Kansas City and chase the dream or do we alter the dream, in terms of the job, and see if there's anything in St. Louis?"
He never thought his best years and most successful years as a sports radio host would come in St. Louis but they have. It's a city he loves and he's worked hard in hopes it will love him back. But he's also not going to pretend to be someone he's not. Though it can sometimes be hard for St Louisans to accept someone that's not from there, Kiley doesn't act like he attended World Series games in 1982, listened to Jack Buck growing up or watched Kurt Warner at the Edward Jones Dome. He's himself.
"That wasn't my love and I can't pretend that it was," said Kiley. "Have there been times, especially early on where that was a potential issue for me? Yeah it was. There was a time where the audience probably said, this guy isn't a St Louisan. But this is home for me now and I've adopted it. It does in a lot of ways remind me of Kansas City, where if you take the time to know what the soul of the city really is, in terms of sports, I think people can appreciate and respect it."
Kiley doesn't hold on to his Kansas City roots on the air, in terms of the topics he talks about. He's a Chiefs fan and even writes for Arrowhead Pride, but he's not going to talk a lot about the Chiefs in a city that doesn't have an NFL team. He's also a Mizzou grad and talks about the teams on Rock M Nation, but again, he's rarely, if ever, going to do several segments a day on the Tigers. Instead, he knows the audience wants to hear about the Cardinals. Blues talk is clearly next in line. Everything else falls down the order if not off of it completely. 
Kiley grew up watching baseball, so he can easily break down what issues the Cards' offense may be having in the middle of May, but hockey was different. He didn't grow up around the game and the transition to having in-depth conversations on the Blues was a more difficult task. 
"When I came here the first time it was during the middle of a Blues' playoff run. At that time I was just plopped into this thing, and I didn't know shit about hockey. I had probably watched about 10 hockey games in my entire life. I'm looking at Kevin Wheeler like, I've got to be honest I don't have a lot on hockey I'm going to be able to help you with. If you could help bring me along with it, that would be great. Over the years I've been able to take it in. I used to host a show with Jamie Rivers, who's a former Blues player. If you told me five years ago I'd be able to do that, much less enjoy doing that, I would have said you're out of your damn mind."
Whereas most sports radio shows in football markets are searching for content to help fill segments, this is one of the sweetest times of the year for Kiley and everyone at 101 ESPN. The Blues are deep in the playoffs and the Major League Baseball season is underway. His show BK and Ferrario covers it all every weekday from 11 am – 2 pm. 
Kiley never thought this would be his life, but he loves what he's built in St.Louis and doesn't give off the vibe he's looking to leave anytime soon. He's a great example of someone who didn't pigeonhole himself into just one market. He was willing to look outside of his hometown and has found true success. 
Will Middlebrooks Has Been The Breakout Star Of The Red Sox Season
"If I was going to work for an organization or a regional sports network, why not the Red Sox, for someone that I'm actually a fan of?"
The Boston Red Sox experience in 2022 is just different. In every way.
The team has struggled out of the gate. They certainly aren't the team that was two wins away from the World Series last year.
Fenway Park doesn't even accept cash anymore.
But it's not just that the Red Sox are different on the field or at the ballpark – they are different on television too.
When loveable, longtime Sox broadcaster Jerry Remy died in October 2021 at the age of 68, we knew that consuming the Red Sox on TV would never be the same.
There is no replacing Jerry Remy. One person can't do it. No way.
And the fans know it.
The bosses at the NESN know it too. They haven't tried to replace Remy on the broadcasts with just one person. 
In fact, they've brought in several new people to the broadcast team. A group of people just rotating in, giving viewers a different experience and a different perspective every night. 
They've added former Red Sox players Kevin Youkilis and Kevin Millar to the broadcast booth roster. They've added Tony Massarotti of 98.5 The Sports Hub as well.
And in the pre- and post-game studio, they've taken a similar approach, which is an extension of previous years, mixing and matching host Tom Caron with a slew of former Red Sox players including Jim Rice, Tim Wakefield, Ellis Burks, Lenny DiNardo, and former Sox infielder Will Middlebrooks, who will be in the studio for about 40 games this season.
I think that NESN has found a formula that works. It's been fun and informative – and different. In a year that serves as a constant reminder of what's been lost as a viewer, it's refreshing to realize that these broadcast teams are giving you something gained.
A star is born.
When I mentioned to Caron that I wanted to write a piece on Middlebrooks, he said: "He's a rising star."
And it's easy to see why he feels that way.
Will Middlebrooks is young (33), accessible, opinionated, active on social media, and he has the playing resume to legitimize his point of view.
But it took some real coaxing to get into the business in the first place. After a devastating leg injury ended his playing career in 2019, Middlebrooks was unhappy.
"I sat around and sulked and was angry about it for about three months," he said. "And my wife, Jenny (Dell), finally said, 'You need to get off your butt and do something, find not just, work, but find something you're passionate about again.'"
He didn't know at that time that he was passionate about media work, but Dell, who works for CBS Sports, volunteered him to do a show at CBS Sports HQ in Ft. Lauderdale, near where their family resides.
"She said, like it or not, you have a show in three days. You're going to try it out, and if you're good at it, they're going to hire you," he recounts of their conversation. "I was like, I don't want to do it. I'm not ready to talk about baseball. I hate baseball right now. I just have such a bad taste in my mouth from everything that happened over the past year."
But that didn't deter Dell from pushing her husband to take the chance.
"She said, well, I don't care. I already told them that said you would do it," he says. "So she kind of threw me to the wolves, but for the best. And I went in and I gritted my teeth and just got it done and then talked baseball. I did it a couple of more times and they said, 'Hey, you're decent at this. We're going to hire you on for a year!" "And here we are, I'm four years into it," he joked.
And over those four years, Middlebrooks has ballooned into one of the most recognizable follows for baseball fans. In addition to working at NESN and CBS Sports, he's also one-half of the Wake and Rake podcast, has appeared on ESPN Radio, has done color commentary for college baseball, and has more than 155,000 Twitter followers.
Resonating with Boston
When I ask Middlebrooks about landing the NESN gig for 2022, he beams through the phone. He says he wanted the challenge of working in Boston and he welcomed the opportunity to expand his media footprint.
It's evident that he loves the Red Sox – and the city of Boston. How couldn't he? He made his Major League debut with the organization, played parts of three seasons with the team, won a World Series with the Sox, and met his wife in the city.
"If I was going to work for an organization or a regional sports network, why not the Red Sox, for someone that I'm actually a fan of?" he said. 
While it's clear that Will loves Boston, and it's clear why NESN loves him, what needs more unpacking is the attachment that the Red Sox fans have to him considering he spent just those three seasons there and doesn't live in New England full-time. 
Middlebrooks can't quite figure out why the people of the region hold him so close, but he does have a good hypothesis.
"I think that if I left anything, it was people saying, 'well, he played hard. He gave everything he had,' he said. "And I know that's really important in Boston, just the blue-collar mentality of 'keep your head down, work, play as hard as you can, even if things aren't going well, just bust your butt and be a good teammate and all that.'"
But there just may be something else at play.
"I think a lot maybe had to do with when the marathon bombings (2013) happened…I'm pretty outspoken on social media about that stuff and with my teammates, we all rallied around each other," he said. "I think I was just lucky enough to be a part of a team that was really special to everybody in Boston. So they embraced me after that."
The Family Dynamic
Dell has been in sports media for more than a decade as a host and sideline reporter for CBS and NESN before that. She knows the business and its nuances. She understands when and how to look at the camera and when and how to ask questions of athletes. She knows the expectations of her husband's current employers. She's undoubtedly a great resource to have.
But as Middlebrooks finds his own footing in the business, and as his star grows, what is that dynamic like? She has the answers to the tests already, but how does he balance using that resource versus figuring things out on his own?
"I'm very open to anything she has to say," he said. "I'll come out of my office, like, 'Hey, that was pretty good!' And she's like, 'Yeah, it was good…but…"
"She always has something, and at first it used to really annoy me, because I'm like, man, I thought I was doing really good," he said. "And she's like, 'No, you are doing good. I'm just trying to help you get to that next level. There are just little things here and there that you don't know.' And as a competitor, it's really frustrating. But you know, after a couple of minutes I walk away, I'm like, you know what? I'm really appreciative to have that access to someone that can help."
What's Next?
At such a young age with such already vast experiences, it seems plausible that even bigger media steps could be in play for the former infielder. I asked him if he has a goal he's working towards. Sunday Night Baseball? The MLB Network? Something else?
"One thing I've really learned is to not look too far down the road and kind of just live in the moment and enjoy the moment," he said. "I'm really happy with being with with CBS and with NESN, and within that umbrella, of course, I would like to grow. Does that mean in the booth? Does that mean more games pre and post? Sure I'm up for anything where they want me, because what I'm doing right now, I feel like is a dream job outside of playing and I'm so happy with it."
Middlebrooks has been on the NESN broadcasts all week and will continue through this weekend as the Red Sox host the Mariners in a four-game series.