Tom Waddle Isn't Running Out Of Ideas Or Incentive
"I think the growth has just been in our ability to try to share our life experiences on a day-in, day-out basis. I think the growth has gone from strictly an all sports type of presentation to more lifestyle and family life."
It's funny how paths cross in the sports radio industry. Many moons ago I was at ESPN 1000 in Chicago to chat with former program director Adam Delevitt. As I walked around the downstairs area of that gigantic downtown building, former Chicago Bears wide receiver and ESPN 1000 radio host Tom Waddle walked by. He nodded his head at me and said hi. That interaction didn't tell me everything about Waddle, but it told me a lot. It told me he didn't have an ego. It told me he was actually — wait for it — nice.
Waddle spent 20+ years as a football player and has been in the sports broadcasting business for 25+ years. He's learned many tricks of the trade and has fine-tuned his own style of mixing in fun and family life with sports. Waddle is highly respected not just because he's great at his profession, but also because he shows other people the proper respect. Look, Yelp isn't the only place someone can leave a bad review. That's especially true in sports radio where colleagues can turn into enemies if you mistreat them.
There are several interesting topics that Waddle discusses below. He touches on Waddle & Silvy co-host Marc Silverman's decision to announce his battle with cancer and the response of their listeners. Waddle also talks about the impact concussions have possibly had on his broadcasting career and how the personal criticism he received as a player has helped shape his approach behind the microphone now. Enjoy.
Brian Noe: What's it like doing sports radio right now with a pandemic going on?

Tom Waddle: I don't mean to sound callous or take it for granted but quite frankly — there are no sports, there are no games, but we have not been devoid of conversation. The NFL obviously went about their business. They went through the draft and had their offseason and free agency, which provided us conversation. Every day there's a new story about different leagues trying to get ramped up and what their plan is to try to get back to some sense of normalcy. While we haven't had the opportunity on a day-in, day-out basis to recap NBA games or Major League Baseball games, we still have had a full complement of things to talk about.
So far — now the longer this lingers, the more difficult it may become. Maybe our listeners would argue with us about finding new, entertaining things to talk about, but we don't sit around in our daily meetings and go oh, what are we going to do now? We've always had something to talk about. It hasn't been ideal, but at the same time it hasn't been the massive struggle that maybe some thought it would be.

BN: In what ways have you felt that the show has been different?
TW: I think that it's been more of a personality-driven show. Silvy and I have been doing this together now for better than 13 years. We've been more than willing to welcome people into our personal lives. That's always been the dynamic that's existed with our show but now even more. We're both working from home so there are times when you'll hear my dog bark, or he's got young kids, so one of his kids will come flying down the steps and have a breakdown that'll get on the air. We've learned to deal with the humanity of it all. I think that there's probably a larger element of your own personality and your own personal life in the show now than maybe there used to be.

BN: It doesn't get much more personal than Silvy announcing that he has cancer. What are your thoughts on him making that announcement and the situation overall?
TW: Yeah, myself and Adam Abdalla, who's our executive producer, and Jeff Meller, who's also one of our producers and is our sound guy, we've been working together for so long that we all know where each other is coming from. We just took the approach that we were going to let Silvy lead the way with how he wanted to handle this. This is obviously his individual battle, but we've kind of looked at it as teammates of his to battle this together.
I'm not surprised at all what he wanted to do was to handle it head-on and to be very open about it. I think as long as I've known him and worked with him, he's always been very much interested in developing a relationship with the different listeners. He's always asked listeners to share their own private situations with us on the air whenever they're comfortable, so I think he took the approach that it would be unnatural and it would be hypocritical if he didn't do the same. I thought he handled it with tremendous grace and tremendous strength.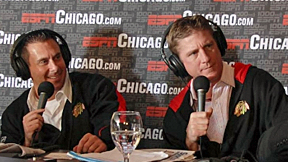 I think also he's got such a great relationship with all of our listeners in the greater Chicagoland community, I think he'll derive some strength from knowing that he's going through this battle in somewhat of a public arena. I thought he handled it great. I thought our listeners responded well. I think again the fact that he handled it the way he did will provide him some comfort and some strength.

BN: After 13 years on the air together, in what area do you think you and Silvy have grown the most?

TW: I think just our willingness to share our own personal lives. We've been at different stages in our lives despite being fairly similar in age. I think he's 47 or 48. I'm 53, so I'm a little bit older, but I was married at 24 and had a kid at 25. I've got basically four adult daughters. I have a 27-year-old, a 24-year-old, a 22-year-old, and the 16-year-old is not an adult but I could argue she's the most mature of all of us. I've always been in that father family environment for a very long time.
When we first started he was still single and obviously didn't have any kids. He had a different approach and ran a little more red hot about certain things and was a little more red-assed about stuff. But I think as he got married to Allie and had kids I think it's provided a different perspective for him. While you're never going to take his edge away from him, we've kind of been able to round off and sand down some of the rough edges so to speak. I don't feel I'm speaking out of turn. I think that he would agree to that as well.
We've always had kind of a brotherly relationship. A lot of times I've been the older brother because I was in a different stage of life. I'm proud to have been able to provide some advice at least at times with regard to being a husband or being a father. I think the growth has just been in our ability to try to share our life experiences on a day-in, day-out basis. I think the growth has gone from strictly an all sports type of presentation to more lifestyle and family life. I think we spend a lot more time trying to have a laugh and keep people entertained.

BN: Would it be boring to you if it was just sports, sports, sports without personality or life included?
TW: It would for me. I come with a different experience, not a better experience, not a worse experience; it's just a different experience. Having played all my life, I have such a huge passion for sports, but I've also found when I retired there's more to life than sports. It's given me this career in radio and television over the last 25 years. It's given me an opportunity to branch out and do different things and speak about different things. I think you're reluctant to do it when you're first involved in the industry, but over the course of time you become more comfortable with letting people in and letting them know who you are other than just being somebody they used to watch on Saturdays or Sundays.
I don't want it to be all sports because I have a lot of life experiences that I like to share and like to talk about. This kind of stage gives me the closest thing to competing and performing as I think I possibly could find coming out of the sports world. Live television and a four-hour radio show is the closest thing that I'll ever get to trying to recapture that adrenaline rush that comes on Sundays. I don't want to focus just on football, basketball, and baseball. I think that at times you can drone on about that stuff and lose your audience. I've enjoyed branching out and being able to talk about different things.

BN: In the past you've joked around a little bit about the concussions you suffered during your career. Is there any impact from your playing days on what you do professionally now?
TW: I try not to make light of it because there are guys that have had to deal with stuff that is probably more significant than what I've had to deal with. I was a teammate of Dave Duerson. I played against other guys around the league that aren't with us any longer. I maybe at times try to use humor as a way to deflect from what is the serious realization that it is such a real thing. I do have moments.
I'm fortunate that it hasn't overwhelmed me, but I'd be lying if I told you that there aren't moments occasionally over the course of a month where I'll have a couple of days that I know exactly what I want to say but I struggle to be able to verbalize it. There are other times where verbally I'm okay but my mind is a little bit cloudy. I don't know if it's old age, if it's what I used to do for a living, or it's a combination of both. I'm aware of it and I take it seriously, but look I signed up for it, so I'm not going to pretend that it wasn't part of the job description.

BN: Is there a topic over the last 13 years in Chicago that has felt like Groundhog Day where you say, oh man, another day of talking about this?
TW: The Bears quarterback situation falls into that category. It's not just Mitch Trubisky related. You could talk about the Bears struggles with the quarterback position for decades. Now I don't have a problem with it because I'm a football-centric person. I have a huge passion for the game and for this team, but I can see how that would become tedious for some.
I think that the Cubs/Sox rivalry at times gets to be a bit manufactured especially when one team is good and the other team is not. It's funny, I infrequently find myself going to work and saying, ahh shit, I got to talk about this again. You know? 
We're fortunate because we have so many teams and there are so many different issues to talk about. I don't think we get into that mundane type of mode at all because there are things on a day-in and day-out basis. The Bears quarterback situation is obviously one of those conversations. The Bulls struggles to be relevant over the last several years has been one that it does feel like Groundhog Day. At times you feel like they've been running in place. I would say those were probably the two that make you feel the most worn out.

BN: As far as The Last Dance goes, how much have you guys talked about it on your show?
TW: It's been a huge focus for us. Obviously without games going on, it takes up a large portion of our show at least on Mondays. We've developed a nice relationship with Jason Hehir who's the director. He comes on with us on Mondays to recap the previous episodes and previews the next couple of episodes. We've had a great relationship with him and a great response.
Silvy covered that second three-peat so he's got a lot of insight and thoughts on it. For the fans my age it's a great walk down memory lane and for the younger fans that didn't really witness it, it's a nice opportunity for them to see something that they weren't aware of or were too young to really appreciate. Then come Monday and Tuesday it gives them an opportunity to participate as well. It certainly has come at the right time.

BN: What was your favorite part of The Last Dance?
TW: My memory isn't great so for me the first thing I just wanted to be reminded of how great a player Michael was. To see him back in the early '90s and then the mid-to-late '90s, there are some things athletically that guys struggle to do now in 2020.
We always talk about on our show how sports evolve. In the world of football people get bigger, faster, and stronger. There weren't any guys like Brandon Marshall playing wide receiver in my day. There weren't 6'4", 230-pound guys running 4.4's. The game evolves. The athletic part of it becomes more impressive as time rolls on. Michael was doing that stuff back in the '90s. It was nice to just remind yourself that he was so far ahead of his time athletically and he was able to do some things then that guys can't do now.
BN: As far as your future is concerned is there anything you would like to do within your current role, or beyond ESPN 1000 before you retire?
TW: I've been really fortunate. I've had some great opportunities. I've done national television in Los Angeles with some great people at the NFL Network and worked with some of the greatest guys and best players in the world in Deion Sanders, Kurt Warner, Steve Mariucci, and Michael Irvin. I had the same great opportunity at ESPN to work for six years on the television side and obviously on the radio side, ESPN has given me a great opportunity both nationally and locally.
What I want to do is continue to do what I'm doing now with the people that I'm doing it with for as long as we have this passion and desire to do it. I'm not running out of ideas and I'm not running out of incentive. I'm not getting tired of participating in this job. I love the people that I've worked with. I love the old group with Jim Pastor and Adam Delevitt. Craig Karmazin took over when they purchased the station and we're with Mike Thomas now who has such a great track record in this industry.
We've been surrounded by winning people. I haven't hit the wall. I did in football but there's only so far you can take 6'1" and 185 pounds. Fortunately in the world of sports broadcasting and more importantly in the radio industry — size, speed, and age really isn't a factor. I'm still very much enthused with what I do and love the people I work with. I want to continue to keep doing this as long as we possibly can.
Brian Noe is a columnist for BSM and an on-air host heard nationwide on FOX Sports Radio's Countdown To Kickoff. Previous roles include stops in Portland, OR, Albany, NY and Fresno, CA. You can follow him on Twitter @TheNoeShow or email him at bnoe@premierenetworks.com.
Is There Still a Place for Baseball Talk on National Sports Shows?
"Its struggle has been the same since the beginning of television. There is too much baseball for any regular season baseball game or story to have national significance."
Last week at the BSM Summit, I hosted a panel focused on air checks. I wish I could say we covered the topic thoroughly, but we got derailed a lot, and you know what? That is okay. It felt like real air checks that I have been on both sides of in my career.
Rob Parker of The Odd Couple on FOX Sports Radio was the talent. He heard thoughts on his show from his boss, Scott Shapiro, and from his former boss, legendary WFAN boss Mark Chernoff.
Baseball was the topic that caused one of our derailments on the panel. If you know Rob, you know he is passionate about Major League Baseball. He cited download numbers that show The Odd Couple's time-shifted audience responds to baseball talk. To him, that proves there is not just room for it on nationally syndicated shows, but that there is a sizable audience that wants it.
Chernoff disagrees. He says baseball is a regional sport. Sure, there are regions that love it and local sports talk stations will dedicate full hours to discussing their home team's games and roster. National shows need to cast a wide net though, and baseball doesn't do that.
Personally, I agree with Chernoff. I told Parker on stage that "I hear baseball talk and I am f***ing gone." The reason for that, I think, is exactly what Chernoff said. I grew up in Alabama (no baseball team). I live in North Carolina (no baseball team). Where baseball is big, it is huge, but it isn't big in most of the country.
Now, I will add this. I used to LOVE baseball. It is the sport I played in high school. The Yankees' logo was on the groom's cake at my wedding. Then I had kids. Forget 162 games. Even five games didn't fit into my lifestyle. Maybe somewhere deep down, I still have feelings for the sport, but they are buried by years of neglect and actively shunning the sport.
Its struggle has been the same since the beginning of television. There is too much baseball for any regular season baseball game or story to have national significance.
Me, and millions of sports talk listeners like me, look at baseball like a toddler looks at broccoli. You probably aren't lying when you tell us how much you love it, but damn it! WE WANT CHICKEN FINGERS!
A new Major League Baseball season starts Thursday and I thought this topic was worth exploring. I asked three nationally syndicated hosts to weigh in. When is baseball right for their show and how do they use those conversations? Here is what they had to say.
FREDDIE COLEMAN (Freddie & Fitzsimmons on ESPN Radio) – "MLB can still be talked nationally IF there's that one player like Aaron Judge or Shohei Ohtani can attract the casual fan. MLB has definitely become more local because of the absence of that SUPER player and/or villainous team. I wonder if the pace of play will help bring in the younger fans that they need, but the sport NEEDS that defining star that is must-see TV."
JONAS KNOX (2 Pros & a Cup of Joe on FOX Sports Radio) – "While football is king for me in sports radio, I look at baseball like most other sports. I'm not opposed to talking about it, as long as I have an angle or opinion that I am confident I can deliver in an entertaining manner. A couple of times of any given year, there are stories in baseball that are big picture topics that are obvious national discussions.
"I think it's my job to never close the door on any topic/discussion (except politics because I don't know anything about it).
"But also, if I'm going to discuss a localized story in baseball or any other sport for that matter – I better have an entertaining/informed angle on it. Otherwise, I've let down the listener and that is unacceptable. If they give you their time, you better not waste it."
MAGGIE GRAY (Maggie & Perloff on CBS Sports Radio) – "While I was on WFAN there was almost no amount of minutia that was too small when it came to the Mets and Yankees. On Maggie and Perloff, our baseball topics have to be more centered around issues that can be universal. For example, 'Is Shohei Ohtani the face of the sport? Is Ohtani pitching and hitting more impressive than two sport athletes like Bo Jackson and Deion Sanders? Do you consider Aaron Judge the single-season homerun king or Barry Bonds?' Any baseball fan or sports fan can have an opinion about those topics, so we find they get great engagement from our audience."
Demetri Ravanos is the Assistant Content Director for Barrett Sports Media. He hosts the Chewing Clock and Media Noise podcasts. He occasionally fills in on stations across the Carolinas. Previous stops include WAVH and WZEW in Mobile, AL, WBPT in Birmingham, AL and WBBB, WPTK and WDNC in Raleigh, NC. You can find him on Twitter @DemetriRavanos and reach him by email at DemetriTheGreek@gmail.com.
Who Can Sports Fans Trust Once Twitter Ditches Legacy Verified Blue Checks?
The potential for Twitter chaos after April 1 is looming.
As of April 1, Twitter will finally make a dreaded change that many will view as an April Fools' prank. Unfortunately, it won't be a joke to any user who cares about legitimacy and truth.
Last week, Twitter officially announced that verified blue checkmarks will be removed from accounts that have not signed up for a Twitter Blue subscription. Previously, accounts whose identity had been verified were allowed to keep their blue checks when Twitter Blue was implemented.
But shortly after Elon Musk purchased Twitter and became the social media company's CEO, he stated his intention to use verification as a revenue source. Users would have to pay $8 per month (or $84 annually) for a Twitter Blue subscription and blue checkmark verification. Paying for blue checks immediately set off red flags among users who learned to depend on verified accounts for accredited identities and trusted information.
The entire concept of verification and blue checks was simple and effective. Users and accounts bearing the blue checkmark were legitimate. These people and organizations were who they said they were.
As an example, ESPN's Adam Schefter has faced criticism for how he framed domestic violence and sexual misconduct involving star NFL players, and deservedly so. But fans and media know Schefter's tweets are really coming from him because his account is verified.
Furthermore, Twitter took the additional step of clarifying that accounts such as Schefter's were verified before Twitter Blue was implemented. He didn't pay eight dollars for that blue checkmark.
The need for verification is never more vital than when fake accounts are created to deceive users. Such accounts will put "Adam Schefter" as their Twitter name, even if their handle is something like "@TuaNeedsHelp." Or worse, some fake accounts will create a handle with letters that look similar. So "@AdarnSchefter" with an "rn" in place of the "m," fools some people, especially at a quick glance when people are trying to push news out as fast as possible.
Plenty of baseball fans have been duped over the years by fake accounts using a zero instead of an "o" or a capital "I" instead of a lowercase "l" to resemble Fox Sports and The Athletic reporter Ken Rosenthal. That trick didn't get me. But when I covered Major League Baseball for Bleacher Report 10 years ago, I did fall for a fake Jim Salisbury account that reported the Philadelphia Phillies traded Hunter Pence to the San Francisco Giants. Capital "I," not lowercase "l" in "Salisbury." Pence was, in fact, traded to the Giants two days later, but that didn't make my goof any less embarrassing. I should've looked for the blue checkmark!
But after April 1, that signifier won't matter. Legacy blue checkmarks will be removed from accounts that haven't paid for Twitter Blue. Some accounts that were previously verified might purchase a subscription to maintain that blue check. But those that were deemed legitimate prior to Musk taking over Twitter likely won't. (There are also rumors that Twitter is considering a feature that would allow Twitter Blue subscribers to hide their blue check and avoid revealing that purchase.)
That could be even more true for media organizations, which are being told to pay $1000 per month for verification. Do you think ESPN, the New York Times, or the Washington Post will pay $12,000 for a blue check?
We've already seen the problems that paying for verification can cause. Shortly after Twitter Blue launched, accounts pretending to be legacy verified users could be created. A fake Adam Schefter account tweeted that the Las Vegas Raiders had fired head coach Josh McDaniels. Users who saw the "Adam Schefter" Twitter name went with the news without looking more closely at the "@AdamSchefterNOT" handle. But there was a blue checkmark next to the name this time!
The same thing occurred with a fake LeBron James account tweeting that the NBA superstar had requested a trade from the Los Angeles Lakers. There was a "@KINGJamez" handle, but a "LeBron James" Twitter name with a blue check next to it.
Whether it's because fans and media have become more discerning or Twitter has done good work cracking down on such fake accounts, there haven't been many outrageous examples of deliberate deception since last November. But the potential for Twitter chaos after April 1 is looming.
If that seems like an overstatement, it's a very real possibility that there will be an erosion of trust among Twitter users. Media and fans may have to take a breath before quickly tweeting and retweeting news from accounts that may or may not be credible. False news and phony statements could spread quickly and go viral across social media.
Even worse, Musk has announced that only verified Twitter Blue accounts will be seen in your "For You" timeline as of April 15. (He can't claim it's an April Fools' Day joke on that date.)
Obviously, that carries far more serious real-world implications beyond sports. Forget about a fake Shams Charania account tweeting that Luka Dončić wants to be traded to the Lakers. It's not difficult to imagine a fake Joe Biden account declaring war on Russia and some people believing it's true because of the blue checkmark.
We may be nearing the end of Twitter being a reliable news-gathering tool. If the accounts tweeting out news can't be trusted, where's the value? Reporters and newsmakers may end up going to other social media platforms to break stories and carry the viability of verification.
When Fox Sports' website infamously pivoted to video in 2017, Ken Rosenthal posted his MLB reporting on Facebook prior to joining The Athletic. Hello, Instagram. Will someone take their following and reputation to a fledgling platform like Mastodon, Post, Spoutible, or BlueSky, even if it means a lesser outlet?
If and when that happens, Twitter could still be a community but not nearly as much fun. Not when it becomes a matter of trust that breaks up the party.
Ian Casselberry is a sports media columnist for BSM. He has previously written and edited for Awful Announcing, The Comeback, Sports Illustrated, Yahoo Sports, MLive, Bleacher Report, and SB Nation. You can find him on Twitter @iancass or reach him by email at iancass@gmail.com.
There's a Lesson For Us All in Florida Atlantic's Elite 8 Broadcast Struggle
"It is a ton of faith our industry has been forced to place in a single mode of delivery."
Ken LaVicka and Kevin Harlan probably don't have a ton in common. Both of them were announcing an Elite Eight game over the weekend, that is one thing tying them together, but their experiences were wildly different. Harlan is on CBS with a production crew numbering in the dozens making certain all goes smoothly. LaVicka, the voice of the Florida Atlantic Owls, is a production crew himself, making certain those listening in South Florida heard the Owls punch their Final Four ticket. At least, that was LaVicka's plan.
The Florida Atlantic Owls are going to the Men's Final Four. Even while typing that sentence, it still seems odd to say. Do you know how many college basketball teams are thinking "how can Florida Atlantic make the Final Four and we can't?" These are the types of stories that make the NCAA Tournament what it is. There is, literally, no barrier stopping any team from this tournament going on the run of their life and making it all the way.
Everyone listening in South Florida almost missed the moment it all became real for the Owls. With :18.6 to go in Florida Atlantic's Elite Eight game against Kansas State, the Madison Square Garden Ethernet service to the front row of media seating went completely dark.
It was on that row that Ken LaVicka was painting the picture back to South Florida. Well, he was until the internet died on him.
Nobody does a single show away from their home studio anymore without trying to avoid the nightmare of Ethernet failure. Gone are the days of phone lines and ISDN connections, all the audio and video is now sent back to the studio over the technological miracle that is the internet. It is a ton of faith our industry has been forced to place in a single mode of delivery.
Take that anxiety and multiply it by 1,000 when that Ethernet line is connected to a Comrex unit for the most important moment of your career. LaVicka had the great fortune of a Kansas State timeout to try something, anything, to save the day. In his quick thinking, he spun around and grabbed an ethernet cable from row two which, as it turns out, still had internet access flowing through it's cables. That cable, though, was the equivalent of an iPhone charging cord; never as long as you need it to be.
One of LaVicka's co-workers from ESPN West Palm held the Comrex unit close enough to the second row for the cable to make a connection and the day was saved. LaVicka was able to call the last :15 of the Florida Atlantic win and, presumably, get in all the necessary sponsorship mentions.
It was an exciting end to the FAU v. Kansas State game, a great defensive stop by the Owls to seal the victory. LaVicka told the NCAA's Andy Katz he tried to channel his inner Jim Nantz to relay that excitement. The NCAA Tournament excitement started early this year. In the very first TV window 13 Seed Furman upset 4 Seed Virginia with a late three pointer by JP Pegues, who had been 0-for-15 from beyond the arc leading up to that shot. It is the type of play the NCAA Tournament is built upon.
It was called in the manner Kevin Harlan's career was built upon. Harlan, alongside Stan Van Gundy and Dan Bonner, called the Virginia turnover leading to the made Furman basket with his trademark excitement before laying out for the crowd reaction. After a few seconds of crowd excitement he asked his analysts, and the world, "Did we just see what I think we saw? Wow!" Vintage Kevin Harlan.
One reason we are so aware of what Harlan said, and that he signaled his analysts to lay out for the crowd reaction, was a CBS Sports tweet with video of Harlan, Van Gundy and Bonner in a split screen over the play. It gave us a rare look at a pro in the middle of his craft. We got to see that Harlan reacts just like he sounds. The video has more than six million views and has been retweeted more than 6,000 times, a lot of people seem to like it.
Kevin Harlan is not in that group. Harlan appeared on Richard Deitsch's Sports Media podcast after the video went public and said he was embarrassed by it. Harlan added he "begged" CBS not send the tweet out but to no avail. Harlan told Deitsch "I don't know that I'm glad that they caught our expression, but I'm glad the game was on the air. I think I join a chorus of other announcers who do not like the camera."
There's a valuable announcer lesson from Harlan there; the audience is almost always there for the game, not you. Harlan went on to describe the broadcast booth to Deitsch as somewhat of a sacred place. He would prefer to let his words accompany the video of the action to tell the story. Kevin Harlan is as good as they come at his craft, if he thinks that way, there's probably great value in that line of thought.
We can learn from LaVicka, as well. You work in this business long enough and you come to accept technical difficulties are as much a part of it as anything. They always seem to strike at the worst times, it is just in their nature. Those who can find a way to deal with them without everything melting down are those who can give their audience what they showed up for. Those who lose their mind and spend time complaining about them during the production simply give the audience information they don't really care about.
The Final Four is an unlikely collection of teams; Miami, San Diego State, Connecticut and Florida Atlantic. You all had that in your brackets, right? Yep, the Florida Atlantic Owls are going to the Final Four and Ken LaVicka will be there for it. Now, if the internet will just hold out.
Ryan Brown is a columnist for Barrett Sports Media, and a co-host of the popular sports audio/video show 'The Next Round' formerly known as JOX Roundtable, which previously aired on WJOX in Birmingham. You can find him on Twitter @RyanBrownLive and follow his show @NextRoundLive.