Why Craig Carton And Second Chances Are Worthwhile
"If his gambling problems are behind him, Craig Carton, the New York radio host has paid his debt to society and should be allowed to resume his WFAN career — as should others in a selectively punitive industry."
The fine print at the bottom of a casino house ad? The rambling voice at the end of a public service announcement? Craig Carton was too far gone to heed the warnings, or the concerns of family members and close friends wondering why he was helicoptering directly from Atlantic City to his morning radio shift at WFAN, a sideways commute of the worst kind.
A disease had swallowed him. And before he could come up for air, a man in his early 50s who had everything in life but hair — a wife and kids, big-city success, riches, a Tribeca palace — was headed to a prison cell in central Pennsylvania.
Gambling made him do bad things.
But that doesn't mean Craig Carton is a bad human being for life.
I am comfortable in expressing that because, unlike knee-jerk media executives who can't blacklist an "unhireable rogue'' quickly enough, I contacted him days before he left for Lewisburg Federal Penitentiary. Hooked on documentaries and involved in creating them, I saw Carton as a compelling subject and wanted to know why prosperity and fame weren't enough for him, why he needed to gamble like a fiend and pay off debts by duping victims in a $7 million ticket-brokering scam. Having been in sports radio myself, I knew how gambling could ravage certain colleagues, once lecturing a car full of young producers — two have become leaders in the industry — about the personal wreckage awaiting them if they kept calling bookies every day. I waited years for my one-time program director to pay back a $3,000 loan.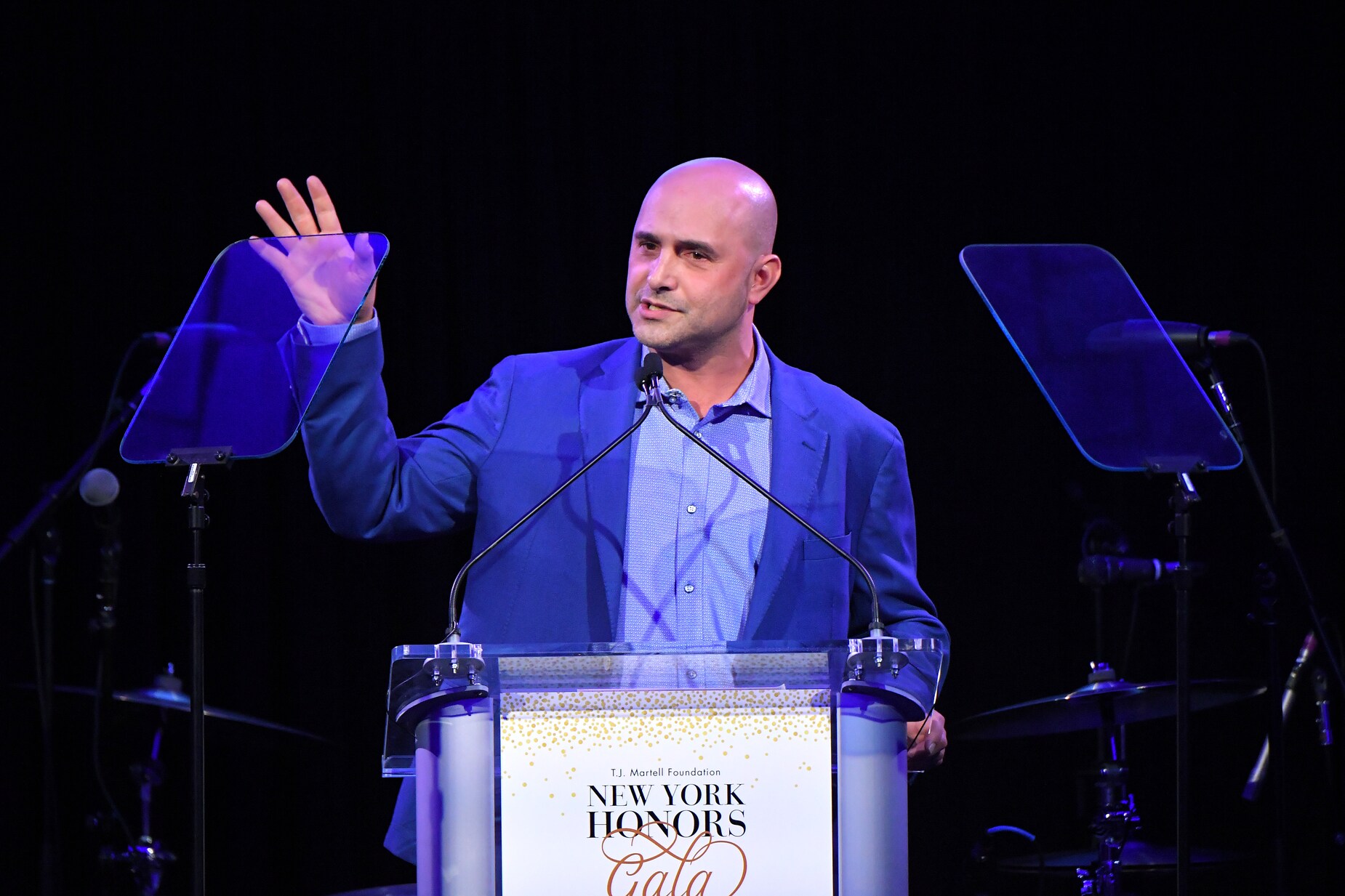 When we spoke by phone, Carton was resigned to his fate — a 3 1/2-year sentence — but also inferred he was a media victim of sorts. This was understandable, given his treatment in a Manhattan courtroom by U.S. District Judge Colleen McMahon, who mocked how a caller might greet him on the air: "Good afternoon, Mr. Carton, Colleen from New York. First time, long time.'' Really? Did he even have a chance after that stunt? Once a high-profile public figure is caught in the hooks of a sensational tabloid story, all innocent-until-proven-guilty expectations are gone, regardless of the facts. I would know, having been through a lower-level media circus myself, and it was important for me to hear Carton's side, knowing how news sites never completed a story that ended favorably for me, with my triumph in a civil case and a complete expungement of all charges.
To be clear, I'm not suggesting in the slightest that Carton didn't deserve his sentence. But when he was released from prison this week after serving barely a year of his term, I did not yelp in protest. He has paid $5 million in restitution to his victims and will keep paying. He lost his family, his livelihood, and he'll be branded a Ponzi scheme embezzler for life. With good behavior, he completed all requirements and programs demanded of him inside the prison walls. And he isn't finished yet, with his next step a halfway house or home confinement, according to the New York Post. A year in prison — and three years of hell since his arrest — does constitute a firm measure of punishment for a non-violent crime.
"He paid his debt to society,'' said Boomer Esiason, his former co-host, who received a call from Carton within hours of his release. "What I heard was a happy and relieved Craig Carton. He did everything he possibly could in jail to mitigate his sentence and try to get out as early as he possibly could.''
So lash out if you must. Call Carton a privileged white male getting a break in a summer of racial unrest, sprung early — surely by his pal, Chris Christie — so he can resume radio stardom. Accuse me of conveniently forgetting his victims and his mountain of gambling losses. Sorry, I will not join close-minded, holier-than-thou wall builders who think Carton should be banished to a homeless encampment and never work again in a media industry that, candidly, has character issues on every level.
Yes, we must determine if he has still has a gambling sickness, which must be purged from his life for a corporation such as Entercom to grant him a second chance. But if he's clean, Carton deserves the same shot that other media people receive upon overcoming illness — such as John Skipper, who was summoned to run the DAZN streaming service after a cocaine-extortion case (or so he said) ended his ESPN reign. Why not give Carton an afternoon slot and a new slate? He's talented. He has generated monster ratings. He is raw, unabashed New York. And WFAN needs him, as Mike Francesa fades away and ESPN's Michael Kay commands the afternoon-drive sports lead in the nation's top radio market.
"I do believe he deserves a second chance, whether it be here at our station or another station,'' said Esiason, who has settled in comfortably with Carton's morning-drive successor, Gregg Giannotti. "He's too talented not to be on the air somewhere.''
If anything, I cast aspersions on media executives who have no equilibrium in handling such cases and have shown no such mercy toward equally talented media people. Networks are cowardly in not caring when athletes who carry substantial legal baggage — Ray Lewis, for one — are routinely hired as analysts. Yet they are quick to make examples of those who haven't played professional sports, the very definition of a corporate double standard that strains the legal definition of tortious interference. As for Carton, let's be honest: He and others in his situation need a sugar daddy to push them through the politics.
In which alternative universe would someone grant redemption to a host convicted in a Ponzi scheme? Don't be shocked if it's the universe of Carton's former producer, Chris Oliviero, who runs the show at WFAN and has made no secret of reunion possibilities. I think we already know how this will go. Oliviero will place Carton in afternoons opposite Kay. HBO will move forward with the Carton documentary, timed with his return to radio, and it likely will involve his good friend, "Entourage'' star Kevin Connolly. He will apologize, resume his extensive charity work and record his own PSAs about gambling's evils. Christie will give him a bro hug — I doubt Chris Christie socially distances — and New York will embrace Carton's second act as only New York can.
I cringe when thinking about young people getting into the business. Imagine being 21 and an independent thinker and dreaming of covering sports for a living, only to realize quickly how internal politics overwhelm idealism. Stuff happens. People screw up. Short of a heinous crime, you should not lose your career over it.
So I'm down with Carton returning to the air.
Whereas I'm just down on Bill Simmons, another sports media star in the news this week. I've always enjoyed Boston, from long river walks to pastry aromas in the North End, but one contradiction always has baffled me. How can a bastion of higher education also produce people who've trashed, if not completely ruined, the once-distinguished craft of sports media? The city produced Dave Portnoy, a piece of work who parlayed a proud moment in his life — publishing a naked penis shot of Tom Brady's son, then age 2 — into a drunken-frat-boy empire called Barstool Sports. And it produced Simmons, a former bartender who decided to disrupt a town of estimable sportswriters by becoming the original Voice Of The Obnoxious Local Fan, which launched a reckless, overreaching career that finds him in a national firestorm over the scarcity of black employees at his digital site, The Ringer.
Simmons has talent and sports passion. And he helped create ESPN's seminal documentary series, "30 For 30.'' His problem: He shouldn't be in charge of anything but turning on the coffee machine. When success as the "Boston Sports Guy'' character landed him a column at then-fledgling ESPN.com, his bosses should have thanked the heavens for his large readership and let him flourish in that role. Instead, they created a multi-platform monster — and allowed that monster to devour Bristol. If his pieces were unique, his TV appearances passable and his literary work ("The Book Of Basketball'') a masterpiece, it was Simmons' lack of professional savvy that repeatedly sabotaged him.
He referred to NFL commissioner Roger Goodell as "a liar,'' a red flag in any law shop. As founder of ESPN's Grantland site, he published a story that outed a transgender woman who committed suicide as the piece was bring prepared, requiring him to write a lengthy, awkward apology. Now, five years since his ouster at ESPN, Simmons is being attacked for his hiring practices amid a powerful racial reckoning in America. And again, it's a controversy he could have avoided — and kept out of the New York Times, which detailed staff turmoil at The Ringer — by thinking with his brain and not his ass. But then, he used to write for Jimmy Kimmel, who is embroiled in his own racial issues — a blackface controversy and his past imitations of black voices, including a Snoop Dogg bit in which he used the N-word several times.
It's unfathomable that two white Ringer podcasters, Simmons and Ryen Russillo, would broadcast a June 1 episode on racism and police violence without inviting a few black voices as fellow hosts. They called it, "A Truly Sad Week in America,'' and they only made it sadder with ignorant commentary. Russillo's mistake was to applaud Simmons, saying, "Look at you, Bill, look at the people you've hired, look at the company that you've started, look at the jobs and opportunities that you've given a diverse group, which I know you're always looking to do. I'm not bulls—ting, I'm not kissing up to you here. These are facts.''
Actually, to use the L-word, these are lies. The podcast angered Ringer staffers, with writer John Gonzalez tweeting, "If you've heard someone say The Ringer is a super diverse place, sadly that person does not know what he's talking about. We have a long way to go, and I hope we get there." Then the union representing Ringer workers weighed in with numbers: "In 2019, 86 percent of speakers on The Ringer Podcast Network were white. We have zero black editors. We have zero black writers assigned full time to the NBA or NFL beats.''
Which makes the Man of The People, Bill Simmons, just another Malibu media mogul who doesn't pay appropriate attention to racial inequality. At Grantland, he cultivated an us-against-the-world mentality among his staff and usually had the support of the bosses who enabled him, Skipper and John Walsh. But all three exited ESPN in a curious span, and suddenly, Simmons has no one to bail him out. He sold The Ringer site and podcast network to Spotify for almost $200 million, and now, he's pretty lonely by the beach, dragging down the investors who showered him with riches.
I don't doubt Simmons when he says he has sought diversity, as he did successfully at Grantland. But the union says The Ringer, which employs about 90 people, has only six black editorial staff members. Evidently, he isn't trying hard enough to outbid competing sites — including ESPN's "The Undefeated'' — for the best talent. Wrote the union: "Diversity in the newsroom is essential to covering police brutality and systemic racism, including in the worlds of sports and pop culture. The Ringer has a lot of work to do.''
By this point in their careers, Simmons and Russillo should know how to approach sensitive subjects with care. Same goes for their former ESPN colleague, Scott Van Pelt, who might want to eliminate this from his self-description at the top of his Twitter feed: "Mr. Whitefolks.'' It's a takeoff from a documentary on the lives of pimps and prostitutes, and if Van Pelt isn't aware, "Mr. Whitefolks'' is the only white pimp in the show. At one point, the character discusses a "Million Mack March'' on Washington.
I'm guessing it will be removed from Van Pelt's feed before you read this. Because, like so much else in our country, it's just thoughtless and wrong. The least sports media can do, now more than ever, is think and make things right. Admit your mistakes and move on, as Carton has.
"I made mistakes,'' he said. "Mistakes in my judgments, decisions and how I was living my life. I was wrong. I have, will and should continue to pay a dear price for those mistakes.''
He deserves no applause when he returns to the air. But he deserves our ears — specifically, 12 million sets of them, or the number of problem gamblers in America.
Would Local Radio Benefit From Hosting An Annual Upfront?
How many times have you heard this sentence uttered at conferences or in one of the trades; radio has to do a better job of telling its story. Sounds reasonable enough right? After all, your brands and companies stand a better chance of being more consumed and invested in the more that others know about them.
But what specifically about your brand's story matters to those listening or spending money on it? Which outlets are you supposed to share that news with to grow your listenership and advertising? And who is telling the story? Is it someone who works for your company and has a motive to advance a professional agenda, or someone who's independent and may point out a few holes in your strategy, execution, and results?
As professionals working in the media business, we're supposed to be experts in the field of communications. But are we? We're good at relaying news when it makes us look good or highlights a competitor coming up short. How do we respond though when the story isn't told the we want it to? Better yet, how many times do sports/news talk brands relay information that isn't tied to quarterly ratings, revenue or a new contract being signed? We like to celebrate the numbers that matter to us and our teams, but we don't spend much time thinking about if those numbers matter to the right groups – the audience and the advertisers.
Having covered the sports and news media business for the past seven years, and published nearly eighteen thousand pieces of content, you'd be stunned if you saw how many nuggets of information get sent to us from industry folks looking for publicity vs. having to chase people down for details or read things on social media or listen to or watch shows to promote relevant material. Spoiler alert, most of what we produce comes from digging. There are a handful of outlets and PR folks who are great, and five or six PD's who do an excellent job consistently promoting news or cool things associated with their brands and people. Some talent are good too at sharing content or tips that our website may have an interest in.
Whether I give the green light to publish the material or not, I appreciate that folks look for ways to keep their brands and shows on everyone's radar. Brand leaders and marketing directors should be battling daily in my opinion for recognition anywhere and everywhere it's available. If nobody is talking about your brand then you have to give them a reason to.
I'm writing this column today because I just spent a day in New York City at the Disney Upfront, which was attended by a few thousand advertising professionals. Though I'd have preferred a greater focus on ESPN than what was offered, I understand that a company the size of Disney with so many rich content offerings is going to have to condense things or they'd literally need a full week of Upfronts to cover it all. They're also trying to reach buyers and advertising professionals who have interests in more than just sports.
What stood out to me while I was in attendance was how much detail went into putting on a show to inform, entertain, and engage advertising professionals. Disney understands the value of telling its story to the right crowd, and they rolled out the heavy hitters for it. There was a strong mix of stars, executives, promotion of upcoming shows, breaking news about network deals, access to the people responsible for bringing advertising to life, and of course, free drinks. It was easy for everyone in the room to gain an understanding of the company's culture, vision, success, and plans to capture more market share.
As I sat in my seat, I wondered 'why doesn't radio do this on a local level'? I'm not talking about entertaining clients in a suite, having a business dinner for a small group of clients or inviting business owners and agency reps to the office for a rollout of forthcoming plans. I'm talking about creating an annual event that showcases the power of a cluster, the stars who are connected to the company's various brands, unveiling new shows, promotions and deals, and using the event as a driver to attract more business.
Too often I see our industry rely on things that have worked in the past. We assume that if it worked before there's no need to reinvent the wheel for the client. Sometimes that's even true. Maybe the advertiser likes to keep things simple and communicate by phone, email or in-person lunch meetings. Maybe a creative powerpoint presentation is all you need to get them to say yes. If it's working and you feel that's the best way forward to close business, continue with that approach. There's more than one way to reach the finish line.
But I believe that most people like being exposed to fresh ideas, and given a peak behind the curtain. The word 'new' excites people. Why do you think Apple introduces a new iPhone each year or two. We lose sight sometimes of how important our brands and people are to those not inside the walls of our offices. We forget that whether a client spends ten thousand or ten million dollars per year with our company, they still like to be entertained. When you allow business people to feel the excitement associated with your brand's upcoming events, see the presentations on a screen, and hear from and interact with the stars involved in it, you make them feel more special. I think you stand a better chance of closing deals and building stronger relationships that way.
Given that many local clusters have relationships with hotels, theaters, teams, restaurants, etc. there's no reason you can't find a central location, and put together an advertiser appreciation day that makes partners feel valued. You don't have to rent out Pier 36 like Disney or secure the field at a baseball stadium to make a strong impression. We show listeners they're valued regularly by giving away tickets, cash, fan appreciation parties, etc. and guess what, it works! Yes there are expenses involved putting on events, and no manager wants to hear about spending money without feeling confident they'll generate a return on investment. That said, taking calculated risks is essential to growing a business. Every day that goes by where you operate with a 'relying on the past' mindset, and refuse to invest in growth opportunities, is one that leaves open the door for others to make sure your future is less promising.
There are likely a few examples of groups doing a smaller scaled version of what I'm suggesting. If you're doing this already, I'd love to hear about it. Hit me up through email at JBarrett@sportsradiopd.com. By and large though, I don't see a lot of must-see, must-discuss events like this created that lead to a surplus of press, increased relationships, and most importantly, increased sales. Yet it can be done. Judging from some of the feedback I received yesterday talking to people in the room, it makes an impression, and it matters.
I don't claim to know how many ad agency executives and buyers returned to the office from the Disney Upfront and reached out to sign new advertising deals with the company. What I am confident in is that Disney wouldn't invest resources in creating this event nor would other national groups like NBC, FOX, CBS, WarnerMedia, etc. if they didn't feel it was beneficial to their business. Rather than relying on ratings and revenue stories that serve our own interests, maybe we'd help ourselves more by allowing our partners and potential clients to experience what makes our brands special. It works with our listeners, and can work with advertisers too.
Brandon Kiley Doesn't Pretend To Be Someone He's Not
"There was a time where the audience probably said, this guy isn't a St Louisan. But this is home for me now and I've adopted it."
There must have been something about Brandon Kiley that everyone saw as a young aspiring sports radio host. Nick Wright saw enough to bring him to Houston at SportsRadio 610 as an intern for a summer. Will Palaszczuk saw enough to urge him to apply for his old job in Columbia, MO at KTGR. Ben Heisler saw enough to know he'd fit perfectly with Carrington Harrison in afternoon drive at 610 Sports in Kansas City.
Maybe you can chalk it up to Kiley being able to make such great contacts. Or maybe it's just that he was supremely talented at a young age. Odds are it's a combination of both. But he was destined to be a sports talk host somewhere, it just turns out he's having success over the air in a city he never imagined he'd work in.
A Kansas City kid, Kiley knew at 16 years old he wanted to be a sports radio host. He was even more sure of it when he started doing college radio at Mizzou. But it was in Houston where he got his real taste of what sports radio was like.
"I went to 610 in Houston for the morning show with Nick Wright," Kiley said. "He basically just assigned me as an extra producer. We had known about each other through Twitter and I had a little bit of a relationship with him beforehand. I think he knew I was willing and able to take on more tasks than a typical intern would usually do. Essentially, I became an extra guest booker, cut audio for them, and came up with topics at night. It was like he had an extra producer for the summer and it was my first real experience doing something like that."
Imagine the confidence he left Houston with as he traveled back to Columbia for another year of college at Mizzou. Few, if any, on campus could have claimed the kind of summer Kiley just had. He parlayed that experience into a once-a-week show at KCOU, the student radio station. The following semester, he pitched the idea of doing a daily show
"I told them I'd take any time slot available," Kiley said. "The one that I got was the very glamorous 6-7 am time slot. There weren't a whole lot of college kids that wanted to wake up that early every morning. I ended up having a rotating cast of co-hosts and it ended up being super valuable because I learned how to work with a lot of types of personalities."
He excelled as a host and found his style behind the mic, and soon after, he got his first big break. In March of 2014, Will Palaszczuk contacted Kiley and told him he was taking another radio job outside the market. The two knew of each other, seeing as both were in Columbia and covering the same games in town. Palacsuk told Kiley he needed to apply for the spot he was leaving at KTGR.
"There was literally one sports station and one sports show in town and it was that one," Kiley said. "I applied to him the previous semester and said, hey man, if you guys have anything available I would love to come work there. It just so happened he got a job elsewhere and he called me up and said, 'Hey man, I don't know what your plans are, I'm about to take another job and they're going to post my job available. I don't know if they're going to make it a producer or co-host gig, but I think you should apply because I think you'd be good at it'. Will's good work helped a ton in terms of me landing the gig. I graduated and told them I wanted to make it full-time.I was essentially a producer and co-host for the afternoon show. I never even applied anywhere outside of Columbia"
For two years, Kiley stayed at KTGR and covered the Missouri Tigers. He was fresh out of college and living in a college town doing what he loved in his early 20's. It wasn't a bad life. But one night in Columbia changed his entire professional career. It just so happened it occurred on the rooftop at Harpo's, one of the most well-known establishments in town.
"My roommate at the time, we both worked at the radio station in Columbia," said Kiley. "He worked at the hit music station and I worked at the sports station. We all went out one night at Harpo's and he said, 'Hey, I just want to let you guys know I'm getting out of radio and moving to Kansas City.' I was like, oh shit, what am I going to do? Our lease was up in two months, so the timing worked out well and I was looking at Barrett Sports Media looking where I could go next."
"My girlfriend at the time, now my wife, was from St. Louis and there was a job available there. I had always thought, that's not a place I want to live, why would I ever want to live in St. Louis? They didn't have a football team, it just didn't seem like a great fit for me. But my buddy tells me he's moving and I'm like, St, Louis it is! That night I ended up applying for the job and got a call back from Chris "Hoss" Neupert, who at the time was the PD here, and asked if I would be interviewed with him and Kevin Wheeler, whose show I would be producing."
So off to St. Louis he goes. For three and a half years, Kiley embraces his new city and tries to work his way up at 101 ESPN.
But the Kansas City kid felt a pull back to his hometown. Oddly enough, Ben Heisler even reached out to tell him he was leaving the station to pursue another opportunity in sports. It felt like the perfect time to pursue his dream of doing sports radio at the station he grew up listening to.
"I'm from Kansas City and grew up listening to 610 Sports Radio," Kiley said. "A guy I listened to growing up was Nick Wright. I also listened to a bunch of Carrington Harrison, Danny Parkins and Ben Heisler. Those guys had what I consider one of the best shows in Kansas City sports radio history. I got to know them through Twitter and Heisler sent me a text. He knows I've always been interested in moving to KC. He tells me he's about to get out of radio and into more fantasy football stuff and his job is going to come open.
"I had applied for multiple other jobs in KC over the years and had never gotten any real consideration. When Heisler left, I knew Carrington and thought this might work out. I ended up getting in contact with their PD Steven Spector and it felt like a real opportunity. I got what I considered to be my dream job, producing in the afternoons and hosting a Saturday show at 610 Sports. I thought, what could there be more in life than this? This is the best."
But life happened and he had to make a decision around three months after moving to Kansas City.
"2-3 months later it became clear, it was going to be difficult for my girlfriend, now wife, to move to Kansas City with all of the family ties she had in St. Louis," said Kiley. "It was the decision of, do you stay in Kansas City and chase the dream or do we alter the dream, in terms of the job, and see if there's anything in St. Louis?"
He never thought his best years and most successful years as a sports radio host would come in St. Louis but they have. It's a city he loves and he's worked hard in hopes it will love him back. But he's also not going to pretend to be someone he's not. Though it can sometimes be hard for St Louisans to accept someone that's not from there, Kiley doesn't act like he attended World Series games in 1982, listened to Jack Buck growing up or watched Kurt Warner at the Edward Jones Dome. He's himself.
"That wasn't my love and I can't pretend that it was," said Kiley. "Have there been times, especially early on where that was a potential issue for me? Yeah it was. There was a time where the audience probably said, this guy isn't a St Louisan. But this is home for me now and I've adopted it. It does in a lot of ways remind me of Kansas City, where if you take the time to know what the soul of the city really is, in terms of sports, I think people can appreciate and respect it."
Kiley doesn't hold on to his Kansas City roots on the air, in terms of the topics he talks about. He's a Chiefs fan and even writes for Arrowhead Pride, but he's not going to talk a lot about the Chiefs in a city that doesn't have an NFL team. He's also a Mizzou grad and talks about the teams on Rock M Nation, but again, he's rarely, if ever, going to do several segments a day on the Tigers. Instead, he knows the audience wants to hear about the Cardinals. Blues talk is clearly next in line. Everything else falls down the order if not off of it completely. 
Kiley grew up watching baseball, so he can easily break down what issues the Cards' offense may be having in the middle of May, but hockey was different. He didn't grow up around the game and the transition to having in-depth conversations on the Blues was a more difficult task. 
"When I came here the first time it was during the middle of a Blues' playoff run. At that time I was just plopped into this thing, and I didn't know shit about hockey. I had probably watched about 10 hockey games in my entire life. I'm looking at Kevin Wheeler like, I've got to be honest I don't have a lot on hockey I'm going to be able to help you with. If you could help bring me along with it, that would be great. Over the years I've been able to take it in. I used to host a show with Jamie Rivers, who's a former Blues player. If you told me five years ago I'd be able to do that, much less enjoy doing that, I would have said you're out of your damn mind."
Whereas most sports radio shows in football markets are searching for content to help fill segments, this is one of the sweetest times of the year for Kiley and everyone at 101 ESPN. The Blues are deep in the playoffs and the Major League Baseball season is underway. His show BK and Ferrario covers it all every weekday from 11 am – 2 pm. 
Kiley never thought this would be his life, but he loves what he's built in St.Louis and doesn't give off the vibe he's looking to leave anytime soon. He's a great example of someone who didn't pigeonhole himself into just one market. He was willing to look outside of his hometown and has found true success. 
Will Middlebrooks Has Been The Breakout Star Of The Red Sox Season
"If I was going to work for an organization or a regional sports network, why not the Red Sox, for someone that I'm actually a fan of?"
The Boston Red Sox experience in 2022 is just different. In every way.
The team has struggled out of the gate. They certainly aren't the team that was two wins away from the World Series last year.
Fenway Park doesn't even accept cash anymore.
But it's not just that the Red Sox are different on the field or at the ballpark – they are different on television too.
When loveable, longtime Sox broadcaster Jerry Remy died in October 2021 at the age of 68, we knew that consuming the Red Sox on TV would never be the same.
There is no replacing Jerry Remy. One person can't do it. No way.
And the fans know it.
The bosses at the NESN know it too. They haven't tried to replace Remy on the broadcasts with just one person. 
In fact, they've brought in several new people to the broadcast team. A group of people just rotating in, giving viewers a different experience and a different perspective every night. 
They've added former Red Sox players Kevin Youkilis and Kevin Millar to the broadcast booth roster. They've added Tony Massarotti of 98.5 The Sports Hub as well.
And in the pre- and post-game studio, they've taken a similar approach, which is an extension of previous years, mixing and matching host Tom Caron with a slew of former Red Sox players including Jim Rice, Tim Wakefield, Ellis Burks, Lenny DiNardo, and former Sox infielder Will Middlebrooks, who will be in the studio for about 40 games this season.
I think that NESN has found a formula that works. It's been fun and informative – and different. In a year that serves as a constant reminder of what's been lost as a viewer, it's refreshing to realize that these broadcast teams are giving you something gained.
A star is born.
When I mentioned to Caron that I wanted to write a piece on Middlebrooks, he said: "He's a rising star."
And it's easy to see why he feels that way.
Will Middlebrooks is young (33), accessible, opinionated, active on social media, and he has the playing resume to legitimize his point of view.
But it took some real coaxing to get into the business in the first place. After a devastating leg injury ended his playing career in 2019, Middlebrooks was unhappy.
"I sat around and sulked and was angry about it for about three months," he said. "And my wife, Jenny (Dell), finally said, 'You need to get off your butt and do something, find not just, work, but find something you're passionate about again.'"
He didn't know at that time that he was passionate about media work, but Dell, who works for CBS Sports, volunteered him to do a show at CBS Sports HQ in Ft. Lauderdale, near where their family resides.
"She said, like it or not, you have a show in three days. You're going to try it out, and if you're good at it, they're going to hire you," he recounts of their conversation. "I was like, I don't want to do it. I'm not ready to talk about baseball. I hate baseball right now. I just have such a bad taste in my mouth from everything that happened over the past year."
But that didn't deter Dell from pushing her husband to take the chance.
"She said, well, I don't care. I already told them that said you would do it," he says. "So she kind of threw me to the wolves, but for the best. And I went in and I gritted my teeth and just got it done and then talked baseball. I did it a couple of more times and they said, 'Hey, you're decent at this. We're going to hire you on for a year!" "And here we are, I'm four years into it," he joked.
And over those four years, Middlebrooks has ballooned into one of the most recognizable follows for baseball fans. In addition to working at NESN and CBS Sports, he's also one-half of the Wake and Rake podcast, has appeared on ESPN Radio, has done color commentary for college baseball, and has more than 155,000 Twitter followers.
Resonating with Boston
When I ask Middlebrooks about landing the NESN gig for 2022, he beams through the phone. He says he wanted the challenge of working in Boston and he welcomed the opportunity to expand his media footprint.
It's evident that he loves the Red Sox – and the city of Boston. How couldn't he? He made his Major League debut with the organization, played parts of three seasons with the team, won a World Series with the Sox, and met his wife in the city.
"If I was going to work for an organization or a regional sports network, why not the Red Sox, for someone that I'm actually a fan of?" he said. 
While it's clear that Will loves Boston, and it's clear why NESN loves him, what needs more unpacking is the attachment that the Red Sox fans have to him considering he spent just those three seasons there and doesn't live in New England full-time. 
Middlebrooks can't quite figure out why the people of the region hold him so close, but he does have a good hypothesis.
"I think that if I left anything, it was people saying, 'well, he played hard. He gave everything he had,' he said. "And I know that's really important in Boston, just the blue-collar mentality of 'keep your head down, work, play as hard as you can, even if things aren't going well, just bust your butt and be a good teammate and all that.'"
But there just may be something else at play.
"I think a lot maybe had to do with when the marathon bombings (2013) happened…I'm pretty outspoken on social media about that stuff and with my teammates, we all rallied around each other," he said. "I think I was just lucky enough to be a part of a team that was really special to everybody in Boston. So they embraced me after that."
The Family Dynamic
Dell has been in sports media for more than a decade as a host and sideline reporter for CBS and NESN before that. She knows the business and its nuances. She understands when and how to look at the camera and when and how to ask questions of athletes. She knows the expectations of her husband's current employers. She's undoubtedly a great resource to have.
But as Middlebrooks finds his own footing in the business, and as his star grows, what is that dynamic like? She has the answers to the tests already, but how does he balance using that resource versus figuring things out on his own?
"I'm very open to anything she has to say," he said. "I'll come out of my office, like, 'Hey, that was pretty good!' And she's like, 'Yeah, it was good…but…"
"She always has something, and at first it used to really annoy me, because I'm like, man, I thought I was doing really good," he said. "And she's like, 'No, you are doing good. I'm just trying to help you get to that next level. There are just little things here and there that you don't know.' And as a competitor, it's really frustrating. But you know, after a couple of minutes I walk away, I'm like, you know what? I'm really appreciative to have that access to someone that can help."
What's Next?
At such a young age with such already vast experiences, it seems plausible that even bigger media steps could be in play for the former infielder. I asked him if he has a goal he's working towards. Sunday Night Baseball? The MLB Network? Something else?
"One thing I've really learned is to not look too far down the road and kind of just live in the moment and enjoy the moment," he said. "I'm really happy with being with with CBS and with NESN, and within that umbrella, of course, I would like to grow. Does that mean in the booth? Does that mean more games pre and post? Sure I'm up for anything where they want me, because what I'm doing right now, I feel like is a dream job outside of playing and I'm so happy with it."
Middlebrooks has been on the NESN broadcasts all week and will continue through this weekend as the Red Sox host the Mariners in a four-game series.