Sports Must Ignore Trump, Continue To Purge Racism
"As the President tries to rally his white voting base amid America's racial upheaval, it's important that pig-headed team owners change insensitive nicknames and NASCAR reinforces its support for Bubba Wallace."
It always circles back to sports, doesn't it? Donald Trump dreamed of buying an NFL franchise, and if league owners had approved his 2014 bid for the Buffalo Bills, he'd be admonishing his fourth general manager and fifth head coach by now while ordering players to disregard COVID-19 and get their asses on the field.
He also wouldn't be President of the United States.
Damn, what were the owners thinking? Choose Trump, vote down Terry and Kim Pegula, and America is saved, right?
Six years later, Trump is trying to breathe oxygen into his gasping re-election hopes by turning to, yep, sports for ammunition. Rather than see empathy in the plight of Bubba Wallace, NASCAR's only African American driver, Trump claims the noose hanging in Wallace's garage at Talladega Superspeedway was "just another HOAX'' and bemoans the circuit's decision to ban the Confederate flag. "Has @BubbaWallace apologized to all of those great NASCAR drivers & officials who came to his aid, stood by his side, & were willing to sacrifice everything for him, only to find out that the whole thing was just another HOAX? That & Flag decision has caused lowest ratings EVER!" tweeted Trump, pulling another muscle in a typing finger that pounded the same message during Colin Kaepernick's kneeling protests.
No sooner did Wallace respond in kind on social media — "Love over hate every day. Love should come naturally as people are taught to hate. Even when it's HATE from the POTUS'' — than Trump had found another target: franchises that finally are changing racially insensitive nicknames. Landing a shot at a political rival, Sen. Elizabeth Warren, he wrote, "They name teams out of STRENGTH, not weakness, but now the Washington Redskins & Cleveland Indians, two fabled sports franchises, look like they are going to be changing their names in order to be politically correct. Indians, like Elizabeth Warren, must be very angry right now!''
All of which should be ignored, of course. Because if 2020 is the most disruptive and potentially devastating year of our lives — and a logistical disaster for sports, including the testing protocol screwups that threaten the restart of chronically inept Major League Baseball — this also is the year when sports attacked hatred with a purpose not previously evident.
Never usually means never, in particular when a boorish despot orders never to be used in capital letters. "We'll never change the name. It's that simple. NEVER — you can use caps,'' Daniel Snyder said seven years ago, referring to the nickname of his NFL team, the Redskins. But the outrage and flames of 2020 have melted away NEVER, even in the once-intractable domain of contentious sports names. As Trump continues to flout tensions that could make America explode again, Snyder represents a very unlikely source of — dare we suggest — hope?
The George Floyd horror itself might not have penetrated Snyder's closed mind. But it terrified millions who do business with FedEx, the title sponsor of the Redskins' stadium, and other prominent partners such as Nike and Pepsi. The shrinking of NEVER is a simple equation: consumers complain, CEOs react and pressure is applied on Snyder to either change the name or lose those companies as backers. And unlike 2013, when he made his flip comment to USA Today and prompted this response from then-President Barack Obama — "If I were the owner of the team and I knew that there was a name of my team, even if it had a storied history, that was offending a sizable group of people, I'd think about changing" — the new pressures aren't as political as they are financial. If Snyder wants to avoid a mass corporate boycott of his team, and if he wants a new stadium to have a lucrative sponsorship at the old RFK Stadium site in D.C., he finally must bury a nickname that is insulting to Native American culture and belongs nowhere near any respectful, 21st-century context.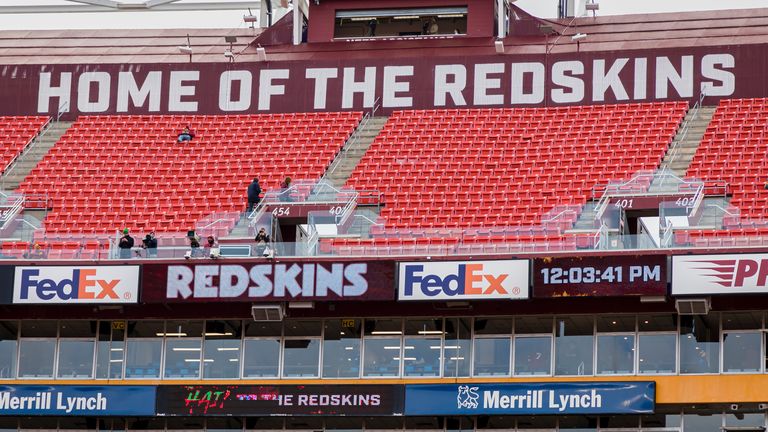 "We have communicated to the team in Washington our request that they change the team name,'' FedEx said in a statement.
Which, in turn, led to this: "In the last few weeks we have had ongoing discussions with Dan and we are supportive of this important step," said NFL commissioner Roger Goodell, who can't flip the switch to wokeness in a Black Lives Matter video and still allow Redskins as a nickname.
Which, in turn, will lead to a new name that will be offensive to no one, other than racists who aim to be offensive.
All walls won't be toppled. Still, eyes have been opened, monuments removed and, in sufficient time, slurs such as Redskins and Indians will be purged from the lexicon by owners who are not heroes but billionaire businessmen with clenched teeth. This always was a complex subject for me as a columnist in Chicago, where nicknames such as Blackhawks and Fighting Illini were hailed by the NHL franchise and University of Illinois as proud sobriquets that honored Native Americans — and most of their fans agreed. Now, maybe the same fans will put down their beers and think.
For decades, pro franchises with contentious names have looked the other way, impervious to heat and ultra-protective of valuations linked to tradition and market size. Much as Snyder is loathed, much as his team has been a bust through most of his 21 years as owner, the Redskins have been financial winners  — currently worth $3.1 billion, ranking 14th among the world's most valuable sports teams and fifth in NFL circles. But growth has flatlined as the Redskins struggle in their aging stadium, and Snyder needed a game-changer in his front office. I doubt he was shrewd enough to realize Ron Rivera might transform his life and his franchise's shaky standing in America when, in January, he hired Rivera as head coach. But even if he doesn't win much — and as long as Snyder is the owner, those fortunes likely won't improve — Rivera will be remembered as the pioneer who gave vision to a blind boss and urged him to sandblast the name.
Of Mexican and Puerto Rican descent, Rivera is the NFL's only Hispanic head coach and one of only four league head coaches of color. When the latest dump-Redskins avalanche came after Floyd's death, Snyder couldn't have had a better in-house ally than Rivera, the son of an Army officer who grew up on military bases. At his introductory news conference, he said the nickname issue "is of personal importance to me,'' adding that he looked forward to working with Snyder "to make sure we continue the mission of honoring and supporting Native Americans and our military.''
The breakthrough came Saturday, Independence Day, when Rivera told the Washington Post that he and Snyder have been hard at work on a new name. Ever think you'd read those words? "If we get it done in time for the season, it would be awesome,'' said Rivera, mentioning that he especially likes two possibilities.
Not that Snyder's house doesn't remain chaotic. Frederick Smith, the FedEx chairman who approved the letter demanding the name change, happens to be one of three minority Redskins owners who are tired of Snyder and trying to sell stakes. And why is Rivera, the coach, speaking to the media and collaborating with Snyder on a monumental reshaping of the team's image? Because the team doesn't have a football boss after the firing of president Bruce Allen. For all we know, Snyder will return from vacation — Bahamas and Europe, regardless of coronavirus — and have second thoughts about the nickname. But I doubt it, as even his friends are telling him it's time to evolve or devolve.
What's fascinating is how Rivera spent part of his formative years in the Washington metropolis and became a Redskins fan. He also loved the nickname. "It was hard to fathom that it was in any way a racist thing, to be honest with you," he told the Post. "Now, putting it in perspective, there's been a change. My eyes are wide open.''
Because the Indians are based in Cleveland and not immersed in the politics and media swarm of the nation's capital, their ownership group hasn't been scrutinized nationally like Snyder. Only last year did the team finally remove the stereotypical, cartoonish, red-faced Chief Wahoo from its uniforms and caps. Will the Indians, after 105 years, finally seek a new nickname? Or will they continue to bow to pressure from traditionalists and racists? This time, they sound real. "We are committed to engaging our community and appropriate stakeholders to determine the best path forward with regard to our team name,'' the team said in a statement.
Like Rivera, Cleveland manager Terry Francona is publicly lobbying for change from the people who pay his salary. When a fan of a team sees a popular skipper take a stand — and the team knows he's doing so — it sends a message that life is progressing at Progressive Field. "I think it's time to move forward,'' he said. "I know in the past when I've been asked, whether it's our name or the Chief Wahoo, I think I would usually answer and say I know that we're never trying to be disrespectful. And I still feel that way. But I don't think that's a good enough answer today.''
And like Rivera, who is 58, the 61-year-old Francona acknowledges his belief system needed a revision. "Even at my age, you don't want to be too old to learn or realize that maybe I've been ignorant of some things — and to be ashamed of it, and to try to be better,'' he said. "I'm glad we're going to be open to listening, because I think that's probably the most important thing right now, is being willing to listen, not necessarily just talk."
Just as Snyder says he has launched an "evaluation'' of the nickname and logo, the Indians say they are "examining'' the matter. Consider it an incremental pushing of a story to its inevitable, rightful end. Major League Baseball, mired in a diversity crisis on all levels, can't afford to dawdle. That also applies to the Atlanta Braves, who ditched their urban ballpark for white suburbia three years ago and still don't view their nickname and accompanying "tomahawk chop'' chant as offensive. Wasn't it just last October when Cardinals pitcher Ryan Helsley, a member of the Cherokee Nation, was critical of the chant? Before the next postseason game, the team didn't distribute the red foam tomahawks that fans have waved for decades in Georgia.
If they can take that step, the Braves certainly can embark on a more monumental social mission. For now, they say the team "honors, supports and values the Native American community. That will never change.''
So Braves and Blackhawks are still acceptable when Redskins and Indians are not? This is no time to prolong the justification game. When Dan Snyder can take a jackhammer to NEVER, anyone can. And should.
Jay Mariotti, called "the most impacting Chicago sportswriter of the past quarter-century,'' writes a weekly media column for Barrett Sports Media and regular sports columns for Substack while appearing on some of the 1,678,498 podcasts in production today. He's an accomplished columnist, TV panelist and radio talk host. Living in Los Angeles, he gravitated by osmosis to film projects. Compensation for this column is donated to the Chicago Sun-Times Charity Trust.
Jac Collinsworth Has Learned From The Best
"The way he would take all of the young people, myself included, under his wings. You couldn't get this anywhere else."
Jac Collinsworth got his first taste of Notre Dame football while watching his brother Austin play for the Fighting Irish. There was his brother playing on special teams and getting a chance to return kicks.
"I remember sitting in the stands for his first football game inside Notre Dame Stadium thinking this is the coolest thing I've been a part of," said Collinsworth. "The history of this building and my brother is out there in a Notre Dame jersey."
Not only did Jac eventually go to Notre Dame as well, but he just completed his first season as the play-by-play voice for Notre Dame Football on NBC. As a student, Jac was part of the NBC sideline production team during his four-year education at South Bend from 2013 to 2017 and he was the sideline reporter for the NBC broadcast of the Blue/Gold spring game in 2016 and 2017.
"To work on the broadcasts for four years — as an intern really — with Alex Flanagan and then with Kathryn Tappen for three years down there on the sideline and being in all those production meetings, it was such an invaluable piece of the journey for me."
And now, the 27-year-old is the television voice of the Fighting Irish.
"To see it all come full circle and be up there in the booth, it was really a special experience every single game," said Collinsworth.
After graduating from Notre Dame, Collinsworth joined ESPN where he was a correspondent for NFL Live and Sunday NFL Countdown while also hosting the ESPN-owned ACC Network's football show The Huddle.
Jac then returned to NBC in 2020 and was part of the Notre Dame telecasts during the pregame show and halftime show for two seasons. Collinsworth had the opportunity to learn under veteran play-by-play voice Mike Tirico, especially during the production meetings.
Tirico became a mentor to Collinsworth.
"I felt like I was getting a graduate degree watching him handle those meetings," said Collinsworth. "The way he would take all of the young people, myself included, under his wings. You couldn't get this anywhere else. To be able to do that for two years and still have him as a close friend and somebody I can text…I text with him before every single game."
Another huge mentor to Collinsworth has been the legendary Al Michaels, the former play-by-play voice for Sunday Night Football who is now calling the Thursday night package for Amazon.
"I talk to him all the time," said Collinsworth. "I've had dinner with him. He invites me out to play golf. We just get on the phone and spent 45 minutes just breaking down everything. Every time that phone rings I don't care what I'm in the middle of, I walk outside and I take that call."
Collinsworth, the son of former Bengals wide receiver and current NFL Sunday Night Football analyst Cris Collinsworth, first felt the broadcasting itch growing up in Ft. Thomas, Kentucky. It goes without saying that his father was a huge influence, but Jac remembers when Highlands High School was being renovated when he was in 7th and 8th grade.
The first part of the renovation was a brand-new broadcast facility.
"It was a studio that had these amazing cameras, a desk, lights and two sets," recalled Collinsworth. "To this day, I've never seen a high school setup…I mean this is better than most college setups…a state of-the-art facility."
The class was called "Introduction to Filmmaking" and Collinsworth started out wanted to be a cameraman.
"I became obsessed with running around the school and filming all this stuff whatever students were doing," said Collinsworth.
From there, Jac gained experience in editing and producing but deep down inside he thought he wanted to be a cameraman…that was until his first taste of on-air experience.
"They started a rotation where everybody in the class had to try hosting the announcements live right before the final period of the day," said Collinsworth.
And the rest is history.
An important part of Jac's growth as a play-by-play announcer came last spring working NBC's coverage of the United States Football League. Paired with Jason Garrett, Collinsworth was able to continue the learning process before taking over the Notre Dame duties. He appreciated the fact that these were really good football players that were among the best players on their college teams and could very well be in the NFL.
And just like for the players, the USFL was an opportunity for Jac to get better at his craft.
"Just continuing to learn the art form of calling a game," said Collinsworth. "The timing and getting out of the way sometimes and letting the broadcast breathe and rising for those big moments."
An incredibly big moment for Jac would be if the opportunity to work a game with his father ever presented himself. It's something that he's thought about and would love to see come to fruition somewhere down the road.
But if that happens, there could be a problem for the viewers.
"Would anybody be able to tell who is talking?" joked Jac.
Jac and his father sound so much alike it's scary. In fact, during our twenty-minute phone conversation, I really had to pay attention to listen for any discernable difference between Jac and his dad and it was very hard to find any.
But it would still be fascinating to hear them work together.
"I think it would be a very cool experience," said Jac. "We would have so much chemistry that it would be a crazy experience. I would love to do it. I'd be getting out of his way and let him make points and I wouldn't be afraid to take a couple of shots at him. I think it would be damn entertaining."
While their on-air roles are different, Jac has been able to learn a lot about broadcasting from his father. While he does — for the most part — give his son some space when it comes to work, Cris leaves Jac a note prior to each broadcast, mainly has it pertains to a specific aspect of a telecast like coming back from a break or the flow of a telecast.
But there's one valuable lesson that Jac learned from his dad years ago that he has adopted for himself.
"Probably the biggest thing I've learned from him is, he is a worker man," said Collinsworth. "He just works at this stuff."
Jac would constantly see his father going through film at various hours during the day, but Cris would still pay close attention to his son's studies at school and would let Jac know about it if he saw something wasn't right.
Like when Jac would be having some difficulty with a math assignment.
"I'm like 'Dad, this is calculus, I can't figure out how to do this equation'," said Jac. "He would put that clicker down and come up and he would be deep in the math book going through the chapters learning all this calculus that he hasn't done in 40 years. I'd come down at six in the morning and he'd still be flipping through the math book while I'm eating breakfast and he's teaching me the lesson to make sure I got it for the quiz.
"That's how he was…just the work element is the biggest thing that I still use every day and I definitely got it from him."
Aside from his football duties, Collinsworth has also been a NASCAR studio analyst for NBC and he's also been the voice of Atlantic Ten Men's Basketball and the Atlantic Ten Tournament. There's something to be said for getting experience in multiple sports because each sport has its own pace and its own flow.
Some play-by-play voices specialize in one sport and some can handle multiple assignments. In Jac's case, there's one sport that stand above all the others.
"The rhythm, feel and flow of a football game is my favorite," said Collinsworth. "Football has always been my first love and grew up around it. Basketball happens fast not to mention you're on the court and you're right there in the middle of it. I've called baseball games too and that's a very slow game."
Jac Collinsworth is still very early in his broadcasting career but he has great talent and he's been rewarded with some amazing opportunities like Notre Dame Football and being part of NBC's NFL coverage.
But he knows that he's had some help along the way and he's very grateful for it.
"I feel like I'm living out a dream and I feel like I'm standing on a lot of people's shoulders that helped me get there," said Collinsworth. "I think about a lot of people who didn't need to but chose to help me when I was a kid. I feel like I have a great responsibility to take that advice and take it as far as I can and that's what I'm trying to do."
And it all started with a high school television studio and his willingness to try all different aspects of the business.
Peter Schwartz has been involved in New York sports media for over three decades. Along the way he has worked for notable brands such as WFAN, CBS Sports Radio, WCBS 880, ESPN New York, and FOX News Radio. He has also worked as a play by play announcer for the New Yok Riptide, New York Dragons, New York Hitmen, Varsity Media and the Long Island Sports Network. You can find him on Twitter @SchwartzSports or email him at DragonsRadio@aol.com.
Chris Kinard Has 106.7 The Fan, The Team 980 Primed For Continued Success
"Coming right out of the books and beating our direct competitor in the first month will always be something I'm proud of."
When Jim Riggleman resigned as manager of the Washington Nationals in June 2011, it was the first time Chris Kinard thought the fanbase cared about the team.
Riggleman wanted the Nationals to pick up the option on his contract and effectively remove the "interim" tag from his job description, and once they declined to do so, he essentially packed up and left.
From the time he was young, Chris Kinard was interested in media, and he had early exposure in the industry since his uncle Lee worked as a television news anchor in Greensboro, N.C. The elder Kinard was the pioneer of the Good Morning Show on WFMY News 2 and was honored with the dedication of the main studio in his honor from where he worked since 1956.
By the time he was in fifth grade, Chris Kinard began listening to radio and realizing it may be a viable career path for him to pursue. He shadowed his uncle in 1996 to learn about news media and television broadcasting; however, he gravitated towards working in radio in part because of WJFK-FM, and had an affinity towards professional sports.
"A local morning show here in D.C. on a top 40 station was kind of my entry point," Kinard said. "I listened to that show actually when it moved over to WJFK for years in middle school and high school."
At the time, WJFK-FM was broadcasting in the talk format and was among the network of stations syndicating The Howard Stern Show and other programming targeted towards the male 25-54 demographic. Kinard was an avid listener of the station, tuning in to its programming for several hours a day over the course of many years.
Today, it is known as 106.7 The Fan and it is managed, along with Audacy's cluster of radio stations by Kinard himself. He was responsible for flipping the station's format from talk to sports in 2009 and has helped cement the brand as dominant in the ratings.
"Flipping the station to sports will always be a bittersweet thing for me," Kinard said. "I grew up with the station [in] the previous format and I took a lot of pride in what we were doing at the time, but I think we launched with great success. Coming right out of the books and beating our direct competitor in the first month will always be something I'm proud of."
During his freshman year at American University, he got word that The Sports Junkies were making a public appearance a few minutes away from his childhood home. Additionally, he found out the show was looking for people to volunteer to serve as interns, an opportunity he knew was simply too good to pass up.
Inherently shy, Kinard introduced himself with the hopes of landing an internship at WJFK-FM. A few weeks later, he received a phone call informing him that he was selected to work as an intern, a surreal opportunity for him to begin working in sports media. Little did he know he would still be working at the station, albeit in a more substantial role, 25 years later.
"When it started and when I was actually in the building and seeing the behind the scenes, I was kind of in awe," Kinard said. "….I had no idea what I was doing really except that I really wanted to be there and couldn't believe that I was and wanted to soak it all in."
Three months later, one of the show's producers who largely acted as a call screener left the station to pursue another opportunity in media. As a result, there was a gap to be filled, and since Kinard had been diligent and responsible as an intern, he was hired part-time to take over the role. At the conclusion of his sophomore year in college, he was hired full-time as the producer of The Sports Junkies – a development in his career he calls "fortuitous" initially difficult to foresee balancing with two years remaining to earn his undergraduate degree.
"It was a really kind of interesting conversation with my parents about whether to do it or not and how it would impact my schoolwork and that kind of thing," Kinard said. "I just was determined to take that opportunity; I knew how scarce they were I guess just by seeing people who had been at the station and working part-time [for] several years who had left because they couldn't get a full-time position."
By the time he was in his junior and senior years, Kinard had valuable professional experience from working at WJFK-FM and also interning at the local ABC affiliate station. Although he participated in some of the student-run media outlets at the school, his mindset was to prioritize what he was doing off campus.
"I'm not sure that I actually got a lot out of college to be honest with you because I was doing it outside of school already just by kind of virtue of connections," Kinard said. "Being in Washington, D.C. and all the opportunities that are available here, [that was] really… my focus more than anything else."
During his first year as show producer, The Sports Junkies became nationally syndicated on Westwood One Radio and was achieving notoriety and high ratings within the marketplace. The show is hosted by four childhood best friends – John Auville, Eric Bickel, Jason Bishop, and John-Paul Flaim – who began the program on public access television in Bowie, Maryland before joining WJFK-FM as evening hosts in 1996. None of them had any formal broadcast training, instead utilizing their indelible chemistry and local background to auspiciously impact sports media.
"They're very authentic," Kinard expressed. "I think when people hear them, they can relate to them. They sound like every guy's group of friends sound when you get together. I think they sound like our city; they sound like sports fans in Washington over the last 30 years."
All four co-hosts recently inked four-year contract extensions to keep The Sports Junkies on 106.7 The Fan, officially putting pen to paper together in studio earlier this month.
Since 2016, The Sports Junkies has been simulcast on NBC Sports Washington, and although listeners now have the ability to add a visual component to their experience, it did not change how any of the co-hosts approach the job. From the beginning, there was a mutual understanding that the show would still operate in the same way with the cameras serving the purpose of pulling back the metaphorical curtain.
"It is really a fast-paced show in terms of the camera switching and the direction of it because there's four guys, so I think this show translates really well," Kinard said. "There's a lot going on because there are four hosts, not just two talking heads. There's also two producers that chime in a lot. There's a lot of movement, I think, within the show because of just how dynamic of a cast it is."
Since its official shift to the sports talk format in 2009, 106.7 The Fan had primarily competed with The Team 980 to try to win in the ratings. In November 2020, Audacy, officially agreed to acquire various stations across the United States owned by Urban One, including The Team 980, effectively ending that competition. Part of Kinard's job is to oversee both sports talk stations, which now compete with ESPN 630 DC.
"We have some really talented staff," Kinard said. "I'm not sure we've ever had more talent under one roof than we have now. Having two stations in my market allows me to groom new people and give people opportunities quicker than I could with just one station."
Moreover, he helped launch 1580 The Bet, a radio station broadcasting in the growing sports gambling format in partnership with the BetQL Audio Network and CBS Sports Radio. Its creation coincided with a nationwide effort by Audacy to better utilize certain signals to their full potential, and with the proliferation and legalization of sports betting in select states across the country, many of them flipped to this format.
"I think it was important to have the BetQL Network represented in Washington at a high level because of the proximity to the MGM National Harbor, which is just kind of 15 minutes away from the radio station," Kinard said. "[It is] on a signal that, in the past, had not been a big ratings play, so that was a great opportunity to just kind of own sports in Washington – to have 106.7 The Fan; The Team 980; and 1580 The Bet all under one umbrella."
A compelling draw to sports radio is live game broadcasts, and as brand manager of Audacy DC, Kinard is responsible for maintaining 106.7 The Fan's relationship with the Washington Capitals and Washington Nationals. When the teams are doing well, it usually results in better metrics for the station.
"There's a huge correlation between winning and listenership and also advertiser interest," Kinard said. "There's a segment of the fanbase, I think, that thinks that local sports radio roots against the teams. It's not that we root for the teams necessarily, but if you ask any host probably on any radio station in America whether it's better for their individual show's success and their overall station success if the teams are successful, I think everyone's going to say it's way better."
Prior to the start of this NFL season, Audacy DC parted ways with the Washington Commanders due to a disagreement regarding "the value of the broadcasts." The Team 980 was previously owned by the Washington Commanders franchise itself and had been the flagship station of the team for several years through its sale to Urban One in 2019. The Fan had not had the radio broadcast rights to the Commanders since 2006 before it was broadcasting in the sports talk format, hence why The Sports Junkies co-host Eric Bickel stated that the station had had no relationship with the team for two decades.
Since the Commanders officially entered into a new partnership with iHeartRadio, its flagship station has been BIG 100, which airs a classic rock format. Consequently, The Team 980 had the opportunity to change its on-air strategy, airing five hours of pregame coverage every week followed by extensive postgame coverage. During the games themselves, the station has broadcast Burgundy & Gold Gameday Live, a show that has had stellar listenership thus far.
"I think play-by-play rights are really important and do have a ton of value, but only if it's done in a way where there's partnership on both sides but also an understanding on both sides that the team has a job to do and the radio station has a job to do," Kinard expressed. "Our focus is just to continue to provide great talk and coverage of the teams."
As media continues to evolve with changes in technology and consumption habits, Kinard remains optimistic about the future because of the influx of new talent and the leadership at Audacy.
"We have just a wealth of talent and content, and I think that content will cut through no matter what's going on with technology," he said. "I think that we will continue to push to make sure that we are on the platforms that we need to be on and that we own that content and can monetize it for the future. I don't know how anyone could compete with that, so I'm really excited about it."
Kinard's vertical movement in the industry might not have been possible without finding a mentor in Michael Hughes, the station's general manager. Over the years working in the industry, Kinard grasped that managers are often not thinking about the needs and wants of individuals because of the myriad of responsibilities they are juggling related to the entity as a whole over any given period of time.
As a result, it is essential for subordinates to communicate with their superiors, as they are "at the mercy of the communication [they] receive," according to Kinard.
"I had a conversation with him about… wanting to be a program director," Kinard said of Hughes. "I think he took that seriously and took that to heart and he said, 'Well, let me help you be prepared for that when the time might come.' It just so happened that it came less than a year later."
Derek Futterman is a features reporter for Barrett Sports Media. In addition, he serves as the production manager for the New York Islanders Radio Network and lead sports producer at NY2C. He has also worked on live game broadcasts for the Long Island Nets and New York Riptide. He previously interned for Paramount within Showtime Networks and wrote for The Long Island Herald. To get in touch, find him on Twitter @derekfutterman.
Pete Thamel Was ESPN's College Football Missing Link
His no-frills approach is refreshing in a time when many "insiders" view being as famous as the athletes they cover as a quasi-goal for their futures.
For a network often accused of "running" college football, it always seemed odd to me that ESPN never had that true news-breaking reporter it had for other sports. That is, until it hired Pete Thamel in January of this year.
ESPN poured resources into "insiders" like Adam Schefter, Adrian Wojnarowski, and Jeff Passan while it poured rights fees into the SEC, Big 12, Pac-12, ACC, and the College Football Playoff, but from the outside, it looked as if the network just wasn't interested in having that same type of reporting for college football, which is truly puzzling.
When the entire postseason of the country's arguably second favorite sport is centered around what is best for your television channel, you would think supplementing it with high level, national reporting would be a priority.
Maybe the right deals never came to fruition or maybe the value just wasn't seen by the network until Thamel became available, but his contributions to ESPN's college football coverage have been immeasurable.
In a day and age where reporters break news on Twitter and get around to eventually writing a story for their outlet's website, Thamel flexed his reporting chops in a major way on Sunday. While the rest of the college football world was still pondering whether Ohio State should consider firing Ryan Day, Thamel dropped a bomb on the sport's landscape by revealing Wisconsin had hired Cincinnati head coach Luke Fickell to run their program. His initial tweet was accompanied by a link to ESPN's website with further details about the move.
Pete Thamel was so convinced he was the first and potentially only person working on that ever-changing breaking news story, that he took the time to write the story, submit it through ESPN's editorial staff, and then release the news before anyone else. In 2022, that's the equivalent of mailing his story from side of the country to the other in order to break news. And yet, he was so far ahead of the game that he was able to take his time, gather his facts, and report an accurate, succinct story that would be of value to him and his network. What a novel concept.
One of Thamel's best qualities as an "insider" is he — thus far — hasn't been plagued by questions that have been a factor in the perception like his ESPN counterparts. Schefter, Wojnarowski, and Passan have each faced their own incidents during their time as the lead reporters for ESPN but Thamel, in my opinion, is unlikely to be pulled into those scenarios. It seems clear Thamel doesn't release things for the benefit of anyone other than himself and the outlet he works for.
He doesn't seem to be swayed by agents, athletic directors, coaches, boosters, or anyone else with skin in the game. His no-frills approach is refreshing in a time when many "insiders" view being as famous as the athletes they cover as a quasi-goal for their futures.
Last week, College GameDay host Rece Davis noted on the show's podcast that Thamel brought "something to GameDay that GameDay's desperately needed for years", and he's right. Not only did ESPN need a news breaker for it's digital outlets, but it needed that presence on its pregame show.
And when you think about it, nearly ever other pregame show has that role filled. Schefter and Chris Mortensen hold that role for ESPN's NFL coverage, FOX Sports has Jay Glazer in its NFL pregame show and Bruce Feldman for Big Noon Kickoff. It's just an area ESPN lacked.
But they made a fantastic hire by bringing Thamel aboard, and his reporting will serve the worldwide leader well over the course of the following weeks as the college coaching carousel heats up.
Garrett Searight is the Editor of Barrett Sports Media and Barrett News Media. He previously was the Program Director and Afternoon Co-Host on 93.1 The Fan in Lima, OH. He is also a play-by-play announcer for TV and Radio broadcasts in Western Ohio.