Risking Tragedy, MLB Must Cancel An Infected Season
"With the Marlins and other teams already impacted by the coronavirus, it's time to end baseball's ill-fated, non-Bubble experiment and end a shortened season before human lives are threatened."
When they tell the story of baseball's demise in Americana — a movie that will last three hours and 37 minutes even with speed-up mandates — the final blow might be the summer of 2020. That's when the powers-that-be restarted a season, recklessly and dangerously, in a raging pandemic.
No rigid isolation. No medically sealed bio-Bubble like the smart NBA people. Nah, just the same bullheaded idiocy that has plagued the industry for decades.
This is a rerun of how the U.S. government botched its response to the coronavirus crisis: wealth over health, pretend like you know what you're doing when you don't, then fail miserably and historically. And why would anyone at all be surprised? As it is, the owners and so-called commissioner have allowed Major League Baseball, once dignified and thriving, to devolve into clumsy and dawdling irrelevance. Who of right mind held faith they'd pull off this lunacy without immediate COVID-19 attacks?
Only days into a shortened MLB season that never should have been attempted, the pandemic has caused predictable chaos. A virus breakout involving at least 14 players and staff members has paralyzed the Miami Marlins, leaving hundreds of big-leaguers and their families to ask in a panic state, "Are we next?'' And yet, during a conference call Monday, owners refused to consider cancelling the season, instead continuing to play Russian roulette with a virus that is openly laughing at them and ready to create more havoc.
As usual, MLB is taking a devil-may-care attitude. Let the games go on so the Brinks trucks can make their deliveries to teams and TV networks. Miami's first two home games were postponed, along with a game between the Phillies and New York Yankees in Philadelphia, where the Marlins think they contracted the virus — unless they caught it in South Florida, a virus hotspot thanks to legions of COVID-iots in that state, or perhaps in Atlanta, where they played an exhibition game last Wednesday and where Freddie Freeman, the Braves' star first baseman, prayed for his life after his virus-triggered fever rose to 104.5 degrees. The next day, one of the sport's young cornerstones, Juan Soto, tested positive, further darkening Opening Night for a Washington Nationals team that couldn't celebrate its first World Series title. Since then, the Cincinnati Reds had to send two regulars home after another tested positive.
There you have it, a wildfire in just five days, as predicted here.
And through those virus flames, MLB still is going to play ball.
"I'm going to be honest with you, I'm scared. My level of concern went from an eight to a 12,'' said Nationals manager Dave Martinez, who has an underlying health condition — cardiac surgery last fall — and doesn't want his team traveling to a scheduled series in Miami starting Friday.
Do the quarantine math. Check the schedules. Count how many weeks and months are left until the postseason. When infectious disease experts haven't even begun to weaken the fury of the coronavirus, tell me, how is a corporate weakling such as Rob Manfred going to win this Whack-a-Mole game? Kanye West has a better chance of becoming President than MLB has of denting the virus, much less surviving it until late October. Already, the competitive integrity of a shotgun season — 60 games in 66 days — is in shambles.
So what is the point of even trying to continue a futile exercise? Please call off this debacle — NOW —  before a rapid procession of players, older managers and coaches, support staff members and their loved ones follow the Marlins in falling ill and spreading the virus in communities. Manfred and his predecessor as commissioner, Bud Selig, have made regrettable decisions amid baseball's free-fall since the early '90s. Trying to recoup $4 billion with a 60-game regular season and expanded playoffs, as the virus continues to hospitalize and kill victims throughout America and Planet Earth, is the worst decision yet. Manfred and the owners, in protective bunkers with their accountants, are risking the lives of young people — mere employees, in their eyes — and asking them try to save the game the owners screwed up. This after trying to gouge the Players Association with a second pay cut during a preseason labor battle that America was in no mood to watch. If the owners continue to push the virus envelope and plod on, they risk venturing into criminal territory.
What if someone dies because a baseball season was played?
Have the owners even thought about it? What if there is a mass player revolt, starting with the sport's current face, Mike Trout, whose wife is expecting their first child next week?
"Now we REALLY get to see if MLB is going to put players health first,'' tweeted pitcher David Price, who opted out of his season with the Los Angeles Dodgers to protect his family from the virus. "Remember when Manfred said players health was PARAMOUNT?! Part of the reason I'm at home right now is because players health wasn't being put first. I can see that hasn't changed.''
Health experts agree with Price. `This is off-the-charts bad,'' leading epidemiologist Zachary Binney, a frequent critic of sport's return to live events, told the Washington Post. "MLB should probably shut the Marlins down for two weeks, shut the Phillies down for five days and … hope there isn't a broader problem.''
Continuing on Twitter, Binney wrote, "This is absolutely insane … if possible, the literal stupidest possible plan. You have a raging outbreak, anyone in the Marlins traveling party could be infected regardless of how their tests come back. So by all means, just bring that on the road to Baltimore!"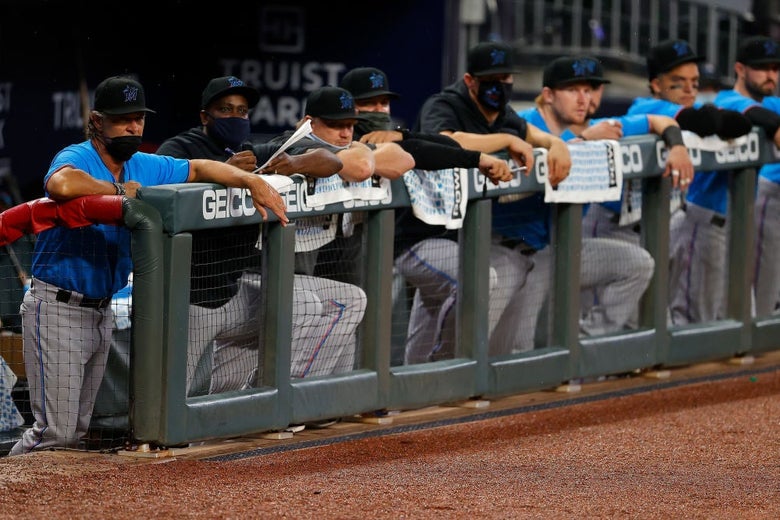 A shutdown? No chance, Zach. As of now, the Marlins are headed to Baltimore, where, even if they barely can field a lineup with players still in quarantine, they are expected to play Wednesday and Thursday against an Orioles team that now must worry about infections. Anyone expecting to hear from Manfred, who loves to hide from public view in difficult times, instead got a statement from MLB:
"The members of the Marlins' traveling party are self-quarantining in place while awaiting the outcome of those results. Major League Baseball has been coordinating with the Major League Baseball Players Association; the Marlins; the Orioles; the Marlins' weekend opponent, the Phillies; and Club medical staffs, and will continue to provide updates as appropriate."
Meanwhile, other teams are being sized up by COVID-19, which is licking its chops, ready to pounce in clubhouses across a diseased land. "I don't believe there is going to be any panic,'' Dodgers president Stan Kasten said on Sirius XM, speaking from a state, California, that has been ravaged by the virus. "My understanding from talking with other teams is that it's business as usual at least for every other team.''
Good luck to all. "Guys are talking. There's heightened awareness,'' said Oakland A's manager Bob Melvin, "because what everybody was hoping didn't happen, did. … We'll see if it gets worse''
When word came Sunday that four Marlins players — including the day's starting pitcher, Jose Urena — had tested positive, MLB should have shut down the game. There was no thought of that, not even from within the Marlins themselves, with veteran manager Don Mattingly saying, "We never really considered not playing.'' Donnie Baseball, obviously, is not Donnie Infectious Disease Expert. He should have known better, lamenting days earlier how his team's dugout was "a mess'' during a rain delay in Atlanta. "We had all these guys and nowhere to go,'' he said. "Then we've got a zillion guys in the dugout, so there's no way we're social distancing.''
And every way to spread a virus. Yet, no one thought about not playing a game when four players already were sick? "That was never our mentality,'' said Miami shortstop and team leader Miguel Rojas, who said players made the call during — gulp — a group text. "We knew this could happen at some point. We came to the ballpark ready to play.''
No longer is that a prudent, advisable strategy. "The health of our players and staff has been and will continue to be our primary focus as we navigate through these unchartered waters," said Marlins CEO Derek Jeter, whose stewardship continues to trend in the opposite direction of his epic playing career. "Postponing (two home games) was the correct decision to ensure we take a collective pause and try to properly grasp the totality of this situation.''
The totality is this: Everybody, go home.
All of which should serve as stark cautionary warnings for the NFL and college football, which should not be proceeding with seasons. Without a Bubble, football risks the same frightening outbreaks as baseball at only a higher rate, given the absence of physical distancing on scrimmage lines and larger roster sizes in locker rooms and on road trips. Roger Goodell is the commissioner, trying to save $15 billion for the owners this season, but the most sound leadership thoughts are coming from players such as New England Patriots cornerback Jason McCourty, who said on a podcast, "I'm not going to lie. For me as a fellow player, I go on social media and it makes me very nervous to think there will be a season. I've seen guys posting a video in a nightclub, and it's just like, `Yo, we're attempting to play football. That's not going to be OK.' You see guys working out in one city on a Monday, working out in another city on a Tuesday, and another city the next week, and it's just like, `Dang, if they're working out here, here and here, that means you have to be traveling and you come across however many people.' Or you see a guy posting pictures and there's hundreds of (people), whether it's anywhere. So for me, it is nerve-wracking."
He surely speaks for football players everywhere, including those in college, where the help isn't paid but the university presidents and head coaches are making heavenly salaries. I mean, when the infection control officer of Minnesota Vikings tests positive for the virus, what does that say about football's chances? McCourty saw the Marlins' outbreak and said, "Those are the things that for me, make it nervous to say, `Are we going to be able to have an entire season?' Because of small things like that that go a long way … it only takes one person testing positive, you come into the building, and that thing will spread like wildfire.''
MLB considered playing in a Bubble, in Arizona, until the governor got cocky and allowed the state to become a hotspot. So, without thinking much, Manfred figured 30 teams could play games in 27 home markets — many still crushed by massive infection spikes — and that everyone would safely head back to their homes and hotel rooms after spending days and nights at ballparks. How mindless can one be? As Mattingly said, "It's a lot scarier on the road,'' where players in their 20s and 30s aren't too eager to follow strict protocols.
"To me, if there was a breach of protocol by any of those players, then it's more easily explainable,'' Los Angeles Angels manager Joe Maddon said of the Marlins. "If not, then it becomes more problematic.''
Never forget that any scenario is possible in a pandemic, including a complete crash throughout sports. But the NBA does have a chance, fair to middling, of successfully finishing its season in a controlled environment. So does the NHL. So does the WNBA. So does Major League Soccer.
Barring a miracle, MLB will be the first league to try and fail, throwing a wild pitch amid the wildest of fires. The only question is whether Manfred will get off the mound before his farcical season turns tragic.
Being Wrong On-Air Isn't A Bad Thing
…if you feel yourself getting uncomfortable over the fact that you were wrong, stop to realize that's your pride talking. Your ego. And if people call you out for being wrong, it's actually a good sign.
In the press conference after the Warriors won their fourth NBA title in eight years, Steph Curry referenced a very specific gesture from a very specific episode of Get Up that aired in August 2021.
"Clearly remember some experts and talking heads putting up the big zero," Curry said, then holding up a hollowed fist to one eye, looking through it as if it were a telescope.
"How many championships we would have going forward because of everything we went through."
Yep, Kendrick Perkins and Domonique Foxworth each predicted the Warriors wouldn't win a single title over the course of the four-year extension Curry had just signed. The Warriors won the NBA title and guess what? Curry gets to gloat.
The funny part to me was the people who felt Perkins or Foxworth should be mad or embarrassed. Why? Because they were wrong?
That's part of the game. If you're a host or analyst who is never wrong in a prediction, it's more likely that you're excruciatingly boring than exceedingly smart. Being wrong is not necessarily fun, but it's not a bad thing in this business.
You shouldn't try to be wrong, but you shouldn't be afraid of it, either. And if you are wrong, own it. Hold your L as I've heard the kids say. Don't try to minimize it or explain it or try to point out how many other people are wrong, too. Do what Kendrick Perkins did on Get Up the day after the Warriors won the title.
"When they go on to win it, guess what?" He said, sitting next to Mike Greenberg. "You have to eat that."
Do not do what Perkins did later that morning on First Take.
Perkins: "I come on here and it's cool, right? Y'all can pull up Perk receipts and things to that nature. And then you give other people a pass like J-Will."
Jason Williams: "I don't get passes on this show."
Perkins: "You had to, you had a receipt, too, because me and you both picked the Memphis Grizzlies to beat the Golden State Warriors, but I'm OK with that. I'm OK with that. Go ahead Stephen A. I know you're about to have fun and do your thing. Go ahead."
Stephen A. Smith: "First of all, I'm going to get serious for a second with the both of you, especially you, Perk, and I want to tell you something right now. Let me throw myself on Front Street, we can sit up there and make fun of me. You know how many damn Finals predictions I got wrong? I don't give a damn. I mean, I got a whole bunch of them wrong. Ain't no reason to come on the air and defend yourself. Perk, listen man. You were wrong. And we making fun, and Steph Curry making fun of you. You laugh at that my brother. He got you today. That's all. He got you today."
It's absolutely great advice, and if you feel yourself getting uncomfortable over the fact that you were wrong, stop to realize that's your pride talking. Your ego. And if people call you out for being wrong, it's actually a good sign. It means they're not just listening, but holding on to what you say. You matter. Don't ruin that by getting defensive and testy.
WORTH EVERY PENNY
I did a double-take when I saw Chris Russo's list of the greatest QB-TE combinations ever on Wednesday and this was before I ever got to Tom Brady-to-Rob Gronkowski listed at No. 5. It was actually No. 4 that stopped me cold: Starr-Kramer.
My first thought: Jerry Kramer didn't play tight end.
My second thought: I must be unaware of this really good tight end from the Lombardi-era Packers.
After further review, I don't think that's necessarily true, either. Ron Kramer did play for the Lombardi-era Packers, and he was a good player. He caught 14 scoring passes in a three-year stretch where he really mattered, but he failed to catch a single touchdown pass in six of the 10 NFL seasons he played. He was named first-team All-Pro once and finished his career with 229 receptions.
Now this is not the only reason that this is an absolutely terrible list. It is the most egregious, however. Bart Starr and Kramer are not among the 25 top QB-TE combinations in NFL history let alone the top five. And if you're to believe Russo's list, eighty percent of the top tandems played in the NFL in the 30-year window from 1958 to 1987 with only one tandem from the past 30 years meriting inclusion when this is the era in which tight end production has steadily climbed.
Then I found out that Russo is making $10,000 per appearance on "First Take."
My first thought: You don't have to pay that much to get a 60-something white guy to grossly exaggerate how great stuff used to be.
My second thought: That might be the best $10,000 ESPN has ever spent.
Once a week, Russo comes on and draws a reaction out of a younger demographic by playing a good-natured version of Dana Carvey's Grumpy Old Man. Russo groans to JJ Redick about the lack of fundamental basketball skills in today's game or he proclaims the majesty of a tight end-quarterback pairing that was among the top five in its decade, but doesn't sniff the top five of all-time.
And guess what? It works. Redick rolls his eyes, asks Russo which game he's watching, and on Wednesday he got me to spend a good 25 minutes looking up statistics for some Packers tight end I'd never heard of. Not satisfied with that, I then moved on to determine Russo's biggest omission from the list, which I've concluded is Philip Rivers and Antonio Gates, who connected for 89 touchdowns over 15 seasons, which is only 73 more touchdowns than Kramer scored in his career. John Elway and Shannon Sharpe should be on there, too.
Money Isn't The Key Reason Why Sellers Sell Sports Radio
I started selling sports radio because I enjoyed working with clients who loved sports, our station, and wanted to reach fans with our commercials and promotions.
A radio salesperson's value being purely tied to money is overrated to me. Our managers all believe that our main motivation for selling radio is to make more money. They see no problem in asking us to sell more in various ways because it increases our paycheck. We are offered more money to sell digital, NTR, to sell another station in the cluster, weekend remotes, new direct business, or via the phone in 8 hours.
But is that why you sell sports radio?
In 2022, the Top 10 highest paying sales jobs are all in technology. Not a media company among them. You could argue that if it were all about making money, we should quit and work in tech. Famous bank robber Willie Sutton was asked why he robbed twenty banks over twenty years. He reportedly said," that's where the money is". Sutton is the classic example of a person who wanted what money could provide and was willing to do whatever it took to get it, BUT he also admitted he liked robbing banks and felt alive. So, Sutton didn't do it just for the money.
A salesperson's relationship with money and prestige is also at the center of the play Death of a Salesman. Willy Loman is an aging and failing salesman who decides he is worth more dead than alive and kills himself in an auto accident giving his family the death benefit from his life insurance policy. Loman wasn't working for the money. He wanted the prestige of what money could buy for himself and his family. 
Recently, I met a woman who spent twelve years selling radio from 1999-2011. I asked her why she left her senior sales job. She said she didn't like the changes in the industry. Consolidation was at its peak, and most salespeople were asked to do more with less help. She described her radio sales job as one with "golden handcuffs". The station paid her too much money to quit even though she hated the job. She finally quit. The job wasn't worth the money to her.
I started selling sports radio because I enjoyed working with clients who loved sports, our station, and wanted to reach fans with our commercials and promotions. I never wanted to sell anything else and specifically enjoyed selling programming centered around reaching fans of Boise State University football. That's it. Very similar to what Mark Glynn and his KJR staff experience when selling Kraken hockey and Huskies football.
I never thought selling sports radio was the best way to make money. I just enjoyed the way I could make money. I focused on the process and what I enjoyed about the position—the freedom to come and go and set my schedule for the most part. I concentrated on annual contracts and clients who wanted to run radio commercials over the air to get more traffic and build their brand.
Most of my clients were local direct and listened to the station. Some other sales initiatives had steep learning curves, were one-day events or contracted out shaky support staff. In other words, the money didn't motivate me enough. How I spent my time was more important.
So, if you are in management, maybe consider why your sales staff is working at the station. Because to me, they'd be robbing banks if it were all about making lots of money.
Media Noise: BSM Podcast Network Round Table
Demetri Ravanos welcomes the two newest members of the BSM Podcast Network to the show. Brady Farkas and Stephen Strom join for a roundtable discussion that includes the new media, Sage Steele and Roger Goodell telling Congress that Dave Portnoy isn't banned from NFL events.
Podcast: Play in new window | Download
Subscribe: RSS