Anatomy of a Broadcaster: Marv Albert
"His personality makes his broadcasts great."
"Yessss and it counts!"
Undoubtedly, you've heard that countless times during an NBA broadcast. That familiar phrase is one of the calling cards of the legendary Marv Albert. The veteran of NBC, TNT and Westwood One has covered the gamut in the world of sports. Basketball, Football, Hockey, boxing and even Wimbledon appear on his gaudy resume. His voice is unmistakable, his look is his own and the unbridled enthusiasm shoots through in every broadcast.
As a kid, Albert took to the asphalt courts of Brooklyn, alongside friends, developing a love for the game of basketball. Pickup games ruled the day. According to legend, during those games was the voice of someone calling the play-by-play of the games. New York kids were treated to some legendary voices to imitate, like Vin Scully and Marty Glickman. Albert was not the one calling the games, he was too shy to "perform" in front of the group. One of his friends was the mouth of the gaggle of friends. 
Albert wanted to do it, but instead of in public, he'd call games in his own living room. He'd turn down the sound on the family's television set and do play-by-play into a small tape recorder, given to him as a gift by his father.
He told the Sports Broadcasting Hall of Fame, "I still tell kids interested in sportscasting who hope to do this for a living to take that path. I probably did hundreds of games in my living room."
Albert also wrote an essay in third-grade telling his teacher he wanted to become a sports announcer or writer. The rest, as they say, is history. He's been a fixture in New York and across the United States for five decades. 
To me Albert stands the test of time, because of his passion. There are no other announcers that call a game like him. His voice is unique. His phrases are unique. The pacing of his words almost echo and make you see the tempo of the game. Albert's insight challenges those working with him.
Marv Albert worked his way up the ladder and started, well, pretty much at the bottom. He got his first break in the sports business when he worked as a ball boy for the New York Knicks. That's where he met and started a friendship with the legendary New York sportscaster Marty Glickman, who took a liking to Albert and his passion. Glickman brought the kid on as a statistician and advised the him to attend his own alma mater, Syracuse University.
Albert later worked alongside Glickman, when the latter needed a writer/producer at WCBS Radio. The move proved to be a smart one, offering Albert the chance to fill in for Glickman on occasion and actually had Albert on the mic calling several Knicks and Rangers games at just age 19.
"That was kind of ridiculous, especially when I go back and listen to the tapes." Albert told the Sports Broadcasting Hall of Fame. 
BEST KNOWN FOR
There have been some magical moments in the career of Marv Albert. Many of them surround the NBA. One of his fondest memories, was the night he uttered the "Yes!" for the first time.
It was in 1967, when he took over as the full-time radio voice of the Knicks. The word jumped out of his mouth for the first time during a playoff series.
Knicks guard Dick Barnett banked a shot off the glass at a key moment in the game and "Yes" became all his. Albert told the Sports Broadcasting Hall of Fame, "It just seemed to feel right. I'd throw it in every once in a while, on big baskets. That was when I started hearing it said back to me. It made me realize that, Hey, people are actually listening."
To me, it's a natural "catch word." We all say it, so it's not about the word. It's about the emphasis and meaning of the three letters and his timing in using them. That stuff may seem easy, but when you have a word or a phrase, you can't over use it. Albert saves the big time "Yes!" for those big-time moments. 
Albert also called the infamous Willis Reed game at Madison Square Garden. It was Game 7 of the NBA Finals between the Knicks and Lakers. He rode the momentum of the crowd when Willis walked out of the tunnel before the game, moving gingerly on an injured thigh.
"I remember Wilt Chamberlain turning and looking in astonishment as Willis was coming out of the tunnel just before the opening tip," said Albert. "That was the loudest I ever heard a crowd at a basketball game."
Albert was off and rolling as Reed hit his first two shots. The game ended with the Knicks as the new champs of the NBA. In listening back to some of the early action, Albert could have easily gotten out of his element. He could have started screaming and yelling. He didn't. Albert stayed within himself, his usual energetic, exuberant self. That's hard to do. Sometimes broadcasters can get caught up in the moment, but Albert delivered his usual stellar broadcast. Even at a young age, he got it. 
Over the years Albert was a mainstay on NBC's coverage of the NBA and later with TNT. There are far too many huge moments to recall during this run. A couple stand out in somewhat recent times. 
During the 1991 NBA Finals between the Bulls and Lakers, Michael Jordan well, did what Michael Jordan does. He hung in the air through traffic, appearing on the verge of unleashing a thunderous dunk. But when he approached the rim and Lakers defender Sam Perkins, he changed his mind. He switched the ball from his right hand to his left and scooped it to the opposite side of the basket for a layup. Almost in awe, Albert said, "Oh! A spectacular move by Michael Jordan!". It doesn't sound like much, but it was what we were all thinking. Right there, at that moment, it was spectacular.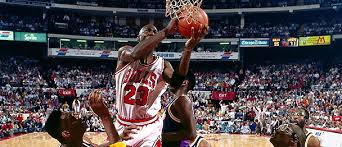 Albert along with his longtime broadcast partner Mike Fratello, called every moment of the original "Dream Team" games in Barcelona during the 1992 Olympics. He couldn't help but get caught up in the moment.
"The first time they ran onto the court, I got the chills because I knew then that we were seeing the greatest group of athletes assembled in the history of team sports – it was stunning," he recalled.
Imagine how tough these games were to do. Team USA routinely rolled over opponents during that tournament. Lopsided scores leads to "Plan B, C, D and maybe even E" for a broadcaster. Not to mention all the foreign names he had to learn and memorize for the television broadcasts. It was another situation of allowing himself to be humbled by the moment, without affecting his broadcast. 
For those in Generation X, we may remember Albert as a fixture on David Letterman's late night shows. He appeared on the show 126 times, presenting his "Albert Achievement Awards", with "a look at the 'wild and whacky' from the world of sports, as compiled by our crack staff." Then to the videos of some crazy, unbelievable bloopers from basketball, football, hockey, boxing, fans, you name it, they covered it.
Before the internet, the only way to see these bloopers were at a stadium or ballpark or on Letterman's show with Albert. The awards started in 1986 and came to end with the Letterman show in 2015. Albert played along, no matter what direction Letterman would go, he would be there to follow. The wry sense of humor and deadpan delivery really worked. The bloopers were good, but the banter was always better.
They went suit shopping in one appearance and Marv even showed up at David's mother's house in another. He made himself human, poked a little fun at himself and I really enjoyed those shows. 
WHY IS HE SO GOOD?
There is just something about Marv Albert's voice. It's not a traditional broadcasting voice by today's standards. There is something real about it though. It cuts through action during a game. You know he's there. I enjoy the enthusiasm he brings to every event he covers. There was a time that if it was a big game, he was doing it. 
His personality makes his broadcasts great. The way he'll set up his analyst with some witty banter, served with a side of sarcasm is music to my ears. While the style isn't for everyone, there's a 'down home' quality about it. Simple catch phrases, a simple "Yes!" or "serves up a facial" or "and it counts," just proving the old adage, less is sometimes more. 
Albert has proven himself to be a very versatile announcer. While he's most known for his work in the NBA and to an extent the NFL as well, there have been numerous other games he's worked. I mentioned in the opening paragraph of this column, he called hockey. In fact, he was the voice of the New York Rangers and served as lead announcer on NBC's coverage of several NHL All-Star games. Boxing is another sport he's excelled in. With his knowledge and wit, there really isn't much he hasn't done or can't do. 
With the restart of the NBA season, many wondered if Albert at age 79, would be in Orlando to call games.
No. That's the straight up answer.
Albert was looking forward to being a part of things, but the recent spike in COVID-19 cases in Florida made him reconsider any thoughts of being on site. Turner Sports confirmed that Albert will not be part of the regular play-by-play crew in Orlando, but that he will contribute some "commentary" remotely. 
Albert indeed has made an impact on sports and the way it's announced. You could say "Yes!" and he really did make it count.
Anatomy Of A Broadcaster: Jason Benetti
"Benetti is entertaining to watch. Whether you're an old school follower of baseball and feel that batting average is still important, or a newer, metrics fan, he can appeal to you."
His voice is unmistakable, his humor makes his broadcasts entertaining and oh yeah, he's everywhere these days. Jason Benetti has stepped into the limelight as more than just a local baseball television announcer.
Benetti added a new feather in his cap a couple of weekends ago, picking up lead play-by-play duties for the new NBC-produced MLB Sunday Leadoff games seen on Peacock. He will be joined by a series of rotating analysts representing the teams in each game.
Benetti's main gig during the summer months is the White Sox. Since 2016, when he took over for Ken "Hawk" Harrelson, he's been the lead television voice for the team. For most people, the two fairly high-profile jobs would be enough, not for Benetti. 
He also fills on an occasional Chicago Bulls broadcast for NBC Sports Chicago during the fall and winter months. Benetti is also employed by ESPN. He joined the network as a play-by-play commentator for college basketball in 2011. Since then, he's also called college football, baseball and lacrosse games, high school football and Major League Baseball, as well as NFL, college football and MLB on ESPN Radio. Benetti serves as the play-by-play man for ESPN's MLB StatCast AI coverage of the Wild Card and Home Run Derby.
Benetti also called his first Olympics this past year. In 2021, he was named the play-by-play announcer for NBC's coverage of baseball at the Summer Olympic Games.  
Benetti graduated from Syracuse in 2005 with bachelor's degrees in broadcast journalism, economics and psychology. He then went on to earn his J.D. at Wake Forest School of Law in 2011.
The Illinois native gives back to his alma mater, as he is involved with the Burton Blatt Institute at Syracuse University's Communication Hope through Assistive Technology camp. He has previously taught sports broadcasting as an adjunct professor at S.I. Newhouse School of Public Communication.
ROAD TO WHITE SOX/ESPN/NBC
Benetti, like many of us that were fortunate enough to have a radio station at our high school, joined his school's radio station. At Homewood-Flossmoor High School in Flossmoor, Illinois, Benetti was a regular disc jockey on WHFH and also did play-by-play of various Vikings sporting events.
As mentioned, he attended Syracuse where he called lacrosse and women's hoops. Then upon graduation he enrolled at Wake Forest's school of law. While there, Benetti was the voice of High Point basketball games, Syracuse Chiefs baseball and he did high school sports for Time Warner Cable.
Benetti served as an intern for Chicago sports radio station 670 The Score. In 2011 Benetti joined ESPN, where his broadcasting career would move him into television, despite his childhood preference for radio-only broadcasting. Benetti would call select college basketball games for the ESPN3 online service, and then move on to ESPN2 and ESPNU. In 2013 Benetti called his first football game for ESPN's syndicated American Athletic Conference package.  
In 2020, Benetti signed a multi-year extension with ESPN.
WHY IS HE SO GOOD?
There is something inherently likable about the way Benetti calls a game.  He has the authoritative voice you like to hear from an announcer, yet he isn't monotone. When he gets excited during a game, he doesn't shout and scream, it's much more natural. It sounds just like it should in the flow of a game that has big moments. It's a good lesson for some young broadcasters that like to scream their way through those times.  
Benetti is entertaining to watch. Whether you're an old school follower of baseball and feel that batting average is still important, or a newer, metrics fan, he can appeal to you. He doesn't rely on the stats. Benetti will take those stats and make a story, or build an argument with them. It's a much cleaner way to get the point across rather than just the straight numbers. 
I like the underlying sarcasm that will find its way into his telecasts from time to time. Benetti is a smart guy and you can always tell when he doesn't completely agree with something. It's not delivered in a mean-spirited way, but the point is made, usually in a very entertaining way.
To me, the mark of a great play-by-play announcer is not just how he/she calls a game, it's how they make their analyst sound. Are they getting the best out of their partners? When you work with someone consistently, it's an easier process than when you are working with a rotating group. When Benetti is calling White Sox baseball games locally in Chicago, you can tell that he and Steve Stone are on the same page. They get the reps every day and by now, know each other extremely well and play off each other the same.
With NBC's MLB Sunday Leadoff games, he'll be working with a different analyst every week. One from each team's local broadcast. For some, this would be difficult to deal with. Not for Benetti. He already works with a number of different analysts during his college football and basketball duties on ESPN. His personality lends itself to making each telecast unique based on who he may be working with for that game. You might say he's really looking forward to the chance to do this.
"It feels like you're hosting a cocktail party every week," Benetti said on a recent NBC media conference call. "This one friend doesn't know this other friend, or they might, but the idea is to make sure that there's always conversation and to get to know people quickly. I have found I really have a love for that." he added. "When I heard about the different analysts rotating in, it was my favorite part of the whole thing. I just the love the idea that every telecast is different."
"There's a reason we picked Jason," NBC Sports executive producer Sam Flood said. "We did our homework. We know him. We love what he does, and we think he's the perfect person to be in that middle seat at the dinner party."
Benetti compared the experience to an episode of Curb Your Enthusiasm on the conference call.
"I watched a Curb Your Enthusiasm episode from either last season or the season before where they were having a dinner party, and there's this whole discussion about who's the best dinner party middle, who the best person is to sit in the middle of the table to keep the conversation going," said Benetti. "I think all of us aspire to be that at dinner parties if we're at all an extrovert, even a little bit.
"I think in my understanding of people, like I've done a lot of games with a person once, and the way I see it is when you sit down to do a game, the audience does not care at all if you're best friends with somebody or if you just met them for the first time. And so, it's on us, it's on me, it's on everybody in the booth, to understand each other and maybe have a meal before the game or talk on the phone or whatever."
He added that it's important that everyone in the booth has an opportunity to be at his/her best. Benetti realizes that the task of making that happen falls on him. 
DID YOU KNOW?
Benetti was born 10 weeks prematurely and hospitalized for three months. During the three months in the hospital, Benetti had a respiratory illness while in intensive care that deprived his blood of oxygen. It is believed that caused his cerebral palsy, which was diagnosed when Benetti was a toddler. He underwent years of physical therapy and two surgeries to improve his ability to walk.
Benetti's cerebral palsy prevented him from playing tuba during marching band season. As he told ESPN Front Row in 2014, "I wasn't balanced enough to carry it in marching band." Not wanting to exclude him, the band director asked him to serve as the halftime broadcaster for their marching events.
He helped to launch a Cerebral Palsy Foundation campaign called "Awkward Moments with Jason Benetti" in order to bring awareness through humor to the awkwardness that surrounds those with disabilities. The animated videos are voiced by Benetti. 
Benetti explains the reason he got involved. "There are moments and conversations in our society where people rely on accidental snap judgements or speak without forethought or understanding. That's ok. We all do it, and sometimes it is even funny." he said in a media release back in 2018. "But, if unaddressed, we don't know how to move past them. So, the goal of the campaign is to illuminate these moments when we might be on mental autopilot, and – by using humor – show people that they are having misperception about people – and learn to think differently."
CONCLUSION
Full disclosure, I've worked with Jason before and I find him to be not only a terrific broadcaster but also a really good guy. The thing that always struck me about Benetti is how comfortable in his own skin he really is. He is an inspiration to some, a mentor to others and an example for young broadcasters to follow. He is skilled, prepared, aware and a rising star in the industry. 
Anatomy of a Broadcaster: Joe Davis
"The sky is the absolute limit for this guy. I'm a little jealous, in fact, of the talent and poise that he possesses right now."
"Joe Davis back to throw, looks left, now over the middle, complete, touchdown!"
Before his meteoric rise in the world of play-by-play, Joe Davis was a four-year letter winner at Beloit College in Wisconsin. He was the quarterback for two seasons until a shoulder injury forced him to move to wide receiver. 
Perhaps the most important move for Davis in college was assuming play-by-play duties for the school's athletic department. When football was out of season, Davis called baseball and both men's and women's basketball on local radio and television. He served as the voice of Buccaneers spring sports for his final three years on campus before graduating in 2010. 
Now Davis holds two very high-profile jobs. He's the television voice of the Los Angeles Dodgers and has been named the number one baseball guy at Fox Sports. In both cases, he's replaced an announcer of legendary status, first Vin Scully and now Joe Buck. Big shoes to fill in both cases. If how Davis has handled the former is any indication, he'll be equally as accepted in the latter position. 
Davis is another in a long line of broadcasters that seemed to know what he wanted to do at an early age.
"If you had asked me when I was 10 what I wanted to do when I grew up, I would've told you 'Call the World Series.' So, when I say this is a dream-come-true, I really mean it," Davis said in a statement after Fox named him Buck's replacement. 
In a recent story in The Athletic, Richard Deitsch chronicled how the offer was made to Davis. He recalled meeting with Brad Zager, who is the executive producer of Fox Sports. Zager flew to Las Vegas where Davis was for the Pac 12 Tournament. It was about 4-hours from the tip and the two met at a hotel bar in the MGM Resort. The offer was made, and a very emotional Davis accepted.
"It took me a little while to get it together after the meeting," Davis told The Athletic. "And there were a number of times over the course of that week where I broke down because of the emotions of thinking it could happen and being so close to a dream coming true but not knowing."
ROAD TO FOX/DODGERS
Before his senior year of college, in 2009, Davis secured a summer job as the manager of broadcasting for the Schaumburg Flyers baseball team of the independent Northern League. He served as the team's play-by-play voice and media relations director. Also, during the fall, he filled in on men's and women's volleyball broadcasts at Loyola University Chicago. That year Davis was the voice of the State High School Volleyball Championships, for the Illinois High School Television Network.
From there Davis would go to work for the Montgomery Biscuits of the Southern League. The Biscuits were the Double-A affiliate of the Tampa Bay Rays. Davis called Biscuits games for three seasons and was named the Southern League Broadcaster of the Year in 2012. In the offseason, he also gained experience as a radio host for the Baylor Independent Sports Properties Network. While working that job, he also caught on at Comcast Sports Southeast, where he picked play-by-play duties for college football, basketball and baseball.
In July 2012, at the age of 24, he joined ESPN as a play-by-play announcer. He called college baseball, basketball, football, hockey and softball games. Davis also appeared in spot duty for Major League Baseball games that were broadcast on ESPN Radio. He made a little history in December of 2013, when he was assigned to call the Poinsettia Bowl between Utah and Northern Illinois. At the age of 25 he became the youngest person to ever announce a bowl game for ESPN. He was soon hired by Fox, and then a couple of years later by the Dodgers to call road games, and eventually succeeded the legendary Vin Scully for the team on TV. 
WHY IS HE SO GOOD?
There is a smoothness about Davis that is kind of hard to describe. He's calm at the right moments and he elevates to the big moments almost perfectly. Calling baseball can be a challenge at any age, but he seems a natural fit for the pacing of the sport. There are moments when the game is left to itself to breathe during his broadcasts. Now, there are also times when Davis shows off his ability for the big call.
The Dodgers have been in the pennant race, seemingly all the time. Huge moments demand a great call. Davis hasn't disappointed yet. 
Among his many moments with the Dodgers already were walk off home run calls, some miracle finishes, and a lot of victories.
In an article on MLB.com in August of 2020, Davis surprised a lot of folks, when saying a home run by pitcher Hyun-Jin Ryu was his favorite so far. It took place on Sept. 22, 2019, in a 7-4 win over the Rockies that provided the Dodgers with their 100th victory of the year.
"High fly ball, centerfield and deep, back goes Hanson at the wall…it's happened! It's happened! Babe Ryu!" Then nearly 40 seconds of crowd noise.
Davis provided the backstory in the article.
"The call is, whatever, not a spectacular call, but Orel [Hershiser, analyst and Davis' partner] and I had jokingly talked about it the entire season. You could go back to Opening Day [which Ryu started], and we were predicting he would hit one. Those of us who are around batting practice see how he swings, and we would joke every time he came up that this would be the time, and then it actually happened. It's the only time Orel and I both stood up and high-fived, just the incredible feeling it had actually happened."
It's just an example of how the moment is never too big for Davis. He can have fun and still keep his composure, so the fans know what is actually happening as well.
His runner-up call at that time, was a more obvious choice. It his "absolute madness" call of the Dodgers' 6-5 walk-off win over the Phillies in 2017. For more reasons than just the great call.
"It was my first month or so on the job after Vin," said Davis. "It was maybe the first time where the fanbase seemed to say, 'Hey, maybe this kid is not bad.' Because of that, it will always be special to me."
Also of importance, is the fact that Davis is able to play off of, and work well with, his analyst Orel Hershiser. The two have great chemistry. That's the hallmark of a good play-by-play announcer, get the most and more out of your color commentator. 
It speaks volumes as well, to have that kind of relationship with all the people he works with. That includes John Smoltz, his new partner for MLB on Fox games starting this season.
"Having worked with Joe before, finding our chemistry in the booth is already well underway and I'm looking forward to our partnership over the next several years," said Smoltz in a statement. "I had the opportunity to work with the very best at Fox Sports in Joe Buck, and I feel fortunate to get to continue with another exceptionally talented 'Joe' in Joe Davis."
For someone as young as he is, it's impressive that he had those skills early on and continues to hone what has worked for him. When he was just 24-years-old and had a crack at the national spotlight, he might have been overwhelmed. Well, if he was, it surely didn't sound like it, because he was able to advance in the business at a rapid rate.
DID YOU KNOW?
Davis named his third child, a boy, to honor his partner in the booth, Orel Hershiser. Theodore Orel Davis arrived in July of 2021. Hershiser was very touched by the gesture from the Davis'.
Did you realize that Davis' daughter Charlotte broke the news of her daddy getting the World Series assignment from Fox? Davis explained to The Athletic that he tried to see if his daughter would understand the significance of the moment. Charlotte didn't seem to grasp how important this was. After all, she is only 5 and a half. Davis wanted to make the point that the World Series was a big deal and that Charlotte, could achieve anything she wanted to. 
"I dropped her off at her school one day and her teacher said, 'Joe, congratulations!' Mind you there were like five people in the world that knew at this point." he told The Athletic. "I said, 'Oh boy, I guess you have an inside source.' She said, 'Yeah, the first thing Charlotte did yesterday when we got into the classroom was announce to everyone, my daddy got the World Series.' For whatever reason, that was another moment that just got me. I got in my car and broke down." he recalled. 
Eat your heart out Ken Rosenthal! 
CONCLUSION
The sky is the absolute limit for this guy. I'm a little jealous, in fact, of the talent and poise that he possesses right now. There are just a few people blessed with all of that, plus a kind nature.
It's hard not to cheer for a guy like this, he paid his dues, made some good choices and basically let his talent do the talking. It's pretty amazing and so well deserved. I'm pretty confident that the Fox MLB broadcasts are in very good hands.
Anatomy Of An Analyst: Gene Steratore
"There's a calmness and authoritative way about him. Steratore seemingly commands respect when he opens up his mic to comment on a play, giving his opinion."
"Let's bring in our rule's analyst, Gene Steratore, Gene what did you see on that play?"
If you've been watching CBS/TNT/TBS/TRU coverage of the NCAA Tournament, you've undoubtedly heard that question asked. Steratore has been providing rules analysis for the network for both the NCAA and the NFL. He's sort of a unicorn when it comes to having the knowledge and first-hand experience both on the field and on the court.
Oh yeah, and he possesses the ability to actually relate the information to the audience.
This role has become a major part of broadcasts now. These 'experts' help the viewer to understand rulings and why certain calls should or should not have been made.
BEFORE TELEVISION
If you think Steratore is busy these days, he was even busier before he decided to retire. Steratore spent 15 years as an on-field NFL game official, 13 of those seasons as a referee. He entered the NFL as a field judge in 2003, was promoted to referee in 2006, and worked 14 playoff games. He finished his career as the referee in Super Bowl LII. That was the Eagles' 41-33 win over the Patriots on the Philly Special. Steratore also worked two conference title games, as well as serving as the alternate referee for Super Bowl XLIV.
Steratore started officiating NCAA Division I Men's Basketball in 1997 and worked numerous Conference Tournament games in the Big Ten, ACC, Big East, Atlantic 10, Mid-American, Colonial, Horizon, Metro-Atlantic, Summit and Northeast. He also worked 12 NCAA Tournament games, including a pair in the Sweet 16s.
He finished his basketball career as a Big Ten primary official. Steratore also spent time as a Midwest 'observer' of officials. He would be at a game, take notes on how the officials did their jobs, and then go over it, nearly play by play after the game ended.
CONTROVERSIES ON THE FIELD
Steratore's NFL career had a couple of notable controversies, well one controversy and one oddity, I guess.
On September 12, 2010, the Detroit Lions faced the Chicago Bears in the season opener at Soldier Field. The Lions were trailing 19-14 late in the fourth quarter but were driving against the Bears' defense. With 24-seconds left, quarterback Shaun Hill found receiver Calvin Johnson in the corner of the end zone. Touchdown Lions. Not so fast. The play was under review, for a phrase that is now commonplace in the NFL, 'completing the process of a catch'.
After the review, Steratore ruled it an incomplete catch. He stated after the game to an NFL pool reporter, "In order for the catch to be completed he has got to maintain possession of the ball throughout the entire process of the catch." Replays showed the ball leaving Johnson's right hand the moment the ball touched the ground. The Lions failed to score on their final two plays, and the Bears held on to win.
That play started a debate about what is actually a catch and what is not. The controversy elicited a new rule named for Johnson. That particular entry into the rule book outlined what exactly a catch was: control of the ball, two feet or another body part down on the ground and a "football act or move" such as reaching for the goal line or tucking the ball away.
Steratore was affected by the rule again, and this time the stakes were high. He was the referee during the NFC Divisional Playoff game between the Cowboys and Packers on January 11, 2015. That's where a fourth-quarter, fourth-down catch by Cowboys wide receiver Dez Bryant was overturned using the "Calvin Johnson rule". The Packers challenged the call and after review, it was determined that the ball touched the ground before Bryant completed the catch.
Now for the oddity. In a game on December 17, 2017, between the Cowboys and Raiders. Steratore took the controversial step of using an index card normally used for recording penalties to assist him in determining whether the Cowboys had made the line to gain for a first down. His ruling that they had done so allowed Dallas to kick a late field goal in their 20–17 victory.
"The ball was touching the pole," Steratore said. "I put the card in there and as soon as it touched, it was nothing more than a reaffirmation. The decision was made based on my visual from the top looking down and the ball touching the front of the pole."
EVOLUTION
Mike Pereira pioneered the rules analyst role on Fox in 2010 and since, each network has followed suit. Fox also added Dean Blandino. ESPN has used Gerry Austin, Jeff Triplette and now John Parry. NBC employs Terry McCauly.
CBS hired former referee Mike Carey in the 2014 season. That didn't work out too well, after most of his predictions on which way replays would go, were not correct. He was let go following the 2015 season. Now the job belongs to Steratore.
The NHL is now in the business of rules analysis, with the hiring of Don Koharski on TNT.
WHAT MAKES STERATORE GOOD?
There's a calmness and authoritative way about him. Steratore seemingly commands respect when he opens up his mic to comment on a play, giving his opinion. That opinion is based on the years of actual on-field experience or in the case of the NCAA Tournament, on-court work. There isn't much time to waste when it comes to his analysis. He has to offer his thoughts in a clear and understandable manner, then allow the broadcasters to perhaps ask a follow-up question.
Being understandable is probably the most important part, because as a viewer, I don't want a bunch of referee jargon thrown at me. Was the call correct or incorrect? Tell me why. What should have been ruled? That's the reason he is employed by a network, prove your worth. He does.
During the NCAA Tournament Steratore is sometimes not on-site until the Final Four. He's watching a number of games on television screens. There are producers and others watching games to keep him updated and if he's needed, they brief him quickly and he goes on the air. Kind of daunting in some ways. He also spoke a couple of years ago about the 4-5 second delay between the studio and the stadium, which is not easy to navigate.
One of the biggest issues facing a former referee is agreeing with or not agreeing with current officials. In Steratore's case, it's both NFL and NCAA referees that he either goes along with or points out a mistake.
He spoke to the Athletic in 2020 on this very topic. "Officials never get upset if you are objectively honest with what's going on." said Steratore. "When officials miss plays, they're OK if you call them out for missing that play. But if I started seeking every little nuance, I can see that they've done, it demeans the profession and it's an unfair observation, even if you're right on the technical issues."
Take, for example, the case of Illinois freshman RJ Melendez, who was assessed a technical foul for hanging on the rim after a dunk. Replays showed that Melendez needed to hang on to avoid an injury to himself. Much like the one Paul George suffered several years ago in an NBA game.
Steratore commented on the play during the telecast and then took to Twitter.
Steratore is honest that's for sure. Now look, I get that some criticize him for playing both sides of the fence, but some calls are not black and white, there are grey areas within the rules. He has to point it all out for the sake of credibility.
He is empathetic to the cause of the on-field official, having been there himself one or two hundred times before. During a game between the Bengals and Raiders in January, the old 'inadvertent whistle' came into play. Here's how he explained things on Twitter.
I think Steratore also realizes that he has one thing the on-field folks don't, and that is time to review the situation and express his thoughts. His reasonings, right or wrong, in the moment, will not change a call that's been made and will not affect the outcome of a game. Steratore can afford to get a little more in depth with his reasoning, while the game continues.
There is one main goal Steratore and all the other rule's analysts want to accomplish. He wants to help casual viewers better understand the game and its rules. "You hope you can add value to the broadcast," he explained to the Athletic. "But if I can explain something that is a little complicated and that the casual viewer gains interest to watch this game, then it makes it more relevant."
I think he can check that box, without any further review.
DID YOU KNOW?
Steratore is the co-owner of Steratore Supply, Inc., a full line paper/janitorial supply business, with his brother, Tony, who also works as an NFL back judge. The siblings know how to get under each other's skin, even to this day.
Gene explains, "There are times Tony and I are working together in our business and he's not in a good mood," Steratore said to the Athletic. "I tell him I'm the media and he's an NFL official, he's not allowed to talk to me. I use that. It helps the little family feuds."
Gene and his older brother Tony were on the same crew in 2006. Gene had been elevated to referee and Tony was the back judge. That lasted 3 years. Gene overturned Tony's calls 3 times in the first year which led to some tense moments on the field. Gene recalled one such time to the Athletic.
"Brett Favre thought we were going to fight one day in Miami when I overturned him on a play. He said 'Are you guys going to fight?' I said 'We might.' He said 'Can I watch?' I said, 'Heck, yeah you can watch.'"