As Baseball Blows It, The Bubbles Are Blowing Up
"The NBA and other leagues playing games in restrictive environments are beating the virus, at least so far, while the sports without Bubbles — MLB and football — are mired in chaos.
If the human element mattered in this surreal, stupefying slog of 2020, the consensus directive would be, "Health first, sports later.'' Instead, the resumption of games has become a marketing slogan — "YOU CAN'T STOP SPORT'' — courtesy of Nike, of course, which is trying to spike its stock with yet another campaign portraying athletes as invincible gods who, in this case, are bigger than COVID-19.
"You can't stop sport,'' says Russell Wilson, who is in the commercial, "because you can't stop us.''
And when any of us challenge that rationale as foolish, dangerous and ass-backward — that one's life is a bit more important than a bastardized ballgame amid a pandemic — we are subjected to the millennial wisdom of Kyle Brandt, he of the NFL Network, who surely heard an "Attaboy'' or two from his league bosses when he tweeted, "There's a segment of the NFL media that seems to be almost rooting for COVID to affect the season. They want it. They see the Marlins news and say, `Yep! Lots of luck, football!' These are people who make their livings off football. I don't get it.''
Well, Kyle, the Marlins' outbreak news soon became the Cardinals' outbreak news, inevitably to be followed by another team's coronavirus spread. And some of us, as professional journalists, are obligated to be honest to the masses and not underplay a global health crisis because we're beholden to a pay day, as maybe you are, Kyle, along with others I see in sports media. Consider it more jarring proof that this Major League Baseball season never should have been attempted and that Rob Manfred, the so-called commissioner, should be banished to another planet for jeopardizing the lives of players and families and further humiliating the sport. It's now more evident than a 104-degree fever and relentless diarrhea runs that leagues not playing seasons in restrictive medical environments are doomed to stall, which eventually will include the NFL and college football, once mass outbreaks occur as players spit, breathe, slobber and bleed on each other every play, then gather in confined locker rooms to spread those expectorations, then travel to road hotels or mask-optional campus parties. These are not dominoes, Kyle. These are human beings who might get sick and spread COVID-19 to others, who could get sick themselves or, I don't know, maybe die.
Yet the ongoing realities of the virus — "We just have to assume the monster is everywhere,'' said Ohio Governor Mike DeWine, whose state is home to two MLB franchises — has only turned Manfred into his own kind of monster. In a country with 500,000 new infections the past week, a country that Johns Hopkins University says needs a "reset'' because the U.S. "is not currently on course to get control of this epidemic,'' Dr. Rob isn't going down without a fight. Knowing the NBA, NHL and other leagues in Bubbles are functioning well so far and making MLB look typically inept, Manfred responded with his own grand, "You Can't Stop Sport'' declaration to ESPN after postponing 17 games in his season's first 10 days. In the process, he continued to point a long index finger at the players — and their union, as always — for violating health/safety protocols when: (1) Manfred and the owners signed off on those protocols; (2) MLB should have been monitoring the players' behavior all along and canceled the Miami-Phillies game eight days ago, when the Marlins' outbreak emerged; and (3) MLB decided not to conduct tests daily, meaning infected players can be exposed to other people for days while awaiting results, which probably is what happened when the Cardinals had their explosion of positive tests.
"We are playing," said Manfred, who pondered canceling the season — and should have. "The players need to be better, but I am not a quitter in general and there is no reason to quit now. We have had to be fluid, but it is manageable."
Yeah, just as Howard the Duck thought he could manage Son of Satan. This from the man who refuses to put baseball's virus catastrophe in "the nightmare category,'' the very definition of denial if not delusion. "It's what the public health experts have been saying from the beginning about this, that there is no one big magic fix," Manfred, who has not held a press conference in months, told the Associated Press. "The protocols are a series of little things that people need to do. We've had some problems. In order to be better, it's a series of little things. I think it's peer pressure. I think it's players taking personal responsibility." When will Manfred realize this is not a fair fight? How many positive tests, team quarantines, game postponements, reconfigured schedules, Yoenis Cespedes blow-offs and seven-inning doubleheaders does he need before he finally gets it — that he's risking a full-blown tragedy — and starts thinking with common sense instead of feeding his shattered ego? He already has said baseball can't afford to "not finish this season'' if others leagues do. But quitting, at this point, would be the noble and sensible option, with epidemiologist Zachary Binney tweeting, "This is veering quickly into `shut all of MLB down' territory for me."
Understandably, players are tired of being blamed while Manfred and the owners sit in their bunkers, counting early revenues. Said veteran pitcher Jon Lester: "I don't know Rob's situation, and I don't want to put my foot in my mouth. But I do know we — not only players, but families — are making sacrifices, day in and day out. … I'll stop there." This after Cubs teammate Anthony Rizzo, who, as a cancer survivor, is especially vulnerable to the virus, tweeted during a rain delay in Cincinnati: "Player safety? @mlb let's sit around for 8 plus hours inside the clubhouse.. I'm sure I can find that somewhere in the 113 page safety protocol.''
Meanwhile, leagues playing inside Bubbles have found a competitive mood and safety vibe antithetical to baseball's chaos. While realizing any medical or logistical hiccup is possible at any moment, I'd say the NBA's Bubble is blowing up right now, to paraphrase the kids, with a chance not only to complete a season but even be entertaining and compelling in the process. Seamlessly, and almost miraculously, the coronavirus became an afterthought as we watched: LeBron James hit a game-winner to end an intense Lakers-Clippers game … the Raptors beat down the Lakers with smothering defense and a reminder they could repeat as champions … COVID-19 scapegoat Rudy Gobert hit the first shot and two deciding free throws in the league's first game back … James Harden go for 49 in a playground romp between the Rockets and Mavericks … Zion Williamson pout while tethered to the bench on a playing-time restriction … Giannis Antetokounmpo make another MVP statement … and the league's players and coaches beautifully salute Black Lives Matter, whether kneeling, standing or wearing a jersey with no social justice message, as Jimmy Butler tried to no avail.
As Clippers coach Doc Rivers said, relaying his thoughts about George Floyd while kneeling during the national anthem, "The hardest thing that happened to me was, my knee was hurting. In the middle of it, I'm thinking, `In two minutes, my knee is hurting, yet there was a guy that had his knee on someone's neck for eight minutes.' Think about that. A national anthem took two minutes. There were guys who needed towels and things to get under their knees, and yet someone kneeled on another human being's neck for eight minutes.''
This is what the NBA does. It figures out solutions and keeps eyeballs on basketball, thanks to more cameras, tight angles and technical innovations. Yes, the virtual, big-headed fans are goofy, as are the occasional simulated ventures into NBA 2K mode. But we barely notice because the games are interesting — and the same can be said for the NHL, which followed the NBA's lead and established two bubbles in virus-dulled Canada, so far with solid reviews in Toronto and Edmonton.
Said James: "We're in the land of the unknown. Things are happening for the first time. You just take it for what it is. Don't take the moment for granted. We're all still living and alive and back to doing what we love to do: playing the game, watching the game. That's a blessing, because 2020 has been pretty (crappy). We're all blessed. … No matter what the (situation) is, no matter what the bubble is, no fans, or with fans, basketball is basketball and competitive spirit is competitive spirit, so we're right back to where we left off.''
So is baseball, for that matter, still stuck in the same world of hurt and inevitable impasse when the collective bargaining agreement expires next year. Leave it to MLB to clumsily lead the pandemic way for Big Sports in America, only to wobble frantically, with no sadder scene than sending the Marlins back to South Florida in sleeper buses after at least 18 players were infected and quarantined in Philadelphia. Obviously, even a shortened season already has been stripped of its competitive integrity and ability to produce a legitimate champion, which I wrote a week ago while calling for the season to be canceled. Since then, Manfred has directed his ire at Players Association executive director Tony Clark, threatening to shut down the season if players don't manage the virus better. Rizzo wants to know how that's possible when, without a Bubble, teams are required to travel to cities, stay in hotels and come into constant contact with virus carriers — and that doesn't include protocol violators who might be taking risks around town or at a Wisconsin golf course, as some members of the Cardinals have been accused. "It's one of those things where you can get food delivered to you, and if (the virus) is on there, we don't know where this thing hides all the time,'' Rizzo said. "You got to be prudent. You got to have faith, but guys are gonna get it. Tomorrow, we could have someone walking around here asymptomatic and spread it to 10 guys."
The opt-outs, positive tests and short-season-related injuries continue, an absence of continuity that is robbing fans of whatever enjoyment they can muster. Mike Trout — whose wife delivered their first child, a son named Beckham Aaron — would be wise to stay home and not return, but he's a good man who wants to help a dying sport. Red Sox pitcher Eduardo Rodriguez, who has a heart issue likely stemming from a recent COVID-19 bout, shut down his season. Milwaukee's Lorenzo Cain explained his weekend decision to opt out: "With all of the uncertainty and unknowns surrounding our game at this time, I feel that this is the best decision for me, my wife, and our three kids.''
And Nationals manager Dave Martinez, who has an underlying heart condition, continues to speak about his fears, telling the Washington Post, "You know what? I'm just not going to hold it in anymore. This is different for everyone. This is scary for us, even if our job is to play a game. I feel like that's something I have to say. … This is weighing on me a lot. It's not just the players or myself. That's only the start of it. It's my coaching staff, the clubbies, the PR staff, the beat writers, everyone's families. A lot of people could be in danger if we're not smart and safe. And even then, you really don't know if that's enough.''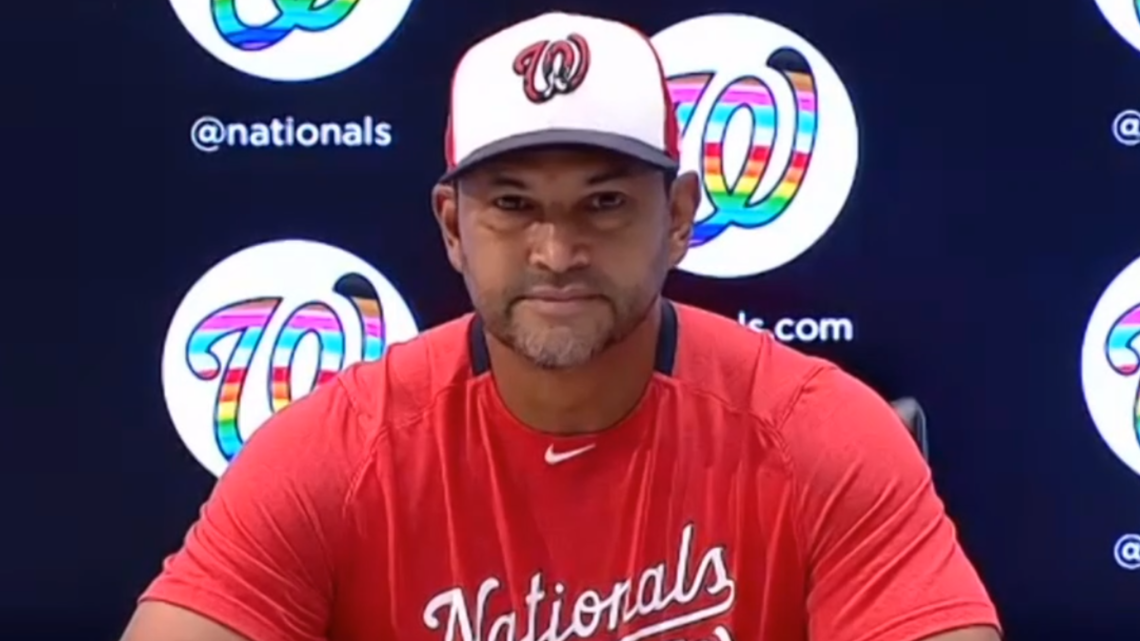 Yet, the owners expect these men to keep trudging out there every day and play ballgames, no matter the health fallout. Is Manfred even listening to a man who only directed a team to a championship last autumn?
Just as America was in no mood to hear the owners and players jibber-jabber over money before the season resumed, no one wants to hear the owners blame the players for outbreaks. All the sides want to do is fight, a rift that goes back decades and was exacerbated last spring when Manfred described the World Series trophy as a "piece of metal.'' Tweeted pitcher Trevor Bauer, referring to the protocol blame Manfred is placing on players: "Take no risk yourself; blame everything on the players; protect TV revenue at all costs.'' Is Bauer not dead-on right? He didn't mention that the players weren't interested in a Bubble, but the prospect turned moot anyway when owners engaged players in a a weeks-long fight over taking a second pay cut. We should ignore the rhetoric. Baseball will not recover from this, nor does it deserve to after the league's medical director, Gary Green, tried to justify the Marlins' outbreak thusly last week: "Twenty-nine out of 30 is a pretty good batting average if you're playing baseball.'' By my count, six teams and counting have been disrupted so far, which means the batting average is climbing.
Not that anyone in sports is treating COVID-19 with appropriate fear. These multi-billion-dollar industries have exploited America's divided views on the coronavirus — wearing masks, sending kids back to classrooms, geopolitical madness and who should win an apocalyptic presidential election presumably ahead in just three months — to almost sneak-slide games back into the American consciousness. The media have gleefully responded with mostly Brandt-approved coverage, such as when ESPN led "SportsCenter'' not with an important Marlins update early last week … but a Pirates-Brewers game. Sometimes, the network reminds me of a drug dealer, slipping coke to fans to feed their "Why We Love Sports'' fix and make sure they keep watching and gambling.
Coronavirus? What coronavirus?
Yet explain how Charles Barkley and the "Inside The NBA'' crew can make us not only forget the pandemic, but make us LOL.
The U.S. casualty numbers, which are nearing 200,000 and could reach a half-million without a miracle vaccine, have not deterred sports in the least. The NFL, a $15-billion-a-year enterprise lorded over by a commissioner and team owners who won't be risking their health on lines of scrimmage, still believes a regular season will start in five weeks; the sizable number of players already opting out, including eight New England Patriots, strongly suggests otherwise, as does the positive test of another head coach, the Eagles' Doug Pederson. College football hedges its bets, moving schedules back in wishfully thinking the virus will fade, but more outbreaks and opt-outs are inevitable. The almighty Southeastern Conference, still planning a shortened season in a region with less virus-related resistance, allowed players to speak with commissioner Greg Sankey and medical advisers in a conference call last week, the Washington Post reported. The exchange was ominous.
"There are going to be outbreaks," one SEC official told the players. "We're going to have positive cases on every single team in the SEC. That's a given. And we can't prevent it."
Added Sankey: "Part of our work is to bring as much certainty in the midst of this really strange time as we can so you can play football in the most healthy way possible, with the understanding there aren't any guarantees in life."
The pushback, shall we say, was akin to a goal-line stand. Said Texas A&M linebacker Keeath Magee II: "You guys have answered a lot of questions the best way that you guys could, and we really appreciate it. But as much as you guys don't know … it's just kind of not good enough. We want to play. We want to see football. We want to return to normal as much as possible. But it's just that with all this uncertainty, all this stuff that's still circulating in the air, y'all know it kind of leaves some of us still scratching my head. I feel like the college campus is the one thing that you can't control."
Expect more rebellion in coming days, with a group of Pac-12 players threatening to opt out of games if the conference doesn't meet their safety demands while, according to a letter published by The Players' Tribune, addressing concerns about racial injustice and "economic rights and fair compensation.''
They want to be paid.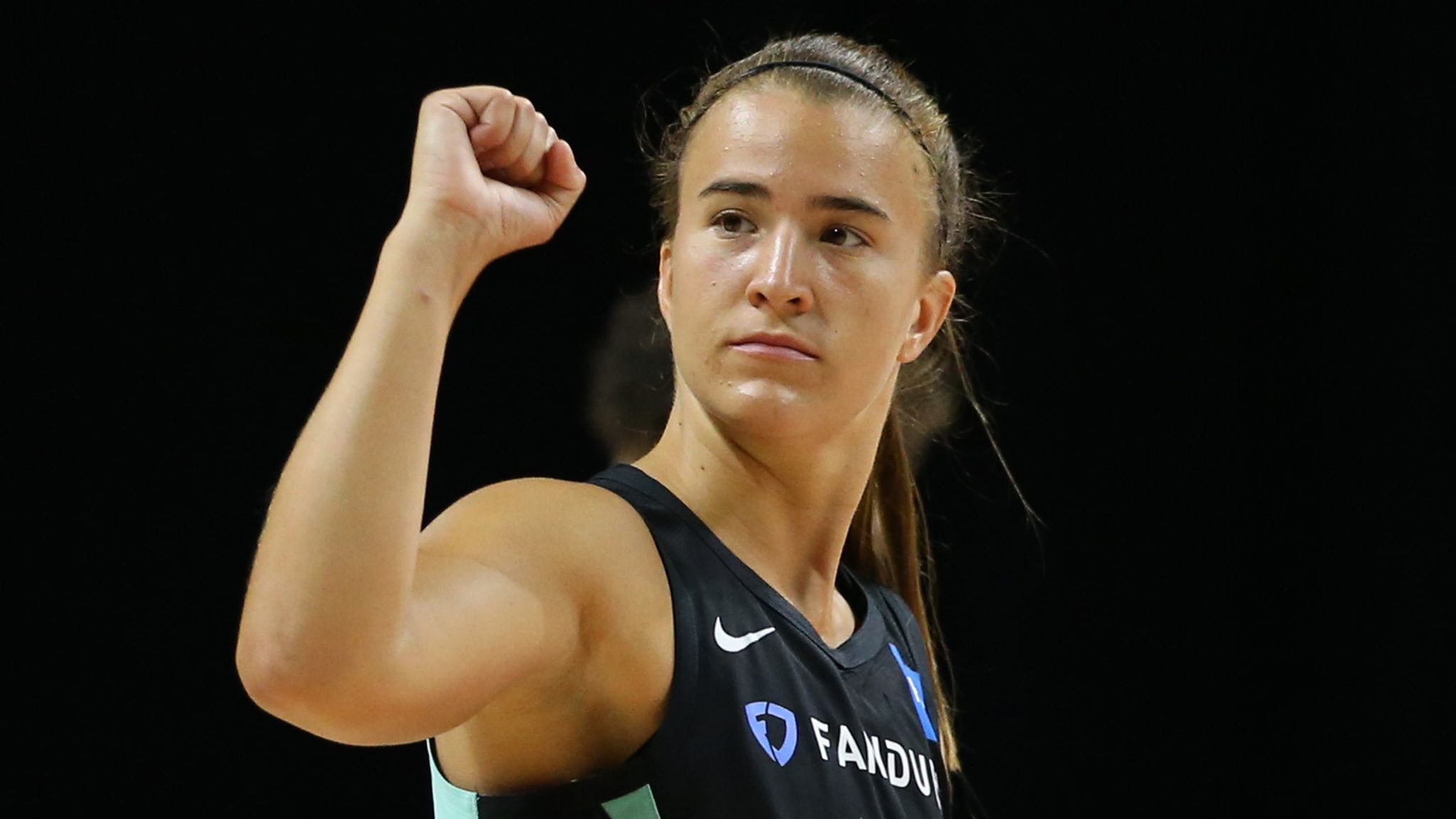 Wouldn't you, if you were age 20 and assuming all the health risks while the leagues, universities and TV networks were making the billions? At least WNBA phenom Sabrina Ionescu was making a salary when she suffered a Grade 3 ankle sprain that could cost her the season — and who's to say she, like other athletes, wasn't more susceptible to injury by rushing back to play after a limited preseason?
Somehow, perhaps because this virus also is destroying brain cells, the deadly ramifications of a global pandemic have been lost amid the fury of restarting sports and rushing events onto TV. The games inside Bubbles have scratched the familiar sports itch, and, I admit, I watched the final period of a Blackhawks-Oilers game. Golf has been a surprise hit, with the hulking emergence of Bryson DeChambeau still dominating conversation before the PGA Championship, the season's first major — yep, major — arrives later this week at Harding Park in San Francisco.
Yet, in the time I took to write this column, more people have died from COVID-19. And a goof like Kyle Brandt won't pay attention, preferring we ignore and whitewash an epic catastrophe so he doesn't lose his gig on "Good Morning, Football.'' Good night, Kyle.
The Nike commercial, too, will continue in heavy rotation. But to say "You Can't Stop Sport'' is false advertising. Maybe you can't stop sports inside Bubbles, at least for now, but baseball and football soon will be added to the mounting death toll.
Jay Mariotti, called "the most impacting Chicago sportswriter of the past quarter-century,'' writes a weekly media column for Barrett Sports Media and regular sports columns for Substack while appearing on some of the 1,678,498 podcasts in production today. He's an accomplished columnist, TV panelist and radio talk host. Living in Los Angeles, he gravitated by osmosis to film projects. Compensation for this column is donated to the Chicago Sun-Times Charity Trust.
The Future Is Now, Embrace Amazon Prime Video, AppleTV+
As annoying as streaming sports is and as much as I haven't fully adapted to the habit yet, Amazon and Apple have done a magnificent job of trying to make the process as easy and simplified as possible.
This week has been a reckoning for sports and its streaming future on Amazon Prime Video, AppleTV+, ESPN+, and more.
Amazon announced that Thursday Night Football, which averaged 13 million viewers, generated the highest number of U.S. sign ups over a three hour period in the app's history. More people in the United States subscribed to Prime during the September 15th broadcast than they did during Black Friday, Prime Day, and Cyber Monday. It was also "the most watched night of primetime in Prime Video's history," according to Amazon executive Jay Marine. The NFL and sports in general have the power to move mountains even for some of the nation's biggest and most successful brands.
This leads us to the conversation happening surrounding Aaron Judge's chase for history. Judge has been in pursuit of former major leaguer Roger Maris' record for the most home runs hit during one season in American League history.
The sports world has turned its attention to the Yankees causing national rights holders such as ESPN, Fox, and TBS to pick up extra games in hopes that they capture the moment history is made. Apple TV+ also happened to have a Yankees game scheduled for Friday night against the Red Sox right in the middle of this chase for glory.
Baseball fans have been wildin' out at the prospects of missing the grand moment when Judge passes Maris or even the moments afterwards as Judge chases home run number 70 and tries to truly create monumental history of his own. The New York Post's Andrew Marchand has even reported there were talks between YES, MLB, and Apple to bring Michael Kay into Apple's broadcast to call the game, allow YES Network to air its own production of the game, or allow YES Network to simulcast Apple TV+'s broadcast. In my opinion, all of this hysteria is extremely bogus.
As annoying as streaming sports is and as much as I haven't fully adapted to the habit yet, Amazon and Apple have done a magnificent job of trying to make the process as easy and simplified as possible. Amazon brought in NBC to help with production of TNF and if you watch the flow of the broadcast, the graphics of the broadcast, NBC personalities like Michael Smith, Al Michaels, and Terry McAuliffe make appearances on the telecast – it is very clear that the network's imprint is all over the show.
NBC's experience in conducting the broadcast has made the viewing experience much more seamless. Apple has also used MLB Network and its personalities for assistance in ensuring there's no major difference between what you see on air vs. what you're streaming.
Amazon and Apple have also decided to not hide their games behind a paywall. Since the beginning of the season, all of Apple's games have been available free of charge. No subscription has ever been required. As long as you have an Apple device and can download Apple TV+, you can watch their MLB package this season.
Guess what? Friday's game against the Red Sox is also available for free on your iPhone, your laptop, or your TV simply by downloading the AppleTV app. Amazon will also simulcast all Thursday Night Football games on Twitch for free. It may be a little harder or confusing to find the free options, but they are out there and they are legal and, once again, they are free.
Apple has invested $85 million into baseball, money that will go towards your team becoming better hypothetically. They've invested money towards creating a new kind of streaming experience. Why in the hell would they offer YES Network this game for free? There's no better way for them to drive subscriptions to their product than by offering fans a chance at watching history on their platform.
A moment like this are the main reason Apple paid for rights in the first place. When Apple sees what the NFL has done for Amazon in just one week and coincidentally has the ability to broadcast one of the biggest moments in baseball history – it would be a terrible business decision to let viewers watch it outside of the Apple ecosystem and lose the ability to gain new fans.
It's time for sports fans to grow up and face reality. Streaming is here to stay.
MLB Network is another option
If you don't feel like going through the hassle of watching the Yankees take on the Red Sox for free on Apple TV+, MLB Network will also air all of Judge's at bats live as they are happening. In case the moment doesn't happen on Apple TV+ on Friday night, Judge's next games will air in full on MLB Network (Saturday), ESPN (Sunday), MLB Network again (Monday), TBS (Tuesday) and MLB Network for a third time on Wednesday. All of MLB Network's games will be simulcast of YES Network's local New York broadcast. It wouldn't shock me to see Fox pick up another game next Thursday if the pursuit still maintains national interest.
Quick bites
One of the weirdest things about the experience of streaming sports is that you lose the desire to channel surf. Is that a good thing or bad thing? Brandon Ross of LightShed Ventures wonders if the difficulty that comes with going from app to app will help Amazon keep viewers on TNF the entire time no matter what the score of the game is. If it does, Amazon needs to work on developing programming to surround the games or start replaying the games, pre and post shows so that when you fall asleep and wake up you're still on the same stream on Prime Video or so that coming to Prime Video for sports becomes just as much of a habit for fans as tuning in to ESPN is.
CNN has announced the launch of a new morning show with Don Lemon, Poppy Harlow and Kaitlin Collins. Variety reports, "Two people familiar with plans for the show say it is likely to use big Warner Bros. properties — a visit from the cast of HBO's Succession or sports analysis from TNT's NBA crew — to lure eyeballs." It'll be interesting to see if Turner Sports becomes a cornerstone of this broadcast. Will the NBA start doing schedule releases during the show? Will a big Taylor Rooks interview debut on this show before it appears on B/R? Will the Stanley Cup or Final Four MVP do an interview on CNN's show the morning after winning the title? Does the show do remote broadcasts from Turner's biggest sports events throughout the year?
The Clippers are back on over the air television. They announced a deal with Nexstar to broadcast games on KTLA and other Nexstar owned affiliates in California. The team hasn't reached a deal to air games on Bally Sports SoCal or Bally Sports Plus for the upcoming season. Could the Clippers pursue a solo route and start their own OTT service in time for the season? Are they talking to Apple, Amazon, or ESPN about a local streaming deal? Is Spectrum a possible destination? I think these are all possibilities but its likely that the Clippers end up back on Bally Sports since its the status quo. I just find it interesting that it has taken so long to solidify an agreement and that it wasn't announced in conjunction with the KTLA deal. The Clippers are finally healthy this season, moving into a new arena soon, have the technology via Second Spectrum to produce immersive game casts. Maybe something is brewing?
ESPN's Monday Night Football double box was a great concept. The execution sucked. Kudos to ESPN for adjusting on the fly once complaints began to lodge across social media. I think the double box works as a separate feed. ESPN2 should've been the home to the double box. SVP and Stanford Steve could've held a watch party from ESPN's DC studio with special guests. The double box watch party on ESPN2 could've been interrupted whenever SVP was giving an update on games for ESPN and ABC. It would give ESPN2 a bit of a behind the scenes look at how the magic happens similarly to what MLB Tonight did last week. Credit to ESPN and the NFL for experimenting and continuing to try and give fans unique experiences.
Jessie Karangu is a columnist for BSM and graduate of the University of Maryland with a bachelor's degree in journalism. He was born and raised in Baltimore, Maryland but comes from Kenyan roots. Jessie has had a passion for sports media and the world of television since he was a child. His career has included stints with USA Today, Tegna, Sinclair Broadcast Group and Sightline Media. He can be found on Twitter @JMKTVShow.
ESPN Shows Foresight With Monday Night Football Doubleheader Timing
ESPN is obviously testing something, and it's worth poking around at why the network wouldn't follow the schedule it has used for the last 16 years, scheduling kickoffs at 7 and then 10 on their primary channel.
The Monday Night Football doubleheader was a little bit different this time around for ESPN.
First, it came in Week 2 instead of Week 1. And then, the games were staggered 75 minutes apart on two different channels, the Titans and Bills beginning on ESPN at 7:15 PM ET and the Vikings at the Eagles starting at 8:30 PM on ABC and ESPN+. This was a departure from the usual schedule in which the games kicked off at 7:00 PM ET and then 10:00 PM ET with the latter game on the West Coast.
ESPN is obviously testing something, and it's worth poking around at why the network wouldn't follow the schedule it has used for the last 16 years, scheduling kickoffs at 7:00 PM and then 10:00 PM ET on their primary channel. That's the typical approach, right? The NFL is the most valuable offering in all of sports and ESPN would have at least six consecutive hours of live programming without any other game to switch to.
Instead, they staggered the starts so the second game kicked off just before the first game reached halftime. They placed the games on two different channels, which risked cannibalizing their audience. Why? Well, it's the same reason that ESPN was so excited about the last year's Manningcast that it's bringing it back for 10 weeks this season. ESPN is not just recognizing the reality of how their customers behave, but they're embracing it.
Instead of hoping with everything they have that the customer stays in one place for the duration of the game, they're recognizing the reality that they will leave and providing another product within their portfolio to be a destination when they do.
It's the kind of experiment everyone in broadcasting should be investigating because, for all the talk about meeting the customer where they are, we still tend to be a little bit stubborn about adapting to what they do. 
Customers have more choices than ever when it comes to media consumption. First, cable networks softened the distribution advantages of broadcast networks, and now digital offerings have eroded the distribution advantages of cable networks. It's not quite a free-for-all, but the battle for viewership is more intense, more wide open than ever because that viewer has so many options of not just when and where but how they will consume media.
Programmers have a choice in how to react to this. On the one hand, they can hold on tighter to the existing model and try to squeeze as much out of it as they can. If ESPN was thinking this way it would stack those two Monday night games one after the other just like it always has and hope like hell for a couple of close games to juice the ratings. Why would you make it impossible for your customer to watch both of these products you've paid so much to televise?
I've heard radio programmers and hosts recite take this same approach for more than 10 years now when it comes to making shows available on-demand. Why would you give your customers the option of consuming the product in a way that's not as remunerative or in a way that is not measured?
That thinking is outdated and it is dangerous from an economic perspective because it means you're trying to make the customer behave in your best interest by restricting their choices. And maybe that will work. Maybe they like that program enough that they'll consume it in the way you'd prefer or maybe they decide that's inconvenient or annoying or they decide to try something else and now this customer who would have listened to your product in an on-demand format is choosing to listen to someone else's product entirely.
After all, you're the only one that is restricting that customer's choices because you're the only one with a desire to keep your customer where he is. Everyone else is more than happy to give your customer something else. 
There's a danger in holding on too tightly to the existing model because the tighter you squeeze, the more customers will slip through your fingers, and if you need a physical demonstration to complete this metaphor go grab a handful of sand and squeeze it hard.
Your business model is only as good as its ability to predict the behavior of your customers, and as soon as it stops doing that, you need to adjust that business model. Don't just recognize the reality that customers today will exercise the freedom that all these media choices provide, embrace it.
Offer more products. Experiment with more ways to deliver those products. The more you attempt to dictate the terms of your customer's engagement with your product, the more customers you'll lose, and by accepting this you'll open yourself to the reality that if your customer is going to leave your main offering, it's better to have them hopping to another one of your products as opposed to leaving your network entirely.
Think in terms of depth of engagement, and breadth of experience. That's clearly what ESPN is doing because conventional thinking would see the Manningcast as a program that competes with the main Monday Night Football broadcast, that cannibalizes it. ESPN sees it as a complimentary experience. An addition to the main broadcast, but it also has the benefit that if the customer feels compelled to jump away from the main broadcast – for whatever reason – it has another ESPN offering that they may land on.
I'll be watching to see what ESPN decides going forward. The network will have three Monday Night Football doubleheaders beginning next year, and the game times have not been set. Will they line them up back-to-back as they had up until this year? If they do it will be a vote of confidence that its traditional programming approach that evening is still viable. But if they overlap those games going forward, it's another sign that less is not more when it comes to giving your customers a choice in products.
Danny O'Neil is a sports media columnist for BSM. He has previously hosted morning and afternoon drive for 710 ESPN Seattle, and served as a reporter for the Seattle Times. He can be reached on Twitter @DannyOneil or by email at Danny@DannyOneil.com.
Media Noise: Sunday Ticket Has Problems, Marcellus Wiley Does Not
Podcast: Play in new window | Download
Subscribe: RSS
Demetri Ravanos is the Assistant Content Director for Barrett Sports Media. He hosts the Chewing Clock and Media Noise podcasts. He occasionally fills in on stations across the Carolinas. Previous stops include WAVH and WZEW in Mobile, AL, WBPT in Birmingham, AL and WBBB, WPTK and WDNC in Raleigh, NC. You can find him on Twitter @DemetriRavanos and reach him by email at DemetriTheGreek@gmail.com.