Is Anyone Not Selling Out In Sports Media?
"The pandemic has created a crisis for media companies trying to stay in business, but cutting financial deals with sports leagues and ignoring big stories to protect bosses and paychecks are corrupting the profession."
Only three sports franchises on Planet Earth are worth more than the Los Angeles Lakers, home of Hollywood gold, LeBron James, celebrity fans, the Laker Girls, a $3-billion local broadcast deal and 16 NBA title banners. Just last week, Forbes estimated the team valuation at $4.4 billion, trailing only the Dallas Cowboys and New York's Yankees and Knicks. Think about it: The Lakers are more valuable than all but one NFL franchise and all the world's soccer clubs, including those in hallowed hubs Madrid, Barcelona and Manchester.
None of which stopped team controlling owner Jeanie Buss, beloved in southern California, from applying for and receiving a $4.6-million federal loan from the Paycheck Protection Program, a system purportedly designed for small businesses needing coronavirus relief. Not until the Lakers were outed by the Trump administration, which threatened criminal action against large companies trying to trick the program, did they return the money in April.
"I never expected in a million years that the Los Angeles Lakers, which I'm a big fan of the team — but I'm not a big fan of the fact they took a $4.6 million loan," Treasury Secretary Steven Mnuchin said on CNBC. "I think that's outrageous."
I expected scathing commentary from the Los Angeles Times, armed with some of the best sports and news columnists in the business. But all I saw was a basic news story and scant letters to the sports editor, one from angry reader William Ford, who wrote what Bill Plaschke, Dylan Hernandez, Steve Lopez, Robin Abcarian and other Times voices did not write: "The Los Angeles Lakers just became the Los Angeles Takers in my book. Would you have returned the $4.6 million without the public shame caused by social media? You have shamed Elgin, Jerry, Kareem, James and Kobe and every player who has worn purple and gold, as well as an entire city.''
Why the absence of similar biting words from Times regulars and the editorial page? Oh, let's just say the billionaire who signs their checks might not have enjoyed anti-Lakers opinions from those on the payroll. Patrick Soon-Shiong, owner and executive chairman of the Times, has been a minority stakeholder in the Lakers since 2010. Back when they were playing games at Staples Center and not in the Disney World Bubble, Soon-Shiong often was seen courtside, high-fiving and hugging fellow fans after victories. Sometimes, Buss herself received his joyful congratulations. If there was no official edict to avoid the topic at the Times, there was a tacit understanding: To stay on good footing, do not criticize Buss in this matter, especially when Soon-Shiong — as part-owner — could be considered complicit in the failed loan-grab.
Such are the unethical invasions that are corrupting, if not killing, sports media in America. As the power and influence of rich leagues and owners continue to swallow fierce independence, too many editorial decisions are made with money in mind — such as, ignoring the boss' conflict of interest to protect one's regular paycheck. In some entanglements, cross-ownership of a sports franchise and media outlet means Plaschke and LeBron are in effect paid by the same person, which also impacts Boston Globe sports columnist Dan Shaughnessy, a hard-hitter whose checks are signed by John Henry, who also owns the Red Sox. All of which puts some local columnists — the last vestiges of watchdog commentary about an industry staggered by a pandemic and numerous recent scandals — in the same boat as ESPN and Fox Sports on-air talent and local-market talk show hosts.
If you're working for The Man, how can you comment negatively about The Man? And if you can't comment about The Man, why should any media consumer read, watch or listen when your credibility is compromised? The pandemic-driven upheaval of sports, in which no one is sure when and if leagues will return to some semblance of normalcy, has created a media culture of self-preservation and content suppression poisonous to a craft that has been softening for years.
Hear nothing, see nothing, check direct deposit on the 15th and 1st.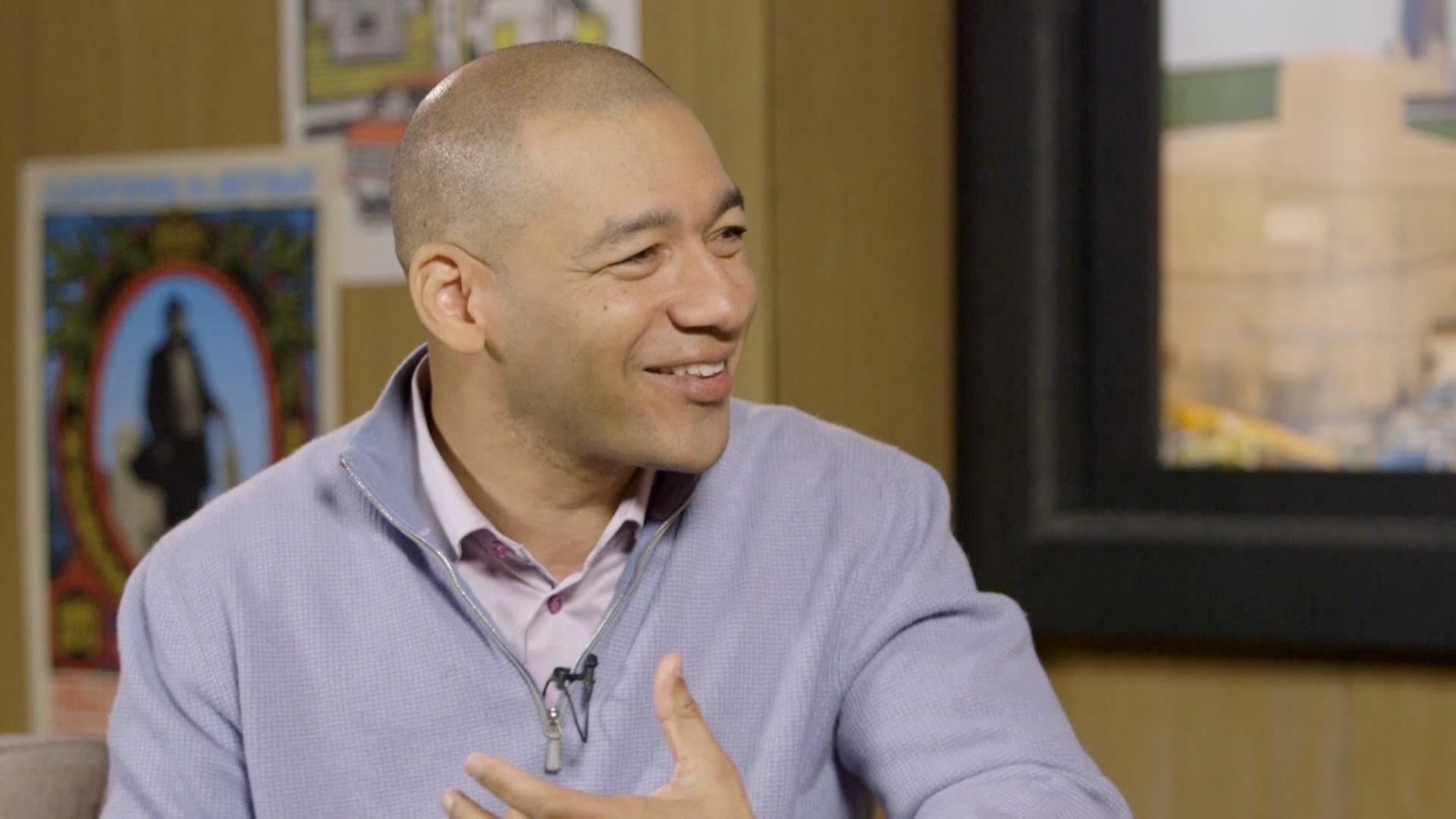 Tell J.A. Adande to add a new class — How To Kiss Ass And Keep Your Job 101 — to his curriculum in Northwestern's sports journalism initiative.
I don't need to rehash my existential concerns about ESPN, which long ago sold out to Big Sports — and the accompanying billions — and has been predictably giddy in covering a sports restart fraught with COVID-19 doubt and fallout. It might as well be renamed the NBA/NFL/MLB/NCAA Channel, and anyone who watches should realize the programming is an extension, in too many cases, of what the leagues want and want Bristol is only happy to give them. If you wonder why ESPN continues to pretend college football is around the corner, consider the company literally owns and operates the sport, to the point it will lose almost $1 billion in advertising alone if the season is canceled. Ethically, ESPN is a lost cause.
No, I'm focused on The Athletic, maybe the last-gasp option for those aspiring to write sports as a long-term livelihood. Struggling to support a subscription-based model while sports was on pause for months, the site has resorted to its own form of desperation. First, it laid off dozens despite raising $139.5 million in funding. Then, it sought sponsorships … within the very industry it is supposed to be covering independently and aggressively. The business site Front Office Sports reported Evan Parker, The Athletic's general manager of business and editorial operations (job descriptions that shouldn't be in the same title), has "set out to find sports teams, leagues and promotional partners who understood The Athletic brand'' in hopes of boosting "image and subscriber count.''
Next thing you knew, The Athletic was partnering with Major League Baseball and T-Mobile on a cringeworthy promotional giveaway — free one-year subscriptions to The Athletic and MLB.TV to T-Mobile/Sprint customers in the U.S.
The Athletic has sold out, too.
Even when Ken Rosenthal and Evan Drellich are breaking news about baseball — information often handed to them because MLB has a vested interest in The Athletic's success — I've yet to see a word demanding, say, the cancellation of the season. Or doubting commissioner Rob Manfred's competence, as some of us are doing, in the wake of virus outbreaks that have blitzed the Cardinals and Marlins. The dire situation cried for harsh commentary. What you initially got from Rosenthal was this: "MLB's shifting approach raises questions around the sport.'' He came back with a piece urging Manfred to cooperate with players, in their navigation of COVID-19, for the sport's greater good.
That's as good as he can do?
No, that's all he's allowed to do under the business parameters.
And do you honestly think legends such as Jayson Stark and Peter Gammons, who've served MLB to the degree they've been inducted in the Hall of Fame, are going to excoriate Manfred when they'd be biting the ownership hand that has fed them for decades?
When MLB returned late last month, followed by the NBA and NHL, The Athletic excitedly introduced a 40-part series called "The Comeback.'' The idea: Wrap the resumption of sports around the greatest comebacks in sports history — as if a level-headed person would lump the pandemic in the same thought process as a Miracle at the Meadowlands.
Wrote Seth Davis, a college basketball guy with else nothing to do: "Anyone who thought sports wasn't coming back probably doesn't watch a lot of sports. Sure, things were looking bleak for a while. We were facing long odds, and in many ways we still do. But we've seen big comebacks before, haven't we? A 3-0 deficit in the playoffs. A 25-point hole in the fourth quarter of a Super Bowl. Trailing by three goals at halftime of a Champions League final. We've seen other examples of people beating long odds. Athletes re-emerging from retirement, recovering from serious injuries, winning games and tournaments when they were supposedly well past their primes. Each time, the prospects for success seemed bleak. Each time, sports reminded us of the art of the possible. This is what we need from sports, now more than ever.''
What we need, from sports, is for the outbreaks to stop. What we need, from The Athletic, is to call for an MLB shutdown. And what we need, from life, is for people to stop getting sick and dying. But, see, the sports world operates in a parallel universe in which a $4.4-billion basketball franchise thinks it can justify a PPP loan. The Lakers didn't get their $4.6 million, and if anyone feels sorry for them, they'll still reap $12 million from a Spectrum SportsNet deal because players and coaches spent extra weeks in Florida confinement — when they could have been with their families — so eight seeding games could be played.
The L.A. Times could have been all over that, too. Instead, an Oregonian report was accusing the Times of accepting $100,000 in advertising money from the Pac-12 in exchange for favorable and additional coverage of the conference. A 2018 e-mail from the league to Blake Richardson, a young Times staffer, promised him "all the access and info to become the best Pac-12 reporter out there.''
I wonder how the late, great Jim Murray would be lampooning his own bosses for these sins. Just a guess: His column would be spiked.
Not that these pressures didn't exist before the pandemic. I've faced numerous warnings from on high not to cover certain stories. A Cincinnati editor-in-chief discouraged us, when I was 26, from probing the beginnings of the Pete Rose gambling scandal because, hey, Pete was a local hero. A Chicago editor-in-chief, who had front-row Bulls tickets during the Michael Jordan Era, was upset when I broke a story that Scottie Pippen felt like "a statue'' during one of Jordan's playoff point binges. Another set of Chicago bosses, a publisher and editor-in-chief, chastised me for questioning why White Sox owner Jerry Reinsdorf was in the bottom half of MLB payrolls, relenting only when they told me one day in the hallway, "Jerry didn't buy a table for our event.'' Another editor-in-chief asked if I was "anti-Semitic'' as he tried to soften my coverage of Reinsdorf, only the most prominent owner in U.S. sports at the time. They often tried to intimidate and fire me, to no avail, and when Sox manager Ozzie Guillen called me "a f—— fag,'' the bosses didn't have my back, not surprising after they'd pulled my column condemning Sox fans for harassing wives of the Houston Astros during a World Series game in Chicago. When I asked one of the conflicted editors, who'd wanted me to wear a Sox cap in my column logo during that World Series, if he was a fan of the team, he nodded. 
Sometimes, the official scoreboard clock in the United Center would stop — for several seconds — in the final minutes of Bulls games. Once, I could understand. Twice, three times, four? Given the immersive nature of gambling in the NBA culture, it was time to investigate. I was prepared to run a powerful, corroborated column; the editors were not because, you know, the NBA had called. Few of these people are anywhere near the media business today. Some are dead, figuratively if not literally.
I'll never forget the words of Larry Wert, a major broadcasting executive who became a big shot at NBC, when he ran me off his radio station: "Jay, some of us go to business school and others go to journalism school.'' This was followed a decade later by the story I love telling: An ESPN Chicago program director, Len Weiner, took me to an Arby's near the station and demanded I sign documents that I wouldn't criticize Reinsdorf's White Sox and Bulls. When I refused, the station fired me a day after Christmas and claimed publicly that I had bad ratings, only to look downright fraudulent when the ratings were terrific. I'd like to say Reinsdorf and that station have flourished since then. In truth, both have been mostly in the dumper.
So, yes, if I were an L.A. Times columnist, I'd have criticized the Lakers. And the next day, after the piece was killed, I'd have been downsized if not pushed out the way a snidely irreverent Times columnist, T.J. Simers, was dumped years ago. Which explains why I'm here today, writing proudly for a media industry site that prioritizes independence over dirty business deals, and why I'm donating my compensation to journalism-related sites that hopefully hear what I'm saying.
But probably don't.
Jay Mariotti, called "the most impacting Chicago sportswriter of the past quarter-century,'' writes a weekly media column for Barrett Sports Media and regular sports columns for Substack while appearing on some of the 1,678,498 podcasts in production today. He's an accomplished columnist, TV panelist and radio talk host. Living in Los Angeles, he gravitated by osmosis to film projects. Compensation for this column is donated to the Chicago Sun-Times Charity Trust.
Doug Karsch is Ready to Call First Michigan/Ohio State Game
"The magnitude of the position is intimidating, but when we actually got on the air to do it, it just felt like Jon and I doing a show where there wasn't a script."
On Saturday, the Michigan Wolverines and Ohio State Buckeyes will square off in their 117th matchup in history – and the stakes are arguably higher than ever before. Both teams enter the game 11-0 for the first time since 2006, and the winner of the game will clinch a spot in the Big Ten Championship Game and likely the NCAA College Football Playoff, and Doug Karsch will be there for all the action.
Now in his first season as the team's play-by-play announcer, Karsch will be given an opportunity to call a high stakes matchup on Saturday for a team he followed from his early days as a sports fan in Ann Arbor.
"Michigan vs. Ohio State just was built up to this mythical sort of proportion," recalled Karsch. "As a kid it just really sucked me in and really became such a big part of growing up."
Karsch and his family lived two-and-a-half blocks away from Michigan Stadium and frequently attended the team's home games. When they could not make the game, they would listen to play-by-play announcer Bob Ufer call the games, known for his iconic style and panache he brought to each broadcast.
Although he grew up a fan of the University of Michigan's football team, Karsch attended college at rival Michigan State University where he earned his degree in communications. Throughout his time in college, he utilized the resources on campus and in the Detroit metropolitan area to effectively build a career for himself in sports media. Karsch was focused on discovering and maximizing opportunities off campus as much as possible, hence why he interned at three different places while in school.
"I listened to a talk show on AM 1050 WTKA out of Ann Arbor and I called the show on occasion," Karsch said. "One day I just called and said, 'Hey, do you have any internships?,' and they said, 'Yes.' I kind of hung around that radio station until they actually had an emergency and I got to fill in as a host."
Karsch strongly believes in internships as a way to gain a footing into the industry, and coordinated the 97.1 The Ticket internship program when it was still in operation. By standing out as an intern, young professionals are able to assimilate into the industry and make valuable connections that will help position them well in the future.
"To me, it's kind of a way to sneak in but the problem is you can never know when the job is going to open up and the timing has to be right," Karsch said. "We have really good interns that didn't get hired and really good interns that did…. Find the place you want to work [and] see if you can volunteer for school credit or otherwise."
Aside from working in radio, Karsch interned at two television stations – WEYI in Clio, Mich. and WJRT ABC12 in Flint, Mich. – places where Karsch refined his craft and learned from experienced mentors, including former WJRT sports director Ed Phelps. Upon his graduation from the university in 1992, he continued working professionally with WEYI-TV and two years later, began expanding his on-air presence as the sports director at the station now branded as Sports Talk 1050 WTKA.
"I can't emphasize enough how internships give you great experience," Karsch said. "I tell people all the time that are looking to break into the business to do as many internships as you can. My experience was the smaller the station, the more they need you to do and the more practical experience you get and the more [likely] that they will hire you."
It was at WTKA where Karsch first had the opportunity to cover Michigan Wolverines football, including when the team won the national championship in 1997.
"Getting to cover the 1997 national championship team was a blast," Karsch recalled. "I actually had a phone line installed right outside of the Michigan locker room and was on the air live interviewing people as they came in and out following that national championship season."
Karsch was working at the station in the early days of the internet; that is, before it was a steady, reliable medium by which to conduct research and gather information. As a result, his preparation for a radio show involved reading several different newspapers and other articles about certain subjects in order to be ready for any question a caller might ask him on the air.
"In radio, it was more about what you knew than anything, and I kind of liked that," Karsch said. "I liked that you had to do your homework and you had to be prepared for anything."
While he was at a Michigan Wolverines basketball game, Karsch remembers being approached by someone who told him of the impending launch of Team 1270, a new AM sports station in Detroit. Before officially taking the air, the station had secured the broadcast rights to both the Detroit Tigers and Detroit Red Wings and was considering a significant expansion in its sports coverage.
"I loved college sports more than any of the pro sports at the time, yet there was pretty good money I couldn't say no to," Karsch said. "They basically said, 'We just want you to do you. Do whatever show you're doing in Ann Arbor; do it in Detroit,' and that's what I did."
Shortly thereafter, Karsch was paired with Scott "The Gator" Anderson on Karsch and Anderson, a program airing middays from 10:00 AM-2:00 PM. As the show approaches 20 years on the air, experiencing sustained success and longevity has come with having a keen awareness of the sports landscape in "The Motor City," and the blend between college and professional teams.
"I think it's an underrated sports market," Karsch said of Detroit. "I think the people care about all four pro teams and we have two major universities that the fanbases love in Michigan and Michigan State."
Regarding topic selection, a preponderance of listeners tune in for football talk, something that former 94WIP program director and sports radio consultant Tom Bigby told staff during a visit to Detroit. He suggested the station move to an open line format where more of the programming is based on callers than guests, and once the move was made, the impetus for callers to express themselves came at virtually any mention of Detroit Lions football.
After all, the listeners are, in essence, customers, and as the enduring 20th century business adage goes: "The customer is always right."
"When we bring up the Lions, the phones explode," Karsch expressed. "It has kind of always been the case since we went to the format. College football does get traction [and] Tigers baseball does get a lot of traction when they're playing. Mostly we just listen to the audience, watch the feedback that comes in with texts and tweets and follow those leads more than anything else."
The interactions between Karsch and Anderson are entertaining parts of the show that keep listeners tuning in, especially during debates. During his consulting visit, Bigby told the staff that it was not their job to win every argument; rather, it was incumbent on them to start them all. In working with Anderson, Karsch is aware of the topics that garner strong opinions and passion on the air, and will try to position his co-host to experience success in those moments.
"He has knowledge and does his homework as well, but there are times where I just need to sit back and let him go – and I'm perfectly fine with it because people love him and he gets rolling," Karsch said of his co-host. "He's definitely the funny personality on the show."
It all attributes back to Karsch's prudence and perception about what makes good sports talk radio. When he was working for a television station as a videographer early in his career, he has a distinct memory of traveling in a news truck and listening to sports talk radio with a sports reporter. Suddenly, the reporter started asking Karsch questions pertaining to how he would handle certain topics or callers on the show, giving him the ability to refine his craft in a completely different setting.
"I think of myself as an air traffic controller whose job it is to keep [the show] from crashing down," Karch said. "It's a tightrope, [and] you could always fall off, but every day you never know where it's going to go; the challenge is always different."
Over the nearly two decades hosting Karsch and Anderson at the station, which is currently branded as 97.1 The Ticket following the move to the FM band in 2007, the Detroit sports area has helped grow superstars and, in return, won several major sports championships.
"I think some markets skew so heavily towards one of the teams, but I do think in Detroit we're fortunate to have interest in sports year round," Karsch said. "There are times here sports stories on a given day just aren't going to carry the day, so we kind of have to branch out and push out what's interesting to the average Detroiter if it's not a sports story."
Karsch has been working directly with Michigan Wolverines radio broadcast for 16 years, initially hosting the pregame tailgate show, halftime show and postgame show. Additionally, he used to host the Wolverines sports magazine show and also contributed to the University of Michigan's athletics department website, giving him additional exposure to the brand.
"There's a familiarity," Karsch said. "Whether we were in the press box or outside the stadium – it varied just [by] being at all the games [and it] got me accustomed to it."
Before being named the new play-by-play announcer for Michigan Wolverines football, Karsch worked as a sideline reporter on the radio broadcasts, enterprising stories and shifting the central focuses of his preparation. Yet there are similarities between both roles, evinced by Dan Miller, play-by-play announcer for the Detroit Lions, who gave Karsch sound advice.
"He told me, 'You're going to walk into the booth with a bucket filled with information, and when the game is over, that bucket is going to be 95% still filled because you just don't have to get everything out; otherwise you're kind of forcing it and it's awkward,'" Karsch said.
"I caught on a couple of occasions this year where I fell into that trap a little bit, but he's right. You have to almost prepare for every player on the field on either team to be the star and then when that guy makes a huge play, you hope to have some relevant information to add to their story in that moment of time."
When Karsch landed the play-by-play job, he was elated and enthusiastic for the start of the college football season. Now as the regular season nears its conclusion, Karsch feels he and color commentator and former offensive tackle Jon Jansen have rekindled their chemistry from when they hosted the pregame tailgate show and called the 2014 Quick Lane Bowl together.
"The magnitude of the position is intimidating, but when we actually got on the air to do it, it just felt like Jon and I doing a show where there wasn't a script," Karsch said. "It was Jon and I just doing our thing where the script was the game playing out in front of us."
Jansen was a captain on the 1997 national championship team and has been able to make connections between being a member of that group and watching this year's football team attempt to achieve similar levels of success. Michigan recently faced the Illinois Fighting Illini and trailed going into the fourth quarter for the first time all season. The matchup was ultimately decided by a field goal set up by a large punt return by Ronnie Bell, drawing similarities to the National Championship Game in 1997.
"Michigan had to come up with a fourth quarter drive, and he's telling stories about that day and how much that was a hurdle [for] the team… to overcome when they didn't have their best day," Karch said. "….He was connecting dots from the eras that I think a lot of people can appreciate."
Preparing for a football broadcast is similar to preparing for a radio show in that the goal is keeping people interested in listening and coming back for more. It all comes down to efficiently articulating information and using vivid imagery to tell stories that give listeners the ability to depict a game without seeing it.
"Doing a game in some ways is easier because a majority of the time is just filled describing what you're seeing in front of you," Karsch explained, "whereas talk radio is four hours of freelance but being ready to react to what the audience wants to talk about. You don't have a whole lot of time doing a game to go back and find something that you missed, so you better be prepared for almost everything."
As he prepares to take the microphone at Ohio Stadium in Columbus, Karsch will aim to have his best broadcast of the season. It comes in a game surrounded by various storylines that will all coalesce at kickoff and could very likely determine the outcome of the 2022 Michigan Wolverines season.
Last week's game against Illinois was Karsch's first genuine opportunity as the voice of the Wolverines to call a fourth quarter finish at a time when "the game takes over." Now he is even more prepared for the adrenaline rush in calling a game filled with profound significance and traditional pomp and circumstance – one that may turn out to rival the previous "Game of the Century."
"The audience needs you to make sure that you're not missing any details," Karsch said. "Everything was ratcheted up – my intensity was ratcheted up – I think Jon's was next level and when it is over you really do exhale. I learned a lot about those moments and then I went back and listened to it [and] I heard a few things I could have done better. I imagine it's going to be 60 minutes of that feeling this Saturday."
Derek Futterman is a features reporter for Barrett Sports Media. In addition, he serves as the production manager for the New York Islanders Radio Network and lead sports producer at NY2C. He has also worked on live game broadcasts for the Long Island Nets and New York Riptide. He previously interned for Paramount within Showtime Networks and wrote for The Long Island Herald. To get in touch, find him on Twitter @derekfutterman.
Christian Fauria Is Making A Difference In Boston
"If you live with a kid or somebody with diabetes, it's not like cancer where somebody's in the hospital all the time. I feel like it's different. We're just constantly talking about it."
When there is a problem, you can either sit on the sideline or get involved. Similar to his NFL career, Boston radio host Christian Fauria is not only on the field, the guy is in the trenches battling to find a solution. When his eldest son was diagnosed with diabetes in 2019, Fauria went to work. He put together 25 for 25K. The goal was to raise at least $25,000 to benefit the American Diabetes Association by broadcasting live for 25 hours straight on WEEI.
Fauria's latest radiothon occurred last week on Nov. 16 and 17. He was able to generate over $250,000 this year. Not only has Fauria been able to multiply his original goal of 25K tenfold, the former NFL tight end has ambitious goals to multiply the latest amount as well. Again, you can either let a problem continue, or you can push and push to help things get better.
In addition to his son, Fauria shares a great story of why he ultimately decided to get involved. He also talks about a silver lining related to diabetes and the origin of doneski. (If you don't laugh, something is wrong.) Fauria also talks about his drive-time radio show with Lou Merloni and Meghan Ottolini, as well as how not caring has improved his sports radio career. Enjoy!
Brian Noe: Broadcasting for 25 hours straight. How do you feel going into it and also when it's over?
Christian Fauria: I'll tell you going into it, I just treat it as a normal day. There is no way to prep for it. The key is just to keep the energy up. Part of that is making sure that you have good guests on, especially late in the night. People who I think are interesting to talk to, topics that I think are fun, stuff that's different than your normal football or sports topics. That's what I try to incorporate into the 25 hours because if I have a lag in topics, then that's when I tend to get disinterested. Listen, I get disinterested in terrible topics on a normal day, but when I'm sleepless it's even worse. I protect myself that way.
Post-show is always a problem because I always feel worse than I think. It always takes me an irritatingly long time to overcome from it. Last year, I actually did 28 hours. I got sick, I lost my voice, I didn't recover for almost two weeks. This time, I said okay, I'm going to do things differently during the show, so that my recovery post-show will be a little bit better. I didn't eat a bunch of crap like I usually did. I drank a ton of water. When it was over, my voice was kind of dead, but it wasn't totally gone. I was able to keep up with that. Then when I got home, I fell asleep right away. My wife tweeted out a picture of myself literally passed out on the couch. My kids were complaining about how they heard me snoring from downstairs. People were hearing me snoring upstairs. I was 1,000% comatose afterwards.
BN: It's kind of like a marathon in a way. If you were pushing your limits even more, what's the most amount of radio hours you think you could do before just hitting the floor?
CF: Well, I think last year 28 was a lot. It was too much. The first year I did it, it was 25 hours, so at 3 o'clock I left. Last year when I did it, it was a little bit different. It wasn't really handled the right way. I really ended up going from 2pm on a Wednesday afternoon to 6pm Thursday. That's just with two people. It was a disaster. I shouldn't have done it, but I didn't have any choice.
Again, the most important thing is keeping the energy level up. I think that's the biggest thing I forget about that affects me. Keeping your energy high, being engaged, staying focused, driving the show by yourself from 10pm till 6am is a lot of work, man. You're just fried. When I left the other day, I didn't want to talk to anybody. I didn't want to speak to anybody. I just wanted to get the hell out of there because I was just so tired. Sleep deprivation will do that to you.
BN: Oh, I totally believe you, man. I want to try it as an experiment. I would love to know how that feels.
CF: It felt like shit. How 'bout that?
BN: [Laughs] I can imagine. How has diabetes affected your family personally?
CF: If you live with a kid or somebody with diabetes, it's not like cancer where somebody's in the hospital all the time. I feel like it's different. With diabetes, we're just constantly talking about it. How are your numbers? How do you feel? When you're going out to eat or if you're making dinner, I think we are all conscious of what we're making.
Do I want to make it easy on my son? If I want to make it easy on my son, I cook a lot of protein. There's lots of broccoli, so a real healthy meal. Dessert is something clean or something that he can eat where he can manage it easily. The pastas and the pizzas are a lot harder to manage, and to recover from as opposed to chicken and broccoli and steak. Staying away from a lot of complex carbs, sugars, all those things. It definitely affects us. But again, it's no big deal, we just deal with it, we move on.
BN: What's something important that you've learned about diabetes that you didn't know before your son was diagnosed with it?
CF: I think what I've learned is just what I feel is like an unbelievable burden, and a sense of responsibility and discipline that comes with being a diabetic. You always have to be aware of what's going on with your body. Always. When you wake up, before you go to bed, during a workout, it really is a constant battle to stay ahead of the numbers or to make sure that they're at a safe zone. I think the kids especially who deal with it, I've learned are just so much more mature than other kids because they are single-handedly responsible for keeping themselves alive. I think there's a sense of maturity and responsibility that the other kids have no idea about.
BN: Even though it's a lot to deal with, do you think in some ways there's a silver lining where it does mature some younger kids and prepare them for adult decisions later in life?
CF: Absolutely. For every negative thing, there's always some sort of bright side I think that you can take from it, whether you'd like to admit it or not. There's always some sort of good news that you can take away from it. I do think that is an obvious effect of that, is you're just forced to be an adult. Even going out drinking, it just forces you to be a lot more responsible and careful with your decisions. It doesn't mean you can't have a good time, you just need to be real mindful of how things affect you and affect your body, which undoubtedly affect your mood. Not that I want anyone to have it or learn the hard way, but if you're asking me the benefits of it, that would be a shrapnel effect.
BN: I saw a video where you were talking about one of the reasons that you decided to get involved with this charity work was a couple arguing in line when the guy needed insulin and couldn't afford it. Can you tell me about that?
CF: Yeah, it's a true story. It's still to me ultimately the most impactful aspect of this event. I was just in line, my son was upstairs. The doctor gave him a bunch of prescriptions. I went in line at Mass General and it was packed. This couple was in front of me. They were bickering back and forth about the cost of insulin. The guy said that he can't afford it. The girl was pleading with him to stay in line and at least just ask the pharmacist. He was basically irritatingly responding to her like I've done this before, I know what's going to happen.
She kept pleading and he kept getting irritated with her because it's almost like she didn't get it. She kept saying you'll die if you don't get it, and he said, well, what do you want me to do? So they just left the line and actually exited the hospital. I went after them and gave him my prescriptions. I think everything was for free. I was completely covered with my insulin, with all the devices that he needs for it.
I just thought wow, what a disparity. What a major issue because what if someone just can't afford their insulin? You wouldn't think that would be the case. I have this disease, it's not going away. The only way I can keep myself alive is to take insulin, and the only way to get it is with money. If you don't have insurance, how do you pay for it?
I think that was the thing that hit me the most, that really made me do something about it. It still is the main story that I tell that most people go, wow. That happens more than you think. I think that's the reality of it; some people will ration their insulin. They will take old insulin. That is very dangerous. They will just change their entire diet. They will take insulin from a different country.
The challenges are severe, and more severe than I think that people want to admit. Especially during times where bacon is a lot of dollars and gas is through the roof, you just really need to make a financial decision based on your entire life, and insulin can't be one of them. One of the things you shouldn't have to worry about is insulin. You just shouldn't have to worry about it. You should wake up in the morning knowing that you're going to have plenty of it and it will be readily available for you, and you won't have to barter or bargain or plead to have it. That's what bugs me.
BN: What is your ultimate goal for this event to turn into?
CF: My goal is to have it be a national event. I left this event saying to myself this is a million dollar yearly event all day long. It just is. We'll reach that. Not only do I think it's a local, regional event, I also think it has national implications. I don't know why this philosophy cannot be copied and duplicated in other cities, especially WEEI that has a foothold, and these bigger cities that have sports shows or radio shows. If we can somehow implement this whole plan on a yearly basis, we should be able to do $5 million a year if we have the same support here at Boston that we could get in other cities.
I'd want the same event going on in New York City, in Philadelphia, in Miami, in Chicago, in Dallas, in Denver, in Los Angeles, in Seattle. I want to hit those markets. I feel like there's a real opportunity to simulcast this event on a yearly basis. Each city has its own Christian Fauria that is doing the 25 hours. It doesn't have to be Christian Fauria, it can be Christine Fauria; it doesn't matter who you are. You just have to have the personality and the desire to do it. Then the sponsorships and the support will come.
BN: That's cool, man. I saw two t-shirts online; you were wearing Doneski and Lou was wearing Just Suck A Little. What's the backstory with those shirts?
CF: The second year we did it, we partnered up with a t-shirt company. One of the things that I'm known for saying is doneski. It's in reference to Zdeno Chara getting hurt years ago in a playoff game. I had said through my inside sources that he was doneski for the playoffs. It ended up backfiring on me, but everyone still says it. So we made Doneski shirts.
For Lou, whenever he was referencing the Red Sox when they were having a rough stretch, he would say just suck a little and you'll be fine. Instead of being really crappy, if you just sucked a little. That's where those came from. We stopped making those shirts because I think Lou didn't want to wear his anymore. Kids were wearing them to parties and trying to give the wrong message to girls.
BN: [Laughs] I got it, man.
CF: Yeah, we stopped doing that one. Out of context was kind of the problem there.
BN: Yeah, that's what I think about my Zach Wilson bet on Sunday. If he just sucked a little against the Patriots, maybe I had a chance to hit the over on his passing yards, you know?
CF: I know. Everyone should use that in life. If you just suck a little, you'll be fine. You don't have to be perfect; just don't be a total disaster.
BN: As an NFL player, you learned by observing. Not everything is taught. You do the same thing in radio. What's something from Merloni that you've learned just by observing what he does?
CF: Well, I would say most people learn by failing, not by succeeding. To me, I feel like even in football and in life, you can learn by failing. I have learned absolutely nothing from Lou. He has taught me nothing. He is just some bow-legged kid from Framingham that just got lucky with baseball skills, and suddenly got drafted to play for the Red Sox, and he was best friends with Nomar Garciaparra. [Laughs]
BN: [Laughs] Okay, so you're more of a trial-and-error guy, what's something that you've learned through error in radio that has helped you become better?
CF: Oh, my gosh. Geez, where do I start? The most important thing I've learned, if I was to teach a class, I would say first of all, you have to know what you're talking about. That's the first thing. You gotta have the knowledge. You have to put the work in to know what you're talking about because nothing's worse than getting pantsed on live radio or on live TV. Some caller calls up and says blah, blah, blah, and you go, oh crap, I missed that part. I think that's the first aspect.
Two, which I think is actually more important, is your personality. I just feel like if you're just who you are, and you don't try to be somebody else, and you back it up with knowledge, I think you will perform. I think personality is honestly the most important thing. You become stronger if you have the knowledge of what you're talking about. Even if you mess up, your personality just backs it up. It's like, well, you know, I was wrong, my bad. I know at the beginning of my career, I was really trying to be somebody who I wasn't and I was real conscious of just trying to please everybody. When I stopped giving a shit is when I started doing a better job.
BN: Wow, that's such a good quote, man. It's like the Howard Stern thing from the movie Private Parts. That's really when he started to become a legend was when he just stopped caring and stopped trying to be the perfect version.
CF: Yeah, I think that's true. I've put my foot in my mouth multiple times. I've had a lot of embarrassing moments. My whole thing is if you're worried about what people say, then you actually care too much about their opinion. That's the other aspect; I just don't care. I don't think you can in radio because we are constantly being chirped out. We are constantly being yelled at. People are constantly making fun of us and nasty stuff. Real nasty, like nothing pleasant. You wouldn't want your mom reading those things. A lot of people when they first get into radio, I don't think they're really aware of how mean and nasty people can be. I just never take it personal. I just look at it, I mute that person and I go about my day.
BN: When you think about the people that have helped you along the way, who are some of the people that have helped you become better?
CF: I would say my biggest asset is my wife to be honest with you. I would easily say she's my biggest asset as far as her criticism, her praise, her support and her 30,000-foot view advice when it comes to everything. She listens. She gives her advice. I'm very stubborn; sometimes I don't want to listen to it, but she's been my greatest asset like hands down. Hands down my greatest asset.
Lou and Glenn [Ordway] were both in the business before me and of both those guys have been great. I would say even Joe Zarbano. I would say it would be my wife and then Joe Zarbano who was my producer, then was my program director, now works at Encore. He and I used to spend a lot of time just talking over things, be yourself, how many times I say you know, like, those types of things. That would be it.
Listen, if you like the guys you work with, they're going to support you on a daily basis just by being there. But I never sat down with Glenn and Glenn said, okay, when you do this, you have to talk like that. No, Glenn's advice was always be yourself. Lou's advice was just be yourself. The philosophy is really simple; if you can just be yourself — knowledge, personality, success. That's the way it works.
BN: What does Mego bring to the show since she joined you guys?
CF: She's brought a lot. I'm a big trust guy. If I don't trust you, I'm not opening up to you. I'm not interacting with you. It just doesn't work for me. I was apprehensive at first because I just didn't really know anything about her. We had worked with her once a day for I don't know, maybe a season. But I will easily say she's the best addition to that entire station in the last five years. Easily.
BN: It's a silly thought, but you know those corporate events that have the trust fall? It's a big thing in radio too; you have to trust the people around you. That's such a great point, I never thought of it like that.
CF: I just feel like radio is more personal. We're talking about our personal lives. We're teasing each other a lot. My wife will tell you I'm very sensitive and I'm very needy with a lot of things. If I'm teasing you, it's usually a sign that I like you. An even better sign, if you're willing to tease me back. I feel like that's trust. Listen, my teasing is not coming from a real angry, aggressive position. My teasing is based on love and respect. Like with Lou, it was easy with Lou right away. I can rip Lou for anything and he knows I love him and I think he's great. And vice versa. The goal is we just want to have a good show. So even if I'm yelling my brains out at Lou and in the moment I'm pissed off, when the light goes off, he and I are good.
I feel like with Mego, it's been a process with her. I feel like the more we go, the more comfortable she gets with introducing topics. Hey, I'll do this segment. Knowing when to jump in, knowing when to tell us to shut up. She's one of us. She fits in great with us. She just gets it. I think anyone who's in radio will understand what that means.
BN: Oh, absolutely. No doubt. When you look to the future, in your broadcasting career or life in general, say over the next five years, what do you want it to look like?
CF: Well, I do have some big personal goals. I don't know if I want to share those, but I do know that being in radio is great. I love it. Having one of the best shows in the city is a goal, and it will always be a goal. I think we're starting to reel those guys in across the street. I feel like there should be some inherent fear that things have changed. We're not your grandpa's station anymore, they are. That's my personal opinion. Do I still want to do TV? Of course. Do I still want to do all the things I'm doing? Absolutely. But I'm dug in for the long haul when it comes to making the show one of the best in the nation.
Brian Noe is a columnist for BSM and an on-air host heard nationwide on FOX Sports Radio's Countdown To Kickoff. Previous roles include stops in Portland, OR, Albany, NY and Fresno, CA. You can follow him on Twitter @TheNoeShow or email him at bnoe@premierenetworks.com.
Does FOX Need West Coast College Football Success?
"I think we are all looking forward to the twelve team playoff and I don't know if it matters as much as it did in the last eight years."
Don't believe them. Don't believe those people that try to sell you on the idea that a given sport is better if a given team in said sport is good. You know, college football is better when Notre Dame is good. Maybe they tell you college basketball is better when UCLA is good. Might they say the NFL is better when the Dallas Cowboys are good? Let me tell you, whoever the they is saying those things, they are wrong. FOX isn't living or dying on it?
I am not here to tell you college football is better when USC is good. The Trojans are ninth all-time in FBS wins with 866 victories, they claim 11 National Championships and 39 conference championships. There is zero doubt they are among the elite, blue blooded programs of the college football world. With all of that said, USC hasn't contributed to college football's national championship discussion in more than 15 years. But, now Southern California is back and in College Football Playoff contention.
With only Notre Dame and a PAC 12 Conference Championship left to play, 10-1 USC is in excellent position to earn the first College Football Playoff bid in school history. The Trojans would be the third west coast team in the playoffs, 2014 Oregon played in the inaugural edition and 2016 Washington was the only other PAC 12 participant. It has now been five playoffs since a PAC 12 team has been in the top four.
That brings up the obvious question, how important is it for the health of the College Football Playoff to have west coast teams involved, especially one based in Los Angeles? L.A is, of course, the second largest media market in the nation. College football is well down the list of priorities in the City of Angels but having a team in the mix might help the overall national rating.
College Football has long been criticized for becoming too regional of a sport. The results thus far do lend themselves to that belief, the only team from outside the South to win a national championship was 2014 Ohio State. The SEC has twice had two teams among the four playoff teams and two of eight championship games matched Alabama and Georgia from the SEC.
So, does the College Football Playoff need West Coast teams for long term health? FOX is one of the rights holders for PAC 12 football and the main FOX college analyst, Joel Klatt, doesn't think it is necessary. "I don't know if it matters this year. This is like the last two years in an eight year term for a president," Klatt told me on my show, The Next Round, "I think we are all looking forward to the twelve team playoff and I don't know if it matters as much as it did in the last eight years."
To Klatt's point, the College Football Playoff seems to be screeching towards that twelve team format and a bigger media rights deal. That deal will almost certainly include multiple networks, not just ESPN/ABC, and will be worth significantly more money than the current deal. So, it is not as if the lack of a presence west of the Rockies has hurt the attractiveness of the College Football Playoff to the networks.
On the other hand, the playoffs have never reached the lofty ratings they had year one. Was the 2014 edition just ratings lightning in a bottle or has the regional nature of the product hurt those ratings? The 2014 semi finals did fall on New Year's Day which meant the games were played in the Rose Bowl and Sugar Bowl which has proven to be the most successful schedule in terms of ratings success.
The college football lover in me couldn't get enough of FOX's Saturday night USC-UCLA telecast. There's something about both teams wearing those classic home colors and playing in that historic stadium under the lights. They put on a great show, the show also would go on without them.
I want as many people as possible exposed to college football; it only makes the sport healthier. If that means more West Coast teams need to be in the playoffs, I hope they earn their way in. An expanded playoff will only make it easier. Until then, just keep telling people college football is better when your team is good
Ryan Brown is a columnist for Barrett Sports Media, and a co-host of the popular sports audio/video show 'The Next Round' formerly known as JOX Roundtable, which previously aired on WJOX in Birmingham. You can find him on Twitter @RyanBrownLive and follow his show @NextRoundLive.