Is Anyone Not Selling Out In Sports Media?
"The pandemic has created a crisis for media companies trying to stay in business, but cutting financial deals with sports leagues and ignoring big stories to protect bosses and paychecks are corrupting the profession."
Only three sports franchises on Planet Earth are worth more than the Los Angeles Lakers, home of Hollywood gold, LeBron James, celebrity fans, the Laker Girls, a $3-billion local broadcast deal and 16 NBA title banners. Just last week, Forbes estimated the team valuation at $4.4 billion, trailing only the Dallas Cowboys and New York's Yankees and Knicks. Think about it: The Lakers are more valuable than all but one NFL franchise and all the world's soccer clubs, including those in hallowed hubs Madrid, Barcelona and Manchester.
None of which stopped team controlling owner Jeanie Buss, beloved in southern California, from applying for and receiving a $4.6-million federal loan from the Paycheck Protection Program, a system purportedly designed for small businesses needing coronavirus relief. Not until the Lakers were outed by the Trump administration, which threatened criminal action against large companies trying to trick the program, did they return the money in April.
"I never expected in a million years that the Los Angeles Lakers, which I'm a big fan of the team — but I'm not a big fan of the fact they took a $4.6 million loan," Treasury Secretary Steven Mnuchin said on CNBC. "I think that's outrageous."
I expected scathing commentary from the Los Angeles Times, armed with some of the best sports and news columnists in the business. But all I saw was a basic news story and scant letters to the sports editor, one from angry reader William Ford, who wrote what Bill Plaschke, Dylan Hernandez, Steve Lopez, Robin Abcarian and other Times voices did not write: "The Los Angeles Lakers just became the Los Angeles Takers in my book. Would you have returned the $4.6 million without the public shame caused by social media? You have shamed Elgin, Jerry, Kareem, James and Kobe and every player who has worn purple and gold, as well as an entire city.''
Why the absence of similar biting words from Times regulars and the editorial page? Oh, let's just say the billionaire who signs their checks might not have enjoyed anti-Lakers opinions from those on the payroll. Patrick Soon-Shiong, owner and executive chairman of the Times, has been a minority stakeholder in the Lakers since 2010. Back when they were playing games at Staples Center and not in the Disney World Bubble, Soon-Shiong often was seen courtside, high-fiving and hugging fellow fans after victories. Sometimes, Buss herself received his joyful congratulations. If there was no official edict to avoid the topic at the Times, there was a tacit understanding: To stay on good footing, do not criticize Buss in this matter, especially when Soon-Shiong — as part-owner — could be considered complicit in the failed loan-grab.
Such are the unethical invasions that are corrupting, if not killing, sports media in America. As the power and influence of rich leagues and owners continue to swallow fierce independence, too many editorial decisions are made with money in mind — such as, ignoring the boss' conflict of interest to protect one's regular paycheck. In some entanglements, cross-ownership of a sports franchise and media outlet means Plaschke and LeBron are in effect paid by the same person, which also impacts Boston Globe sports columnist Dan Shaughnessy, a hard-hitter whose checks are signed by John Henry, who also owns the Red Sox. All of which puts some local columnists — the last vestiges of watchdog commentary about an industry staggered by a pandemic and numerous recent scandals — in the same boat as ESPN and Fox Sports on-air talent and local-market talk show hosts.
If you're working for The Man, how can you comment negatively about The Man? And if you can't comment about The Man, why should any media consumer read, watch or listen when your credibility is compromised? The pandemic-driven upheaval of sports, in which no one is sure when and if leagues will return to some semblance of normalcy, has created a media culture of self-preservation and content suppression poisonous to a craft that has been softening for years.
Hear nothing, see nothing, check direct deposit on the 15th and 1st.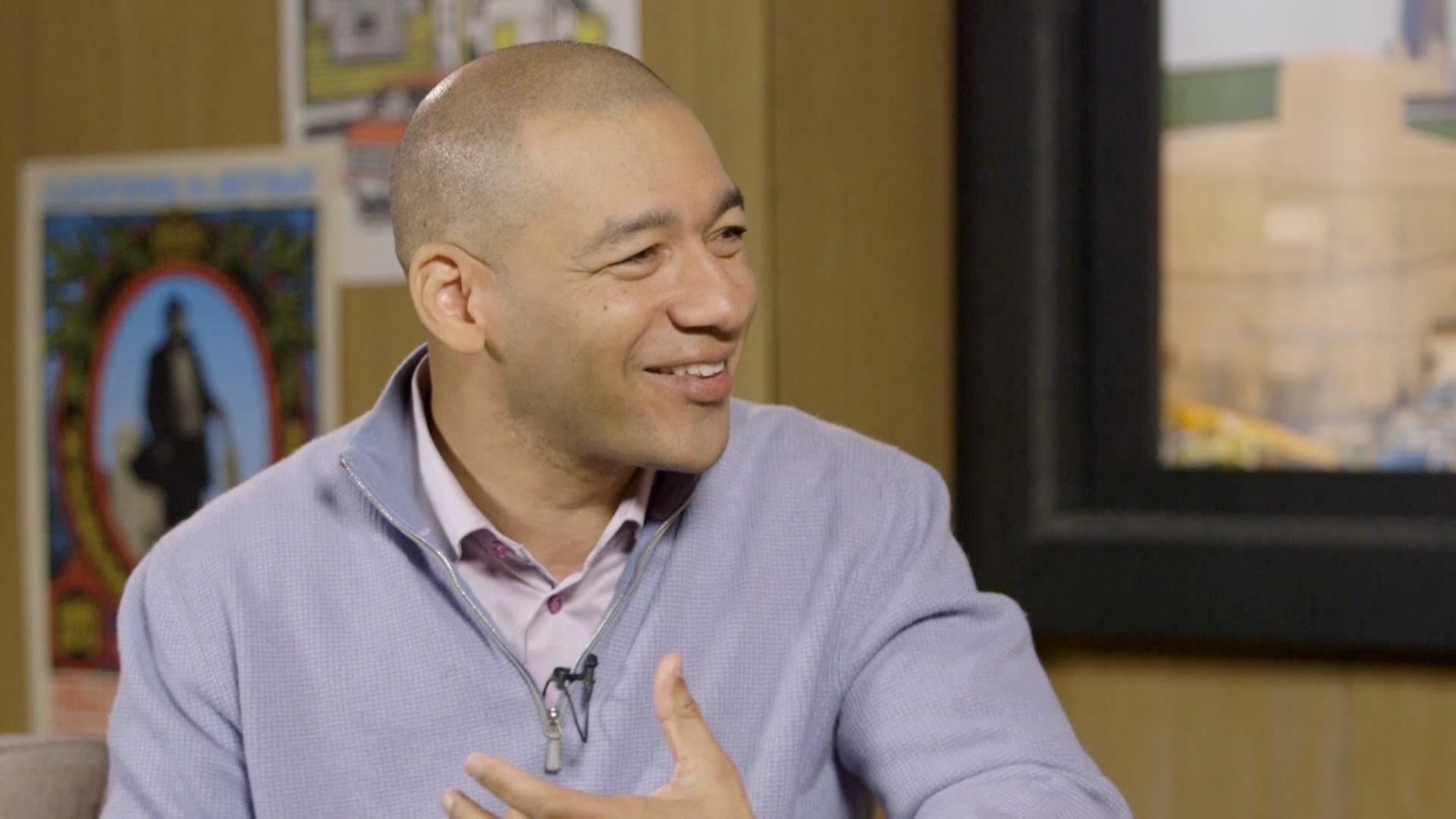 Tell J.A. Adande to add a new class — How To Kiss Ass And Keep Your Job 101 — to his curriculum in Northwestern's sports journalism initiative.
I don't need to rehash my existential concerns about ESPN, which long ago sold out to Big Sports — and the accompanying billions — and has been predictably giddy in covering a sports restart fraught with COVID-19 doubt and fallout. It might as well be renamed the NBA/NFL/MLB/NCAA Channel, and anyone who watches should realize the programming is an extension, in too many cases, of what the leagues want and want Bristol is only happy to give them. If you wonder why ESPN continues to pretend college football is around the corner, consider the company literally owns and operates the sport, to the point it will lose almost $1 billion in advertising alone if the season is canceled. Ethically, ESPN is a lost cause.
No, I'm focused on The Athletic, maybe the last-gasp option for those aspiring to write sports as a long-term livelihood. Struggling to support a subscription-based model while sports was on pause for months, the site has resorted to its own form of desperation. First, it laid off dozens despite raising $139.5 million in funding. Then, it sought sponsorships … within the very industry it is supposed to be covering independently and aggressively. The business site Front Office Sports reported Evan Parker, The Athletic's general manager of business and editorial operations (job descriptions that shouldn't be in the same title), has "set out to find sports teams, leagues and promotional partners who understood The Athletic brand'' in hopes of boosting "image and subscriber count.''
Next thing you knew, The Athletic was partnering with Major League Baseball and T-Mobile on a cringeworthy promotional giveaway — free one-year subscriptions to The Athletic and MLB.TV to T-Mobile/Sprint customers in the U.S.
The Athletic has sold out, too.
Even when Ken Rosenthal and Evan Drellich are breaking news about baseball — information often handed to them because MLB has a vested interest in The Athletic's success — I've yet to see a word demanding, say, the cancellation of the season. Or doubting commissioner Rob Manfred's competence, as some of us are doing, in the wake of virus outbreaks that have blitzed the Cardinals and Marlins. The dire situation cried for harsh commentary. What you initially got from Rosenthal was this: "MLB's shifting approach raises questions around the sport.'' He came back with a piece urging Manfred to cooperate with players, in their navigation of COVID-19, for the sport's greater good.
That's as good as he can do?
No, that's all he's allowed to do under the business parameters.
And do you honestly think legends such as Jayson Stark and Peter Gammons, who've served MLB to the degree they've been inducted in the Hall of Fame, are going to excoriate Manfred when they'd be biting the ownership hand that has fed them for decades?
When MLB returned late last month, followed by the NBA and NHL, The Athletic excitedly introduced a 40-part series called "The Comeback.'' The idea: Wrap the resumption of sports around the greatest comebacks in sports history — as if a level-headed person would lump the pandemic in the same thought process as a Miracle at the Meadowlands.
Wrote Seth Davis, a college basketball guy with else nothing to do: "Anyone who thought sports wasn't coming back probably doesn't watch a lot of sports. Sure, things were looking bleak for a while. We were facing long odds, and in many ways we still do. But we've seen big comebacks before, haven't we? A 3-0 deficit in the playoffs. A 25-point hole in the fourth quarter of a Super Bowl. Trailing by three goals at halftime of a Champions League final. We've seen other examples of people beating long odds. Athletes re-emerging from retirement, recovering from serious injuries, winning games and tournaments when they were supposedly well past their primes. Each time, the prospects for success seemed bleak. Each time, sports reminded us of the art of the possible. This is what we need from sports, now more than ever.''
What we need, from sports, is for the outbreaks to stop. What we need, from The Athletic, is to call for an MLB shutdown. And what we need, from life, is for people to stop getting sick and dying. But, see, the sports world operates in a parallel universe in which a $4.4-billion basketball franchise thinks it can justify a PPP loan. The Lakers didn't get their $4.6 million, and if anyone feels sorry for them, they'll still reap $12 million from a Spectrum SportsNet deal because players and coaches spent extra weeks in Florida confinement — when they could have been with their families — so eight seeding games could be played.
The L.A. Times could have been all over that, too. Instead, an Oregonian report was accusing the Times of accepting $100,000 in advertising money from the Pac-12 in exchange for favorable and additional coverage of the conference. A 2018 e-mail from the league to Blake Richardson, a young Times staffer, promised him "all the access and info to become the best Pac-12 reporter out there.''
I wonder how the late, great Jim Murray would be lampooning his own bosses for these sins. Just a guess: His column would be spiked.
Not that these pressures didn't exist before the pandemic. I've faced numerous warnings from on high not to cover certain stories. A Cincinnati editor-in-chief discouraged us, when I was 26, from probing the beginnings of the Pete Rose gambling scandal because, hey, Pete was a local hero. A Chicago editor-in-chief, who had front-row Bulls tickets during the Michael Jordan Era, was upset when I broke a story that Scottie Pippen felt like "a statue'' during one of Jordan's playoff point binges. Another set of Chicago bosses, a publisher and editor-in-chief, chastised me for questioning why White Sox owner Jerry Reinsdorf was in the bottom half of MLB payrolls, relenting only when they told me one day in the hallway, "Jerry didn't buy a table for our event.'' Another editor-in-chief asked if I was "anti-Semitic'' as he tried to soften my coverage of Reinsdorf, only the most prominent owner in U.S. sports at the time. They often tried to intimidate and fire me, to no avail, and when Sox manager Ozzie Guillen called me "a f—— fag,'' the bosses didn't have my back, not surprising after they'd pulled my column condemning Sox fans for harassing wives of the Houston Astros during a World Series game in Chicago. When I asked one of the conflicted editors, who'd wanted me to wear a Sox cap in my column logo during that World Series, if he was a fan of the team, he nodded. 
Sometimes, the official scoreboard clock in the United Center would stop — for several seconds — in the final minutes of Bulls games. Once, I could understand. Twice, three times, four? Given the immersive nature of gambling in the NBA culture, it was time to investigate. I was prepared to run a powerful, corroborated column; the editors were not because, you know, the NBA had called. Few of these people are anywhere near the media business today. Some are dead, figuratively if not literally.
I'll never forget the words of Larry Wert, a major broadcasting executive who became a big shot at NBC, when he ran me off his radio station: "Jay, some of us go to business school and others go to journalism school.'' This was followed a decade later by the story I love telling: An ESPN Chicago program director, Len Weiner, took me to an Arby's near the station and demanded I sign documents that I wouldn't criticize Reinsdorf's White Sox and Bulls. When I refused, the station fired me a day after Christmas and claimed publicly that I had bad ratings, only to look downright fraudulent when the ratings were terrific. I'd like to say Reinsdorf and that station have flourished since then. In truth, both have been mostly in the dumper.
So, yes, if I were an L.A. Times columnist, I'd have criticized the Lakers. And the next day, after the piece was killed, I'd have been downsized if not pushed out the way a snidely irreverent Times columnist, T.J. Simers, was dumped years ago. Which explains why I'm here today, writing proudly for a media industry site that prioritizes independence over dirty business deals, and why I'm donating my compensation to journalism-related sites that hopefully hear what I'm saying.
But probably don't.
Being Wrong On-Air Isn't A Bad Thing
…if you feel yourself getting uncomfortable over the fact that you were wrong, stop to realize that's your pride talking. Your ego. And if people call you out for being wrong, it's actually a good sign.
In the press conference after the Warriors won their fourth NBA title in eight years, Steph Curry referenced a very specific gesture from a very specific episode of Get Up that aired in August 2021.
"Clearly remember some experts and talking heads putting up the big zero," Curry said, then holding up a hollowed fist to one eye, looking through it as if it were a telescope.
"How many championships we would have going forward because of everything we went through."
Yep, Kendrick Perkins and Domonique Foxworth each predicted the Warriors wouldn't win a single title over the course of the four-year extension Curry had just signed. The Warriors won the NBA title and guess what? Curry gets to gloat.
The funny part to me was the people who felt Perkins or Foxworth should be mad or embarrassed. Why? Because they were wrong?
That's part of the game. If you're a host or analyst who is never wrong in a prediction, it's more likely that you're excruciatingly boring than exceedingly smart. Being wrong is not necessarily fun, but it's not a bad thing in this business.
You shouldn't try to be wrong, but you shouldn't be afraid of it, either. And if you are wrong, own it. Hold your L as I've heard the kids say. Don't try to minimize it or explain it or try to point out how many other people are wrong, too. Do what Kendrick Perkins did on Get Up the day after the Warriors won the title.
"When they go on to win it, guess what?" He said, sitting next to Mike Greenberg. "You have to eat that."
Do not do what Perkins did later that morning on First Take.
Perkins: "I come on here and it's cool, right? Y'all can pull up Perk receipts and things to that nature. And then you give other people a pass like J-Will."
Jason Williams: "I don't get passes on this show."
Perkins: "You had to, you had a receipt, too, because me and you both picked the Memphis Grizzlies to beat the Golden State Warriors, but I'm OK with that. I'm OK with that. Go ahead Stephen A. I know you're about to have fun and do your thing. Go ahead."
Stephen A. Smith: "First of all, I'm going to get serious for a second with the both of you, especially you, Perk, and I want to tell you something right now. Let me throw myself on Front Street, we can sit up there and make fun of me. You know how many damn Finals predictions I got wrong? I don't give a damn. I mean, I got a whole bunch of them wrong. Ain't no reason to come on the air and defend yourself. Perk, listen man. You were wrong. And we making fun, and Steph Curry making fun of you. You laugh at that my brother. He got you today. That's all. He got you today."
It's absolutely great advice, and if you feel yourself getting uncomfortable over the fact that you were wrong, stop to realize that's your pride talking. Your ego. And if people call you out for being wrong, it's actually a good sign. It means they're not just listening, but holding on to what you say. You matter. Don't ruin that by getting defensive and testy.
WORTH EVERY PENNY
I did a double-take when I saw Chris Russo's list of the greatest QB-TE combinations ever on Wednesday and this was before I ever got to Tom Brady-to-Rob Gronkowski listed at No. 5. It was actually No. 4 that stopped me cold: Starr-Kramer.
My first thought: Jerry Kramer didn't play tight end.
My second thought: I must be unaware of this really good tight end from the Lombardi-era Packers.
After further review, I don't think that's necessarily true, either. Ron Kramer did play for the Lombardi-era Packers, and he was a good player. He caught 14 scoring passes in a three-year stretch where he really mattered, but he failed to catch a single touchdown pass in six of the 10 NFL seasons he played. He was named first-team All-Pro once and finished his career with 229 receptions.
Now this is not the only reason that this is an absolutely terrible list. It is the most egregious, however. Bart Starr and Kramer are not among the 25 top QB-TE combinations in NFL history let alone the top five. And if you're to believe Russo's list, eighty percent of the top tandems played in the NFL in the 30-year window from 1958 to 1987 with only one tandem from the past 30 years meriting inclusion when this is the era in which tight end production has steadily climbed.
Then I found out that Russo is making $10,000 per appearance on "First Take."
My first thought: You don't have to pay that much to get a 60-something white guy to grossly exaggerate how great stuff used to be.
My second thought: That might be the best $10,000 ESPN has ever spent.
Once a week, Russo comes on and draws a reaction out of a younger demographic by playing a good-natured version of Dana Carvey's Grumpy Old Man. Russo groans to JJ Redick about the lack of fundamental basketball skills in today's game or he proclaims the majesty of a tight end-quarterback pairing that was among the top five in its decade, but doesn't sniff the top five of all-time.
And guess what? It works. Redick rolls his eyes, asks Russo which game he's watching, and on Wednesday he got me to spend a good 25 minutes looking up statistics for some Packers tight end I'd never heard of. Not satisfied with that, I then moved on to determine Russo's biggest omission from the list, which I've concluded is Philip Rivers and Antonio Gates, who connected for 89 touchdowns over 15 seasons, which is only 73 more touchdowns than Kramer scored in his career. John Elway and Shannon Sharpe should be on there, too.
Money Isn't The Key Reason Why Sellers Sell Sports Radio
I started selling sports radio because I enjoyed working with clients who loved sports, our station, and wanted to reach fans with our commercials and promotions.
A radio salesperson's value being purely tied to money is overrated to me. Our managers all believe that our main motivation for selling radio is to make more money. They see no problem in asking us to sell more in various ways because it increases our paycheck. We are offered more money to sell digital, NTR, to sell another station in the cluster, weekend remotes, new direct business, or via the phone in 8 hours.
But is that why you sell sports radio?
In 2022, the Top 10 highest paying sales jobs are all in technology. Not a media company among them. You could argue that if it were all about making money, we should quit and work in tech. Famous bank robber Willie Sutton was asked why he robbed twenty banks over twenty years. He reportedly said," that's where the money is". Sutton is the classic example of a person who wanted what money could provide and was willing to do whatever it took to get it, BUT he also admitted he liked robbing banks and felt alive. So, Sutton didn't do it just for the money.
A salesperson's relationship with money and prestige is also at the center of the play Death of a Salesman. Willy Loman is an aging and failing salesman who decides he is worth more dead than alive and kills himself in an auto accident giving his family the death benefit from his life insurance policy. Loman wasn't working for the money. He wanted the prestige of what money could buy for himself and his family. 
Recently, I met a woman who spent twelve years selling radio from 1999-2011. I asked her why she left her senior sales job. She said she didn't like the changes in the industry. Consolidation was at its peak, and most salespeople were asked to do more with less help. She described her radio sales job as one with "golden handcuffs". The station paid her too much money to quit even though she hated the job. She finally quit. The job wasn't worth the money to her.
I started selling sports radio because I enjoyed working with clients who loved sports, our station, and wanted to reach fans with our commercials and promotions. I never wanted to sell anything else and specifically enjoyed selling programming centered around reaching fans of Boise State University football. That's it. Very similar to what Mark Glynn and his KJR staff experience when selling Kraken hockey and Huskies football.
I never thought selling sports radio was the best way to make money. I just enjoyed the way I could make money. I focused on the process and what I enjoyed about the position—the freedom to come and go and set my schedule for the most part. I concentrated on annual contracts and clients who wanted to run radio commercials over the air to get more traffic and build their brand.
Most of my clients were local direct and listened to the station. Some other sales initiatives had steep learning curves, were one-day events or contracted out shaky support staff. In other words, the money didn't motivate me enough. How I spent my time was more important.
So, if you are in management, maybe consider why your sales staff is working at the station. Because to me, they'd be robbing banks if it were all about making lots of money.
Media Noise: BSM Podcast Network Round Table
Demetri Ravanos welcomes the two newest members of the BSM Podcast Network to the show. Brady Farkas and Stephen Strom join for a roundtable discussion that includes the new media, Sage Steele and Roger Goodell telling Congress that Dave Portnoy isn't banned from NFL events.
Podcast: Play in new window | Download
Subscribe: RSS