Who Gets the 99's In Sports Radio Madden?
Madden 21 doesn't come out until the end of the month, but you'd think it had already been in stores for several weeks. Why? Because in the past month, player reactions to their rating in the game has been one of the main NFL topics on both sports radio and TV.
For instance, when Kyler Murray said he felt disrespected about his 77 overall rating during an appearance on First Take, it made headlines everywhere. That's also why the Madden NFL franchise has the best marketing tool any video game has ever seen. It's free advertising unlike we've ever seen and the ratings system has become, arguably, as big as the game itself.
In the game, a 99 overall rating is the highest you can achieve. Having that rating puts you in the category as one of the best in the game, as only a handful are selected each year. In this year's game, only Patrick Mahomes, Aaron Donald, Stephon Gilmore, Christian McCaffrey and Michael Thomas are in the elite group.
But what if you could give a 99 rating to certain sports radio hosts? Instead of rating speed, agility, throw power and accuracy, how about rating the ability to rant, create compelling hot takes or even interview skills?
Thankfully, this is the website where I can do exactly that.
Rant
To get a 99 in rant ability it has to come naturally. Some guys are loud, just to be loud, but the best know it's all about picking the right spot and letting the audience feel the passion about the topic. A 99 level rant will always be the highlight of any show and is likely to be replayed for years to come.
Don La Greca – co-host of the Michael Kay Show on 98.7 ESPN New York and YES Network.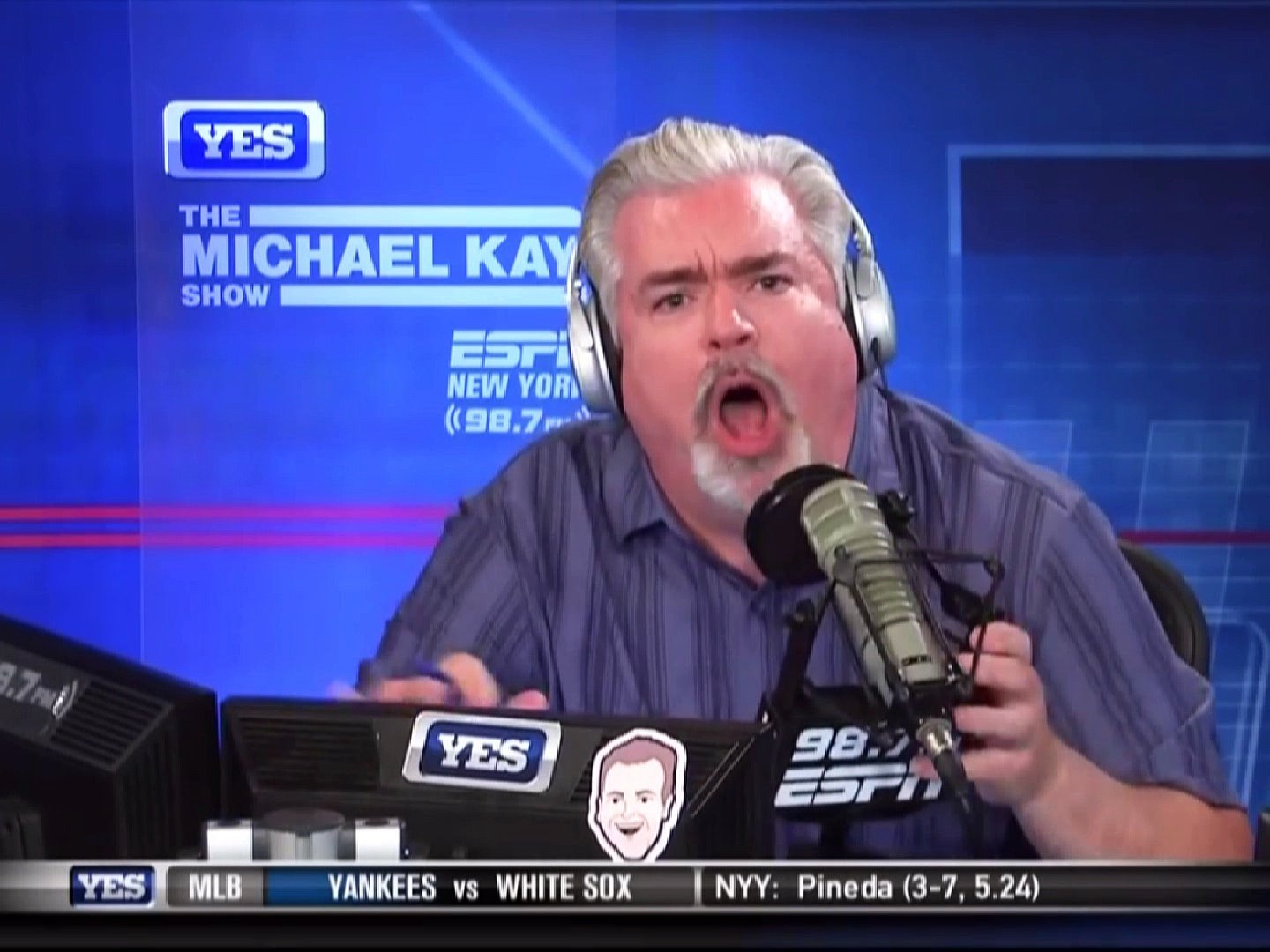 Nobody rants better than Don. It's actually one of my favorite things about The Michael Kay Show. Maybe it's a dumb caller asking why the Yankees didn't pinch hit in the second inning, or why the Mets have found their forever player, but when Don starts, watch out. You can see it in his face and hear it in his voice. Heck, the guy may even shake a computer screen to get his point across.
Edddddddddd!!! Freaaaakin! Craaaaanepooool!!!
Intelligence
There's some guys who just seem to know what they're talking about on every issue. Maybe that's from show prep, maybe that's just being naturally brilliant, but getting a 99 on intelligence requires both. Those are the hosts that you feel you really learn something from
Nick Wright – co-host of First Things First on FS1 and What's Wright on SiriusXM.
I legitimately feel smarter every time I listen to Nick Wright. Nobody else in sports media can do that the way he does. He's so well prepared and always has excellent points to back up any take. I could have put Wright on a couple of other categories for having a 99 rating, but his intelligence is his best asset. TV, radio, podcast, whatever, Wright is a 99 talent on them all.
I should also mention that Wright is gracing the cover for this make believe video game in 2020. Colin Cowherd was on the cover in 2019, after Dan Patrick was on it for the previous 10 years.
Interview ability
Getting big guests is one thing, but can you routinely pull the best out of them? That's the trait you have to possess to receive a 99 rating. That takes an incredible amount of research on your guest, as well as an ability to make them feel comfortable enough to give you answers they wouldn't give anyone else. Someone immediately comes to mind…
Dan Patrick – Host of the Dan Patrick Show on FOX Sports Radio.
I don't care how many times Dan has made this list, he's still a better interviewer than anyone else in the business. He's done it for so long, there's almost an unspoken expectation with guests that they better perform. Dan will be remembered for a lot of things when he retires, but his interview ability will be what's remembered most fondly.
Entertainment
The shows I find myself routinely flipping back to each day, are the ones that make me laugh. Sports radio is still allowed to be light-hearted and funny and the hosts who achieve this on a daily basis tend to catch my attention more than the others.
The winner – Pat McAfee – Host of the Pat McAfee Show on CBS Sports Radio
There's nobody naturally funnier in the business than Pat. He's loud, energetic, fun and a 99 when it comes to entertaining an audience. I won't say he's a rising star, because I really believe he's already arrived. Unless you're just looking for something to hate about the guy, you can't watch or listen to the guy and not laugh or be entertained. He'll grace the cover of this game in the next two or three years.
Hot take ability
Though hot takes are seen as a negative by some people I tend to appreciate the ability to argue both sides and come up with compelling points for each. A good hot take is taking something that's unpopular and making the listener think, hmm, that is a compelling argument, I've never thought of it that way. A 99 hot take ability is never scared to take the unpopular side.
The winner: Colin Cowherd – Host of The Herd on FOX Sports Radio
Colin is the only guy that can formulate a strong opinion on something by using the comparison of a steakhouse or wearing a backwards hat. It really is incredible. There's always substance to every take he has and it shows every time he makes an argument. Sure, he's not always the most popular guy on the internet, but that tends to happen when you routinely take a unique side of a discussion or an argument. Nobody argues a point better.
Tyler McComas is a columnist for BSM and a sports radio talk show host in Norman, OK where he hosts afternoon drive for SportsTalk 1400. You can find him on Twitter @Tyler_McComas or you can email him at TylerMcComas08@yahoo.com.
Sports Talkers Podcast – Carl Dukes
Stephen Strom can be heard hosting 'The Sports Talkers Podcast' for Barrett Sports Media. In addition to hosting here, Stephen works as a broadcasting assistant for the Miami Heat and color analyst for Nova Southeastern. Additional career experiences include working for SiriusXM, performing analyst duties for Princeton basketball, and hosting shows for TalkNorth.com. You can find him on Twitter @SStrom_.
Terry Ford Couldn't Say No To 107.5 The Game
"In Columbia, South Carolina Gamecock fans are in 150 percent. These people love football. The Atlanta experience, the taste of it in Lexington really gave me a good foundation for what we have here in Columbia."
If he had to put a number on the big decision he made last year it would be 150 percent. Sure, leaving Lexington, KY and 96.1 WZNN didn't happen without long thoughts and consideration for Terry Ford, but the opportunity to work for one of the most respected names in the business was too much to pass up.
In late November of 2021, Ford was named the new program director and host at 107.5 The Game in Columbia, SC. The opportunity originally came about during a conversation between Ford and Jason Barrett. Ford had always wanted to work with Bruce Gilbert. Barrett knew this, so when the position under the Cumulus umbrella opened, he urged Ford to consider the position.
"I've always wanted to work for Bruce," Ford said. "Jason told me there was an opportunity to work with Bruce and I talked to the market manager Tammy O'Dell. She was fantastic. Everything was just too good. It was 150 percent the right decision. This has been nothing but a phenomenal experience."
Columbia is the exact market you think it is. Situated in a college town, which breeds incredible passion for Gamecock athletics. South Carolina has had success in basketball and baseball, but to its core, it's like most other SEC markets in that college football rules the day. To an outsider, that can sometimes be a challenge to immediately grasp and understand. But Ford is no outsider when it comes to the SEC. His previous stop was in Lexington and he even did a stint in Atlanta at 790 The Zone. He knows the landscape of the SEC.
"When I was at 790 The Zone, I'll never forget the PD Bob Richards was like, ok, you have to understand, we might have pro sports here but the Georgia Bulldogs are gigantic," Ford said. "This is SEC country. I kinda learned then and there that if Georgia was sniffing around some 9th grader that runs a 4.2 40-yard dash, that's a story. When you're in SEC country, everything is a story that matters to the local program. Atlanta gave me my first taste of the passion of the SEC football fan. Lexington was different because it's a basketball school. And in Columbia, South Carolina Gamecock fans are in 150 percent. These people love football. The Atlanta experience, the taste of it in Lexington really gave me a good foundation for what we have here in Columbia."
But there was much more to his new gig than just understanding how much passion there is in Columbia for Gamecock football. His biggest challenge was going to be to earn the respect and trust of his on-air staff as their new PD, as well as blend into the three-man show he was going to be a part of. So how did he do that?
"It's kind of a tightrope," Ford said. "You're the PD, but you're also in the octagon with them. I really think talking with hosts in 'hosts talk' is the best way to connect with them when you go to another market. We hosts are different. When you can sit and talk like hosts together I think it builds a connection. I think all hosts, when you get a new PD, you're like, ok, what the hell have you done? You're going to be in charge of me as a host, have you hosted? I think that's natural for a host, whether it's outward or internal. I've done the same thing."
Ford has more than 20 years of experience in sports radio. That will garner him some respect in the building, but not as much as his continued eagerness to learn from others. That could very well be one of the best traits for any PD, no matter their age or experience. If you're always eager to learn, you'll undoubtedly be better. Ford is just that. He wants to learn from as many people as possible.
"I've always wanted to learn from guys like Scott Masteller or Bruce Gilbert or Jason Barrett," Ford said. "People who have done this successfully at a high level. And learning from guys who've done it in different size markets. You can't take things from Philadelphia and apply them to Oklahoma City. It's a different level. I wanted to learn how different guys in different markets program their brands. I wanted to learn all aspects of the business."
Ford's eagerness to learn isn't where his characteristics of being a good PD ends. In the eyes of a host, it can be appreciated that the PD in the building has also seen things from their side. Ford has done exactly that. In a closed-door meeting, he's now the one delivering the news, good or bad, to a host. But it wasn't long ago when he was the one sitting on the opposite side of the desk.
"I never want to forget when I went into programming, what it's like to sit on the other side of the desk in that other chair," Ford said. "Because it can suck. I've sat in that chair and gotten good news and I've sat in that chair and got some crappy news. I just never want to forget what it's like to be the guy sitting there getting news. I want to take all those experiences and all that knowledge and you come in and deal with a Heath Cline, or a Jay Phillips, or Bill Gunter, or a Pearson Fowler, who's under 30, or Patrick Perret, who's under 30. I want to be able to relate to them and talk to them in their host language, where they say, ok, this dude speaks the language. He gets where I'm coming from. It's just about finding a way to relate to everyone."
To be completely transparent, the phone call I had with Ford only lasted 20 minutes. But even in that short time, I found myself saying, wow, this is a PD I would love to work for. He's intelligent and passionate about the business, he's incredibly skilled and genuinely cares about relating to his hosts, but he's also really funny. Each question he answered was well-thought-out and insightful, but it wasn't said without a short joke until he broke out with a serious answer. He's a guy that knows what he's doing but isn't the dreadful guy that sucks the life out of the building. Columbia seems lucky to have him.
"Sometimes you get good fortune from the radio gods and other times you feel like you can't get any luck they're taking a dump on you," Ford said. "They smiled on me through circumstance and with the help of a guy like Jason Barrett I ended up with a good opportunity in Columbia. It was too good to turn down. It was one of the moments where, if I turn this down, I'm a dope. I've been a dope in my life and this time I decided not to be one."
I've always been interested in the daily life of someone who's both a host and a PD. I don't envy it because you have to perfectly delegate your time to fulfill both duties. So how does Ford go about it?
"Massive chaos at high speed while blindfolded," joked Ford. "I get up around 6:30 in the morning and away from the office, I try to put in a couple hours of prep. That way people aren't asking me about stuff and I'm not doing PD things. All I'm doing is trying to prep like a host. I try to give myself a couple hours of that before I come into the office. I'll be honest, prepping as a PD and prepping as a host, good luck. I tell the guys here, I'm probably about 75 percent of a host right now, in terms of effectiveness. I just can't prep like I want to. I'm a prepping dork. I jump down all sorts of rabbit holes and I'm deep-diving into stuff. As a PD you don't have that time to dive."
Ford started his radio career outside of sports talk. But he was always captivated by the business and spent many nights debating sports with his friends. It was a passion, even though he wasn't yet hosting a show.
"I always was captivated by sports talk, but when I was growing up it was a certain way," Ford said. "It really wasn't the way that I wanted to do it. I said, man, if it ever becomes where you can be opinionated, compelling but you can also have some fun, I'm all in. I always had an eyeball on sports while doing music radio. Around 2000, I said, I love sports, talking sports, you know what, screw it, I'm going to start looking for sports talk openings."
So he did, but while searching for openings, Ford had to refine his craft, while also building a demo. He did it in a way that perfectly sums up who he is as both a talent and a person. He made it fun
"I was doing rock radio at the time, and you talk to dudes, and what I would do is start sports conversations with them and record it. I would save those and put a riff in front of it like a monologue and I would take these calls and I built a demo by talking to drunk guys at a rock station in Harrisburg, Pennsylvania. I got the gig off of that for Sporting News magazine in Seattle."
Tyler McComas is a columnist for BSM and a sports radio talk show host in Norman, OK where he hosts afternoon drive for SportsTalk 1400. You can find him on Twitter @Tyler_McComas or you can email him at TylerMcComas08@yahoo.com.
Anatomy of a Broadcaster: Kevin Burkhardt
He is always upbeat, but never over the top. No screaming, but his energy remains consistent and smooth throughout a broadcast.
It wasn't all that long ago, that Kevin Burkhardt was selling cars in New Jersey. Now that's all in his rearview mirror and Burkhardt is getting ready to enter his first season as the main play-by-play voice of the NFL on Fox. You could say he could be the definition of 'perseverance', doing whatever it took to chase a dream. That focus has certainly paid off nicely for Burkhardt. The leap he made in two decades time is amazing and not often duplicated. 
Growing up in Bloomfield, New Jersey, Burkhardt, would do play-by-play for his Nintendo games back in his Junior High days. He loved Gary Cohen and tried to emulate him as best he could. Strangely enough, he would end up working with Cohen on Mets broadcasts on SNY.
A 1997 graduate of William Paterson University, Burkhardt earned a degree in broadcasting. He took that degree to radio station WGHT in Northern New Jersey, spending eight years working for the station. It was a 1,000-watt, daytime only AM station. Burkhardt delivered local news and called high school football. While at WGHT he also worked at Jukebox Radio, broadcasting New Jersey Jackals minor league games for WJUX. To make ends meet while doing freelance work, Burkhardt began working as a sales associate at Pine Belt Chevrolet in Eatontown, New Jersey. Over the next six-plus years Burkhardt could not find a larger station willing to take a chance on him.
He recalled the frustrated feeling he had back then, when he spoke with Sports Illustrated in 2013. . "I thought I was good enough to make it [in broadcasting], but after so many years of busting my tail, I was making $18,000 a year and working all kinds of odd hours," says Burkhardt. "It just wasn't happening for me."
Finally, Burkhardt got a part-time job working at WCBS-AM in New York, which in turn put him on the radar of the all sports station, WFAN. He began to work there part-time, then eventually became the station's full-time New York Jets reporter. He got the break he needed.
ROAD TO FOX
After his stint at WFAN, Burkhardt joined the Mets broadcast team starting the 2007 season for SNY. He appeared on shows such as Mets Hot Stove, Mets Pregame Live, Mets Postgame Live and Mets Year in Review. His main duties though were as the field reporter during Mets telecasts. He would also call select games during both Spring Training and the regular season. 
Also, while employed at SNY, he called Dallas Cowboys games on Compass Media Networks from 2011 until 2013. That's when he left for Fox. But, sandwiched in between was an opportunity to be seen by Fox execs. He called a Mets/Braves game with SI's Tom Verducci on their network. The Fox brass liked what they saw.
According to that 2013 SI article, Burkhardt's agent initially had discussions with the network about his client calling college football this season but those talks morphed into an NFL opportunity. "When my agent called me with that, I was floored," Burkhardt says. "I'm sure you hear people say 'this is my dream job' all the time, but I literally dropped to one knee on the floor. I could not believe what he was saying on the other end."
He started with the #4 broadcast team and of course has worked his way up from there. Now, some 9 years later he's on the top crew. After Joe Buck left for ESPN earlier this year, Burkhardt was promoted to the #1 broadcast team for the NFL on Fox, alongside Greg Olsen.
Football isn't the only thing Burkhardt has exceled in at the network. He is the lead studio host for Major League Baseball coverage on Fox and FS1 during the regular season, for the MLB All-Star Game and throughout the entire MLB Postseason.
GOOD CHOICE
When Buck left for ESPN, in my opinion Burkhardt was the obvious choice to replace him. Buck leaves some big shoes to fill, but Burkhardt has the ability to make this work. It's never easy to replace a well-known commodity like Buck, but Burkhardt himself has been featured prominently on the network. As mentioned, his other high-profile assignments have made him visible and appreciated by viewers.
If social media is a good judge, I almost got that out without a chuckle, the choice was a good one. Even the outgoing play-by-play man was on board with the decision.
Burkhardt will do a great job and will become a fixture on Sunday afternoons.
WHY IS HE SO GOOD?
Maybe we're finding out that he was a great car salesman through his work on television. I mean there's a friendliness and something reassuring about the way he calls a game. It's positive, almost downright cheerful in his delivery. You know what you're going to get from a Burkhardt broadcast. He is always upbeat, but never over the top. No screaming, but his energy remains consistent and smooth throughout a broadcast. I really enjoy watching everything he does.
While the style may be more lighthearted in nature, the information and description are right on the mark. The presentation seems much more relaxed than some announcers that can be a little 'in your face' at times. I say relaxed as a compliment, because as much as you want, a broadcaster can't be 'hyped up' all the time. That would be disconcerting to say the least to the viewer.
The fact that he has such a diverse background in the business really helps. Having done radio, he can understand the importance of brevity. That comes in handy when calling a game on television, especially when you want your analyst to feel free to make points. The reporting and studio hosting on his resume allow him to be very conversational and at ease. Those assignments also tune up your listening skills, which helps when calling action and working with your analyst. It didn't hurt either that he had so much experience on the big stage of New York.
I know I've said this a million times, but he genuinely sounds like he's having the time of his life every time he works a game or hosts a show. Considering where he came from, I'm not surprised.
DID YOU KNOW?
In 2019, he called select games for FOX Sports Sun, the television home of the Tampa Bay Rays.
Since getting his break, Burkhardt has appeared as the celebrity endorser of Pine Belt Chevrolet, his former employer, in Eatontown, N.J.
In 2019, Burkhardt and his wife established the Kevin and Rachel Burkhardt Scholarship at William Paterson University in New Jersey, their alma mater, for a fulltime student majoring in Communications and preparing for a career in broadcast journalism.
Andy Masur is a columnist for BSM and works for WGN Radio as an anchor and play-by-play announcer. He also teaches broadcasting at the Illinois Media School. During his career he has called games for the Chicago Cubs, San Diego Padres and Chicago White Sox. He can be found on Twitter @Andy_Masur1 or you can reach him by email at Andy@Andy-Masur.com.