It's Time To Pay College Football Players
"Exploited for too long, athletes are fighting back — if not opting out or walking out — amid coronavirus fears and bullying cultures in a multi-billion-dollar sport that doesn't pay them wages."
Pay them.
Two words, one period, zero room for debate.
And if the dictatorial cavemen who've ruled college football prefer to keep intimidating and abusing players instead of rewarding them, maybe they should pause amid the introspective zen of 2020 and ask, "Exactly why am I making millions of dollars to coach 20-year-olds on a 100-by-53-yard field? How did I get here?''
In extreme times when pivoting is the mission and common sense is the lantern, the mood is right for a pandemic-year trial of compensating players with salaries. If only the powers-that-be had pondered that earlier, before players began opting out — and threatening to walk out — amid coronavirus fears and bullying cultures in a multi-billion-dollar sport that doesn't pay them wages. The establishment feels the roil of activism and is responding in full pushback mode, engaging players in power tug-of-wars as the likes of Nick Rolovich and Gary Patterson join the Insufferable Tyrants Club. We even have creepy, meat-on-the-hoof allegations at Colorado State, where players say they were told to ignore virus protocols and not report possible symptoms while warned of reduced playing time if they test positive.
Exploitation? Extortion? Attempted murder?
The college ecosystem always has treated players as unpaid labor. But for once, athletes have the leverage to not only fight back but shut down a season via mass defections. Revolution is in the air like never before, and if the sport wants to pocket its usual billions this season — assuming there is one — the system finally will find a way of paying players and honoring their glaring concerns about COVID-19, social injustice and coaching bullies.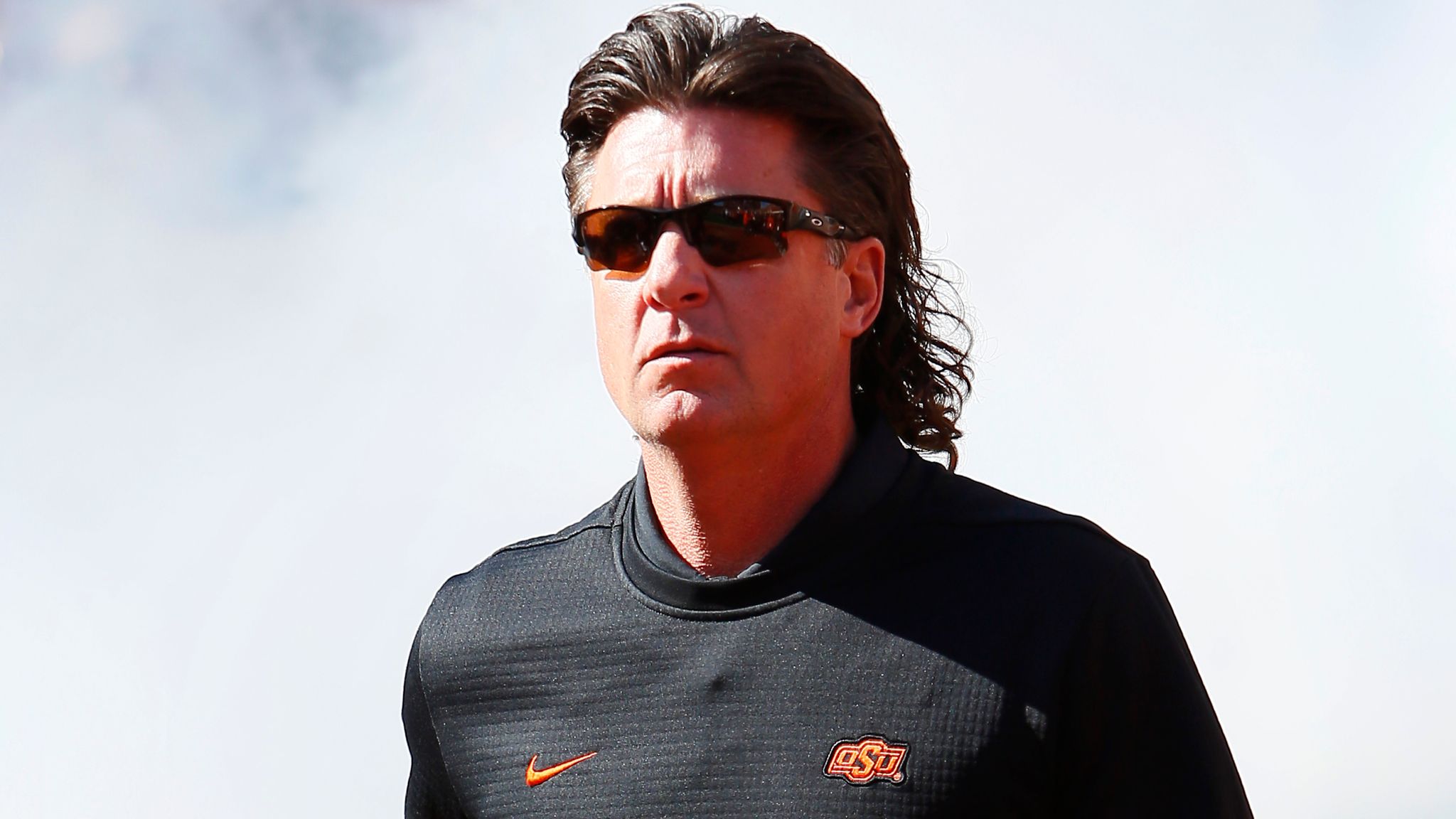 The establishment isn't asking too much from the help, only to engage in close-contact violence amid the ongoing virus ravages so Brinks-loads of money — pause for Mike Gundy reference — can be "run through'' states, local economies, universities, TV networks and the nine bedrooms and 11.5 bathrooms of head coaches' mansions. Every hour of every day for months, thousands of young men would be directly exposed to the virus throughout the season, at home and in road travel fraught with hotspots. This time, contrary to a past that has resisted pay for play, the athletes should be rewarded handsomely for absorbing massive, potentially life-altering health risks. The question isn't whether virus outbreaks are inevitable in college cultures, but how many are waiting to explode like wildfires during games and practices and on campuses. LSU, Clemson, Michigan State, Rutgers — I've already lost track of the infection clusters that have blitzed programs and/or halted workouts — and this is the right time, I suppose, to mention the outbreak across USC's fraternity row.
You know my sentiment about starting a college football season now. When it's hard enough fathoming the resumption of sports — inside Bubbles or in the unprotected outdoors, amid America's ever-rising death toll and economic ruin — no one in good conscience should send unpaid lads into a 24/7 continuum of COVID. It's no stretch to compare it with shipping young people off to war. We pray that the University of Connecticut is the clear-thinking forerunner here, the first of many — or preferably, all — Football Bowl Subdivision teams to cancel a season because of the pandemic.
"The safety challenges created by COVID-19 place our football student-athletes at an unacceptable level of risk," said David Benedict, the school's athletic director. "The necessary measures needed to mitigate risk of football student-athletes contracting the coronavirus are not conducive to delivering an optimal experience for our team."
The decision was supported by UConn players, who said in a statement released through the university: "We came to campus in the beginning of July knowing there would be challenges presented by the pandemic, but it is apparent to us now that these challenges are impossible to overcome. … Not enough is known about the potential long term effects of contracting (the virus).''
Thank you. And thank you to Division II and Division III programs that canceled fall sports championships for the same reason. But UConn, while it plays on the sport's highest level, is not a Power Five program. In fact, it opted out because those elite conferences have canceled games against smaller fries such as UConn, which won't receive lucrative accompanying checks. Keep your eye on one big number as the Power Five continues to power through with daily updates on reduced, wishful-thinking schedules: $4 billion. That's the fortune at stake this season … and why smart people, from university presidents to broadcast executives, continue to be stubborn and dumb about pushing on, preferring to believe President Trump when he says the virus "will go away like things go away.''
Such as Trump, perhaps, come early November.
It's possible the strongest and ablest would carry on independently in limited conference blocs, with decisions to play determined by each school. Said NCAA president Mark Emmert to the Associated Press: "You have to look at the huge variability around the country. When you look at what are the facts on the ground in Syracuse, N.Y., versus Miami, Fla., they're very, very different. And those schools are going to have to operate consistent with local municipal policies, state policies, federal policies, and then also whatever they decide collectively in the conference. So it really isn't the time where you can say we'll have one rule to govern all of football.''
At least Major League Baseball players are paid as they impossibly try to avoid the evil droplets. The NBA, NHL and other leagues functioning well inside restrictive environments are protecting athletes AND paying them. NFL players would be playing in the same three-hour-plus Petri dish, but they're armed with a collective bargaining agreement and a union. Yes, I realize they're all professionals. And I realize the college kids do receive full scholarships, stipends, facilities, housing, eventual licensing benefits and built-in advantages of influential alumni/boosters who live vicariously through them and sometimes slip them, um, you know, sweet nothings.
Nonetheless, 2020 is the boiling point, especially when a successful coach such as Patterson — celebrated for reviving football excellence at Texas Christian — uses the n-word in practice to prove a point about not using the n-word. In this century, there is no room for despots who traffic in cruel, oppressive behavior when the players aren't even paid. Actually, the coaches should be begging them at this point. Athletic departments will be devastated without football. ESPN, which literally owns and operates the sport, will lose more than $1 billion in advertising and rights payments. College towns, such as the Dabo-dependent village of Clemson, S.C., will be financially and spiritually gutted without games and Trevor Lawrence's long locks. Paul Finebaum will have no one to piss off.
None of this is going to happen without the players. They know it, too, aware they're holding unprecedented leverage in an ancient squabble. And that it makes no medical sense for studs to play in a pandemic — Caleb Farley and Rashod Bateman have opted out, with Lawrence and Justin Fields possibly to follow — when NFL riches await. The driving forces of American life — the virus and social justice activism — are empowering players to make demands in a rights movement organized in the Pac-12 conference and still capable, as the season twists in limbo, of raging to other leagues. Athletes are tired of being viewed as servants in a multi-billion-dollar racket. And they'll no longer tolerate even hints of racism in an industry dominated mostly by wealthy white men, many of whom lord over programs, campuses and entire regions.
As Black Lives Matter dominates sports culture, college football has its own related backlash. The Pac-12 unity group is threatening to boycott the season if 17 demands aren't satisfied, almost all involving the virus, racial inequality and a redistribution of football revenues. "We believe a football season under these conditions would be reckless and put us at needless risk," the group, numbering in the hundreds, said in a statement published by the Players' Tribune. "Every day that we don't have discussions puts players at additional risk of COVID."
They're playing the coronavirus card, as they should, to seek fair market value. The initial ask is outrageous — "distribute 50% of total conference revenue evenly among athletes'' — but if this is a negotiation that should have started decades ago, why not start high? The question is how many players would risk their football future, in college and possibly the NFL, to take a hardline labor stance. We've seen failed attempts to unionize college athletes, some involving ringleader and former UCLA linebacker Ramogi Huma, who is behind the current uprising. But 2020 is different.
COVID-19 makes it different.
Black Lives Matter makes it different.
Someone please inform Rolovich, the new coach at Washington State. He initially was empathetic to the virus concerns of an up-and-coming wide receiver and leader, Kassidy Woods, who called to say he was opting out because of an underlying sickle cell condition. But Rolovich chose to dig, inquiring if Woods was part of the Pac-12 group.
"Yes, sir,'' he said, in a tape presumably released publicly by Woods.
When the moment called for a human being to guide a college student, Rolovich turned cold and corporate. He told Woods to empty out his locker and said his scholarship wouldn't be honored beyond this season. Oh, and Woods should spread the word that other players who opt out as part of the Pac-12 group would face similar repercussions. In essence, Rolovich was trying to bust a union before he coached his first game.
Said the coach, regrettably: "OK so that's going to be, that's gonna be an issue if you align with them as far as future stuff, 'cause the COVID stuff is one thing. But, um, joining this group is gonna put you on a … that's obviously, you know, you get to keep your scholarship this year, but it's gonna be different. You know, if you, if you say, `I'm opting out 'cause of COVID and health and safety,' I'm good. But this group is gonna change, uh, I guess, how things go in the future for everybody, at least at our school. Um, so just think about that is, if it's about getting paid and not … about racial justice and that stuff. Then it's probably, it's there's two sides, there's two sides here. I'm good with the Sickle Cell and the COVID, and but this, this group is gonna be at a different level as far as how we're kind of going to move forward in the future.''
Was he manipulating a narrative? Issuing a passive-aggressive threat? Actually, both.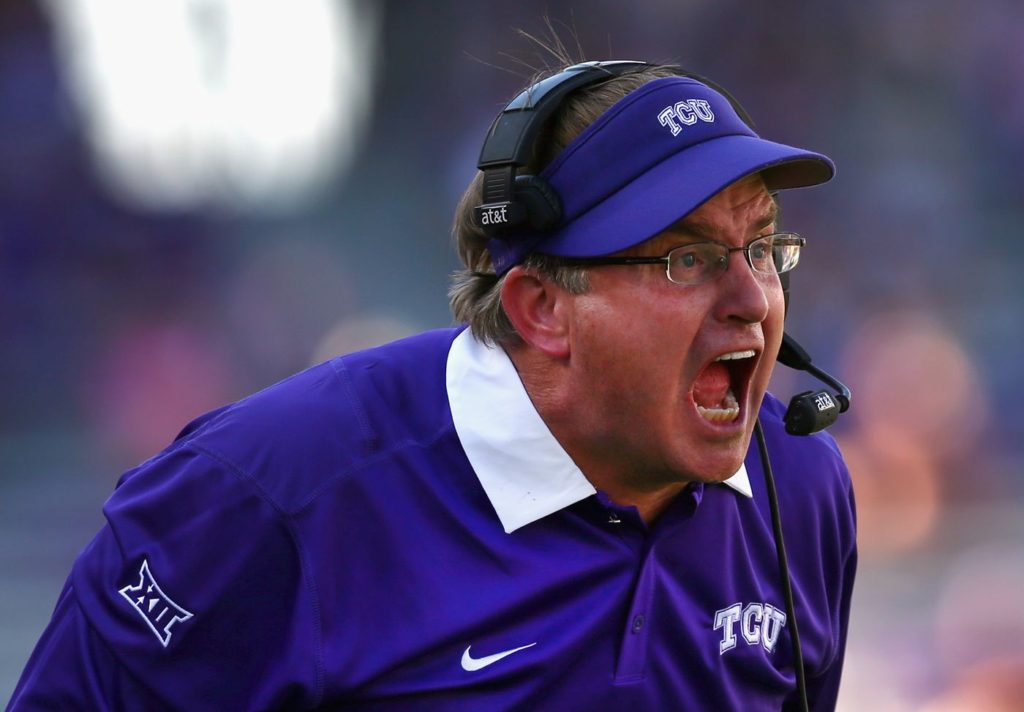 Patterson faced a boycott of several players after he mindlessly used a racial slur in a failed teaching moment. In a tweet, freshman linebacker Dylan Jordan explained that Patterson asked him to stop using the n-word, then repeated the slur. Before that, Patterson had rebuked Jordan during practice, according to Jordan, calling him "a f——— brat'' and threatening to "send you back to Pitt,'' referring to the player's hometown of Pittsburg, Kan. After Patterson told players that he wasn't addressing Jordan directly with the n-word, Jordan tweeted, "The behavior is not okay now or ever and there needs to be repercussions to these actions.''
Two days later, Patterson was apologizing on Twitter: "I met with our Seniors and Leadership Council last night about how we move forward as a team, together. We are committed as individuals and as a program to fighting racial injustice of any kind. I apologize for the use of a word that, in any context, is unacceptable. I have always encouraged our players to do better and be better and I must live by the same standards."
College football is a religion. Thus, any uprising by players is viewed as blasphemy by traditionalists, many living in states represented by Edward Sharpe and the Magnetic Zeroes ("Alabama, Arkansas …''). Know what? Deal with it, people. This is a country that can pay someone $600 a week not to work. This is a country where an assistant college football coach, Alabama's Steve Sarkisian, just got a raise to $2.5 million a year.
You mean you can't find a decent piece of a $4 billion pie for athletes braving a monster contagion … and maybe a demonic coach?
If not, you deserve a broken season. And broke coffers.
Being Wrong On-Air Isn't A Bad Thing
…if you feel yourself getting uncomfortable over the fact that you were wrong, stop to realize that's your pride talking. Your ego. And if people call you out for being wrong, it's actually a good sign.
In the press conference after the Warriors won their fourth NBA title in eight years, Steph Curry referenced a very specific gesture from a very specific episode of Get Up that aired in August 2021.
"Clearly remember some experts and talking heads putting up the big zero," Curry said, then holding up a hollowed fist to one eye, looking through it as if it were a telescope.
"How many championships we would have going forward because of everything we went through."
Yep, Kendrick Perkins and Domonique Foxworth each predicted the Warriors wouldn't win a single title over the course of the four-year extension Curry had just signed. The Warriors won the NBA title and guess what? Curry gets to gloat.
The funny part to me was the people who felt Perkins or Foxworth should be mad or embarrassed. Why? Because they were wrong?
That's part of the game. If you're a host or analyst who is never wrong in a prediction, it's more likely that you're excruciatingly boring than exceedingly smart. Being wrong is not necessarily fun, but it's not a bad thing in this business.
You shouldn't try to be wrong, but you shouldn't be afraid of it, either. And if you are wrong, own it. Hold your L as I've heard the kids say. Don't try to minimize it or explain it or try to point out how many other people are wrong, too. Do what Kendrick Perkins did on Get Up the day after the Warriors won the title.
"When they go on to win it, guess what?" He said, sitting next to Mike Greenberg. "You have to eat that."
Do not do what Perkins did later that morning on First Take.
Perkins: "I come on here and it's cool, right? Y'all can pull up Perk receipts and things to that nature. And then you give other people a pass like J-Will."
Jason Williams: "I don't get passes on this show."
Perkins: "You had to, you had a receipt, too, because me and you both picked the Memphis Grizzlies to beat the Golden State Warriors, but I'm OK with that. I'm OK with that. Go ahead Stephen A. I know you're about to have fun and do your thing. Go ahead."
Stephen A. Smith: "First of all, I'm going to get serious for a second with the both of you, especially you, Perk, and I want to tell you something right now. Let me throw myself on Front Street, we can sit up there and make fun of me. You know how many damn Finals predictions I got wrong? I don't give a damn. I mean, I got a whole bunch of them wrong. Ain't no reason to come on the air and defend yourself. Perk, listen man. You were wrong. And we making fun, and Steph Curry making fun of you. You laugh at that my brother. He got you today. That's all. He got you today."
It's absolutely great advice, and if you feel yourself getting uncomfortable over the fact that you were wrong, stop to realize that's your pride talking. Your ego. And if people call you out for being wrong, it's actually a good sign. It means they're not just listening, but holding on to what you say. You matter. Don't ruin that by getting defensive and testy.
WORTH EVERY PENNY
I did a double-take when I saw Chris Russo's list of the greatest QB-TE combinations ever on Wednesday and this was before I ever got to Tom Brady-to-Rob Gronkowski listed at No. 5. It was actually No. 4 that stopped me cold: Starr-Kramer.
My first thought: Jerry Kramer didn't play tight end.
My second thought: I must be unaware of this really good tight end from the Lombardi-era Packers.
After further review, I don't think that's necessarily true, either. Ron Kramer did play for the Lombardi-era Packers, and he was a good player. He caught 14 scoring passes in a three-year stretch where he really mattered, but he failed to catch a single touchdown pass in six of the 10 NFL seasons he played. He was named first-team All-Pro once and finished his career with 229 receptions.
Now this is not the only reason that this is an absolutely terrible list. It is the most egregious, however. Bart Starr and Kramer are not among the 25 top QB-TE combinations in NFL history let alone the top five. And if you're to believe Russo's list, eighty percent of the top tandems played in the NFL in the 30-year window from 1958 to 1987 with only one tandem from the past 30 years meriting inclusion when this is the era in which tight end production has steadily climbed.
Then I found out that Russo is making $10,000 per appearance on "First Take."
My first thought: You don't have to pay that much to get a 60-something white guy to grossly exaggerate how great stuff used to be.
My second thought: That might be the best $10,000 ESPN has ever spent.
Once a week, Russo comes on and draws a reaction out of a younger demographic by playing a good-natured version of Dana Carvey's Grumpy Old Man. Russo groans to JJ Redick about the lack of fundamental basketball skills in today's game or he proclaims the majesty of a tight end-quarterback pairing that was among the top five in its decade, but doesn't sniff the top five of all-time.
And guess what? It works. Redick rolls his eyes, asks Russo which game he's watching, and on Wednesday he got me to spend a good 25 minutes looking up statistics for some Packers tight end I'd never heard of. Not satisfied with that, I then moved on to determine Russo's biggest omission from the list, which I've concluded is Philip Rivers and Antonio Gates, who connected for 89 touchdowns over 15 seasons, which is only 73 more touchdowns than Kramer scored in his career. John Elway and Shannon Sharpe should be on there, too.
Money Isn't The Key Reason Why Sellers Sell Sports Radio
I started selling sports radio because I enjoyed working with clients who loved sports, our station, and wanted to reach fans with our commercials and promotions.
A radio salesperson's value being purely tied to money is overrated to me. Our managers all believe that our main motivation for selling radio is to make more money. They see no problem in asking us to sell more in various ways because it increases our paycheck. We are offered more money to sell digital, NTR, to sell another station in the cluster, weekend remotes, new direct business, or via the phone in 8 hours.
But is that why you sell sports radio?
In 2022, the Top 10 highest paying sales jobs are all in technology. Not a media company among them. You could argue that if it were all about making money, we should quit and work in tech. Famous bank robber Willie Sutton was asked why he robbed twenty banks over twenty years. He reportedly said," that's where the money is". Sutton is the classic example of a person who wanted what money could provide and was willing to do whatever it took to get it, BUT he also admitted he liked robbing banks and felt alive. So, Sutton didn't do it just for the money.
A salesperson's relationship with money and prestige is also at the center of the play Death of a Salesman. Willy Loman is an aging and failing salesman who decides he is worth more dead than alive and kills himself in an auto accident giving his family the death benefit from his life insurance policy. Loman wasn't working for the money. He wanted the prestige of what money could buy for himself and his family. 
Recently, I met a woman who spent twelve years selling radio from 1999-2011. I asked her why she left her senior sales job. She said she didn't like the changes in the industry. Consolidation was at its peak, and most salespeople were asked to do more with less help. She described her radio sales job as one with "golden handcuffs". The station paid her too much money to quit even though she hated the job. She finally quit. The job wasn't worth the money to her.
I started selling sports radio because I enjoyed working with clients who loved sports, our station, and wanted to reach fans with our commercials and promotions. I never wanted to sell anything else and specifically enjoyed selling programming centered around reaching fans of Boise State University football. That's it. Very similar to what Mark Glynn and his KJR staff experience when selling Kraken hockey and Huskies football.
I never thought selling sports radio was the best way to make money. I just enjoyed the way I could make money. I focused on the process and what I enjoyed about the position—the freedom to come and go and set my schedule for the most part. I concentrated on annual contracts and clients who wanted to run radio commercials over the air to get more traffic and build their brand.
Most of my clients were local direct and listened to the station. Some other sales initiatives had steep learning curves, were one-day events or contracted out shaky support staff. In other words, the money didn't motivate me enough. How I spent my time was more important.
So, if you are in management, maybe consider why your sales staff is working at the station. Because to me, they'd be robbing banks if it were all about making lots of money.
Media Noise: BSM Podcast Network Round Table
Demetri Ravanos welcomes the two newest members of the BSM Podcast Network to the show. Brady Farkas and Stephen Strom join for a roundtable discussion that includes the new media, Sage Steele and Roger Goodell telling Congress that Dave Portnoy isn't banned from NFL events.
Podcast: Play in new window | Download
Subscribe: RSS