Sports, As Always, Remains a Conversation Piece
"Even if seasons are fleeting and COVID-19 ultimately shuts down Bubbles and stadiums throughout North America, sports has managed to keep us talking mostly about … sports!"
Something is comforting, almost assuring, about having the remote in your hand again. Push a button and there's Aaron Judge, who wants to hit 60 home runs in 60 games. Flip again to watch Giannis, Kawhi, CP3, Doncic, brick-laying LeBron, part-time Zion … and Skinny Melo? … in tech-enhanced visuals from an NBA Bubble that looks crystalline.
Tiger Woods and hulking, driver-smashing Bryson DeChambeau are at one end of the cable-cord programming block, in 3-D, while Connor McDavid is at the opposite end, hat-tricking through choppy ice. Cars and horses are racing elsewhere, commingling with combat freaks.
And is that a live shot of a 43-year-old wellness entrepreneur throwing a football in Tampa?
This would seem to be a sports fan's pleasure beach, a cornucopia of events power-blasted your way at all hours of the day and night, even if it requires an extra $5 for a "Spectrum TV Sports Pack'' in Los Angeles when zero refunds were issued during months of two-decades-old game reruns. If you believe the hype, all of this is funneling into a 10-week stretch beyond belief: NBA playoffs and Finals, MLB playoffs and World Series, NHL playoffs and Finals, NFL and college football regular seasons, U.S. Opens in tennis and golf and, finally, the November Masters. I've left stuff out, too.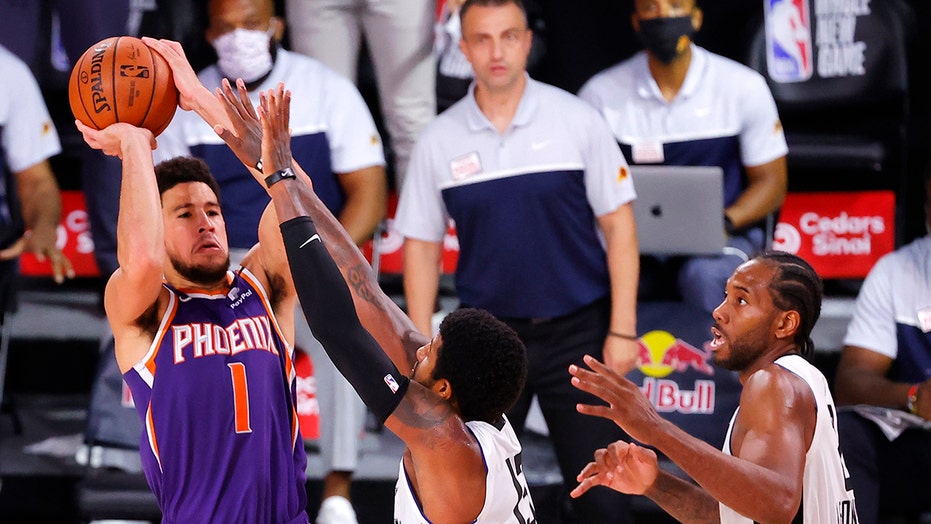 Some of what we've seen thus far is damned impressive, such as the quality and intensity of competition. I saw Devin Booker, on a weekday afternoon, drain a spinning, turnaround jumper while smothered by Paul George as the buzzer sounded and his rear end dusted the floor. The NBA and NHL — along with golf, the ultimate in sports social distancing — are giving us content that sometimes seems as good as the norm. Is it because athletes have nothing else to do, no longer dealing with previous everyday demands? Is it because 20,000 people aren't booing and cursing their moms that NBA players are hitting higher percentages of free throws and corner three-point bombs inside the Bubble? "Seriously, it's a great stage to play,'' Rockets coach Mike D'Antoni marveled. "There's not a lot of distractions. It's the same court every night. You get your shooting, depth perception and all that."
"You can feel the atmosphere," said Nuggets forward Paul Millsap, realizing no fans are in the stands. "You can feel the significance of what teams are trying to accomplish.''
Gregg Popovich, usually focused on Black Lives Matter-inspired rants, stopped his Trump-evisceration to praise the NBA for creating a restrictive environment conducive to good hoops and COVID-19 safety. "In all honesty, it's better than I was expecting,'' the Spurs coach said of the overall play and experience. "There's absolutely no doubt that the NBA, under the leadership of Adam Silver, has done a magnificent job of being visionaries, looking at the big picture and looking at what unintended consequences may appear.''
As for Judge, the talk of baseball? "This is kind of taking us back to the travel ball days," he said joyfully, unnerved by the bizarre vibe.
A jerking knee wants to ask, then: Is sports, miraculously, adapting to the coronavirus and positioned for a long haul of completing seasons and crowning champions?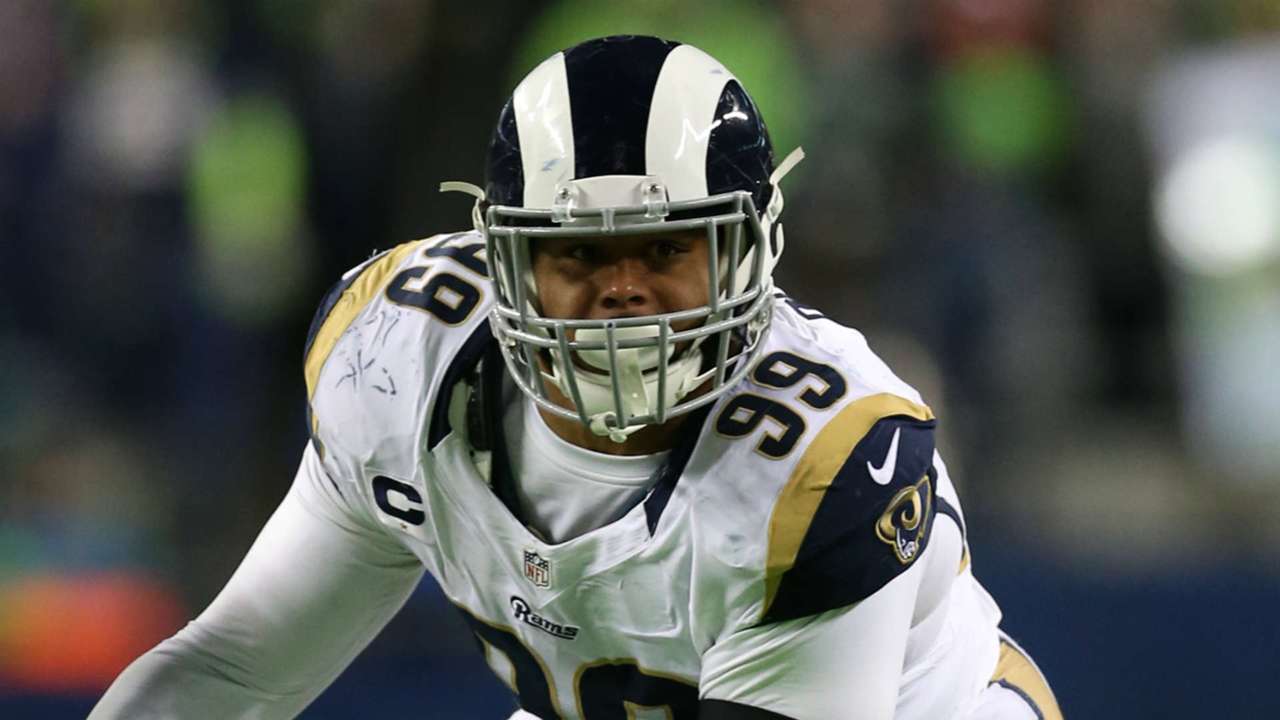 Your conscience, balanced by a daily life fortunately not governed by that remote and the screen it controls, is quick to interrupt and beg the usual restraint. It reminds the jerking knee: The resumption of games is still very funky and fraught, with TV ratings ebbing and flowing, and if you think otherwise, continue to imagine hundreds of 3 1/2-hour scrums where sweating, panting, spitting, bleeding and colliding football players are practicing the very antithesis of distancing. Then consider how Aaron Donald, among the NFL's most feared defenders, is a raging COVID-iot so unfazed by the virus that he refuses to wear a league-recommended face shield. I can hear paperwork shuffling inside agents' offices everywhere, with every offensive player scheduled to face Donald and the Rams opting out of the season. Oh, the deadline passed? They'll flee anyway.
"Once you are out there grinding with the guys, you kind of block all that out and it's just football again,'' Donald said. "I need air when I'm out there running around and breathing with them, long drives and stuff. I feel like, we're out there, we're playing up close. There is nothing you can really do. If a guy got it and I tackle the guy, then I probably got it because he is going to be sweating and spitting and slobbering all in my face.''
If you don't believe me about the lunacy of it all, ask Woods. Addressing the media at the PGA Championship, Tiger and Rory McIlroy sounded like talk hosts while discussing sports and the Big Corona. "Once one person has it in in (an NFL) locker room, they're all going to get it," Woods said.
"MLB is doing well,'' said McIlroy, who must be living in a cave.
"If they have one more outbreak, they're done," Woods shot back.
So, um, yeah, the biggest error one can make is getting used to Sports In A Pandemic. Enjoy and savor it, while you have it, but also know it's the very definition of temporary and makeshift, uneven and volatile, and that any of it could end at any time for any reason — even chicken wings at a strip club — in a catastrophic year on Planet Earth when the worst still could be ahead. I'm not even referring to the direct spread of COVID-19 possible in all corners and nooks of sports leagues. The danger is the accompanying weariness that comes with the oppressive, stifling, 24-7 challenge of playing hide-and-seek with an invisible monster that doesn't care about sports.
Fatigue is the lurking saboteur. The mental health of thousands of athletes and support personnel is at risk, which increases the chance of a protocol violation, intended or not, that could cause the one outbreak that bursts an NBA or NHL Bubble or ends a baseball or football season. We're actually expecting basketball and hockey players to remain isolated, some for months, with little more than wine shipments, video games, ESPN/TSN and league-organized activities for entertainment? Hasn't the chirping of a proximity sensor — when venturing within six feet of another human being for 10 seconds, the pandemic version of traveling — already gotten old? And what about those in their 20s and 30s who, as Eddie Murphy says in "Coming to America,'' might want to sow their royal oats?
We're barely a week into August. The NBA season ends in mid-October. There's only so much porn on the web, you know?
As if travel schedules for baseball teams aren't frantic enough, players must do more than check into a hotel and win games. They're constantly thinking about obeying protocols, which means breaking habits honed for years. MLB, obviously, is a 24-7 House of Cardinals … or Marlins … or the next team shelved by a virus outbreak. And it's daffy to think a crackdown — sure, the waffling czar, Rob Manfred, is going to ban offenders from the postseason — suddenly will compel all players to wear masks in dugouts and stop high-fiving, spitting, celebrating in packs, remaining in seats on planes and going out at night. If the sport somehow outlasts a shotgun regular season, there's no chance, without a Bubble, that baseball will pull off an expanded postseason when an infected team simply can't be shut down for a week.
Once, not long ago the objective of a nine-game road trip was to finish, say, 7-2. The Dodgers did just that, but their real triumph was navigating three cities without a single positive test. "Really encouraged by that,'' pitcher Ross Stripling said. "Especially to come out to two hotbeds between Houston and Arizona, and come out of it unscathed.''
It's the mental exhaustion, the limitations of humanity, that could bring down the grand sports plan. This is a marathon, and the participants are just passing the 3-mile mark of a 26.2-mile race. If I'm Manfred, I'm heeding every word uttered by Mike Trout, who didn't have to return to the Angels after his wife delivered their first child but did anyway. Trout, who has wanted daily COVID-19 testing from the beginning, reiterated his thoughts that MLB could doom itself with every-other-day swabbing.
"It's just the testing. I've said this from Day 1: If you don't have testing every day, it's going to be tough,'' he said. "You're always trying to catch up and trying to catch it. You know, if we get tested Friday, we have to wait two days to get the results back and you don't know what's going to happen in between. It's definitely scary for baseball. I've been saying this the whole time, it only takes one person. If you're asymptomatic and don't know, and you have it, and with the testing on Friday or Saturday, and you don't get the results until after you land on a flight Sunday, and you're positive, it would be a mess. There are a lot of things that go through your head when all of this stuff happens, and you reading all of this stuff.''
Yet, rather than telling the cheap owners to invest in daily tests, the commissioner prefers to create a sense of false security. "I think the vast majority of our players have done a really good job adhering to what are difficult protocols," Manfred told ESPN.com.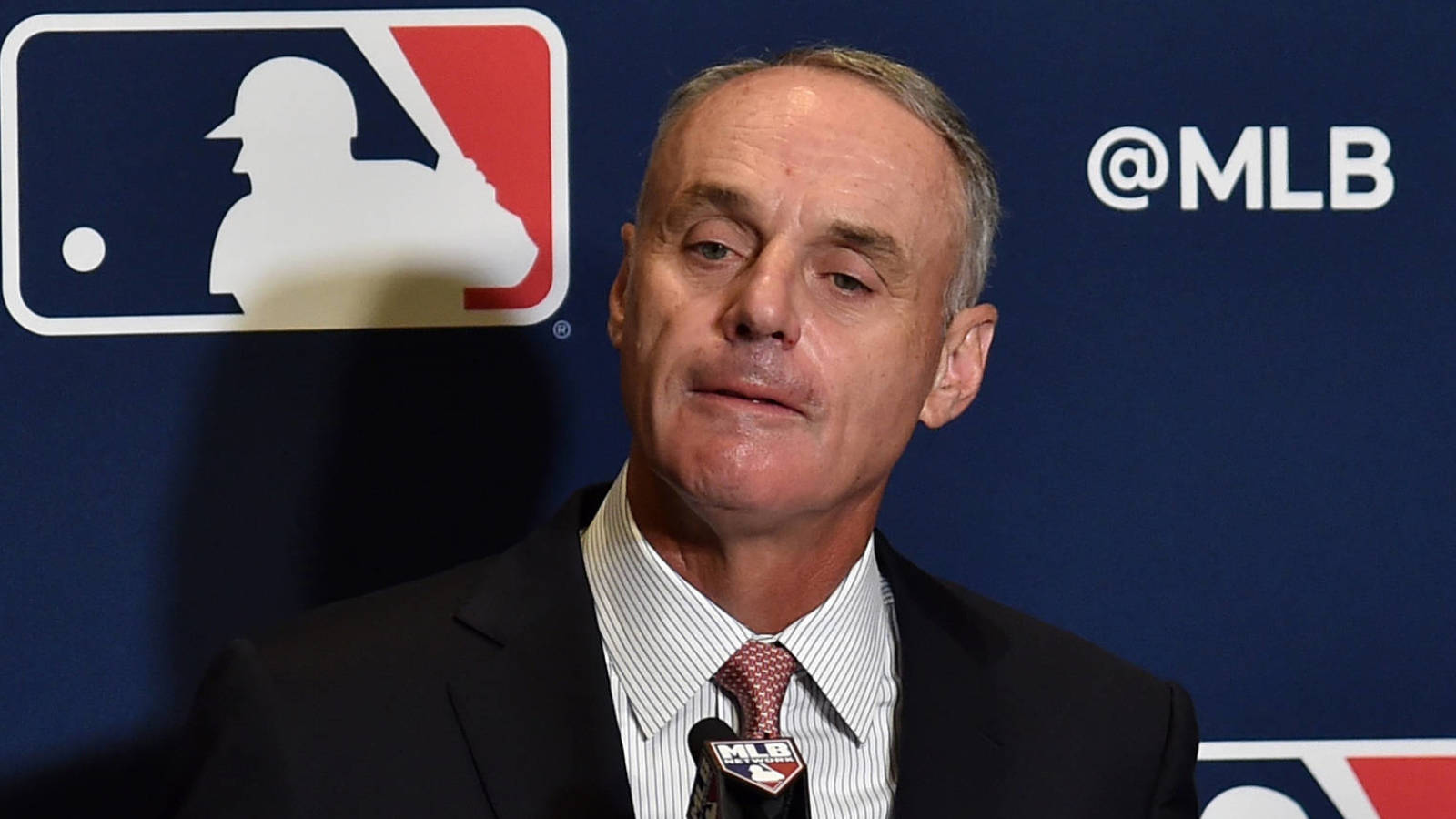 What about the outbreaks of the Marlins and Cardinals, the crooked schedules created by a rash of postponements, the fragility of it all? "We believe, in the two serious outbreaks, that we can identify deviations from the protocols that resulted in the situations that we had," Manfred said without an explanation. "The key is vigilance. It's vigilance on the part of the commissioner's office, club officials, players and everyone involved in the game."
Vigilance. Manfred just learned a new word, about four months too late.
The racial injustice scenes have been proud and emotional throughout sports, even in unusual places such as hockey rinks and NASCAR tracks — and loaded with expected vitriol from the White House. Pulling out his playbook from the Colin Kaepernick years, President Trump used "Fox and Friends'' to rip the NBA for its emphasis on Black Lives Matter and sideline kneeling protests after he helped open doors for the league's restart.
"I think it's disgraceful,'' Trump said. "We work with (the NBA). We work very hard trying to get them open. I was pushing them to get open. And then I see everyone kneeling during the anthem. It's not acceptable to me. When I see them kneeling, I just turn off the game. I have no interest in the game. And the ratings for the basketball are way down, if you know. And I hear some others are way down, including baseball. Because all of a sudden, now baseball's is in the act (of kneeling). We have to stand up for our flag. We have to stand up for our country. We have to stand up for our anthem. And a lot of people agree with me. Hey, if I'm wrong, I'm going to lose an election. OK. And that's OK with me. But I will always stand for our country and for our flag."
You knew what was coming next. "The game will go on without his eyes on it," James said of Trump. "I can sit here and speak for all of us that love the game of basketball: We could care less." When told of Trump's remark that he has done more for Black people than any U.S. President "with the possible exception of Abraham Lincoln,'' James said, "You trying to make me laugh right now?'' Clippers coach Doc Rivers, too, responded in kind, referring to Trump's stance as "disgraceful.''
For the record, ratings for basketball aren't "way down,'' but they aren't what they were before the pandemic. Baseball ratings were in the crapper to begin with. That said, it's important that sports understands this about 2020: Now more than ever, people need games to escape the strife, not exacerbate it.
That's what we've discovered in this sinister summer. As the world burns, we still care about the over-under on Judge's home runs, Michigan accusing Ohio State of rules-breaking during a Big Ten coaches' call, and whether the Bucks, Clippers and Lakers are durable enough to win an NBA championship. The coronavirus can bury sports, but never, ever will it kill sports conversations.
Being Wrong On-Air Isn't A Bad Thing
…if you feel yourself getting uncomfortable over the fact that you were wrong, stop to realize that's your pride talking. Your ego. And if people call you out for being wrong, it's actually a good sign.
In the press conference after the Warriors won their fourth NBA title in eight years, Steph Curry referenced a very specific gesture from a very specific episode of Get Up that aired in August 2021.
"Clearly remember some experts and talking heads putting up the big zero," Curry said, then holding up a hollowed fist to one eye, looking through it as if it were a telescope.
"How many championships we would have going forward because of everything we went through."
Yep, Kendrick Perkins and Domonique Foxworth each predicted the Warriors wouldn't win a single title over the course of the four-year extension Curry had just signed. The Warriors won the NBA title and guess what? Curry gets to gloat.
The funny part to me was the people who felt Perkins or Foxworth should be mad or embarrassed. Why? Because they were wrong?
That's part of the game. If you're a host or analyst who is never wrong in a prediction, it's more likely that you're excruciatingly boring than exceedingly smart. Being wrong is not necessarily fun, but it's not a bad thing in this business.
You shouldn't try to be wrong, but you shouldn't be afraid of it, either. And if you are wrong, own it. Hold your L as I've heard the kids say. Don't try to minimize it or explain it or try to point out how many other people are wrong, too. Do what Kendrick Perkins did on Get Up the day after the Warriors won the title.
"When they go on to win it, guess what?" He said, sitting next to Mike Greenberg. "You have to eat that."
Do not do what Perkins did later that morning on First Take.
Perkins: "I come on here and it's cool, right? Y'all can pull up Perk receipts and things to that nature. And then you give other people a pass like J-Will."
Jason Williams: "I don't get passes on this show."
Perkins: "You had to, you had a receipt, too, because me and you both picked the Memphis Grizzlies to beat the Golden State Warriors, but I'm OK with that. I'm OK with that. Go ahead Stephen A. I know you're about to have fun and do your thing. Go ahead."
Stephen A. Smith: "First of all, I'm going to get serious for a second with the both of you, especially you, Perk, and I want to tell you something right now. Let me throw myself on Front Street, we can sit up there and make fun of me. You know how many damn Finals predictions I got wrong? I don't give a damn. I mean, I got a whole bunch of them wrong. Ain't no reason to come on the air and defend yourself. Perk, listen man. You were wrong. And we making fun, and Steph Curry making fun of you. You laugh at that my brother. He got you today. That's all. He got you today."
It's absolutely great advice, and if you feel yourself getting uncomfortable over the fact that you were wrong, stop to realize that's your pride talking. Your ego. And if people call you out for being wrong, it's actually a good sign. It means they're not just listening, but holding on to what you say. You matter. Don't ruin that by getting defensive and testy.
WORTH EVERY PENNY
I did a double-take when I saw Chris Russo's list of the greatest QB-TE combinations ever on Wednesday and this was before I ever got to Tom Brady-to-Rob Gronkowski listed at No. 5. It was actually No. 4 that stopped me cold: Starr-Kramer.
My first thought: Jerry Kramer didn't play tight end.
My second thought: I must be unaware of this really good tight end from the Lombardi-era Packers.
After further review, I don't think that's necessarily true, either. Ron Kramer did play for the Lombardi-era Packers, and he was a good player. He caught 14 scoring passes in a three-year stretch where he really mattered, but he failed to catch a single touchdown pass in six of the 10 NFL seasons he played. He was named first-team All-Pro once and finished his career with 229 receptions.
Now this is not the only reason that this is an absolutely terrible list. It is the most egregious, however. Bart Starr and Kramer are not among the 25 top QB-TE combinations in NFL history let alone the top five. And if you're to believe Russo's list, eighty percent of the top tandems played in the NFL in the 30-year window from 1958 to 1987 with only one tandem from the past 30 years meriting inclusion when this is the era in which tight end production has steadily climbed.
Then I found out that Russo is making $10,000 per appearance on "First Take."
My first thought: You don't have to pay that much to get a 60-something white guy to grossly exaggerate how great stuff used to be.
My second thought: That might be the best $10,000 ESPN has ever spent.
Once a week, Russo comes on and draws a reaction out of a younger demographic by playing a good-natured version of Dana Carvey's Grumpy Old Man. Russo groans to JJ Redick about the lack of fundamental basketball skills in today's game or he proclaims the majesty of a tight end-quarterback pairing that was among the top five in its decade, but doesn't sniff the top five of all-time.
And guess what? It works. Redick rolls his eyes, asks Russo which game he's watching, and on Wednesday he got me to spend a good 25 minutes looking up statistics for some Packers tight end I'd never heard of. Not satisfied with that, I then moved on to determine Russo's biggest omission from the list, which I've concluded is Philip Rivers and Antonio Gates, who connected for 89 touchdowns over 15 seasons, which is only 73 more touchdowns than Kramer scored in his career. John Elway and Shannon Sharpe should be on there, too.
Money Isn't The Key Reason Why Sellers Sell Sports Radio
I started selling sports radio because I enjoyed working with clients who loved sports, our station, and wanted to reach fans with our commercials and promotions.
A radio salesperson's value being purely tied to money is overrated to me. Our managers all believe that our main motivation for selling radio is to make more money. They see no problem in asking us to sell more in various ways because it increases our paycheck. We are offered more money to sell digital, NTR, to sell another station in the cluster, weekend remotes, new direct business, or via the phone in 8 hours.
But is that why you sell sports radio?
In 2022, the Top 10 highest paying sales jobs are all in technology. Not a media company among them. You could argue that if it were all about making money, we should quit and work in tech. Famous bank robber Willie Sutton was asked why he robbed twenty banks over twenty years. He reportedly said," that's where the money is". Sutton is the classic example of a person who wanted what money could provide and was willing to do whatever it took to get it, BUT he also admitted he liked robbing banks and felt alive. So, Sutton didn't do it just for the money.
A salesperson's relationship with money and prestige is also at the center of the play Death of a Salesman. Willy Loman is an aging and failing salesman who decides he is worth more dead than alive and kills himself in an auto accident giving his family the death benefit from his life insurance policy. Loman wasn't working for the money. He wanted the prestige of what money could buy for himself and his family. 
Recently, I met a woman who spent twelve years selling radio from 1999-2011. I asked her why she left her senior sales job. She said she didn't like the changes in the industry. Consolidation was at its peak, and most salespeople were asked to do more with less help. She described her radio sales job as one with "golden handcuffs". The station paid her too much money to quit even though she hated the job. She finally quit. The job wasn't worth the money to her.
I started selling sports radio because I enjoyed working with clients who loved sports, our station, and wanted to reach fans with our commercials and promotions. I never wanted to sell anything else and specifically enjoyed selling programming centered around reaching fans of Boise State University football. That's it. Very similar to what Mark Glynn and his KJR staff experience when selling Kraken hockey and Huskies football.
I never thought selling sports radio was the best way to make money. I just enjoyed the way I could make money. I focused on the process and what I enjoyed about the position—the freedom to come and go and set my schedule for the most part. I concentrated on annual contracts and clients who wanted to run radio commercials over the air to get more traffic and build their brand.
Most of my clients were local direct and listened to the station. Some other sales initiatives had steep learning curves, were one-day events or contracted out shaky support staff. In other words, the money didn't motivate me enough. How I spent my time was more important.
So, if you are in management, maybe consider why your sales staff is working at the station. Because to me, they'd be robbing banks if it were all about making lots of money.
Media Noise: BSM Podcast Network Round Table
Demetri Ravanos welcomes the two newest members of the BSM Podcast Network to the show. Brady Farkas and Stephen Strom join for a roundtable discussion that includes the new media, Sage Steele and Roger Goodell telling Congress that Dave Portnoy isn't banned from NFL events.
Podcast: Play in new window | Download
Subscribe: RSS