The Fall Sports Blitz: Might It Decide The Election?
"As if ignoring our national disarray, sports in general — and the start of the NFL season in particular — defiantly carry on, so vital to millions that President Trump thinks the good vibes should win him four more years."
Sports will do what sports wants to do. It's an unspoken prerogative of the American way, as shown through time by athletic entitlement and too many catch-me-if-you-can scandals, and the modus operandi is no different with summer turning to fall in the damndest year of our lives.
We are venturing into a new phase of the unknown — still vice-gripped by the pandemic, still one more George Floyd asphyxiation or Jacob Blake shooting from the possibility of mass violence. Yet sports carries on in its TV-revenue-sealed Bubble, figuratively and literally, floating above societal dishevelment and medical helplessness by dribbling, swinging, checking, racing, putting, punching, linesperson-whacking and, come Thursday night in Kansas City, tackling and spitting and bleeding and breathing in the face of all infectious disease logic.
The games and events come at us so quickly now — morning, afternoon and night — that we've almost grown used to the virtual big-headed fans, cardboard cutouts and canyon-esque echoes. And rather than talk about the weirdness, we're once again talking about sports. Why did Novak Djokovic lose his cool, blast a ball that inadvertently struck a line judge in the throat and perhaps botch his ultimate place in tennis history? Have we misjudged the pedigree of Giannis Antetokounmpo, who might just limp away from Milwaukee as another postseason charlatan? Is that what I think it is on Pico Boulevard: a large billboard featuring Tom Brady and Drew Brees, hailing the start of Fox Sports' live NFL coverage outside the network studios in Los Angeles? Are Bill Belichick and Cam Newton really having a lovefest in New England, and isn't it being done to tick off Brady? And did Washington's Mike Rizzo, maskless, become the first general manager ever to be ejected from a luxury suite for yelling at umpires?
"If it was Donald Trump, I'd eject him, too,'' veteran crew chief Joe West told the Associated Press. "But I'd still vote for him.''
Students can't attend classes. Employees can't report to workplaces. A big night is Netflix without the chill. Traveling beyond your street corner is all but verboten. Colossal cities have been ghosted. The coronavirus still sickens people of all ages, many on COVID-iot-infested college campuses, and still hospitalizes and kills in daily bulk. And Trump vs. Joe Biden? It reminds me of those gory MTV claymation brawls, where blood is copiously spilled and body parts are grossly ripped away — and neither one wins.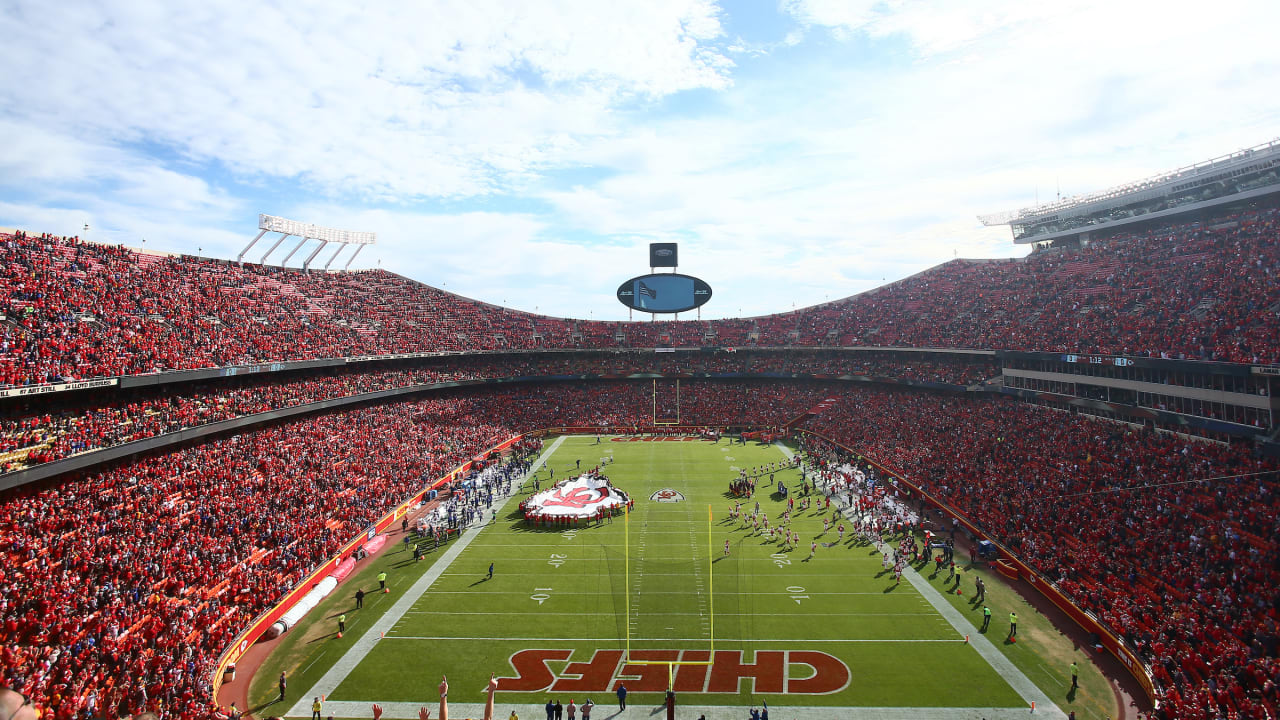 Yet inside Arrowhead Stadium, the Chiefs and Houston Texans will emerge like immune superheroes from the toxic haze — facial shields and masks optional — to entertain millions of NFL diehards, serious gamblers, fantasy players and casual onlookers while 16,000 spectators expectorate in the stands. This weekend, fans in three of college football's Power Five conferences are itching to do the same in larger numbers. The feeling is exactly what one expects from an alpha-dog sport of machismo and self-assumed invincibility: All associated parties think their seasons will be completed in full, regardless of racial unrest and COVID-19, regardless of the Election From Hell and regardless of how the virus has derailed much of the Major League Baseball season in a sport that plays — like football — outside a restrictive environment and relies on athletes to obey protocols at home and on road trips.
"We are confident we're going to be able to play, not just the start of our season but through the remainder of our season to the Super Bowl," NFL commissioner Roger Goodell said.
Does any of this make sense?
It does if you understand America, or what is left of it.
Unlike any other collective endeavor, football continues to move us, define us, unite us in big and small locales alike. It shouldn't be that way — too violent, too much brain trauma, too many old men in charge — and it certainly shouldn't be that way now, with the virus linked to heart issues and other health risks posing possible long-term consequences for young athletes. But if those who view football as a wholeness equation of religion, community and identity haven't let concussions interfere with their fun to date, why would the virus dent one's conscience? In their minds, the virus has yet to kill a prominent athlete or coach, which is more miraculous than any testament to the leagues outthinking science. So, they ask, why not play? Only the Big Ten and Pac-12, the two major football entities without footholds in the Deep South, chose health over wealth and safety over lifestyle. Which is why the sport, in a disturbing reflection about our nation, could have substantially more impact than merely providing appointment TV for homebound souls lacking the usual original programming options.
Football, and sports, might play a major role in who wins the election.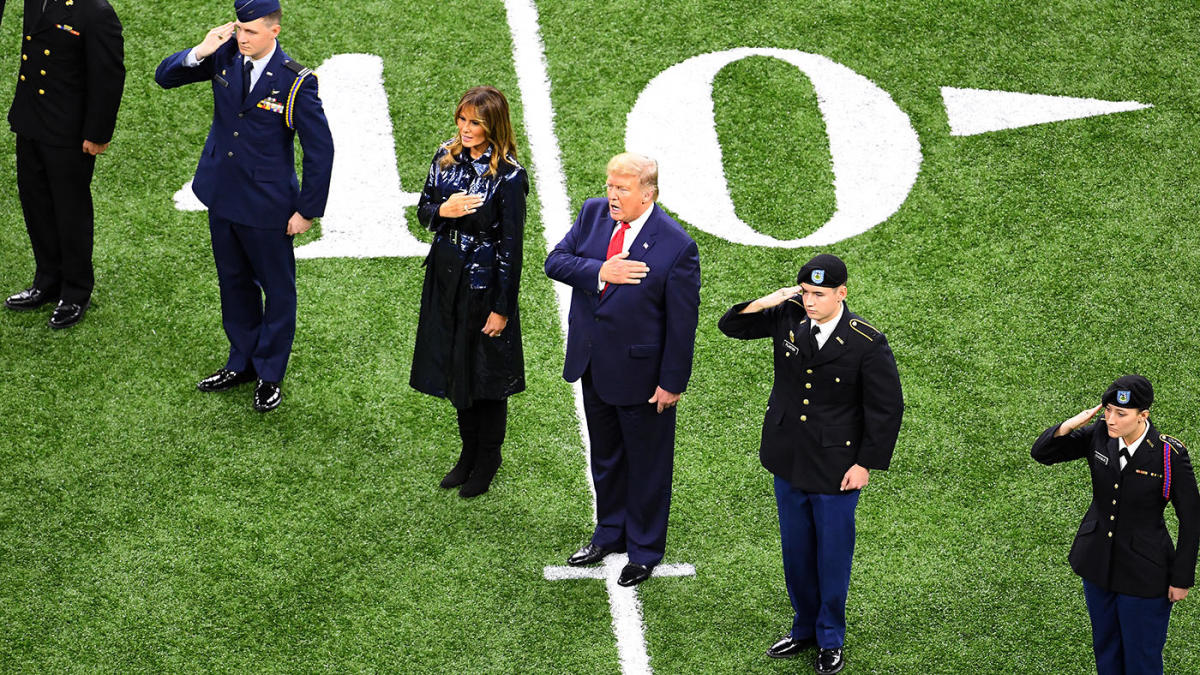 It was President Trump, remember, who arranged the conference call with the industry's power brokers and urged them to play their seasons. And with the country dialed into sports in surprising numbers, a recent trend about to be fortified by sizable NFL ratings, Trump now is positioned to tell the American people that he pushed hard for the games to return and created a happier vibe. Never mind that the virus is capable of outbreaks at any time in any sport, Bubble-ized or otherwise, with football and baseball still most vulnerable. Or that the game boycotts staged after the Blake shooting could happen again, namely in the NFL, where Jerry Jones and other owners might balk if hundreds of players kneel during the national anthem for the entire season. Does Jones sound like a man who wants to see Cowboys players protesting, even as quarterback Dak Prescott says they have the freedom to decide for themselves? Will he allow a kneeling display on Sunday in L.A., then return to his hard-line stance?
"We all do understand where I stand relative to the national anthem and the flag. On the other hand, I really do recognize the time we're in," Jones said on 105.3 The Fan. "I will assure you: Our players, they are sensitive to and can respect what America is as it relates to the flag. And I would hope that our fans, which I think that they will, will understand that our players have issues that they need help on. And they need help along with the majority of America. They need help.''
Countered Cowboys defensive lineman Tyrone Crawford: "We definitely have the green light on all that. But also just try to find something that is going to make a boom and not just something people look at one time and kinda just swipe by. We want to do something that makes a boom and people remember and actually create some change."
A boom. That's exactly what Colin Kaepernick created, a movement that Jones and the league eventually quashed. If the NFL tries again to subdue the protests, yes, players could boycott games, a shutdown that could lead to athletes in other leagues doing the same, as seen last month. All while dangerous political lines are being drawn by clashing social ideologies, creating an election pressure cooker unlike any seen in this country.
So much could go wrong in the coming weeks. But if sports maintains a savvy equilibrium and continues to handle the challenges of racial injustice and the pandemic, the country could hum to the unprecedented rhythm of major champions being crowned across the landscape from now through mid-November — COVID-19 permitting, of course. Already, Trump has curried the favor of key Midwestern swing states by pushing hard for Big Ten football to return.
"On the one-yard line!'' he tweeted after trying to petition Big Ten commissioner Kevin Warren.
So imagine when he pops up on Twitter after every mega-event and hypothetically congratulates, in chronological order: trainer Bob Baffert for winning his sixth Kentucky Derby, Serena Williams for winning her 24th tennis Grand Slam, Dustin Johnson for winning golf's U.S. Open, the Tampa Bay Lightning for winning a Stanley Cup, Jimmy Butler and the Miami Heat for winning the NBA title and the Los Angeles Dodgers for finally winning a World Series, while dropping the names of Brady and Dabo Swinney along the way. In Trump's mind, that's a recipe for re-election. And if that's how it shakes down, we all should look for a one-way ride to Mars, because sports should have no impact on the most important vote in this nation's history. Even more surreal: Many of the athletes the President would trumpet are urging Americans to vote — which is code for voting against Trump.
But with all previous normalcy seemingly gone forever, sports has been the one consistently familiar element of American life, even with no fans and canned noise. The NBA's ratings have caught fire in the Disney World Bubble during an engaging postseason, with LeBron James in attack mode again and the East about to produce a surprise finalist. The coronavirus hasn't been a factor so far, with family members joining players the past week, and there's a good chance a championship will be decided in a few weeks — a scientific leap in time for commissioner Adam Silver and Disney Company chief Bob Iger. The NHL, too, has had a virus-free tournament in two Canadian sites. It's the leagues not playing inside Bubbles, as the NFL and college football should note, that haven't fared well.
The baseball season has been waylaid by positive virus tests. The latest team to have games postponed, the Oakland A's, have no idea how pitcher Daniel Mengden contracted the coronavirus. "There was no breaking of protocols," general manager David Forst said. "That's frankly what's scary about this virus.'' At the chaotic U.S. Open in New York, the disqualification of Djokovic came after other players were sent home, having been exposed to COVID-19 during a card game at the players' hotel. UFC and its virus-ignorant frontman, Dana White, staged a program with only seven fights because of the virus, its skimpiest card since 2005. And in college football, the Tennessee Volunteers, who expect 25,000 fans in Neyland Stadium for their home opener, canceled a scrimmage because 44 players were out — many sidelined by positive tests and contract tracing.
"I'm really glad we're not playing today,'' coach Jeremy Pruitt said. "We'd have had a hard time beating anybody.''
Or, um, fielding a team.
Is anyone noticing the problems? Not really. In that vein, sports mirrors the attitude of Trump, who never has taken the virus seriously, botched America's medical response, encouraged untold millions not to wear masks and, thus, gave much hope to the Democrats. If this sounds hypocritical — a sports world that turns around and protests Trump when players kneel and boycott games, leagues that protest Trump when they support those players — well, the double standard shouldn't surprise you. Sports wants it both ways, ripping Trump when racial inequality is the issue and embracing Trump when he greases the political skids for sport's grand resumption of 2020. And when influential media companies hold major financial stakes in the pickup of the sports economy, they strategically downplay coverage of COVID-19's impact and emphasize regular sports coverage — whetting the appetites of fans and gamblers. ESPN was much more interested in the Eagles' move of Jason Peters back to left tackle than why Cubs outfielder Jason Heyward left a game feeling lightheaded and short of breath.
So what if 6.3 million Americans have contracted the virus and close to 200,000 have died from it? Just bury that COVID-19 stuff, say the bosses. It's not good for business or the bottom line. Tell them how the L.A. Rams are opening a $6 billion stadium and that Patrick Mahomes signed a $503 million contract.
Which also is known as lying to the readers. I must have missed the semester in journalism school when they taught Deception For Business Purposes 401.
In a supply-and-demand industry, the TV ratings show that people have missed live games. But if they're watching more basketball, less baseball, some hockey and golf and almost no tennis, they certainly will watch the NFL in droves. And the league will keep telling us that few players, if any, are testing positive for the coronavirus, which will lead to questions about transparency. The owners have 17 billion reasons to downplay COVID-19 outbreaks, while hiding behind privacy laws that protect infected parties, and when we saw a disproportionate number of injuries during secretive training camps, I was left to ask how many involved positive tests. The same suspicions surround college football, where Penn State's team doctor said one-third of Big Ten athletes who've contracted the virus have had symptoms associated with myocarditis, a heart condition that could endanger long-term health.
The games go on anyway, bulldozing through the American muck in a parallel universe, reminding us often that there have been no virus-related casualties. Those delusions mirror those of the President, meaning sports and Trump are bedfellows, dependent on each other as a country hunkers down for football. If we're sitting here on Nov. 1 — and sports somehow has staged seasons without tumult, as millions of entertained Americans whoop and holler — is it possible enough segments of our divided and battered republic will like the glow just enough to think about re-electing the incumbent? Just the same, if COVID-19 outbreaks and racial protests shut down sports, will it be the final avalanche that buries Trump and rewards Biden?
In a year when everything has happened, isn't anything still possible?
Being Wrong On-Air Isn't A Bad Thing
…if you feel yourself getting uncomfortable over the fact that you were wrong, stop to realize that's your pride talking. Your ego. And if people call you out for being wrong, it's actually a good sign.
In the press conference after the Warriors won their fourth NBA title in eight years, Steph Curry referenced a very specific gesture from a very specific episode of Get Up that aired in August 2021.
"Clearly remember some experts and talking heads putting up the big zero," Curry said, then holding up a hollowed fist to one eye, looking through it as if it were a telescope.
"How many championships we would have going forward because of everything we went through."
Yep, Kendrick Perkins and Domonique Foxworth each predicted the Warriors wouldn't win a single title over the course of the four-year extension Curry had just signed. The Warriors won the NBA title and guess what? Curry gets to gloat.
The funny part to me was the people who felt Perkins or Foxworth should be mad or embarrassed. Why? Because they were wrong?
That's part of the game. If you're a host or analyst who is never wrong in a prediction, it's more likely that you're excruciatingly boring than exceedingly smart. Being wrong is not necessarily fun, but it's not a bad thing in this business.
You shouldn't try to be wrong, but you shouldn't be afraid of it, either. And if you are wrong, own it. Hold your L as I've heard the kids say. Don't try to minimize it or explain it or try to point out how many other people are wrong, too. Do what Kendrick Perkins did on Get Up the day after the Warriors won the title.
"When they go on to win it, guess what?" He said, sitting next to Mike Greenberg. "You have to eat that."
Do not do what Perkins did later that morning on First Take.
Perkins: "I come on here and it's cool, right? Y'all can pull up Perk receipts and things to that nature. And then you give other people a pass like J-Will."
Jason Williams: "I don't get passes on this show."
Perkins: "You had to, you had a receipt, too, because me and you both picked the Memphis Grizzlies to beat the Golden State Warriors, but I'm OK with that. I'm OK with that. Go ahead Stephen A. I know you're about to have fun and do your thing. Go ahead."
Stephen A. Smith: "First of all, I'm going to get serious for a second with the both of you, especially you, Perk, and I want to tell you something right now. Let me throw myself on Front Street, we can sit up there and make fun of me. You know how many damn Finals predictions I got wrong? I don't give a damn. I mean, I got a whole bunch of them wrong. Ain't no reason to come on the air and defend yourself. Perk, listen man. You were wrong. And we making fun, and Steph Curry making fun of you. You laugh at that my brother. He got you today. That's all. He got you today."
It's absolutely great advice, and if you feel yourself getting uncomfortable over the fact that you were wrong, stop to realize that's your pride talking. Your ego. And if people call you out for being wrong, it's actually a good sign. It means they're not just listening, but holding on to what you say. You matter. Don't ruin that by getting defensive and testy.
WORTH EVERY PENNY
I did a double-take when I saw Chris Russo's list of the greatest QB-TE combinations ever on Wednesday and this was before I ever got to Tom Brady-to-Rob Gronkowski listed at No. 5. It was actually No. 4 that stopped me cold: Starr-Kramer.
My first thought: Jerry Kramer didn't play tight end.
My second thought: I must be unaware of this really good tight end from the Lombardi-era Packers.
After further review, I don't think that's necessarily true, either. Ron Kramer did play for the Lombardi-era Packers, and he was a good player. He caught 14 scoring passes in a three-year stretch where he really mattered, but he failed to catch a single touchdown pass in six of the 10 NFL seasons he played. He was named first-team All-Pro once and finished his career with 229 receptions.
Now this is not the only reason that this is an absolutely terrible list. It is the most egregious, however. Bart Starr and Kramer are not among the 25 top QB-TE combinations in NFL history let alone the top five. And if you're to believe Russo's list, eighty percent of the top tandems played in the NFL in the 30-year window from 1958 to 1987 with only one tandem from the past 30 years meriting inclusion when this is the era in which tight end production has steadily climbed.
Then I found out that Russo is making $10,000 per appearance on "First Take."
My first thought: You don't have to pay that much to get a 60-something white guy to grossly exaggerate how great stuff used to be.
My second thought: That might be the best $10,000 ESPN has ever spent.
Once a week, Russo comes on and draws a reaction out of a younger demographic by playing a good-natured version of Dana Carvey's Grumpy Old Man. Russo groans to JJ Redick about the lack of fundamental basketball skills in today's game or he proclaims the majesty of a tight end-quarterback pairing that was among the top five in its decade, but doesn't sniff the top five of all-time.
And guess what? It works. Redick rolls his eyes, asks Russo which game he's watching, and on Wednesday he got me to spend a good 25 minutes looking up statistics for some Packers tight end I'd never heard of. Not satisfied with that, I then moved on to determine Russo's biggest omission from the list, which I've concluded is Philip Rivers and Antonio Gates, who connected for 89 touchdowns over 15 seasons, which is only 73 more touchdowns than Kramer scored in his career. John Elway and Shannon Sharpe should be on there, too.
Money Isn't The Key Reason Why Sellers Sell Sports Radio
I started selling sports radio because I enjoyed working with clients who loved sports, our station, and wanted to reach fans with our commercials and promotions.
A radio salesperson's value being purely tied to money is overrated to me. Our managers all believe that our main motivation for selling radio is to make more money. They see no problem in asking us to sell more in various ways because it increases our paycheck. We are offered more money to sell digital, NTR, to sell another station in the cluster, weekend remotes, new direct business, or via the phone in 8 hours.
But is that why you sell sports radio?
In 2022, the Top 10 highest paying sales jobs are all in technology. Not a media company among them. You could argue that if it were all about making money, we should quit and work in tech. Famous bank robber Willie Sutton was asked why he robbed twenty banks over twenty years. He reportedly said," that's where the money is". Sutton is the classic example of a person who wanted what money could provide and was willing to do whatever it took to get it, BUT he also admitted he liked robbing banks and felt alive. So, Sutton didn't do it just for the money.
A salesperson's relationship with money and prestige is also at the center of the play Death of a Salesman. Willy Loman is an aging and failing salesman who decides he is worth more dead than alive and kills himself in an auto accident giving his family the death benefit from his life insurance policy. Loman wasn't working for the money. He wanted the prestige of what money could buy for himself and his family. 
Recently, I met a woman who spent twelve years selling radio from 1999-2011. I asked her why she left her senior sales job. She said she didn't like the changes in the industry. Consolidation was at its peak, and most salespeople were asked to do more with less help. She described her radio sales job as one with "golden handcuffs". The station paid her too much money to quit even though she hated the job. She finally quit. The job wasn't worth the money to her.
I started selling sports radio because I enjoyed working with clients who loved sports, our station, and wanted to reach fans with our commercials and promotions. I never wanted to sell anything else and specifically enjoyed selling programming centered around reaching fans of Boise State University football. That's it. Very similar to what Mark Glynn and his KJR staff experience when selling Kraken hockey and Huskies football.
I never thought selling sports radio was the best way to make money. I just enjoyed the way I could make money. I focused on the process and what I enjoyed about the position—the freedom to come and go and set my schedule for the most part. I concentrated on annual contracts and clients who wanted to run radio commercials over the air to get more traffic and build their brand.
Most of my clients were local direct and listened to the station. Some other sales initiatives had steep learning curves, were one-day events or contracted out shaky support staff. In other words, the money didn't motivate me enough. How I spent my time was more important.
So, if you are in management, maybe consider why your sales staff is working at the station. Because to me, they'd be robbing banks if it were all about making lots of money.
Media Noise: BSM Podcast Network Round Table
Demetri Ravanos welcomes the two newest members of the BSM Podcast Network to the show. Brady Farkas and Stephen Strom join for a roundtable discussion that includes the new media, Sage Steele and Roger Goodell telling Congress that Dave Portnoy isn't banned from NFL events.
Podcast: Play in new window | Download
Subscribe: RSS