Just What America Needs: The Riveting NFL Playoffs
As we wonder about Mahomes, marvel at Brady and bid adieu to Brees, this is a postseason where #HenneThingIsPossible, with Rodgers and the Bills Mafia ruling social media and America talking … football, like the old days.
Dare I say this country, just for a moment, felt normal again? That we were whisked away from the inauguration violence awaiting us, and the vaccines eluding us, by a dose of majestic postseason football? By a day that prompted shouts from the couch, texts to our sports friends and passionate analysis of play calls and penalties … the way life used to be?
Tom Brady's midlife crisis continues to thrive — not with a clandestine affair or a Lamborghini but a 14th trip to a conference title game. Drew Brees' career ends abruptly, with tears and blown kisses, amid dismal interceptions in the city he helped rebuild New Orleans after Hurricane Katrina. All after the disturbing sight of Patrick Mahomes, supposedly not human, wobbling cross-eyed into the arms of a teammate after his head had been smacked hard into the turf by Cleveland's Mack Wilson.
Was Mahomes also limping on an injured toe that must function, along with his brain, if he is to win another AFC title and Super Bowl? Ruled out with a concussion, was he setting an absurd stage for Chad Henne, a 35-year-old relic who represents the anthesis of All Things Mahomes, to save the season by scrambling like a rodeo bull and diving head-first for 13 yards on 3rd-and-14 … then playing a role in one of the ballsiest play calls in football history?
Dare I say the NFL playoffs feel … commonplace? Aaron Rodgers heaving the football into the Lambeau stands, through snow flurries, as Packers fans belted out their bang-on-the-drum-all-day anthem. Hearts breaking again in New Orleans, where Brees beat himself and Brady played a smart, mistake-free game in his ongoing defiance of age, health and Bill Belichick. The Bills welcoming the NFL commissioner and his wife to the game as their raging fans rattled Lamar Jackson, who suffered his own wooziness.
Nothing is normal in America. Nothing will be normal for a very long time, if ever. To even utter the word "normal" is to foolishly ignore the madness that awaits us — I'm surprised Dana White isn't in Washington promoting 25,000 National Guardsmen vs. Right-Wing Extremists — while expecting vaccines to be distributed equitably and efficiently. But at least the NFL is striving to make January as traditional as possible. And if it all seems force-fed and dangerous and still vulnerable to a Super Bowl virus outbreak, the league has succeeded like no other in deflecting our thoughts from COVID-19 to Championship 55.
"Take care," Brady said to Brees at midfield after a warm embrace as the Tampa Bay Buccaneers, not the New England Patriots, advanced.
Said Brees, mercifully off to the NBC studio, asked if playing at age 42 was worth it after breaking 11 ribs this season and losing the final game: "I would never regret it. Never. No complaints. No regrets. Man, I've always tried to play this game with a great respect and great reverence for it. I appreciate all that this game has given me. From the injury to all this COVID stuff, It was worth every moment, absolutely."
At one point, we thought Henne, a QB who succeeded Brady at Michigan, and Jameis Winston, the skittish QB who preceded Brady in Tampa Bay, were going to win as he lost. Lining up wide, then taking a pitch from Alvin Kamara, Winston came off the Saints bench and threw a 56-yard scoring pass against the team that dumped him. Turned out that was a desperation ploy by coach Sean Payton, who had lost faith in Brees. Brady marches on as a modern miracle in a show aired not on the History Channel, but Fox.
"We've got to go beat a great football team," he said of the next matchup against Rodgers and the Packers in frigid Green Bay. "Aaron is playing incredible. We're going to have to play great to beat him."
Our collective troubles vanished all day. Such as when Henne, after his right tackle slapped himself on the butt to signal the play, rolled right in the shotgun formation — on 4th-and-inches at his own 49-yard-line, 1:16 left in the fourth quarter, Chiefs leading 22-17, Baker Mayfield salivating on the Cleveland sideline — found Tyreek Hill open in the flat for the game-ending play. Wasn't this the moment that will define Andy Reid as the ultimate gambler in a high-rolling sport? Was Tony Romo screaming so madly in the CBS booth that we couldn't hear Jim Nantz — never a bad thing, actually?
"#HenneThingIsPossible," tweeted Mahomes, apparently coherent enough in the Kansas City locker room to locate an accompanying GIF of basketball great Kevin Garnett famously chanting the same message.
Cracked Henne, an 11-year journeyman with his third NFL team: "I don't think a #HenneGivenSunday or #HenneThingIsPossible hashtag is going to be on LinkedIn. … I'm always a competitor. All through the years, if it went my way or didn't, I've always loved the game. This is why I play: Prepare each week to be the best me."
As for the conspiracy theorists in Cleveland, who never will forget a killer fumble in 1988, why didn't officials see a violent hit to the head late in the first half, helmet to helmet, that should have resulted in first-and-goal instead of a Rashard Higgins fumble being ruled a touchback? If the Browns had scored there, might they be going to Buffalo for the title game?
Somehow, Reid would have found a way to win anyway. How prepared is this man? He made sure Henne played in Week 17 against the Chargers, sitting Mahomes and other starters. Saturday night, he went though every possible option with Mahomes — and Henne — in that scenario. "Fourth-and-1 to win the game? What do you want? And that play happened to be there," said Reid, the only coach in creation who would have taken a chance with a backup QB who'd just thrown a bad interception.
Did Reid even hesitate about the gamble? "No doubt. My coaches were on board," he said. "There's no tomorrow. Let's go."
And how is Mahomes doing? "He kinda got the wind knocked out of him and everything else with it. He's doing great now. So that's a positive," reported Reid, not noting the five-step concussion process this week. "He passed all of the deals he had to pass." Meaning, Bills Mafia can stop the Labatt's toasts for now. Mahomes won't be missing the game.
How fitting, in a country where older and younger factions rarely have been more divided, that two conference title games will be defined by a generational chasm. At the most important and glamorous position in sports, Gen Next is trying to shove aside Gen Legends in a transitional quarterbacking drama. The NFC will be represented in Tampa by either the incomparable Rodgers, who is 37 and wears black cleats that make him look older, or Brady, who would be trying to win his seventh Super Bowl. Countering for the AFC will be Mahomes — who continues to challenge another senior citizen in his world, LeBron James, as the Face Of American Sports — or Josh Allen, who, at 24, has become such a commanding presence and unifying force that he made people forget about those racist high-school tweets that surfaced on draft night.
Roger Goodell doesn't need Nickelodeon to engage young audiences when he has such a compelling story line, for all demographics. Seems everyone has a QB to root for in the Final Four, and seeing how Rodgers and Mahomes have mastered the art of throwing a touchdown pass and immediately starring in another State Farm ad, they will garner the most attention. They're also most likely to advance to Super Bowl LV — LV should be marketed as Live or Love — because the Packers and Chiefs are playing at home as No. 1 seeds who were the only teams allowed rest via bye weeks. It isn't a format the league should embrace beyond this year, because we'd see only top seeds winning titles, but it's a byproduct of Pandemic Ball that works.
After all, Rodgers and Mahomes rule the sport and should face each other as the reigning playmakers of their respective age classes. But here's what you need to know about their 12-year difference: Rodgers is trying to wipe it out and prove, like some sort of football Benjamin Button, that he's still the coolest kid. You'd think a hardened veteran who has seen it all wouldn't be fazed by 8,456 fans who, for the first time this season at the venerable Green Bay stadium, were allowed to socially distance and drink Wisconsin's finest Saturday. Rodgers grew teary-eyed and said the Packers were inspired by the small but raucous crowd that brought back, well, a sense of normalcy.
"Just thinking about what we've been through got me emotional with the crowd out there today," he said after the 32-18 victory. "Talk about just pure joy running out of that tunnel. It felt like 50,000 when we ran out of the tunnel, it really did. It was such a special moment. Forgot how much you truly, truly miss having a crowd there. It felt like 50,000, 60,000."
The fans used signs and snow boots to bang on Lambeau's steel foundation, not typically audible when 81,500 are in attendance. It created a home-field advantage that will continue Sunday in Rodgers' first NFC title game in Green Bay, against Brady and the warm-weather Bucs, with an afternoon forecast of snow showers and highs in the mid-20s. "Hopefully, it's a little colder," said Rodgers, aware of the narrative at work. As the Packers were riding a robust running game and Rodgers' quick strikes for 484 yards of offense against the Rams' top-rated defense, did you see the game's signature moment? Rodgers, looking 25, raced toward the end zone, pump-faked, deked Leonard Floyd out of his pants, then won the race to the pylon. He whipped the ball into the stands, then stared at the heavens and shouted something. This will sound Boomerish, probably, but Rodgers has been channeling the 2002 movie "Austin Powers In Goldmember" during end-zone celebrations as a tribute to Packers offensive coordinator Nathaniel Hackett, who likes the movie.
"I love gold!" he shouts.
The red zone, you see, has become known as the gold zone in the Packers' locker room, befitting a team that leads the league in scoring efficiency inside the 20-yard line. "One of my New Year's resolutions is definitely Mike Myers in a gold suit in Green Bay or Zoomed into Green Bay," Rodgers said.
As for Mahomes, Rodgers is growing weary, in a half-joking sense, about constant references to his no-look passes and similar on-field magic. "Late in the game, I had — they wouldn't show it because I play for the Packers — but I had a pretty sweet no-looker to Davante (Adams) in the last drive that kind of set up for a few plays," he said on a recent radio appearance.
"I'm so thankful Patrick Mahomes brought that into the NFL," said host Pat McAfee, oozing sarcasm.
"Yeah, I know," Rodgers said. "Since none of us have been doing it for a long time."
Damn right there's a friendly rivalry that should extend beyond their TV commercials, though Mahomes has enough problems with now to taunt a boomer. And damn right Rodgers doesn't want anyone telling him that he's culturally obsolete, just because he's 37. He can reclaim the world by beating Brady, then winning his second Super Bowl a full decade after winning his first and only. "It's been a long time," Rodgers said. "There's been a lot of ball between now and February 6, 2011, which was a beautiful day."
If a city has claimed the nation's allegiance this season, it's Buffalo. Who doesn't feel for a place that dealt with four consecutive Super Bowl losses in the 1990s, then sunk into NFL oblivion when the Bills are their identity and reason for being? A small market, characterized by a rowdy and surprisingly generous fan commune called Bills Mafia, is enraptured by Allen, a small-town kid from Firebaugh, Calif. — 45 miles west of Fresno, middle of nowhere — who played college ball at Wyoming and became a fireball in western New York. He could have been a quick NFL bust if those ugly tweets, which he dismissed as being "young and dumb," had been followed by more immaturity. But after struggling with on-field inconsistency in his first two seasons, Allen has emerged as a dual-threat badass who is such a central part of what the Bills do, they abandoned their running backs Saturday night in beating the Ravens.
He won't win the league MVP award this year. That's going to Rodgers, with Mahomes a close second. Nor will he go to Kansas City and beat the Chiefs, despite Mahomes' issues. But Allen, at 6-5 and 240 pounds, is a monster who will win trophies of all sorts the next decade. He has become a popular leader who dances with his teammates before practices and loves the fans. Noting how Bills Mafia members literally jump through tables, Allen vowed on a radio show to jump through several tables if the Bills win a Super Bowl.
"And light them on fire. Let's do it," he said.
The Mafia, meanwhile, continues donating to causes that wouldn't cross the minds of fans in other cities. It's understandable when they raised tens of thousands to a children's hospital — Allen's favorite charity — after the death of his grandmother. But now they're donating to a Jackson-related charity after the Baltimore quarterback suffered a concussion that forced him out of the game, assuring the Bills' first AFC title game appearance since 1994. This after 6,700 fans, after documenting negative tests for coronavirus, had tormened Jackson with noise that resulted in offsides flags on a wickedly windy night.
"What a great environment. I know all of our fans couldn't be in the building, but it was loud again. Great atmosphere," said head coach Sean McDermott said, who has changed the culture in four years when so many predecessors could not. "We came here with a vision, and seeing it move forward in the right direction feels good."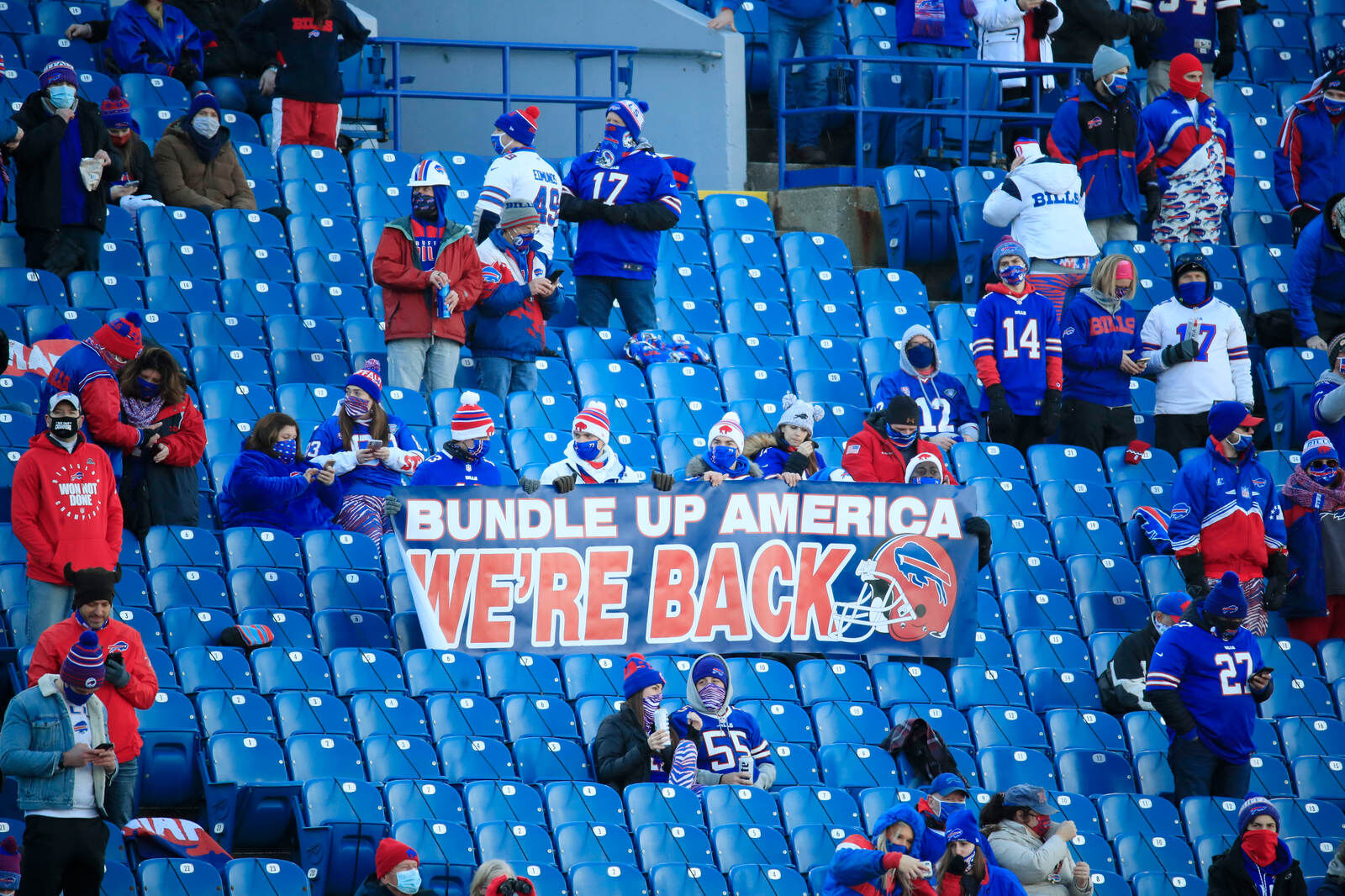 The Bills can't take the fans with them to Kansas City, where the Chiefs have their own unique home edge in a pandemic. But the matchup will be no less fascinating — Mahomes vs. a Bills defense trying to knock him out — as Brady tries to rekindle the New England blood on the frozen tundra. Chances are, we'll be seeing a three-hour State Farm ad in Raymond James Stadium, sandwiched around a Weeknd concert at halftime.
But the very fact we're discussing such football matters, when no one knows what this country resembles or whether it exists in a few days, is a throwback blast we needed. I would thank the NFL with a handshake, except, the league still might infect me.
Jay Mariotti, called "the most impacting Chicago sportswriter of the past quarter-century,'' writes a weekly media column for Barrett Sports Media and regular sports columns for Substack while appearing on some of the 1,678,498 podcasts in production today. He's an accomplished columnist, TV panelist and radio talk host. Living in Los Angeles, he gravitated by osmosis to film projects. Compensation for this column is donated to the Chicago Sun-Times Charity Trust.
Who Handled the Tua Concussion Discussion Best?
Rex Ryan, Rodney Harrison, and Boomer Esiason stood out with their commentary on the Tagovailoa story.
The major story going into the bulk of Week 4's NFL action on Sunday was the concussion suffered by Miami Dolphins quarterback Tua Tagovailoa in Thursday's game versus the Cincinnati Bengals.
Amazon's Thursday Night Football telecast, particularly its halftime show, faced heavy criticism for neglecting to mention that Tagovailoa had been tested for a concussion in his previous game just four days earlier. Additionally, the NFL Players Association called for an investigation into whether or not the league's concussion protocols were followed properly in evaluating Tagovailoa.
In light of that, how would the Sunday NFL pregame shows address the Tagovailoa concussion situation? Would they better inform viewers by covering the full story, including the Week 3 controversy over whether or not proper protocols were followed?
We watched each of the four prominent pregame shows — ESPN's Sunday NFL Countdown, Fox NFL Sunday, CBS's The NFL Today, and NBC's Football Night in America — to compare how the Tagovailoa story was covered. With the benefit of two extra days to research and report, did the Sunday shows do a better job of informing and engaging viewers?
Here's how the pregame studio crews performed with what could be the most important NFL story of the year:
Sunday NFL Countdown – ESPN
ESPN's pregame show is the first to hit the air each Sunday, broadcasting at 10 a.m. ET. So the Sunday NFL Countdown crew had the opportunity to lead the conversation for the day. With a longer, three-hour show and more resources to utilize in covering a story like this, ESPN took full advantage of its position.
The show did not lead off with the Tagovailoa story, opting to lay out Sunday's schedule, which included an early game in London between the Minnesota Vikings and New Orleans Saints. But the Countdown crew eventually got to issue on everyone's minds approximately 28 minutes into the program.
Insider Adam Schefter provided the latest on the NFL and NFLPA's investigation into the matter, particularly the "gross motor instability" Tagovailoa displayed in stumbling on the field and how the Dolphins initially announced that the quarterback had suffered a head injury, but later changed his condition to a back injury.
Schefter added that the NFL and NFLPA were expected to interview Tagovailoa and pass new guidelines for concussion protocols, including that no player displaying "gross motor instability" will be allowed to play. Those new rules could go into effect as early as Week 5.
"This is an epic fail by the NFL," said Matt Hasselbeck to begin the commentary. "This is an epic fail by the medical staff, epic fail by everybody! Let's learn from it!"
Perhaps the strongest remarks came from Rex Ryan, who said coaches sometimes need to protect players from themselves.
"I had a simple philosophy as a coach: I treated every player like my son," Ryan said. "Would you put your son back in that game after you saw that?
"Forget this 'back and ankle' BS that we heard about! This is clearly from head trauma! That's it. I know what it looks like. We all know what it looks like."
Where Sunday NFL Countdown's coverage may have stood out the most was by bringing injury analyst Stephania Bell into the discussion. Bell took a wider view of the story, explaining that concussions had to be treated in the long-term and short-term. Science needs to advance; a definitive diagnostic tool for brain injury doesn't currently exist. Until then, a more conservative approach has to be taken, holding players out of action more often.
Grade: A. Countdown covered the story thoroughly. But to be fair, it had the most time.
The NFL Today – CBS
CBS's pregame show led off with the Tagovailoa story, going right to insider Jonathan Jones to report. He cited the key phrase "gross motor instability" as a significant indication of a concussion.
Jones also clarified that the unaffiliated neurotrauma consultant who helped evaluate Tagovailoa made "several mistakes" in consulting with the Dolphins' team doctor, leading to his dismissal by the NFL and NFLPA.
The most pointed remarks came from Boomer Esiason, who said any insinuation that the Dolphins, head coach Mike McDaniel, or the team medical staff put Tagovailoa back in the game in order to win was "off-base." Phil Simms added that the concussion experts he spoke with indicated that Tagovailoa could miss four to six weeks with this injury.
Grade: B-. The opinions from the analysts were largely bland. Jones's reporting stood out.
Fox NFL Sunday
The Fox NFL pregame show also led off with the Tagovailoa story, reviewing the questions surrounding how the quarterback was treated in Week 3 before recapping his injury during Week 4's game.
Jay Glazer reported on the NFL's investigation, focusing on whether or not Tagovailoa suffered a concussion in Week 3. And if he did, why was he allowed to play in Week 4? Glazer noted that Tagovailoa could seek a second, maybe a third medical opinion on his injury.
Jimmy Johnson provided the most compelling commentary, sharing his perspective from the coaching side of the situation. He pointed out that when an injured player comes off the field, the coach has no contact with him. The medical team provides an update on whether or not the player can return. In Johnson's view, Mike McDaniel did nothing wrong in his handling of the matter. He has to trust his medical staff.
Grade: B. Each of the analysts shared stronger opinions, particularly in saying a player failing "the eyeball test" with concussion symptoms should be treated seriously.
Football Night in America – NBC
Sunday Night Football was in a different setting than the other pregame shows, with Maria Taylor, Tony Dungy, and Rodney Harrison broadcasting on-site from Tampa Bay. With that, the show led off by covering the aftermath of Hurricane Ian, its effects on the Tampa area, and how the Buccaneers dealt with the situation during the week.
But after 20 minutes, the show got into the Tagovailoa story with Mike Florio reporting what his peers told viewers earlier in the day regarding pending changes to the NFL's concussion protocol and "gross motor instability" being used as a major indicator.
Florio emphasized that the NFLPA would ask how Tagovailoa was examined and treated. Was he actually examined for a back injury in Week 3? And if he indeed suffered a back injury, why was he still allowed to play?
When the conversation went back to the on-site crew, Dungy admitted that playing Thursday night games always concerned him when he was a coach. He disclosed that teams playing a Thursday game needed to have a bye the previous week so they didn't have to deal with a quick, four-day turnaround. That scheduling needs to be addressed for player safety.
But Harrison had the most engaging reaction to the story, coming from his experience as a player. He admitted telling doctors that he was fine when suffering concussion symptoms because he wanted to get back in the game. Knowing that was wrong, Harrison pleaded with current players to stay on the sidelines when hurt because "CTE takes you to a dark place."
"It's not worth it. Please take care of yourself," said Harrison. "Don't depend on the NFL. Don't depend on anybody. If something's wrong with your head, report it."
Grade: B+. Dungy and Harrison's views of the matter from their perspective as a coach and player were very compelling.
Ian Casselberry is a sports media columnist for BSM. He has previously written and edited for Awful Announcing, The Comeback, Sports Illustrated, Yahoo Sports, MLive, Bleacher Report, and SB Nation. You can find him on Twitter @iancass or reach him by email at iancass@gmail.com.
Jason Barrett Podcast – Terry Dugan & Adam Delevitt, BetRivers
Jason Barrett is the owner and operator of Barrett Sports Media. Prior to launching BSM he served as a sports radio programmer, launching brands such as 95.7 The Game in San Francisco and 101 ESPN in St. Louis. He has also produced national shows for ESPN Radio including GameNight and the Dan Patrick Show. You can find him on Twitter @SportsRadioPD or reach him by email at JBarrett@sportsradiopd.com.
Joe Rogan Betting Admission Reveals Gray Area
Rogan's admission raises a question as to just how ethical it is to place bets with insider information, and whether it should be legal or not.
For nearly a decade, I've been fortunate enough to cover the football and basketball programs for the University of Kentucky in some form or fashion. Whether writing for blogs or working with ESPN Louisville as co-host of the post-game show, I've gotten to know people around the program I grew up supporting, and other individuals in the media doing the same. I've made some terrific friendships and cultivated quite a few relationships that provide me with "inside information" about the teams.
As an avid sports bettor, that information has sometimes put me into some difficult personal situations. There have been times when I've been alerted to player news that wasn't public, such as a player dealing with an injury or suspension. It's often been told to me off-the-record, and I've never put that information out publicly or given it to others.
I wish I could also say I've never placed a wager based on that information, but that would be a lie. While it's been a long time since I've done so, I've ventured into that ethical gray area of betting on a team that I'm covering. I've long felt uncomfortable doing so, and I'd say it's been a few years since I last did it.
At least I know I'm not alone. On his latest episode of The Joe Rogan Experience, Rogan told guest Bert Kreischer that earlier in his UFC broadcasting career he regularly bet on fights. He claims to have won nearly 85% of the time (which I highly doubt but that's another discussion for another time), either via bets he made or ones he gave to a business partner to place on his behalf.
From his comments, Rogan doesn't seem to have been using sensitive information to gain an edge with the books, but he also didn't state that he didn't. He indicates that much of his success stemmed from knowing quite a bit more about fighters coming from overseas, and he said he "knew who they were and I would gamble on them."
But Rogan undoubtedly has long been in a position where he knows which fighters might be dealing with a slight injury, or who are struggling in camp with a specific fighting style. It's unavoidable for someone whose job puts him into contact with individuals who tell him things off-the-record and divulge details without perhaps even realizing it.
But let's say Rogan did get that information, and did use it, and was still doing so today. The fact is…there's nothing illegal about it, not in the United States at least. While it's against the rules of some entities — the NFL, for example, has stated they could suspend or ban for life individuals who use inside information or provide it to others — it's not against any established legal doctrine. Unlike playing the stock market, insider betting is not regulated by any central body or by the government.
However, Rogan's admission raises a question as to just how ethical it is to place bets with insider information, and whether it should be legal or not. Many of the after-the-fact actions that have been taken in the realm of legalized sports betting in this country, or those being discussed currently (such as advertising limitations), fall in line with changes made in Great Britain following their legalization.
One of their big changes was making it illegal to utilize insider information, with very specific definitions about the "misuse of information" and what steps the Gambling Commission may take. It lays out what information can be used, the punishments that may be levied, and at what point it might venture into criminality.
Sportsbooks do have recourse in some instances to recoup money on insider betting, but not many. If they can prove that a wage was influenced, they can cancel the bet or sue for the money. The most well-known instance is the individual who bet $50,000 at +750 odds that someone would streak on the field during Super Bowl LV –which he did– and then was denied the payout when he bragged about his exploits. But unless someone foolishly tells the books that they've taken them with information that the public wasn't privy to, they have little to no chance of doing anything about it.
There are ramifications to insider betting that raise truly ethical dilemmas. Just like stock trading, information can be immeasurably valuable to those with stakes large enough to change prices. If I'm placing a $20 prop bet with the knowledge that a team's starting running back might be out for a game, or dealing with an ankle injury, I'm not going to harm anybody else playing that line. But if I give that information to a shark, who places a $20,000 wager on that same line, I've now enabled someone to move a line and impact other bettors.
Online sports betting in this country continues to grow, and every day we are reminded that there are still aspects of the space that can feel like the wild west. As individuals in the media, we have to decide personally what our ethical stances are in situations like this. We also have to keep in mind the impact that betting can have on our biases–especially if we've bet using inside information. A prime example is Kirk Herbstreit, who won't even make a pick on College Gameday for games he is going to be doing color commentary for lest he possibly appears biased on the call.
At one end of the spectrum, you have someone like Herbstreit, and on the other end, you have folks like Rogan who, while he no longer does so, was more than happy to not only wager on fights himself but gave the information to others. And in the middle, you have hundreds of people in similar situations, who might lean one way or another or who, like me, may have found themselves on either side of that ethical line.
There is no black or white answer here, nor am I saying there's necessarily a right or wrong stance for anybody in the sports media industry to take. I would say that each person has to take stock of what they're comfortable doing, and how they feel about insider information being used. Rogan didn't break any rules or laws by gambling on the UFC, but his admission to doing so might be the catalyst towards it no longer being accepted.
Jason Ence resides in Louisville, KY and is fully invested in the sports betting space. Additionally, he covers Premier League and Serie A soccer, college football, and college basketball for ESPN Louisville 680 including serving as the station's University of Kentucky correspondent, and co-host of the UK football and basketball post-game shows. He can be found on Twitter @JasonUK17 and reached by email at jason.ence17@gmail.com.