Rodgers, Watson And The QB Drama Inferno
Franchise-hopscotching that first boomed with NBA superstars, and continued with Tom Brady, is now the NFL's hottest and most divisive story — and we can thank 21st-century athlete entitlement for that.
From the day he slings his first touchdown pass in Pop Warner ball, the quarterback is a pampered, fussed-over golden child. The path leads him to high school, where college coaches bribe him, classmates worship him, girls slide into his DMs and analysts project him as a pro prospect before he learns to drive. This 24/7 stroking eventually brings riches, fame, power … and, too often, an ego bordering on megalomania.
And when that ego is insulted and bruised, while the TV pundits scream that he's underachieving and not worth his money, the golden child summons all the clout in his life portfolio to demand a trade and protect his legacy.
Only now, the NFL's escape hatch is more crowded than a rogue vaccine site, thanks to an unprecedented barrage of get-me-out-of-here-ism that isn't a good look for some of football's biggest names. At the front of the line is Aaron Rodgers, whose considerable self-esteem again has regressed into pouty finger-pointing after dropping to 1-4 in NFC championship games. In itself, this is a stunning and potentially historic development, the idea that Rodgers, going on 38, would demand a trade and seek bigger success in San Francisco, Los Angeles or Las Vegas. But it's even more astonishing when he's joined on the upward-mobility train by two quarterbacks, Deshaun Watson and Matthew Stafford, who also are likely to wear gold Hall of Fame jackets someday.
At the most important and glamorous position in team sports, never has the possible activity been more volatile. Already, numerous franchises are plotting deals, which is catnip for commentators and columnists who won't be spending Super Bowl week in Tampa during this pandemic postseason and need fodder extending beyond Tom Brady and Patrick Mahomes. Nothing tantalizes sports fans more than trade rumors involving superstars. Thus, with so many QB situations in flux throughout the league, the blast furnace is burning about Rodgers maneuvering his way to the 49ers or Rams or Raiders, or Watson forcing a trade to the Jets or Patriots or Saints. Hell, think of all the other teams that need QB upgrades now or in the near future: Colts, Bears, Steelers, Broncos, Panthers, Washington, Falcons. Do the Eagles really think a head coaching change, Doug Pederson to the obscure Nick Sirianni, can fix Carson Wentz? And what about the Packers, Texans and Lions if Rodgers, Watson and Stafford are gone?
Suddenly, no one cares about the NBA, the NHL, college basketball, the endangered start of baseball spring training or, at least until late next week, Super Bowl LV. It's all about who gets Rodgers and Watson, and, to a lesser extent, where the less-demonstrative Stafford lands along with other QBs on the move. Oh, the fake news soon to be disseminated by agents and front offices alike — hold your nose, America.
Rodgers becomes more polarizing by the minute. The man is never happy, even after a presumptive MVP season when he seemed to forge a relationship with coach Matt LaFleur. Ten maddening seasons since his only Super Bowl victory, he was going to be distraught if the ending didn't include a cigar and the Vince Lombardi Trophy. So when his offensive line broke down against Tampa Bay's fearsome rush and some of his weapons were shrinking violets, sure, he was going to be upset — especially when losing to Brady, who, in his first NFC season, has as many conference titles as Rodgers.
But where Rodgers lost me was in his post-game Zoom conference. Rather than accepting defeat like a dignified grown man, he spilled more of the whine that sometimes makes him unlikable. Yes, LaFleur blew it Sunday — as pointed out here and pretty much everywhere — when he snubbed Rodgers on 4th-and-goal at the enemy 8-yard-line, preferring a field goal with 2:09 left instead of trying to tie the score with the MVP. Brady ran out the clock on a 31-26 victory, and next thing you knew, Rodgers was all but singing about his native state, "California dreamin'. On such a winter's day …"
"It's a good question," he said when asked what was next. "I don't know, I really don't. There's a lot of unknowns going into this offseason now. I'm going to have to take some time away, for sure, and clear my head and just kind of see what's going on with everything. But it's pretty tough right now, especially thinking about the guys that may or may not be here next year. There's always change. That's the only constant in this business. It's a grind just to get to this point. And that makes the finality of it all kind of hit you like a ton of bricks. That's why it's a gutting feeling in your stomach."
He soon shifted the tone from frustration to sadness. "(The Packers have) a lot of guys' futures that are uncertain — myself included. That's what's sad about it most, getting this far," Rodgers said. "Obviously, it's going to be an end at some point, whether we make it past this one or not, but just the uncertainty's tough and finality of it all."
Does this sound like a man who wants to finish his career with LaFleur and Brian Gutekunst, the general manager who drafted a quarterback, Jordan Love, in the first round last spring? Or a man who soon was on the phone with his agent, discussing immediate possibilities beyond Green Bay? Rodgers feels he doesn't get proper love from management — meaning, he wants more control over the roster and his offensive weapons. The bosses think his $134-million extension, which he signed in 2018 and extends through 2023, is ample respect. They dealt with his moods last year, when he voiced resentment about Love. It's safe to assume they don't want another offseason of misery, though, at this point, they only can kiss his ring … his only ring.
When asked if Rodgers will return next season, LaFleur said, "I sure as hell hope so. I mean, the guy's the MVP of this league. He's the heart and soul of our football team. So, hell yeah, he better be back here. He's our leader, and you know, just so appreciative of him buying into what we're trying to get done around here and leading that group. His voice carries a lot of weight in that locker room and just, you know, I feel for him. Him being in this situation and for us not to get it done, man, it hurts."
Also, it's not as simple as the Packers striking a quick deal. They could send Rodgers to the 49ers for some combination of draft picks and Jimmy Garoppolo; or to the Rams, who have soured on Jared Goff; or to the Saints, who must replace the retiring Drew Brees. But if Rodgers leaves now, Green Bay is stuck with $31.5 million in salary-cap dead money. If he demands a trade with a retirement threat, they'd have to cede to his wishes and eat the money. In cities throughout the league, fans are urging their teams to acquire Rodgers. "Hasn't he always been a Hollywood QB? With the Malibu house? And the actresses and Danica Patrick?" they're asking in L.A. "Shouldn't he come home for his final years?" they're asking in northern California, where he grew up in Chico and played at Cal.
The excitement about Watson might be more palpable. Only 25, he has a good decade ahead of him as a dual-threat machine. And unlike Rodgers, his complaints in Houston are greeted with more sympathy. No pro franchise in American sports is more chaotic than the Texans, and Watson has left zero doubt: He wants out. He's disgusted that owner Cal McNair views him as the help and has allowed the mysterious Jack Easterby to wreak organizational havoc, such as blocking Watson from voicing his opinion about the general manager vacancy, filled by Bill Belichick-disciple Nick Caserio. Even if the Texans do the right thing with their head coaching vacancy and hire Chiefs offensive coordinator Eric Bieniemy — a Mahomes whisperer who'd mesh ideally with Watson — reports say Watson wants no part of a Houston future regardless of the coaching hire.
The New York media, devastated when the Jets won just enough games to lose presumptive top draft pick Trevor Lawrence, are pushing the Jets to land their first superstar QB since Joe Namath (the 2008 Brett Favre experiment was ill-fated). A better trade partner for the Texans might be Miami, which could offer Tua Tagovailoa and picks. Or the 49ers, who have eyed Stafford, he of the eight 4,000-yard passing seasons, but know how Watson could thrive in a Kyle Shanahan system.
"You can't say anything with certainty," Shanahan said when asked about his QB outlook. "You don't sit here and make promises on anything."
It could be Watson ends up in New York, Stafford in Indianapolis and Rodgers in Vegas, where Jon Gruden could ship Derek Carr to Green Bay while Love develops. Or, maybe Rodgers makes amends with the Packers and tries again. Or, knowing his whims, maybe he retires as a big-game loser who is mocked in memes. The Cheeseheads have had the good fortune of watching Rodgers for 13 starting seasons after watching Favre for 16 seasons, yet they've also suffered as both wobbled through drama in their late 30s. So far, Rodgers' problems haven't approach the spectacle level of Favre. But if he keeps losing in the playoffs, who knows how ugly this becomes?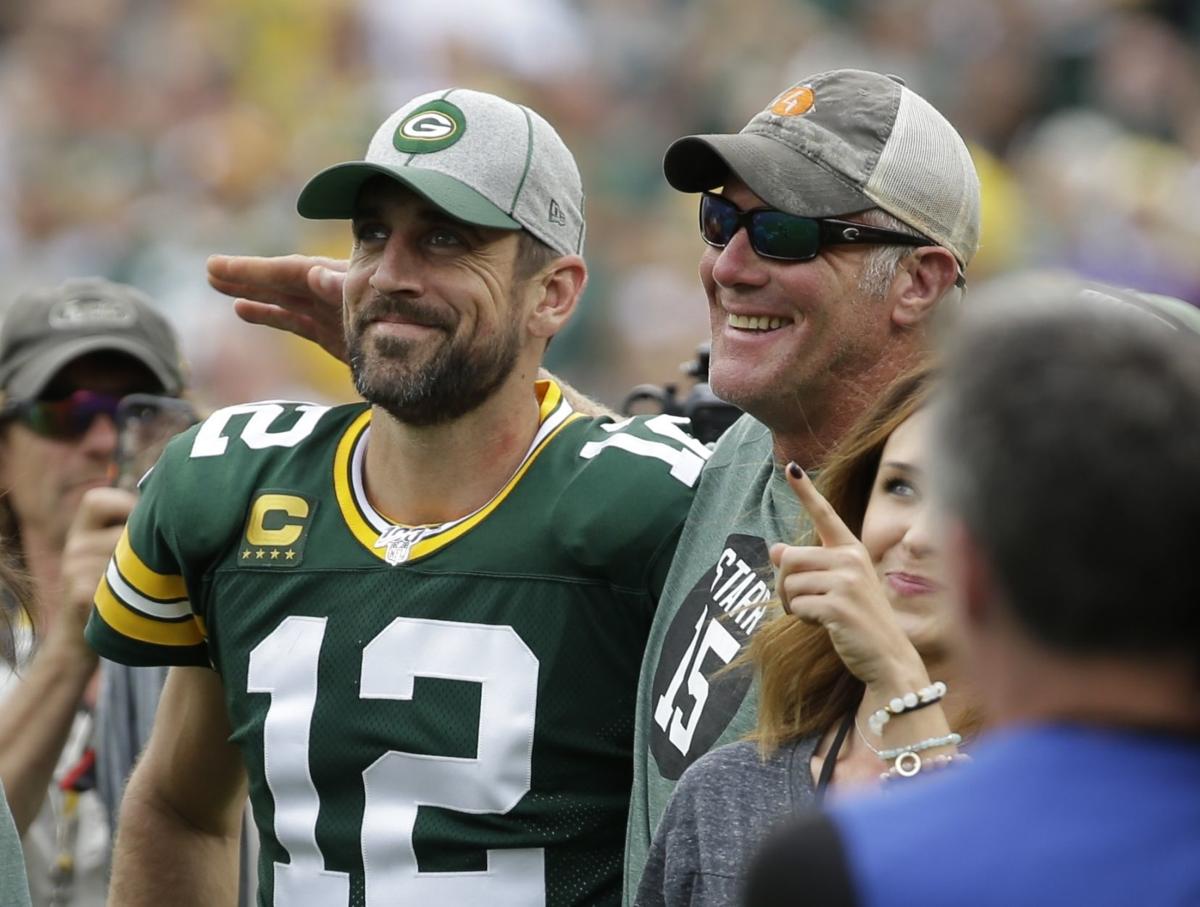 Of course, Brady launched the Great Quarterback Exodus when he waited out Belichick and left New England, seeing a better life with the Buccaneers. Now that he has proved his point, Rodgers and Watson are right behind him. In the bigger picture, this is the latest installment of the ongoing 21st-century series, "The Business Entitlement Of The Corporate Athlete." If LeBron James and Kevin Durant could bounce around to better situations, for their careers and lives, why not elite NFL quarterbacks?
Sometimes, you wonder if this rampant get-me-out-of-here-ism has become a bigger deal than the championship seasons themselves. I would say none of it is good for football or sports, but would the blinking banks of talk-show callers on hold agree with me?
Probably not.
Asking The Right Questions Helps Create Interesting Content
Asking questions that can get a subject to talk about their feelings is a much better way to get an interesting answer.
When ESPN's Mike Greenberg interviewed Paolo Banchero in the lead-up to the NBA lottery on Tuesday, he asked what I've concluded is the single most maddening question that can be asked of any athlete preparing for any draft.
"Why do you believe you should be No. 1 pick in the NBA Draft?" Greenberg said.
Before I point out exactly why I have such a visceral reaction to such a harmless question, I want to point out the positives because Greenberg's question avoids some of the most common pitfalls:
1) It is an actual question. That's not as automatic as you think given the number of poor souls who are handed a microphone and say to their subject, "Talk about (whatever issue they want a quote or a sound bite on)." This is the mark of an amateur, creating the opening for an uncooperative subject to slam the door by saying, "What do you want me to say?"
2) Greenberg's question can not be answered with a yes or a no. Questions that start with the word "Can you …" or "Did you …" may sound like they're tough questions for the subject, but they're actually fairly easy if the subject wants to offer an answer. Now, most interview subjects won't take that one-word exit, but some will in a touchy situation.
The problem with Greenberg's question has to do with the result. Why do we ask questions of the athletes we cover? Seriously. That's not rhetorical. What's the goal? It's to get interesting answers. At least that's the hope whether it's for a quote that will be included in a story, a sound bite to be replayed later or — like in this situation — during an interview that is airing live. The question should be engineered to elicit interesting content, and there was very little chance that the question Greenberg asked Banchero was going to produce anything close to that.
I know that because I have heard some version of this question asked hundreds of times. That's not an exaggeration. I attended the NFL scouting combine annually for a number of years, and if a player wasn't asked why he should be the first overall pick, he'd get asked why he should be a first-round pick or why he should be one of the first players chosen at his position. Never — in all that time — have I ever heard what would be considered an interesting or informative answer. In my experience, players tend to talk in incredibly general terms about their own abilities and then seek to compliment their peers in an effort to avoid coming off as cocky.
Here's how Banchero answered Greenberg's question: "Yeah, thank you all for having me, first off., I feel like I'm the number one pick in the draft because I'm the best overall player. I feel like I check all the boxes whether it's being a great teammate, being the star player or doing whatever the coach needs. I've been a winner my whole life. Won everywhere I've went, and when I get to the NBA, that's going to be the same goal for me. So just combining all those things, and knowing what I have to work on to be better is a formula for me."
There's nothing wrong with answer just as there was nothing wrong with the question. It's just that both are really, really forgettable. ESPN did put a clip on YouTube with the headline "Paolo Banchero: I'm the best overall player in the NBA Draft | NBA Countdown" but I think I'm the only who will remember it and that's only because I'm flapping my arms and squawking not because there was anything bad per se, but because there was nothing really good, either.
First of all, I'm not sure why it matters if Banchero thinks he should be the number one overall pick. He's not going to be making that decision. The team that holds the top draft pick — in this case Orlando — is. Here's a much better question: "How important is it for you to be the number one overall pick?" This would actually give an idea of the stakes for Banchero. What does this actually mean to him? Asking him why he should go number one is asking Banchero to tell us how others should see him. Asking Banchero how important it would be go number one is asking him to tell us about his feelings, something that's much more likely to produce an interesting answer.
The point here isn't to question Greenberg's overall competence because I don't. He's as versatile a host as there is in the game, and anyone else in the industry has something to learn from the way he teases ahead to content. What I want to point out not just how we fail to maximize opportunities to generate interesting content, but why. Interviews are a staple of the sports-media industry. We rely on these interviews as both primary content that will be consumed directly, and as the genesis for our own opinions and reaction yet for all that importance we spend very little time thinking about the kind of answer this question is likely to produce.
The Client Just Said YES, Now What?
We should spend as much time on what we will do after the client says YES.
One of the most significant moments in radio sales is when the client agrees to your proposal and says YES. But, when they do say YES, do you know what's next? We better have an answer!
We spend a lot of time getting ready for clients with research, spec spots (thank you, radio sales trainer Chris Lytle-go to 22:30), proposals, and meetings. All of our focus is on getting the client to say YES. We should spend as much time on what we will do after the client says YES. For example, getting newer sales reps to sell annual advertising contracts would be ideal for building a list. They would have less pressure, more job security, and could spend more time making the advertising work for their clients. But, since most newer reps don't know the business yet, they don't bite off more than they can chew and sell a package of the month.
When a client says yes to the weight loss promotion, it's pretty clear how to write the ads, what the promos will say, etc. BUT, if a newer sales rep starts selling annual contracts to a direct local client who needs a resource, how will that work? Let's make sure we paint the picture right upfront. More experienced reps know that they need to assume the client will say YES to the weight loss promo and have a plan accordingly.
They have the next steps to building copy and promos, a credit app or credit card payment form, and any other detail the client must provide. But, when we ask a direct local client for an annual advertising contract, watch out! You have just made a partnership. Why not lay out, upfront, what that will look like. And I understand not every local client needs the same level of service.
A car dealer has the factories pushing quarterly promotions, agencies producing ads, and in-house marketing directors pulling it all together sometimes. Other clients need your help in promotions, copywriting, or idea generation. Make a plan upfront with your client about when you will meet to discuss the next quarter's ad program. Include your station's promotions or inventory for football and basketball season, a summer NTR event, digital testimonials with on-air talent, etc., in your annual proposal. Go out as far as you can and show what you have to offer to the client and how you can execute it. This exercise is good for you and, once mastered, guides the client on how you will take care of them after the sale. It also opens your eyes to what it takes to have a successful client partnership inside and outside the station.
This week, Demetri is joined by Ian Casselberry and Ryan Brown. Demetri talks about the NBA Draft getting an ABC simulcast, Ian talks about Patrick Beverley's breakout week on TV, and Ryan reminds us that Tom Brady may be the star, but Kevin Burkhardt is the story we shouldn't forget.
Podcast: Play in new window | Download
Subscribe: RSS