Brady Teaches Us The Deeper Meaning Of Life
At a time when the human soul craves joy and fun, the legend delivered heavy doses, furthering his incomparable legacy with a seventh Super Bowl title that trumps the laws of age and genetics.
Before he told Tyrann Mathieu to kiss his 43-year-old ass, before he gave America an inspirational catharsis, before he gifted Rob Gronkowski twice and changed Antonio Brown's life, before the latest stupid Kansas City penalty and sideline squabble, and before Andy Reid struck the sad image of a man whose son is in deep trouble, Tom Brady looked around the stadium — as Planet Earth looked at him — and cracked a smile.
He knew.
He never does this, not until four zeroes are divided by a colon on a Super Bowl clock. But with the Chiefs undisciplined and unraveling, as a report was surfacing that Patrick Mahomes needed offseason toe surgery, Brady realized early in the night that he was successfully puncturing the cocoon of the supernatural — and walking into a heavenly place no athlete had gone before. If he'd come this far in what only can be viewed as an eternal science experiment — defying the laws of age and genetics, removing himself from the Bill Belichick grinder, resisting those who are tired of his mug, moving to Florida as older people do to keep on living — then why wouldn't he keep beaming until the inevitable was official? Why wouldn't he later feel this victory in the third quarter, thrusting an index finger in his adopted town so his wife, kids and parents could see it?
I won't be the knee-jerker who now anoints Brady as the Greatest Athlete Of All Time. Having covered Michael Jordan throughout the '90s, I cannot go there in another raging, unresolvable sports debate. But what Brady has done amid the horror of a pandemic and in the square of his own midlife — instantly transforming the wayward culture of the friggin' Tampa Bay Buccaneers with his seventh championship and fifth Super Bowl MVP trophy — has to rank as the Most Inconceivable And Mind-Blowing Sports Achievement Of My Lifetime. Sorry if it doesn't have a cute acronym like G.O.A.T., which he already had claimed by NFL standards, but if Sunday was an unnecessary defense of his legacy, he only enhanced it with a message we all should heed right now.
Appreciate and embrace what you have.
Then, squeeze the living hell out of it and maximize it.
"You get this far and you wanna get the job done, and we did it," Brady said. "We just believed. I'm so proud of the guys."
And his self-assessment, after a championship run that has spanned six presidential terms and too many Apple products to count? "Just blessed," he said without adding much, allowing his actions and visuals to speak for him.
In a Super Bowl that will be remembered for fun right down to the comedic TV commercials, in a world that desperately needs to smile and laugh, Brady rediscovered the joy of life. That's what he has taught us in some of the worst times of our lives. If you thought it was strange seeing Vince Lombardi brought to life digitally on the pregame video board, we're left to wonder if Brady, too, is a tech-created cyborg. That he finalized the miracle in his new stadium, a few miles from the mansion he rents from Derek Jeter, makes it all the wilder. He's the face of a virtue that more of us should adopt — never letting anyone tell us when we're finished — as he extends new boundaries of longevity not only for quarterbacks but all workforce members longer in the tooth. So much for the Next-Gen wave of dual-threat QB wizards, symbolized by Mahomes, who want his rings and glory and were supposed to push his old-man dropback into oblivion. He still isn't budging, and that much was clear when Brady, hearing Mathieu's trash-talk while the Chiefs were falling behind, chased down the Honey Badger and got in his grill with choice language.
"I never really saw that side of Tom Brady, to be honest," Mathieu said later. "But whatever. No comment. It's over with. … It's football."
No, it's foolishness. And it's the latest chapter in a Brady axiom book they'll be discussing decades from now. You don't make him the 199th pick in the draft. You don't call him a product of Belichick's system. And you don't try to rattle him when he's embarrassing you and becoming the first player to win Super Bowls in three different decades. Brady now says he'll consider playing past 45, and while I pondered suggesting he complete a perfect script and go out on top, I won't be caught in that idiot's trap again after saying it two years ago. Besides, he already has answered the question.
"Yeah, we're coming back. You already knew that," Brady said on the podium before walking the confetti-covered field with Gisele and the kids, never happier.
So this one doesn't mean more than the six titles in New England? "I think they're all special," he said. "I'm not making any comparisons. Experiencing it with this group of guys is amazing."
And why can't he keep winning? We can doubt his TB12 wellness plan, ask if his reverse-aging involves something sinister in a lab. We can ridicule his plant-based diet and doubt the legitimacy of personal trainer abd business partner Alex Guerrero, who comes off as a mesmeric Svengali. But no matter how healthy he is and how good he looks, no matter if he has no wrinkles on his face and his teeth are whiter than the NFL ownership ranks, he still must go out and play ball with a team in sync with his dedication, ideals and grand plan. That he could instill those qualities in less than a year is why he's the MIMBSAOML. I repeat: He is performing at a higher level at a more advanced age than any athlete ever.
In generational terms, he has struck a heretofore impossible blow for every person in his mid-40s who has been insulted or marginalized by a Millennial or Gen-Zer, staring down Mahomes — the NFL's present and future — and then beating him with his mind, experience, guile and health. In sporting terms, he has proved there can be such a thing as a Brady System, improving everyone in a franchise with his presence and reimagining an owner, coach and general manager as his partners, not his superiors. Brady didn't execute this 31-9 rout by himself. Todd Bowles' defense punished and staggered Mahomes, who didn't have his two starting tackles and was running around gingerly and aimlessly, throwing prayers that weren't caught and winding up dazed in a Buccaneer sandwich that couldn't be helped by his beloved ketchup. Leonard Fournette and the running game established a prelude to the aerial game.
And when Brady did pass the football, he was as efficient and deadly as he was in his 20s, 30s and earlier 40s. With a wealth of weapons he never had in Foxboro, he easily picked holes in a disoriented defense to find his old buddy, Gronk, with two touchdown passes that might have had a certain grump in Nantucket heaving his TV remote. He also found an end-zone recipient in Brown, whose career was left for dead after countless legal issues, only to be rescued by the humanitarian in Brady — who saw a chance to help a troubled soul and, of course, add a receiver who could help win a championship.
Recalling how he wound up in Tampa after a brief retirement, Gronkowski said it wasn't an immediate given he'd join Brady. "A series of conversations," he said. "It wasn't, `Hey, Rob. I want you to come to Tampa.' Free agency hit, and I was sitting there. He hit me up and said, `Would you come down?' I said, `I've been waiting for you, waiting for you to make a move.' To come here and have a situation like this, with an organization that was ready to win, it's just unreal. Surreal, man."
When Brady was on his postgame Zoom interview, he had nothing to say about his legacy. "You know, man, we've been grinding pretty hard. I haven't had time to think about things like that," he said. "I'm just grateful for my teammates, all the people who have supported us." But he did brighten when he spotted Gronk in the back of the room.
"Robby G! Congrats, baby!" he said, grinning while thrusting a triumphant fist. "I'll see you later."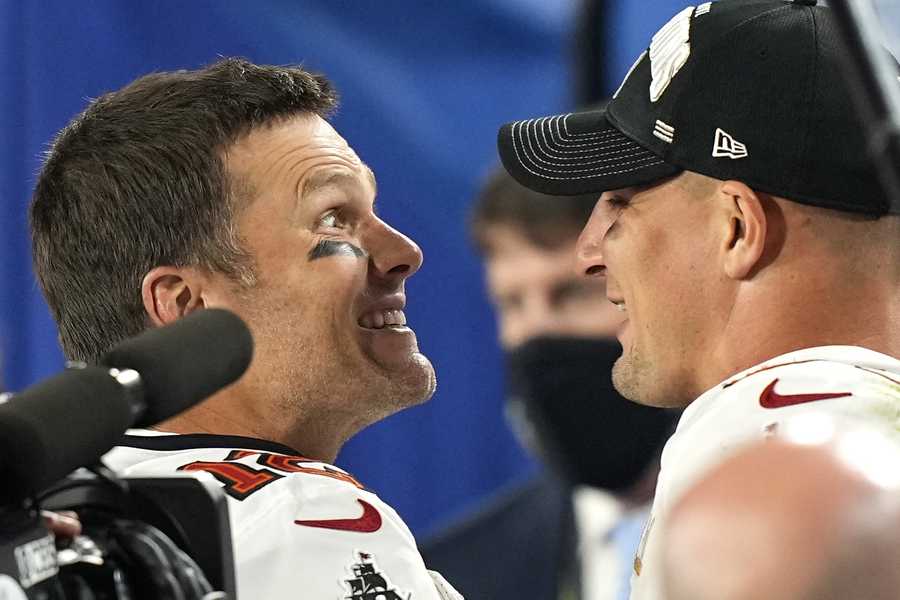 In frozen New England, Patriots fans were aghast and asking if he was poking fun at Belichick. In Tampa Bay, where a fourth-quarter streaker slid into the end zone in a hot-pink onesie, the folks are celebrating the championships of the Bucs and NHL Lightning and the World Series appearance of the Rays. Tompa Bay?
Try Champa Bay.
If fun was the watchword, the Chiefs weren't having any. They may have lost this game Thursday night, in a three-car crash near the team's practice facility, where Reid's family tragedies continued to spill into public view. His son, Britt, the team's outside linebackers coach, was driving a white Dodge Ram around 9 p.m. when he struck a Chevrolet Traverse that was pulled off the side of an Interstate 435 on-ramp. A five-year-old girl in the car was rushed to the hospital, where she reportedly is fighting for her life as photos circulate of her hooked to medical tubes. Britt Reid, according to Kansas City police, said he had consumed two or three drinks and taken Adderall. One officer said his "eyes were bloodshot."
This was the return of a father's worst nightmare. In 2007, while Andy Reid coached the Philadelphia Eagles, Britt Reid spent time in prison after pleading guilty to flashing a gun at another motorist in a road-rage incident. Months later, he was arrested again and charged with DUI and drug possession. In 2012, Britt's younger brother, Garrett, died from an accidental drug overdose at Eagles training camp after years of abusing heroin and prescription pills. A judge referred to the Reids as "a family in crisis" living in a home, on the city's affluent Main Line, that he described as "a drug emporium." When Andy Reid headed to Kansas City, it symbolized the rebirth of his family and his career, and his first Super Bowl title last year seemed to signal a Chiefs dynasty.
Now, you wonder how much longer Reid can go on in a small market whose beloved football franchise has been tortured through time by continuous tragedy. Did a feel-good story just go dark?
"My heart goes out to all those who were involved in the accident, in particular the family with the little girl who's fighting for her life," Reid said after the game. "I can't comment on it any more than what I am here. So the questions you have, I'm going to have to turn those down; but just from a human standpoint, my heart bleeds for everybody involved in that."
His players weren't prepared for the Super Bowl, the chance to become the first NFL team to repeat in 16 years. "I didn't see it coming at all. I could have done a lot better job to put these guys in position to make plays," Reid said. "Our guys busted their tails. It didn't work out."
Said Mahomes, weary and battered in his return to Earth: "They beat us pretty good, worse than I've been beaten in a long time."
As the Chiefs escaped Tampa as quickly as possible, Brady soaked in a satisfaction that apparently never gets old. His best comments were in his hype video, posted before the game, when he channeled a Liam Neeson film and said, "In this journey, there's no final destination. There's only the next one. In the pursuit of perfection, the only thing that counts is the journey itself, the pursuit itself and those who give their lives to it; this moment and the focus required to seize it; this fight and the commitment required to face it. Because there's no such thing as perfect, there's only the relentless pursuit of perfection. That is our cause. That is what makes us a team, and that is why we're still here.
"So, once more into the fray, to live and die on this day."
If anyone else was speaking, we'd bash them for too many cliches.
But this was Thomas Edward Patrick Brady, Jr. So we'll treat it as gospel, forevermore.
Being Wrong On-Air Isn't A Bad Thing
…if you feel yourself getting uncomfortable over the fact that you were wrong, stop to realize that's your pride talking. Your ego. And if people call you out for being wrong, it's actually a good sign.
In the press conference after the Warriors won their fourth NBA title in eight years, Steph Curry referenced a very specific gesture from a very specific episode of Get Up that aired in August 2021.
"Clearly remember some experts and talking heads putting up the big zero," Curry said, then holding up a hollowed fist to one eye, looking through it as if it were a telescope.
"How many championships we would have going forward because of everything we went through."
Yep, Kendrick Perkins and Domonique Foxworth each predicted the Warriors wouldn't win a single title over the course of the four-year extension Curry had just signed. The Warriors won the NBA title and guess what? Curry gets to gloat.
The funny part to me was the people who felt Perkins or Foxworth should be mad or embarrassed. Why? Because they were wrong?
That's part of the game. If you're a host or analyst who is never wrong in a prediction, it's more likely that you're excruciatingly boring than exceedingly smart. Being wrong is not necessarily fun, but it's not a bad thing in this business.
You shouldn't try to be wrong, but you shouldn't be afraid of it, either. And if you are wrong, own it. Hold your L as I've heard the kids say. Don't try to minimize it or explain it or try to point out how many other people are wrong, too. Do what Kendrick Perkins did on Get Up the day after the Warriors won the title.
"When they go on to win it, guess what?" He said, sitting next to Mike Greenberg. "You have to eat that."
Do not do what Perkins did later that morning on First Take.
Perkins: "I come on here and it's cool, right? Y'all can pull up Perk receipts and things to that nature. And then you give other people a pass like J-Will."
Jason Williams: "I don't get passes on this show."
Perkins: "You had to, you had a receipt, too, because me and you both picked the Memphis Grizzlies to beat the Golden State Warriors, but I'm OK with that. I'm OK with that. Go ahead Stephen A. I know you're about to have fun and do your thing. Go ahead."
Stephen A. Smith: "First of all, I'm going to get serious for a second with the both of you, especially you, Perk, and I want to tell you something right now. Let me throw myself on Front Street, we can sit up there and make fun of me. You know how many damn Finals predictions I got wrong? I don't give a damn. I mean, I got a whole bunch of them wrong. Ain't no reason to come on the air and defend yourself. Perk, listen man. You were wrong. And we making fun, and Steph Curry making fun of you. You laugh at that my brother. He got you today. That's all. He got you today."
It's absolutely great advice, and if you feel yourself getting uncomfortable over the fact that you were wrong, stop to realize that's your pride talking. Your ego. And if people call you out for being wrong, it's actually a good sign. It means they're not just listening, but holding on to what you say. You matter. Don't ruin that by getting defensive and testy.
WORTH EVERY PENNY
I did a double-take when I saw Chris Russo's list of the greatest QB-TE combinations ever on Wednesday and this was before I ever got to Tom Brady-to-Rob Gronkowski listed at No. 5. It was actually No. 4 that stopped me cold: Starr-Kramer.
My first thought: Jerry Kramer didn't play tight end.
My second thought: I must be unaware of this really good tight end from the Lombardi-era Packers.
After further review, I don't think that's necessarily true, either. Ron Kramer did play for the Lombardi-era Packers, and he was a good player. He caught 14 scoring passes in a three-year stretch where he really mattered, but he failed to catch a single touchdown pass in six of the 10 NFL seasons he played. He was named first-team All-Pro once and finished his career with 229 receptions.
Now this is not the only reason that this is an absolutely terrible list. It is the most egregious, however. Bart Starr and Kramer are not among the 25 top QB-TE combinations in NFL history let alone the top five. And if you're to believe Russo's list, eighty percent of the top tandems played in the NFL in the 30-year window from 1958 to 1987 with only one tandem from the past 30 years meriting inclusion when this is the era in which tight end production has steadily climbed.
Then I found out that Russo is making $10,000 per appearance on "First Take."
My first thought: You don't have to pay that much to get a 60-something white guy to grossly exaggerate how great stuff used to be.
My second thought: That might be the best $10,000 ESPN has ever spent.
Once a week, Russo comes on and draws a reaction out of a younger demographic by playing a good-natured version of Dana Carvey's Grumpy Old Man. Russo groans to JJ Redick about the lack of fundamental basketball skills in today's game or he proclaims the majesty of a tight end-quarterback pairing that was among the top five in its decade, but doesn't sniff the top five of all-time.
And guess what? It works. Redick rolls his eyes, asks Russo which game he's watching, and on Wednesday he got me to spend a good 25 minutes looking up statistics for some Packers tight end I'd never heard of. Not satisfied with that, I then moved on to determine Russo's biggest omission from the list, which I've concluded is Philip Rivers and Antonio Gates, who connected for 89 touchdowns over 15 seasons, which is only 73 more touchdowns than Kramer scored in his career. John Elway and Shannon Sharpe should be on there, too.
Money Isn't The Key Reason Why Sellers Sell Sports Radio
I started selling sports radio because I enjoyed working with clients who loved sports, our station, and wanted to reach fans with our commercials and promotions.
A radio salesperson's value being purely tied to money is overrated to me. Our managers all believe that our main motivation for selling radio is to make more money. They see no problem in asking us to sell more in various ways because it increases our paycheck. We are offered more money to sell digital, NTR, to sell another station in the cluster, weekend remotes, new direct business, or via the phone in 8 hours.
But is that why you sell sports radio?
In 2022, the Top 10 highest paying sales jobs are all in technology. Not a media company among them. You could argue that if it were all about making money, we should quit and work in tech. Famous bank robber Willie Sutton was asked why he robbed twenty banks over twenty years. He reportedly said," that's where the money is". Sutton is the classic example of a person who wanted what money could provide and was willing to do whatever it took to get it, BUT he also admitted he liked robbing banks and felt alive. So, Sutton didn't do it just for the money.
A salesperson's relationship with money and prestige is also at the center of the play Death of a Salesman. Willy Loman is an aging and failing salesman who decides he is worth more dead than alive and kills himself in an auto accident giving his family the death benefit from his life insurance policy. Loman wasn't working for the money. He wanted the prestige of what money could buy for himself and his family. 
Recently, I met a woman who spent twelve years selling radio from 1999-2011. I asked her why she left her senior sales job. She said she didn't like the changes in the industry. Consolidation was at its peak, and most salespeople were asked to do more with less help. She described her radio sales job as one with "golden handcuffs". The station paid her too much money to quit even though she hated the job. She finally quit. The job wasn't worth the money to her.
I started selling sports radio because I enjoyed working with clients who loved sports, our station, and wanted to reach fans with our commercials and promotions. I never wanted to sell anything else and specifically enjoyed selling programming centered around reaching fans of Boise State University football. That's it. Very similar to what Mark Glynn and his KJR staff experience when selling Kraken hockey and Huskies football.
I never thought selling sports radio was the best way to make money. I just enjoyed the way I could make money. I focused on the process and what I enjoyed about the position—the freedom to come and go and set my schedule for the most part. I concentrated on annual contracts and clients who wanted to run radio commercials over the air to get more traffic and build their brand.
Most of my clients were local direct and listened to the station. Some other sales initiatives had steep learning curves, were one-day events or contracted out shaky support staff. In other words, the money didn't motivate me enough. How I spent my time was more important.
So, if you are in management, maybe consider why your sales staff is working at the station. Because to me, they'd be robbing banks if it were all about making lots of money.
Media Noise: BSM Podcast Network Round Table
Demetri Ravanos welcomes the two newest members of the BSM Podcast Network to the show. Brady Farkas and Stephen Strom join for a roundtable discussion that includes the new media, Sage Steele and Roger Goodell telling Congress that Dave Portnoy isn't banned from NFL events.
Podcast: Play in new window | Download
Subscribe: RSS