The New, Chilling Reality Of March Madness
Happy as we are to see brackets, the NCAA tournament hinges on positive COVID tests, which could force a team forfeiture with a single outbreak — making Gonzaga's historic quest particularly fraught.
Any other year, the magical brackets would rise above the cesspools of college sports, the recruiting sleaze of Arizona and Kansas, even the condo creepiness of Les Miles. Any other year, March Madness would whisk us to a safe place free from existential disruption, where every great game is topped by a greater game and the impossible always is negotiable.
But even the sublimity of America's most adored sports event isn't immune from continuing pandemic disorder. The NCAA tournament can't simply take two vaccine shots and be OK. A year after the cancellation of this basketball spectacle triggered a hellish year for American sports, 68 teams will warily convene next week within an Indiana bubble, in buildings allowing only one human body for every four seats, with the winners on April 5 owning a trophy and a Steak 'n Shake hangover.
And if you think the mightiest competition comes from a history-shaking Gonzaga powerhouse, Big Ten monsters Illinois and Michigan and solo acts Luka Garza and Cade Cunningham, even Dickie V would say no way, baby. The enemy continues to be COVID-19, capable of wiping out the Zags and their mountainous quest — to become the first unbeaten national champion since Bob Knight's Indiana Hoosiers of 45 years ago — with one slip of the mask. Or any other team. Think not? Ask Baylor, another championship contender, which was working on its own spotless season until nine players tested positive and forced a 21-day February quarantine.
"Even Superman has kryptonite. And I guess COVID protocols is ours,'' coach Scott Drew lamented after a loss at Kansas.
At least the Bears had an opportunity to pause as a group and self-isolate. In the tournament, a team without an ample number of healthy players forfeits the game and immediately goes home. I don't care how closely protocols are monitored. Brace for a number of forfeits, based on the reality that youthful, unvaccinated players on the road — in hotels for days and weeks at a time, with families and friends staying nearby — won't steer clear of the coronavirus. Thus, anyone eyeing a particular game as appointment viewing, or a gambler rushing to bet a hunch, must be prepared for a cancellation at any time.
The brackets are certain to be compromised. Still days before the selection committee gathers, as teams navigate conference tournament minefields, the printout already looks strange. Gone are the usual sites and dates within each region that bring anticipation and a sense of national community to the Madness. Instead of listing Denver, Minneapolis, Memphis and Brooklyn, and feeding into Indianapolis for the Final Four, we have Regions 1, 2, 3 and 4 — with first-round games in the home gyms of Purdue and Indiana, second-round and Sweet 16 games at Bankers Life Fieldhouse and Hinkle Fieldhouse and the Elite Eight and Final Four at Lucas Oil Stadium. It's quaint and charming, I admit, if you love All Things Indiana, but there's no nationwide pomp and circumstance. That's what the pandemic has done to college hoops, after a regular season when 10 percent of games were canceled and more than 20 percent weren't played on scheduled dates.
Interest will suffer. Ratings will wane. That's only natural, given the anxiety over vaccines and other COVID-related turbulence across the land. Plus, there is grime to wipe away, as the sport hasn't recovered from corruption scandals that resulted in too many dirty infraction cases to count. And those are just the programs that were caught. Arizona and Shifty Sean Miller had the sense to self-impose a postseason ban, but who outside of Lawrence wants to embrace Kansas, where the school blindly defends coach Bill Self when the FBI thinks he's a dirtball?
LSU? You can't navigate the campus without a Hazmat suit, with Will Wade openly defying the feds like a bankrobber on the lam. If Ed Orgeron and the football program quickly fell from grace after winning a national title, the affairs of his predecessor, Miles, were sickening. Back when he was king of Baton Rouge, Les the Mess allegedly was texting female students young enough to be his granddaughter and bringing them back to his condo, making promises he could help the career of one student while attempting to kiss her and woo her to a hotel. When LSU finally fired him, who hired him?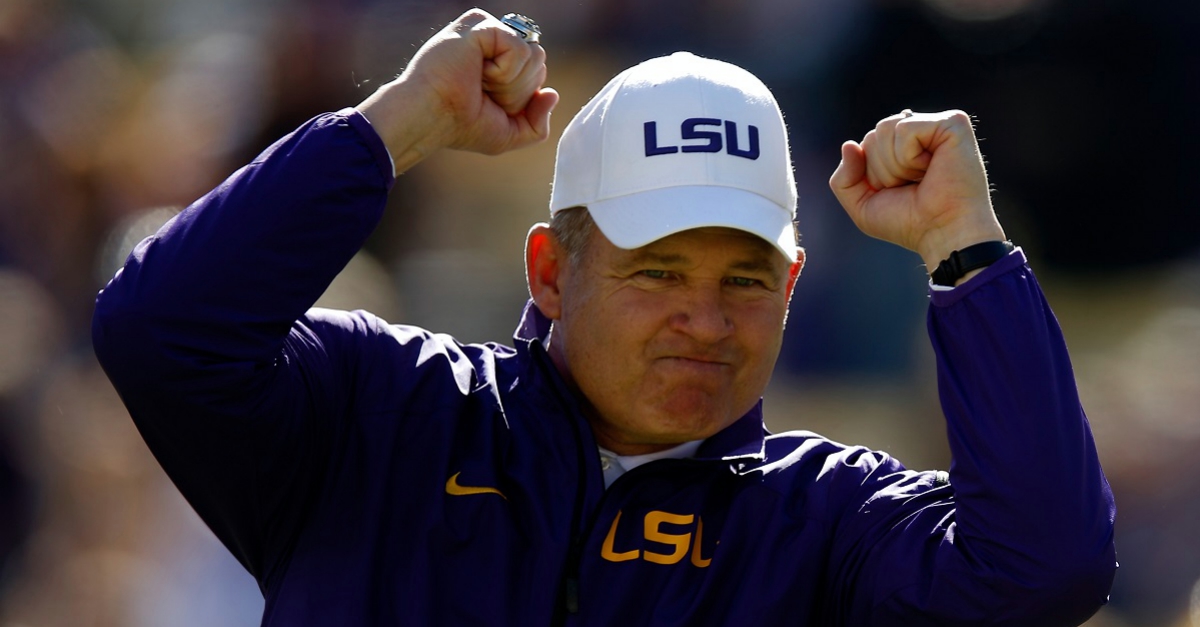 Kansas … which didn't properly vet Miles and finally came around to firing him Monday night. "I am extremely disappointed for our university, fans and everyone involved with our football program," said athletic director Jeff Long, who hired Miles. This while Self, bless his Rock Chalk Jayhawk heart, coaches Team Adidas Payoff in the tournament.
And how will America deal with the Creighton story? A team that easily can reach the Elite Eight is embroiled in racial strife after coach Greg McDermott uttered the word "plantation'' — twice — in a horrific speech to his players. In 2021, any authority figure who urges "everybody to stay on the plantation'' and that he "couldn't have anybody leave the plantation'' shouldn't be representing the school. Creighton suspended McDermott, but quickly reinstated him so he can coach in the tournament. Upset by the mixed messages, his players posted a video condemning his remarks.
Said Shareef Mitchell: "For slaves, life on a plantation was filled with mental, emotional, physical, psychological and sexual abuse. Viewed only as property and not human, slaves had no rights and no voice. They were branded like cattle, forced from their homeland and stripped of their culture, language and basic human rights. They worked 18 hours a day, six days a week. Any sign of wrongdoing such as lack of productivity, not following instructions or resistance would result in beatings or death."
Said Denzel Mahoney: "… And that is why what Coach Mac said hurt me and my teammates."
Will Creighton bond or break? Regretfully, it's a prominent story line.
Awaiting Selection Sunday, one big issue is whether bluebloods on one bubble will be invited into the big bubble. I can do without Duke, which isn't worthy, and where Mike Krzyzewski should consider retirement at 74 before the slog impacts his mammoth legacy. Michigan State, Louisville — I've seen plenty through the decades. Same with Syracuse, where Jim Boeheim is 76 and impressing no one with his crusty behavior, such as when he mocked a reporter "who never has played basketball and is 5-foot-2.''
Really now, this is a fine time for the ascent of Illinois, which always should have been a perennial Midwestern force and has reached that level under Brad Underwood, who has two imminent pros in Ayo Dosunmu and 7-footer Kofi Cockburn, who somehow found Champaign-Urbana from Jamaica. Behold the rise of Alabama, coached not by Nick Saban but Nate Oats, who lets his guys run and fire like the NBA gunners and wants to entertain with the ball like, well, Saban. Michigan is coached by Juwan Howard, who can name his next head position in the NBA. Give me Houston, Arkansas.
Give me Toledo, Colgate, Grand Canyon.
Assuming the NCAA allows Oklahoma State to play in the tournament — though I don't see why, given the Cowboys' role in the sneaker scams — we'll have a chance to examine Cunningham, the 6-8 point guard, before he goes No. 1 in the NBA draft. I like his perspective. "I'm not in the NBA yet,'' he said. "I'm not getting paid by any team. I'm an OSU Cowboy. That's what I'm worried about. I'm with my team every day trying to get better with them. I'm not going to be a foot out the door. I still want to win games. I still love being around my teammates now." He could be protecting an injured ankle by simply opting out of March, but that's now he he or his ankle roll. If Cunningham is the must-watch showman, the best player in America is Garza. If you haven't seen him play much at Iowa, join the crowd.
The central story is Gonzaga. No longer the mid-major interlopers from the Pacific Northwest, the Zags never will have a better title shot. They are that talented, that mesmerizing and that explosive, with four players who rank in the top five nationally at their positions and a combo guard, Jalen Suggs, who chose to play in Spokane when he could have signed anywhere — including Ohio State, which wanted him as a quarterback. You can buy Zags gear around the world. It's time to complete a full cycle that began with the program's first tournament victory in 1999, from underdogs to overlords. With a sweep of the West Coast Conference tournament, Gonzaga would be only the fifth team in the past 45 years to enter the big show without a loss.
"It's hard to be the front-runner and lead the mile all four laps,'' coach Mark Few said. "Everybody's gunning for you."
"All that pressure comes from the outside, not from anything inside the program with the players," said Suggs, the nation's best freshman outside of Cunningham. "We're just looking to go out every night and get a win on that night, not looking too far ahead."
College basketball is the sport that has suffered most dearly without fans. We'll miss that fury inside the stadiums and arenas of Indiana, where deep basketball traditions can't replace the collective heartbeats and roars. But we can't be worrying about atmosphere right now, or wondering how "One Shining Moment'' will sound.     
The mantra is much colder now.     
Mask up, or go home.
Asking The Right Questions Helps Create Interesting Content
Asking questions that can get a subject to talk about their feelings is a much better way to get an interesting answer.
When ESPN's Mike Greenberg interviewed Paolo Banchero in the lead-up to the NBA lottery on Tuesday, he asked what I've concluded is the single most maddening question that can be asked of any athlete preparing for any draft.
"Why do you believe you should be No. 1 pick in the NBA Draft?" Greenberg said.
Before I point out exactly why I have such a visceral reaction to such a harmless question, I want to point out the positives because Greenberg's question avoids some of the most common pitfalls:
1) It is an actual question. That's not as automatic as you think given the number of poor souls who are handed a microphone and say to their subject, "Talk about (whatever issue they want a quote or a sound bite on)." This is the mark of an amateur, creating the opening for an uncooperative subject to slam the door by saying, "What do you want me to say?"
2) Greenberg's question can not be answered with a yes or a no. Questions that start with the word "Can you …" or "Did you …" may sound like they're tough questions for the subject, but they're actually fairly easy if the subject wants to offer an answer. Now, most interview subjects won't take that one-word exit, but some will in a touchy situation.
The problem with Greenberg's question has to do with the result. Why do we ask questions of the athletes we cover? Seriously. That's not rhetorical. What's the goal? It's to get interesting answers. At least that's the hope whether it's for a quote that will be included in a story, a sound bite to be replayed later or — like in this situation — during an interview that is airing live. The question should be engineered to elicit interesting content, and there was very little chance that the question Greenberg asked Banchero was going to produce anything close to that.
I know that because I have heard some version of this question asked hundreds of times. That's not an exaggeration. I attended the NFL scouting combine annually for a number of years, and if a player wasn't asked why he should be the first overall pick, he'd get asked why he should be a first-round pick or why he should be one of the first players chosen at his position. Never — in all that time — have I ever heard what would be considered an interesting or informative answer. In my experience, players tend to talk in incredibly general terms about their own abilities and then seek to compliment their peers in an effort to avoid coming off as cocky.
Here's how Banchero answered Greenberg's question: "Yeah, thank you all for having me, first off., I feel like I'm the number one pick in the draft because I'm the best overall player. I feel like I check all the boxes whether it's being a great teammate, being the star player or doing whatever the coach needs. I've been a winner my whole life. Won everywhere I've went, and when I get to the NBA, that's going to be the same goal for me. So just combining all those things, and knowing what I have to work on to be better is a formula for me."
There's nothing wrong with answer just as there was nothing wrong with the question. It's just that both are really, really forgettable. ESPN did put a clip on YouTube with the headline "Paolo Banchero: I'm the best overall player in the NBA Draft | NBA Countdown" but I think I'm the only who will remember it and that's only because I'm flapping my arms and squawking not because there was anything bad per se, but because there was nothing really good, either.
First of all, I'm not sure why it matters if Banchero thinks he should be the number one overall pick. He's not going to be making that decision. The team that holds the top draft pick — in this case Orlando — is. Here's a much better question: "How important is it for you to be the number one overall pick?" This would actually give an idea of the stakes for Banchero. What does this actually mean to him? Asking him why he should go number one is asking Banchero to tell us how others should see him. Asking Banchero how important it would be go number one is asking him to tell us about his feelings, something that's much more likely to produce an interesting answer.
The point here isn't to question Greenberg's overall competence because I don't. He's as versatile a host as there is in the game, and anyone else in the industry has something to learn from the way he teases ahead to content. What I want to point out not just how we fail to maximize opportunities to generate interesting content, but why. Interviews are a staple of the sports-media industry. We rely on these interviews as both primary content that will be consumed directly, and as the genesis for our own opinions and reaction yet for all that importance we spend very little time thinking about the kind of answer this question is likely to produce.
The Client Just Said YES, Now What?
We should spend as much time on what we will do after the client says YES.
One of the most significant moments in radio sales is when the client agrees to your proposal and says YES. But, when they do say YES, do you know what's next? We better have an answer!
We spend a lot of time getting ready for clients with research, spec spots (thank you, radio sales trainer Chris Lytle-go to 22:30), proposals, and meetings. All of our focus is on getting the client to say YES. We should spend as much time on what we will do after the client says YES. For example, getting newer sales reps to sell annual advertising contracts would be ideal for building a list. They would have less pressure, more job security, and could spend more time making the advertising work for their clients. But, since most newer reps don't know the business yet, they don't bite off more than they can chew and sell a package of the month.
When a client says yes to the weight loss promotion, it's pretty clear how to write the ads, what the promos will say, etc. BUT, if a newer sales rep starts selling annual contracts to a direct local client who needs a resource, how will that work? Let's make sure we paint the picture right upfront. More experienced reps know that they need to assume the client will say YES to the weight loss promo and have a plan accordingly.
They have the next steps to building copy and promos, a credit app or credit card payment form, and any other detail the client must provide. But, when we ask a direct local client for an annual advertising contract, watch out! You have just made a partnership. Why not lay out, upfront, what that will look like. And I understand not every local client needs the same level of service.
A car dealer has the factories pushing quarterly promotions, agencies producing ads, and in-house marketing directors pulling it all together sometimes. Other clients need your help in promotions, copywriting, or idea generation. Make a plan upfront with your client about when you will meet to discuss the next quarter's ad program. Include your station's promotions or inventory for football and basketball season, a summer NTR event, digital testimonials with on-air talent, etc., in your annual proposal. Go out as far as you can and show what you have to offer to the client and how you can execute it. This exercise is good for you and, once mastered, guides the client on how you will take care of them after the sale. It also opens your eyes to what it takes to have a successful client partnership inside and outside the station.
This week, Demetri is joined by Ian Casselberry and Ryan Brown. Demetri talks about the NBA Draft getting an ABC simulcast, Ian talks about Patrick Beverley's breakout week on TV, and Ryan reminds us that Tom Brady may be the star, but Kevin Burkhardt is the story we shouldn't forget.
Podcast: Play in new window | Download
Subscribe: RSS