No Sane Person Should Gamble On This Madness
The NCAA tournament is fraught with wagering peril —
potential COVID-19 outbreaks, point-shaving possibilities, confined players upset about not being paid — yet Americans will bet in record numbers anyway.
Gee, why wouldn't 50 million Americans want to bet on March Madness? Why wouldn't they invest a collective $1.3 billion in legal wagers, making this NCAA tournament the most heavily gambled sports event ever? Why not take this week's stimulus check and just deposit the whole damned thing into a DraftKings account?
There's absolutely no risk involved here. Zero, none at all. Other than … oh, your COVID-disrupted team suddenly having only five available players … and thousands of unvaccinated people descending upon the streets, arenas, bars and restaurants of cozy Indianapolis … and young, restless athletes already prone to pandemic depression confined mostly to designated hotel floors and hermetically-enclosed city skywalks for days — almost three weeks for teams that advance to the Final Four.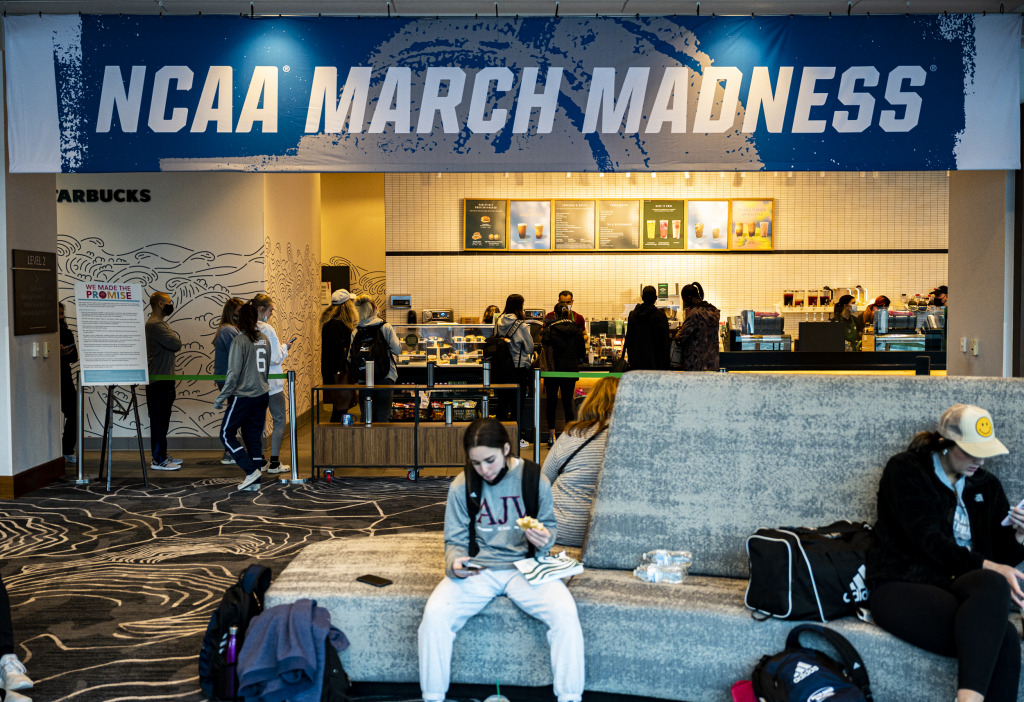 And who cares that Indiana is enjoying a gambling boom that includes 14 physical sportsbooks thrilled to accept wagers of any size? That includes the Winner's Circle Sports Pub and OTB right there on Pennsylvania Street, mere blocks from Lucas Oil Stadium and Bankers Life Fieldhouse and the six team hotels, according to the trusty Bookies.com website. No way a dirtball or two could infiltrate the NCAA Bubble and convince a teenager or two to fix a game, right? This is college basketball, so very clean and ethical, a sport that has responsibly steered clear of point-shaving scandals — except those at Arizona State, Boston College, Tulane, Northwestern, Auburn, Toledo, San Diego, etc. — and never, ever would allow a player or parent or coach or referee or agent or sneaker creep to be on the take or crawl under a table. Besides, no act of corruption could happen in America's heartland, the cradle of basketball, so devoted to the game as religion that the Indianapolis tourism division is run by someone named Leonard Hoops.
In truth, there isn't much to trust here. In our collective zeal to have fun and live again after a year in epidemiological exile, the NCAA tournament actually represents this country's desperation to make money in a hurry — either as a marginal gambler, a problem degenerate or an organized-crime operative. The gambling circus involves millions who don't care about the teams or story lines, whether it's favored Gonzaga bidding to become the first unbeaten national champion in 45 years or Winthrop looming as the next 12th-seed darling. The mission is to come away from March Madness with more in the bank — if possible, considerably more — than when the action started.
Only the players, the ones who create the $1 billion annual TV windfall for the NCAA, are assured of not getting paid. And with plenty of time to kill in their rooms, at least 15 teams are engaged in a social media protest that has triggered talk of how tournament games might be impacted. Rutgers' Geo Baker has joined Michigan's Isaiah Livers and Iowa's Jordan Bohannon as the most outspoken, demanding meetings with NCAA president Mark Emmert and the Biden administration. "The NCAA OWNS my name image and likeness," Baker wrote on Twitter. "Someone on music scholarship can profit from an album. Someone on academic scholarship can have a tutor service. For ppl who say `an athletic scholarship is enough.' Anything less than equal rights is never enough. I am #NotNCAAProperty.''
It's doubtful a team would boycott a game en masse. But in 2021 America, individual players might.
Thus, one would have to be insane to fill out more than a free bracket this year. Never has a major American championship been so riddled by anxiety and uncertainty — actually, abject horror — for those attempting to cash in. As the latest sports organization trying to recoup massive 2020 financial losses, the NCAA has gathered 68 teams at one condensed site to play 67 games in three weeks. What possibly could go wrong? The Super Bowl involved two teams, one of which arrived in the home team's city on game's eve. College football's national title game was swaddled in similar protection. The World Series, NBA Finals and Stanley Cup final were staged in isolated bubbles that succeeded because they were sealed from the outside world.
By comparison, the maddest of Marches is a thankless undertaking fraught with peril. "This is going to be complicated and difficult. There's no question about that,'' said Dan Gavitt, the NCAA's senior vice president of basketball. At the core of concern is the ever-wicked COVID-19, which could wipe out a team, a hotel or the entire tournament with a single outbreak. Already, six referees were sent home due to a positive virus test; the NCAA denies it suggested they dine together at a restaurant when their hotel rooms weren't ready. WTF? The NCAA also has been reckless enough to already change protocol, allowing Iona — and Rick Pitino, who else? — to practice shortly after arrival. Originally, a team was to remain quarantined until its entire traveling party showed negative tests on separate days.
This hardly inspires confidence about the gauntlet ahead. Any team that can't suit up at least five healthy players for a game must withdraw, with the opponent advancing via "no contest.'' As it is, two elite programs recently socked by the coronavirus — Kansas and Virginia — aren't sure how many players will be eligible for first-round games as non-stop testing continues. Already, positive COVID-19 tests have sidelined two key players, Georgia Tech's Moses Wright and Oklahoma's De'Vion Harmon. Still interested in taking betting action on those teams?
"No one's letting their guard down,'' Gavitt insisted. "`No one's making any assumptions about the lack of challenges going forward.''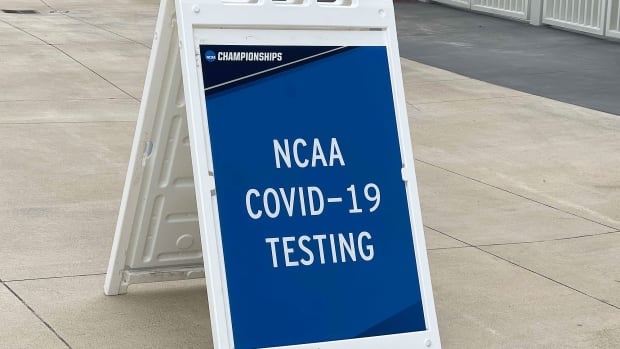 Yet. But who could blame the players for feeling imprisoned and wanting to break free? The NBA players, remember, were paid handsomely to be in the Disney World Bubble.
"I'm in a bed for, like, 15 hours a day,'' Iowa's Connor McCaffery said.
"We've been playing a lot of Spades,'' Alabama's Herb Jones said.
"Hasn't exactly been Maui,'' said Roy Williams, the North Carolina coach.
All of which creates an ongoing gambling conundrum: How do you bet on a game without knowing which players or coaches or referees will show up? Or what kind of mental condition a player might be in? Other factors complicate matters, such as built-in crowd advantages — even with limited attendance at venues — for close-proximity teams such as No. 1 seeds Illinois and Michigan, No. 2 seeds Ohio State and Iowa and local pillar Purdue. Think I didn't consider that when predicting a Gonzaga championship, knowing a team from Spokane, Wash., might play a title game against the Illini — and their income-disposable, secondary-ticket-market-happy Chicago alums?
Still, the bettors are going to bet anyway. They will because that's what they've always done — gamble like loons on the tournament — a thrill made much simpler and cleaner by a regrettable 2018 Supreme Court decision that gave legislative power to states to legalize sports wagering. Never mind the potential for scandal. Never mind the 10 million Americans who are considered problem gamblers. For the betting masses, March is crack. In a tragicomic twist, it's also Problem Gambling Awareness Month, but who's paying attention in government when 20 states and the District of Columbia have bought in and already are reaping revenues? Before you know it, all 50 states will welcome licensed bookmakers.
And the NCAA tournament will continue to be the biggest open market for gambling sleaze, even after the NBA ends the one-and-one rule, allows elite teens to directly enter the league and further dilutes the competitive quality of March. College basketball, already close to unwatchable in the regular season, will exist just to feed the urges of bettors in springtime. At this point, we might as well use the brackets to insert new names: DraftKings, BetMGM, Caesars Entertainment, William Hill, Penn National, PointsBet and the like. Add to it to gambling initiatives at media companies that should know better, including ESPN and Fox. CBS should be particularly ashamed, pumping its own gambling partnerships while continuing to sell its televised tournament as a fairy-tale romance, right down to the concluding "One Shining Moment'' musical farce.
Amid this frantic money grab, as a beacon of what's still wholesome about our bracket racket, Sister Jean Dolores Schmidt thankfully returns. Now 101, she's fully vaccinated and situated in an Indy hotel, prepared to deliver more pre-game prayers and strategic tips to coach Porter Moser as Loyola-Chicago attempts another magical run. She had to convince the university that her presence was worthwhile as team chaplain. At her age, will she be safe? `
`What they wanted to do was be sure that all the safety factors were taken into consideration," she said during a media videoconference (yes, Sister Jean does Zoom calls). "Sometimes people who haven't gone to the games or to the NCAA or even to March Madness, they're not sure exactly what goes on there. Sometimes they think it's like a teenage concert, where everybody's going to surround me and might not have any breathing space. If I'm not supposed to go on the court, I'm not going to go. And I'm not going to cause any disturbance."
If the NCAA and Loyola hadn't approved it, Sister Jean was heading to Indy anyway. "I had other offers from people at the university," she said. "One alum wrote that her husband was willing to drive me down. Another person told me she was going to sneak me out of the university, and another couple said they would like to kidnap me, and Loyola would have to search for me."
A first-round victory over Georgia Tech would mean the Ramblers draw … Illinois. She isn't happy about the apparent mismatch, saying, "It amazes me that they put two Illinois schools together to go against each other rather than support each other."
Seems even Sister Jean doesn't trust March.
Jay Mariotti, called "the most impacting Chicago sportswriter of the past quarter-century,'' writes a weekly media column for Barrett Sports Media and regular sports columns for Substack while appearing on some of the 1,678,498 podcasts in production today. He's an accomplished columnist, TV panelist and radio talk host. Living in Los Angeles, he gravitated by osmosis to film projects. Compensation for this column is donated to the Chicago Sun-Times Charity Trust.
BSM's Black Friday SALE on BSM Summit Tickets is Underway!
Each year I'm asked if there are ways to save money on tickets to the 2023 BSM Summit. I always answer yes but not everyone takes advantage of it. For those interested in doing so, here's your shot.
For TODAY ONLY, individual tickets to the 2023 BSM Summit are reduced by $50.00. Two ticket and four ticket packages are also lowered at $50 per ticket. To secure your seat at a discounted price, just log on to BSMSummit.com. This sale ends tonight at 11:59pm ET.
If you're flying to Los Angeles for the event, be sure to reserve your hotel room. Our hotel partner this year is the USC Hotel. It's walking distance of our venue. Full details on hotel rooms can also be found via the conference website.
Jason Barrett is the owner and operator of Barrett Sports Media. Prior to launching BSM he served as a sports radio programmer, launching brands such as 95.7 The Game in San Francisco and 101 ESPN in St. Louis. He has also produced national shows for ESPN Radio including GameNight and the Dan Patrick Show. You can find him on Twitter @SportsRadioPD or reach him by email at JBarrett@sportsradiopd.com.
Media Noise: What Does The Return of Bob Iger Mean to ESPN?
Podcast: Play in new window | Download
Subscribe: RSS
Demetri Ravanos is the Assistant Content Director for Barrett Sports Media. He hosts the Chewing Clock and Media Noise podcasts. He occasionally fills in on stations across the Carolinas. Previous stops include WAVH and WZEW in Mobile, AL, WBPT in Birmingham, AL and WBBB, WPTK and WDNC in Raleigh, NC. You can find him on Twitter @DemetriRavanos and reach him by email at DemetriTheGreek@gmail.com.
Media Noise: What Is Realistic For FOX at the World Cup?
Podcast: Play in new window | Download
Subscribe: RSS
Demetri Ravanos is the Assistant Content Director for Barrett Sports Media. He hosts the Chewing Clock and Media Noise podcasts. He occasionally fills in on stations across the Carolinas. Previous stops include WAVH and WZEW in Mobile, AL, WBPT in Birmingham, AL and WBBB, WPTK and WDNC in Raleigh, NC. You can find him on Twitter @DemetriRavanos and reach him by email at DemetriTheGreek@gmail.com.