No Sane Person Should Gamble On This Madness
The NCAA tournament is fraught with wagering peril —
potential COVID-19 outbreaks, point-shaving possibilities, confined players upset about not being paid — yet Americans will bet in record numbers anyway.
Gee, why wouldn't 50 million Americans want to bet on March Madness? Why wouldn't they invest a collective $1.3 billion in legal wagers, making this NCAA tournament the most heavily gambled sports event ever? Why not take this week's stimulus check and just deposit the whole damned thing into a DraftKings account?
There's absolutely no risk involved here. Zero, none at all. Other than … oh, your COVID-disrupted team suddenly having only five available players … and thousands of unvaccinated people descending upon the streets, arenas, bars and restaurants of cozy Indianapolis … and young, restless athletes already prone to pandemic depression confined mostly to designated hotel floors and hermetically-enclosed city skywalks for days — almost three weeks for teams that advance to the Final Four.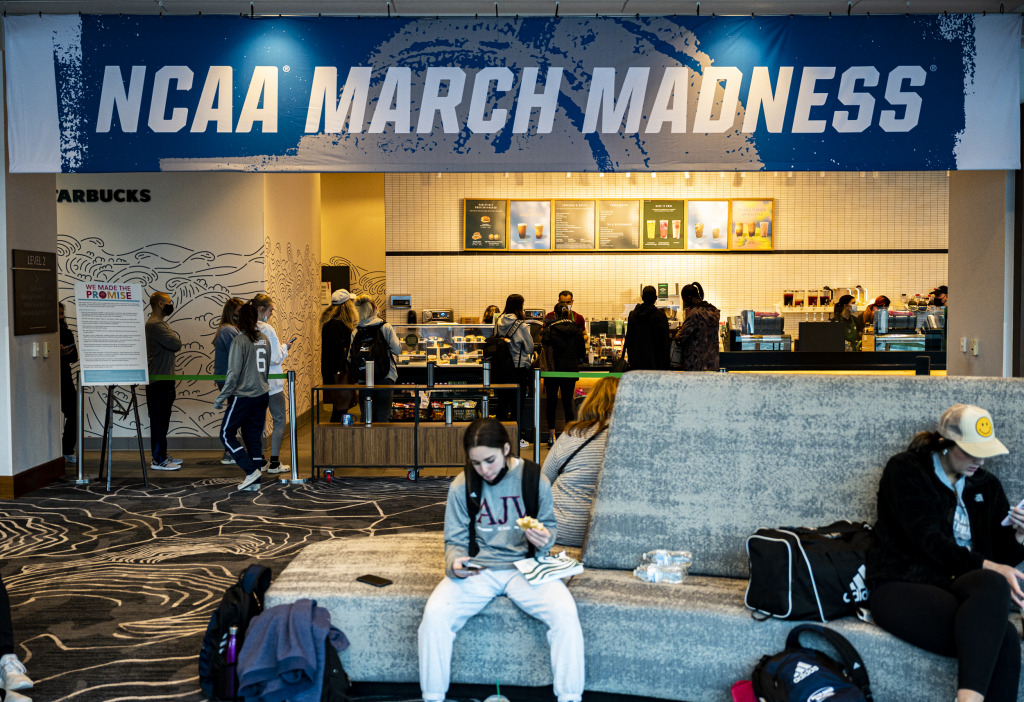 And who cares that Indiana is enjoying a gambling boom that includes 14 physical sportsbooks thrilled to accept wagers of any size? That includes the Winner's Circle Sports Pub and OTB right there on Pennsylvania Street, mere blocks from Lucas Oil Stadium and Bankers Life Fieldhouse and the six team hotels, according to the trusty Bookies.com website. No way a dirtball or two could infiltrate the NCAA Bubble and convince a teenager or two to fix a game, right? This is college basketball, so very clean and ethical, a sport that has responsibly steered clear of point-shaving scandals — except those at Arizona State, Boston College, Tulane, Northwestern, Auburn, Toledo, San Diego, etc. — and never, ever would allow a player or parent or coach or referee or agent or sneaker creep to be on the take or crawl under a table. Besides, no act of corruption could happen in America's heartland, the cradle of basketball, so devoted to the game as religion that the Indianapolis tourism division is run by someone named Leonard Hoops.
In truth, there isn't much to trust here. In our collective zeal to have fun and live again after a year in epidemiological exile, the NCAA tournament actually represents this country's desperation to make money in a hurry — either as a marginal gambler, a problem degenerate or an organized-crime operative. The gambling circus involves millions who don't care about the teams or story lines, whether it's favored Gonzaga bidding to become the first unbeaten national champion in 45 years or Winthrop looming as the next 12th-seed darling. The mission is to come away from March Madness with more in the bank — if possible, considerably more — than when the action started.
Only the players, the ones who create the $1 billion annual TV windfall for the NCAA, are assured of not getting paid. And with plenty of time to kill in their rooms, at least 15 teams are engaged in a social media protest that has triggered talk of how tournament games might be impacted. Rutgers' Geo Baker has joined Michigan's Isaiah Livers and Iowa's Jordan Bohannon as the most outspoken, demanding meetings with NCAA president Mark Emmert and the Biden administration. "The NCAA OWNS my name image and likeness," Baker wrote on Twitter. "Someone on music scholarship can profit from an album. Someone on academic scholarship can have a tutor service. For ppl who say `an athletic scholarship is enough.' Anything less than equal rights is never enough. I am #NotNCAAProperty.''
It's doubtful a team would boycott a game en masse. But in 2021 America, individual players might.
Thus, one would have to be insane to fill out more than a free bracket this year. Never has a major American championship been so riddled by anxiety and uncertainty — actually, abject horror — for those attempting to cash in. As the latest sports organization trying to recoup massive 2020 financial losses, the NCAA has gathered 68 teams at one condensed site to play 67 games in three weeks. What possibly could go wrong? The Super Bowl involved two teams, one of which arrived in the home team's city on game's eve. College football's national title game was swaddled in similar protection. The World Series, NBA Finals and Stanley Cup final were staged in isolated bubbles that succeeded because they were sealed from the outside world.
By comparison, the maddest of Marches is a thankless undertaking fraught with peril. "This is going to be complicated and difficult. There's no question about that,'' said Dan Gavitt, the NCAA's senior vice president of basketball. At the core of concern is the ever-wicked COVID-19, which could wipe out a team, a hotel or the entire tournament with a single outbreak. Already, six referees were sent home due to a positive virus test; the NCAA denies it suggested they dine together at a restaurant when their hotel rooms weren't ready. WTF? The NCAA also has been reckless enough to already change protocol, allowing Iona — and Rick Pitino, who else? — to practice shortly after arrival. Originally, a team was to remain quarantined until its entire traveling party showed negative tests on separate days.
This hardly inspires confidence about the gauntlet ahead. Any team that can't suit up at least five healthy players for a game must withdraw, with the opponent advancing via "no contest.'' As it is, two elite programs recently socked by the coronavirus — Kansas and Virginia — aren't sure how many players will be eligible for first-round games as non-stop testing continues. Already, positive COVID-19 tests have sidelined two key players, Georgia Tech's Moses Wright and Oklahoma's De'Vion Harmon. Still interested in taking betting action on those teams?
"No one's letting their guard down,'' Gavitt insisted. "`No one's making any assumptions about the lack of challenges going forward.''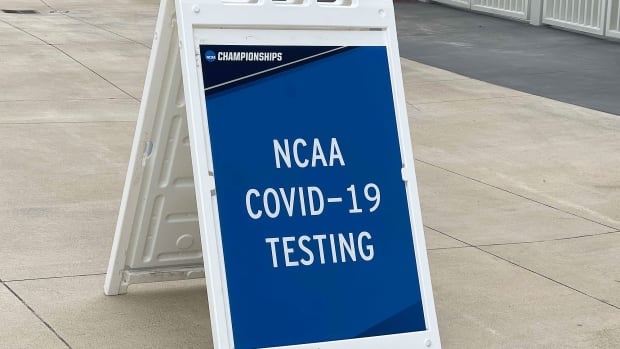 Yet. But who could blame the players for feeling imprisoned and wanting to break free? The NBA players, remember, were paid handsomely to be in the Disney World Bubble.
"I'm in a bed for, like, 15 hours a day,'' Iowa's Connor McCaffery said.
"We've been playing a lot of Spades,'' Alabama's Herb Jones said.
"Hasn't exactly been Maui,'' said Roy Williams, the North Carolina coach.
All of which creates an ongoing gambling conundrum: How do you bet on a game without knowing which players or coaches or referees will show up? Or what kind of mental condition a player might be in? Other factors complicate matters, such as built-in crowd advantages — even with limited attendance at venues — for close-proximity teams such as No. 1 seeds Illinois and Michigan, No. 2 seeds Ohio State and Iowa and local pillar Purdue. Think I didn't consider that when predicting a Gonzaga championship, knowing a team from Spokane, Wash., might play a title game against the Illini — and their income-disposable, secondary-ticket-market-happy Chicago alums?
Still, the bettors are going to bet anyway. They will because that's what they've always done — gamble like loons on the tournament — a thrill made much simpler and cleaner by a regrettable 2018 Supreme Court decision that gave legislative power to states to legalize sports wagering. Never mind the potential for scandal. Never mind the 10 million Americans who are considered problem gamblers. For the betting masses, March is crack. In a tragicomic twist, it's also Problem Gambling Awareness Month, but who's paying attention in government when 20 states and the District of Columbia have bought in and already are reaping revenues? Before you know it, all 50 states will welcome licensed bookmakers.
And the NCAA tournament will continue to be the biggest open market for gambling sleaze, even after the NBA ends the one-and-one rule, allows elite teens to directly enter the league and further dilutes the competitive quality of March. College basketball, already close to unwatchable in the regular season, will exist just to feed the urges of bettors in springtime. At this point, we might as well use the brackets to insert new names: DraftKings, BetMGM, Caesars Entertainment, William Hill, Penn National, PointsBet and the like. Add to it to gambling initiatives at media companies that should know better, including ESPN and Fox. CBS should be particularly ashamed, pumping its own gambling partnerships while continuing to sell its televised tournament as a fairy-tale romance, right down to the concluding "One Shining Moment'' musical farce.
Amid this frantic money grab, as a beacon of what's still wholesome about our bracket racket, Sister Jean Dolores Schmidt thankfully returns. Now 101, she's fully vaccinated and situated in an Indy hotel, prepared to deliver more pre-game prayers and strategic tips to coach Porter Moser as Loyola-Chicago attempts another magical run. She had to convince the university that her presence was worthwhile as team chaplain. At her age, will she be safe? `
`What they wanted to do was be sure that all the safety factors were taken into consideration," she said during a media videoconference (yes, Sister Jean does Zoom calls). "Sometimes people who haven't gone to the games or to the NCAA or even to March Madness, they're not sure exactly what goes on there. Sometimes they think it's like a teenage concert, where everybody's going to surround me and might not have any breathing space. If I'm not supposed to go on the court, I'm not going to go. And I'm not going to cause any disturbance."
If the NCAA and Loyola hadn't approved it, Sister Jean was heading to Indy anyway. "I had other offers from people at the university," she said. "One alum wrote that her husband was willing to drive me down. Another person told me she was going to sneak me out of the university, and another couple said they would like to kidnap me, and Loyola would have to search for me."
A first-round victory over Georgia Tech would mean the Ramblers draw … Illinois. She isn't happy about the apparent mismatch, saying, "It amazes me that they put two Illinois schools together to go against each other rather than support each other."
Seems even Sister Jean doesn't trust March.
Being Wrong On-Air Isn't A Bad Thing
…if you feel yourself getting uncomfortable over the fact that you were wrong, stop to realize that's your pride talking. Your ego. And if people call you out for being wrong, it's actually a good sign.
In the press conference after the Warriors won their fourth NBA title in eight years, Steph Curry referenced a very specific gesture from a very specific episode of Get Up that aired in August 2021.
"Clearly remember some experts and talking heads putting up the big zero," Curry said, then holding up a hollowed fist to one eye, looking through it as if it were a telescope.
"How many championships we would have going forward because of everything we went through."
Yep, Kendrick Perkins and Domonique Foxworth each predicted the Warriors wouldn't win a single title over the course of the four-year extension Curry had just signed. The Warriors won the NBA title and guess what? Curry gets to gloat.
The funny part to me was the people who felt Perkins or Foxworth should be mad or embarrassed. Why? Because they were wrong?
That's part of the game. If you're a host or analyst who is never wrong in a prediction, it's more likely that you're excruciatingly boring than exceedingly smart. Being wrong is not necessarily fun, but it's not a bad thing in this business.
You shouldn't try to be wrong, but you shouldn't be afraid of it, either. And if you are wrong, own it. Hold your L as I've heard the kids say. Don't try to minimize it or explain it or try to point out how many other people are wrong, too. Do what Kendrick Perkins did on Get Up the day after the Warriors won the title.
"When they go on to win it, guess what?" He said, sitting next to Mike Greenberg. "You have to eat that."
Do not do what Perkins did later that morning on First Take.
Perkins: "I come on here and it's cool, right? Y'all can pull up Perk receipts and things to that nature. And then you give other people a pass like J-Will."
Jason Williams: "I don't get passes on this show."
Perkins: "You had to, you had a receipt, too, because me and you both picked the Memphis Grizzlies to beat the Golden State Warriors, but I'm OK with that. I'm OK with that. Go ahead Stephen A. I know you're about to have fun and do your thing. Go ahead."
Stephen A. Smith: "First of all, I'm going to get serious for a second with the both of you, especially you, Perk, and I want to tell you something right now. Let me throw myself on Front Street, we can sit up there and make fun of me. You know how many damn Finals predictions I got wrong? I don't give a damn. I mean, I got a whole bunch of them wrong. Ain't no reason to come on the air and defend yourself. Perk, listen man. You were wrong. And we making fun, and Steph Curry making fun of you. You laugh at that my brother. He got you today. That's all. He got you today."
It's absolutely great advice, and if you feel yourself getting uncomfortable over the fact that you were wrong, stop to realize that's your pride talking. Your ego. And if people call you out for being wrong, it's actually a good sign. It means they're not just listening, but holding on to what you say. You matter. Don't ruin that by getting defensive and testy.
WORTH EVERY PENNY
I did a double-take when I saw Chris Russo's list of the greatest QB-TE combinations ever on Wednesday and this was before I ever got to Tom Brady-to-Rob Gronkowski listed at No. 5. It was actually No. 4 that stopped me cold: Starr-Kramer.
My first thought: Jerry Kramer didn't play tight end.
My second thought: I must be unaware of this really good tight end from the Lombardi-era Packers.
After further review, I don't think that's necessarily true, either. Ron Kramer did play for the Lombardi-era Packers, and he was a good player. He caught 14 scoring passes in a three-year stretch where he really mattered, but he failed to catch a single touchdown pass in six of the 10 NFL seasons he played. He was named first-team All-Pro once and finished his career with 229 receptions.
Now this is not the only reason that this is an absolutely terrible list. It is the most egregious, however. Bart Starr and Kramer are not among the 25 top QB-TE combinations in NFL history let alone the top five. And if you're to believe Russo's list, eighty percent of the top tandems played in the NFL in the 30-year window from 1958 to 1987 with only one tandem from the past 30 years meriting inclusion when this is the era in which tight end production has steadily climbed.
Then I found out that Russo is making $10,000 per appearance on "First Take."
My first thought: You don't have to pay that much to get a 60-something white guy to grossly exaggerate how great stuff used to be.
My second thought: That might be the best $10,000 ESPN has ever spent.
Once a week, Russo comes on and draws a reaction out of a younger demographic by playing a good-natured version of Dana Carvey's Grumpy Old Man. Russo groans to JJ Redick about the lack of fundamental basketball skills in today's game or he proclaims the majesty of a tight end-quarterback pairing that was among the top five in its decade, but doesn't sniff the top five of all-time.
And guess what? It works. Redick rolls his eyes, asks Russo which game he's watching, and on Wednesday he got me to spend a good 25 minutes looking up statistics for some Packers tight end I'd never heard of. Not satisfied with that, I then moved on to determine Russo's biggest omission from the list, which I've concluded is Philip Rivers and Antonio Gates, who connected for 89 touchdowns over 15 seasons, which is only 73 more touchdowns than Kramer scored in his career. John Elway and Shannon Sharpe should be on there, too.
Money Isn't The Key Reason Why Sellers Sell Sports Radio
I started selling sports radio because I enjoyed working with clients who loved sports, our station, and wanted to reach fans with our commercials and promotions.
A radio salesperson's value being purely tied to money is overrated to me. Our managers all believe that our main motivation for selling radio is to make more money. They see no problem in asking us to sell more in various ways because it increases our paycheck. We are offered more money to sell digital, NTR, to sell another station in the cluster, weekend remotes, new direct business, or via the phone in 8 hours.
But is that why you sell sports radio?
In 2022, the Top 10 highest paying sales jobs are all in technology. Not a media company among them. You could argue that if it were all about making money, we should quit and work in tech. Famous bank robber Willie Sutton was asked why he robbed twenty banks over twenty years. He reportedly said," that's where the money is". Sutton is the classic example of a person who wanted what money could provide and was willing to do whatever it took to get it, BUT he also admitted he liked robbing banks and felt alive. So, Sutton didn't do it just for the money.
A salesperson's relationship with money and prestige is also at the center of the play Death of a Salesman. Willy Loman is an aging and failing salesman who decides he is worth more dead than alive and kills himself in an auto accident giving his family the death benefit from his life insurance policy. Loman wasn't working for the money. He wanted the prestige of what money could buy for himself and his family. 
Recently, I met a woman who spent twelve years selling radio from 1999-2011. I asked her why she left her senior sales job. She said she didn't like the changes in the industry. Consolidation was at its peak, and most salespeople were asked to do more with less help. She described her radio sales job as one with "golden handcuffs". The station paid her too much money to quit even though she hated the job. She finally quit. The job wasn't worth the money to her.
I started selling sports radio because I enjoyed working with clients who loved sports, our station, and wanted to reach fans with our commercials and promotions. I never wanted to sell anything else and specifically enjoyed selling programming centered around reaching fans of Boise State University football. That's it. Very similar to what Mark Glynn and his KJR staff experience when selling Kraken hockey and Huskies football.
I never thought selling sports radio was the best way to make money. I just enjoyed the way I could make money. I focused on the process and what I enjoyed about the position—the freedom to come and go and set my schedule for the most part. I concentrated on annual contracts and clients who wanted to run radio commercials over the air to get more traffic and build their brand.
Most of my clients were local direct and listened to the station. Some other sales initiatives had steep learning curves, were one-day events or contracted out shaky support staff. In other words, the money didn't motivate me enough. How I spent my time was more important.
So, if you are in management, maybe consider why your sales staff is working at the station. Because to me, they'd be robbing banks if it were all about making lots of money.
Media Noise: BSM Podcast Network Round Table
Demetri Ravanos welcomes the two newest members of the BSM Podcast Network to the show. Brady Farkas and Stephen Strom join for a roundtable discussion that includes the new media, Sage Steele and Roger Goodell telling Congress that Dave Portnoy isn't banned from NFL events.
Podcast: Play in new window | Download
Subscribe: RSS