Chris Tannehill Makes Everyone And Everything At 670 The Score Better
"He's just always thinking out of the box and you hear audio on a show and you're like 'wow I didn't know that existed' or 'how the heck did he do that,'" said Rosen.
As the "Laurence Holmes Show" was wrapping up, Chris Tannehill (Tanney) stepped into the control room to take his seat at the soundboard in preparation for the "Parkins & Spiegel Show" to begin at the top of the hour.
He reached over to the right of the board and grabbed what looked to be an old Folgers coffee container plastered with stickers from musical artists. With COVID-19 still very prevalent, Tannehill pulled out his own set of headphones and foam mic cover to place over the microphone as midday audio producer Herb Lawrence removed his and the two swapped positions.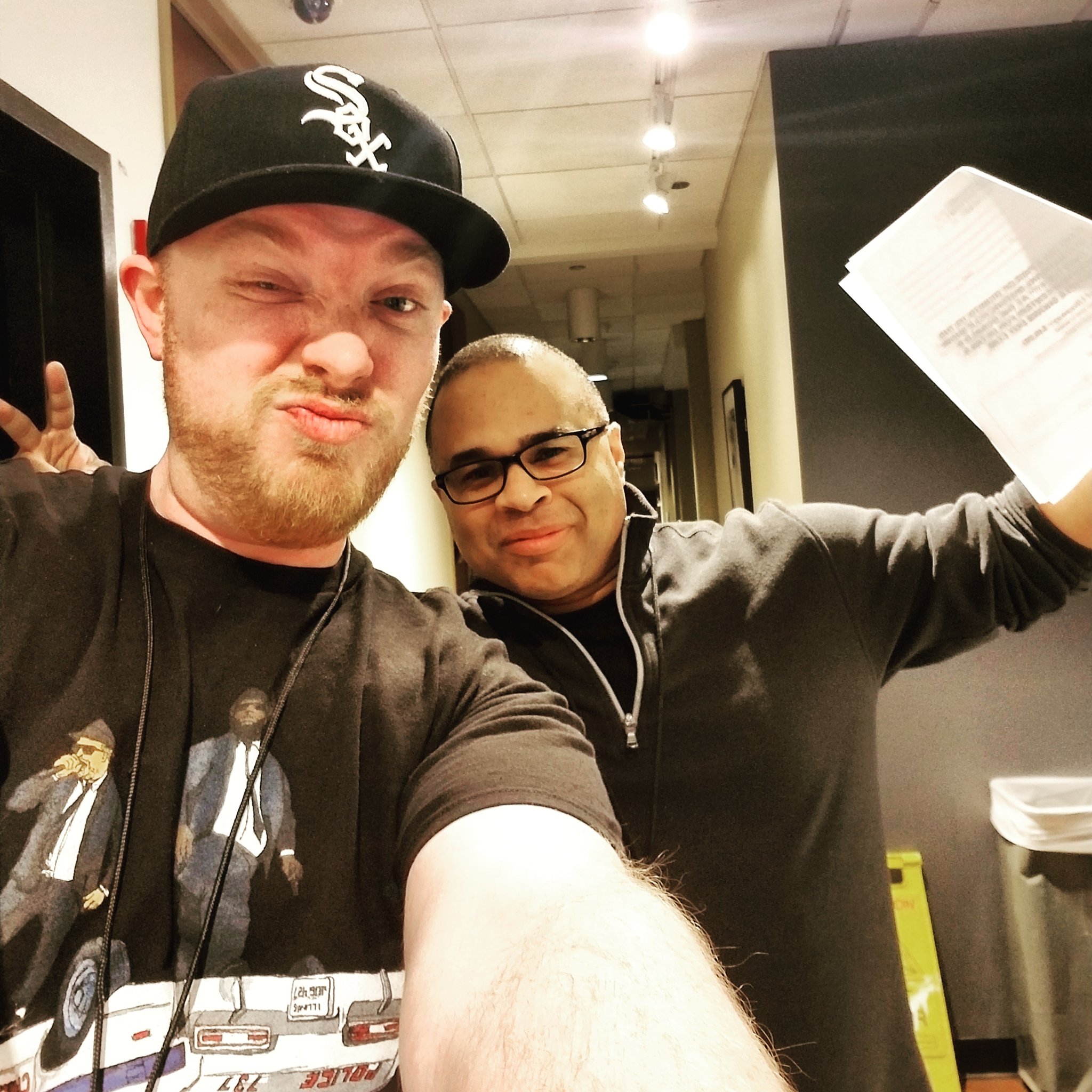 Hosts Danny Parkins and Matt Spiegel joined Holmes live on the air as the trio transitioned out of the midday show and into the afternoon drive time.
"When we come back, we'll have Tanney's open," Parkins said as he sent the show to commercial break.
Approximately four minutes later, the "Parkins and Spiegel Show" officially began, the same way it does every day, drawing listeners in with an open only Tannehill could produce.
A Chicago native, Tannehill grew up listening to The Score as a kid, so when the opportunity to intern with his favorite local radio station presented itself, he jumped on it. Tannehill began as an intern in May of 2007 before earning a part-time position doing White Sox baseball five months later.
In 2012, Tannehill was hired to replace Jason Goff as the audio producer on "Boers and Bernstein." He worked with Terry Boers and Dan Bernstein until 2017 when Goff took over for Boers after he retired. He ran the board for "Bernstein and Goff" from 2017-18, for "McNeil and Parkins" from 2018-20, and now for "Parkins and Spiegel."
"Maybe I'm the reason why there's so many changing faces on the afternoons now that I think about it," Tannehill said sarcastically with a chuckle.
But at a station with an unusual amount of turnover over the last few years, Tannehill has been the constant of afternoons at The Score for the better part of the last decade.
"Hosts have their choice of what executive producer they want and what sound guy they want," said Shane Riordan who has been the executive producer of the "Parkins and Spiegel Show" in an official capacity for the last two months. "Every host that's come into that timeslot has said 'Chris Tannehill is obviously my choice, of course I don't want to make a change, there's no one else better.'"
Ask around at The Score and you'll quickly get a sense of why Tannehill is so coveted.
"He's the audio overlord," said Riordan.
"Chris is an artist, a producer, a storyteller," said Mitch Rosen, longtime program director at The Score. "I would purely consider him a radio production creative genius."
"His talents and skillset and timing and feel is undeniable," said Spiegel.
"This guy could work for Howard Stern, he could work for Dan Patrick," said Parkins. "I've literally never heard a better audio producer in radio."
Tannehill is quiet, yet witty. Confident, yet humble. He's not someone you'll ever hear boasting about his skills or accomplishments but instead will let his work do the talking.
It's common for audio producers to put together a montage or open for special guests they have on their shows. What's uncommon, is putting together an open for the start of every single show, something that Tannehill does daily for the "Parkins and Spiegel Show."
"The open, he's just a savant at it," said Parkins. "People tune in at 2 p.m. to the afternoon on The Score to hear Tanney's opens, like it's a thing."
According to Tannehill, putting together an open is pretty routine at this point and typically only takes him 20 minutes. He then spends the morning finding good content for the show and topics he can build off of.
While Tannehill's opens have become a staple, his work goes far beyond that. When someone retires, is traded away or gets fired, he's ready with a career retrospective package, often set to the theme song from "Goodfellas." For any guest that is brought onto the show, Tannehill has an extremely well-thought-out production package ready to roll.
"The ultimate compliments are when there's a guest on, whether it's a celebrity or a journalist, and the first thing you hear from them when they are welcomed on the air is 'man that was a hell of an open,' or 'holy cow, what I just heard, that's incredible,'" said Rosen. "And that's Chris Tannehill."
"There have been many times where a guest will notice something that's been played and it will immediately make them feel more comfortable," said Spiegel. "It does some of the work that the host is usually supposed to do which is to get the guests comfortable and feeling like we care right away."
What's helped make this process so turnkey over the years is Tannehill's unique process for logging sound in which he saves every show he's ever worked on in its entirety. Unbeknownst to many, Tannehill has a keen ability to recall specific moments and bring them back at just the right time.
"He's able to turn things that nobody else would think to turn something into, into magic," said Riordan. "He's unreal."
While he's constantly pulling original audio clips to use throughout various shows, this process has allowed him to create longer montages for larger events that no one in the business can replicate.
Frank Thomas' Hall of Fame induction, Vin Scully's retirement and the Cubs' World Series highlight just a few of the more in-depth pieces he's put together. Depending on the project, Tannehill could spend up to a year working on it, adding bits and pieces every step of the way throughout a team's season or playoff run.
"The Cubs one was very important to me even though I'm a White Sox fan," said Tannehill. "I wanted to serve the base of Cubs fans as best as I could and sort of give them something to hold on to and to make that moment for them even better, something that would just be there forever for them to go back and listen to and remember when times were at their best as a Cubs fan."
When it comes to the day-to-day, producing afternoon radio can be a challenge because each show prior has likely already talked about what you plan on discussing for the next four hours. Hosts have had time to voice their opinion on the day's biggest topics and the best sound has already been used. However, according to Riordan, this isn't an issue when working with Tannehill.
"He's got audio somehow that nobody else has and he has an ear for what no one else here has," said Riordan. "So, the fact that we can differentiate ourselves from all the other shows and put new spins on the audio that they've already played and talked about is largely due in part to his ability to find it, and to hear things in audio that other sound producers can't hear."
"He's just always thinking out of the box and you hear audio on a show and you're like 'wow I didn't know that existed' or 'how the heck did he do that,'" said Rosen.
Tannehill's skills are unique in that, working on four different afternoon shows throughout the course of his career, he's had to go through the process of building out a sound library for each show and catering the sound to the hosts and their specific tastes.
According to Parkins, Tannehill has been flawless when it comes to developing that rapport with his hosts while also making important journalistic decisions in terms of which pieces of sound he uses.
"I'm pretty Type-A when it comes to the show, a little overbearing at times, a little demanding at times, but not with him," said Parkins. "He absolutely has a reason for cutting it where he cut it. There's a purpose to it."
"With Tannehill nothing is left to chance," said Spiegel. "If it doesn't have direct relevance, then the lyric has direct relevance, you know? He'll use something lyrically that fits exactly what we're talking about, nothing is by chance."
There's no doubt his attention to detail on the board elevates his show, but he's also had a positive affect on other shows at The Score.
"I say this all the time, 'Tanney is better at his job than any of us are at ours,'" said Parkins. "Like there's no question about that."
"Having somebody great on a team will make all the rest of the people great because they see that and are like 'ok that's something to shoot for,'" said Lawrence. "And even if you come up short, you're still going to be exhausting your potential to the highest levels and that's what I think Tanney does well for all the rest of us."
Part of what has contributed to his success is his love for hip hop. He began producing hip hop during high school and college and spent time as a DJ, better known as Cosm Roks. Because of this, when he got to The Score, one of the people he tried to emulate his work off of was Jason Goff who ran the board for "Boers and Bernstein" at the time.
Goff, who is currently the Bulls pre- and postgame show host on NBC Sports Chicago, made an effort to work more of a hip hop influence into the bumpers he played, and Tannehill took notice. He eventually took over Goff's position on the board and continued incorporating that style of music into his work.
"The idea is taking that to the next level, everything they learned, and building on that," said Tannehill.
When Goff began getting part-time hosting shifts, Tannehill put together the first open for him as a host, integrating a song Goff was fond of at the time, Exhibit C by Jay Electronica.
"Now anytime I hear it I think of a bad show getting ready to start, which is what I was doing back in the early days," Goff said with a laugh. "Or I think of Chris. We've got that special bond because of that Exhibit C and Jay Electronica song."
Coupling his use of hip hop with his vast knowledge and feel for not just sports, but pop culture, movies and TV, Tannehill has learned to use his artistic side to build a relationship with his audience.
"What people remember about the show is benchmark bits, funny moments, and if you keep those in rotation enough then people feel like they have this relationship with the show," said Tannehill.
"His ability to retain and speak in show references is unparalleled," said Riordan. "There are tens of thousands of Chicago radio listeners, or just Chicagoans who don't even listen to the radio, that speak in references that Chris Tannehill created."
The next step in Tannehill's career came in February 2020 when he joined Lawrence as a co-host on the "Locked on Sox" podcast. Lawrence initially began the venture solo, but since Tannehill joined, the two have hosted nearly 200 episodes together and have seen a steady climb in the number of listeners.
"He's too modest to say those things and I've said it in shows, like, the show has gone from good to great, because of Chris Tannehill, not because of me," said Lawrence. "I'm Good. Chris Tannehill and myself makes it great because Chris Tannehill takes me up to those levels."
What started as a fun side project for the two best friends and lifelong Sox fans, has quickly grown into something that's benefitted both in their work at The Score.
"I'm not always comfortable with the on-air part of it, but I wanted to do something that would sort of make me uncomfortable," said Tannehill. "And I was like okay, I want to get better at that element because that's going to immediately translate to being better with Parkins and Spiegel.
"[Parkins] and [Spiegel] have kind of empowered me to be more of a voice, so the podcast has helped in that regard to just be a little more articulate."
Beyond the voice Tannehill continues working to develop on-air, the one he's already established within the walls of The Score has had a profound impact on those he's worked directly with.
"When you look across that glass or through that glass you want to make sure that you feel like you got teammates and he was always the dude who made sure I was in the right place for whatever the segment or whatever the show needed," said Goff. "He always made sure I was cool. So, on top of being technically proficient, he was also always a calming force for me."
"He's a guy that you want on your team, and you know that what he does on an everyday basis is just incredible and I respect the hell out of him," said Rosen.
Each day, at the end of every show, Parkins signs off by thanking guests, producers, Spiegel and, of course, Tannehill, uttering a statement that he believes couldn't be truer.
"Chris Tannehill makes us sound better than we really are each and every day."
Kate Constable is a daily news writer for BSM. She has worked on-air and behind the scenes for a number of media outlets including Stadium, NBC Sports Chicago, KAAL and KARE television, and The Daily Iowan. You can find her on Twitter @KateConstable.
BSM's Black Friday SALE on BSM Summit Tickets is Underway!
Each year I'm asked if there are ways to save money on tickets to the 2023 BSM Summit. I always answer yes but not everyone takes advantage of it. For those interested in doing so, here's your shot.
For TODAY ONLY, individual tickets to the 2023 BSM Summit are reduced by $50.00. Two ticket and four ticket packages are also lowered at $50 per ticket. To secure your seat at a discounted price, just log on to BSMSummit.com. This sale ends tonight at 11:59pm ET.
If you're flying to Los Angeles for the event, be sure to reserve your hotel room. Our hotel partner this year is the USC Hotel. It's walking distance of our venue. Full details on hotel rooms can also be found via the conference website.
Jason Barrett is the owner and operator of Barrett Sports Media. Prior to launching BSM he served as a sports radio programmer, launching brands such as 95.7 The Game in San Francisco and 101 ESPN in St. Louis. He has also produced national shows for ESPN Radio including GameNight and the Dan Patrick Show. You can find him on Twitter @SportsRadioPD or reach him by email at JBarrett@sportsradiopd.com.
Media Noise: What Does The Return of Bob Iger Mean to ESPN?
Podcast: Play in new window | Download
Subscribe: RSS
Demetri Ravanos is the Assistant Content Director for Barrett Sports Media. He hosts the Chewing Clock and Media Noise podcasts. He occasionally fills in on stations across the Carolinas. Previous stops include WAVH and WZEW in Mobile, AL, WBPT in Birmingham, AL and WBBB, WPTK and WDNC in Raleigh, NC. You can find him on Twitter @DemetriRavanos and reach him by email at DemetriTheGreek@gmail.com.
Media Noise: What Is Realistic For FOX at the World Cup?
Podcast: Play in new window | Download
Subscribe: RSS
Demetri Ravanos is the Assistant Content Director for Barrett Sports Media. He hosts the Chewing Clock and Media Noise podcasts. He occasionally fills in on stations across the Carolinas. Previous stops include WAVH and WZEW in Mobile, AL, WBPT in Birmingham, AL and WBBB, WPTK and WDNC in Raleigh, NC. You can find him on Twitter @DemetriRavanos and reach him by email at DemetriTheGreek@gmail.com.