Rodgers Hijacks The Draft And Douses A Dreamy Night
Dropping a poison pill on the NFL's annual showcase, the superstar QB publicly demands a trade and takes over a show that should have belonged to Trevor Lawrence, Trey Lance and the next class of stars.
Suddenly, almost suspiciously, the NFL Draft transformed into "Jeopardy!" With one strategic leak to ESPN, which not only was producing its own reality TV show but feeding it with ratings steroids, it no longer mattered as much that Trevor Lawrence doesn't live to play football.
Or whether the 49ers were intentionally sparking prop-bet fever, in a league that now embraces gambling, by playing hide-and-seek with the No. 3 pick. And why they'd better be right, with a quarterback lineage of Montana and Young, in taking a tearful Trey Lance, who has played one mid-level college game since 2019 and couldn't possibly have found that bow tie in North Dakota.
Or if Justin Fields was a victim of rival-agent sabotage as he slid to No. 11, where the Chicago Bears — whose all-time-best quarterback, Sid Luckman, played in a leather helmet — traded up so Fields can play in Soldier Field and lather a bitter fan base with more boom-or-bust hope. Or if the jewelry store that outfitted Mac Jones' girlfriend thought her beau was going way earlier than No. 15, to New England, where he instantly inherits Bill Belichick's wrath and becomes the Poor Dude Always Compared To Tom Brady.
"God's good," Jones said.
Is he sure?
All of which became infinitely less important Thursday night than a bigger game show.
The Category: Disgruntled Superstar Athletes.
The Question: Which NFL quarterback, hours before the Draft, went public with a trade demand and said he won't return to his current team?
The Answer: Who is Aaron Rodgers?
This was the wiliest man in the sport, hijacking the opening night of the draft and the rest of the weekend by injecting the drug that intoxicates fans and media — yet, ever so troublingly, also poisons American sports in the 21st century. That would be the get-me-out-of-here pill. Once and for all, after a year of dropping cryptic hints, Rodgers let it be known definitively that he wants out of Green Bay. He made the news public when the Packers refused on Draft eve to deal with the 49ers, the first team on his wish list. During his successful two-week run as guest host of his favorite game show, I wondered if his public stumping for Alex Trebek's gig was an indicator that he wouldn't return to the Packers.
Now they've heard Rodgers, loud and clear, to the point team president Mark Murphy, general manager Brian Gutekunst and head coach Matt LaFleur have made several trips West to hear his concerns. Obviously, their efforts didn't impress Rodgers, and if they are wise men, they will ship him soon to the suitor with the best offer. They prefer not to deal him to an NFC franchise, but also are on Rodgers' list are the Broncos and Raiders. And when Denver chose cornerback Patrick Surtain II, it opened the possibility of Rodgers finishing his career at high altitude as Peyton Manning did. Oh, and did we mention that his fiancee, actress Shailene Woodley, lives in nearby Boulder? The Raiders claim they don't have the money to pull off the deal, but they would if Derek Carr is sent to Green Bay.
Where he goes, who knows? If he doesn't like the deal, he could retire and host "Jeopardy!" What we do know is Rodgers, like the NBA power freaks who started this pre-agency madness, won't be completing his career with one team — just as Brett Favre, his predecessor, was shipped away. And much as these mega-stories excite America's sports fandom — and Vegas, which, of course, has established odds on his destination — it isn't healthy when a night designed for young men's dreams becomes a leverage device for a future Hall of Famer who never is happy.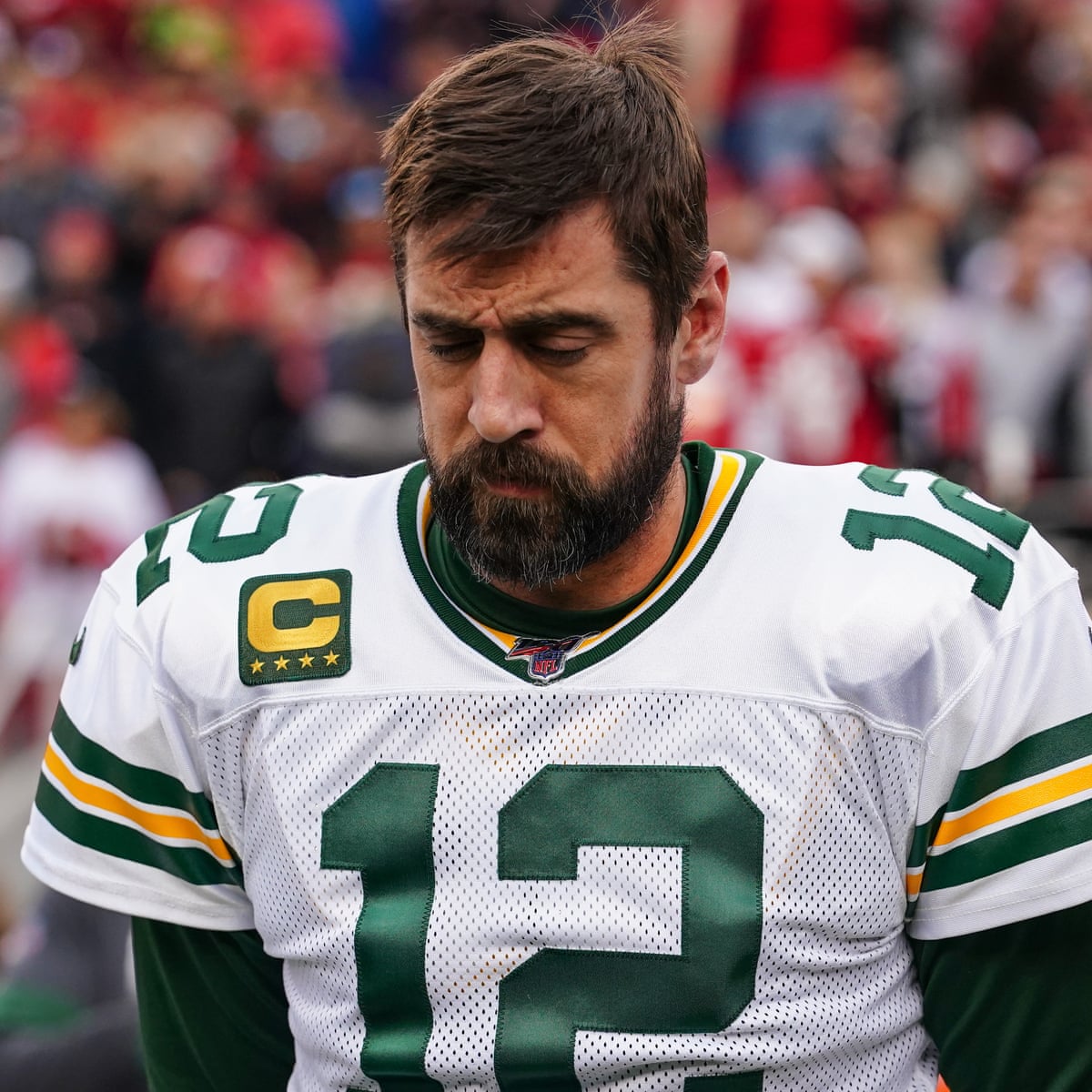 Dismiss anything the Packers say, such as Gutekunst's comment to ESPN that there's "zero chance" of a deal: "As we've stated since the season ended, we are committed to Aaron in 2021 and beyond. Aaron has been a vital part of our success and we look forward to competing for another championship with him leading our team." They don't have the power here. He does. At least the Seahawks put an end to reports they'll trade Russell Wilson, who apparently is content in Seattle for now. But with the prospect looming of a civil settlement between Deshaun Watson and the 22 women who've accused him of sexual misconduct, there's a chance some godforsaken team will take a gamble on him, baggage and all, adding more drama to an offseason that never ends.
The three networks that broadcast the Draft, with hosting styles ranging from Mike Greenberg's fanboyism on ESPN to RIch Eisen's professionalism on the NFL Network, did their best to focus on the picks. That is, once the league got around to starting the festivities. It was 8:25 p.m. Eastern time, in a distressed country that doesn't have patience to wait around for showtime, when Kings Of Leon — where have they been since "Sex On Fire" blew up? — finally stopped playing in the rain. This was long after Roger Goodell had implored the people of northeast Ohio, some actually wearing masks, to boo him louder than they already were.
"Come on. Come on, Cleveland!" the commissioner shouted. "I didn't come out of my basement for nothing! Come on!"
When the booing subsided, Mel Kiper Jr. uttered the most dreaded word in the Lawrence household: "Generational." Before taking his first snap for a Jaguars team that has gone 39-105 since 2012, he already is being compared with Manning, John Elway and Andrew Luck in the "can't miss" pantheon. I might agree if three of the eight quarterbacks drafted first overall since 2010 weren't named Jameis Winston, Sam Bradford, Jared Goff; and two of them, Baker Mayfield and Kyler Murray, aren't near the league elite. They are looking for a savior in Jacksonville, not only for the franchise but the city itself, and who's to say Urban Meyer, an NFL rookie himself, is the right mentor?
"I'm just pumped. The best is yet to come," Lawrence said. "I don't know what the point is if you don't expect to win every week. I'm going to bring the same mindset. … I'm super excited to be coming to Jacksonville."
Is he sure?
Zach Wilson looks like a boy-band member. He's from a small Utah town, Draper, and now he's off to Don Draper's city. "Is this the savior Jets fans have been searching for since Broadway Joe Namath?" Eisen said before popping one of the night's clever puns: "Zach's Fifth Avenue." His highlights at BYU are magical, with dazzling throws and Mahomes-like arm angles, but New York will devour him if he's another Sam Darnold or Daniel Jones. "I've heard from multiple sources how talented this team is, but maybe the pieces didn't align," Wilson said. "I'm just so excited to get in there and figure out what we can do to make it better."
Is he sure?
Then came Lance, who wore sunglasses at night. Depending on your view, he's either one of the great stories in Draft history — ignored by major college programs, unearthed from North Dakota State — or one of the riskiest reaches. First, what happened with the Rodgers talks? "We inquired and it was a quick end to the conversation. It wasn't happening," 49ers general manager John Lynch said. "We've been excited (about Lance) for a long, long time. So we went right back to where we've been. That's really excited about adding Trey Lance to the 49ers, and we're thrilled about that."
Niners coach Kyle Shanahan is viewed as a young genius, but he has left himself vulnerable after swinging and missing on a Rodgers deal, relinquishing a draft bundle to take Lance and angering incumbent Jimmy Garoppolo, who seethed when Shanahan sarcastically wouldn't guarantee him a roster spot. Shanahan says he regrets the remark and wants Garoppolo on the roster, but Lance, a dual-threat operator in the mold of Patrick Mahomes and Watson, is the franchise now. And with Fields in Chicago and Jones in New England, the chances of trading Garoppolo are slimmer.
"Now we made this move, so it's obvious what I hope and believe with this guy coming in," Shanahan said of Lance. "But it would be a very tough situation if Jimmy is not on our team. I want Jimmy to be here. I want this kid to be brought along. I want to see how he does. And if it turns into a competition, it turns into a competition. I would be excited about that if he showed he was ready for it and stuff. But we know where Jimmy is at."
A little loopy, Shanahan was so secretive about the Lance pick that he told few in the organization, including coaches and scouts. Only Lynch knew the truth when half the football world thought he was taking Jones. When he's picking No. 3, and Lawrence and Wilson are locks at Nos. 1 and 2, why play spy games? "We have been very high on Trey since the very beginning, since Day One. Yes, the person everyone else is speculating about, we liked him, too," said Shanahan, referring to Jones. "To go through this whole process where no one has known how John and I feel and felt this whole time, we do that because you don't want to sway people in this building. You want everyone to work their butts off and give you their honest info. That's why we don't share at all how we felt."
If that's not curious, consider where Lance has been hanging out lately: at the southern California home of Colin Cowherd, whose 20-year-old daughter, Liv, has an Instagram-related friendship with Lance. "I think it's the right pick," Cowherd said. "I think he's a bigger, stronger athlete than Mac Jones."
Said Lance: "It was awesome getting to know coach Shanahan a little bit. He's an awesome dude."
Is he sure?
Somewhere in his home state of Georgia, Fields wasn't pleased to slip out of the top 10. He and his family members actually departed their living room, leaving the TV shot with furniture and no humans. The pre-draft hatchet jobs had done damage, from a claim by ESPN's Dan Orlovsky that Fields had work-ethic issues to insensitive comments about his epileptic condition. By night's end, he seemed over the slight, though he's joining a franchise where QBs go to die — and where the future of general manager Ryan Pace and head coach Matt Nagy depends on his rapid development.
"Blessed," Fields tweeted about his new home.
Is he sure?
But by Friday, the talk shows will be all over Aaron Rodgers. Goodell can't be thrilled about it, but with the league never more robust after completion of a new collective bargaining agreement and $113 billion in fresh broadcast money, he played the role of too-big-to-care diplomat. "I think that's just where we are in the world," Goodell said. "Our players, I have so much respect for them. They do have strong views. I want to hear that. It's part of what we're embracing here."
He did make a fool of himself in an interview with Greenberg, saying he could do no COVID-related harm in resuming his traditional on-stage hugs with players. Last year, you'll recall, Goodell conducted the Draft out of his home — in a recliner the league brought to Cleveland, where a different fan sat on stage as his or her team made a pick. "I'm vaccinated. There's no concern for me or them," the commissioner said. Just last week, the Centers for Disease Control and Prevention said vaccinated people still have a small chance of contracting the coronavirus and spreading it to others.
But what does he care? Goodell will be remembered as the most successful commissioner, albeit polarizing, in U.S. history. As the rest of the sports world wobbles, the NFL is marketing 2021 as "THE BIGGEST SEASON EVER." The frenzy only heightens when one of the greatest players ever demands a trade. So much for the baseball season. So much for the NBA playoffs.
And so much for the NFL Draft.
Asking The Right Questions Helps Create Interesting Content
Asking questions that can get a subject to talk about their feelings is a much better way to get an interesting answer.
When ESPN's Mike Greenberg interviewed Paolo Banchero in the lead-up to the NBA lottery on Tuesday, he asked what I've concluded is the single most maddening question that can be asked of any athlete preparing for any draft.
"Why do you believe you should be No. 1 pick in the NBA Draft?" Greenberg said.
Before I point out exactly why I have such a visceral reaction to such a harmless question, I want to point out the positives because Greenberg's question avoids some of the most common pitfalls:
1) It is an actual question. That's not as automatic as you think given the number of poor souls who are handed a microphone and say to their subject, "Talk about (whatever issue they want a quote or a sound bite on)." This is the mark of an amateur, creating the opening for an uncooperative subject to slam the door by saying, "What do you want me to say?"
2) Greenberg's question can not be answered with a yes or a no. Questions that start with the word "Can you …" or "Did you …" may sound like they're tough questions for the subject, but they're actually fairly easy if the subject wants to offer an answer. Now, most interview subjects won't take that one-word exit, but some will in a touchy situation.
The problem with Greenberg's question has to do with the result. Why do we ask questions of the athletes we cover? Seriously. That's not rhetorical. What's the goal? It's to get interesting answers. At least that's the hope whether it's for a quote that will be included in a story, a sound bite to be replayed later or — like in this situation — during an interview that is airing live. The question should be engineered to elicit interesting content, and there was very little chance that the question Greenberg asked Banchero was going to produce anything close to that.
I know that because I have heard some version of this question asked hundreds of times. That's not an exaggeration. I attended the NFL scouting combine annually for a number of years, and if a player wasn't asked why he should be the first overall pick, he'd get asked why he should be a first-round pick or why he should be one of the first players chosen at his position. Never — in all that time — have I ever heard what would be considered an interesting or informative answer. In my experience, players tend to talk in incredibly general terms about their own abilities and then seek to compliment their peers in an effort to avoid coming off as cocky.
Here's how Banchero answered Greenberg's question: "Yeah, thank you all for having me, first off., I feel like I'm the number one pick in the draft because I'm the best overall player. I feel like I check all the boxes whether it's being a great teammate, being the star player or doing whatever the coach needs. I've been a winner my whole life. Won everywhere I've went, and when I get to the NBA, that's going to be the same goal for me. So just combining all those things, and knowing what I have to work on to be better is a formula for me."
There's nothing wrong with answer just as there was nothing wrong with the question. It's just that both are really, really forgettable. ESPN did put a clip on YouTube with the headline "Paolo Banchero: I'm the best overall player in the NBA Draft | NBA Countdown" but I think I'm the only who will remember it and that's only because I'm flapping my arms and squawking not because there was anything bad per se, but because there was nothing really good, either.
First of all, I'm not sure why it matters if Banchero thinks he should be the number one overall pick. He's not going to be making that decision. The team that holds the top draft pick — in this case Orlando — is. Here's a much better question: "How important is it for you to be the number one overall pick?" This would actually give an idea of the stakes for Banchero. What does this actually mean to him? Asking him why he should go number one is asking Banchero to tell us how others should see him. Asking Banchero how important it would be go number one is asking him to tell us about his feelings, something that's much more likely to produce an interesting answer.
The point here isn't to question Greenberg's overall competence because I don't. He's as versatile a host as there is in the game, and anyone else in the industry has something to learn from the way he teases ahead to content. What I want to point out not just how we fail to maximize opportunities to generate interesting content, but why. Interviews are a staple of the sports-media industry. We rely on these interviews as both primary content that will be consumed directly, and as the genesis for our own opinions and reaction yet for all that importance we spend very little time thinking about the kind of answer this question is likely to produce.
The Client Just Said YES, Now What?
We should spend as much time on what we will do after the client says YES.
One of the most significant moments in radio sales is when the client agrees to your proposal and says YES. But, when they do say YES, do you know what's next? We better have an answer!
We spend a lot of time getting ready for clients with research, spec spots (thank you, radio sales trainer Chris Lytle-go to 22:30), proposals, and meetings. All of our focus is on getting the client to say YES. We should spend as much time on what we will do after the client says YES. For example, getting newer sales reps to sell annual advertising contracts would be ideal for building a list. They would have less pressure, more job security, and could spend more time making the advertising work for their clients. But, since most newer reps don't know the business yet, they don't bite off more than they can chew and sell a package of the month.
When a client says yes to the weight loss promotion, it's pretty clear how to write the ads, what the promos will say, etc. BUT, if a newer sales rep starts selling annual contracts to a direct local client who needs a resource, how will that work? Let's make sure we paint the picture right upfront. More experienced reps know that they need to assume the client will say YES to the weight loss promo and have a plan accordingly.
They have the next steps to building copy and promos, a credit app or credit card payment form, and any other detail the client must provide. But, when we ask a direct local client for an annual advertising contract, watch out! You have just made a partnership. Why not lay out, upfront, what that will look like. And I understand not every local client needs the same level of service.
A car dealer has the factories pushing quarterly promotions, agencies producing ads, and in-house marketing directors pulling it all together sometimes. Other clients need your help in promotions, copywriting, or idea generation. Make a plan upfront with your client about when you will meet to discuss the next quarter's ad program. Include your station's promotions or inventory for football and basketball season, a summer NTR event, digital testimonials with on-air talent, etc., in your annual proposal. Go out as far as you can and show what you have to offer to the client and how you can execute it. This exercise is good for you and, once mastered, guides the client on how you will take care of them after the sale. It also opens your eyes to what it takes to have a successful client partnership inside and outside the station.
This week, Demetri is joined by Ian Casselberry and Ryan Brown. Demetri talks about the NBA Draft getting an ABC simulcast, Ian talks about Patrick Beverley's breakout week on TV, and Ryan reminds us that Tom Brady may be the star, but Kevin Burkhardt is the story we shouldn't forget.
Podcast: Play in new window | Download
Subscribe: RSS