Brett Kane Is Here To Kick Back & Make People Laugh
"They are so much like my group of friends that I hang out with, where, really, it's all about busting each other's balls."
Butt dials are almost always a super embarrassing situation. Sometimes it means accidentally dialing an ex, other times it may mean texting absolute gibberish to a contact you've made. Regardless, it's super embarrassing. Oh and I may or may not have experience with one or both of those.
But there's at least one known instance where a pocket dial actually benefited someone. In fact, it actually helped create one of the best sports radio segments in Denver.
Brett Kane was hosting a show at 93.7 The Ticket, near his hometown in Nebraska. While listening to a podcast during a workout, he accidentally hit the speed button you can find at the bottom left hand corner on Apple Podcasts to make it to half-speed. He laughed hysterically, sure, but with that, also, sparked a brilliant idea for a new segment.
"I think I was listening to a Dan Le Batard Show podcast," said Kane. "Hearing Stugotz slowed down was the most hysterical thing in the world. I had to pause doing any sort of exercise, because I was dying laughing. I went to one of our podcasts at the time and said, what if I just did this to us? The same thing happened. Now it's become if you hear anything, and our producer Marty is so good at this, if you hear anything that could remotely sound like it's funny, mark it and try it and see if it will work. It really was an accident. But it's one of those things where I heard it and a lightbulb went off."
Drunk Takes has become one of the best segments on Moser, Lombardi and Kane. It works because it's both funny and unique content, but also because it fits perfectly with the theme of the show, which, simply, is three guys sitting around and busting each other's balls.
Kane isn't exactly new in Denver, he's been there for over two years since getting the gig with Altitude Sports Radio. But compared to his two co-hosts, Marc Moser and Vic Lombardi, he might as well be wearing a fanny pack and holding a camera around his neck like a tourist. However, finding chemistry with two longtime Denver personalities wasn't as difficult as the native Nebraskan initially thought it would be. 
"They are so much like my group of friends that I hang out with, where, really, it's all about busting each other's balls," said Kane. "That's honestly what it is. I got in here and it literally took me a week, maybe two, to figure out it was going to be very, very simple. Our sense of humor is the same and they just want to kick back and make people laugh. Everyone's got their different quirks and you have to find out what makes people tick, but for a starting point, I feel like I was ahead an entire lap when this whole thing started."
It makes their show super relatable. Three guys sitting around and talking sports while making fun of each other sounds like every guy's group of friends. If the goal in sports radio is to make it seem like you're having a conversation in a bar, Moser, Lombardi and Kane accomplish that on a daily basis with their style and humor.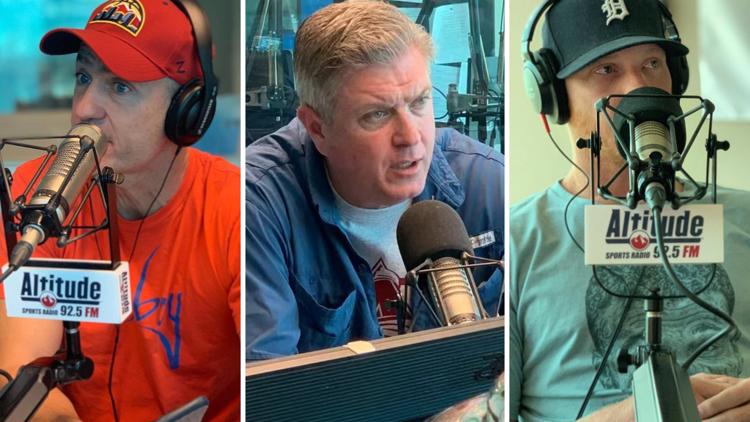 "It's funny because we usually get this from people who are new to the show, and if you listen to the show for a while you get it, but poor Moser," laughed Kane. "He probably gets it the worst out of anybody. We all get our turn on the hot seat, right, that's what we always say. At the end of it, we get people every once in a while saying something like, do you guys hate him? Why do you keep picking on him?
"It's almost like we have to explain to people the reason why we do this is because we genuinely like each other. You don't start crushing somebody you don't like to their face. That's not how it works."
One of the best things about getting hired at Altitude Sports Radio for Kane, was the timeline that it happened on. Dave Tepper, who's had success in multiple markets, was hired away from 1620 The Zone in Omaha to become the PD at Altitude. It was a huge help for Kane, seeing as his boss was also leaving Nebraska for a new market and near the same exact time as him. 
"It was almost like a buddy who you're on vacation with," Kane said. "Like, hey, have you checked the spot out yet? Have you visited here? It was a feeling that we were trying to figure this thing out together, because he was only here a few months before I was. You're trying to learn a new place, and I love it here, but I've lived in Nebraska for basically my entire life and it's different here.
"You're just trying to get a feel of what people want, especially coming from a market like I did in Nebraska, where it doesn't matter if it's in the middle of football season or in May, it's Husker football the whole time. You almost recalibrate because there's so much more here, as far as the sports landscape. Having someone else who had the same perspective as I did, and understood that you almost have to retrain your mind a little bit, was a massive help."
Altitude has a bit of a different approach to it's daily content than some of its competitors in town. Whereas some stations in town take the approach of always talking Broncos, Altitude likes the approach of including Rockies, Nuggets and Avalanche talk more than anyone else in the market.
Does Brett miss talking about college football? Sure, but instead of talking about one team for 12 months, there are enough teams and interest in his new city to spread the wealth around. 
"I think it's been good," said Kane. "You almost have to-retrain an audience to a certain extent. Like, no, this is allowed too. You can do this and be successful at it. And I think there's an appetite for it. The most important part, and I'm not going to force feed anything, there is an appetite for the stuff and it came across pretty clearly. We know the Broncos are king and that's never going to change, so when you have teams that are as successful as the Nuggets and Avs are, it would almost feel like you're ignoring that certain segment of people that want that in their daily lives. It's kind of our way of branching out and being and a bit different."
With Dave Tepper at PD and the entertaining list of hosts the station has collected, Altitude has made monumental strides. They've even expanded their content to TV and Twitch, where listeners can watch each host's every move from a television, iphone or computer screen. But just because you can watch, it doesn't mean Kane and his co-hosts are changing the way their radio show is done.
"If anything, what it does is give you an extra glimpse, like some of the faces Moser more will make or the body language these guys have, it's just adds another layer to it. So we can be the most successful Twitch show in the history of Twitch but if the radio staff isn't there, we're just placating to that audience. That's not how it works. We are a radio show and we make sure to say this even we went to television, this is a radio show on TV not a TV show on the radio. We always keep that perspective about it. The only thing that really matters now is don't pick your nose. That's kind of it."
Keep an eye on what Altitude does over the next couple of years. With strong leadership and talent in place, one would think the station's best days are ahead. Especially as Moser, Lombardi and Kane continue to put out content that's relatable to guy's all over the market. Brett Kane is also further proof that outside talent can come into a new market and not only have success, but quick success.
Tyler McComas is a columnist for BSM and a sports radio talk show host in Norman, OK where he hosts afternoon drive for SportsTalk 1400. You can find him on Twitter @Tyler_McComas or you can email him at TylerMcComas08@yahoo.com.
Nick Kayal Move Highlights Growing Appetite for News/Talk
Kayal moving to News/Talk is a trend that we continue to see in our business and there are several reasons why this will happen.
Sports Talk to News Talk.
The trend continued this week when Nick Kayal announced would be the next morning show host at WPHT in Philadelphia. In full disclosure, I know Nick, as I was an intern as he was an employee and growing his career at 97.5 The Fanatic in Philadelphia. Nick built a very solid sports talk resume, but decided to make the move to news/politics.
As I was reading his announcement on social media this week, I felt like I was reading my own reasons for leaving sports talk for news talk on a permanent basis five years ago. Nick wrote, "Over the past 6-7 years, my apetite for political content has increased and now I finally get to voice my opinion on these subject matters."
Expect this to be a trend that we continue to see in our business and there are several reasons why this will happen.
First off, sports talk is oversaturated. There's just too much of it, and at some point we've crossed the threshold where supply has exceeded demand. There will always be room for great sports talk hosts, but jobs aren't growing in that space, and in fact, are likely to shrink in future years.
Meantime, if we flip to the News Talk side of the business, the number of jobs expanding is admittedly also not a big part of the equation, but there is less competition in the space for those jobs when compared to Sports Talk, especially when it comes to younger hosts and employees.
I say the following with all the love in the world for my News Talk colleagues: I was at this week's FAIR (Federation for American Immigration Reform) Radio Row event, and as a 34-year-old, I felt like a college kid given that I was significantly younger than most of my fellow hosts. There's nothing wrong with that for right now, as many of them are still sharp, on their game, and delivering great ratings and revenue for their respective stations, but if we look 5-10 years down the road, they may want to find themselves on a beach or ski slope on a more regular basis. So, the next wave of News Talk hosts may not be in the News Talk space right now, and given the greater number of employees in Sports Talk, they may very well be over there.
This is a natural migration for both sides. The News Talk bench is not deep and as the younger Sports Talk employee gets older, their interests may change. Most 25-35 year-olds care more about sports than news and politics. But as a generation that grew up during the explosion of Sports Talk approaches and enters their 40's, their interests and desires could shift as well.
Just as important in this conversation is the fact that we all know sports, politics and culture continue to collid, for better or for worse, and those who may have more conservative-leaning beliefs and opinions are more likely to try and make that move.
As someone who spent several years in sports talk and maintain strong relationships there, I know those who don't pray at the "Alter of Woke" feel like their opinions aren't welcomed and will be shunned by their colleagues and bosses. They mask it, as they like to a prefer to talk about the games anyway. But when sports and culture collide, they clam up or just toe the line.
How long will that last? How long will they want to continue to bottle it up?
I'm not here to answer it for them, but I know that for me, there was a point where I thought I'd rather spend four hours a day talking about things that impact my city, state and country than discussing whether or not a quarterback missed an open receiver on 3rd and 10 or a pitcher was left in a game too long.
Don't get me wrong, I still love sports and love being a sports fan, but hosting a daily, local show where that is part of the job became less appealing when given alternative options. And I don't believe I will be alone in this regard, especially as we move forward through the next several years in our business.
Additionally, the icing on the cake is that in many towns, major sports news that a News Talk host will find interesting is, in fact, news, and will be a fit for the program. In Philadelphia, the Eagles are news on Monday after a loss to the Giants. In Kansas City, the Chiefs are news. Nothing is bigger. I do a Chiefs segment on Friday and Monday during football season. You can't do four hours on it, but mixing it in is part of the job if you're in a big sports town.
Now, there is a downside. As I told Nick Kayal in a personal note after his announcement, "Be prepared to be shunned by some of your former sports colleagues".
A sad reality, but true, in my experience. Hey, that's the "Tolerant Left", right?
If you can get over that, which should be easy, then come on over. We're having fun, making great content, and always looking for who and what is next.
Pete Mundo is the morning show host and program director for KCMO in Kansas City. He graduated from Villanova University, and has worked for FOX News Talk Radio, WCBS Newsradio 880, Bloomberg Radio. WFAN, CBS Sports Radio, WEER 88.7FM, ESPN 1230/1320, and, K-1O1 and Z-92. He has also won an Oklahoma Association of Broadcasters small-market award for his coverage of the Bobbie Parker trial in the summer of 2011. To interact, find him on Twitter @PeteMundo.
Nick Kayal Transitions from Talking Sports to News/Talk
Kayal has worked almost exclusively in radio sports in Nashville, Atlanta, Philadelphia, and other cities, but made the switch to talking politics.
Seasons change, minds change, and jobs certainly do.
Nick Kayal has worked almost exclusively in radio sports in Nashville, Atlanta, Philadelphia, and other cities. He most recently left Sports Radio 92.9 The Game to do mornings on 1210 WPHT in Philadelphia.
This isn't just a job change for Kayal. It's an entirely different animal. He's switching from sports to news and talk.
"Kayal and Company is the perfect show for me to host," Kayal said. "I've got a multi-voiced show with an outstanding supporting cast. Greg Stocker and Dawn Stensland will have open microphones. We'll have a guest from time to time. Some calls here and there, but it won't be caller-heavy."
Kayal said it will be a 'good blend of things.'
The change has been in the works since the beginning of the year but was announced just yesterday. Former morning host Rich Zeoli will be moving to afternoons. Kayal said Zeoli has been looking forward to that.
"Rich knew the change was coming," Kayal explained. "He was involved in the discussions. I think he really wanted to change his lifestyle. He even said so on air. Afternoons are where he started and I think he wanted to get back to that family balance. Rich is going to continue to do what made him so successful in the mornings. He does a great job at building an audience."
Kayal said they will keep a lot of the same segments on the show. Instead of talking about Jalen Hurts of the Eagles, they'll be talking about Joe Biden. The passion for sports and politics in Philly is the same, Kayal explained. "I don't think my prep or delivery will change much. I want to hit on big stories, but I'm not going to filibuster on a topic."
Getting ready for the new show, Kayal has had lunch with Stocker a few times to chat. Stocker will also serve as the show's executive producer. The two have kept in touch through the spring and summer, and Kayal has been in Philadelphia for nearly a month.
Kayal said the response to the change has been overwhelmingly positive among listeners. 
"Twitter is usually a cesspool of negativity," he said. "But this announcement has been 95% positive. Just a couple of negative responses here and there.
Kayal served as a host at crosstown sports 97.5 The Fanatic WPEN from 2009-2015 and doesn't think the switch of focus will cause the show to lose listeners.
"I imagine some of the people who listened to me in sports might be a little shocked to hear me dealing with news topics," Kayal said. "Listeners hate change, by and large. After a host change some might say they're never listening again. That station is dead to me. People have their routines and they don't like it when somebody or something messes that up. Most usually come back. Radio is very habitual."
He doesn't think he'll miss sports all that much. That isn't to say he'll never do sports again, or that he's sick of sports. 
"After 15 years of talking about nothing but sports, if I spent any more four-hour cycles talking about it, I'd blow my head off."
The show may touch on a major sports story if it happens, especially in Philadelphia.
"We might talk for a couple minutes after a win or loss. But one of the reasons I wanted to do this was the diversity of topics. I have an interest in a lot of things, including pop culture. We're going to be dealing with a full menu of topics."
He said any time you're talking conservative news and politics, it's the best of both worlds.
"You may not want to listen to some of the mainstream media, so you turn to conservative radio. You have liberals who will listen to call you on your mistakes, but I'm open to that. The same goes the other way."
Kayal said he won't mind admitting if he's wrong on the air, like some other hosts.
"There's going to be some guys that BS their way through everything, stick to script," he explained. "There are times when conservatives or liberals are off base, say something I don't agree with. I'll call them out on that."
Dawn Stensland will be the news anchor at the top of the hour and co-host.
"Dawn is like the protective mom who will go to bat for you," Kayal said. "Rich Zeoli told me that this morning and said she'd go to bat for me too."
Kayal will have a prep sheet going into the show, but he's not afraid to dump one thing if another is working.
"I'll call an audible at the line of scrimmage, so to speak. I want things to be organic on the show. If people are reacting to a topic, you can always get to an item in your preparation the next day. No need to rush. You have to go hard all the way through the show, finish strong. Like every other show I've done. There are benchmarks you need to hit during your show. People will listen for a period of time. If they're in the car on the way to work, they'll hear something. Then I have to approach the next hour as though nobody has heard the news, reset on the topic like it's the first time I'm doing it. More than likely it's a new audience. You can't afford to have a bad segment."
Sure, that can be beyond stressful. But if you come in prepared, if you have an opinion, make somebody laugh, make somebody mad, you're doing something right.
"I want listeners to get the sound of the show," Kayal said. "You'll tune in to hear us having an exchange, bouncing off each other. I like to think we all have an innate ability to know where something is going, but chemistry between the hosts is going to be a major thing."
 If everyone on the show has the same vision and check our egos at the door, Kayal said they'll have a good show. He explained a show will have great ratings periods, and there's a chance they will fall off. But the show must always deliver the best it can. 
Kayal went to school for criminal justice and pre-law at Temple. He studied political science for about a year, then changed to pre-law during his sophomore year. He thought he'd be a defense attorney or prosecutor.
"Law school only lasted three months," Kayal said. "I just knew it wasn't for me."
Some of the things he learned during his undergraduate degree and stint at law school helped him craft his arguments on the air.
"I use those skill sets and traits in a monologue or during an interview," he said. "It taught me how to ask leading questions. We'll talk about crime on the show. It's really about putting on a performance. So many guys are infatuated with being right, getting ratings, and revenue. To me, it's not all about being right.
He'd been reading Barrett Sports Media for a long time and came across a job opening for his new station, WPHT.
"I'd always had the desire to do political stuff," Kayal said. "I was working for Audacy in Atlanta, so coming to Philadelphia was almost like going through a transfer portal. Going back home has been icing on the cake. The process started in January of this year. They flew me out in March, and we did a two-hour mock show off the air. They had me fill in for Rich a couple of times in April. After the third week, I could tell they were pleased, and they offered me the job in June. I had to sit on it until yesterday."
We now know Kayal can be trusted with a secret.
Jim Cryns writes features for Barrett News Media. He has spent time in radio as a reporter for WTMJ, and has also served as an author and former writer for the Milwaukee Brewers. To touch base or pick up a copy of his book: On Story Parkway: Remembering Milwaukee County Stadium, available on Amazon, email jimcryns3_zhd@indeedemail.com.
The Intersection of Radio and Politics
Anybody with a radio career longer than one rating book has witnessed a stunt or two. Stunts can be remarkably effective for calling attention to something.
Four of the most enjoyable years of my life were spent on Capitol Hill as Communications Director for Congressman Michael R. Turner (R-OH). Mr. Turner is currently the ranking Member of the influential House Armed Services Committee. Should Republicans take back the House in November, he will likely become the committee Chairperson.
When talking to old media friends during that period, I often explained that the job wasn't that different from broadcasting. The Congressman was like the "morning guy," and the communications position was similar to the marketing and promotions role.
When Texas and Florida Governors Abbott and DeSantis began sending illegal immigrants, or unregistered persons for the more politically correct, from their states to Democrat strongholds, critics referred to it as a stunt. Neither of the governors seems to mind the term stunt.
Anybody with a radio career longer than one rating book has witnessed a stunt or two. Stunts can be remarkably effective for calling attention to something.
I don't know if the "Concert for Bangladesh," the granddaddy of benefit concerts, solved the refugee problem or if "Live-Aid" ended hunger. I am sure that these events, which were stunts when you think about them, created massive attention for important causes.
When we first put Howard Stern on WYSP-Philadelphia, we had no idea what the ratings impact would be. At the time, there was no shortage of critics who said: "it will never work."
We couldn't know, with certainty, whether broadcasting a show from New York would work in Philly. We were sure that doing it would get WYSP, a moribund station, a great deal of attention. At worst, it would be a "stunt." At best, well, that's in the history books.
Speaking of Howard, I believe Donald Trump, a regular guest on The Stern Show for approximately 20 years, ripped off "The King of All Media's" 1980s and 90s formula to win the presidency. Think about it:
He never apologizes – no matter what
The more outrageous, the better
He plays to a dominantly male audience who loves and defends him
He does what he does for his fans
It's always "us" against the world
He picks feuds with others and then sics his fans on the attacked
The only thing better than the celebrity feuds is staff in-fighting
His live events are huge love-fests
What else do politicians have in common with broadcasters?
Ronald Reagan was called "The Great Communicator." Reagan graduated from Eureka College in 1932. Later that year, his public career began as a WOC-AM/Davenport, Iowa sports announcer. He moved to WHO-AM/Des Moines in 1933, where he famously recreated baseball games using ticker tape reports. He went to California to cover spring training for the Cubs, which launched his Hollywood career.
Radio demands storytelling skills: The best in class in politics and radio are great storytellers. What do you know about Abraham Lincoln's personality? He loved to tell a tale. In the opening minutes of Steven Spielberg's "Lincoln," the president (played by Daniel Day-Lewis) tells a couple of free Black soldiers about the travails of barbers who have cut his hair.
In another scene at the War Department telegraph office, Lincoln offers an anecdote about Ethan Allen, prompting an incredulous Secretary of War Edwin Stanton (Bruce McGill) to proclaim: "You're going to tell a story! I don't believe that I can bear to listen to another one of your stories right now."
At his best, Joe Biden tells stories. He has always gotten confused about numbers and details, not unlike Reagan. But he effectively uses stories to make his point. That's how he became "Scranton Joe" and why we know "Corn Pop was a bad dude."
Positioning matters: In 1992, realizing that the recession was the top issue on voters' minds, Bill Clinton's campaign advisor, James Carville created the positioning statement, "It's the economy, stupid." Clinton stayed on message, promising to "focus like a laser beam on the economy."
In 2008, Barack Obama simplified his positioning to a single word: Hope, to which he added the slogan, "Yes we can!" It brilliantly captured the zeitgeist and catapulted the first-term Senator to the White House.
Focus on a few big ideas at a time: Over the years, radio programmers have learned to focus on a couple of essential things at a time. When Barack Obama took office, he had a lengthy list of items that needed attention. The economy, unemployment, bank bailouts, and U.S. auto manufacturers were in trouble. Fighting continued in Iraq and Afghanistan. Bin Laden was still hiding, and the president wanted to use his popularity to pass healthcare legislation. It was too much for the public to follow, and it appeared nothing positive was happening.
A 55% to 43% margin agreed that "since he's taken over in the White House, Obama has tried to handle more issues than he should," in a March 2009 CNN/Opinion Research survey.
Reagan kept his agenda simple. He wanted to make the government smaller and less intrusive. He did that through tax cuts, known as "Reaganomics." He wanted to win the Cold War by building up the military. Everything else was secondary.
Radio is a personal medium: Air personalities have always gotten out and pressed the flesh. Many figured out early in the game to use social media to build relationships with listeners.
Bill Clinton understood the power of building connections (no pun intended). Remember the first Presidential Town Hall Debate? A voter asked the candidates (Clinton, George H. W. Bush, Ross Perot) a question about how the economy (national debt) affected them personally. Clinton walked to the edge of the stage, as close to the audience as he could. Only Clinton answered in human and non-technical language in what became known as the "I feel your pain" moment.
During the same town hall debate, Bush checked his watch. These two moments pretty much sealed the election for Clinton.
Program to your P1s: In politics, they call it "playing to your base." Whatever your thoughts about Trump, no president has ever focused so intently on their base.
Biden ran on a "Cume" strategy. He was going to unite everybody. During the Democrat primaries, he may not have been most voters' first choice, but he was everybody's second choice. During the general, Biden had broader appeal. According to a Morning Consult exit poll, 44% of Biden voters said their vote was more against Trump than for Biden, compared to 22% of Trump voters who said their ballot was primarily against Joe Biden.
The concepts behind successful radio stations and winning political campaigns are similar. During my four years on Capitol Hill, I used countless lessons learned as a program director. When I returned to radio four years later, the skills I acquired in Washington helped make me a more effective programmer.
With continuing radio "reductions in workforce," public service provides career options. Because there's an intersection between radio and politics, the skills are transferable. The work is rewarding, and the experiences are fantastic.
Andy Bloom is president of Andy Bloom Communications. He specializes in media training and political communications. He has programmed legendary stations including WIP, WPHT and WYSP/Philadelphia, KLSX, Los Angeles and WCCO Minneapolis. He was Vice President Programming for Emmis International, Greater Media Inc. and Coleman Research. Andy also served as communications director for Rep. Michael R. Turner, R-Ohio. He can be reached by email at andy@andybloom.com or you can follow him on Twitter @AndyBloomCom.