How To Goon Up Hockey In One Sickening Swoop
Rather than market Connor McDavid and what's great about the sport, the NHL enabled a week of violence, suggesting head-hunting is part of its future as commissioner Gary Bettman seeks eyeballs for his new TV partners.
Gary Bettman, meet Joe Rogan. If the NHL is degenerating into a death sport, the commissioner should hire the voice of the Octagon to narrate the goonery. Here in America, home of police shootings and Capitol rioting and whatever else in God's name awaits us, it was inevitable that hockey would turn repulsive when new broadcast deals were signed last month.
Violence sells, you see. Pressured to justify unprecedented riches — the $4.5 billion paid by ESPN and Turner Sports over the next seven seasons — Bettman and his henchmen have rebooted a sickening reality that has defined hockey in this country for decades: Only when the No. 4 sport makes us vomit do the masses pay attention. Diehard puckheads might care about Connor McDavid, Sidney Crosby, Auston Matthews and Victor Hedman, but the time-proven way to gain traction in the upper "SportsCenter" news cycle is to enable thug behavior.
Rather than ban the ice terrorist, Tom Wilson, for his crimes against New York Rangers humanity, Bettman and his farcically named Department of Player Safety — all caps, I swear — basically pardoned his Monday night acts with a $5,000 fine and no suspension. In letting him off lightly, even after he sucker-punched Pavel Buchnevich and body-slammed Artemi Panerin like a ragdoll, the league set up a Wednesday blood rematch between the Rangers and Wilson's Washington Capitals that all but endorsed rival gang warfare — and drew eyeballs across North America. Because Bettman and his so-called safety chief, former NHL brawler George Parros, refused to penalize Wilson severely, the Rangers felt compelled to punish him and his teammates with their fists.
If the NHL wished to incite a riot in Madison Square Garden, it succeeded wretchedly. The opening minutes featured six fights, including three at once immediately after the opening face-off and another 49 seconds later, when Rangers defenseman Chris Smith confronted Wilson. The teams combined for 72 penalty minutes before five game minutes had elapsed, and, predictably, Wilson accumulated 15 penalty minutes before leaving in the second period with an upper-body injury. This was some seriously demented retribution, all obeying a locker-room code that should have been retired in the last century but still exists because, you know, it promotes testosterone rage and spikes ratings. The explanations afterward were as warped as the scripted brawling.
"I definitely think we felt the need to take matters into our own hands a bit," Rangers center Ryan Strome said. "I thought it was a great response. And hats off to them for answering the bell. They knew our frustration. We solved it and played the rest of the game."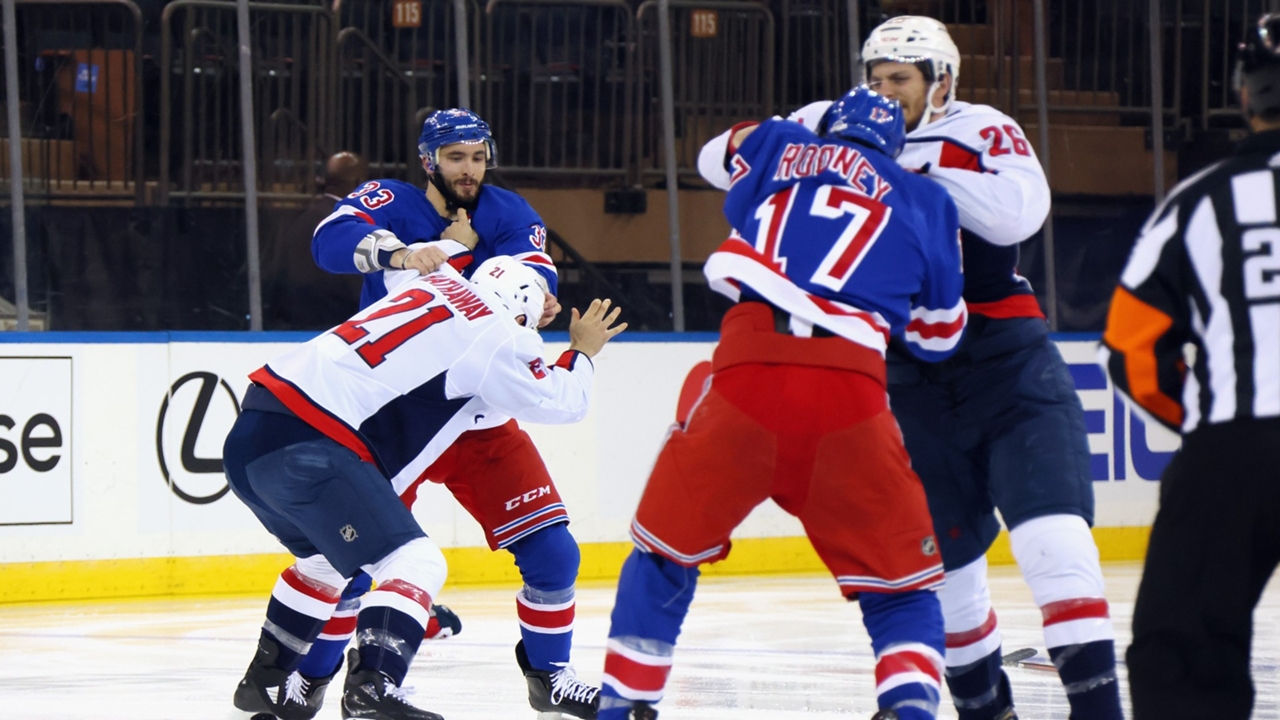 Said Smith, who proudly took on Wilson: "You guys watched what happened the game before. I thought that it should have been handled before this game, and it wasn't, so unfortunately it had to be on my shoulders, and I took it."
Close your eyes. Imagine Roman Gladiators in violent confrontations in the Colosseum, or modern lunatics being gorged by the bulls in Pamplona. Is this what the NHL has come to: another deep dive into the gutter?
Always considered inept and backward-thinking, Bettman now looks foolish and desperate. He only exacerbated matters Thursday when he pounded the Rangers with a $250,000 fine — $245,000 more than Wilson was punished for head-hunting — for daring to criticize the league and Parros in a wide-ranging statement. Suddenly, the NHL feels like a Communist dictatorship, caring much more about its bruised feelings than the safety of its players.
"Public comments of the nature issued by the Rangers that were personal in nature and demeaning of a League executive will not be tolerated," Bettman said in a statement. "While we don't expect our Clubs to agree with every decision rendered by the Department of Player Safety, the extent to which the Rangers expressed their disagreement was unacceptable. It is terribly unfair to question George Parros' professionalism and dedication to his role and the Department of Player Safety."
Again, all in capital letters.
What is the purpose of fighting-as-entertainment when players are injured, including one of the sport's better offensive weapons — and statesmen — in Panarin? The league's lack of action spun the Rangers into utter disarray, fueled by none other than owner James Dolan, who meddles in hockey now that the Knicks miraculously have been repaired by Leon Rose and Tom Thibodeau. In a statement reportedly ordered by Dolan, the Rangers called for the ouster of Parros and said they were disturbed Wilson wasn't suspended. After all, isn't he the maniac who has been suspended five times, including a 14-game ban in 2018 after he checked St. Louis' Oskar Sundqvist in the skull? Just a few weeks ago, Wilson was suspended seven games for a dirty hit that left Boston's Brando Carlo with a concussion.
This guy doesn't just hunt heads. He collects them and eats them for dinner. Yet, Wilson will be eligible to wreak more havoc — and injure more opponents — in the playoffs. Said the Dolan-inspired statement: "The New York Rangers are extremely disappointed Capitals forward Tom Wilson was not suspended for his horrifying act of violence at Madison Square Garden. Wilson is a repeat offender with a long history of these type of acts and we find it shocking that the NHL and their Department of Player Safety failed to take the appropriate action and suspend him indefinitely. Wilson's dangerous and reckless actions caused an injury to Artemi Panarin that will prevent him from playing again this season. … We view this as a dereliction of duty by NHL Head of Player Safety, George Parros, and believe he is unfit to continue in his current role."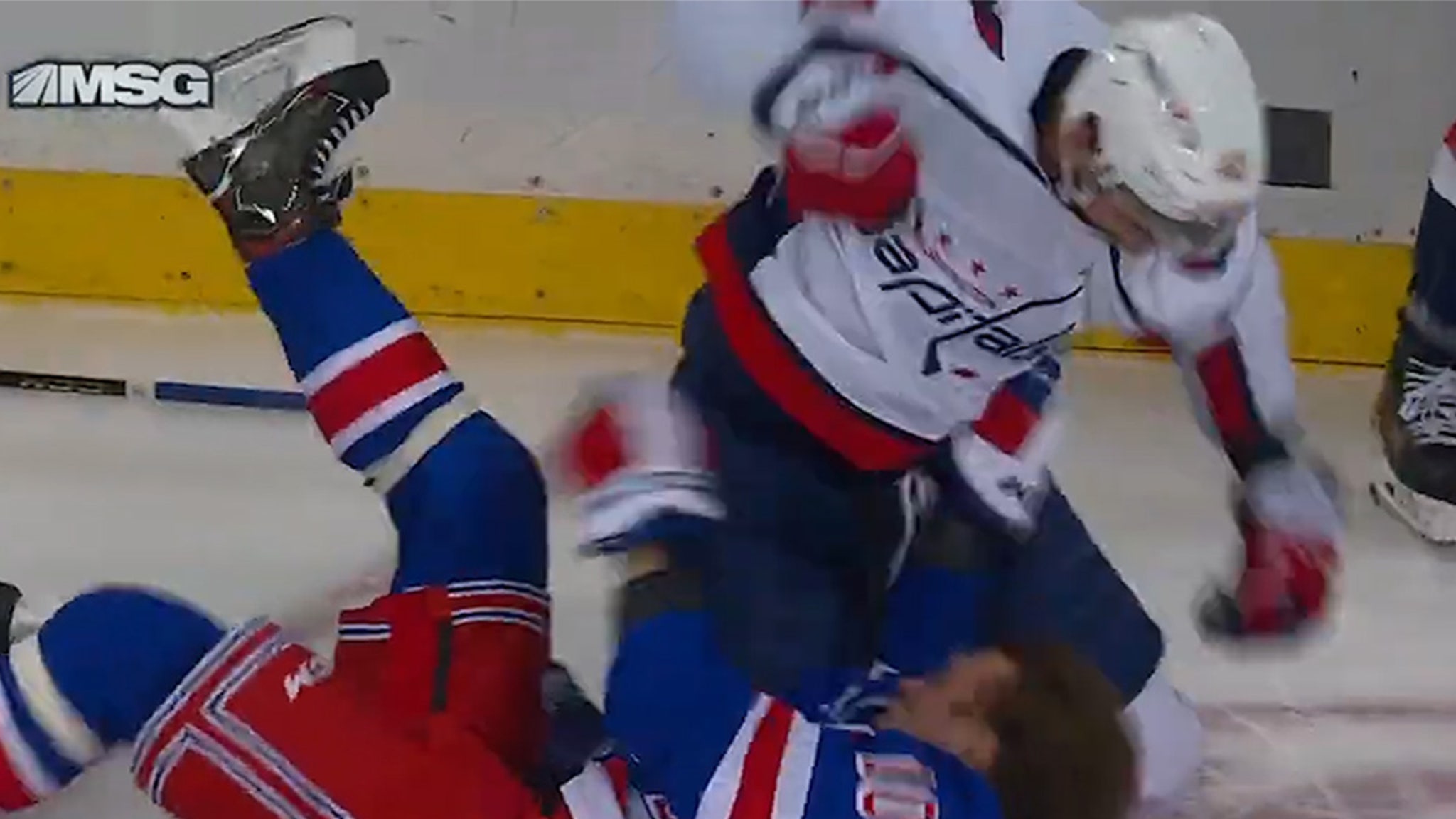 Naturally, the Capitals thought the episode was a lot of nothing. "Blown out of proportion," center Lars Eller said. "I don't think people see things clearly when it comes to Tom with things that he's involved in. There's already a biased opinion of him."
Can't imagine why.
Then Dolan turned on his own front office, firing team president John Davidson and general manager Jeff Gorton and replacing both with Chris Drury. The Rangers aren't going to the playoffs and didn't show much mettle in their fourth straight loss. Yet, somehow, lame-duck coach David Quinn was proud of his guys for standing up to the bully. "To me, when something like that happens, it certainly speaks volumes about how these guys want to play for each other and stick up for each other in difficult circumstances," he said. "We all saw what happened the other night. Nobody is happy about it. I couldn't be prouder of these guys."
The in-arena hockey experience is the most thrilling in sports, I believe. But Bettman and various networks haven't figured out how to transfer that fury and emotion to the broadcasts. Thus, the NHL is a fighting league again. In a year when McDavid, the Edmonton phenom, might reach 100 points in a COVID-19-shortened, 56-game season, Tom Wilson is the larger conversation piece. His criminal activity was exacerbated by the Capitals' social media site, which went low-brow in a since-deleted tweet — "atCapitals chooses: Violence" — beside a photo of Wilson and a cryptic comment that he lives "rent-free" in the minds of others as "the best goal scorer in the league."
I would like to like hockey. The culture won't let me. The Capitals won the rematch thanks to T.J. Oshie, who scored twice while grieving the death of his father only a day earlier. He was hugged after the victory by teammate Nicklas Backstrom, who said, "I saw he got emotional there at the end, which was understandable. I felt like he needed a hug. I told him, `You are the strongest person I know.' First of all, it's impressive that he actually played today, I think, and how he led the way. … We are a family. We are in this together. His loss is everyone's loss."
The Oshie story should have been the takeaway.
The punches knocked out that fond memory, too.
Asking The Right Questions Helps Create Interesting Content
Asking questions that can get a subject to talk about their feelings is a much better way to get an interesting answer.
When ESPN's Mike Greenberg interviewed Paolo Banchero in the lead-up to the NBA lottery on Tuesday, he asked what I've concluded is the single most maddening question that can be asked of any athlete preparing for any draft.
"Why do you believe you should be No. 1 pick in the NBA Draft?" Greenberg said.
Before I point out exactly why I have such a visceral reaction to such a harmless question, I want to point out the positives because Greenberg's question avoids some of the most common pitfalls:
1) It is an actual question. That's not as automatic as you think given the number of poor souls who are handed a microphone and say to their subject, "Talk about (whatever issue they want a quote or a sound bite on)." This is the mark of an amateur, creating the opening for an uncooperative subject to slam the door by saying, "What do you want me to say?"
2) Greenberg's question can not be answered with a yes or a no. Questions that start with the word "Can you …" or "Did you …" may sound like they're tough questions for the subject, but they're actually fairly easy if the subject wants to offer an answer. Now, most interview subjects won't take that one-word exit, but some will in a touchy situation.
The problem with Greenberg's question has to do with the result. Why do we ask questions of the athletes we cover? Seriously. That's not rhetorical. What's the goal? It's to get interesting answers. At least that's the hope whether it's for a quote that will be included in a story, a sound bite to be replayed later or — like in this situation — during an interview that is airing live. The question should be engineered to elicit interesting content, and there was very little chance that the question Greenberg asked Banchero was going to produce anything close to that.
I know that because I have heard some version of this question asked hundreds of times. That's not an exaggeration. I attended the NFL scouting combine annually for a number of years, and if a player wasn't asked why he should be the first overall pick, he'd get asked why he should be a first-round pick or why he should be one of the first players chosen at his position. Never — in all that time — have I ever heard what would be considered an interesting or informative answer. In my experience, players tend to talk in incredibly general terms about their own abilities and then seek to compliment their peers in an effort to avoid coming off as cocky.
Here's how Banchero answered Greenberg's question: "Yeah, thank you all for having me, first off., I feel like I'm the number one pick in the draft because I'm the best overall player. I feel like I check all the boxes whether it's being a great teammate, being the star player or doing whatever the coach needs. I've been a winner my whole life. Won everywhere I've went, and when I get to the NBA, that's going to be the same goal for me. So just combining all those things, and knowing what I have to work on to be better is a formula for me."
There's nothing wrong with answer just as there was nothing wrong with the question. It's just that both are really, really forgettable. ESPN did put a clip on YouTube with the headline "Paolo Banchero: I'm the best overall player in the NBA Draft | NBA Countdown" but I think I'm the only who will remember it and that's only because I'm flapping my arms and squawking not because there was anything bad per se, but because there was nothing really good, either.
First of all, I'm not sure why it matters if Banchero thinks he should be the number one overall pick. He's not going to be making that decision. The team that holds the top draft pick — in this case Orlando — is. Here's a much better question: "How important is it for you to be the number one overall pick?" This would actually give an idea of the stakes for Banchero. What does this actually mean to him? Asking him why he should go number one is asking Banchero to tell us how others should see him. Asking Banchero how important it would be go number one is asking him to tell us about his feelings, something that's much more likely to produce an interesting answer.
The point here isn't to question Greenberg's overall competence because I don't. He's as versatile a host as there is in the game, and anyone else in the industry has something to learn from the way he teases ahead to content. What I want to point out not just how we fail to maximize opportunities to generate interesting content, but why. Interviews are a staple of the sports-media industry. We rely on these interviews as both primary content that will be consumed directly, and as the genesis for our own opinions and reaction yet for all that importance we spend very little time thinking about the kind of answer this question is likely to produce.
The Client Just Said YES, Now What?
We should spend as much time on what we will do after the client says YES.
One of the most significant moments in radio sales is when the client agrees to your proposal and says YES. But, when they do say YES, do you know what's next? We better have an answer!
We spend a lot of time getting ready for clients with research, spec spots (thank you, radio sales trainer Chris Lytle-go to 22:30), proposals, and meetings. All of our focus is on getting the client to say YES. We should spend as much time on what we will do after the client says YES. For example, getting newer sales reps to sell annual advertising contracts would be ideal for building a list. They would have less pressure, more job security, and could spend more time making the advertising work for their clients. But, since most newer reps don't know the business yet, they don't bite off more than they can chew and sell a package of the month.
When a client says yes to the weight loss promotion, it's pretty clear how to write the ads, what the promos will say, etc. BUT, if a newer sales rep starts selling annual contracts to a direct local client who needs a resource, how will that work? Let's make sure we paint the picture right upfront. More experienced reps know that they need to assume the client will say YES to the weight loss promo and have a plan accordingly.
They have the next steps to building copy and promos, a credit app or credit card payment form, and any other detail the client must provide. But, when we ask a direct local client for an annual advertising contract, watch out! You have just made a partnership. Why not lay out, upfront, what that will look like. And I understand not every local client needs the same level of service.
A car dealer has the factories pushing quarterly promotions, agencies producing ads, and in-house marketing directors pulling it all together sometimes. Other clients need your help in promotions, copywriting, or idea generation. Make a plan upfront with your client about when you will meet to discuss the next quarter's ad program. Include your station's promotions or inventory for football and basketball season, a summer NTR event, digital testimonials with on-air talent, etc., in your annual proposal. Go out as far as you can and show what you have to offer to the client and how you can execute it. This exercise is good for you and, once mastered, guides the client on how you will take care of them after the sale. It also opens your eyes to what it takes to have a successful client partnership inside and outside the station.
This week, Demetri is joined by Ian Casselberry and Ryan Brown. Demetri talks about the NBA Draft getting an ABC simulcast, Ian talks about Patrick Beverley's breakout week on TV, and Ryan reminds us that Tom Brady may be the star, but Kevin Burkhardt is the story we shouldn't forget.
Podcast: Play in new window | Download
Subscribe: RSS