Kobe And Michael: A Peerless Brotherhood
Another public eulogy will serve to remind that Bryant, not LeBron James, came closest to Jordan's force field, which should be obvious after Jordan presents his late friend for Hall of Fame enshrinement.
The winds were still. Kobe Bryant was staying In Los Angeles, no longer demanding a trade, quieting the outrage that had turned him into a national diva. So it stunned me when he appeared in the Lakers' locker room, inside Chicago's United Center on a winter's night, and wanted to talk about what almost had happened months earlier.
He very nearly was traded to the Bulls. In fact, he and his wife had toured the suburbs in search of real estate and schools for their kids, including a one-year-old daughter named Gianna. Bryant confirmed all of this and more, which couldn't have pleased coach Phil Jackson and the team brass, but his agenda was clear. He continued to be obsessed with his personal basketball Jesus, the legend whose statue was outside the building, and he seemed a bit wistful that he'd never play home games in the House That Michael Jordan Built.
You know how his Happily Ever After went. Pacified by the acquisition of Pau Gasol, Bryant calmed down and won two more championships — without Shaquille O'Neal — before the Lakers unraveled amid ownership upheaval and embarrassing internal soap operas. Those titles, his fourth and fifth, validated what had become obvious in his first 15 NBA seasons: Kobe never could be Michael, just as no player could be Michael, but he was the one who came closest to penetrating the Jordan force field.
Not LeBron James.
Kobe Bean Bryant.
This weekend, we'll hear more stories about Bryant and his maniacal quest to be like Mike, beginning as an 18-year-old rookie who stalked Jordan after games like a starstruck fan and took it literally when Jordan told him to "call me if you ever need anything." Hopefully, the mood will be lighter than the last time Jordan spoke publicly about his "little brother," at the memorial service days after Kobe and Gianna died in a helicopter crash. The tragedy happened 15 1/2 months ago, but it feels like forever, foreshadowing a global pandemic in a double-whammy that made us ask what kind of world we're living in. We had little chance to mourn Bryant's passing — to eulogize and absorb the horror — before we were buying masks, hoarding toilet paper and isolating ourselves from the evil COVID-19 droplets. A more complete celebration comes Saturday at a Connecticut casino — no MJ gambling jokes, please — where Bryant's "big brother" presents him for enshrinement at the Naismith Memorial Basketball Hall of Fame ceremony.
No matter what Jordan says in his latest speech, it will remind us of the close relationship between the two most magnificent showmen, exquisite scorers and driven competitors in basketball history. We only can hope it stops the never-ending nonsense that James is the second-greatest or even greatest player ever. The other day, a TV debate show posed a question — will LeBron pass Michael if he wins another championship? — without acknowledging that the Lakers, with a brittle James and injury-addled Anthony Davis, might not survive the first play-in game next week. Millennials and Gen-Zers are stuck in generational biases, thinking the sport wasn't played before LeBron arrived. Without dwelling on James' erratic postseason record and other glitches, let's just say the prominence of Jordan and Bryant as cutthroat combatants and tempestuous, roster-maximizing leaders should shine through the festivities.
"He used to call me, text me at 11:30, 2:30, 3 in the morning," Jordan said at the eulogy. "At first, it was an aggravation, but then it turned into a certain passion. This kid had passion like you would never know." Kobe was the kid who "for whatever reason," Jordan said, "always tended to get in your stuff. Your closet, your shoes, everything. It was a nuisance, if I can say that word. But that nuisance turned into love over a period of time."
Said Bryant, recalling his MJ fixation on "The Last Dance" docuseries: "You can't learn if you don't ask. I know a lot of players were intimidated by him. I wasn't intimidated. I think he understood my competitiveness. I think he was looking at my journey, too. It was a rough couple of years for me in coming to the league, because at the time, the league was so much older. It was not as young as it is today. Having teenagers or guys in their early 20s was not the norm. And so being an outsider from that standpoint, I think he wanted to provide a little help for me, a little direction for me."
As Internet meme-ists know, Jordan is a cryer. His tears surely will appear again, only days after he revealed in an ESPN.com interview that he still looks at the final scroll of text messages left by Bryant on his phone. "He was just so happy," Jordan said. "He was doing so well." Unlike the younger days, when he would badger Jordan at all hours of the night, Bryant's last text came early on the afternoon of Dec. 8, 2019. He wanted to thank his mentor for the box he'd been gifted: a bottle of tequila, courtesy of Jordan's new brand.
Little brother: "This tequila is awesome."
Big brother: "Thank you, my brother."
Little brother: "Yes, sir. Family good?"
Big brother: "All good. Yours?"
Little brother: "All good."
Deciding to be devilish, Jordan told writer Jackie MacMullan that he poked fun at Bryant's new career as daughter Gigi's coach. "Coach Kobe??!" texted Jordan, who added "that little crying/laughing emoji."
"Ah, back at you, man," wrote Bryant. "Hey, coach, I'm sitting on the bench right now, and we're blowing this team out. 45-8."
How perfect, as Jordan pointed out, that one furious competitor would tell another that his daughter's team was routing an opponent. Not that James isn't fueled by similar urges, but today's NBA canvas can be about social-media oneupsmanship as much as winning a title. There's a reason the sports world is talking about Steph Curry and Russell Westbrook right now. They are fueled by the same inferno as Michael and Kobe.
I'll never forget studying Bryant's voice cadence when he was younger. My God, he was trying to sound just like Jordan, particularly obvious when both would say, "Most definitely." After a while, he grew up and heeded Jordan's advice about basketball, leadership and life in the public eye, which grew dark for Bryant when he was accused of sexual assault in Colorado. Just when it seems Jordan has been showered with every possible tribute, here's one of the best: Not only did he make every one of his teammates better, he helped turn Kobe Bryant into the best version of himself.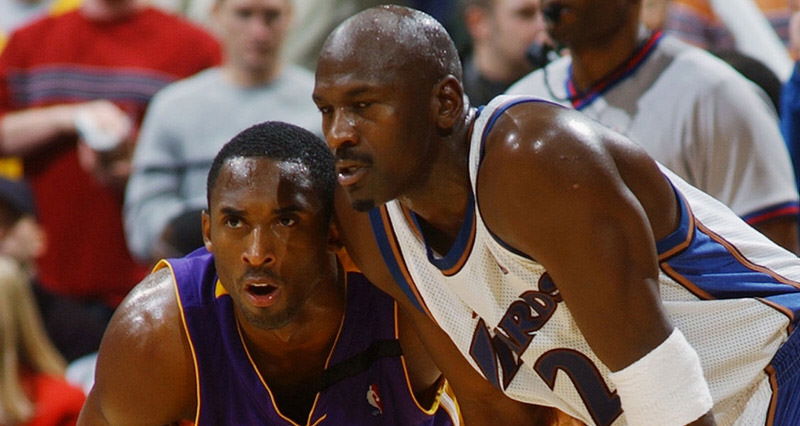 "Everyone always wanted to talk about the comparisons between he and I," Jordan said. "I just wanted to talk about Kobe."
He'll have ample time Saturday. Other than Lou Gehrig's retirement speech and Knute Rockne imploring his players to "win one for The Gipper," sports offers no comparable moment. In death, there is life.
Asking The Right Questions Helps Create Interesting Content
Asking questions that can get a subject to talk about their feelings is a much better way to get an interesting answer.
When ESPN's Mike Greenberg interviewed Paolo Banchero in the lead-up to the NBA lottery on Tuesday, he asked what I've concluded is the single most maddening question that can be asked of any athlete preparing for any draft.
"Why do you believe you should be No. 1 pick in the NBA Draft?" Greenberg said.
Before I point out exactly why I have such a visceral reaction to such a harmless question, I want to point out the positives because Greenberg's question avoids some of the most common pitfalls:
1) It is an actual question. That's not as automatic as you think given the number of poor souls who are handed a microphone and say to their subject, "Talk about (whatever issue they want a quote or a sound bite on)." This is the mark of an amateur, creating the opening for an uncooperative subject to slam the door by saying, "What do you want me to say?"
2) Greenberg's question can not be answered with a yes or a no. Questions that start with the word "Can you …" or "Did you …" may sound like they're tough questions for the subject, but they're actually fairly easy if the subject wants to offer an answer. Now, most interview subjects won't take that one-word exit, but some will in a touchy situation.
The problem with Greenberg's question has to do with the result. Why do we ask questions of the athletes we cover? Seriously. That's not rhetorical. What's the goal? It's to get interesting answers. At least that's the hope whether it's for a quote that will be included in a story, a sound bite to be replayed later or — like in this situation — during an interview that is airing live. The question should be engineered to elicit interesting content, and there was very little chance that the question Greenberg asked Banchero was going to produce anything close to that.
I know that because I have heard some version of this question asked hundreds of times. That's not an exaggeration. I attended the NFL scouting combine annually for a number of years, and if a player wasn't asked why he should be the first overall pick, he'd get asked why he should be a first-round pick or why he should be one of the first players chosen at his position. Never — in all that time — have I ever heard what would be considered an interesting or informative answer. In my experience, players tend to talk in incredibly general terms about their own abilities and then seek to compliment their peers in an effort to avoid coming off as cocky.
Here's how Banchero answered Greenberg's question: "Yeah, thank you all for having me, first off., I feel like I'm the number one pick in the draft because I'm the best overall player. I feel like I check all the boxes whether it's being a great teammate, being the star player or doing whatever the coach needs. I've been a winner my whole life. Won everywhere I've went, and when I get to the NBA, that's going to be the same goal for me. So just combining all those things, and knowing what I have to work on to be better is a formula for me."
There's nothing wrong with answer just as there was nothing wrong with the question. It's just that both are really, really forgettable. ESPN did put a clip on YouTube with the headline "Paolo Banchero: I'm the best overall player in the NBA Draft | NBA Countdown" but I think I'm the only who will remember it and that's only because I'm flapping my arms and squawking not because there was anything bad per se, but because there was nothing really good, either.
First of all, I'm not sure why it matters if Banchero thinks he should be the number one overall pick. He's not going to be making that decision. The team that holds the top draft pick — in this case Orlando — is. Here's a much better question: "How important is it for you to be the number one overall pick?" This would actually give an idea of the stakes for Banchero. What does this actually mean to him? Asking him why he should go number one is asking Banchero to tell us how others should see him. Asking Banchero how important it would be go number one is asking him to tell us about his feelings, something that's much more likely to produce an interesting answer.
The point here isn't to question Greenberg's overall competence because I don't. He's as versatile a host as there is in the game, and anyone else in the industry has something to learn from the way he teases ahead to content. What I want to point out not just how we fail to maximize opportunities to generate interesting content, but why. Interviews are a staple of the sports-media industry. We rely on these interviews as both primary content that will be consumed directly, and as the genesis for our own opinions and reaction yet for all that importance we spend very little time thinking about the kind of answer this question is likely to produce.
The Client Just Said YES, Now What?
We should spend as much time on what we will do after the client says YES.
One of the most significant moments in radio sales is when the client agrees to your proposal and says YES. But, when they do say YES, do you know what's next? We better have an answer!
We spend a lot of time getting ready for clients with research, spec spots (thank you, radio sales trainer Chris Lytle-go to 22:30), proposals, and meetings. All of our focus is on getting the client to say YES. We should spend as much time on what we will do after the client says YES. For example, getting newer sales reps to sell annual advertising contracts would be ideal for building a list. They would have less pressure, more job security, and could spend more time making the advertising work for their clients. But, since most newer reps don't know the business yet, they don't bite off more than they can chew and sell a package of the month.
When a client says yes to the weight loss promotion, it's pretty clear how to write the ads, what the promos will say, etc. BUT, if a newer sales rep starts selling annual contracts to a direct local client who needs a resource, how will that work? Let's make sure we paint the picture right upfront. More experienced reps know that they need to assume the client will say YES to the weight loss promo and have a plan accordingly.
They have the next steps to building copy and promos, a credit app or credit card payment form, and any other detail the client must provide. But, when we ask a direct local client for an annual advertising contract, watch out! You have just made a partnership. Why not lay out, upfront, what that will look like. And I understand not every local client needs the same level of service.
A car dealer has the factories pushing quarterly promotions, agencies producing ads, and in-house marketing directors pulling it all together sometimes. Other clients need your help in promotions, copywriting, or idea generation. Make a plan upfront with your client about when you will meet to discuss the next quarter's ad program. Include your station's promotions or inventory for football and basketball season, a summer NTR event, digital testimonials with on-air talent, etc., in your annual proposal. Go out as far as you can and show what you have to offer to the client and how you can execute it. This exercise is good for you and, once mastered, guides the client on how you will take care of them after the sale. It also opens your eyes to what it takes to have a successful client partnership inside and outside the station.
This week, Demetri is joined by Ian Casselberry and Ryan Brown. Demetri talks about the NBA Draft getting an ABC simulcast, Ian talks about Patrick Beverley's breakout week on TV, and Ryan reminds us that Tom Brady may be the star, but Kevin Burkhardt is the story we shouldn't forget.
Podcast: Play in new window | Download
Subscribe: RSS