Aaron Rodgers To Headline SportsCenter with Kenny Mayne
Green Bay Packers quarterback Aaron Rodgers will appear on Sportscenter with soon to be departing anchor Kenny Mayne.
SportsCenter anchor and longtime eccentric ESPN staple Kenny Mayne's will make his final appearance at the network on Monday, and he will be joined by the reigning NFL MVP Aaron Rodgers.
It will be the Green Bay Packers quarterback's first public appearance since the Kentucky Derby. Rodgers keeps a typically low profile and is deliberately careful with his media availability, aspects that have only been exacerbated since his unhappiness with the franchise who drafted him became public April 29 before the first round of the NFL Draft last month. Rodgers and Mayne appear to have a solid rapport as the two West Coasters have worked together on bits in the past.
Mayne announced a cavalcade of guests on his Twitter account, including WNBA star Sue Bird, former NBA guard Jamal Crawford, and former NFL running back and frequent collaborator of Mayne's, Marshawn Lynch. He later added MLB legend Fred McGriff to the list, as well.
Vince McMahon: 'I Wish I Could Have Beaten Up Bob Costas'
"Apparently, Vince has an enemy in Bob Costas."
It shouldn't come as a surprise that WWE Chairman Vince McMahon's in-ring persona often is the same as it is in real life. Mr. McMahon can be brash, intimidating and command your attention. As a businessman, it's also no surprise that he's probably made a few enemies along the way, whether it be through business or in media.
Apparently, Vince has an enemy in Bob Costas. But that's not earth-shattering considering part of his job is making enemies.
McMahon's disdain for the former NBC broadcaster stems from a 2001 interview the two did on Costas's HBO show, where Costas appeared to do everything right to push Vince's buttons.
A transcript provided to the New York Post from a Jim Miller book called Tinderbox: HBO's Ruthless Pursuit of New Frontiers details just how Costas managed to get under McMahon's skin.
"Once we were doing the interview, he kept interrupting me and interrupting me, and bringing up topics that had nothing to do with what we were supposed to be talking about," McMahon said.
Vince McMahon referred to Costas as "pompous" and was even quoted as saying he'd have laid hands on Costas had he not been so small.
"I wish he wasn't 5-feet high and 140 pounds. If he was 6-5 and 295, he would deserve to get the shit beat out of him," McMahon said. "I could have really given them some great television."
The Post notes that the two were able to conduct a more civil interview a year later, but it seems like once you cross a boss like Vince McMahon, there's no way to get back in his good graces.
Canadian Sportscasting Icon Brian Williams to Retire
"TSN plans to honor the career and achievements of Williams prior to kickoff of the Grey Cup."
A Canadian broadcasting icon is set to call it a career following this year's Grey Cup on Dec. 12.
Brian Williams has spent the majority of his career between the nation's biggest broadcasting companies, CBC, CTV and TSN. The largest chunk of his career was spent from 1974-2006 with CBC.
Williams is a 2010 inductee into the Canadian Football Hall of Fame Football Reporters Wing and has covered some of the world's biggest sporting events including the Olympics and the FIFA World Cup.
"Over the course of the last 50 years, I've been fortunate to cover so many great athletes and amazing events, both at home and abroad. I'd like to express my sincere thanks to all," Brian Williams said in a statement.
TSN plans to honor the career and achievements of Williams prior to kickoff of the Grey Cup.
Beth Mowins To Become 1st Woman To Call NBA Game For ESPN
"The NBA is now the third major professional sports league where she has made history."
Beth Mowins has a habit of making history in the broadcast business. Her latest feat worth celebration will come on Friday when Mowins becomes the first woman in the history of ESPN to call play-by-play for a regular season NBA Game.
The network sent out a press release on Thursday announcing the assignment. She will work with Jeff Van Gundy as her analyst when the Philadelphia 76ers visit Atlanta to take on the Hawks. Cassidy Hubbrth will serve as sideline reporter.
ESPN tweeted out an image to show all that Beth Mowins has done. The NBA is now the third major professional sports league where she has made history.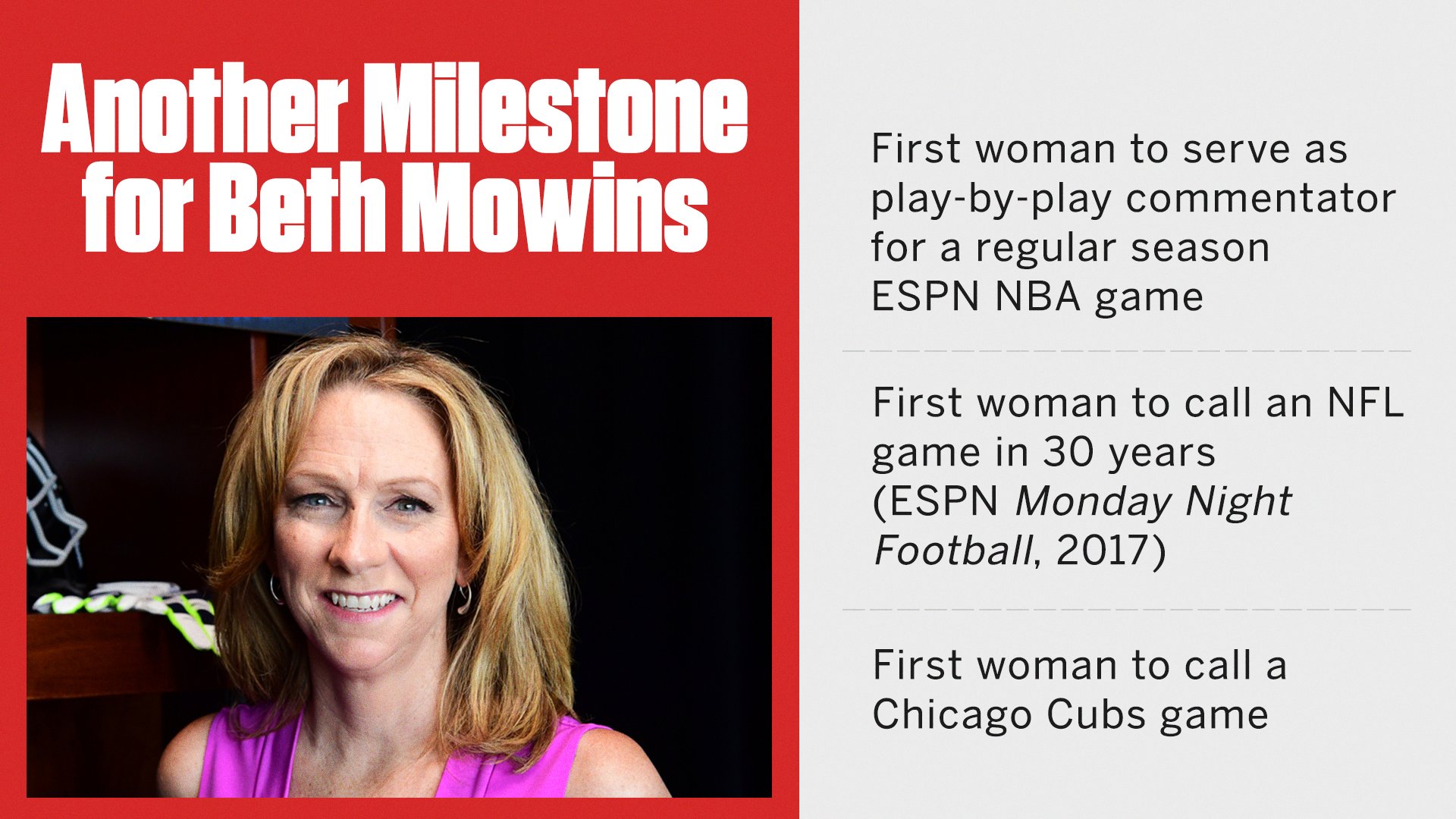 Mowins won't be the only woman calling the game that night. Kate Scott is in her first year as the play-by-play voice of the Philadelphia 76ers.