Once The Heartbeat Of Newspapers, Chicago Is Death Row
After no well-heeled savior emerged to save the Tribune from a job-slashing hedge fund, the local news industry in America never has been closer to extinction. Wasn't it thriving not too long ago?
"SPORTS WITH AN ATTITUDE!" came the blast from the billboards. The slogan was etched in tattoo graffiti, part of a campaign to hype my arrival in Chicago, and I guess the ad agency wanted me to terrorize fans in the No. 3 market with perpetual vitriol. Every time I drove past my smiling, 31-year-old mug near Wrigley Field, Soldier Field and sites throughout the metropolis, I laughed … and cringed … and all but peed my pants.
What the hell was the Sun-Times doing to me? Setting me up to fail before I'd started? Ensuring that my body parts would be found in the lake? Was I hired just to fit some absurd campaign? And who decided I had an attitude, anyway? As it was, the cantankerous columnist Mike Royko was taking shots at me, and Chet Coppock was introducing me on his talk show by asking when I'd win a Pulitzer Prize. Before long, Mike Ditka was calling me "Dummy-otti," Michael Jordan was eyeing me like Craig Ehlo, and an alderman named Brian Doherty was grabbing the back of the neck at my post-work hangout, O'Callaghan's on Hubbard Street, and not letting go for about 20 seconds.
Wasn't this absolute madness?
Actually, looking back, this was the newspaper business at its best — never more vibrant, impactful or fun. Chicago was the heartbeat of print's dominance in America, and I was the new hired gun, slung like a Billy Goat cheeseburger onto a two-paper downtown griddle that instantly heated up. The hard-working tabloid, headquartered in a tugboat-shaped building on the river, was dropping a bomb on the Tribune, at the time a stuffy, nose-in-the-air broadsheet in a neo-Gothic tower where sports columnists liked playing with words. I preferred playing with minds, a game made easier by the Tribune's clumsy ownership of the Cubs. And the Tribsters didn't like being uncomfortable, from the top of the Tower to the sports department, where NBA reporter Sam Smith wrote a best-seller called "The Jordan Rules" and charged his bosses a price for excerpts he'd gathered on their dime — which got Smith in trouble when I was fed excerpts by his book publicist and rushed news items into the paper, at no charge to my employer, before the Trib could publish its purchased material.
Sports With An Attitude, baby.
If you'd said then that the Chicago newspaper business would be gutted in 2021 — barely breathing, lacking impact and doomed to continued irrelevance and eventual extinction — I'd have let the alderman keep choking me. But the situation is as real and gnarly as ink on fingers. Just as that city was the head of the industry snake in the 20th century, the demise of the Tribune and Sun-Times symbolizes the death of print — and local news — only three decades later.
Now owned by the evil hedge-fund vultures at Alden Global Capital, which acquired Tribune Publishing despite pleas from employees for deep-pocketed civic saviors to step in, the Tribune newsroom is braced for mass layoffs and a severing of whatever editorial quality remains. This is what Alden does, killing journalism to lift profits, and the Tribune, New York Daily News, Baltimore Sun and Orlando Sentinel are among nine new papers who've joined dozens of other dailies on death row. Many familiar bylines will be sacrificed at the Trib, replaced by young and inexpensive content providers, or robots if available. And much as I'd like to think my old paper will seize an opportunity, the Sun-Times has been hooked to intensive-care machines for much too long, without an editor-in-chief since September and unable to send even one staffer to Indianapolis — 3 1/2 hours away by car, with a $4.50 fast-food stop on the way — for an Illinois-Loyola showdown in the NCAA basketball tournament.
We could ask Sister Jean Schmidt, Loyola's 101-year-old sideline inspiration, to pray for Chicago's papers. But rosary beads are best used for causes that still have fighting chances.
"Alden ownership," wrote Tribune reporter and union leader Gregory Pratt, "would be a disaster for Chicago, democracy and society at large."
Tweeted veteran Tribune media writer Phil Rosenthal, boldly risking his job by adding Alden to the company's missteps: "Tribune's 1st self-inflicted wound was merger with L.A. Times parent in 2000. Deal added Chandler family reps to board. They agitated for a sale to unwind their trusts and get their money. Then came Sam Zell, bankruptcy, TV/real estate split from print, Michael Ferro & now Alden."
And this from Tribune humor columnist Rex Huppke, not in the joking mood: "This is terrible news for the Chicago Tribune and all our sister newspapers. It's also terrible news for the communities these papers cover and, I'd argue, for the country. … I can't be bothered with people who view newspapers as businesses to be squeezed for profit, or as disposable investments. None of us got into this to make money."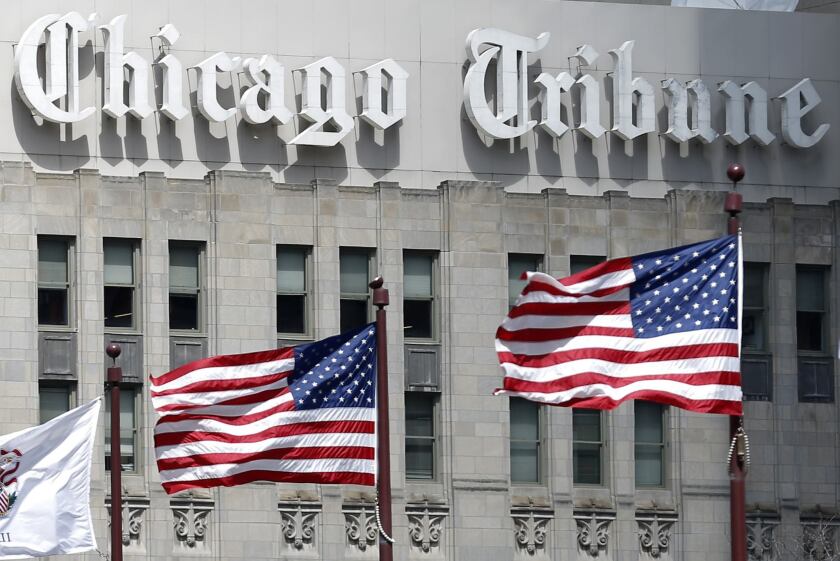 It's nothing short of an American tragedy, really. In a city of considerable wealth and corporate influence, not one heavy-hitter thought the Tribune was salvageable. Jeff Bezos energized the Washington Post. Patrick Soon-Shiong bailed out the Los Angeles Times. John Henry, the Red Sox owner, preserved the Boston Globe. Glen Taylor, the Minnesota Timberwolves owner, rescued the Star-Tribune in Minneapolis. But no one wanted the Chicago Tribune — not the Pritzkers, not the Wirtzes, not Ken Griffin and his $22 billion net worth, not Boeing or Walgreens, not Oprah Winfrey and her Chicago pedigree and not even White Sox/Bulls owner Jerry Reinsdorf, who already meddles in editorial operations without having to spend a penny. Soon-Shiong, a prominent Tribune shareholder, could have voted no and slowed Alden but chose to abstain. In its heyday, the Tribune was as prestigious as any U.S. newspaper. But while the New York Times and Wall Street Journal were prescient in recognizing the future of news — a digital transformation, followed by subscriptions — the Chicago dailies were asleep at the switch in the 2000s, thrust into turmoil by crooked, profit-skimming owners at both shops.
This is where I enter again, more than a decade into my 17-year run there. Frustrated by a primitive website, I repeatedly asked Sun-Times executives when they might embrace the technological advances of a new millennium to ensure long-term viability. "We're a print operation," came the reply, every time. They either couldn't see the future — free-falling circulation, vanishing print advertising — or didn't want to invest in it. More likely, the latter.
Knowing that I drove traffic in a voracious sports town and continued to view the Tribune the way Aaron Rodgers treats the Bears, the Sun-Times offered me yet another three-year extension in 2008. But though the financial numbers far exceeded my dreams in a labor of love, I was reluctant to sign. The bosses had jumped into bed with team owners I was trying to cover — I needed three showers a day, removing all the dirt — and the sports staff was a dissension-torn mess. I was sick of breaking up fights between writers, sick of in-house lies told about me to junk websites, sick of resentment about my daily role on ESPN's "Around The Horn" — sick of the sickness. I wanted the editors to take charge of their debacle, starting with a stronger commitment to digital.
I agreed to sign the extension with a caveat: We would have a competitive website presence at the Beijing Olympics, where our staff of two would try our damndest against the Tribune's legions. Next thing I knew, as if being pranked, our pieces from China weren't being posted for hours. Then things got dirty: Because of so-called deadlines that couldn't be stretched even a few minutes, I was asked by editors to write two fictional pieces — one with Michael Phelps winning, another with him losing — that were filed before his race for plug-in purposes. All the while, Dave Morgan and Yahoo! Sports had set up shop near us in the media center, showcasing the future of digital journalism — no fake stories, just a professional coverage plan executed with precision by several writers and editors over a couple of hours.
Eventually, I found myself on the Great Wall of China, having an epiphany. A year after dealing with heart pain on assignment, I was not about to let this god-awful operation kill me. We finished the three-week job. On the plane ride home, I crafted a polite, peaceful resignation letter to the publisher, who, of course, didn't inform an editor-in-chief who was caught by surprise when the Tribune found out. Reporter Jim Kirk, who wound up running the newsrooms of the Sun-Times and L.A. Times, was the first to tell Michael Cooke that I was opting out and handing back about a million bucks. Cooke asked Kirk if it was a joke.
In truth, it was the day the Sun-Times began to fade.
This wasn't considered good form, telling the competition that I refused to "go down with the ship." The editors urged the great Roger Ebert — I'd met him only once — to crucify me the next day and call me "a rat." But screw the Sun-Times. I'd devoted my life to the place, writing more pieces during those 17 years than any sports columnist on Earth, and the people on high had no interest in anything but extracting profits and cashing out. Sure enough, the paper was in deep trouble within a year. And since then, a frighteningly thin, hard-to-find product is published with a few dozen staffers from rented offices near a Goodwill donation store, kept from its funeral by periodic contributions via Blackhawks owner Rocky Wirtz and other locals. The Sun-Times finally got around to upgrading its site, then inexplicably attached it to a paywall. If few were reading the online content when it was free, who's going to pay for it?
Today, the two sports sections are run by amateurs who kowtow to owners such as Reinsdorf and, of course, Wirtz. Observes Chicago media critic Jim O'Donnell, among those who've remained independent in a market of sellouts in his seat at the suburban Daily Herald: "The entrenched sports power people are controlling the market and the message to a degree they could only have dreamed of as recently as 15 years ago."
Shortly after I entered the digital ranks as a national sports columnist, my journey slipped into the surreal. One of my writing heroes, Frank Deford, was interviewing me on a Wrigleyville rooftop for an HBO "Real Sports" segment. Topic: The demise of newspapers. When I pointed to a nearby Starbucks and said several people inside were reading news on laptop computers, Deford was incredulous, holding up a copy of the Sun-Times in protest as I dismissed the print paper as obsolete.
Frank passed away four years ago. "One of my favorite segments," Patrick Byrne, HBO's media relations director, told me in a note. "You were spot on."
On a recent podcast, a host asked me if it was "ironic" what has happened to the print industry since my declaration. I corrected him on his word usage. "I was RIGHT," I said, remembering how I was ripped by media people after the HBO show, as if I'd divulged the industry secret no one wanted to face.
I take no glee from my foresight. But I will realize, to my own dying day, that the Deford interview happened only a pop fly from where a "SPORTS WITH AN ATTITUDE" billboard once was perched.
Grant Cohn's Trolling of Players is Unacceptable
After an altercation between Javon Kinlaw of the San Francisco 49ers and Grant Cohn, it became clear that Kinlaw was being trolled by a member of the media.
Grant Cohn is a media member who writes for the FanNation 49ers blog on SI.com. He also talks about the team on his YouTube channel, which has over 48,000 subscribers as of noon Thursday. His father, Lowell, was a longtime columnist in the Bay Area.
Javon Kinlaw is a defensive lineman, whom the San Francisco 49ers drafted in the first round despite concerns about the durability of his knee. He played four games last season, his second in the league.
The two were involved in two confrontations this week. The first one occurred off to the side of the 49ers' practice field. Kinlaw apparently cursed at Cohn and knocked his hat from atop his head. Later in the day, Kinlaw again swore at Cohn, this time after joining a live stream on Cohn's YouTube channel. (Side note: I have never felt so freaking old as I did while typing that previous sentence.)
OK. That's my attempt at an absolutely straightforward and objective summary of a situation that scares the hell out of me. Not because a player was mad at a member of the media. I've had it happen to me and I've seen it happen to others. It's my opinion that this has been happening for as long as human beings have scrutinized the athletic efforts of other human beings.
What scared me was that I was seeing some version of the future of sports media. A future in which media members behaved like YouTube trolls, acting purposely ridiculous or antagonistic to initiate conflicts that could be turned into more conflicts that would could be gleefully recounted as content for the audience. I thought that because that's pretty much what Cohn did:https://youtu.be/4Hf9sjBttFY
Cohn essentially bragged about the number of different things he said that may have prompted Kinlaw's reaction, and you know what? It worked. Kinlaw got mad. He confronted Cohn. Twice. TMZ published a story about it. So did SFGate.com.
This is troll behavior. You know, the online pests who say or do something intended to provoke a reaction, and once they get that reaction, they recount and scrutinize that reaction with an eye toward triggering another reaction. Lather, rinse repeat. Increasingly, entire online media ecosystems consist of nothing more than people who don't like each other talking about how much they don't like one another.
I'm not going to pretend this is entirely new in sports media. Sports columnists have been known to make reputations with their willingness to be critical of the home team. A huge part of Skip Bayless' brand is his unwavering insistence on highlighting Lebron James' perceived flaws. Stephen A. Smith has engaged in public feuds with players, namely Kevin Durant.
I do see a difference between this and what Cohn did, though. The reaction Bayless and Smith are primarily concerned with is from their audience, not their subjects. The subjects may get mad, but that's not the primary goal. At least I hope it's not.
What happens if that is the primary goal? What if someone is offering opinions not because it's what they really think, but because they want to provoke a response from the subject? Media careers have been built on less.
I don't know if that's the case with Cohn. I've never talked to him in my life, and even if I had, it's impossible to know someone's true intent. But in listening to everything he said AFTER the initial confrontation with Kinlaw, I'm not willing to assume that Cohn was operating in good faith. Here's how Cohn described the initial confrontation with Kinlaw, which occurred as practice was beginning.
"In the training room, I saw Javon Kinlaw, who is the king of the training room," Cohn said. "He's usually in the training room."
Cohn said the two locked eyes, but were separated by about 70 yards at the time. Kinlaw then walked across the field to where the reporters were gathered. He stood directly behind Cohn.
"So I turn, and I say, 'Wassup, Mook Dawg?' " Cohn said, referencing the nickname on Kinlaw's Instagram account. "And he doesn't say anything. And I say, 'Why are you looking at me like that, Javon?' "
"And then he said, 'What are you going to do about it you bitch-ass,' and then he said one more word that I can't say," Cohn said. "And then I turned to face him, and I said, 'Oh, it's like that?' And he said, 'Yeah, it's like that.' And then he knocked the hat off my head."
OK. Pause. In my experience, when your job is to publicly describe and critique the performance and attitudes of professional athletes, there will be times in which the athletes do not care for your description or your critique. Some of those who are displeased will make their objections known to you.
However, there are two things that are unusual here: First, the fact Kinlaw knocked the hat off Cohn's head, which is unacceptable. Second, Cohn then posted a video on YouTube to not only talk about what had happened, but state he had been so critical of Kinlaw for so long he wasn't sure what specifically sparked Kinlaw's anger.
"Javon, what are you upset about?" Cohn asked toward the end of his video. "Is it the fact that I said you have an 80-year-old knee? Is it the fact that I said that you're a terrible pass rusher and you're just a two-down player? Is it the fact that I said the Niners shouldn't have drafted you and should have taken Tristan Wirfs instead. Is it the fact that I said that you're unprofessional and immature.
"It escapes me, which of the hundred negative things I've said about Javon Kinlaw the last couple of years, moved him to approach me in such a way, but you know what, I applaud Javon Kinlaw for coming to speak to me directly, and I ask you, what do you think Javon Kinlaw is mad about."
Cohn was trolling Kinlaw. No other word for it.
That night, Cohn was conducting a live stream on YouTube, which Kinlaw joined, while apparently eating dinner, to make declarative statements about the size of Cohn's genitalia — among other things.
Neither one looked particularly impressive. Not Kinlaw, who was profane and combative with a member of the media, at one point making a not-so-subtle threat. Not Cohn, who asked Kinlaw, "Do you think I'm scared of you, Javon?" He also said, "I don't even know why you're mad, Javon."
I think Kinlaw would have been better off ignoring Cohn. If I was Kinlaw's employer, I would probably prefer he not log into video livestreams to make testicular comparisons. But honestly, I don't care about what Kinlaw did. At all. He's not on a team I root for. He didn't physically harm anyone. He used some bad words in public.
I am bothered not just by Cohn's actions, but by some of the reactions to them because of what I think this type of behavior will do to an industry I have worked in for 25 years. Credentialed media members who behave like Cohn did this week make it harder for other media members who are acting in good faith. Preserving access for people like him diminishes what that access will provide for those who aren't trying to use criticism to create conflict that will become content.
I think Cohn knew what he was doing. In his livestream, before Kinlaw joined, Cohn stated he was not scared because he knew — by virtue of his father's history in the business — that if Kinlaw had touched him he would potentially be entitled monetary compensation.
By now, it should be pretty apparent how problematic this whole thing is and yet on Thursday, a number of 49ers fans online were sticking up for Cohn as just doing his job. Dieter Kurtenbach, a Bay Area columnist, Tweeted: "Javon Kinlaw does not know that @GrantCohn was built for this." Built for what? Winning Internet fights? Kurtenbach also deleted a Tweet in which he called Kinlaw "soft."
Cohn's father, Lowell, is a former columnist at the San Francisco Chronicle and Santa Rosa Press-Democrat. He promoted the first video his son made on Tuesday:
Sorry, I don't find it funny because it's another step down a path in which media members seek reactions at the expense of information. Where they look to make fun of players instead of learning about them. They'll stop acting like journalists and start acting like the trolls who make their money by instigating a conflict, which they then film: "Jake Paul, reporting live from 49ers practice …"
If that's the case, thank God I'm about to age out of this business, entirely. I'm 47 years old and I can't believe there's anyone in our industry who thinks what Cohn did this week is acceptable.
A new episode of Media Noise is all about reaction. Demetri reacts to the ManningCast's big win at the Sports Emmys. Danny O'Neil reacts to people reacting to Colin Kaepernick's workout in Las Vegas and Andy Masur reacts to John Skipper's comments about Charles Barkley.
Podcast: Play in new window | Download
Subscribe: RSS
Bron Heussenstamm Blends Bleav Advertising with SiriusXM
Bron Heussenstamm, the CEO of the Bleav Podcast Network says blending podcasting advertising with satellite radio's reach is a victory for both sides.
Last week, the Bleav (pronounced believe) Podcast Network announced a deal with SiriusXM to make all 32 NFL team-specific Bleav pods available on the SXM app. SXM can also air Bleav content on any of its sports channels. Each NFL Bleav show pairs a former player with a host to discuss team issues. Eric Davis, Lorenzo Neal, and Pac-Man Jones are amongst the former players Bleav has signed as talent.
I have hosted a Bleav podcast about Boise State football -the Kingdom of POD. I am usually provided 1-3 advertisers per episode by the network and get paid by the download. My subject matter is regional, so my take-home pay is usually under four figures. I have enjoyed the technical assistance and cross-promotion I receive and I enjoyed meeting Bleav CEO Bron Heussenstamm. Bron is Los Angeles-based, a USC graduate, and founded Bleav in 2018. We discussed the SXM deal, podcast advertising, and the future.
Will the podcast advertisers be carried on the SXM distribution platform?
Yes, Bleav baked-in advertisements and hosts read ads are distributed across all platforms. This enables the host to do their show once through, making it as easy as possible for the hosts and consistent for the advertisers.
How is advertising on Bleav different?
We want to be more than a 'host read ad' or a 'digital insert' with our advertising partners. When companies work with Bleav shows and talent, those companies can receive our omnichannel of distribution points—podcast platforms, YouTube, socials, streamers, TV, radio, and more. This allows for consistent branding across all platforms: great talent presenting great companies to fans and consumers no matter where they consume content.
What is the growth pattern for podcasts that you see?
The industry trades have presented 400%-800% percent growth over the next ten years. Once the COVID fog lifted, we really saw these gains. Sports are always going to be at the forefront of culture. The increases in all sports sectors have certainly carried into the digital space.
SXM has started with NFL shows but can also air more Bleav content – what does that look like?
We've started with our NFL network of 32 team shows hosted by a former player. We've kept the door open for our NCAAB, NCAAF, MLB, NHL, Basketball, and Soccer networks. We're happy for our hosts to be part of such a tremendous company and platform. SiriusXM can continue to amplify its voice and give fans the access and insight only a player can provide.
The Interactive Advertising Bureau-IAB- says podcast revenue grew 72% last year to $1.4B and is expected to grow to $2B this year and double to $4B by 2024. Have you seen similar growth? What is driving the industry now, and what will be the primary cause of growth by 2024?
There is a myriad of reasons for the growth. I'll lean into a couple.
At Bleav, we launch and maximize the digital arm of industry leaders. The technology upgrades to allow hosts to have a world-class show — simulcast in both audio and video – from their home has led to an explosion of content. With this, the level of content creators has risen. Having a YouTube, RSS feed, podcast, and more is now part of the brand, right alongside Twitter and Instagram.
If a company wants to advertise on Bleav in Chargers, we know exactly how many people heard Lorenzo Neal endorse their product. We can also safely assume they like the Chargers. The tracking of demo specifics for companies is huge. It's a fantastic medium to present products to the right fans and consumers.