Covino & Rich Are Here To Have Fun
"We're not trying to out-knowledge each other. That's what I feel sports radio and sports broadcasting has become. And to me that's not fun."
If you overheard a serious conversation while in the toy department, it would probably sound ridiculous. If you only heard serious conversations in the toy department of life — meaning sports — that would also be absurd. Steve Covino and Rich Davis are two radio veterans that believe sports discussions are supposed to be fun. It's hard to argue with them. If it doesn't make sense to be somber next to LEGO sets or action figures, why would it be a good idea to be joyless when discussing Aaron Rodgers or the AFC East?
Fun works. It's a big reason why Inside the NBA keeps stacking Emmys. It's partially why Peyton and Eli Manning received stellar reviews for their Monday Night Football telecast. It's also why Covino & Rich continues to grow. You don't end up on major platforms like SiriusXM, SNY, ESPN, and FOX Sports Radio just because you have good hair, although that doesn't hurt. You end up in those places because you have a formula that works.
Prioritizing fun has served Covino & Rich well. The duo has been hosting shows together for nearly 17 years. They now have a brand new show that airs Sunday evenings on FOX Sports Radio. The East Coasters — Covino is from Union, New Jersey and Rich is from Long Island — discuss how their friendship is rare in the industry. They also touch on cussing, Covino's DJ skills, celebrity interviews, and Chubb touches. Enjoy!
Brian Noe: How far back do you guys go?

Rich Davis: We started doing our radio show together at SiriusXM at the very end of '04. We debuted around Super Bowl '05. That was the Super Bowl where Donovan McNabb ran out of steam versus the Patriots. That was sort of the beginning of Covino & Rich.

Steve Covino: We were friends before that. That's how it sort of started. We both worked in terrestrial radio but at competing radio stations. I worked at K-Rock New York and Rich was the nighttime hottie at Z100. Then we became friends through mutual friends. We would hang out and go to the bars and talk sports.
Actually, that was the first thing we bonded over. 'You like baseball? So do I.' That sort of thing. He was a Mets guy. I was a Yankees guy. The yin to my yang in a lot of ways. We both ended up at SiriusXM. He was doing the pop radio stuff and I was doing the rock radio stuff. Then we just said yo, let's do this talk show. We started doing this talk show together and here we are.

Rich: Hold on, backpedal for a second, Brian, because I have to tell you, when I first met Covino he was DJing part-time at a bar in Hoboken called O'Donoghue's.

Covino: That was my side hustle.

Rich: I remember we'd go there and hang and drink on Thursday nights. I'm like who's this DJ guy? He wouldn't mix songs; in between the songs he would just play sound effects of like 'El Covino.' I'm like he's playing radio drops at a bar? [Laughs]

Covino: I like to say I was ahead of the game, Brian; a shameless self-promoter from the start.

Rich: We had mutual friends and I remember Covino was going through a breakup; one of his girlfriends dumped him for an athlete actually.

Noe: Was it McNabb?

Covino: [Laughs] No, actually I was going through a really crappy streak. Rich was there at the perfect time to help me through it. I lost an ex-girlfriend to a New Jersey Net who shall not be named. And then my next girlfriend I lost to a New York Ranger who will not be named. And I was just some dude starting out in radio. I was so down in the dumps and that's when I met Rich and he changed my life.
Noe: What led to you guys doing a show together?
Rich: We got together to do radio at SiriusXM because Sirius had a partnership with Maxim. They were like hey, we're looking for shows to talk about sports, women, relationships, lifestyle, movies, TV. You know, just guy talk.

Covino: That was in our wheelhouse.

Rich: Covino and I said yo, this is what we do when we're hanging out. We both know radio so we pitched it and that was almost 17 years ago now. They would send us out to Home Run Derbys, Super Bowls, All-Star Games. We were the guys that could cover sports but also the lifestyle side of it. Like hey guys, go to the EA Madden party and talk to a lot of these guys on the red carpet about their sneakers, their relationships, about the non-on-the-field stuff.
I remember this clearly; we were at a Super Bowl and Tim Tebow was the hot shit at the moment. This is when everyone on Earth was talking about Tim Tebow. We got an interview with him. A guy named Brad Como at SNY in New York watched us interview Tebow. We just had a really fun interview with him. We got back to New York and Brad Como and Curt Gowdy Jr. at SNY were like yo, we like what you guys do. Let's talk.

Covino: Sports should be fun. You guys make it fun. You're covering something different. You're not making it boring and X's and O's and stats. We're getting to see a different side of these guys; can you do that here at SNY? We're like hell yeah, we'd love to.


Noe: You guys obviously had chemistry for years before you were on the air. Where did you grow the most once you started doing a show together even though you had that off-the-air chemistry?

Covino: I think SNY was a big step for us, to be honest, because that took us from radio to television. And it was live in Times Square. We got the SNY opportunity in 2013. We were on there for two-plus years. I think the pressure, the excitement, going live from New York City in our home city, talking all things New York sports; I think that was a big growing moment for us. Dealing with teleprompters and just having to react live and deal with that every day was big for our growth.

Rich: Covino loves to point out a great thought, which is we were young guys at the time so we never even thought failing was an option. It's probably a great way to go into things. Now as an adult you overanalyze shit all the time, but back then we didn't even think that this could go wrong.
Covino: We really didn't.
Rich: We very quickly realized when they put together shows, we seemed to get along on and off the air like brothers. We'd fight and people were like are you guys mad at each other? No, it's just what we do. We very quickly realized that we had chemistry while other people's chemistry wasn't developing.

Covino: It happened organically though because we were really friends. Other shows most of the time are just two random people that are put together. The chemistry is never going to be real. If someone is fighting, it's kind of hard to move on from that the next day. We were in it from the start. This is what we do, this is how we fight, and this is how we get along at the same time. That's sort of how it started.

Rich: And we always had the same goals. A lot of times people will link up and be made co-hosts in the sports world and the news world, and egos come into play. It's like who gets the lead chair? Who opens the breaks? Whose name is first? These are things that we were like let's just fuckin' win. We weren't like is it Covino & Rich or Rich & Covino? Who cares? All right fine, Covino & Rich. Who's going to open the breaks? All right Rich, you come out of commercials. Fine, who cares? We kept that throughout our whole career so far and still to this day. Neither one of us will ever let those types of things get in the way. We have the same goals.

Noe: TV is quick; you're moving, moving. Radio is kind of like living in the South; it's just a slower pace. Do you ever feel like man, this radio segment is taking forever compared to doing TV?

Rich: No, but I feel that way when I hear other people's radio shows. [Laughs] Sometimes I'll hear other people and I'm like, damn they have zero excitement level. Covino and I, sometimes people say man, their energy is too high; I don't feel like you can have enough energy. I really don't. I feel like anytime I listen to radio, podcasts, or anything, the minute I hear some monotone shit, I'm checked out.

Covino: You've got three hours, or two hours with commercials to bring it. If you're not bringing it, why am I listening? That's how I feel.

Rich: Yeah, I feel like whether it's a comedian's podcast or a top-40 morning show, if they're not having fun and laughing and busting chops, to me, that bores me.

Covino: And people that take sports too seriously; that bores me too. Sports are fun. Let's have fun. Let's have fun and share some laughs. It doesn't have to be boring. It doesn't have to be serious and that's sort of our goal, the goofier the better sometimes. Just try to keep it lighthearted and remind ourselves, this is fun. It's supposed to be fun.

Noe: How did the opportunity with FOX Sports Radio come about for you guys?

Rich: Our buddy, who became our super agent, Shaun Wyman, who works at Maxx Sports now was a listener of our radio show. Over a decade ago, we met Shaun at a Super Bowl party and he's like "Covino and Rich, I listen to you guys. I work at ESPN. Here's my card."

Covino: He handed me a business card and I was like you know what, I got to keep ahold of this one. This one looks important.

Rich: He's like I work in the talent department. I used to be a producer. We became friends with Shaun. His whole thing was like, I'm going to get you guys on ESPN. I was like well that's awfully ambitious, but I'm with it.

Covino: As he climbed the ranks, he got into more meetings, kept pushing us, and eventually that got us onto ESPN Radio.


Rich: And all the people there, Shaun sold us to Rob Savinelli at the time, Amanda Gifford, all the folks at ESPN. 
Covino: They bought into it.
Rich: Traug [Keller] when he was there. There were people there that really felt what Shaun was pushing and really had our back. They said let's do this. Shaun Wyman got us into ESPN, then because of budget and COVID and all that, our contract wasn't renewed. We were waiting for our next opportunity and Scott Shapiro at FOX was well aware of what we did. I was not aware of how much he knew about us.

Covino: He gets it, which is awesome.

Rich: He gets our style of humor. He gets what we do. Our first phone call with Scott was super satisfying when you're talking to someone that knows what you do where you don't really have to sell as much. We said listen man, we're going to deliver for you because more than anything, Covino and I want to win. We want to show you that you're making a good decision.

Covino: People play harder with a chip on their shoulder and although we have a great time, we're not doing it for the fun; we're doing it to win. We have a chip on our shoulders.

Rich: And I like this opportunity because I like to think that this is step one in my mind.
Noe: You guys keep it organic and the conversation is going to go where it goes, but after a full day of ball on Sunday, does it feel weird at all to digress and talk about Jolly Ranchers or something random?

Rich: You know what, sometimes I feel like you need to break it up a little bit. I can sometimes get sports burnout, but on a Sunday night I'm still so in that zone that there really just isn't enough football on Sunday. People want to keep talking about it. We will dive into those dumb things. If we had more time Sunday, Covino saw an empty Red Vines in the garbage can. We were going to have a Red Vines, Twizzlers argument. But we didn't get to it because Aaron Rodgers provided too much.

Covino: Anytime we can be relatable and tie it into a real-life scenario and try to give personal examples, we're going to jump at that opportunity. That's where we shine the brightest.

Rich: Like how Sam Darnold's full on shit. When Sam Darnold says he doesn't care that he beat the Jets; that's like showing up somewhere with your hot new girlfriend looking all slick in front of your ex. Oh, I don't care; of course you care. Even Robby Anderson, you don't think after the game they were like, that was f***ing awesome. You don't think they loved that? The two former Jets connected for a 57-yard touchdown. Come on.

Covino: That's like us saying we don't want to beat ESPN and show them we told you so. Anytime we can make it relatable, that's what we're going to do.

Noe: Do you ever get confused between being on SiriusXM where it's uncensored, and another platform where cussing isn't allowed?
Covino: That's so funny, man. We're really, really good at that.

Rich: Well now you jinxed us.

Covino: I know, right? We've been pretty great at that because we've been uncensored for almost 17 years, saying whatever the hell we want, talking about whatever we want. No censorship whatsoever. But I think Rich and his background, I give him credit here, his background in pop radio keeps him on his toes all the time. He's able to put a different hat on. And me honestly it's just a matter of reminding myself where I am and wearing that different hat. Like alright, I'm not doing this satellite radio thing where I can say whatever, I'm on FOX Sports Radio now. Every once in a while, I think there are things you can play with. Some guy called our show on Sunday and said something about Nick Chubb and touches and he kept on talking about Chubb touches. You can't help but at least acknowledge the Chubb touches.

Rich: I don't know; how many Chubb touches do you think are appropriate?

Covino: There's a nice way to dance around it and make it fun and acknowledge that I can't ignore that he said Chubb touches 10 times. Like I said when you wear different hats, although we're guys just hanging out talking sports, we're also parents. We have to keep that in mind that there are kids in the car and there are families listening.

Noe: Your background of interviewing celebrities is a little bit of a different world, but you can take that and apply it to the sports world. What has your music background helped you with as sports hosts?

Rich: It's funny you would say that because I was just thinking about this recently. Everyone's doing Zoom interviews. It's the standard now. Howard Stern, Rogan, all these people, everyone's doing Zoom interviews. I was like we've interviewed everyone I could possibly imagine and the relationships we've made over the years in mainstream music, television, actors, actresses; do we have that infiltrate FOX Sports Radio in a fun way? Would it be cool if we were like Guy Fieri, come hang with us Sunday night on FOX Sports Radio?

Covino: You know what's cool about that and what we've learned through the years is even though Guy Fieri is known for FlavortownUSA and being on the Food Network, the guy loves sports. These guys love talking sports. Or they played sports growing up. It could be the most random people. We had Billy Corgan of the Smashing Pumpkins on our show. He wants to talk about baseball. He's sick of talking about Siamese Dream. He wants to talk about the Cubs. You realize that there are a lot of people in the world of entertainment that are known for something, but deep down they like sports like anyone else and love to talk about it.

Rich: I remember Ty Burrell from Modern Family. Phil Dunphy, he was more excited to talk about the Mets with me than talk about Modern Family.

Covino: That's when you really see these people open up because now they're just being real about some stuff they're really passionate about and you're seeing a different side of them. You're not getting that canned answer about their project coming up. When guests can enhance the conversation, we have a lot of fun talking to them. It's just fan stuff. We're not trying to out-knowledge each other. That's what I feel sports radio and sports broadcasting has become. And to me that's not fun.
Noe: For someone who's new to Covino & Rich, if they wanted to check you out on FOX Sports Radio, what are they going to hear that will appeal to them?

Rich: We're well aware that we've lived in a little bubble known as SiriusXM. That's not a bad thing. SiriusXM is a great company; we still both work there, but we know that it's a bubble. If they've got 30, 40 million subscribers, that's still 10 percent of the population. There's still 90 percent of people in America that don't know of us because of the numbers. I think what we deliver that's different; I guess you would say the fun conversation. If you want buddies talking about life and sports and entertainment in a fun way, check us out.
Covino: Fun is definitely the word. They were calling it Football Sunday, we're like no, it's Football Funday. We're here to have fun. But from a fan perspective. Again, not claiming to be the expert. I'm just trying to relate and be as real as possible and call it as I see it. And I think we fit perfectly in the pocket where we can relate to the older sports fans with our old-school references, but still relate to a younger audience with social media. I feel we're fluent in both languages being right there in the middle of both generations. We're here to bring the fun and bring the laughs and bring the energy that so many people leave at home I guess, or just don't have anymore.

Rich: Yeah, I think a couple of our takes on Sunday were so silly and stupid. I love that Covino's take on Aaron Rodgers is that not dying his beard or hair just makes him look even worse. The fact that you came on and you're like yo, dude's got to use Just For Men. That was Covino's big takeaway. If you can play like shit and look that bad on the field, it's not helping you that you look like a washed out Negan from Walking Dead at the postgame.
Covino: Yeah, in a young man's game when you already talked about retirement, and you come in looking like that, it doesn't help the case. So yeah, we're coming from a fan perspective. There's no filter. There's ballbusting and we're going to bring all that, everything we've been doing for the past 17 years to FOX Sports Radio every weekend. Just anything that we can do to make it relatable and fun, that's what our goal is to do.
Keeping Premier League Games Shouldn't Be A Hard Call For NBC
"Beyond its massive global fanbase, the Premier League offers NBC/Peacock a unique modern 21st-century sport for the short attention span of fans."
NBC Sports is facing some tough, costly decisions that will define its sports brand for the rest of this decade.  A chance to connect with viewers in a changing climate and grow Peacock's audience as well.  However, making the right choice is paramount to not losing to apps like Paramount+ (pun intended).
NBC is currently in the business of negotiating to continue airing the Premier League as their current deal ends after this 2021-2022 season. NASCAR is contracted to NBC (and FOX) through the 2024 season.
NBC's tentpole sports are the NFL and the Olympics.
Negotiations for the EPL are expected to go down to the wire. Rather than re-up with NBC, the league is meeting with other networks to drive up the price. NBC has to then make a decision if the rights go north of $2 billion.
Should NBC spend that much on a sport that is not played in the United States? It's not my money, but that sport continues to grow in the US.
If NBC re-ups with the Premier League, will that leave any coins in the cupboard to re-up with NASCAR? Comcast CEO Brian Roberts hinted that there might be some penny pinching as the prices continue to soar. This may have been one of the reasons that NBC did not fight to keep the National Hockey League, whose rights will be with Disney and WarnerMedia through ESPN and TNT, respectively.
"These are really hard calls," Roberts said. "You don't always want to prevail, and sometimes you're right and sometimes you're wrong, but I think the sustainability of sports is a critical part of what our company does well."
Roberts was speaking virtually at the recent Goldman Sachs 30th Annual Communacopia Conference. He told the audience that between NBC and European network Sky, that Comcast has allocated approximately $20 billion towards these sports properties.
Comcast CFO Michael Cavanagh spoke virtually at the Bank of America Securities 2021 Media, Communications and Entertainment Conference and echoed that the company is in a good position to make some strong choices in the sports realm.
"The bar is really high for us to pursue outright acquisitions of any material size," Cavanagh added. "We got a great hand to play with what we have."
While the European investments involve a partnership with American rival Viacom, the US market seems to have apparent limits.
Last Saturday's NASCAR Cup Series at Bristol Motor Speedway was seen by around 2.19 million people. It was the most-watched motorsports event of the weekend. That same week eight different Premier League matches saw over 1 million viewers. More than half of those matches were on subscription-based Peacock. 
Beyond its massive global fanbase, the Premier League offers NBC/Peacock a unique modern 21st-century sport for the short attention span of fans. A game of typical soccer fan is used to a sport that is less than two hours long. The investment in a team is one or two games a week. 
My connection to the Premier League began before the pandemic. When I cut the cord in late 2017, I purchase Apple TV. Setting it up, it asks you to name your favorite teams. After clicking on the Syracuse Orange and the New Jersey Devils, I recalled that my wife has family based in London, England. They are season ticket holders for Arsenal, and that family redefined the word "die-hard" fans.
I've long been a believer that sports allegiances are best when handed down by family. I love hearing stories of people loving the New York Giants because their parents liked them, and they pass it down to their children.
I've successfully given my allegiance to the Devils to my young daughters.
By telling Apple TV that I liked Arsenal, I get alerts from three different apps when the "Gunners" are playing. The $4.99 is totally worth it to see Arsenal.
Whenever I told this story, I was amazed to see how many other American sports fans had a Premier League team. Students of mine at Seton Hall University rooted for Tottenham Hotspurs, while an old colleague cheers on Chelsea.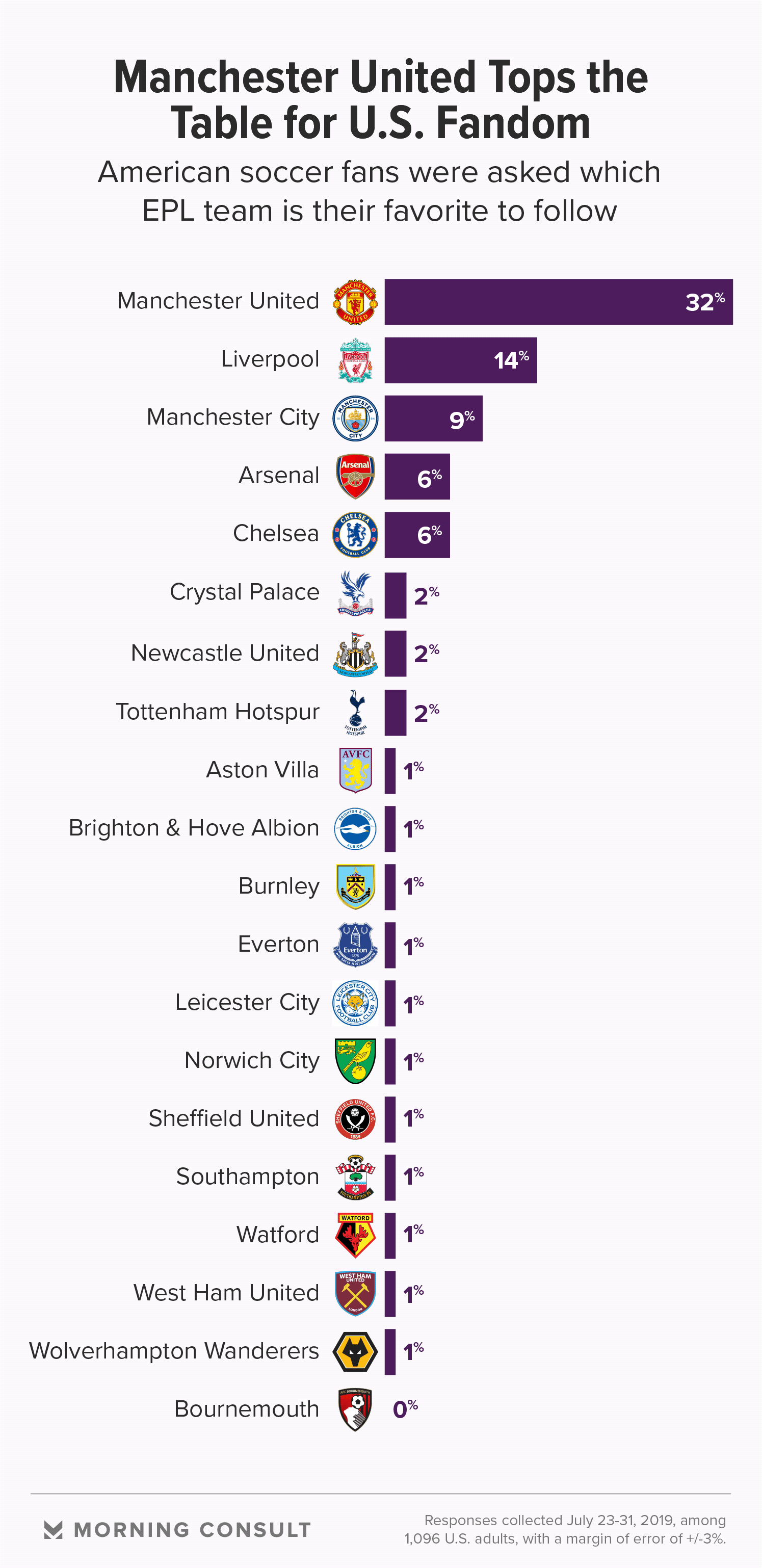 This is not meant to say that NBC should sign the EPL on my account. The key for any US-based soccer fan is that between Bundesliga, Serie A, and other leagues, there will be no shortage of soccer available on both linear television and streaming services.
Besides, Dani Rojas did say that "Football is life." NBC, originator of the Ted Lasso character, should make keeping its Premier League US connection a priority.
Today, Demetri is joined by Tyler McComas and Russ Heltman. Tyler pops on to talk about the big start to the college football season on TV. Russ talks about Barstool's upfront presentation and how the business community may not see any problems in working with the brand. Plus, Demetri is optimistic about FOX Sports Radio's new morning show.
Podcast: Play in new window | Download
Subscribe: RSS
6 Ad Categories Hotter Than Gambling For Sports Radio
"Using sports radio as a back page service for gambling will have a limited shelf life."
For years sports radio stations pushed sports gambling advertisers to early Saturday and Sunday morning. The 1-800 ads, shouting, and false claims were seedy, and some stations wouldn't even accept the business at 5 am on Sunday.
Now, with all but ten states ready to go all in on sports gambling, sports radio stations can't get enough of that green. Demetri Ravanos wrote about the money cannon that sports gambling has become for stations. Well, what if you are in one of those ten states where it isn't likely to ever be legal like California or Texas? Where is your pot of gold?
Or, let's face it, the more gambling ads you run, the more risk you take on that the ads will not all work as you cannibalize the audience and chase other listeners away who ARE NOT online gambling service users and never will be. So, what about you? Where is your pot of gold?
Well, let's go Digging for Gold. 
The RAB produces the MRI-Simmons Gold Digger PROSPECTING REPORT for several radio formats. In it, they index sports radio listeners' habits against an average of 18+ Adult. The Gold Digger report looks at areas where the index is higher than the norm – meaning the sports radio audience is more likely to use the product or service than an average 18+ Adult who doesn't listen to sports radio. The report, generated in 2020, indicates that sports radio listeners are 106% more likely to have used an online gambling site in the last thirty days. That's impressive because the report only lists 32 activities or purchases a sports radio listener indexes higher than an average adult. I looked at those 32 higher indexes, and I think we can start looking for some gold.
Using sports radio as a back page service for gambling will have a limited shelf life. The gambling companies who commit significant money to get results will continue advertising and chase the others away. So, the future of sports radio needs to include other cash cows.
If it is evident to online sports gambling services that sports radio stations are a must-buy, who else should feel that way?  I looked at the Top 32 and eliminated the media companies. ESPN, MLB/NHL/NFL networks, and others aren't spending cash on sports radio stations they don't own in general. But Joseph A Bank clothing, Fidelity, and Hotwire should! Here's your PICK-6 list I pulled together that's hotter than sports gambling:
Sportscard collectors, Dapper Labs, Open Sea- read about Sports NFT $.
Online brokerage firms-Fidelity, Charles Schwab, Robinhood, Webull, TD Ameritrade
Golf courses, resorts, equipment, etc.- we play golf at home and vacation
Hotwire.com, Booking.com, TripAdvisor, Airbnb, Carnival Corporation, and Priceline.com- we've used Hotwire in the last year.
FedEx, UPS, U.S. Postal Service, Venmo, PayPal, Zelle-we wired or overnighted $
Jos. A. Bank, shein.com, macys.com, nordstroms.com- we went to Jos. A. Bank in last three months
The sports card/NFT market is 32% hotter than the sports betting market for sports radio listeners. Everything on the PICK-6 is at least 100% more likely to purchase than an average 18+ Adult who doesn't listen to sports radio. All listed are at or above indexing strength compared to sports betting. The individual companies I added are industry leaders. Bet on it! Email me for details.