Clay Travis & Buck Sexton Are Finding Their Rhythm and Enjoying Success
"Nobody can fill Rush's shoes, but Clay took one shoe, and I took the other."
Rush Limbaugh was diagnosed with advanced lung cancer in February 2020, but it wasn't until the broadcasting giant died a year later that Premiere Networks had to finally act on the immeasurable void in the industry and, specifically, its midday slot.
Rush's program continued on with "Best of" shows, but behind-the-scenes plans were taking hold for Limbaugh's successor.
In May, Premiere announced Clay Travis and Buck Sexton would join forces to co-host the 12p-3p ET slot. Their program debuted on Monday June 21st.
"Nobody can fill Rush's shoes," Sexton told BNM. "But Clay took one shoe, and I took the other."
"You're stepping into the role of a legend," added Travis during a separate interview with BNM. "Simultaneously, you can't be held hostage by the past."
Sexton was already entrenched in conservative media, filling in for Limbaugh many times during the last decade. Travis, though, was hosting morning drive on Fox Sports Radio, and growing his presence with OutKick, and FS1.
"It hasn't been that hard for me because so much of sports became political," Travis said. "There was a decent amount of political analysis over the past several years. The storylines [and] the issues have not changed."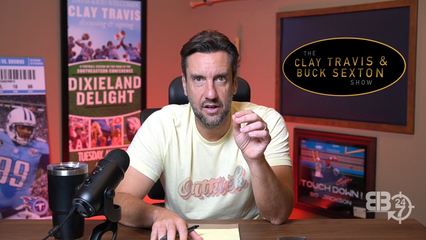 Having a built-in audience helped, but Clay and Buck exceeded their own expectations, tops in several markets including Houston, Phoenix, San Diego, Salt Lake City, Memphis and Sacramento (Limbaugh's former flagship KFBK).
"To be number one is pretty wild," Travis admitted. "We set a new podcast record [and] one of the two or three biggest in all of iHeart."
Although the hosts are bringing new blood to the show–Travis is 42, Sexton is 39–they have a strong work ethic and fresh approach to keeping the three-hour block entertaining and informative for listeners.
"I think it speaks to how important the issues that [Limbaugh] talked about were and how committed the audience is to Rush's world view," Travis said.
"In some level the pressure's off, at least in our minds, because Rush was so widely renowned, not just the most talented in the format, but someone who really built the format in many ways," Sexton added.
Despite being a Limbaugh relief host on numerous occasions, Sexton acknowledged he never met or spoke to Rush. The Limbaugh influence on Sexton came as millions of others listened to the radio titan.
No Training Wheels
While "Clay and Buck" may have their own take on the issues important to the majority of the audience, the Limbaugh lineage is present with his former staff staying behind to forge a future with Travis and Sexton.
"It's an incredible honor to his legacy," shared Travis.
It was Julie Talbott, president of Premiere Networks, who had the foresight to team Sexton and Travis on the 400+ stations.
"We had our own solo shows, so there were probably thousands of hours of us out there. Julie managed us and was both of our bosses," Travis said. "There were no training wheels here."
"Clay is a great talent, a true professional [and] a super smart guy," Sexton said of his co-host. "We're both sort of put in this position…We're both going to make it happen."
Both hosts are proud of the show's performance over the opening six months.
"I think we're doing one of the best radio shows that exists anywhere in the country," Travis said.
While it was direct ascent to the coveted show for Sexton, Travis had to switch formats to make it work. However, regardless of the format or topic, once you are consciously aware of what you are trying to be, "I think that filters into your own authenticity," said Travis.
The OutKick founder places Limbaugh and Howard Stern as the greatest of the generation, who "consistently educate and entertain their audience in a way that's better than almost anybody out there.
While Sexton and Travis may have come from different avenues, each enjoying success as solo performers, it's their connection as a team that's made the difference.
"It certainly takes a bit of a change of pace," said Sexton. "You have to get used to the rhythms of having a co-host."
Since Sexton and Travis have found their best way to format the lunchtime show, listeners will be without the dramatics. There's no fist-pounding or screaming for controversies.
"We're both providing different insights, but also a more conversational and relaxed feel," shared Sexton. "We really want everyone listening to the show to feel like they're the third person sitting at the table."
The tandem also has other projects keeping them busy. Travis remains heavily involved with OutKick, the brand he founded, which produces a mixture of sports, news, gambling, and pop culture content. Sexton meanwhile remains connected to television, hosting a daily one-hour show on The First, a conservative digital network.
"It's good to keep those TV skills sharp and have that opportunity to reach additional audiences beyond the radio show," Sexton said.
The duo has not shied away from topics that hit nerves and resonate with most, especially the pandemic and mask mandates. Sexton, a former CIA analyst who spent time as a consultant for CNN, was quick to criticize his former employer and its recent decision to fire Chris Cuomo.
"I do not believe CNN is running a journalistic enterprise. I think CNN is running a propaganda enterprise under the guise of journalism. That means that their ethics, such as they are, are highly dependent on situations that benefit them," explained Sexton. "So they're very ethically flexible, I think we could say. The fact that CNN didn't take action against Cuomo earlier on isn't surprising to me at all. Eventually, it just became too embarrassing for them."
Some have suggested, given the sexual harassment allegations that, in part, led to Cuomo's demise, the cable outlet should hire a woman for that prime-time hour.
"It's not that they need a woman in that time slot; their problem is: What is CNN?" Sexton contends. "Is this an objective news network? Jake Tapper presents himself as an objective journalist. To anyone who knows his work and certainly how he also operates behind the scenes—that's fraudulent. That's just dishonest."
Great Relationship
To make the most effective radio, the hosts drill down on the issues together to find the most pressing area for focus. Sexton's CIA background has provided great training for navigating the broadcasting business.
"Taking in a tremendous amount of information and figuring out what makes sense, what makes a difference, what matters, that in many ways is the quintessential prep skill for a radio host" said Sexton.
Travis on the other hand started practicing law, after graduating from Vanderbilt University. He then ventured into writing, and local radio before arriving on the national circuit.
Though they go out of their way to bring facts to the forefront and see many things in a similar light, Clay and Buck do share a few differences.
"We don't agree on everything," Sexton cautioned. "Clay is a converted Conservative. I'm a Conservative since I was probably 15 years old."
Whether they agree on taking calls or not is a different issue. The show hasn't done a lot of it, although they are in constant communication with the audience thru social media and make it a point to share messages on the show.
"We want Liberals to listen. We want Democrats to listen, people that disagree with us strongly, we'd rather they hear our version of why Conservatism is correct on a certain issue or why maybe we're a little ambivalent or some things than what they might get elsewhere," Sexton said.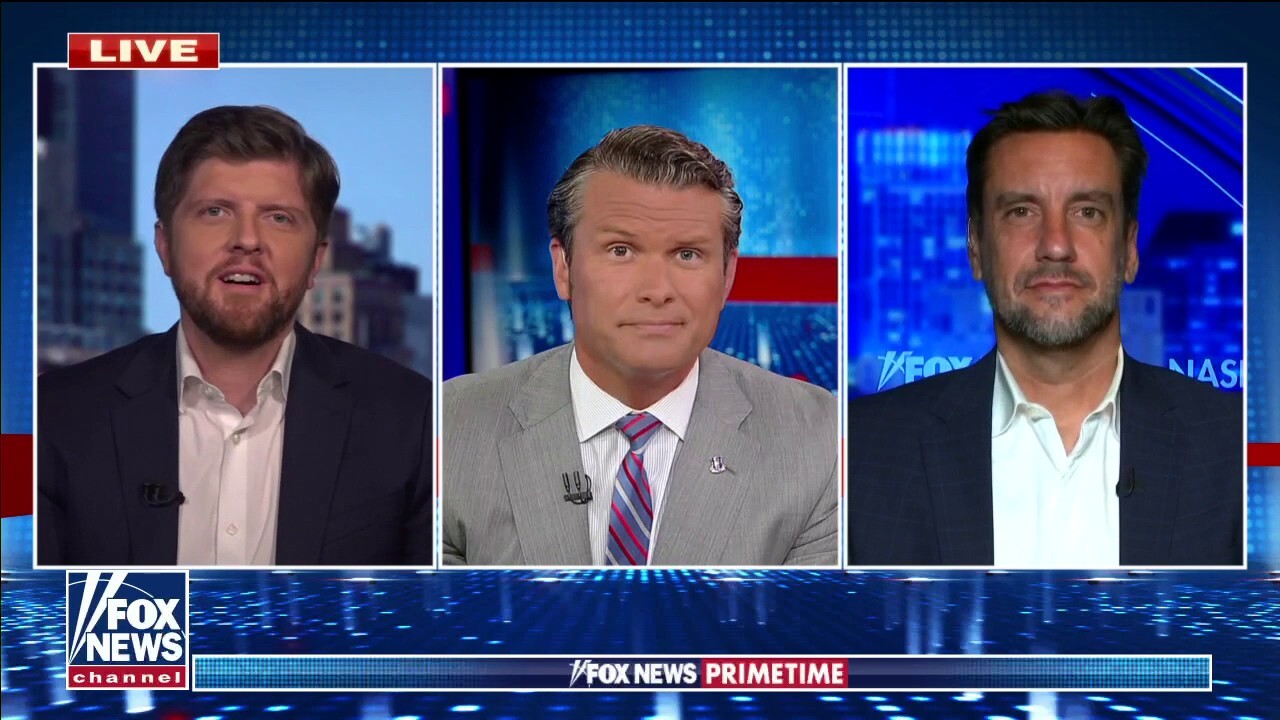 The show itself is put together remotely. Sexton is based in Manhattan, Travis is in Nashville. Though that could create challenges for some, both say it hasn't interfered with the on-air product.
"The technology is such that I don't think anybody out there listening can even tell," Travis added, although they are upfront with the audience about it. "Frankly, it's basically the same, to me, seamlessness, whether we're in the same studio [or not]. It doesn't really seem to impact the flow of the show."
"I think it actually adds to the show and creates a really interesting dynamic," Sexton said. "I can see Clay in real time very clearly. We're staring at each other's faces on pretty large screens."
Wherever they crack the mic, the duo in short order has built a good working relationship.
"I don't know exactly what the phrase would be, but we talk for three hours every day, and the vast majority of it is public," said Travis. "We're constantly texting and sharing stories, interacting, basically all day, so, we have a great relationship."
Sexton echoed a similar sentiment, pointing out that the two hosts share a strong work ethic.
"I will do the absolute maximum workload that I can to create the most successful shows and put out the best content I can," Sexton said. "Clay Travis is an absolute machine as well. I've found that [he's] one of the only people in the entire media industry that I've come across who puts in the hours, the effort and energy that I do."
Jan. 6th Hearings Draws Roughly 10M Viewers Across Networks
Almost 4.5 million of those viewers tuned in on the three main cable news outlets.
The second and third days of the hearings focused on the Jan. 6th insurrection at the Capitol took place during the week ending June 19.
For day No. 2 on Monday, June 13, approximately ten million viewers watched across several networks — about half of its opening night audience from June 9. Almost 4.5 million of those viewers tuned in on the three main cable news outlets. Unlike the many other news events of the past two years, the rankings according to their audience figures uniquely reflect the interest level by their respective channel's typical crowd.
MSNBC, which had also topped its cable brethren on opening night, did so once again in total viewers with averaging 2.49 million from 10 a.m. to 2 p.m. Eastern, as tabulated by Nielsen Media Research. The network's two-hour prime time recap later that night (from 8-10 p.m.) drew 2.34 million viewers and 218,000 in the key 25-54 demographic, well above their normal nightly levels.
CNN (from 9 a.m. to 2 p.m.) posted 1.37 million. Its daytime coverage was cable's tops among adults 25-54, with an approximate 200,000 within the demo.
Fox News was in the uncharacteristic third place spot with 960,000 total viewers from 10:45 a.m. to 1 p.m.
For the hearing's third day (on Thursday, June 16), it was cable's same ranking order in the daytime hours: MSNBC (noon-4 p.m.) 2.61 million total viewers, CNN (11:59 a.m.-3:45 p.m.) 1.33 million and Fox News (1-4 p.m.) 743,000. Once again, MSNBC aired a recap at night (from 8-10 p.m.) which delivered 2.46 million viewers and 326,000 adults 25-54 — a close runner-up to FNC's duo of "Carlson" and "Hannity" (2.84 million total/444,000 A25-54 average) and a far outpacing of CNN's "AC360" and "CNN Tonight" (622,000 total/140,000 A25-54 average).
Cable news averages for June 13-19, 2022:
Total Day (June 13-19 @ 6 a.m.-5:59 a.m.)
Fox News Channel: 1.360 million viewers; 210,000 adults 25-54
MSNBC: 0.882 million viewers; 100,000 adults 25-54
CNN: 0.432 million viewers; 91,000 adults 25-54
HLN: 0.150 million viewers; 47,000 adults 25-54
CNBC: 0.138 million viewers; 32,000 adults 25-54
Fox Business Network: 0.130 million viewers; 13,000 adults 25-54
The Weather Channel: 0.115 million viewers; 22,000 adults 25-54
Newsmax: 0.113 million viewers; 14,000 adults 25-54
Prime Time (June 13-18 @ 8-11 p.m.; June 19 @ 7-11 p.m.)
Fox News Channel: 2.198 million viewers; 315,000 adults 25-54
MSNBC: 1.423 million viewers; 149,000 adults 25-54
CNN: 0.504 million viewers; 118,000 adults 25-54
HLN: 0.182 million viewers; 63,000 adults 25-54
CNBC: 0.182 million viewers; 65,000 adults 25-54
The Weather Channel: 0.160 million viewers; 27,000 adults 25-54
Newsmax: 0.141 million viewers; 17,000 adults 25-54
Fox Business Network: 0.067 million viewers; 8,000 adults 25-54
NewsNation: 0.049 million viewers; 6,000 adults 25-54
Top 10 most-watched cable news programs in total viewers:
1. The Five (Fox News Channel, Tue. 6/14/2022 5:00 PM, 60 min.) 3.351 million viewers
2. The Five (Fox News Channel, Mon. 6/13/2022 5:00 PM, 60 min.) 3.295 million viewers
3. Tucker Carlson Tonight (Fox News Channel, Tue. 6/14/2022 8:00 PM, 60 min.) 3.268 million viewers
4. Tucker Carlson Tonight (Fox News Channel, Mon. 6/13/2022 8:00 PM, 60 min.) 3.200 million viewers
5. Tucker Carlson Tonight (Fox News Channel, Wed. 6/15/2022 8:00 PM, 60 min.) 3.062 million viewers
6. Tucker Carlson Tonight (Fox News Channel, Thu. 6/16/2022 8:00 PM, 60 min.) 3.013 million viewers
7. The Five (Fox News Channel, Thu. 6/16/2022 5:00 PM, 60 min.) 3.006 million viewers
8. The Five (Fox News Channel, Wed. 6/15/2022 5:00 PM, 60 min.) 2.998 million viewers
9. January 6th Hearings: Day Two Hearing (MSNBC, Mon. 6/13/2022 10:45 AM, 126 min.) 2.971 million viewers
10. January 6th Hearings: Day Three Hearings (MSNBC, Thu. 6/16/2022 1:01 PM, 165 min.) 2.964 million viewers
Source: Live+Same Day data, Nielsen Media Research
Financial News Media Praises LeBron James
On The Dave Ramsey Show, co-hosts George Kamel and Rachel Cruze discussed LA Lakers star LeBron James becoming a billionaire while still playing.
On a recent episode of The Dave Ramsey Show, co-hosts George Kamel and Rachel Cruze discussed a story that intersected the pop culture world and financial news.
And they used one of the most polarizing athletes of our day to make their point.
According to a report from CBS News, basketball star Lebron James has officially become the first player to reach billionaire status while still in his playing days.
Kamel quoted the article, saying, "After another monster year of earnings, totaling $121.2 million, before taxes and agents fees over the last twelve months, Forbes estimates he's officially become a billionaire while still playing hoops."
James has both large numbers of admirers and detractors, often stemming from the argument over who is basketball's Greatest of All-Time, or G.O.A.T. Some say, James, while others point to Michael Jordan.  
In addition, James has waded purposefully into the political waters as an outspoken supporter of Democratic politicians and their liberal policies. Unfortunately, many feel these policies hurt the very people James supports in so many other ways.
During the show, Kamel and Cruze continued discussing the article, which estimated the net worth of the hardcourt legend to be $1 billion. It quoted James as saying the milestone is important because he wants to maximize his business. 
"He's commanded more than a $385 million salary from the Cavaliers, Miami Heat, and Lakers as the NBA's highest-paid active player," Kamel continued, quoting the article. "And off the court, to your point, Rachel, he's raked in upwards of $900 million in income from endorsements and other business ventures. So he's a very smart businessman on top of being an incredible athlete."
"Kinda like Michael Jordan," Cruze added.
"So, here's the funny thing," Kamel said. "This isn't just why I wanted to talk about this. Yes, he's a billionaire; that's an amazing milestone. And it's a thousand millions for those of you that need to get that picture in your head. But my favorite thing about this story is that he is known as the cheapest player in the NBA."
The show then cut to an audio clip of former NBA star Dwyane Wade referring to James as "the cheapest guy in the NBA." James listed a few extras he's unwilling to pay for, such as data roaming, phone apps, or commercial-free streaming music. 
"Let's be clear, LeBron James is not living in a shack. He's got a nice house; I'm sure he's got nice cars. He's done really well," Kamel joked. "But it's amazing to me the things he goes. I'm not paying three bucks for that."
"Hey, do you know who else who is not a billionaire but listens to Pandora with commercials," Cruze asked. 
"Rachel Cruz!" Kamel answered.
"I'm basically like LeBron," she quipped.
"I want to make it clear, LeBron James is not a cheapskate. In fact, he's very, very generous," Kamel made sure to note. "And there's maybe a connection there; maybe you can speak to this. This is another article from CBS News. Lebron says he's opening a multi-million dollar medical facility in his Ohio hometown. He's built the I Promise School in his hometown in Ohio. He's pledged to send 2300 students to college debt-free through scholarships. So to me, I just go; this guy has a plan for his money. He's got a vision for where he wants it to go."
Cruze agreed, discussing the mental approach and discipline needed to make such a significant financial impact.
"It's not the Pandora subscription that's going to make you a billionaire. That is not it. But it's a mindset, too, of seeing what's wasteful, what's not. And it's the same ways of looking at life that really could lead you; I mean, that kind of stuff can play into his business deals. Where he's like, hmmm, what am I doing, it's that same thought process that really can make you become successful."
Ramsey Solutions has preached for years about the necessity of devising a plan for your money and following it rather than simply doing what feels good. They have always been strict adherents to a budget, regardless of how much one has flooded in on the income side of the equation. They also talk extensively about being a good steward and becoming incredibly generous along your journey.
Apparently, LeBron James shares many of the same deeply-held values.
"It's wisdom with money," Kamel added.
"LeBron, well done," Cruze summed up.
The Cost of "Thoughts"
Jack Del Rio made a classic mistake of wondering aloud about topics that people in public positions aren't allowed to think about on Twitter.
The first recorded use of the expression, "A penny for your thoughts," was made by Sir Thomas Moore precisely 500 years ago (1522). But, no doubt, a penny went much further in the 16th century.
The U.S. Department of Labor's most recent Consumer Price Index (CPI) shows that inflation continues to increase above expectations. The current annual rate of 8.6% is the highest since 1981. The cost of thoughts, or at least saying them aloud, well, saying certain things in a public forum, has gone up far more than the CPI.
Jack Del Rio, defensive coordinator for the Washington Commanders (formerly known as the "Washington Football Team," and before that, the Washington Redskins), made a classic mistake of wondering aloud about topics that people in public positions aren't allowed to think about on Twitter. Specifically, his Tweets compared (what he called) "the summer of riots" to January 6th at the U.S. Capitol. As the late, great Alex Trebek would say, Del Rio's comments were "in the form of a question."
Faced with media scrutiny about his Tweets, rather than back down, Del Rio referred to January 6th as a "dust-up at the Capitol."
Can I tell you a trade secret of press flacks? They all have a small can of lighter fluid and a pack of matches within reach behind a piece of glass with the words "break only in the case of emergency" scrawled on it. Certain phrases or words will cause a press person, at great personal danger and sacrifice, to break the glass, douse themselves with the accelerant, and strike a match before flinging their immolating body in front of the podium. Okay, not literally, but I guarantee the Commanders' public relations director would think this alternative less painful than hearing those words come out of Del Rio's mouth in front of the press gaggle.
The controversy that followed was swift and certain: as was the reaction from Commanders Head Coach Ron Rivera. He promptly assessed a $100,000 fine on Del Rio for his comments.
Two points here: First, this is not a sports story. Talk Radio observers should be far more concerned with the consequences of this story than NFL or sports fans. Second, it doesn't matter what you think happened on January 6th. You should still find the fine issued by Rivera chilling, whether you call it an insurrection or a dust-up.
I used to believe that comedian Bill Maher and I were about as far apart on the political spectrum as any two Americans could be. Maher and I, however, hold similar views on freedom of expression.
On his HBO show, "Real Time," Maher defended Del Rio by saying: "In America, you have the right to be wrong. They fined him; the team fined him $100,000 for this opinion. Fining people for an opinion. I am not down with that."
Because this is where we meet, I'd like to buy Bill Maher a drink and have a laugh over all the times he's been wrong, or we can share that drink and a smile for understanding that freedom of expression IS the foundation of democracy – no matter who's right or wrong. Freedom of expression is an issue where liberals and conservatives must find common ground.
The football team currently known as the Washington Commanders may need another name change. Perhaps the "Comrades" would reflect the team's philosophy better? Levying such a hefty punishment for stating a political (and non-football) point of view because it is out of step with what is apparently official policy seems more reminiscent of the Politburo's posture than a free society.
Del Rio's words are understandably offensive to many. At the very least, they were ham-handed for someone who has been in the public spotlight for so long. But a $100,000 fine? Stifling political opinion is far more dangerous than anything Del Rio said.
Taking the Del Rio incident into context with the "Cancel Culture" of the past few years, Talk Radio hosts should look over their shoulders. Del Rio is also an excellent reminder to think twice before posting a politically unpopular opinion on social media.
Inflation has eaten away at the value of a penny and increased the cost of making politically incorrect statements, including on the air in recent years. What inhibits individuals from expressing their thoughts, beliefs, opinions, and emotions is a threat to Talk Radio and democracy.