A Little Cluster In Kalamazoo Shaped 2 MLB Broadcasting Careers
"For Pittsburgh Pirates announcer Joe Block and Houston Astros announcer Robert Ford, Kalamazoo was (in many ways) where it all began."
What if I told you that the careers of two current Major League Baseball Broadcasters started in the same place and with the same company?
That place is Kalamazoo, Michigan, and the company was called Fairfield Broadcasting. 
The 4-station cluster (WQLR-FM, WKZO-FM, WQSN-AM, and WKLZ-AM) was owned by business partners Steve Trivers and Bill Wertz, who set up shop in the Southwest Michigan college town in 1972. Before selling their assets to Midwest Broadcasting in 2006, they were responsible for helping launch the broadcast careers of many professionals, including yours truly.
However, two Fairfield alumni went on to work in "the show" and remain there to this very day.
For Pittsburgh Pirates announcer Joe Block and Houston Astros announcer Robert Ford, Kalamazoo was (in many ways) where it all began.
Having worked with both of these pros (and having had many shared experiences under the same roof) I wanted to sit down with them for my latest column.
Kalamazoo already had a rich broadcast history long before Block and Ford had arrived. Harry Caray was once the Sports Director at WKZO in Kalamazoo and worked alongside a young News Director by the name of Paul Harvey. 
Caray called his first ever baseball game in nearby Battle Creek (a semipro tourney) and would famously claim that his legendary home run calls of "It might be … it could be … it IS … a home run!" and "Holy Cow!" were born in that first broadcast.
Neither Block nor Ford knew about these historical footnotes. At the time they were merely 20-somethings looking for an opportunity.
The rest, as they say, is history.
How did you end up working in Kalamazoo?
Robert Ford: In short, I was attracted to the opening in Kalamazoo because I needed a job. After calling games for the short-season Yakima Bears in 2002, I worked as an account executive for the Yakima Sun Kings, of the old Continental Basketball Association, & planned on calling games for Yakima in 2003 unless I found a broadcasting gig in the affiliated minors.
I quickly learned I'm not a salesman and that I hated being an account executive. And the Bears told me that it wasn't a sure thing that I'd be back with them in 2003, & I needed to re-apply to be their broadcaster again. Before that, I hadn't considered working in independent baseball but now decided to cast a wider net in my job search to get out of a miserable situation in Yakima, and to give myself a chance to call more baseball games. I learned that an independent league team in Kalamazoo was looking for a broadcaster, so I called Joe Rosenhagen, the GM of the Kalamazoo Kings, who confirmed they needed a broadcaster for the 2003 season, and that the radio station was doing the hiring.
He gave me the name of the program director, Ryan Maguire, I looked up the address of the station & sent my stuff in. Maybe 2 weeks later, I came home to a voicemail on my answering machine from Ryan, asking me to interview for the Kings job.
Joe Block: This is a great story. I got to call games for the first time on a commercial station because I left my keys at home. At a Michigan State football game, it came time for a third down conversion, a "key" play. I reached in my pocket and retrieved the only thing in there: My wallet. The fan to my left, who was clearly no longer a student, asked me why I kept pulling out my (empty) wallet. I explained, and we struck up a conversation. Stephen Trivers liked my creativity. He had such an incredible knack for recognizing talent. I have no idea how the owner of Fairfield Broadcasting, a cluster of radio stations in Kalamazoo, would identify that this gangly, half-drunken teen would be a possible hire, but he did.
Mr. Trivers, who, to his credit, dared to sit in the student section that day, later hired me to call play-by-play for Kalamazoo College men's basketball on WKLZ-AM. Ken Lanphear, who had been the Hornets' voice for many years, stepped down to focus more on his off-air responsibilities if I remember correctly. So, because of a chance circumstance, I met a decision-maker and scored my first, true, play-by-play gig.
What's a memory from your time as a broadcaster in Kalamazoo that stands out?
RF: My memories of my time in Kalamazoo involve always working, & always being on the air, which is what I wanted & needed at that point in my career. After the Kings' season, I was doing play-by-play or color on high school & small college basketball & football, as well as news anchoring & reporting on WKZO. I was always busy, but I don't remember being tired or exhausted because I was young, doing what I loved, & working with people I enjoyed being around on a professional & personal level.
JB: There are so many memories from working in Kalamazoo. One afternoon, we were off the air because of technical problems, so Ryan Field, my color analyst and roommate, and I went to the other side of the gym to spectate. I kept heckling the other team. There couldn't have been more than two hundred people in the gym, so EVERYONE heard me. At 20, I was an embarrassment to the profession, but, after time has passed, it's pretty funny.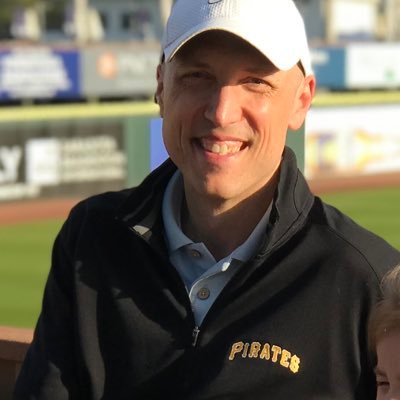 Field and I went on a road trip to Wooster, Ohio, to do a tournament. My punctuality was in question, so, unknown to us, Ken followed us there in case we didn't show. I never missed a game (well, except one – that's later) but I'd often get there close to air-time.
We got to Wooster plenty early to set up, but in our first break in pregame, Ken tapped us on the shoulders, and we yelled, startled. We also drove back to Michigan in a driving blizzard and had to stop somewhere in Ohio to spend the night.
So, I did miss one game… again, snow. Driving from East Lansing, I got to Battle Creek before my 1985 Renault Alliance had to rest in a hotel parking lot. I had left about four hours before a game but only could get to BC by airtime.
What's your best MLB memory?
RF: When the Astros lost Game 6 of the 2017 World Series in Los Angeles, forcing a Game 7, my first thought when the game ended was, "I'm going to call Game 7 of the World Series tomorrow. No matter what happens, I can always say I got to call a World Series Game 7." Not only did I have the privilege of calling a Game 7, I had the privilege of calling a Game 7 that my team, the Astros, won for their first-ever World Series title. I'm not sure anything will top that for me.
JB: I am lucky I possess a trove of wonderful, hilarious, and meaningful memories from my 11 years working in Major League Baseball. The most enjoyable day I've had reporting for work was in 2013 or 2014 at Wrigley Field. I worked with Bob Uecker, which is still an honor and a thrill to type this. Sometime in the first inning, Ueck observed the rooftop seating and began to craft a fantastic storyboard of a potential sitcom, loosely based around the Wrigleyville rooftops. Ueck wove in details, far-fetched and animated, throughout the game. I've never laughed harder. And I still fondly remember that game as my favorite because it captured the essence of why we entered this profession: To have fun.
What lessons did you learn from your time in Kalamazoo that helped you in your big-league career?
RF– I don't know that there was a specific lesson, it was more just getting the opportunity to be on the air in Kalamazoo every day, in a variety of scenarios & situations, that helped make me a better broadcaster & put me in a position to get a big-league broadcasting job. I will always be indebted to people like Steve Trivers, Bill Wertz, Ryan Maguire & Dave Jaconette who believed in me, trusted me, gave me a chance to succeed, & supported me. Those two years in Kalamazoo gave me confidence that I could do the job & were a springboard for all of the great things that have happened in my career since.
JB– Kalamazoo, and, namely, Mr. Trivers, laid a concrete foundation for my professional career. I committed many no-no's under his watch: Arriving too close to tip off, preparing little or at all, not shaving, not dressing appropriately, sleeping during the game (it was very warm in Olivet's gym). By not being retained following the season, I learned a hard lesson that without subscribing to the basic tenets of any job, let alone a choice profession like play-by-play broadcasting, I was never gonna make it. So, a deep thanks to Mr. Trivers for imploring me to be a pro.
Ryan Maguire is a columnist for BSM, and a longtime sports and news radio program director. He has managed KIRO-FM in Seattle, WQAM in Miami, 93.7 The Fan in Pittsburgh, 610 Sports in Kansas City, and 105.7/1250 The Fan in Milwaukee. Presently, Ryan serves as the Executive Producer of Chicago White Sox baseball on ESPN 1000 in Chicago. Originally from Michigan, Ryan still holds out hope that the Detroit Lions will one day deliver a Super Bowl title. He can be reached on Twitter @RMaguire1701.
BSM's Black Friday SALE on BSM Summit Tickets is Underway!
Each year I'm asked if there are ways to save money on tickets to the 2023 BSM Summit. I always answer yes but not everyone takes advantage of it. For those interested in doing so, here's your shot.
For TODAY ONLY, individual tickets to the 2023 BSM Summit are reduced by $50.00. Two ticket and four ticket packages are also lowered at $50 per ticket. To secure your seat at a discounted price, just log on to BSMSummit.com. This sale ends tonight at 11:59pm ET.
If you're flying to Los Angeles for the event, be sure to reserve your hotel room. Our hotel partner this year is the USC Hotel. It's walking distance of our venue. Full details on hotel rooms can also be found via the conference website.
Jason Barrett is the owner and operator of Barrett Sports Media. Prior to launching BSM he served as a sports radio programmer, launching brands such as 95.7 The Game in San Francisco and 101 ESPN in St. Louis. He has also produced national shows for ESPN Radio including GameNight and the Dan Patrick Show. You can find him on Twitter @SportsRadioPD or reach him by email at JBarrett@sportsradiopd.com.
Media Noise: What Does The Return of Bob Iger Mean to ESPN?
Podcast: Play in new window | Download
Subscribe: RSS
Demetri Ravanos is the Assistant Content Director for Barrett Sports Media. He hosts the Chewing Clock and Media Noise podcasts. He occasionally fills in on stations across the Carolinas. Previous stops include WAVH and WZEW in Mobile, AL, WBPT in Birmingham, AL and WBBB, WPTK and WDNC in Raleigh, NC. You can find him on Twitter @DemetriRavanos and reach him by email at DemetriTheGreek@gmail.com.
Media Noise: What Is Realistic For FOX at the World Cup?
Podcast: Play in new window | Download
Subscribe: RSS
Demetri Ravanos is the Assistant Content Director for Barrett Sports Media. He hosts the Chewing Clock and Media Noise podcasts. He occasionally fills in on stations across the Carolinas. Previous stops include WAVH and WZEW in Mobile, AL, WBPT in Birmingham, AL and WBBB, WPTK and WDNC in Raleigh, NC. You can find him on Twitter @DemetriRavanos and reach him by email at DemetriTheGreek@gmail.com.