Listeners Don't Care If You're Right
"It's fun to be right, but if you're really good at picking winners, you should spend more time at the Bellagio and less on the radio."
We used to be so much better about asking for someone in the industry, not regularly associated with the site, to share an opinion with our readers. It is something I am trying to do a better job with as we head towards 2022.
Today, Aaron Goldhammer of ESPN Cleveland has volunteered to share an observation with all of you. He used to fret over predictions gone wrong. Now, he could care less.
Somewhere along the way, a host that used to worry that his picks were spot on turned into the guy that would do anything for a laugh or to stay top of mind.
What changed? Why? He explains in this exclusive piece he wrote for BSM. Enjoy!
---
"With the 22nd pick in the 2014 NFL Draft, the Cleveland Browns select…"
Those words, from NFL commissioner Rodger Goodell, had a profound impact on the next few years of my career. I'd spent the previous nine months campaigning for the Browns to shed their perception as NFL Siberia, finally take a chance on a bona fide star, and draft Johnny Manziel. LeBron was long gone to Miami. All the SportsCenter producers had lost my phone number. Both Cleveland and I craved the spotlight. 
I realized the gaping hole in my logic sometime before Johnny donned a disguise and headed for Vegas while he was supposed to be preparing for the season finale. The Manziel Mafia disbanded. Fans wanted their pound of flesh: GM Ray Farmer, the homeless guy who legendarily told owner Jimmy Haslam to pull the trigger on the pick (true story), and that annoying radio host from Denver (me).
I was wrong.
Spectacularly.
At first, my bruised ego didn't want to admit that I went out on such a flimsy limb, but it became obvious and embarrassing. Farmer got fired. Did I deserve the same? Did I ruin my credibility? Would fans trust my quarterback acumen? What's more important: being right or being memorable?
As I was navigating Browns coverage in the post-Manziel era, I vividly remember a key conversation with my radio partner and mentor, Tony Rizzo.
"There's no giant scoreboard in the sky keeping track of your opinions," Rizz said. "You don't have to apologize for being yourself and saying what you think. Your takes are your takes."
It's fun to be right, but if you're really good at picking winners, you should spend more time at the Bellagio and less on the radio. Rizz made me realize that I never watched or listened to a show because the host made solid evaluations or accurate predictions. That's ridiculous.
I want to hear a host that can bare their soul as a fan. I'm interested in the perspective they share and the way they interact with the audience. The color and detail they deploy in a story captivates. It's about energy and passion and authenticity.
I used to feel ashamed of my frigid cold take from the 2014 draft. Now, I wear it as a badge of honor. Fans still remember something I talked about seven years ago. Alas, I'd make a terrible NFL GM. But my support of Manziel stuck in the mind. It was entertaining, evocative, memorable, and terribly wrong.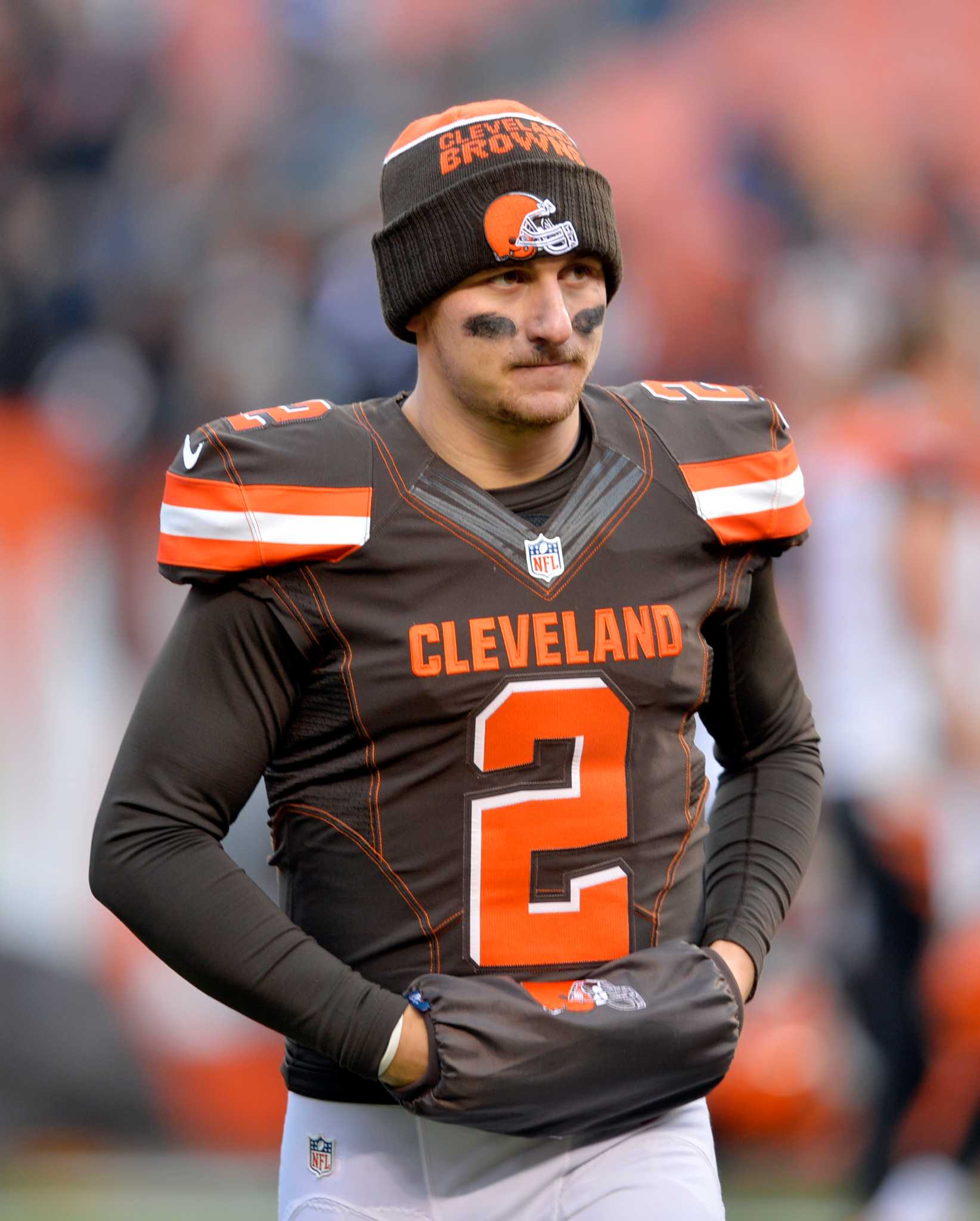 And that's okay.
Seven years later, I'm writing this piece in bed after an exhilarating day at work. The Browns won, keeping their playoff hopes alive against a division rival. Of course, I picked them to lose. Twitter let me have it. Tomorrow, Chris Oldach from our show will undoubtedly pull the sound and make fun of me. So be it. Chalk up another loss on that magic scoreboard in the sky. You know, the one no one pays attention to.
Jonathan Zaslow No Longer With WQAM
An attempt to reach out to Zaslow for comment went unanswered.
WQAM midday host Jonathan Zaslow is no longer with WQAM in Miami.
The radio station has removed his show from the website and references to him and his normal 10a-2p ET midday timeslot program have been scrubbed from the station website.
Zaslow tweeted at 5:19p ET confirming the news.
Whether or not this has any effect on his involvement with the Miami Heat broadcasts is unknown as of now.
Barry Jackson, a veteran journalist with the Miami Herald, reports that 790 The Ticket morning hosts Brendan Tobin and Leroy Hoard will move to that 10 a.m. to 2 p.m. WQAM slot during the week of Oct. 3.
In more station movement, Joe Rose's WQAM morning show with Zach Krantz now will be simulcast on The Ticket, replacing the Tobin/Hoard program. Audacy, which owns both WQAM and The Ticket, also simulcast Marc Hochman's and Channing Crowder's afternoon show.
Zaslow had been with 790 the Ticket since 2004. He was transitioned from Audacy-owned 790 to sister station AM 560 Sports WQAM last October. During his tenure he has worked with a number of established local voices including Joy Taylor, Amber Wilson, Brett Romberg, and Brendan Tobin amongst others.
WQAM has gone thru a number of changes, including a rebranding effort to call the station "560 The Joe". That ended last year with the station returning to the AM 560 Sports WQAM brand listeners were more familiar with. What they have planned next in Zaslow's timeslot is unclear but local listeners will likely get some answers next week.
Vanessa Richardson Named Houston Rockets Sideline Reporter, Paul Gallant to Host Solo on ESPN 97.5
Vanessa Richardson will be on the sidelines for the Houston Rockets and Paul Gallant will host solo show on ESPN 97.5.
Changes are taking place in Houston sports media. First, the Houston Rockets will have a new television sideline reporter this season, and she's a familiar name to Houston sports fans.
Vanessa Richardson, the now former co-host of ESPN 97.5's Vanessa and Gallant, revealed that she will be on the sidelines for the NBA franchise covering the team for AT&T SportsNet Southwest.
She tweeted the news saying, "Elated to be the new Houston Rockets sideline reporter! I can't wait to travel the country & share the stories of this dynamic team during 80+ games on AT&T SportsNet Southwest. I'll continue to fill-in as a host/reporter for Astros broadcasts as well."
Richardson's co-host, Paul Gallant, tweeted that with Richardson leaving the show for the Rockets sideline gig, Vanessa and Gallant will become the Paul Gallant Show. The solo show led by Gallant begins Monday September 26th.
"We're excited to have Paul host his own show", said Todd Farquharson, General Manager of ESPN 97.5 & 92.5. "He's super creative, energetic, and likeable. He'll get the audience involved and have fun."
Paul commented, "You know what I've always loved about sports talk radio?  That it's interactive.  Whether through a phone call, text message, tweet or on Twitch, it's the best place for sports fans to come together and celebrate…or vent.  And that's what The Paul Gallant Show is going to be…Houston's platform to talk about its teams. THE most interactive sports talk show in Houston."
Ken Carman: Al Michaels 'Feels Untethered' On Amazon Prime Video
"The thing that stuck out was Kirk Herbstreit ripping the elf," said Carman. "Don't be ripping Brownie the Elf, man."
The Cleveland Browns defeated the Pittsburgh Steelers during Thursday Night Football on Amazon Prime Video. 92.3 The Fan morning host Ken Carman applauded Al Michaels for his performance during the presentation.
"Al Michaels feels untethered for the first time. He's not network television anymore and he can say whatever he wants. We interviewed him on the pregame show and I was nervous," Carman said.
"He's a legend," co-host Anthony Lima added.
During the final play of the game, the Steelers fumbled a lateral into the endzone which the Browns recovered to make the final score 29-17. Michaels said "that may be meaningful to some of you. And you know who I mean", alluding to people who had placed wagers on the game.
Carman, who hosts two-hours of pre-game coverage on the Browns Radio Network, continued to discuss how nervous he was interviewing Michaels. He also discussed how impressive Amazon's behind-the-scenes production was, pointing out the only football broadcast with more cameras is the Super Bowl. More than 400 people work behind the scenes for Amazon Prime Video.
"The thing that stuck out was Kirk Herbstreit ripping the elf," said Carman. "Don't be ripping Brownie the Elf, man."
Carman later said people angry that Michaels misspoke by saying the Pro Football Hall of Fame is "down I-71" instead of I-77 were unreasonable, and joked "Al Michaels hasn't been on a highway in 20 years".