Notre Dame Has NBC, Why Can't Jackson State Have Barstool?
"Change is what keeps the Earth spinning. College football is not so precious that it has been spared from that. Change can sometimes be uncomfortable, but resisting it is a fool's errand."
Deion Sanders pulled off an absolute coup on Wednesday. On the early National Signing Day, Travis Hunter, a defensive back from Suwanee, Georgia, chose Jackson State University over Florida State, where he had been verbally committed for over a year.
The news sent shockwaves through the college football media. This kid was ranked #1 amongst all high school seniors on 247Sports, #2 on the ESPN300, and #1 on Rivals. If a kid with that pedigree flips from an earlier commitment, usually it is to go to a national power like Bama or Georgia. It isn't to go to an underfunded HBCU in Mississippi.
That is the changing world of college football and the power of celebrity. It's not just that Deion Sanders is an icon to these kids. It's that he has created Jackson State's own media machine through his relationship with Barstool Sports. It is a problem for some that cover the sport. To me, it is evolution. How is Barstool's relationship with Jackson State any different than NBC's with Notre Dame?
Set aside for a moment however you feel about Barstool as a brand. Just look at this objectively. It is a media company that is an offshoot of a bigger business throwing all of its weight behind a college football program that it values. NBC wants gold helmets. Barstool wants Coach Prime.
Travis Hunter will reportedly have a million dollar NIL deal with Barstool and parent company Penn National. NIL deals and reality shows may be different from what we are used to in terms of media support for college football, but it is where we are in 2021. Don't be mad at Barstool for doing all it can to boost the college football brand it has associated itself with. Question why Notre Dame hasn't demanded the same from NBC and parent company Comcast.
I don't fall into the "Dave Portnoy and Erika Nardini are business geniuses" camp. Their willingness to take risks isn't impressive, it is how a business should operate. It makes it all the more frustrating that companies with more money don't think the same way.
NBC is a perfect example. Everything about the network's coverage of Notre Dame is built on "hey weren't the 80s great?". It's generic and has been for a long time. NBC is selling gold helmets and Touchdown Jesus.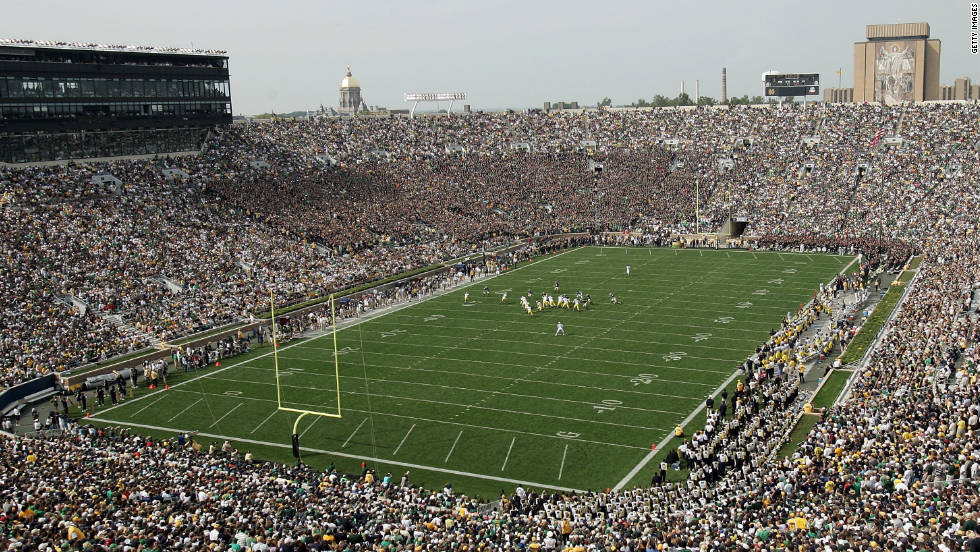 Barstool is selling stars. This relationship with Deion Sanders and Jackson State is different and new and the attitude is "if this doesn't work, no big deal. We'll just stop doing it." Old college football fans and the media members that feel like it is their job to get the NCAA's message out there are never going to like it. They're also never going to admit that it is the networks not adapting to the times that are the problem.
This summer, the NCAA did absolutely the bare minimum it could for players, allowing them to profit off their name, image, and likeness. That was a major seachange in college sports. Players and coaches were expected to adapt. Compliance departments had to learn what the new rules were. Why would we not expect that the other stakeholders in the sport would have to do the same?
Does this mean ESPN needs to come up with a way to take care of Alabama, Clemson, and the top teams in other conferences the network has deals with? Not exactly, but Disney is a big company. If it wants its investment in the SEC and ACC to be worth every penny it paid, I could see an ad campaign for a college student discount on Disney+ being built around a prized quarterback headed to Alabama or around a top-shelf point guard that is committed to Duke.
Now, do I like it? I mean, I'm not in love with the thought that it could be how the sport operates, but I also know that enticements for kids to attend a certain school is nothing new. Steven Godfrey's 2014 story "Meet the Bag Man" should be required reading for every college football fan.
Change is what keeps the Earth spinning. College football is not so precious that it has been spared from that. Change can sometimes be uncomfortable, but resisting it is a fool's errand.
You don't like the fact that Barstool has an intimate relationship with Deion Sanders and a financial interest in him and Jackson State succeeding? That is fine, but ask yourself is you discomfort that that kind of relationship exists or that it exists for a school like Jackson State?
We cheer when a local barbecue restaurant sponsors the entire Arkansas offensive line. We laugh when a local MMA gym offers NIL deals to every Miami Hurricane. They play on the biggest level. They are supposed to be treated like that.
Jackson State is supposed to be an afterthought. They are supposed to stay in their corner, in a lower tier, playing games that don't matter to most fans. It isn't about the racial makeup of the school's student population. It is about the way the college football media sets you up to follow the sport.
The NCAA and its member conferences want to sell coaches and helmets as the stars and that is it. That means USC matters. Ohio State matters. Michigan matters.
Jackson State doesn't matter. That means they have to do this a different way. The old ways left that school and others like it behind. Barstool's relationship with Deion Sanders gives his team resources. Resources give them the chance to turn National Signing Day on its ear and make headlines.
NBC could have done the same for Notre Dame and chose not to. If you're a Notre Dame fan, don't be mad at Barstool and Jackson State for changing the game. Be mad at NBC for refusing to play.
Tony Bruno Relives Favorite Moments With Angelo Cataldi on 94 WIP
"I loved every day. We did stuff that put Sports Radio in Philly on the map and I'm proud of that."
Tony Bruno has been a staple of the sports radio business for decades. Bruno is from Philadelphia and was teamed up in the early nineties with a duo still dominating the local airwaves there today, Angelo Cataldi and Al Morganti. The three reunited Thursday morning on 94 WIP to remember the glory days of their partnership and friendship.
One of the first moments Cataldi asked Bruno if he remembered was the update he did from a tree outside of their studio and the answer was an emphatic yes.
"Absolutely, it's one of the highlights of my life – other than interviewing four Presidents and every sports athlete in history – there's no bigger moment than me climbing up in the tree, which was obstructing our view of William Penn and the city skyline. That's what I do, I was a man of action. I'm not one of these guys that talks the talk, I climb the tree to do whatever is necessary."
More frivolity followed when Cataldi harkened back to a segment of 'Damsels in Distress' and a time in which Bruno was sent on the street during a snowstorm to help shovel people out of their driveways. Bruno quickly recalled, "Man of the people. I should run for – I should of run for Governor of Pennsylvania or Senate or something."
Bruno added that his favorite rant (and one that Cataldi loved too) wasn't about the Cowboys or sports at all. "My favorite was my Infinity Broadcasting rant where I went on one day and even ripped our bosses, all the way up to the top of Infinity Broadcasting." Cataldi cackled and praised Bruno's rants more before being interrupted by Bruno saying, "yeah, my only regret is I never really ripped Al (Morganti) the way I should have ripped him. I let him of the hook so many times."
An insightful moment came at the end of the call when Cataldi asked rhetorically if Bruno ever thought they (Cataldi & Morganti) would still be doing this thirty years later and then asked if Tony ever regretted leaving.
"It was a tough decision, Ang," Bruno answered. "I was given an ultimatum. When I came to work with you guys, I loved every day. Every day we had fun. We did stuff that put Sports Radio in Philly on the map and I'm proud of that. It wasn't one of those, 'oh I got to go; I'm too big for these guys'. I even turned the ESPN job down a couple of times.
"My kids were still younger then, I didn't want to move. I didn't have to move. They said just come up here on weekends and that's how ESPN Radio started. So I was doing weekends and Tom Bigby (Program Director) didn't like that either, told me it wasn't going to work. It was a philosophical thing. When he told me, 'you should go because we are not going to pay you what they're paying you,' I said ok.
Cataldi began to sign off with Bruno with genuine thanks: "I got to tell you something Tone, we are indebted to you for the rest of our lives because we both learned so much from you and you are one of the great talents that radio has ever had."
Dodgers Temporarily Pull Broadcasters Off Road
"If the broadcasters' are not dealing with severe cases of Covid and they have cleared health and safety protocols, it appears the team is open to sending them back out on the road."
When the Los Angeles Dodgers visit the East Coast later this week, the men that call the action on TV and radio will not be with them. The games will instead be broadcast on AM570 LA Sports and SportsNet LA from their respective studios.
"Due to a few members of the Dodgers' broadcast team having recently tested positive for COVID-19, and out of an abundance of caution, the Dodgers have decided to not travel their broadcasters to upcoming games in Philadelphia and Washington," the Dodgers announced in a statement. Similar to the 2020 and 2021 MLB seasons, the games will be broadcast from Los Angeles," reads a statement on the team's Twitter account.
No further details are available, so the severity and the number of cases remain unknown.
Last September, both members of the Dodgers' television play-by-play crew were forced into quarantine. Joe Davis was the first to test positive, followed later that month by Orel Hershiser.
On Wednesday, manager Dave Roberts told the media that the Dodgers' roster and coaching staff are not effected.
"There's there's no symptoms in the clubhouse. I think that as far as the upstairs, as an organization, we're all just trying to be very cautious. But as far as in the clubhouse, coaches, training staff, nothing like that."
If the broadcasters' are not dealing with severe cases of Covid and they have cleared health and safety protocols, it appears the team is open to sending them back out on the road. 2022 was supposed to be a return to normal for the Dodgers and many other teams after not letting broadcasters travel in 2020 and 2021.
Pat McAfee: 'No One Will Disrespect Jim Rome On My Show'
"That's because you need to respect the f–king jungle."
Jim Rome is a sports radio icon and Pat McAfee recognizes that.
On The Pat McAfee Show on Wednesday, McAfee was talking to co-host A.J. Hawk about how Rome trended recently on Twitter.
This happened after news of Tom Brady's FOX Sports deal surfaced, and a list of the top paid sports media personalities was compiled. Rome came in behind Brady at number two making a reported $30 million a year, and many were surprised by that number. McAfee wasn't.
"That's because you need to respect the f–king jungle," he said. "I have nothing but respect for Jim Rome."
McAfee gave props to Rome, 57, saying he's been doing sports talk probably longer than anyone. He's one of the most widely distributed hosts in the country. Pat said he won't tolerate anyone talking smack about the Smack-Off King.
"No disrespect will be said on this show of Jim Rome, ever," he said. "Love that man."