Notre Dame Has NBC, Why Can't Jackson State Have Barstool?
"Change is what keeps the Earth spinning. College football is not so precious that it has been spared from that. Change can sometimes be uncomfortable, but resisting it is a fool's errand."
Deion Sanders pulled off an absolute coup on Wednesday. On the early National Signing Day, Travis Hunter, a defensive back from Suwanee, Georgia, chose Jackson State University over Florida State, where he had been verbally committed for over a year.
The news sent shockwaves through the college football media. This kid was ranked #1 amongst all high school seniors on 247Sports, #2 on the ESPN300, and #1 on Rivals. If a kid with that pedigree flips from an earlier commitment, usually it is to go to a national power like Bama or Georgia. It isn't to go to an underfunded HBCU in Mississippi.
That is the changing world of college football and the power of celebrity. It's not just that Deion Sanders is an icon to these kids. It's that he has created Jackson State's own media machine through his relationship with Barstool Sports. It is a problem for some that cover the sport. To me, it is evolution. How is Barstool's relationship with Jackson State any different than NBC's with Notre Dame?
Set aside for a moment however you feel about Barstool as a brand. Just look at this objectively. It is a media company that is an offshoot of a bigger business throwing all of its weight behind a college football program that it values. NBC wants gold helmets. Barstool wants Coach Prime.
Travis Hunter will reportedly have a million dollar NIL deal with Barstool and parent company Penn National. NIL deals and reality shows may be different from what we are used to in terms of media support for college football, but it is where we are in 2021. Don't be mad at Barstool for doing all it can to boost the college football brand it has associated itself with. Question why Notre Dame hasn't demanded the same from NBC and parent company Comcast.
I don't fall into the "Dave Portnoy and Erika Nardini are business geniuses" camp. Their willingness to take risks isn't impressive, it is how a business should operate. It makes it all the more frustrating that companies with more money don't think the same way.
NBC is a perfect example. Everything about the network's coverage of Notre Dame is built on "hey weren't the 80s great?". It's generic and has been for a long time. NBC is selling gold helmets and Touchdown Jesus.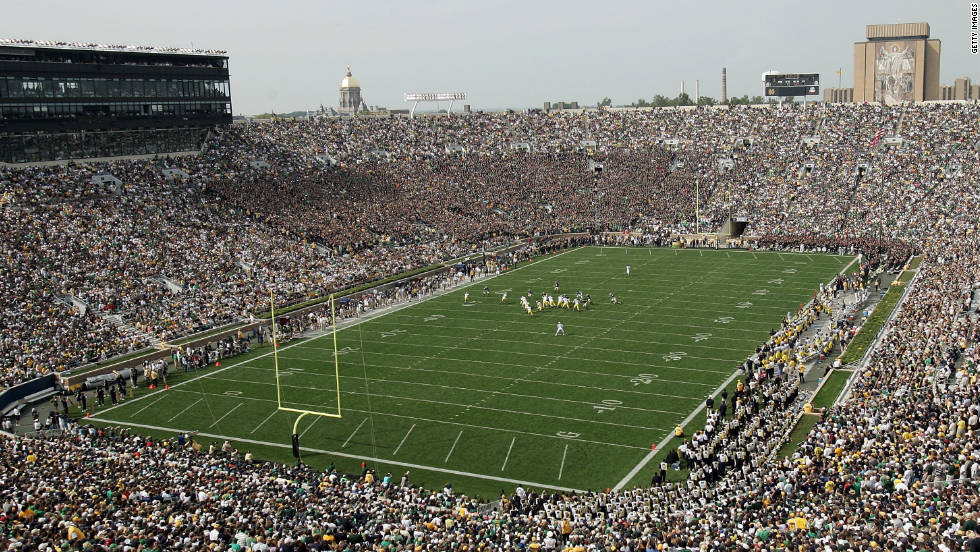 Barstool is selling stars. This relationship with Deion Sanders and Jackson State is different and new and the attitude is "if this doesn't work, no big deal. We'll just stop doing it." Old college football fans and the media members that feel like it is their job to get the NCAA's message out there are never going to like it. They're also never going to admit that it is the networks not adapting to the times that are the problem.
This summer, the NCAA did absolutely the bare minimum it could for players, allowing them to profit off their name, image, and likeness. That was a major seachange in college sports. Players and coaches were expected to adapt. Compliance departments had to learn what the new rules were. Why would we not expect that the other stakeholders in the sport would have to do the same?
Does this mean ESPN needs to come up with a way to take care of Alabama, Clemson, and the top teams in other conferences the network has deals with? Not exactly, but Disney is a big company. If it wants its investment in the SEC and ACC to be worth every penny it paid, I could see an ad campaign for a college student discount on Disney+ being built around a prized quarterback headed to Alabama or around a top-shelf point guard that is committed to Duke.
Now, do I like it? I mean, I'm not in love with the thought that it could be how the sport operates, but I also know that enticements for kids to attend a certain school is nothing new. Steven Godfrey's 2014 story "Meet the Bag Man" should be required reading for every college football fan.
Change is what keeps the Earth spinning. College football is not so precious that it has been spared from that. Change can sometimes be uncomfortable, but resisting it is a fool's errand.
You don't like the fact that Barstool has an intimate relationship with Deion Sanders and a financial interest in him and Jackson State succeeding? That is fine, but ask yourself is you discomfort that that kind of relationship exists or that it exists for a school like Jackson State?
We cheer when a local barbecue restaurant sponsors the entire Arkansas offensive line. We laugh when a local MMA gym offers NIL deals to every Miami Hurricane. They play on the biggest level. They are supposed to be treated like that.
Jackson State is supposed to be an afterthought. They are supposed to stay in their corner, in a lower tier, playing games that don't matter to most fans. It isn't about the racial makeup of the school's student population. It is about the way the college football media sets you up to follow the sport.
The NCAA and its member conferences want to sell coaches and helmets as the stars and that is it. That means USC matters. Ohio State matters. Michigan matters.
Jackson State doesn't matter. That means they have to do this a different way. The old ways left that school and others like it behind. Barstool's relationship with Deion Sanders gives his team resources. Resources give them the chance to turn National Signing Day on its ear and make headlines.
NBC could have done the same for Notre Dame and chose not to. If you're a Notre Dame fan, don't be mad at Barstool and Jackson State for changing the game. Be mad at NBC for refusing to play.
Demetri Ravanos is the Assistant Content Director for Barrett Sports Media. He hosts the Chewing Clock and Media Noise podcasts. He occasionally fills in on stations across the Carolinas. Previous stops include WAVH and WZEW in Mobile, AL, WBPT in Birmingham, AL and WBBB, WPTK and WDNC in Raleigh, NC. You can find him on Twitter @DemetriRavanos and reach him by email at DemetriTheGreek@gmail.com.
Jonathan Zaslow No Longer With WQAM
An attempt to reach out to Zaslow for comment went unanswered.
WQAM midday host Jonathan Zaslow is no longer with WQAM in Miami.
The radio station has removed his show from the website and references to him and his normal 10a-2p ET midday timeslot program have been scrubbed from the station website.
Zaslow tweeted at 5:19p ET confirming the news.
Whether or not this has any effect on his involvement with the Miami Heat broadcasts is unknown as of now.
Zaslow had been with 790 the Ticket since 2004. He was transitioned from Audacy-owned 790 to sister station AM 560 Sports WQAM last October. During his tenure he has worked with a number of established local voices including Joy Taylor, Amber Wilson, Brett Romberg, and Brendan Tobin amongst others.
WQAM has gone thru a number of changes, including a rebranding effort to call the station "560 The Joe". That ended last year with the station returning to the AM 560 Sports WQAM brand listeners were more familiar with. What they have planned next in Zaslow's timeslot is unclear but local listeners will likely get some answers next week.
Vanessa Richardson Named Houston Rockets Sideline Reporter, Paul Gallant to Host Solo on ESPN 97.5
Vanessa Richardson will be on the sidelines for the Houston Rockets and Paul Gallant will host solo show on ESPN 97.5.
Changes are taking place in Houston sports media. First, the Houston Rockets will have a new television sideline reporter this season, and she's a familiar name to Houston sports fans.
Vanessa Richardson, the now former co-host of ESPN 97.5's Vanessa and Gallant, revealed that she will be on the sidelines for the NBA franchise covering the team for AT&T SportsNet Southwest.
She tweeted the news saying, "Elated to be the new Houston Rockets sideline reporter! I can't wait to travel the country & share the stories of this dynamic team during 80+ games on AT&T SportsNet Southwest. I'll continue to fill-in as a host/reporter for Astros broadcasts as well."
Richardson's co-host, Paul Gallant, tweeted that with Richardson leaving the show for the Rockets sideline gig, Vanessa and Gallant will become the Paul Gallant Show. The solo show led by Gallant begins Monday September 26th.
"We're excited to have Paul host his own show", said Todd Farquharson, General Manager of ESPN 97.5 & 92.5. "He's super creative, energetic, and likeable. He'll get the audience involved and have fun."
Paul commented, "You know what I've always loved about sports talk radio?  That it's interactive.  Whether through a phone call, text message, tweet or on Twitch, it's the best place for sports fans to come together and celebrate…or vent.  And that's what The Paul Gallant Show is going to be…Houston's platform to talk about its teams. THE most interactive sports talk show in Houston."
Ken Carman: Al Michaels 'Feels Untethered' On Amazon Prime Video
"The thing that stuck out was Kirk Herbstreit ripping the elf," said Carman. "Don't be ripping Brownie the Elf, man."
The Cleveland Browns defeated the Pittsburgh Steelers during Thursday Night Football on Amazon Prime Video. 92.3 The Fan morning host Ken Carman applauded Al Michaels for his performance during the presentation.
"Al Michaels feels untethered for the first time. He's not network television anymore and he can say whatever he wants. We interviewed him on the pregame show and I was nervous," Carman said.
"He's a legend," co-host Anthony Lima added.
During the final play of the game, the Steelers fumbled a lateral into the endzone which the Browns recovered to make the final score 29-17. Michaels said "that may be meaningful to some of you. And you know who I mean", alluding to people who had placed wagers on the game.
Carman, who hosts two-hours of pre-game coverage on the Browns Radio Network, continued to discuss how nervous he was interviewing Michaels. He also discussed how impressive Amazon's behind-the-scenes production was, pointing out the only football broadcast with more cameras is the Super Bowl. More than 400 people work behind the scenes for Amazon Prime Video.
"The thing that stuck out was Kirk Herbstreit ripping the elf," said Carman. "Don't be ripping Brownie the Elf, man."
Carman later said people angry that Michaels misspoke by saying the Pro Football Hall of Fame is "down I-71" instead of I-77 were unreasonable, and joked "Al Michaels hasn't been on a highway in 20 years".