Sports Radio Hosts Support Eric Church Cancelling Concert For Final Four
"While there are plenty of sports talk hosts that love country music, rarely are the personal lives and decisions of the genre's biggest names fodder for content."
Country singer Eric Chruch was supposed to play a concert in San Antonio on Saturday night. That isn't going to happen though. He issued a statement earlier this week saying the show is canceled because the diehard North Carolina Tar Heels fan wants to watch his favorite team play archrival Duke in the Final Four. He is going to New Orleans instead of San Antonio.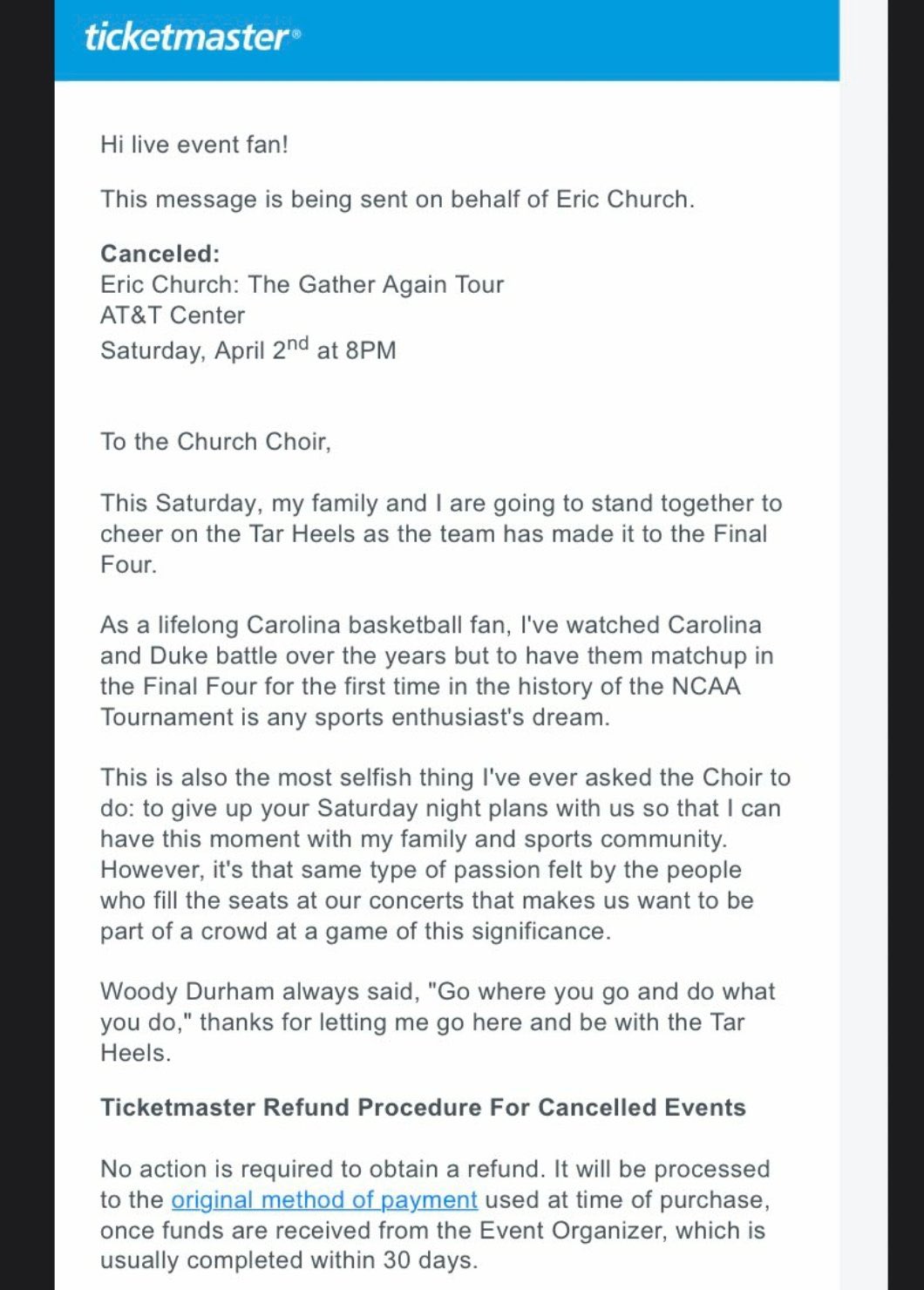 While there are plenty of sports talk hosts that love country music, rarely are the personal lives and decisions of the genre's biggest names fodder for content. That was the case on Wednesday though as many hosts used Church's decision to debate the rules of fandom. That included in Charlotte, the biggest market near his hometown of Granite Falls, NC.
Eric Church found a lot of support for his decision amongst the sports media. ESPN's Spencer Hall noted that this isn't just any Final Four. If the Tar Heels win, it will end the career of Duke coach Mike Krzyzewski. This is a once-in-a-lifetime opportunity for UNC fans.
Plenty of hosts from across the world of sports radio weighed in with a mix of admiration and condemnation.
Jim Szoke from WBT and WFNZ in Charlotte pointed out that there is a whole subsection of fans that are likely miles away from San Antonio this doesn't sit well with. You may have to be a resident of the Carolinas to know that Appalachian State University has a number of successful sports programs. It also happens to be where Eric Church went to college. Giving up a huge pay day to watch the University of North Carolina may not sit well with his fellow App State alums.
Fans that held tickets for the concert in San Antonio have been issued a refund. It stands to reason that Church will play in the city again sometime in the near future. Maybe this will be accepted as a no harm no foul situation sooner rather than later.
Andrew Fillipponi: Peter Burns Made 'Innocuous Joke' To Ben Watson
"So wait a minute? Because you believe in Jesus Christ you care about your wife more than other people? What are you talking about?"
The on-air spat between SEC Network host Peter Burns and analyst Ben Watson continues to be bandied about in sports media circles, with 93.7 The Fan hosts Andrew Fillipponi and Chris Mueller discussing the topic Tuesday.
"I'm on Team Burns," Fillipponi said.
"Forget who's team you're on," Chris Mueller said. "I think you've do have to keep the wives and children out of this."
"What are you talking about, keep the wives and out of it?!," Fillipponi asked.
"Do we believe this is work or shoot here?," Mueller wondered.
"Oh, I think this is real," Fillpponi added, which Mueller agreed.
"Do you think a close fist from Ben Watson hit Peter Burns?," Mueller asked.
"No, I think he picked him up by the lapels," Fillipponi said.
When the subject of Watson's religion was brought up, Fillipponi then pointed out the absurdity of the situation.
"So wait a minute? Because you believe in Jesus Christ you care about your wife more than other people? What are you talking about?"
"I think he might have a shorter fuse and not taking in humor that Peter Burns was giving out," Mueller said.
"It was an innocuous joke!," Fillipponi stated. "It wasn't a joke! Why is it in bad taste?"
Mueller then added the idea of Watson's wife texting Burns insinuates there's an inappropriate relationship.
Craig Carton: Booger McFarland's Zach Wilson Analysis 'An Embarrasment'
ESPN NFL analyst Booger McFarland raised eyebrows on Monday Night Countdown this week by saying New York Jets quarterback Zach Wilson has never been held accountable for his actions because he was a "young man who grew up with a lot of money". WFAN afternoon host Craig Carton called out McFarland's comments Tuesday as outlandish.
"It was an embarrasment," Carton said. "Someone should ask Booger McFarland if his kids — who grew up with amazing wealth — have accountability in their lives or if having a little bit of money in your pocket immediately discounts the possibility to have accountability. He's an idiot and we learned that last night."
"It's funny that Steve Young was on the other side of it," Evan Roberts noted. "Because a long time ago, Steve Young criticized Chris Simms because he's the son of a famous quarterback."
"You don't have to invent reasons for why Zach Wilson isn't playing well," added Carton. "Just watch his tape. He's not playing well. Maybe he's just not good!"
Carton later said NFL reporters "will try to make a name for themselves by putting out a story" about quarterbacks who take responsibility for their teams failures, while Wilson wouldn't accept the blame.
Greg Hill: Ben Watson, Peter Burns Drama Was A Bit
"Be careful when you're talking about somebody's wife and their kids. 'Cause not everybody jokes the same way."
Peter Burns and Ben Watson shared an awkward exchange during the halftime show of an SEC Network football game over the weekend, and many are still debating whether Watson walking off the set was serious or not. Count part of the cast of The Greg Hill Show on WEEI as doubters.
"That was a a bit," Courtney Cox said. "That was absolutely a bit."
"Yeah, unlike the Chris Rock/Will Smith thing, I assume that was a bit," Hill said. "I can't believe that Ben Watson is really angry about that."
"I dunno, man. There's been a lot of speculation that it isn't," Jermaine Wiggins added. "There are people who are very sensitive about you clowning on them or joking with them. Especially with joking about their wife. Some people can't handle jokes like that."
After a back-and-forth with Cox about the legitimacy of the joke, Wiggins concluded by saying for some folks family is off limits.
"I've learned something in my 47 years on this Earth: be careful when you're talking about somebody's wife and their kids. 'Cause not everybody jokes the same way."